Beyond its stunning beaches and vibrant nightlife, Phuket offers a world of aquatic fun and excitement through its diverse array of water parks.
These aquatic wonderlands are not just places to beat the heat; they're destinations where families, thrill-seekers, and relaxation enthusiasts come together to create lasting memories.
In this guide, we'll take you on a watery journey through some of the finest water parks Phuket has to offer. From sprawling Thai heritage-themed parks to hidden gems tucked away in serene corners, Phuket's water parks promise a variety of experiences to suit every traveler.
1. Andamanda Phuket
Situated near Phuket Town, Andamanda Phuket is a massive new water park spread across a vast 100,000 square meters.
It is a Thai heritage-theme park that offers 25 attractions, including water slides, a 10,000-square-meter artificial wave pool, and Southeast Asia's longest lazy river, stretching for 550 meters.
The park is divided into five theme zones, each inspired by Thai mythology: The Pearl Palace for reception and shopping, Coral World for young visitors, Emerald Forest, The Great Andaman Bay with a James Bond Island replica, and Naga Jungle for thrilling drops.
Since the place is very popular, try coming in early to save a spot and enjoy some tranquil moments. Additionally, bring your own towel to avoid standing in a long queue. That way, you will save a lot of time and energy.
You can come here solo, with friends, and even with family! The place is suitable for all, with all kinds of rides available, including slow and steady, kid-friendly, and super thrilling.
Outside food items are not allowed, so don't carry any!
Address: 333 Kathu, Kathu District, Phuket 83120
Open: 10 am – 7 pm
Phone: 076 646 777
Adults: 1,500 baht – Kids: 1,000 Baht
2. Splash Jungle Waterpark
Splash Jungle Water Park, located right next to Phuket International Airport on the beautiful Mai Khao Beach, is a fantastic destination for families seeking a day of excitement and relaxation in the water.
While it may not be the biggest water park around, it offers a memorable experience that is well worth the price of admission. The park boasts five main attractions that promise a day filled with fun and laughter.
To start your adventure, you can lazily drift along the 335-meter-long "Lazy River," a gentle stream that encircles the entire park. It's a great place to hang out with friends and family, splashing around as you go.
For those seeking a more thrilling experience, the "Boomerango" awaits. Climb to the top of the central tower and choose one of the five giant slides. The vertical drop of Boomerango may give you a scare, but it's a definite crowd-pleaser.
The "Super Bowl" offers a unique twist with a spinning funnel that will leave you feeling slightly disoriented and dizzy. Be aware that two slides are open-air, while one is a long, dark tube – not recommended for those who are claustrophobic.
After getting your adrenaline fix, take a break in the artificial wave pool. Don't worry; the waves here aren't too massive, providing a pleasant environment to relax and enjoy the gentle swell.
You can also take a dip in the "Hot Spring" pool, heated to a comfortable 35°C, creating a North Pole-like atmosphere for a unique experience.
Kids have their own dedicated pool called "Aqua Play," featuring small slides, waterfalls, and fun water games.
Keep an eye out for the monster water bucket perched at the top of the kid's playground – it periodically empties its contents with a thrilling splash, much to the delight of young adventurers.
When you're ready for a meal or a break from the action, you'll find two restaurants offering simple yet satisfying snacks that perfectly complement the park's summer vibes. And remember to visit the pool bar, especially when the weather is scorching hot.
Sipping a cocktail or a chilled glass while lounging in the pool is the ultimate way to cool down and work on your tan.

Address: 65 Soi Mai Khao 4, Tambon Mai Khao, Phuket 83110
Open: 10 am – 5.45 pm (closed Tuesday and Wednesday)
Phone: 076 372 111
Price: 1,850 baht per adult, 950 baht per child (5-12 years old)
Free of charge for children under five years old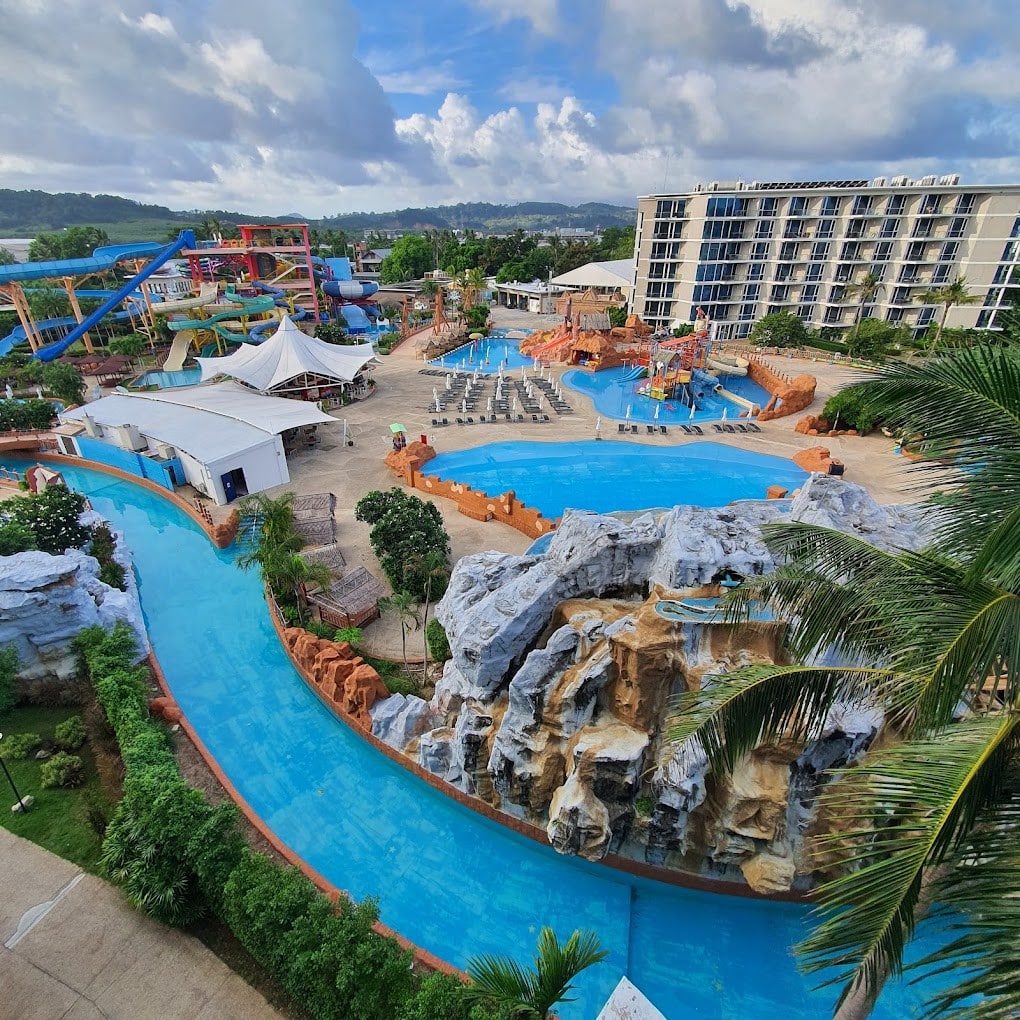 3. Aqua Kingdom Phuket
Located in the heart of Phuket, Aqua Kingdom is a charming water park that captures the hearts of children and families alike. Tucked away in a serene corner next to Bluetree, this aquatic oasis offers a perfect combination of affordability and fun.
With an entry fee of just 100 baht, it's accessible to families on a budget. The park's main attraction is its well-maintained children's water area, complete with a mini water park, a winding river, and plenty of splashy adventures to keep the little ones entertained for hours.
What truly sets the Aqua Kingdom apart is its delightful restaurant, conveniently located waterside. The eatery offers a diverse menu featuring both European and Thai cuisine, ensuring that there's something to please every palate.
From creamy soups to mouthwatering pasta, juicy burgers to crispy pizzas, and fresh salads, the food options are extensive and well-priced.
While some dishes receive rave reviews, like the delicious pumpkin soup and chicken roll, a few have room for improvement, such as the bread pizza.
The cafe also serves up refreshing beverages, including lattes and smoothies, making it a perfect spot to recharge after a day of aquatic adventures.
Aqua Kingdom's affordable entry fee, delicious food, and kid-friendly water park make it an excellent destination for families looking for a day of fun and relaxation in Phuket.
Address: 2, 2 Srisoonthorn Rd, Tambon Si Sunthon, Thalang District, Phuket 83110, Thailand
Open: 8 am - 10 pm
Phone: +66 64 159 7928
Price: 1,00 baht per person
Free of charge for children under five years old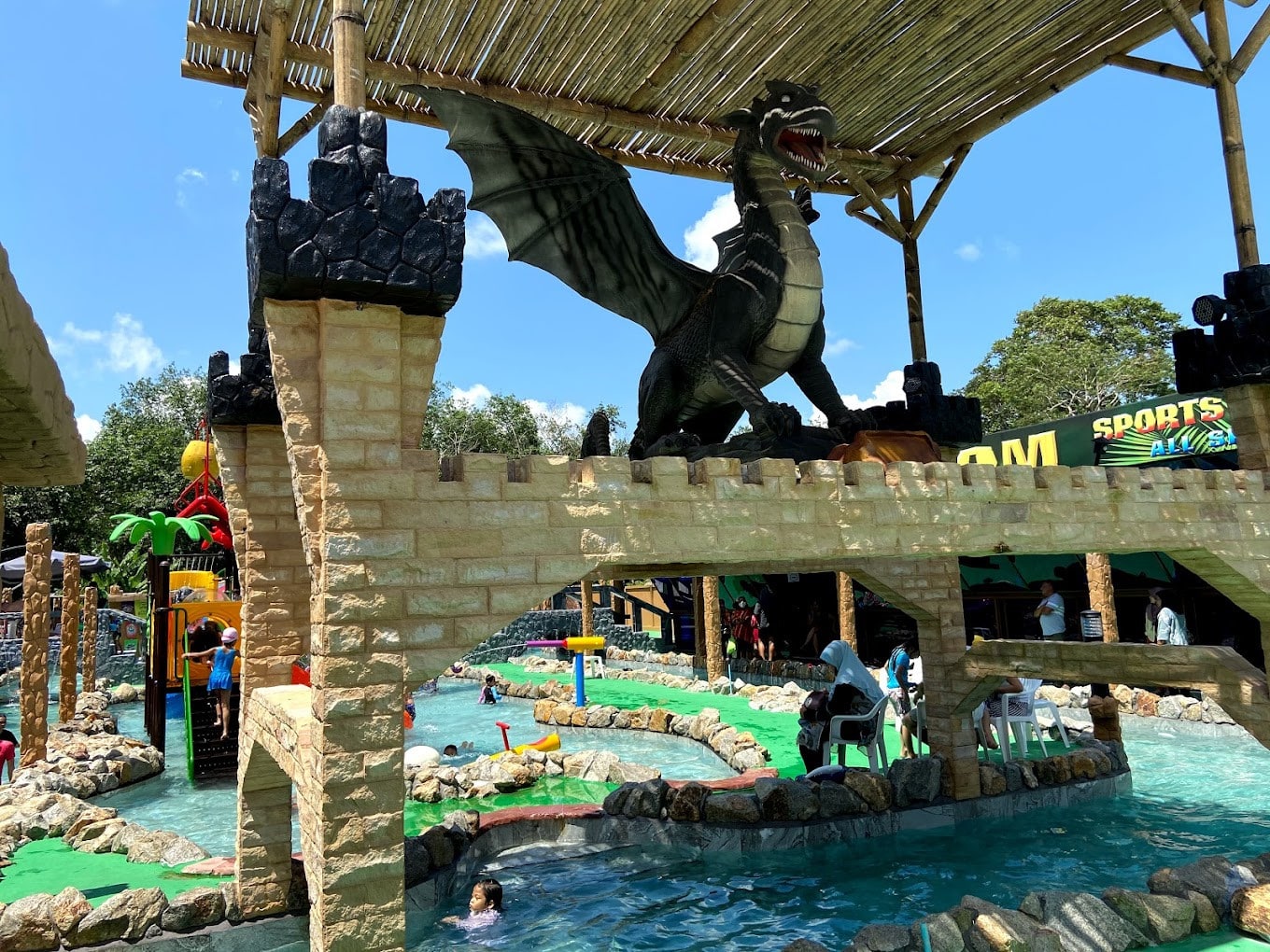 4. Blue Tree Phuket
Blue Tree Phuket is a massive water park where both grown-ups and kids can have a blast in the warm tropical waters of Phuket. It's easy to spot with its colorful buildings along the road to Bangtao Beach.
The water park sprawls across a whopping 17,000 square meters, featuring a large restaurant building and a wide range of water activities, thrilling water slides, ziplines, and paddleboarding.
The main attractions are the exciting water slides around the Blue Tree Lagoon. The quadruple 'slip n fly' slides are the show-stoppers, launching brave souls high into the air before making a splashy return.
These slides offer different heights and sliding positions, with the headfirst option being more daring. Safety is a top priority here, with attentive staff ensuring a smooth experience for all visitors.
When hunger strikes, Blue Tree has you covered with five restaurants and bars, including the Treehouse Beach Lounge, Treehouse Restaurant, Treetop, Bay Grill, and Sunset Bar.
These dining spots serve delicious meals throughout the day, and the evening restaurant at the main building offers a unique culinary experience. Land activities, like trapeze training and a skating rink, add to the excitement for both kids and adults.
There's also a charming shopping village at the park's entrance, reminiscent of Phuket's old town, though it can sometimes be a challenge for the shops to thrive in such a remote location.
Address: 4/2 Srisoonthorn, Cherntalay, Phuket 83110
Open: 10 am – 6 pm
Phone: 076 602 435
Price: 950 baht for adults, 350 Baht for kids
Free of charge for children under five years old
5. Phuket Wake Waterpark
Phuket Wake Water Park offers an exciting day out in the water for adventure seekers and beginners alike. Their staff is extremely warm and patient and ensures a safe and enjoyable experience.
The facility is also a popular destination for those looking to try wakeboarding and other water activities.
For newcomers, it's recommended to book an instructor, with Marcus receiving accolades for his professionalism. The park offers a variety of obstacles for riders to tackle, and you can expect to have fun while honing your skills.
Prices are very affordable, so you can enjoy the waterpark without burning a hole in your pocket.
The park maintains its reputation as a go-to spot for wakeboarding enthusiasts. So, if you're looking to learn something new, get your adrenaline pumping, and enjoy a day on the water, Phuket Wake Water Park might be the place for you.
Address: 7 112 Kathu, Kathu District, Phuket 83120, Thailand
Open: 9 am – 6 pm
Phone: +66 89 873 0187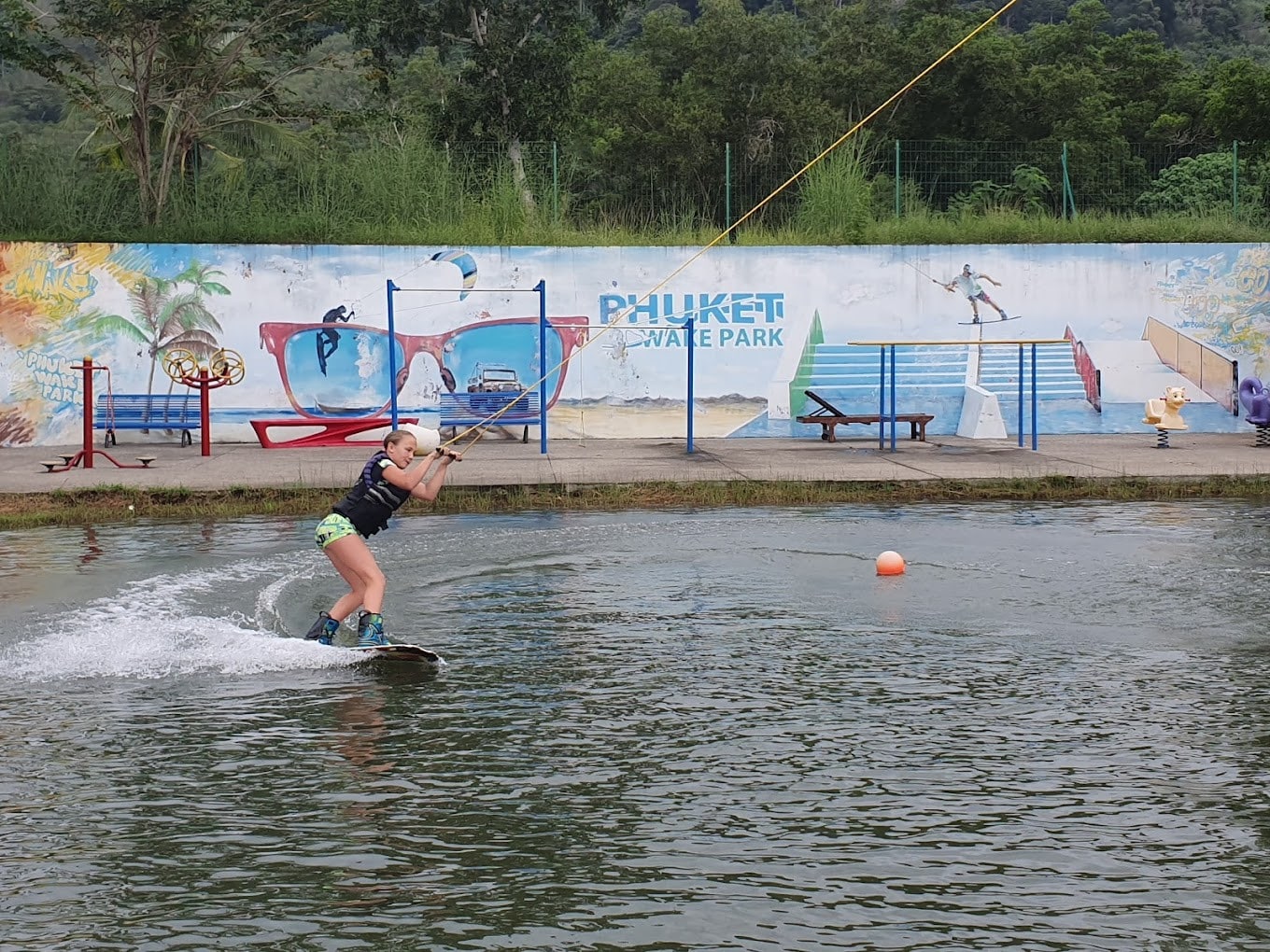 Before We Part!
Phuket boasts a diverse selection of water parks, each offering its unique attractions and experiences.
These parks provide visitors with a wide range of aquatic adventures, from thrilling water slides and wave pools to kid-friendly play areas and tranquil lazy rivers. Families and adventure seekers alike can find their perfect aquatic getaway in Phuket.
Beyond the water attractions, many of these parks offer delightful dining options, ensuring guests can refuel and recharge between splashes.
Additionally, the affordability and professionalism of these parks make them accessible and enjoyable for visitors of all ages and experience levels.
Whether you seek an adrenaline rush or a day of relaxation in the water, Phuket's water parks promise a refreshing and unforgettable experience on this tropical island.