Temples have long been a major part of the tourism industry in Thailand with over 20 in Phuket alone. Most of these temples are Buddhist temples.
Discover the spiritual side of Thailand with our guide to must-visit temples in Phuket, where serenity and cultural richness await your exploration.
5 Must-visit Temples in Phuket – 2023 Update
1. Chaithararam Temple
It is by far the largest and the most popular temple in the whole of Phuket. It is also popular as the Wat Chalong temple. The walls of the temple are beautifully embellished with the painting and posters of the significant events of Lord Buddha.
The shrine also features a 60 meters tall stupa known as Chedi that is supposedly guarding the bone fragment of Lord Buddha. Besides there are plenty of other large golden statues that were donated to the Chalong temple.
For a more peaceful experience, consider visiting the place early in the morning or late afternoon. A big annual fair of about ten days takes place here around the Chinese New Year during which the entire area gets lined up with shops and stalls selling different articles.
Location: 70 Moo 6 Chao Fah Tawan Tok Rd, Tambon Chalong, Amphoe Mueang Phuket, Chang Wat Phuket 83000, Thailand
Opening Hours: 07:00 am to 05:00 pm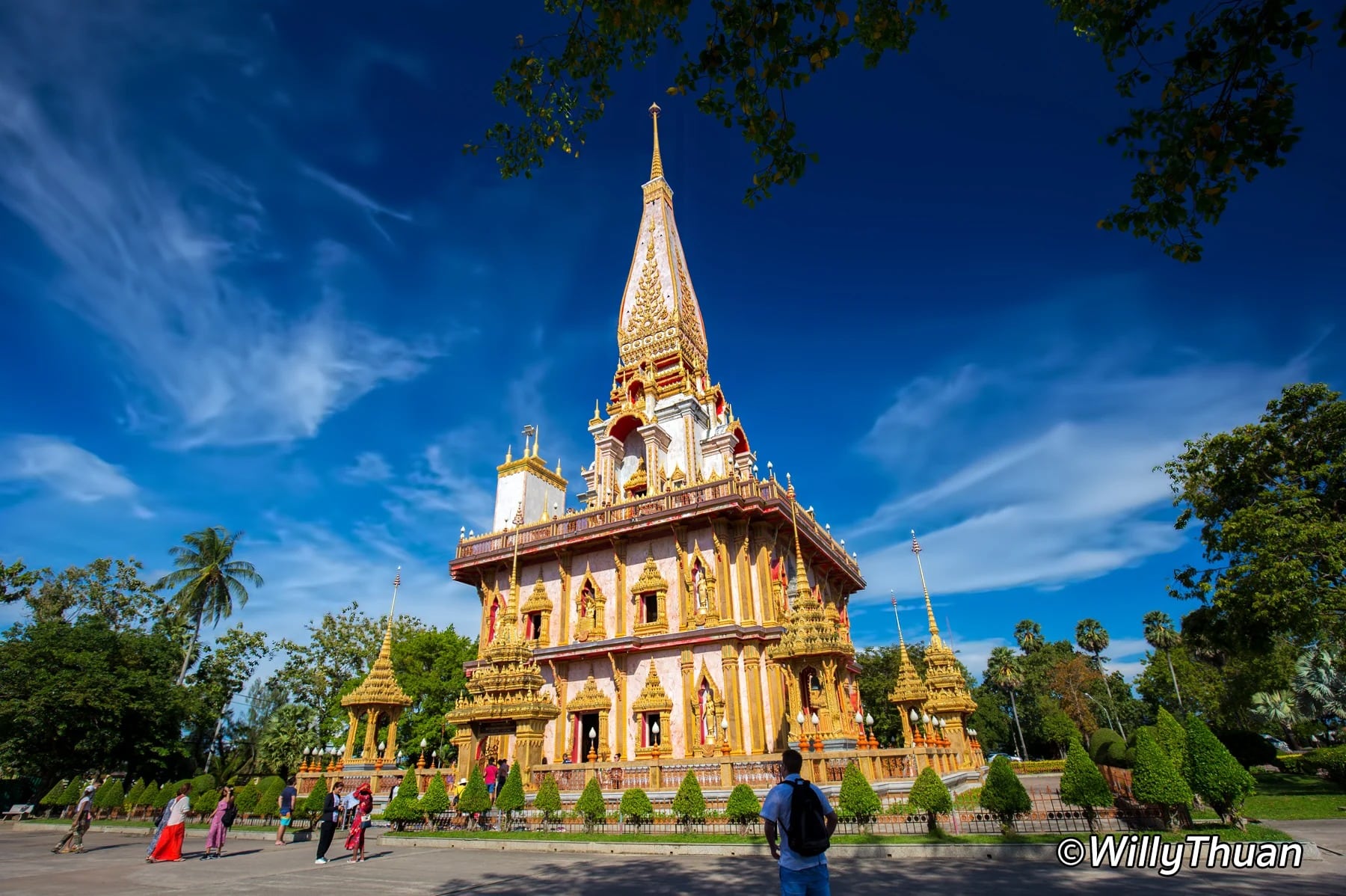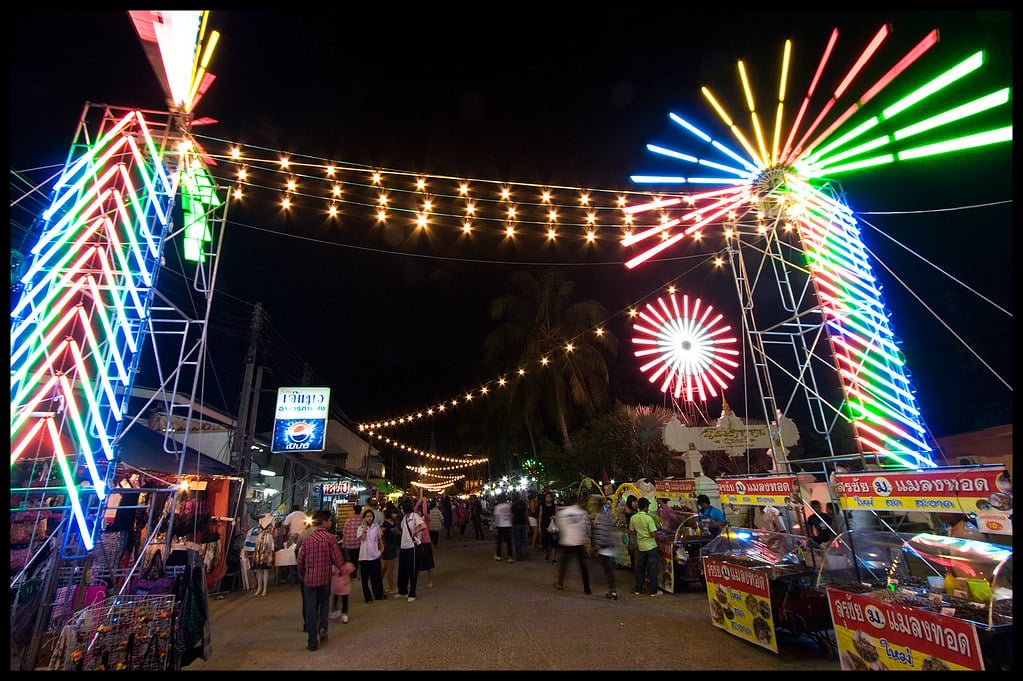 2. Wat Phra Thong
The Wat Phra Thong is a famous templae which translates to 'Golden Buddha Image Temple' is an ancient temple that enjoys a popular appeal among tourists as well as locals.
The reason behind its popularity is the interesting story behind the famous half-buried golden Buddha.
The story of the half-buried golden Buddha stems from the boy who tied the rope of his buffalo to what later came out to be a conical shape at the top of a very large Buddha image almost entirely buried.
Presently, the place has several temples and even a museum displaying items from the tin mining era.
Location: 170, Tambon Thep Krasatti, Thalang, Phuket 83110
Opening Hours: 8 am – 5:30 pm
Phone: 076 274 126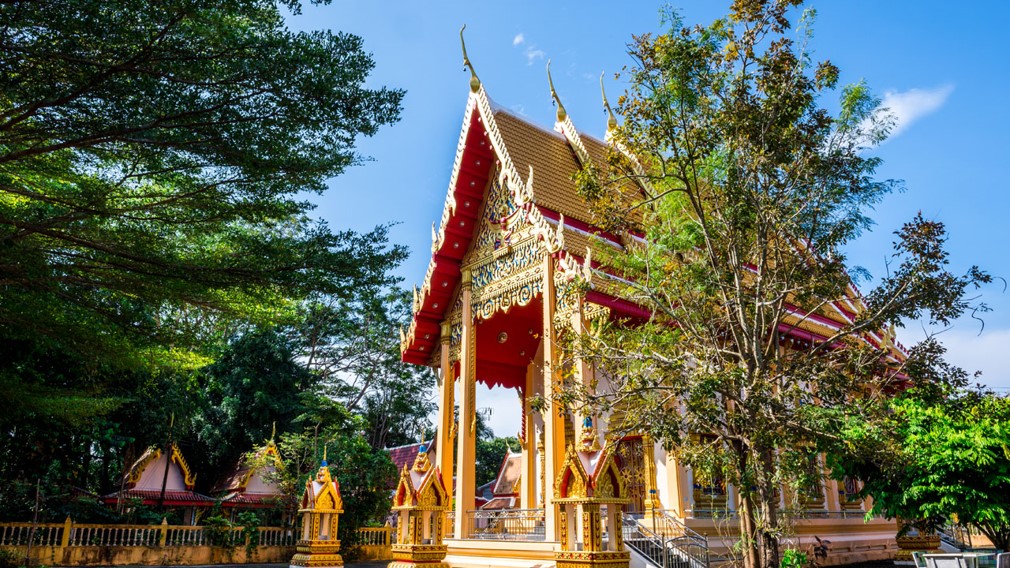 3. Wat Koh Sirey
Wat Koh Sirey is built on top of a hill in the Koh Sirey district. Koh Sirey is a very small island that is spread over an area of only 20 km.
Owing to its elevation, the temple offers a panoramic view over Sapam Bay & Tukkae Cape.
The 100 stairs that lead to the temple are lined up all through with bells and dragons. As you entere, there is a Nakas architecture Ordination Hall that features a giant golden reclining Buddha, over 18 metres in length.
The temple also has a massive golden Kyaiktiyo Pagoda. Although there is no entrance fee, you are expected to generously offer some money in the donation box that is kept near the giant Buddha statue. More so if you are clicking pictures inside the temple.
Location: 17/20 Moo 1, Rasada, Muang, Phuket 83000 Thailand
Opening Hours: Open 24*7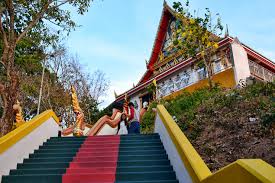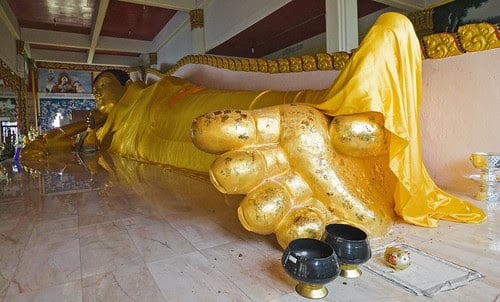 4.Wat Kathu
This particular temple in Phuket can be rightly deemed as a hidden treasure. It is a local area which you reach by heading over the hill from Patong towards Phuket Town.
However, since it is located far off from the main road, the place remains unknown to many.
The bright golden and red building stands out against the green palm tree backdrop making it a perfect spot for traditional Thai weddings.
Due to the unpopularity, Wat Kathu temple offers a perfect tranquility which helps you unwind and ease up.
As you enter, there are two pairs of large statues that guard the gates. Then in the main hall is a giant statue of Buddha.
The half-buried buddha has a story around it that is protected by a spell, which is believed to cause death to anyone or anything that attempts to remove it from the ground.
Address: Kathu, Kathu District, Phuket 83120
Phone: 076 321 325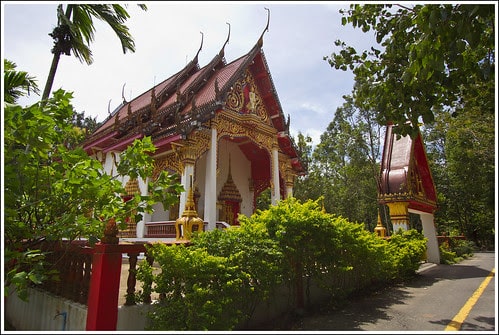 5. Phuket Big Buddha Temple
The Big Buddha Temple of Phuket was built in 2002. The official name of the temple is 'Phraphutthamingmongkhol-akenagakhiri Buddha' that translates as "Happiness on top of Nakerd Mountain".
The Buddha statue is so huge that some work is still ongoing on the site.
All the construction is done with the donation that the temple receives from people. The statue is approximately a 45-metre-tall and since it is located on top of a hill, it offers a breathtaking view of the Chalong Bay.
It is made up of white marble from Burmese and weighs about 135 tons.The road to the temple is well paved with curves.
As you move up the hill, there is plenty of space where you can park. An interesting fact about the Big Buddha temple is that the visitors cannot use the same stairs for going up and down.
There is a separate way down the hillside and the guards ensure that every visitor follows the rule likewise.
Location: Soi Yot Sane 1, Chaofa West Rd, Nakkerd hill near Chalong
Opening Hours: 6 am – 7.30 pm
Phone: 083 556 2242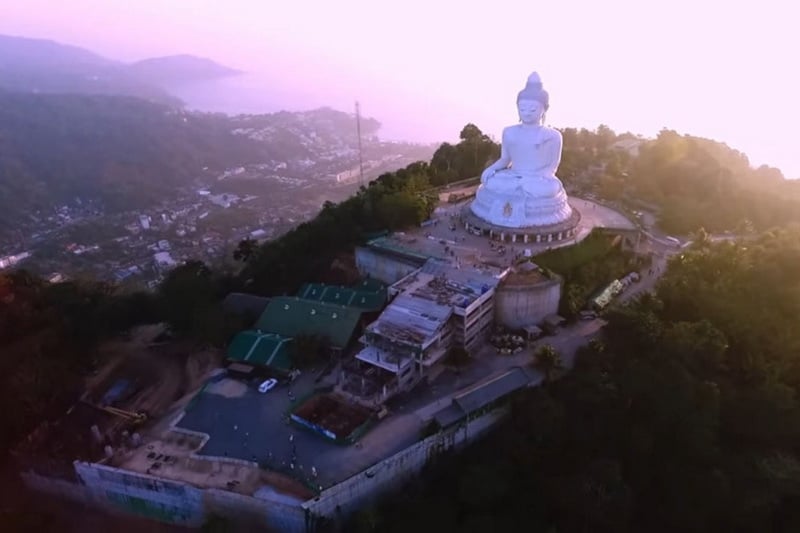 Want More Options to Choose From?
Besides the above-mentioned temples, some other beautifully ornamented temples in Phuket are Wat Phra Nang Sang, Wat Sri Sunthorn, Wat Phra Nang Sang, Wat Tha Reua Temple, Wat Chalong, and Wat Kho Rang.