Nothing better than exploring the beautiful city of Krabi on a bike with the winds gushing through your hair. Some places in Krabi are situated on the insides where big vehicles can't reach easily. So a motorbike remains the best option for visiting those places. Experience Krabi's breathtaking natural beauty up close by choosing the best bike rent in Krabi to explore the stunning landscapes at your own pace.
Cruise through our recommendations for the Best Bike Rentals in Krabi, offering reliable and well-maintained bicycles and motorbikes, ensuring a smooth ride while exploring this breathtaking coastal gem.
5 Best Bike Rentals In Krabi
1. MotoKrabi
Motokrabi is a famous rental in the Krabi area. The staff is very cordial and friendly. All their bikes are well maintained and hence in great condition. You don't even need to submit your passport at the rental.
You are only required to deposit 3000 Baht which is also returned easily after you submit the bike.
The rental offers free pick up and drop off service in all nearby areas. All the bikes are provided with a full tank of 95-liter gasoline along with a free map of Krabi and helmets. In addition to that, all bikes have mandatory insurance covering the medical services for your injuries up to 50.000 baht.
Location: 432 Moo 1 Aonang Krabi 81180
Contact: +66-9-1413-7811
Website: https://motokrabi.com/
Facebook: https://www.facebook.com/pg/motokrabi/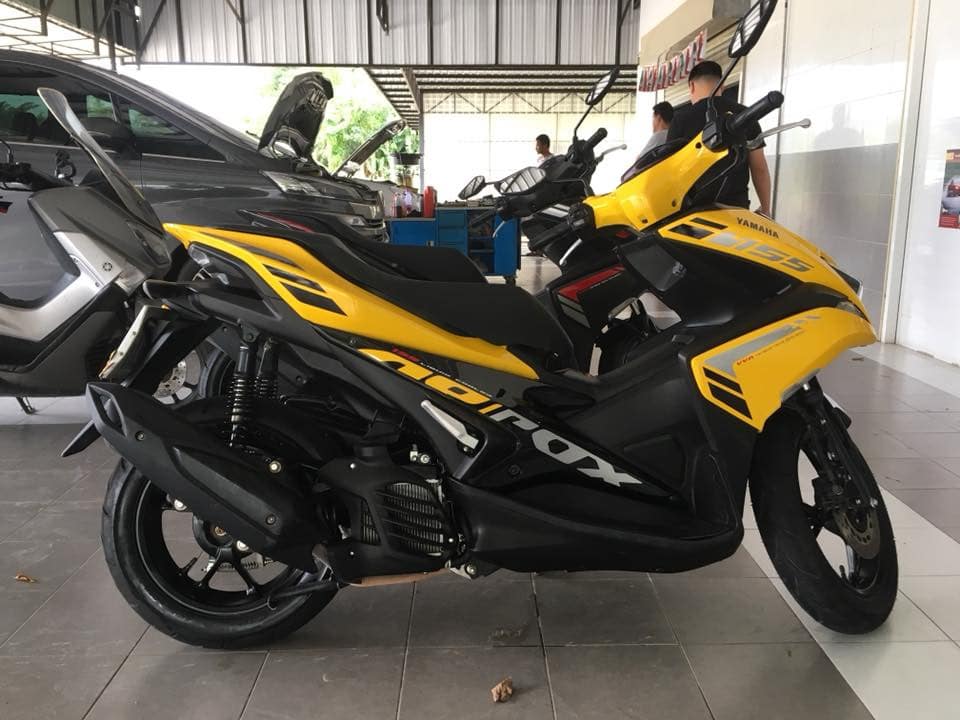 2. Krabi Motorental
The Krabi Motorental is one of the most affordable bike rentals in Krabi. It offers bikes and scooters for rent in Krabi for just 200 Thai Baht a day. The rental offers free pickup and drop off service in the Ao Nang area. The vehicles are routinely serviced and are in excellent condition.
The staff is very helpful and sensitive to the needs of each user. Krabi Moto Rentals has been in the rental business for over 4 years. The experience of delivering thousands of bikes has made them very professional and skilled in the business. Their track record speaks for their quality service.
Address: 572/8 Moo 2 Ao Nang, Krabi 81180
Website: https://krabimotorentals.com/
Contact: +66 85 069-4752
Facebook: https://www.facebook.com/krabimotorentals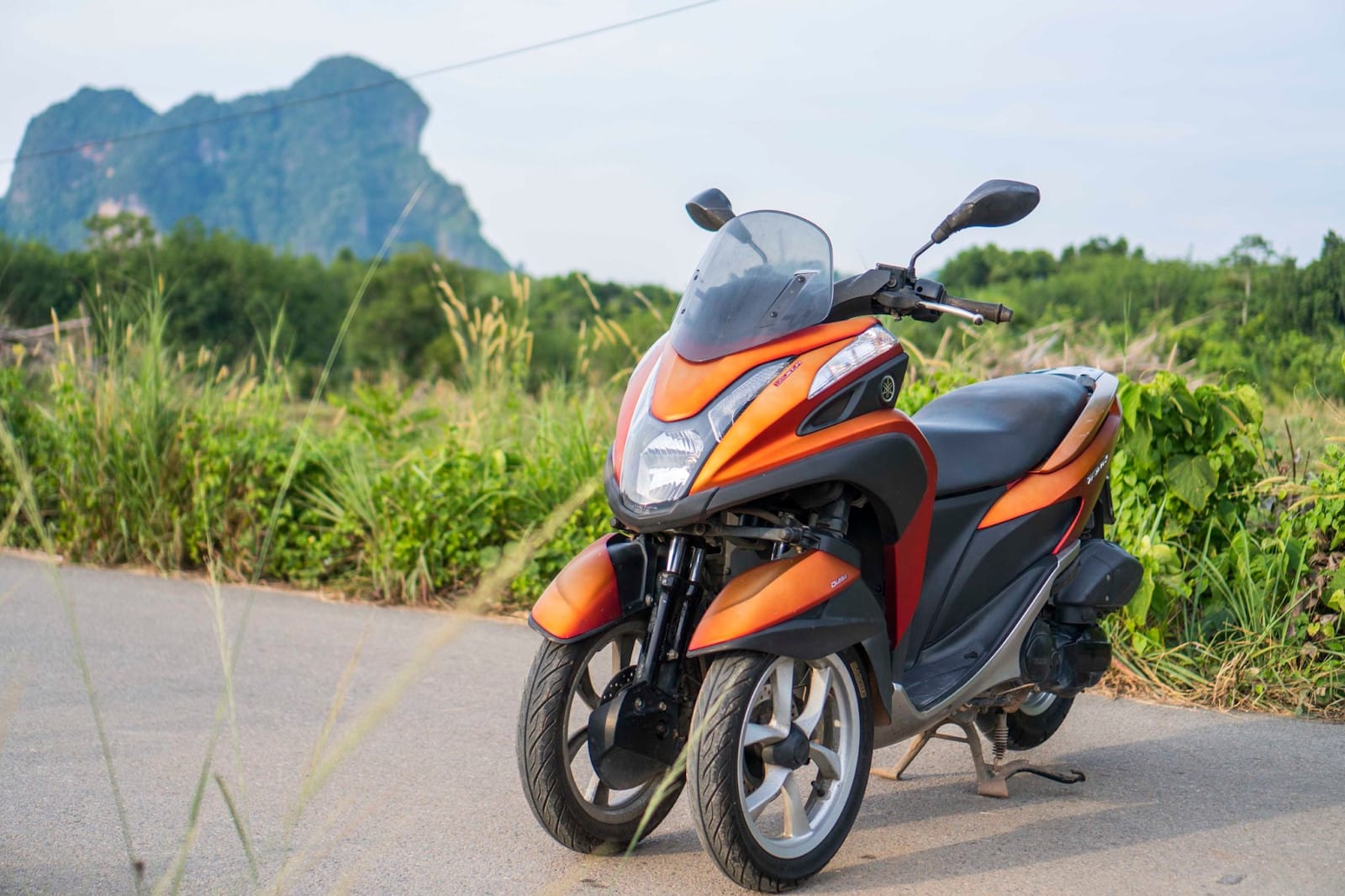 3. Krabi Ao Nang Scooter
Krabi Ao Nang Scooter is another popular bike rental in Krabi that you can trust. The staff at Krabi Ao Nang Scooter is very professional and courteous. They take care of all your requests and preferences at the time of renting and returning the bike. The booking procedure is very easy and hassle-free.
Their prices are very reasonable and never more than the market price. They also provide helmets along with the vehicle. They offer free pick-up and drop-off if you are booking for more than 2 days. The deposit fee is 3000 BAHT along with a copy of your passport.
Address: 48/2 Moo 1, Ao Nang, Krabi Town 81180 Thailand
Contact: +66 63 616 1171
Facebook: https://www.facebook.com/krabiaonangscooter/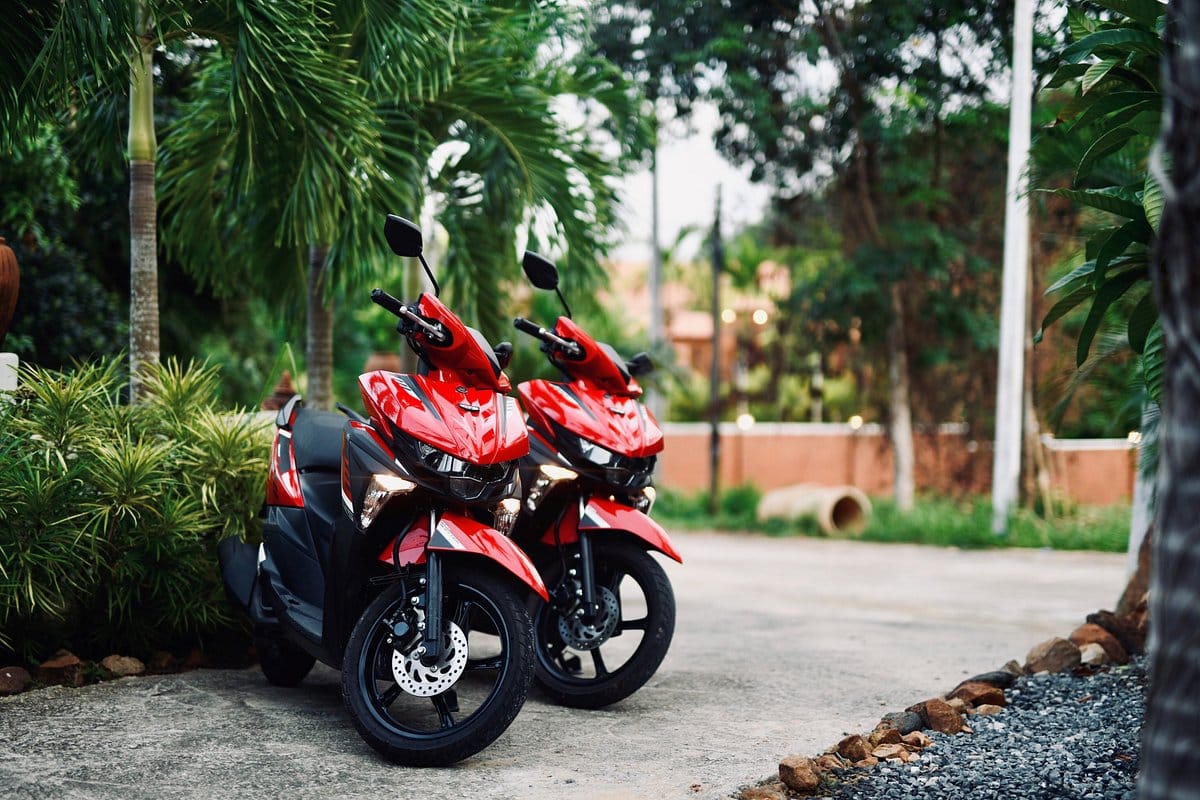 4. Krabi Bike and Bake
The Krabi Bike and Bake is an excellent rental service in the Ao Nang Area. The scooter rental company is managed by a couple - Mrs and Mr Sergey. The rental is very prompt and responsive on the website, on-call and even over mail.
The bikes are in excellent condition and regularly serviced. You get helmets free of cost and also a free pick and drop if you rent for 3 days or more. The rental is conveniently located close to the Ao Nang Center.
Address: 808/4 Moo 2, Ao Nang, Krabi Town 81180 Thailand
Contact: +66 61 105 6828
Website: http://krabibikeandbake.com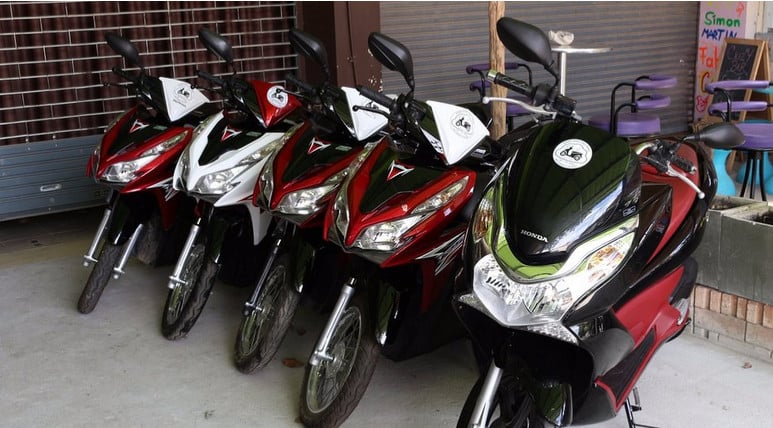 5. Yellow House
Last on our list but indeed one of the most renowned and top-notch bike rentals in the Krabi area. Yellow House offers a good range of bikes you can choose from. All the bikes are well-kept and personally maintained by the owner himself.
The owner of the place is a friendly guy and is very knowledgeable too. Besides giving bikes on rent he gives excellent advice on must-visit places in Krabi. You have the option to leave your passport or 5000 Thai Baht as security fees.
Address: 3W79+2FC, Pak Nam, Mueang Krabi District, Krabi 81000, Thailand
Contact: +66 75 622 809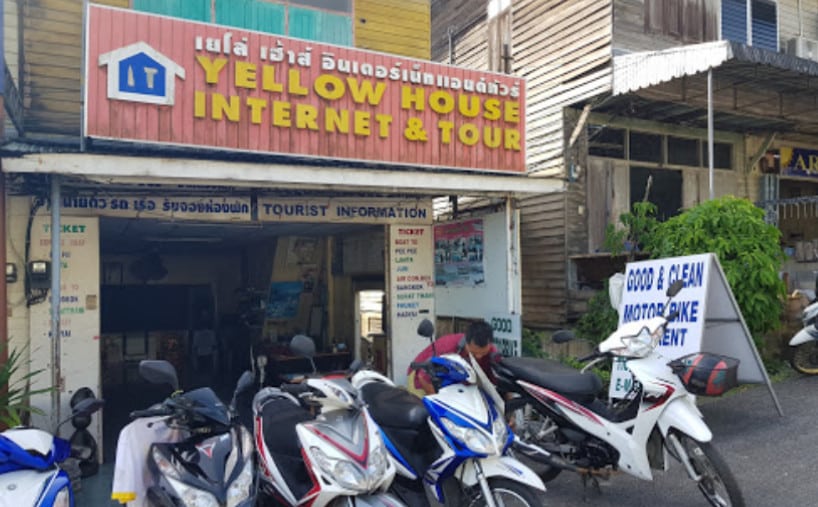 How much does renting a motorbike cost in Krabi?
Renting a motorbike for a day costs around 100 Baht with an additional security fee that is refundable. Almost all the rentals ask for the deposit fee unless you are submitting your original passport. The average deposit fee is 3000 Baht. Some rentals even give you an option to either submit your passport or deposit money.
If your plan is to stay for long, go for the weekly or monthly rental plans because they are cheaper and also have additional services such as free pick-up and drop, extra fuel etc.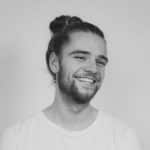 Stuck in a Fintech job, Rouby realized the world of corporate finance wasn't his cup of tea so jetted off to see the world up close. At present, the passionate traveler has covered over 43 countries and has visited Thailand alone 4 times.