Temples have long been prominent representatives of the culture of the place. Besides being a place of worship it also provides guidance and education and is also a social center for festivals, ceremonies and charitable events.
Temples are at the center of artistic endeavors. You can find unique patterns of architecture through sculptures, paintings and decorative arts and crafts.
Uncover the spiritual and cultural gems of must Visit Temples in Krabi, where sacred relics, exquisite architecture, and tranquil surroundings come together to offer a captivating glimpse into Thailand's rich heritage.
5 Must Visit Temples in Krabi – 2023 Update
1. Wat Kaew Korawaram
Wat Kaew Korawaram is krabi's famous temple and the most prominent of all temples in Krabi. It is conveniently at the heart of Krabi Town and hence is very easily accessible. It is crowded most of the time by local devotees and tourists who come to admire the very popular 2,500 sqm terrace.
The way to the terrace is through an ornate staircase lined with gold Naga snake statues. For a more peaceful experience, you can visit here during the early morning or in the evening around sunset. It is also referred to as the White temple because of its dazzling white outside.
Location: 3W67+V9G, Pak Nam, Mueang Krabi District, Krabi 81000, Thailand
Phone: +66 75 611 252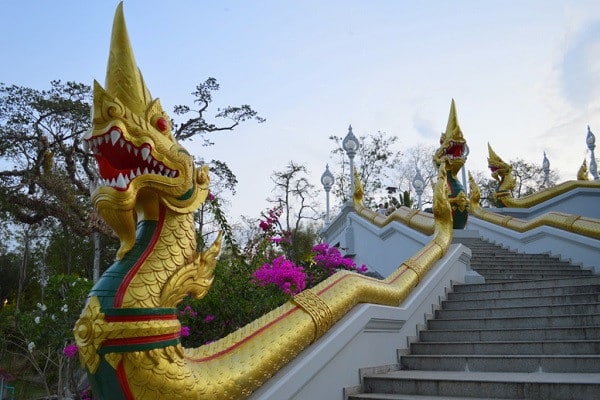 2. Krabi Tiger Cave
Also called the Wat Tham Sua, the temple is located very close to Krabi town. It is considered one of Thailand's finest natural wonders that offer a unique spiritual experience in stunning natural surroundings. It is called the cave temple owing to its location.
The biggest attraction in the temple is the footprint of Buddha which is held in very high regard by the priests and monks. It was originally a learning center where monks studied Buddhism. You have to climb over 1,256 steps climbing 280 meters up a limestone hill to reach the famous Chedi built here.
Location: 35 Krabi Noi, Mueang Krabi District, Krabi 81000, Thailand
Phone: +66 84 068 4664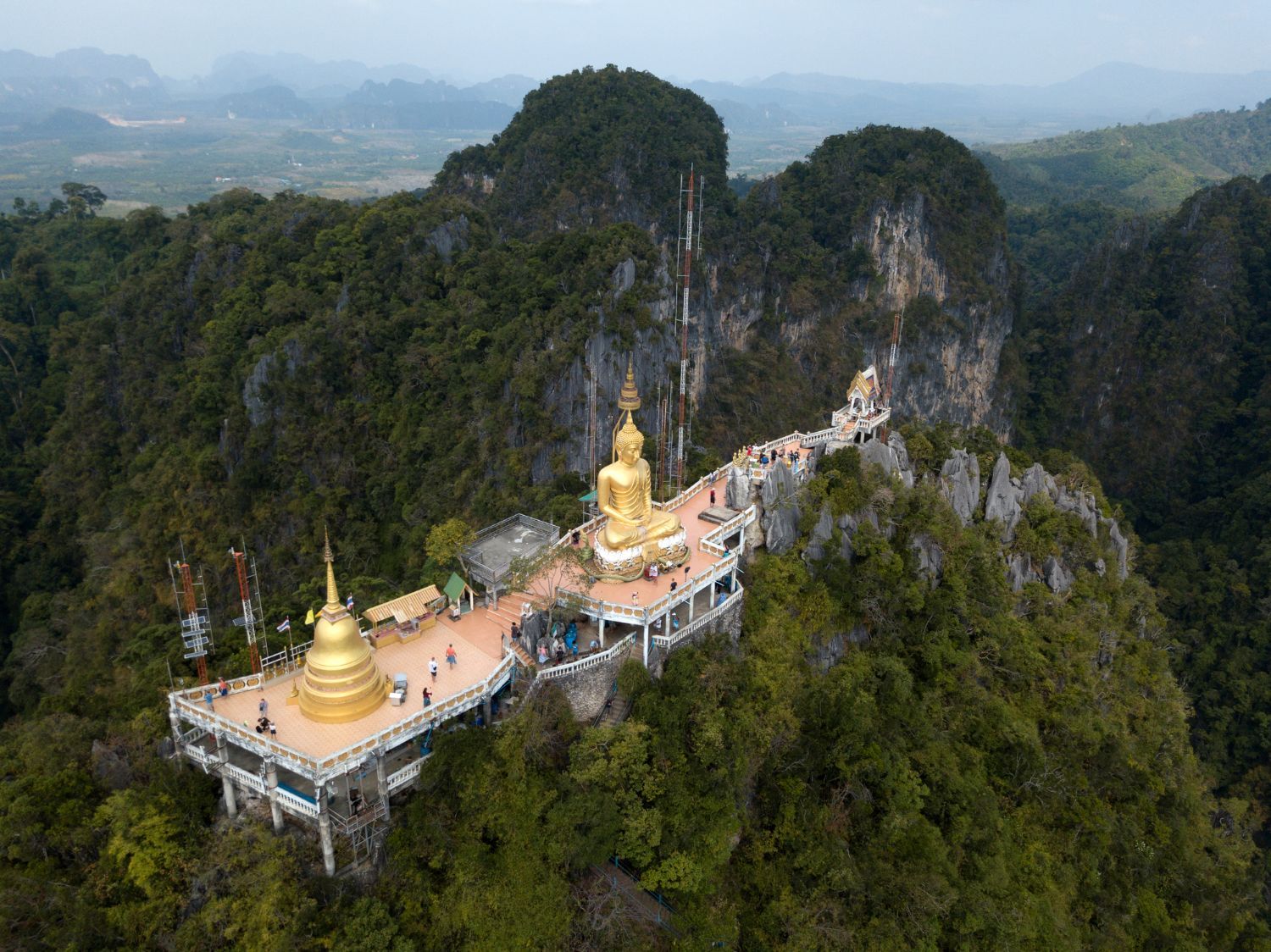 3. Wat Sai Thai
Wat Sai Thai is a Buddhist Temple in Krabi located in the area of Sai Thai. The most talked-about attraction of this temple is the gigantic reclining Buddha statue that is situated below a cliff. The temple also has small sitting Buddha statues that line up the temple premises.
The temple is very peaceful with an interesting natural cave where statues are placed. Here, you will also find a hidden pathway to a platform with a picturesque view. To reach the platform, you have to walk up a steep muddy hill on the right-hand side through the jungle. The climb is quite steep.
Location: 3VJ9+QFH, Sai Thai, Mueang Krabi District, Krabi 81000, Thailand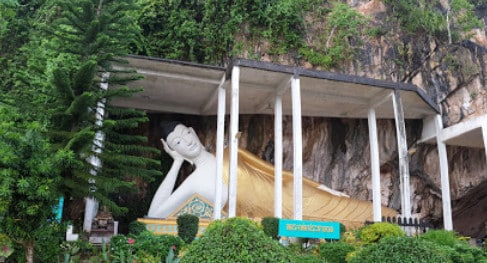 4. Wat Krabi Noi Tai
The Wat Krabi Noi Tai is not as magnanimous or lavish as the other temples in Krabi but is rightfully deemed as an oasis of peace. It is located at a distance of 25 min scooter drive from Ao Nang Beach.
The temple is ideal for those who want to just sit down in peace and meditate before the Gods. it is well looked after by the priests and monks who live here. The place is very clean and not very crowded usually.
Location: Rural Road 1025, Krabi Noi, Mueang Krabi District, Krabi 81000, Thailand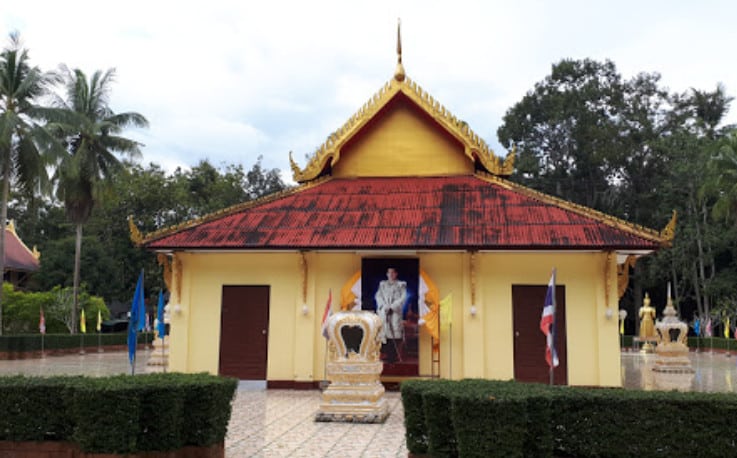 5. Wat Klong Thom
The Wat Klong Thom is another very beautiful and peaceful temple located in the Klong Thom district on the east of Krabi Town. The temple features a museum that is replete with artifacts, such as ancient stones, bronze tools, and pottery.
Some of these are over 500 years old, which makes this temple a great stop if you want to know more about the town's history.
Location: W4HX+73C, Khlong Thom Tai, Khlong Thom District, Krabi 81120, Thailand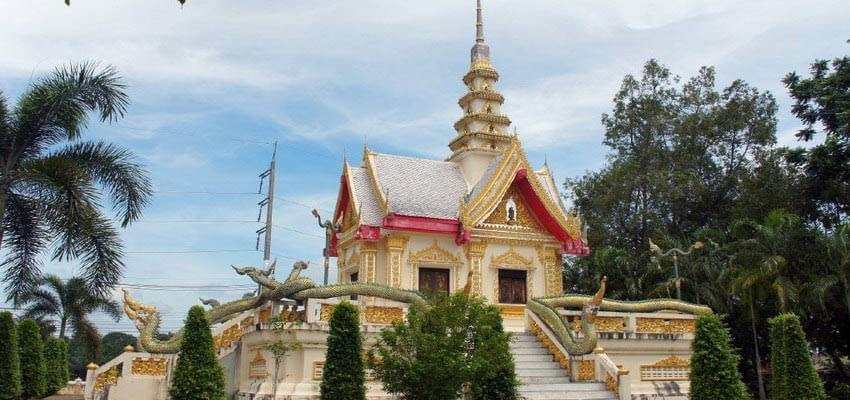 Conclusion
These 5 temples have been specially shortlisted for tourists who want to explore the temples in Krabi but have a tight schedule. There is no entry fees for most of them. However, you have to be very mindful about your dress and conduct while visiting these temples in Krabi.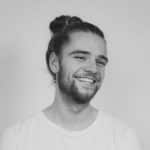 Stuck in a Fintech job, Rouby realized the world of corporate finance wasn't his cup of tea so jetted off to see the world up close. At present, the passionate traveler has covered over 43 countries and has visited Thailand alone 4 times.