The city of Chiang Mai is ringed by some of the best hot springs in Thailand. It is a perfect natural recreational option for almost all seasons, especially winters.
Explore the natural beauty of Top Hot Springs In Chiang Mai, where you can relax and rejuvenate in the therapeutic mineral-rich waters surrounded by stunning scenery.
5 Hot Springs In Chiang Mai (2023 Update)
1. San Kamphaeng Hot Spring
Location: T. Ban Sahakorn, A. Mae On
It is by far, the most popular hot spring in Chiang Mai province. It is conveniently located east of Chiang Mai city, in the Baan Sahakorn District, only 30 kilometres away from the downtown.
At San Kamphaeng, you can book an entire pool for yourself and if you are on a budget, just relax by dipping your feet in the natural streams.
There are several booths in the area that sell small eggs in bamboo baskets that you can boil in the hot water spring. You can even plan to stay overnight, gazing at the stars, sitting by the edge of the streams. There are shelters at the campsite that are very affordable and safe. You can do plenty of activities here.
Open 7am - 7pm
Tel. 053 037 101
Location: Ban Sa Ha Khon, Mae On District, Chiang Mai 50130
Website: https://www.skphotsprings.com/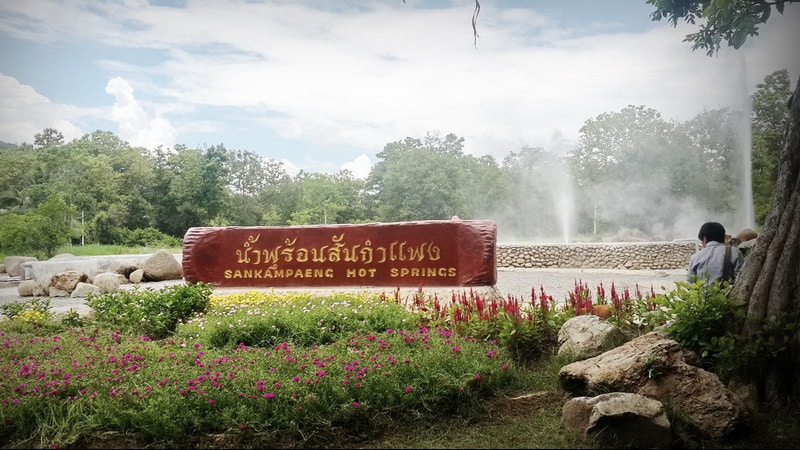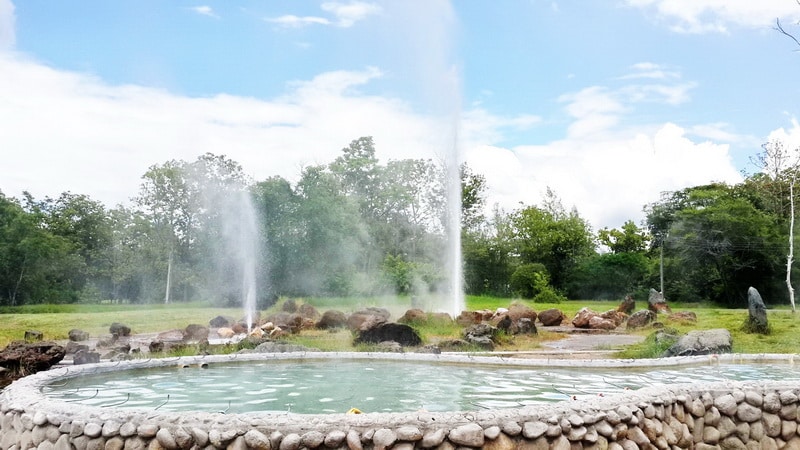 2. Pong Duet Hot Spring
It is the biggest geyser hot spring in Thailand. This Chiang dao hot spring is located at the top of a steep nature trail in the Huay Nam Dung National Park. Here the spring is about 2 metres high and the water temperature could be as high as 99 degrees celsius, so be careful.
There are three large ponds here out of which there is a geyser that shoots a water spout skywards at regular intervals. You also have the option to take a mineral water bath and enjoy the plethora of benefits it offers.
The hot spring is surrounded by lush green forest and is also the starting point of the Pong Duat Nature Exploring Path.
The path is quite long, about 1550 metres but is definitely worth all the effort. A hot bath after the trek is a cherry on the cake. Since the hot spring is located inside the national park, there is an entrance fee to get there.
Open 8 am - 6 pm
Tel. 053 248491
Location: Huay Nam Dung National Park, Pa Pae, Mae Taeng, Chiang Mai 50150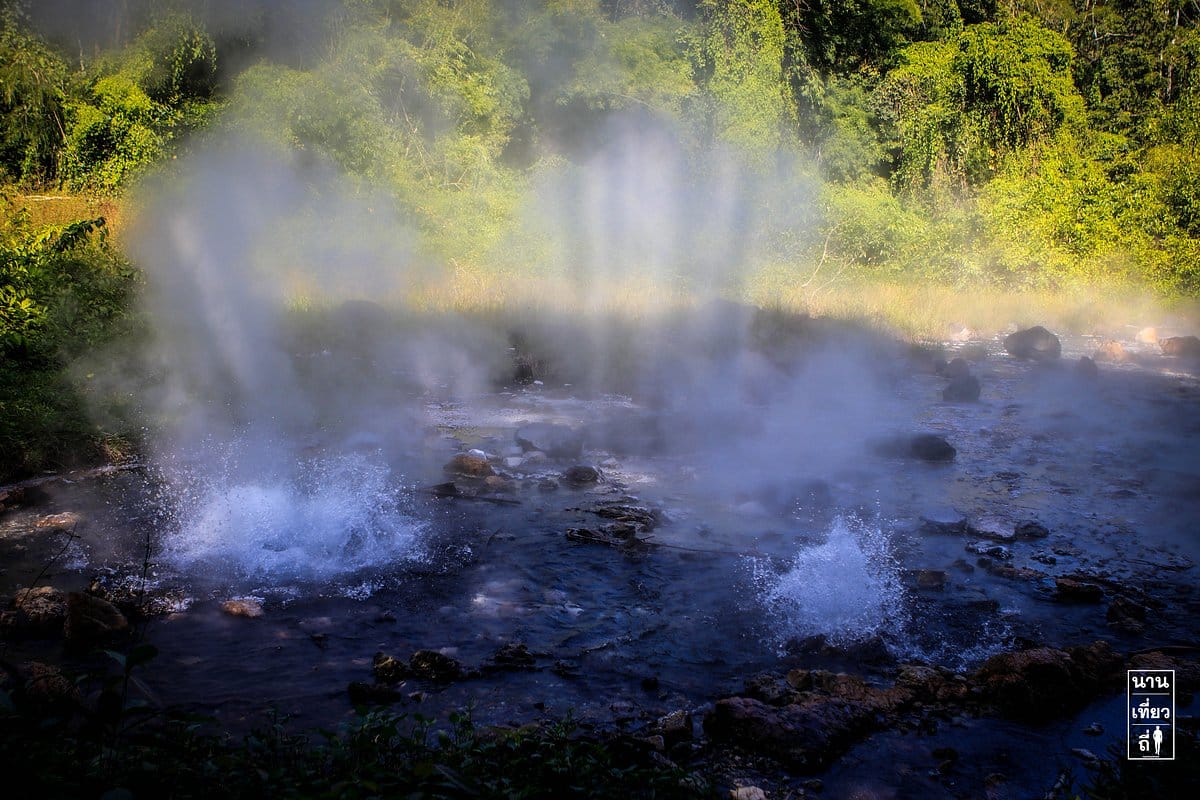 3. Fang Hot Springs
It is an ideal destination for a relaxing and rejuvenating day trip as suggests the online reviews. The fang Hot Spring is one the largest hot springs in Thailand consisting of about 50 natural hot springs to dip in within a 10 rai area.
The spring is conveniently located within the Doi Pha Hom Pok National Park and therefore serenity and natural scenic beauty is guaranteed.
You have the choice to sit by the natural streams or even book a private mineral hot tub to enjoy all by yourself. The areas around the natural springs are laid with rocks to make it easy for visitors to see the streams from a close distance.
There is an option of a steam sauna and 'boiling eggs' available to the visitors. Eggs are sold in small baskets that can be naturally boiled by placing them over the hot springs.
Location: At Doi Pha Hom Pok National Park, T. Pong Nam Ron, A. Fang
4. Maekchan Hot Springs
This beautiful hot spring is located midway as you travel from Chiang Mai to Chiang Rai. The water at the springs here could be as hot as 90 degrees celsius.
It is not safe for bathing so there are separate pools where you dip your feet and relax.
There are several shops in this area from where you can buy pretty souvenirs. You can also find nice restaurants and coffee shops where you can sit down for a sumptuous meal after the hot water bath.
Like most other springs in Northern Thailand, you can find vendors selling raw eggs here that you can boil over the hot spring and enjoy.
Location: Moo 6 Pha Soet Phatthana Village Doi Hang Chang Wat Chiang Rai 57260, Thailand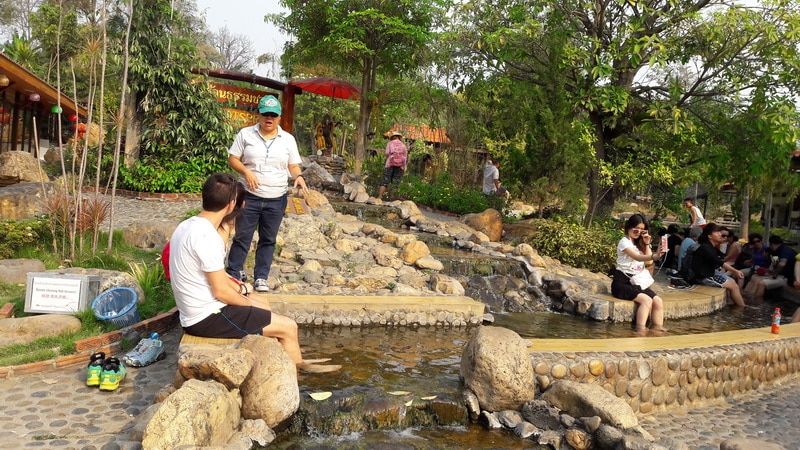 5. Doi Saket Hot Spring
The Doi Saket Hot Spring was developed by the local authorities of Chiang Mai city. It was set up particularly for the local villagers and Thai people to get some relief on the cold winter days by taking a warm water bath.
There are egg vendors who sell raw eggs that you can boil over the hot spring. You can take a private room at around 500 Thai Baht for privacy where you also have the option to control the temperature of the pool.
There are a few cafes where you can enjoy authentic Thai dishes. After taking a long swim in the mineral pool, you can stretch your back and enjoy the Thai massage that is offered here at a reasonable price.
Hours of Operation: 6 am – 4 pm daily
Phone: 053 389 164
Location: At Ban Mae Pong, T. Pa Miang, A. Doi Saket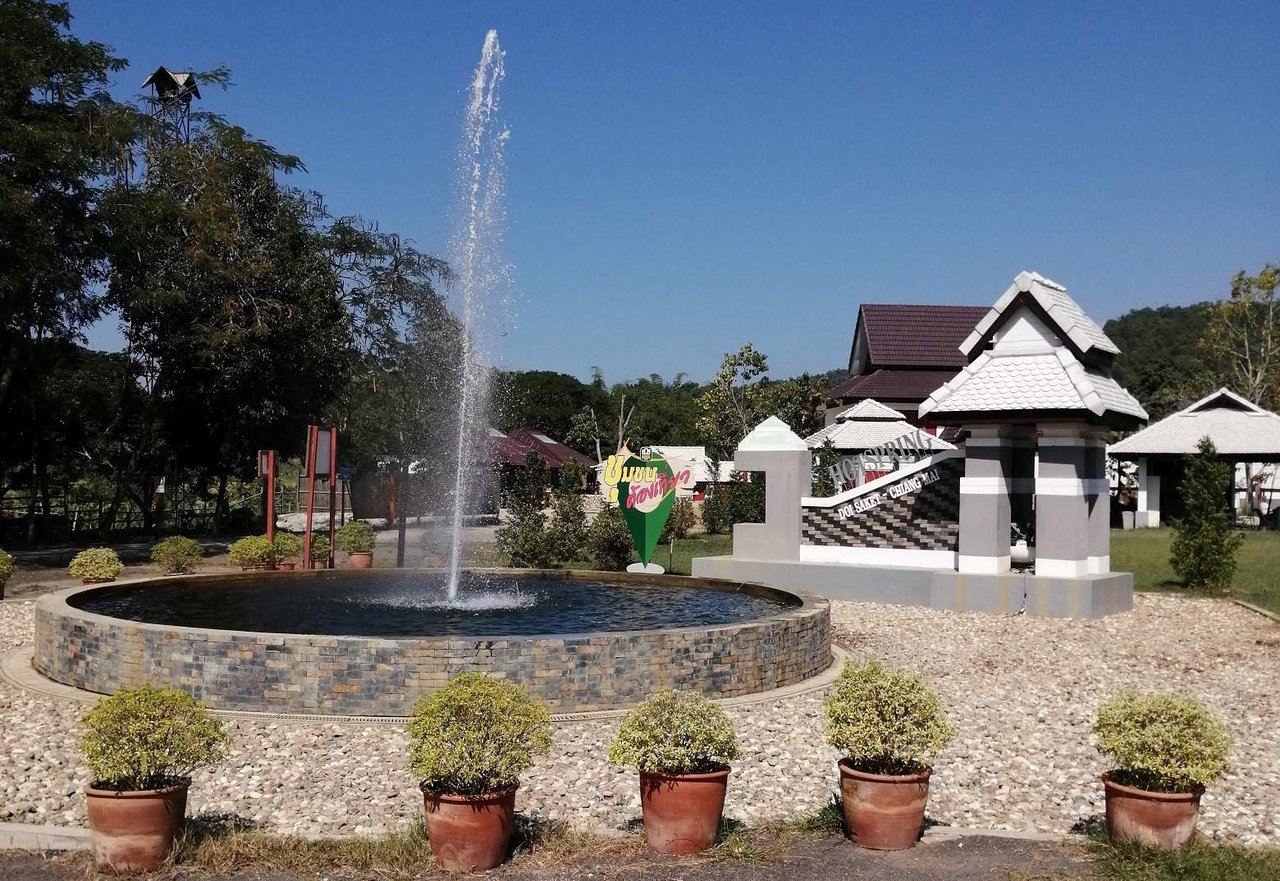 Conclusion
Chiang Mai has plenty of these hot springs where you can relax, especially in winters.
However, the temperature of water at some of the springs may be dangerously high, so be careful to follow these etiquettes to ensure safety.
Founder - Thailand Nomads
Jordan started Thailand Nomads primarily for sharing his experience of exploring Thailand for several years. The objective is to help tourists especially digital nomads plan their travel itinerary when visiting Thailand.
Email: jordan@thailandnomads.com