One of the key concerns while travelling to a foreign land is converting money to the local currency for a smooth experience.
However, you need not worry about it while visiting Thailand. Currency exchange and cash withdrawal are very easy here, especially in Chiang Mai.
There are several banks as well as individual money exchange bureaux operating in the city.
You can also withdraw cash from various ATMs/cashpoint using your credit/debit/electron card.
If you're traveling to Chiang Mai and need to exchange your currency, you can rely on the Trusted Money Exchange Shops in Chiang Mai to provide you with competitive rates and excellent service.
Thai Currency
The official currency of Thailand is the Thai Baht, and the international code for it is THB.
One Baht is divided into 100 satangs. The currency has both coins as well as the note form.
The coins come in denominations of 1, 2, 5, and 10 baht, as well as 25 and 50 satangs. The currency notes come in denominations of 20, 50, 100, 500, and 1000 baht.
The most commonly used currencies are the 10 Baht coin and 100 Baht note.
For converting money right after arriving in Chiang Mai, you can get it done from any exchange counter within the airport.
There are no independent money exchangers at the airport, and most of them are operated by banks.
However, the exchange rates are not that appealing, so we recommend you use the airport exchanges only when there is an emergency.
For the rest of the money, we have curated a list of the top money exchanges in Chiang Mai where you can get your money converted easily and cheaper.
Top 5 Money Exchanges in Chiang Mai
The best money exchanges in Chiang Mai are as follows:
5 Trusted Money Exchange Shops in Chiang Mai – 2023 Update
1. Super Rich Chiang Mai
It is one of the most renowned names for currency exchange in Thailand. Most of its branches are operational in Bangkok.
In Chiang Mai, it has 3 branches: Loi Kroh Rd, Ratvithi Rd, and Charoen Prathet Rd. It offers the most feasible rates in the whole of Chiang Mai.
The Exchange rates of the most popular currencies here are only about 0.3-0.7% lower than the mid-market rates.
They charge no commission and the rate to buy and sell currencies displayed at the money exchange office is exactly the same as that you should get.
Location: 34/4 Loi Kroh Rd, Tambon Chang Khlan, Amphoe Mueang Chiang Mai, Chang Wat Chiang Mai 50100, Thailand
Phone: 053 206 799 (I), +66 53 206 799
Opening Hours: 8:30 am–5:30 pm
2. Super Rich Money Exchange
It is another very popular money exchange in Chiang Mai that you can trust. You just need to carry one ID and your passport to get the currency exchanged.
It offers high exchange rates, which is better than most other exchanges in Chiang Mai. There are multiple branches of this exchange both in Chiang Mai as well as nearby locations.
The staff is very cordial and friendly. The best part is that you don't even have to pay a commission here. The facility is air-conditioned and has seating.
Location: 25/4 Ratchawithi Road Soi 2, Tambon Si Phum, Amphoe Mueang Chiang Mai, Chiang Mai 50200, Thailand
Phone: +66 (0) 2254 444
Opening Hours: 09:00 to 17:00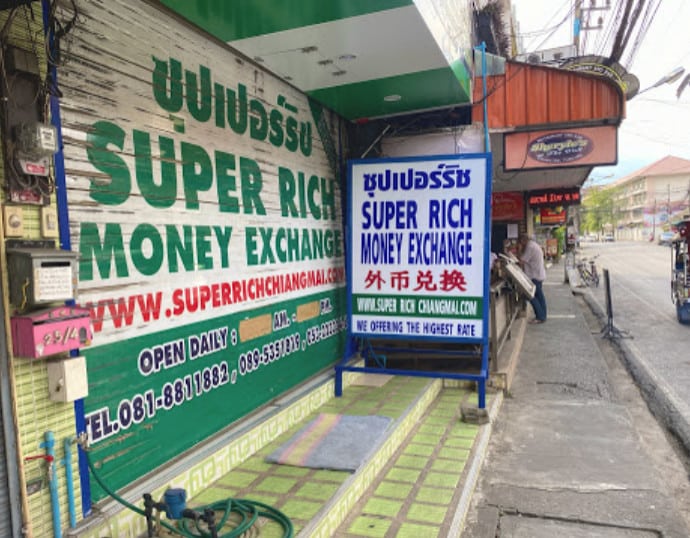 3. Metro Money Exchange Chiang Mai
The Metro Money exchange started as a licensed importer and exporter of foreign currency and wholesale money changer in 2007.
It has extended its reach to over 165 countries through its network of over 200,000 global agents, including banks and non-banking financial companies.
Location: 63 56 Arak Rd, Tambon Phra Sing, Amphoe Mueang Chiang Mai, Chang Wat Chiang Mai 50200, Thailand
Phone: 082 828 5511
Website: www.metromoneyexchange.com
4. Super Currency Exchange
It is one of the most popular Currency exchanges in Chiang Mai.
Location: 30/1 Loi Kroh Rd, Chang Khlan Sub-district, Mueang Chiang Mai District, Chiang Mai 50100
Phone: +66 81 530 0727
Opening Hours: 09:00 – 18:00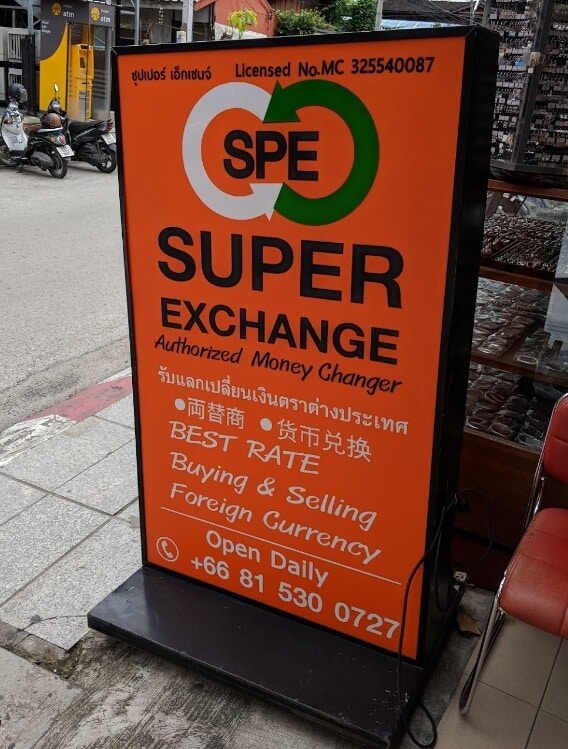 5.Mr. Pierre
Mr. Pierre is a licensed money exchange in Chiang Mai with an excellent air-conditioned seating facility. It offers really good rates on exchange.
The exchange is conveniently located in central Chiang Mai, and easily accessible by railway stations and airports. The current rates are displayed on the electronic board.
After getting your currency exchanged, you can go for yummy breakfast right outside the facility. There's a lady next to the money exchange that makes fresh Thai breakfast- Coconut pancakes, waffles and sticky rice with banana, peanuts and coconut.
Location: 119/2 Thapae Rd Soi 3, Tha Phae Road, Chang Moi, Muang district, Chiang Mai 50300
Phone: 053-275-488, 053-275-489
Opening Hours: 09:00-20:00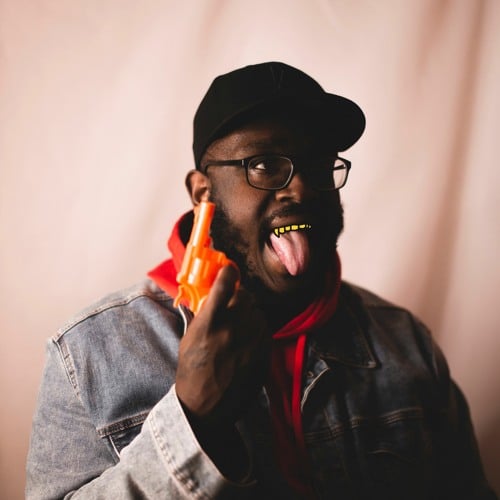 6. SK Money Exchange
It is one of the oldest established money exchange offices in Chiang Mai. The exchange rates offered here are much better than at the big banks.
However, owing to its popularity, sometimes the currencies run out of stock, and you might have to comprise there.
To avoid this, you can make a reservation well in advance so the exchange can gather it for you.
Location: 73/8 Charoen Prathet, Chiang Mai, Thailand (near Diamond Hotel)
Phone: 053-818118-9
Opening Hours: 09:00-20:00
Conclusion
Since Money Exchange is an important yet risky proposition, it is vital to approach the right agency for secure exchange.
You can pick any of the above 6 for a safe experience.
FAQs
You can show any valid photo ID proof such as Passport/Aadhar/Voters ID/Driving License or PAN card.
Founder - Thailand Nomads
Jordan started Thailand Nomads primarily for sharing his experience of exploring Thailand for several years. The objective is to help tourists especially digital nomads plan their travel itinerary when visiting Thailand.
Email: jordan@thailandnomads.com