Besides being world-famous for its relaxing massage and meditation training at Buddhist Temples, Thailand also features some top-notch yoga centers. The maximum number of these yoga centers are dotted around Chiang Mai city.
Embrace inner harmony at the Best Yoga Classes in Chiang Mai, where skillful teachers and tranquil settings unite, providing an invigorating and restorative journey in the heart of Thailand's vibrant cultural center.
10 Best Yoga Classes in Chiang Mai
1. Wild Rose Yoga
The Wild RoseYoga studio is one of the earliest and most established studios in Chiang Mai located close to Pratu in Chiang Mai town. It is a small wooden Lanna house that is compact and makes a lovely space for practicing yoga.
The entrance is lined with fresh flower petals. The smell of the fresh flowers blends with the smoking scent of incense sticks to give the perfect tranquil oasis vibe.
It offers courses on a large variety of yoga styles, the most popular style being Yin yoga. It also has a 'Yoga to Go' service where you can leave the studio and practice yoga at other beautiful locations in the city.
The studio is spotlessly clean. Everyone who enters the place is first made to wash their feet. It offers mosquito repellant to all visitors so that they don't get distracted by the nasty skeeters during yoga.
Fees
Single drop-in class: 250-400 baht
Five Class pass- 1,000 Baht
Contact
Phone: + 66-89 950 9377
Address: Wild Rose, 4/1 Phraproklao, Muang, Chiang Mai, Thailand,
Website: https://www.wildroseyoga.org/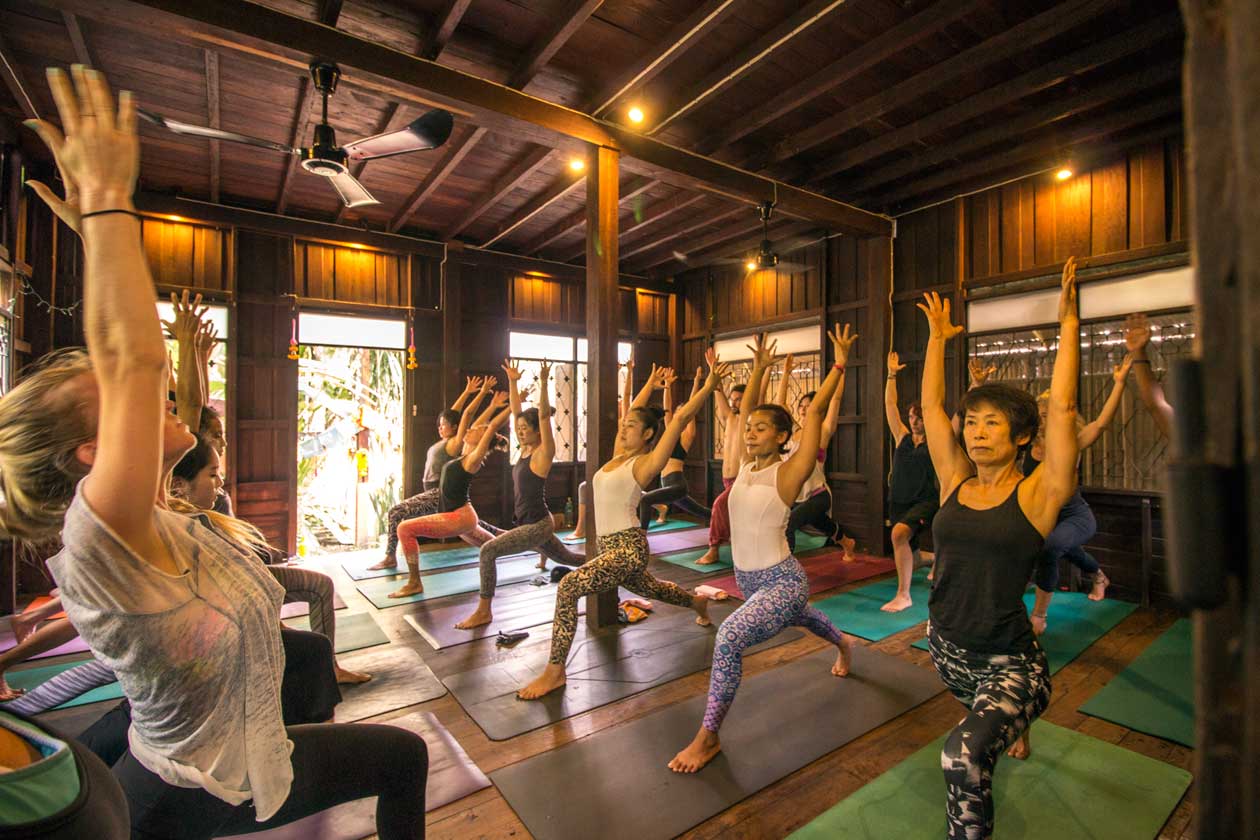 2. Freedom Yoga Chiang Mai
This studio was established by Ning and Adam in 2016 with the objective of helping people relax and attain mindfulness. It is the sister studio of Hidden House Yoga located just east of the old city.
It offers a variety of classes in Hatha Yoga, Vinyasa Yoga, Ashtanga, Iyengar, and Yin Yoga. There are introductory sessions for beginners where elementary lessons are taught that are very easy to follow.
The studio features a juice bar and cafe that serves healthy food and drinks that are reasonably priced. You can sit down for a light meal after the yoga sessions and socialize with the other visitors.
It remains open throughout the week. The daily yoga classes run from 08:00 - 19:00 on weekdays, whereas on Saturday it remains open from 09:00 - 18:00, and Sunday 09:00 - 11:00
Fees
Single Drop-in Class- 250 baht
Five-Class Pass- 1,000 Baht
Ten-Class Pass- 2,000 Baht
Contact
Phone: 084 3694339
Address: 38 Kampaeng Din Soi 1, A Muang Chiang Mai, Thailand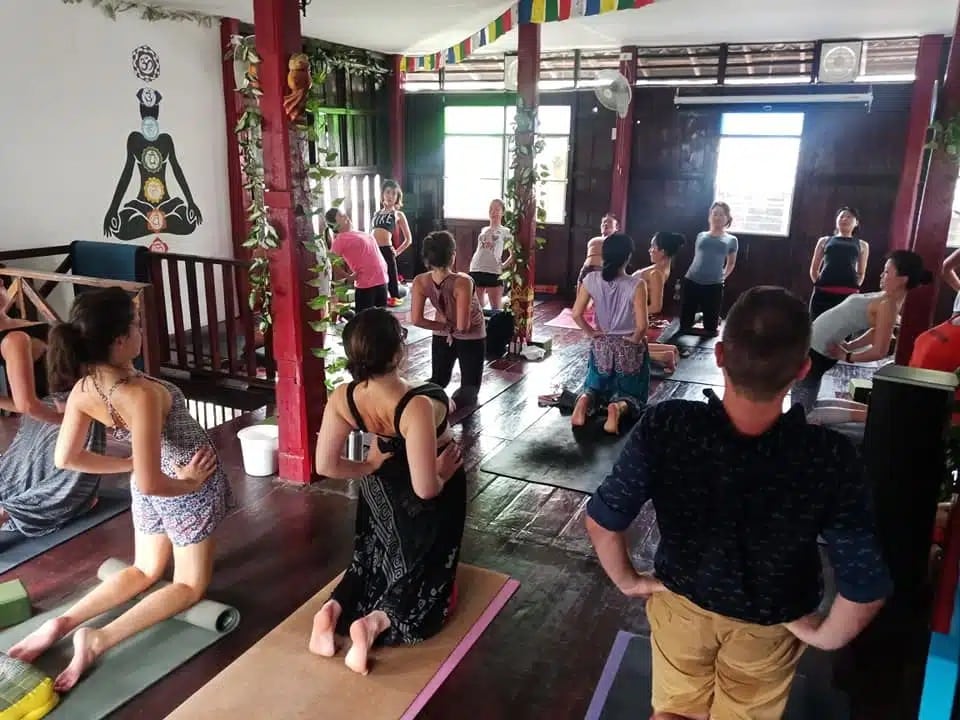 3. Yoga Ananda
Yoga Ananda is one of the most popular yoga studios in Chiang Mai founded by the renowned Kru Nok in the year 2015. Kru Nok is a professional yoga teacher accredited by the Yoga Alliance (RYT-500) and The International Yoga Academy (IYA). At present the yoga center has two branches in Chiang Mai- the main branch is on the Nimmanhaemin Road and the other sub-branch near Jing Jai Market.
The studio offers classes in a wide range of disciplines for both beginners and Pilates; adults and children. It includes styles such as Hatha Yoga, Hatha Vinyasa, Ashtanga Vinyasa, Therapeutic Yoga, Restorative, Yoga for Health, etc.
The sessions are held both in Thai and English. The studio is fully air-conditioned and its walls are lined with mirrors that give you the vibe of a modern-day fitness studio, a perfect yoga retreat!
It also offers yoga teacher training courses and certification workshops thrice a year.
Fees
Single Drop-in Class: 250 THB
Five Class Pass: 1,000 THB
One Week Unlimited Pass: 1,200 THB
One Month Unlimited Pass: 3,000 THB
Contact
Phone: +66 81 884 0122
Address: Room 110 Hillside 3 Condominium 8 Nimmanhaemin Rd T.Suthep Amphoe Mueang Chiang Mai, Chang Wat Chiang Mai 50200
Website: https://www.yogaananda.net/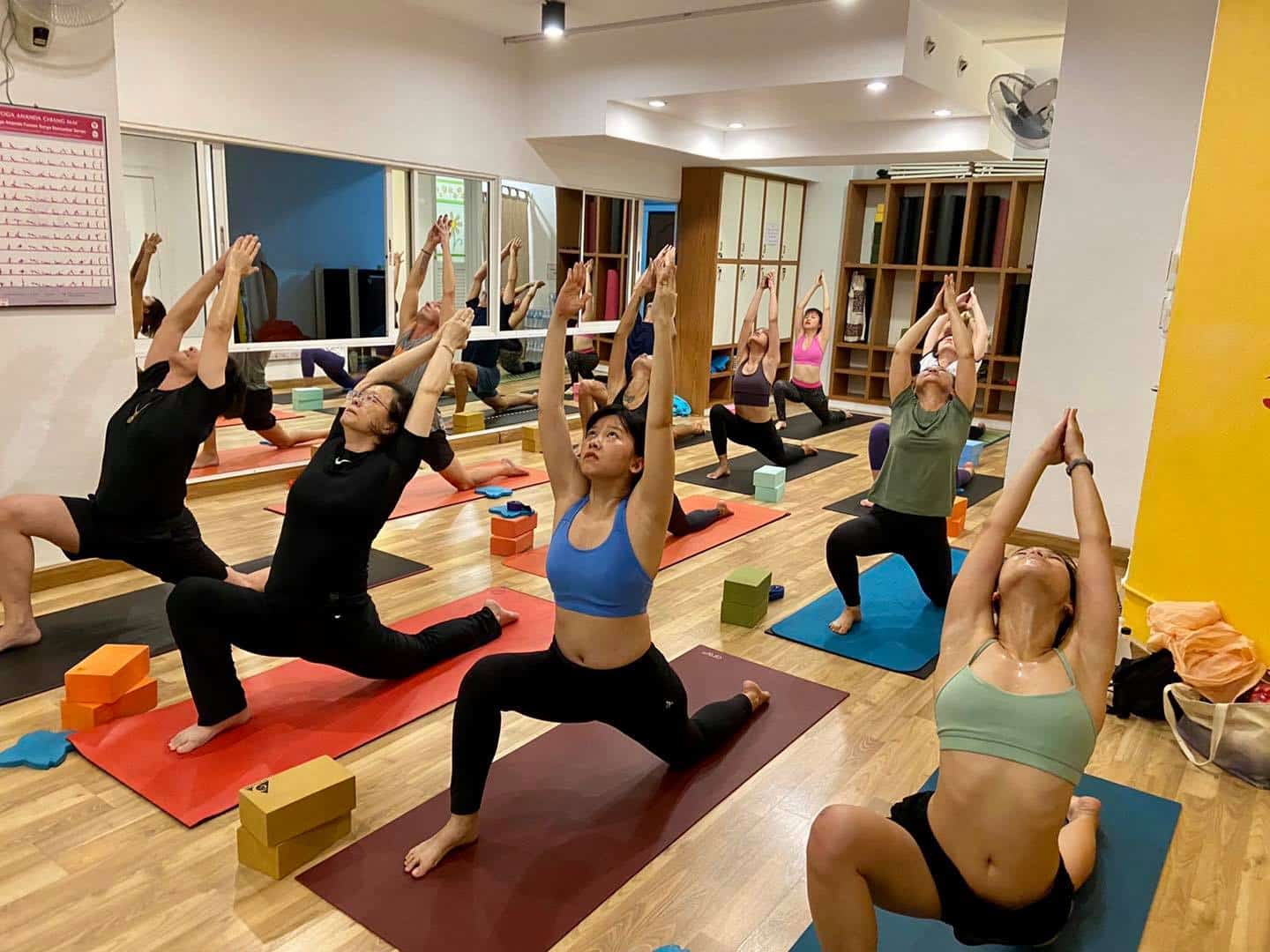 4. Yoga Mind Yoga Body
This Yoga studio is run by Gernot Huber, a renowned foreign teacher who also takes classes at Wild Rose Yoga Studio and The Yoga Tree.
The coach Huber specializes in anatomy and alignment and is popularly known for his integrated approach to yoga that incorporates insights from Iyengar, Ashtanga, Anusara, Forrest, and Kripalu yoga, from yogic and Buddhist philosophy.
The studio completely runs on the goodwill of the Yoga instructor, Gernot. He mostly offers a private class at his studio. If you want to get private lessons from him but are unwilling to travel to the studio, you can set up a meeting elsewhere by paying a little extra.
Fees
Private classes: 1800 THb per hour
For each additional student: 200 THB
Contact
Phone: +66 89 758 6872
Address: Yoga Mind Yoga Body, 21/6 Ratchaphruek Road, Chang Phuak, Mueang, Chiang Mai, Thailand.
Website: https://yogamindyogabody.com/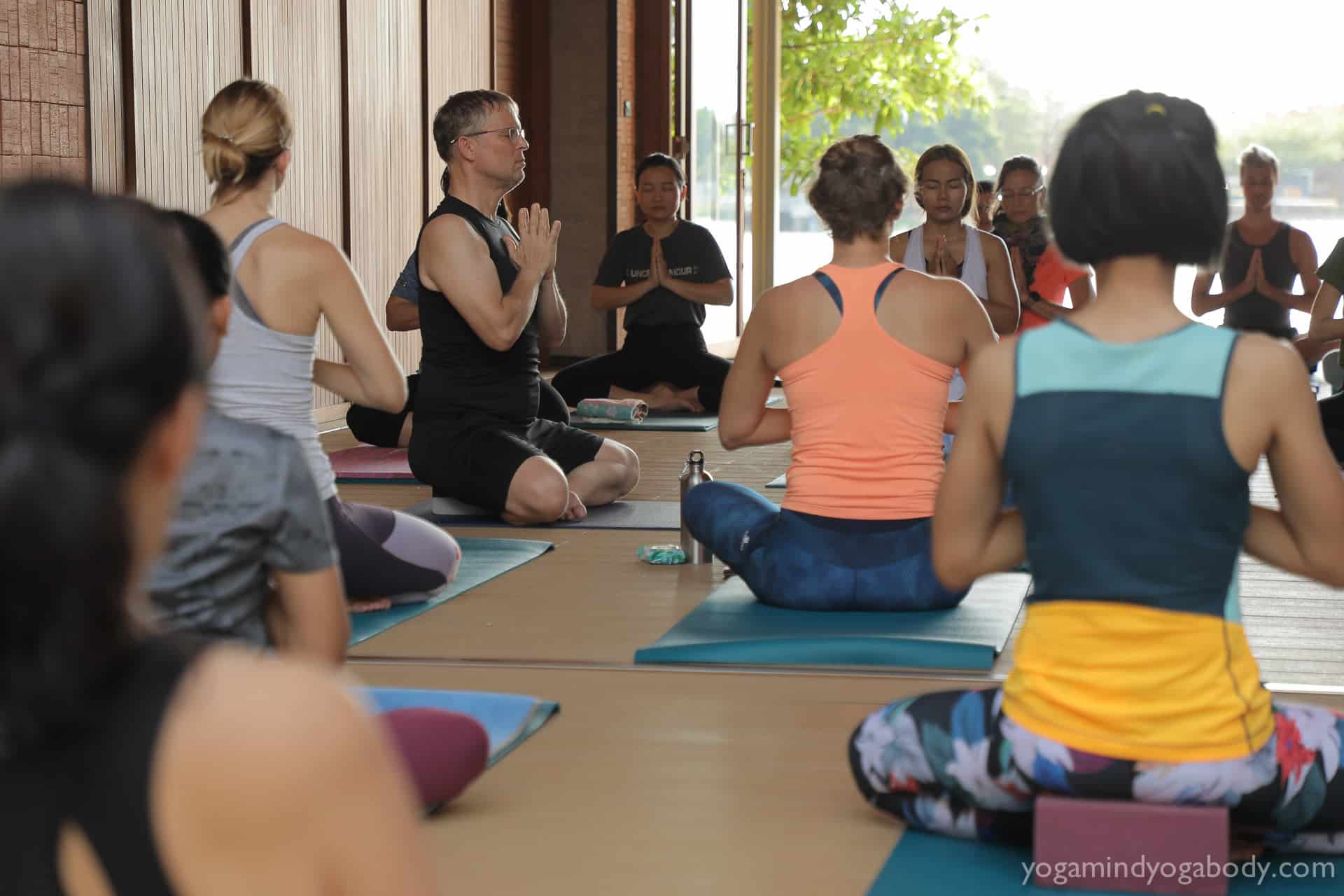 5. Mahasiddha Yoga
The Mahasiddha Yoga Studio is conveniently located just south of Chiang Mai's old city. It is popular in town for its Tantra Yoga that originated in India in the late Fourth Century and later became prevalent in the neighboring countries. It is deemed the best place for an authentic and spiritual yoga experience in Chiang Mai.
The trainers are professionals who are certified by the Atman International Federation of Yoga and Meditation. It offers about 5 to 8 classes a week.
The studio also hosts free workshops and retreats each Sunday. There is a spacious garden on the campus that is ideal for a peaceful yoga session.
Fees
Single drop-in class: 220 THB
Contact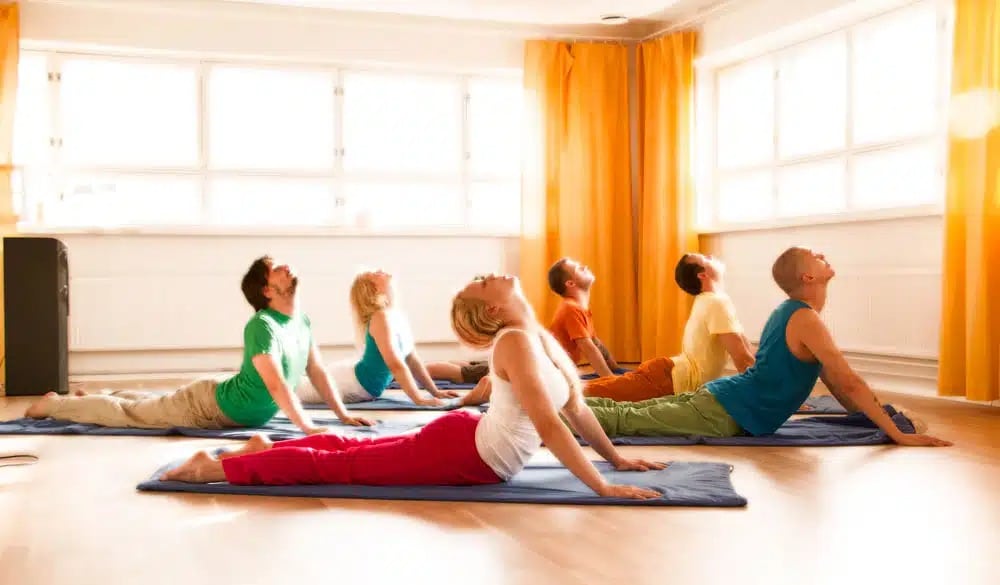 6. The Yoga Tree
The studio is set up in the quiet southwest corner of the old city in Chiang Mai town. It is the yoga community's favorite owing to its lush green location that gives a relaxed homely atmosphere. It offers a wide range of courses for both newbies and professionals.
The activities here include dance, tai chi, meditation, and creative wellness. It also hosts workshops, wellness events, and small festivals regularly. The studio also has an onsite cafe that serves healthy drinks and snacks you can enjoy after the sessions.
Fees
Single drop-in class: 300 THB
Contact
Phone: +66 (0)62 283 9915
Address: 65/1 Soi Chantharawirot, off Arak Road, Chiang Mai Old City
Website: theyogatree.org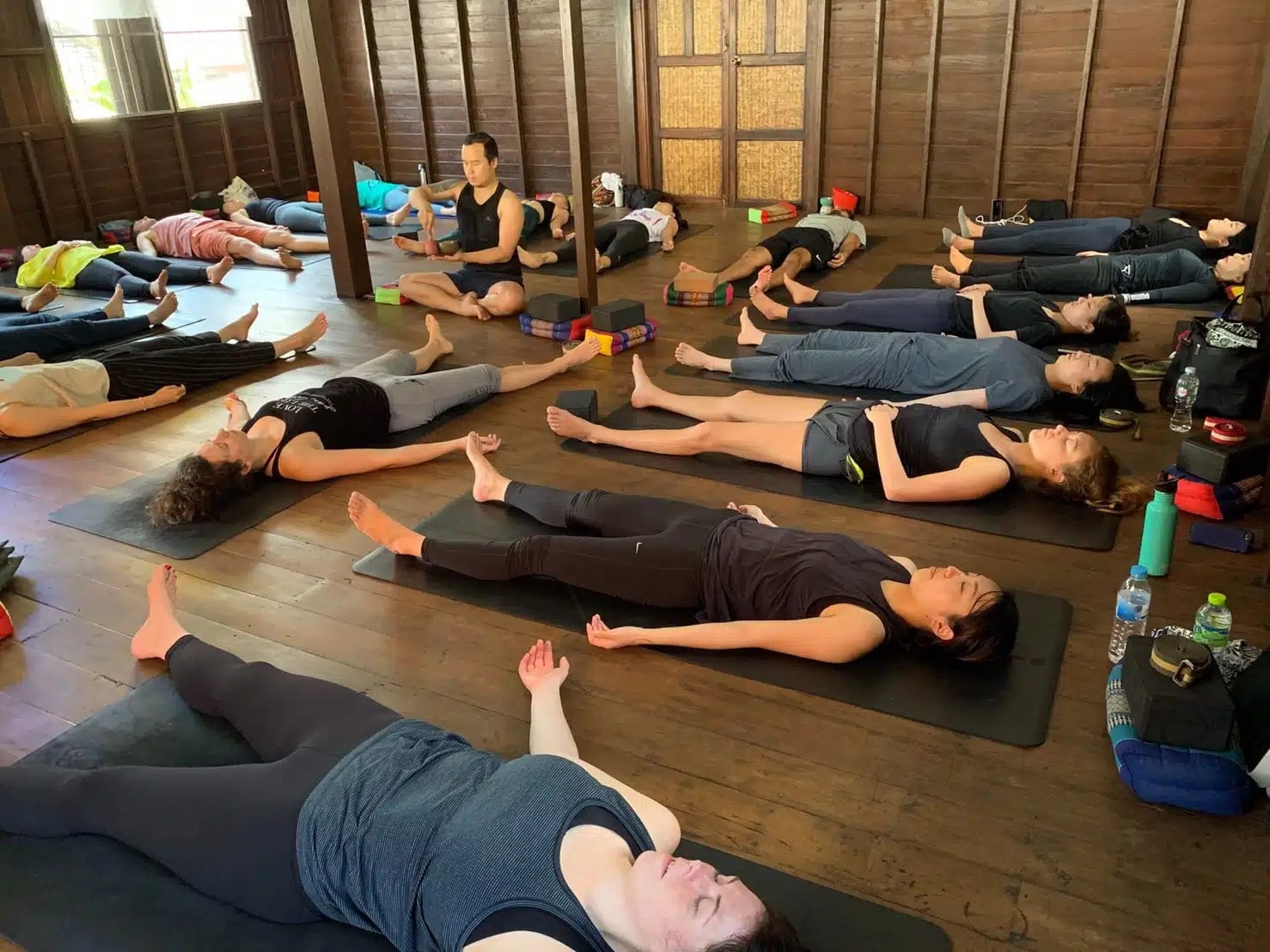 8.Satva Yoga
It is a very welcoming Yoga Studio in Chiang Mai.
The yoga training at Satva is alignment-based with core movement integration, which is effective in unwinding the year-long patterns of the body and mind.
The trainers pay personal attention to each individual to understand and detect their imbalances.
They make active use of props like inversion slings, a bamboo wall, physio balls, foam rollers, etc, to help the trainees learn body balancing.
Structural bodywork is especially beneficial in treating long-term chronic problems. The center specializes in Integrative and Pilates Therapy, Soma Structural bodywork, etc.
Address: 19 Taewarit Rd, Tambon Chang Phueak, Mueang Chiang Mai District, Chiang Mai 50300, Thailand
Phone: +66 80 673 6516
Website: http://www.yogachiangmaithailand.com/about/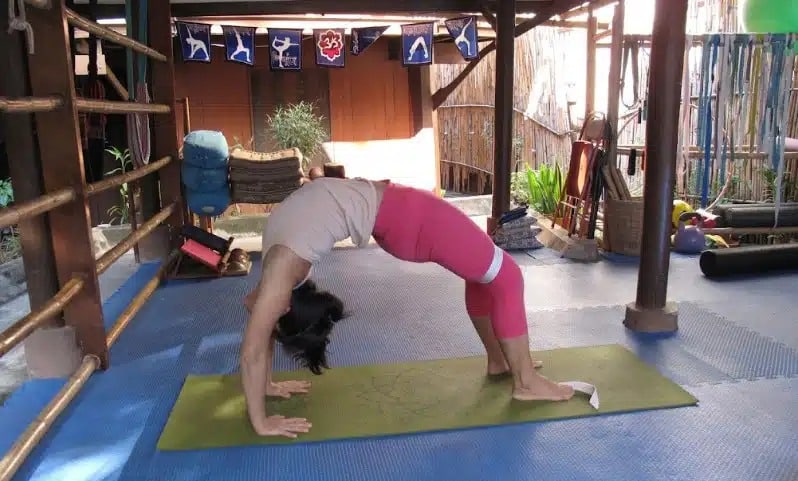 9. Blossom Studio by The Yoga Tree
Blossom is a cozy, sun-drenched yoga studio located in the Old City of Chiang Mai, Thailand.
It is a perfect place for yoga, healing sound, movement meditation, and connection. The staff at the Yoga Studio is very welcoming and well experienced.
Address: Next to Vista hotel 252/11-12 Pra Pokkloa Road 2nd Floor above Velamaya Lifestyle Shop Mueang, Chiang Mai 50200, Thailand
Website: https://theyogatree.org/blossom-studio/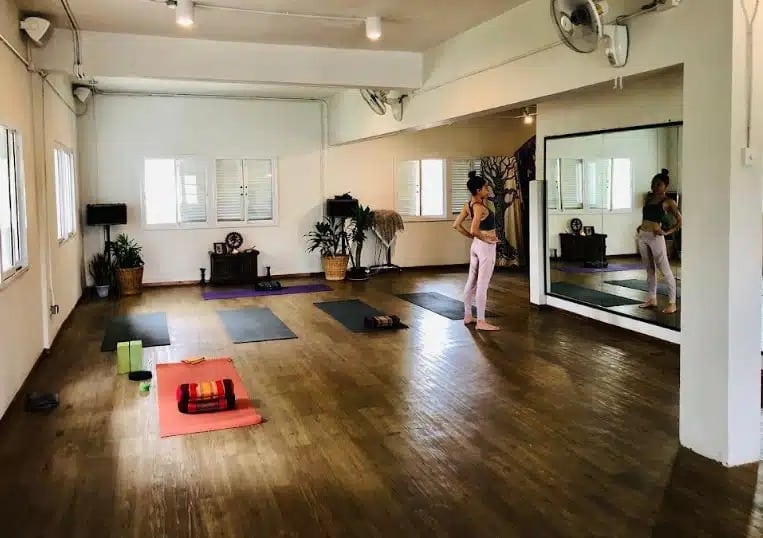 10. Yoga Kukaan
Yoga Kuukan is a traveling studio for Yoga, Qigong, and Tai Chai located in a traditional wooden house in the old city.
It has been in the Yoga and fitness business since 2014 and features some of the best yoga teachers in Thailand.
The trainers at Yoga Kukaan are very flexible and do not conform to anyone's specific system, style, guru or master.
Instead, they work with each trainee to understand their needs, potential, and goal and create a program accordingly.
Address: Yoga Kuukan, Moon Muang Rd Soi 9, Tambon Si Phum, Chiang Mai, Thailand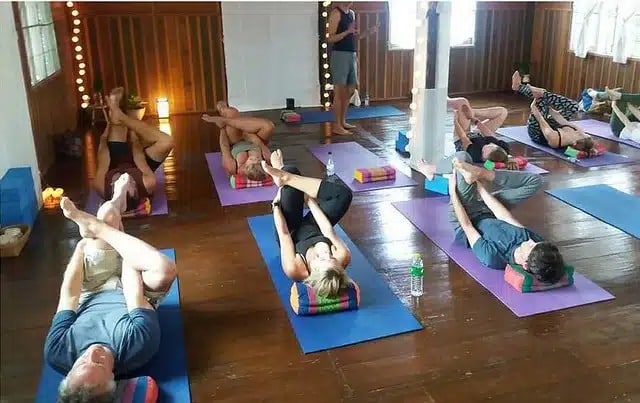 Bottom Line
Hence, we see that Chiang Mai city has a yoga studio to suit everyone. There are both advanced classes with renowned coaches for professional yogis and slow-paced sessions that help to relax for beginners.
Be it private class or public, or any specific yoga style, you are sure to find a studio that offers the same.
Founder - Thailand Nomads
Jordan started Thailand Nomads primarily for sharing his experience of exploring Thailand for several years. The objective is to help tourists especially digital nomads plan their travel itinerary when visiting Thailand.
Email: jordan@thailandnomads.com