The emerging metropolis of Chiang Mai has been significantly engulfed by the tea culture. Even for the most experienced tea lover, Chiang Mai can be daunting, with too many tea shops to choose from.
So let's look at some amazing tea shops in Chiang Mai that will help you stay lively and active throughout your trip.
6 Amazing Tea Shops In Chiang Mai – 2023 Guide
1. Monsoon Tea Wat Ket
Monsoon Tea houses in chiang mai that specializes in unique local tea cultivated in harmony with the Northern Thai forests.
Besides producing excellent quality local tea, it also aims at reducing destruction, maintaining biodiversity, and giving local communities a reliable source of income.
The staff here cultivates tea in the forest and makes scrumptious blends for the customers. There are more than 100 varieties of tea available here.
Their tea leaves are from the wild Camellia sinensis assamica tea plant, which is grown in the highlands and then manufactured, flavored, and packed.
It has collaborated with Left Hand Roasters to produce a unique coffee blend. This collaboration as a project aims to raise awareness about the Coffee Blossom, a byproduct of coffee harvests that provides additional value and revenue to farming communities.
Address: 328/3 Thanon Charoenrajd, Tambon Chang Moi, Mueang Chiang Mai District, Chang Wat Chiang Mai 50000, Thailand
Phone: +66 53 106 802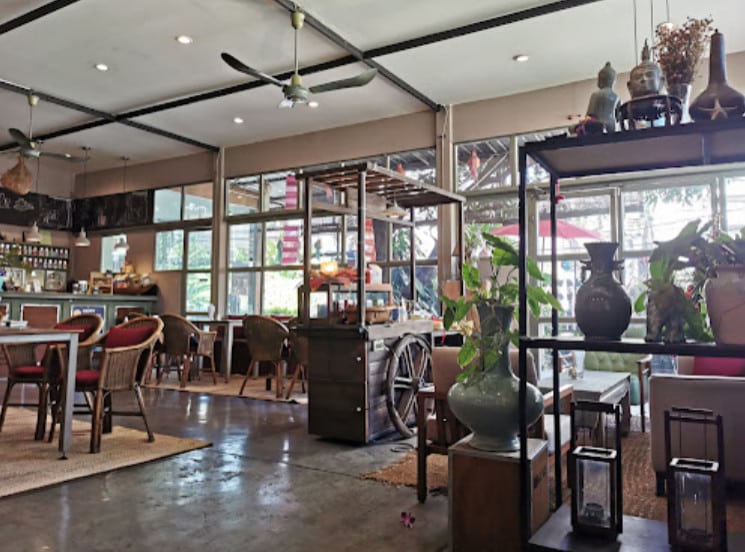 2. Magokoro Tea House
The Mogokoro tea house is conveniently located close to the Pantip Plaza and Night Bazaar.
Despite being relatively young, Magokoro Tea House definitely stands out amid hundreds of other coffee and tea stores because of its distinct vision and philosophy.
Magokoro is all about the history of Japanese tea and everything associated with it. They specialize in matcha, but they also make various teas and Japanese candies.
They have both an outdoor as well as indoor air-conditioned setting. I liked the outdoor setting more, where you sit on the mats, sipping tea and enjoying the natural atmosphere outside.
Learning more about these customs could be great for your general knowledge and is more satisfying than enjoying the sugary matcha lattes ubiquitous in Thailand.
Don't forget to check out their exotic dessert menu.
Address: 191, 1 Sridonchai Rd, Chang Khlan Sub-district, Mueang Chiang Mai District, Chiang Mai 50100, Thailand
Phone: +66 62 152 8538
3. Vieng Joom On Tea House
The words "Vieng" means a city, and "Joom on" means pink city making Vieng Joom translate as a city of pink. It began with an absolute image of Chaipura, often known as the Pink City of India.
This tea shop has over 50 different high-quality teas. Their Tea leaves are chosen from renowned tea plantations across the world.
Here you get to enjoy Chinese tea, green tea, Indian tea, and British High Tea. These tea are efficiently made using a standard production process to ensure good quality.
Along with fine teas, Vieng Joom On Teahouse offers a vegetarian main course and a variety of cool desserts in a tranquil. You will get amazing due to its beautiful setting.
You may have a hot, freshly prepared scone with fruit yams or your favorite aromatic cup of tea together with soft baked cakes.
Address: 53 Charoenraj Rd. T.Watgate A.Muang Chiang Mai 50000
Phone: +66 53 246 392
4. Chaseki Tea House
Tom and his wife JJ founded Chaseki in 2018 in Chiang Mai with a simple mission to source the best teas and educate people who are interested in learning about teas.
They have set up this tea house to make it easy for people to locate the greatest teas Japan has to offer.
The numerous prizes they have received over the years attest to the fact that they have been processing the best leaves in all of Japan.
The owner of Chaseki Tea House, Tom, realized that it is quite challenging to find premium quality Matcha and Japanese teas outside of Japan as 97% of tea produced in Japan stays in Japan.
To overcome this issue, it now sources all the products directly from local tea farmers and small tea businesses from all famous tea regions in Japan.
Their suppliers have been refining the highest quality leaves from Kyoto, Uji, and Wazuka to grind them into Matcha for the aristocracy and samurai elite of Japan since 1827.
Address: 68 Santiluk Rd, Tambon Chang Phueak, Amphoe Mueang Chiang Mai, Chang Wat Chiang Mai 50300, Thailand
Phone: +66 82 423 6398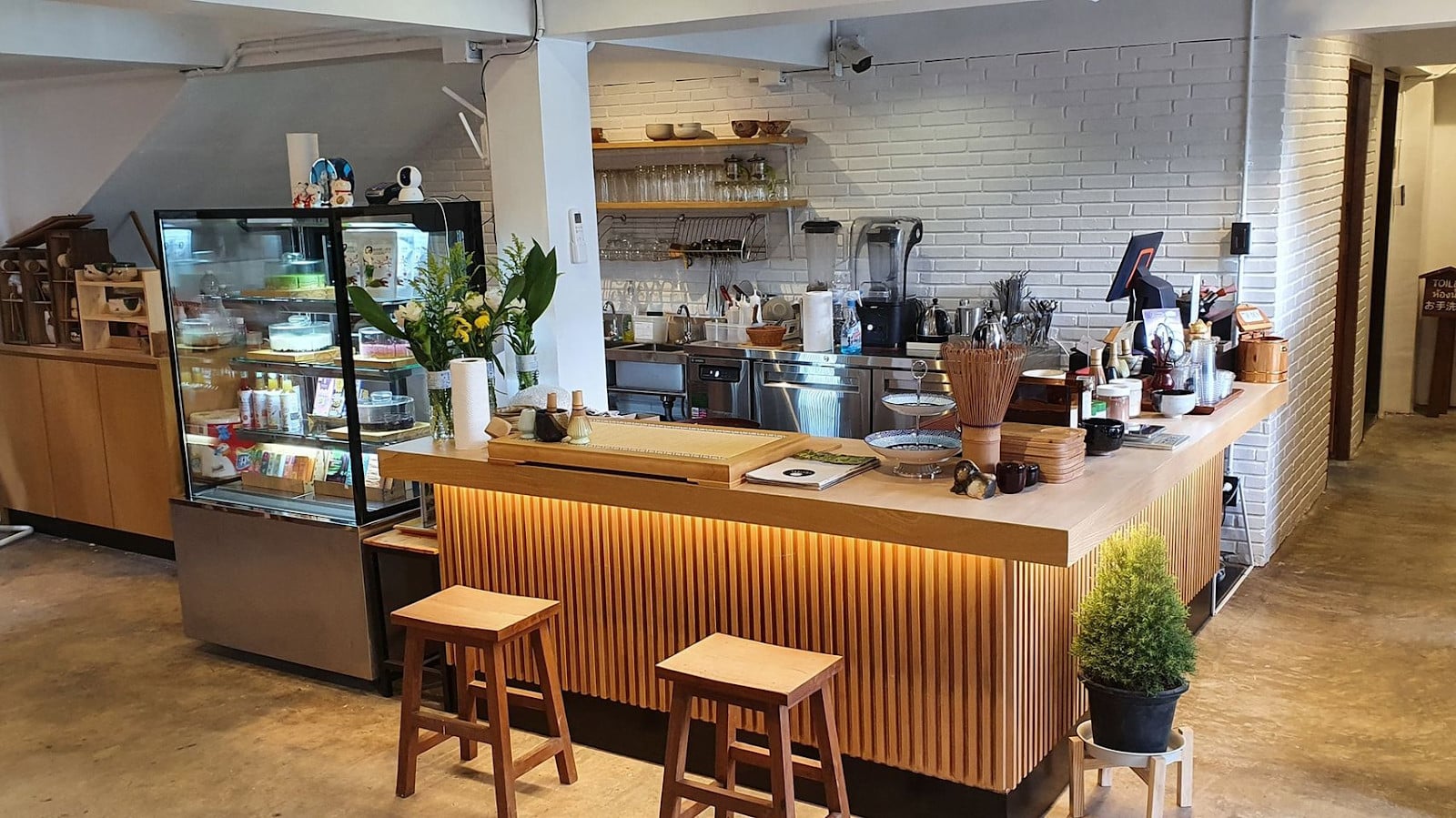 5. Araksa Tea Garden
Araksa Tea Garden is a pleasant half-day getaway from the city and is just about an hour outside of Chiang Mai. If you want to learn in detail about the preparation of tea, it's extremely intriguing.
The tea plucking is a major attraction, along with explanations on how to cultivate, harvest, and prepare tea. Find fresh young leaves by venturing into the plantation with a handmade basket.
Besides enjoying several tea varietals and some munchies, you will also get to watch tea roasting up close.
Araksa Tea Garden also serves yummilicious lunches, which is highly recommended if you are visiting here. Araksa Tea Garden requires reservations in advance and does not accept walk-up visitors.
Look into Lisu Lodge if you truly want to spend some time outdoors. Different overnight packages are available, some of which include a trip to the Araksa Tea Garden.
Address: 75 Moo1 Bangchang Maetang Chiangmai 50150 Thailand
Phone: +66 87 703 7326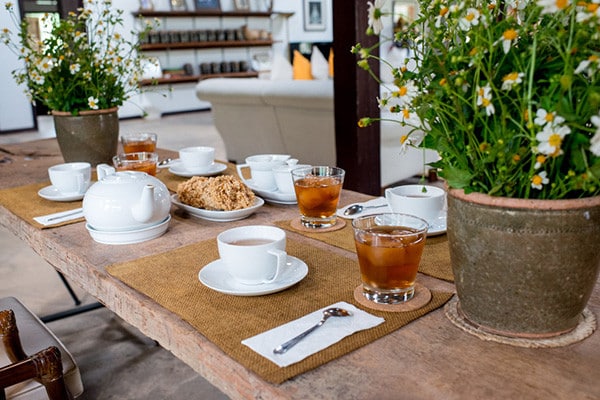 6. Raming Tea House
The Raming Tea House is located in the colonial building, which is 116 years old. This century-old white and green home on the exterior wall is very easy to identify.
The areas are all divided by the tiny two-story structure. The tea set is sold in front, and a lofty atrium leads to the tea room with a garden.
The interior design is very similar to that of the Author's Lounge of the Mandarin Oriental in Bangkok. There are a variety of dining rooms, most of which are air-conditioned. You can also enjoy the garden seating options.
Don't forget to enjoy the open-air beds and bathing in the sun of Taibei. There is an upper floor to the Raming Tea House that contains some interesting concessions with articles for sale.
You can get some interesting souvenirs here.
Address: 158, 162 Tha Phae Road, Tambon Chang Moi, Mueang Chiang Mai District, Chiang Mai 50300, Thailand
Phone: +66 53 234 518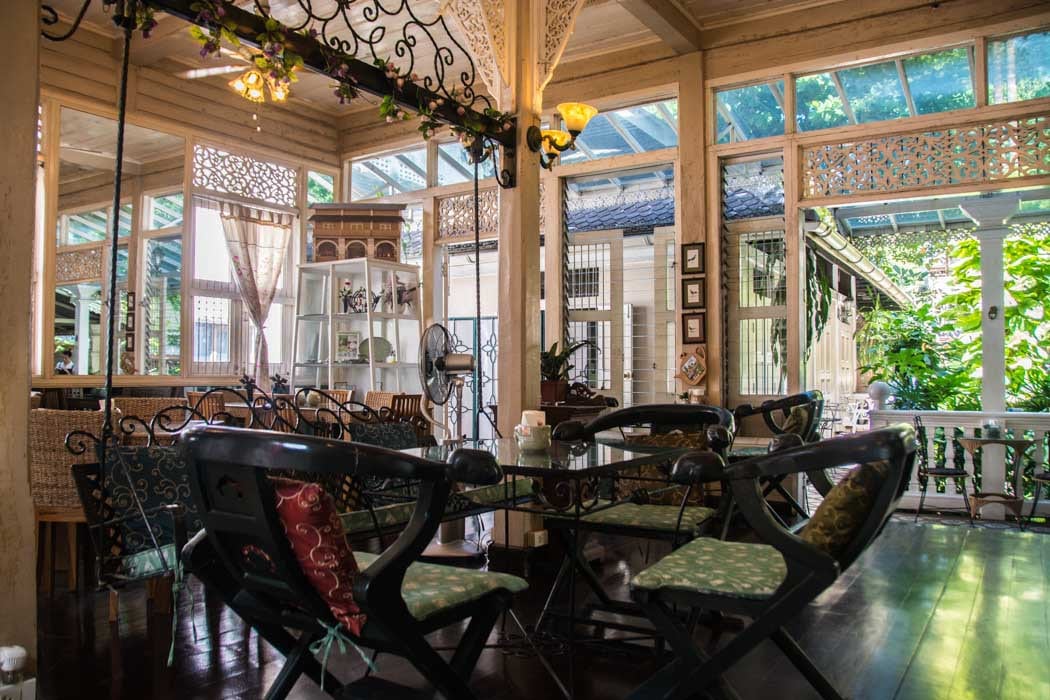 Final Words
Nothing beats a warm cup of tea at the end of a long day. Tea reaches out like a warm hug at your dreamiest hour, unlike coffee, which functions like hardcore rocket fuel and keeps you running for many mornings.
There is almost something mystical about drinking tea. From the thoughtful selection of loose leaves to the delicately timed boiling and exquisite pouring of the cup, from the relaxing fragrances to the sensuous flavors.
This is the reason we have spent hours on research to put up a list of the top six tea shops in Chiang Mai, so you don't miss out on this unique experience on your Thai trip.
The best part about some of these shops is that they also help you gain significant knowledge and information about the cultivation, import details, taste, and nutritional values of the teas served in different parts of the world.
If you have an inclination towards the culture and unique traditions of Thailand, you can check out the Chiang Mai city arts & cultural center and Chiang Mai Historical Center.
Founder - Thailand Nomads
Jordan started Thailand Nomads primarily for sharing his experience of exploring Thailand for several years. The objective is to help tourists especially digital nomads plan their travel itinerary when visiting Thailand.
Email: jordan@thailandnomads.com