Due to its location in the mountainous area of Northern Thailand, Chiang Mai has offered some of the best outdoor adventure sports. Ziplining is one of the most thrilling of them.
Soar through the treetops with our guide to the top 5 ziplines in Chiang Mai, where exhilarating adventures, stunning jungle landscapes, and unforgettable memories await thrill-seekers and nature lovers alike.
5 Ziplines in Chiang Mai – 2023 Update
1. Eagle Track Zipline
The Eagle track zipline is conveniently located at a 30 minutes distance from Chiang Mai town. It offers three categories of packages to suit the needs of all kinds of zipliners. The package is categorized as Bronze, Silver, and Gold, gold being the longest and most expensive.
The bronze package of this Chiang Mai zip line is priced at 1500 THB, silver- 1800THB, and gold at 2300 THB. The authority at Eagle Track operates two zip lines over MaeRam river with three different perspectives through the rainforest, waterfall and cultivated area.
This is in a cooperative arrangement with the local Karen and Hmong communities. Food, tea and coffee, first-aid insurance, city round-trip transfer, nature trail and waterfall are included in the package.
Location: 41/1 Maeram, Maerim Chiang Mai, Thailand 50180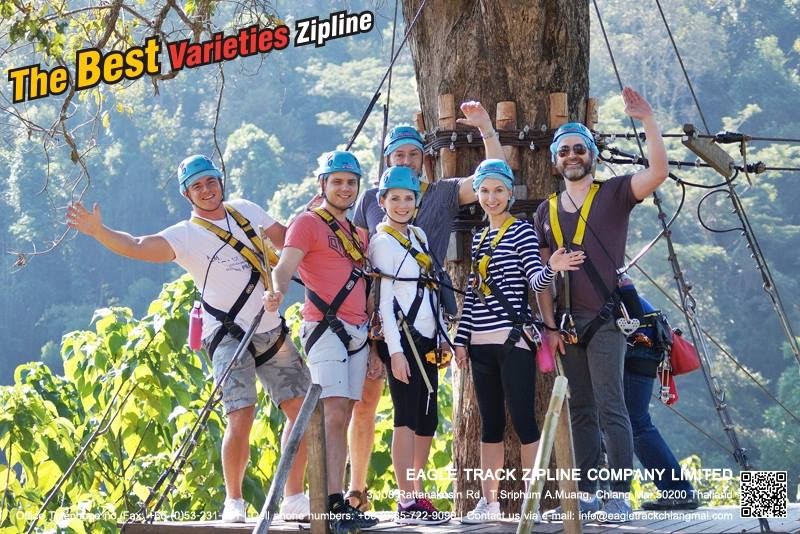 2. Zipline Jungle Flight
It is by far the longest zipline in Chiang Mai that stretches for over 1000 metres. Another feature that this zipline is famous for is the thrilling zipline roller coaster in which the zipline covers an 1100 meter track in under 4 minutes!
Jungle flight has an eco-friendly approach as the ziplines are constructed in a way that allows the trees to grow naturally. Considering the fact that it has the longest zipline, the safety provided is top-notch.
The package at skyline adventure starts at 1800 Baht per person. The package includes Thai lunch, seasonal fruits, tea and coffee, insurance and a round-trip from Chiang Mai city.
Location: Tambon Thep Sadet, Amphoe Doi Saket, Chang Wat Chiang Mai 50220, Thailand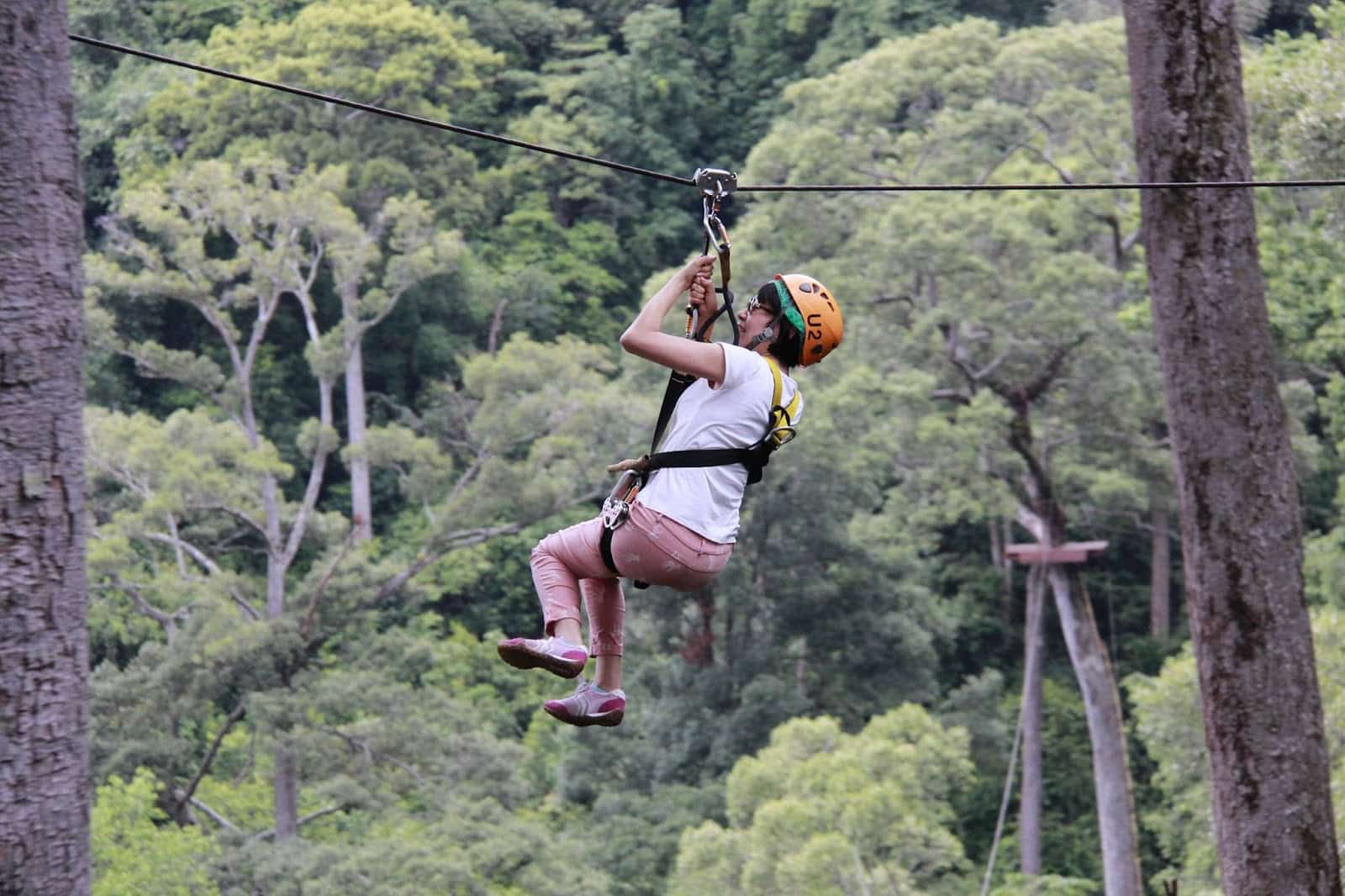 3. Flight of the Gibbon
Flight of the Gibbon is very different from the other ziplines in Chiang Mai. It advocates eco-tourism. The money collected from here is used to sponsor projects for supporting the local communities.
Due to the excellent safety it offers, people of all ages come in to enjoy the thrill of ziplining at Jungle Flight. The package starts with 2500 THB/ person and is inclusive of food, insurance cover, and round-trip from and to Chiang Mai.
Unfortunately, they're temporarily closed for the time being and we hope they'll reopen soon.
Location: 47/2 Moon Muang Road.,T.Prasing, A.Muang, Chiang Mai, Thailand 50200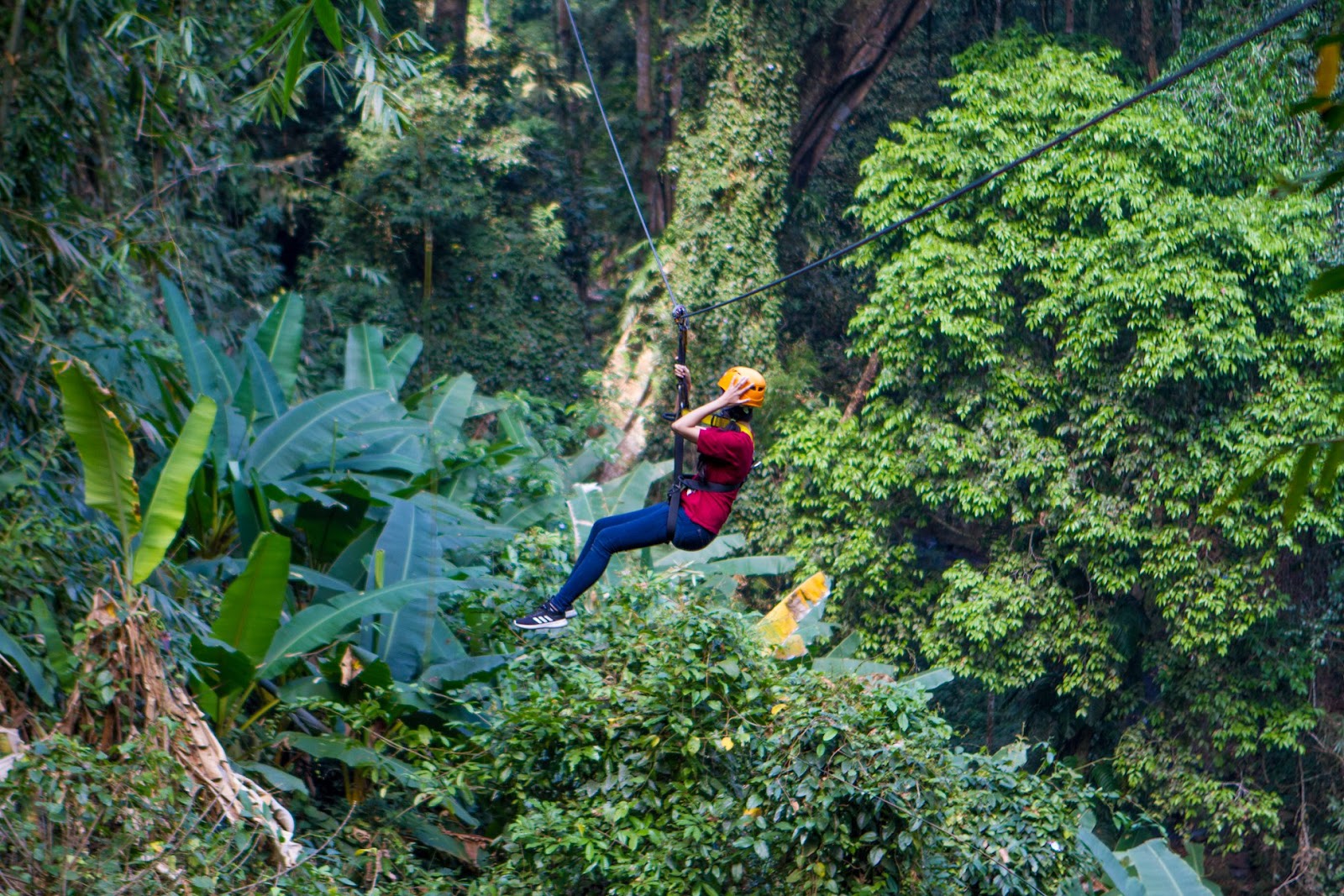 4. Skyline Adventure
The Skyline Adventure Zipline is situated at a distance of 45 minutes, east of Chiang Mai in the Doi Saket mountains. Its 900 meters long zipline is one of the longest in Chiang Mai. It offers 24 different ziplines to suit all ages and preferences.
These ziplines connect 42 different platforms and four sky-bridges. People who prefer a more adventurous experience can also do two abseils. All the skyline activities are designed by professionals, hence they are very safe.
As you zip over the old rainforest, you can catch the glimpse of gibbons in their natural habitat. Perhaps, this is the reason why it is called the flight of the Gibbon. The tour price here starts from 4000 THB. It includes an hour-long trek through the jungle leading to a picturesque waterfall.
Location: 29/4-5 Kotchasarn Rd, Chang Klan, Chiang Mai, Thailand 50100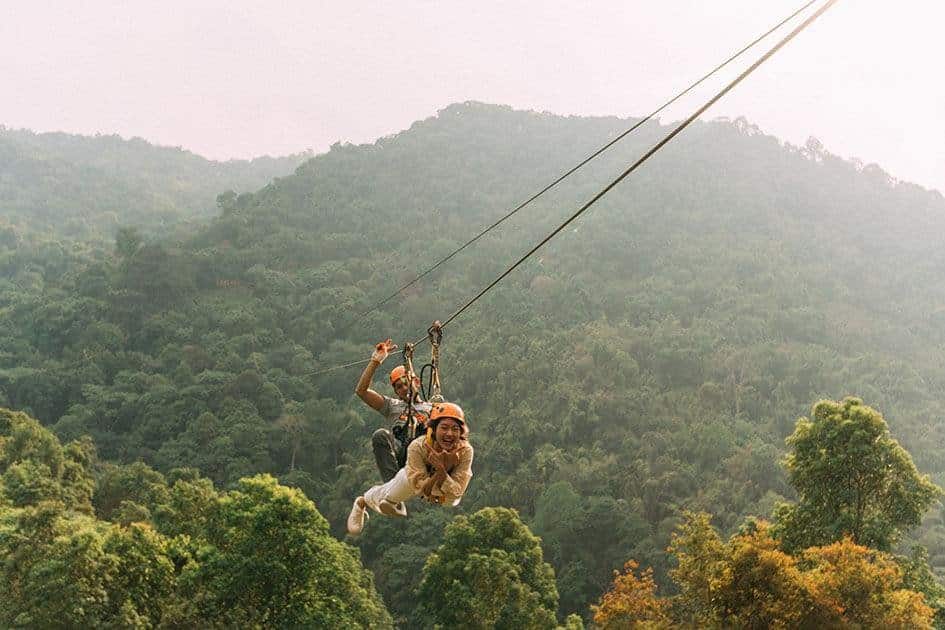 5. Pongyang Zipline and Jungle Coaster
It is the only jungle roller coaster in the whole of Thailand. This jungle coaster has a 14-meter free fall which gives you the thrill of bungee jumping. Hikers, who don't want to experience adrenaline can reduce the speed while ziplining with the help of brake sticks.
You can also enjoy jungle bicycling here over a 200-meter high cable in the air. The tour pricing starts at 2000 THB per person. The safety equipment is in a good condition to ensure that you enjoy the thrill without any fear.
Location: Pongyang Adventure Park Chiang Mai, Thailand 50180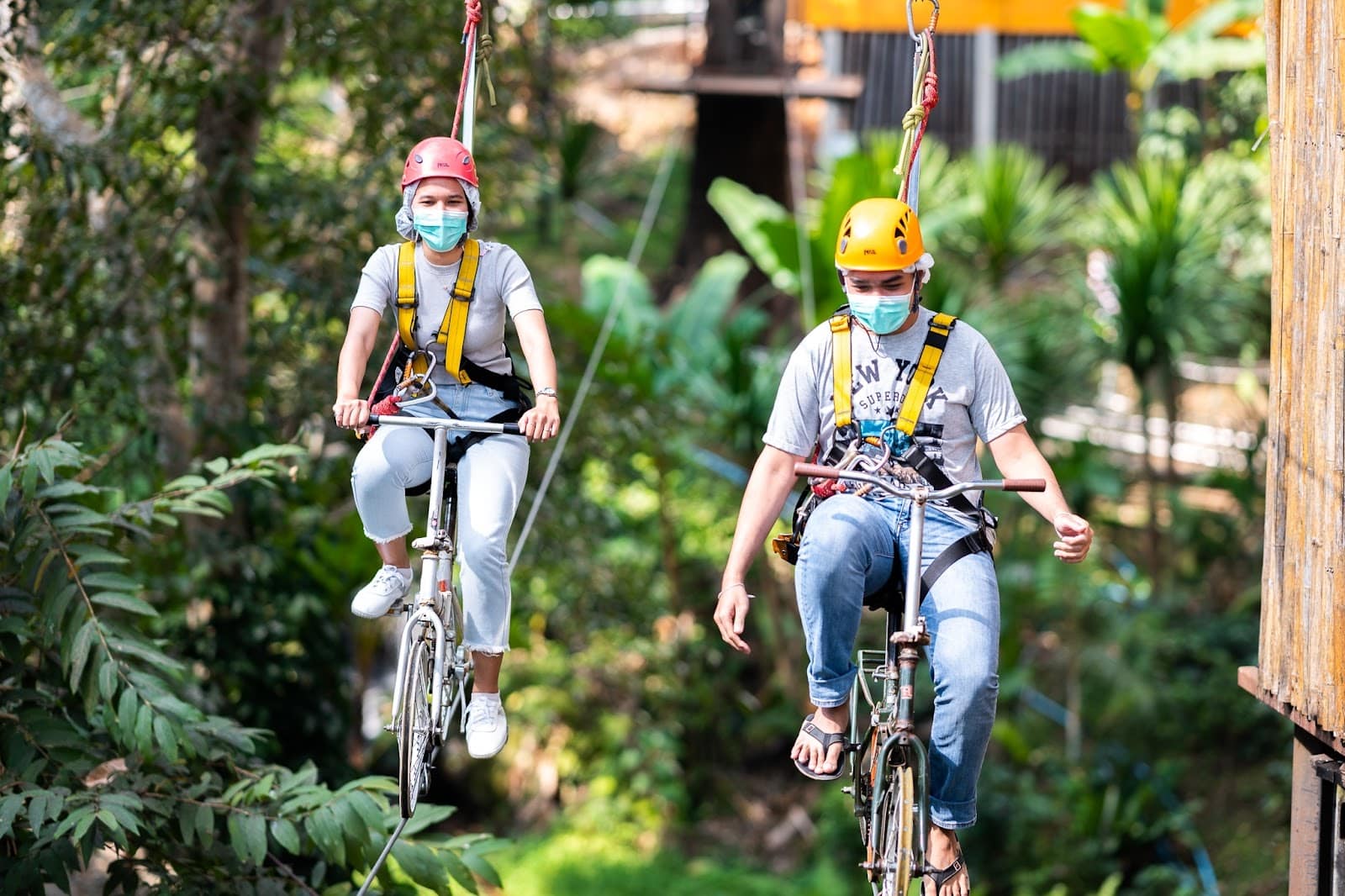 Bottom Line
With this guide, you are all set to experience the adventure sport of ziplining in the beautiful city of Chiang Mai. All five of these zipline spots have a strong commitment to safety. Therefore, you can choose any.