Owing to its white sand beaches, vibrant nightlife, and mouthwatering cuisine, Phuket is an excellent destination for all sorts of visitors and sunbathers.
With some of the best luxury boutique hotels in the world, the island has changed from being a sanctuary for backpackers to a stylish vacation for jet-setters.
Despite being one of Thailand's most expensive destinations, Phuket has several excellent locations to stay on a budget.
If you're planning a trip to Phuket and looking for affordable accommodations, there are plenty of Affordable & Cheap Hotels in Phuket that offer comfortable and convenient lodging without breaking the bank
10 Affordable & Cheap Hotels in Phuket – 2023 Review
1. Little Moon Residence
The Little Moon Residence features a vibrant exterior and roomy interiors in tranquilizing light and neutral tones.
These inexpensive accommodations can be ideal for people who want hotels only to rest their heads and keep their belongings while they are out sightseeing, partying, or relaxing on the beaches.
The rooms here are air-conditioned and feature a private toilet, a fridge, and cable TV, but neither a window nor a balcony.
A third visitor may also be accommodated with a rollaway bed.
Although there is a bar/café on-site, there are plenty of dining and drinking establishments nearby due to the hotel's proximity to Bangla Road, Patong Beach, and Jungceylon Mall.
Location: 20/1-4 Sirirat Rd, Pa Tong, Amphoe Kathu, Phuket 83150, Thailand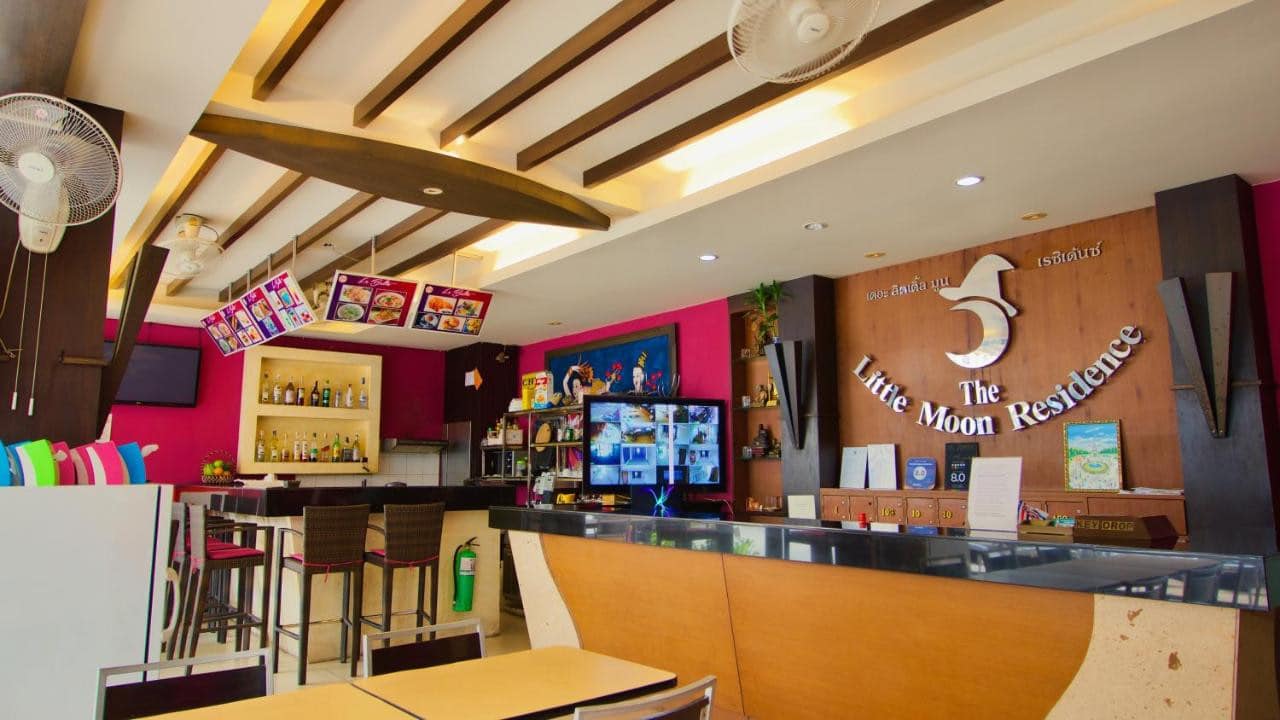 2. Patong Princess
The Patong Princess - SHA Plus is a budget hotel in phuket that offers a rooftop pool, rooms with private balconies, and free internet within a short stroll from Patong Beach's pristine beaches.
The hotel's rooms have air conditioning, contemporary decor, dark wood furniture, and white linens. In addition, they provide complimentary washroom amenities and cable TV.
Take advantage of daily meals prepared with fresh ingredients at the hotel. On the Patong Princess - SHA Plus's outdoor patio, visitors can sip on a beverage from the bar.
The hotel's front desk is staffed around the clock. Phuket International is just 55 minutes away from here. You can easily reach there with the help of the staff.
There are several Italian restaurants in Patong. So while you're here, be sure to check out some of the well-known restaurants offering delicious food, such as La Gritta, La Dolce Vita Restaurant, and Leo & Mas Ristorante Italiano e Pizzeria.
Visit one of the art galleries, such as Patong Inn Art, Apichart art gallery, or The Phuket Gallery, if you're interested in learning more about Patong.
Location: 34, 106 Prachanukroh Rd, Pa Tong, Amphoe Kathu, Phuket 83150, Thailand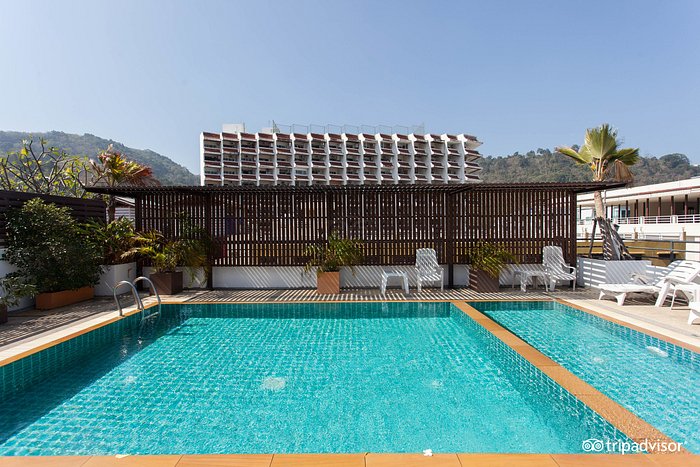 3. Patong Seaside Mansion
The comfortable, low-cost Patong Seaside Mansion is only a few feet from the beach and around a ten-minute walk from Bangla Road's clubs, pubs, and flashing lights.
The rooms contain a private bathroom, a wardrobe, and a desk and are exquisitely designed in traditional Thai styles.
Although the king-sized air-conditioned rooms include standard facilities like a fridge, kettle, and cable TV, the location is what really sells this establishment.
Unless you wish to further your island exploration once you've established, you won't need to spend any money on transportation.
If you just don't feel like traveling far, there is even a restaurant on the premises.
Location: 66/7-8 Kebsap, Patong, Kathu, Phuket 83150 Thailand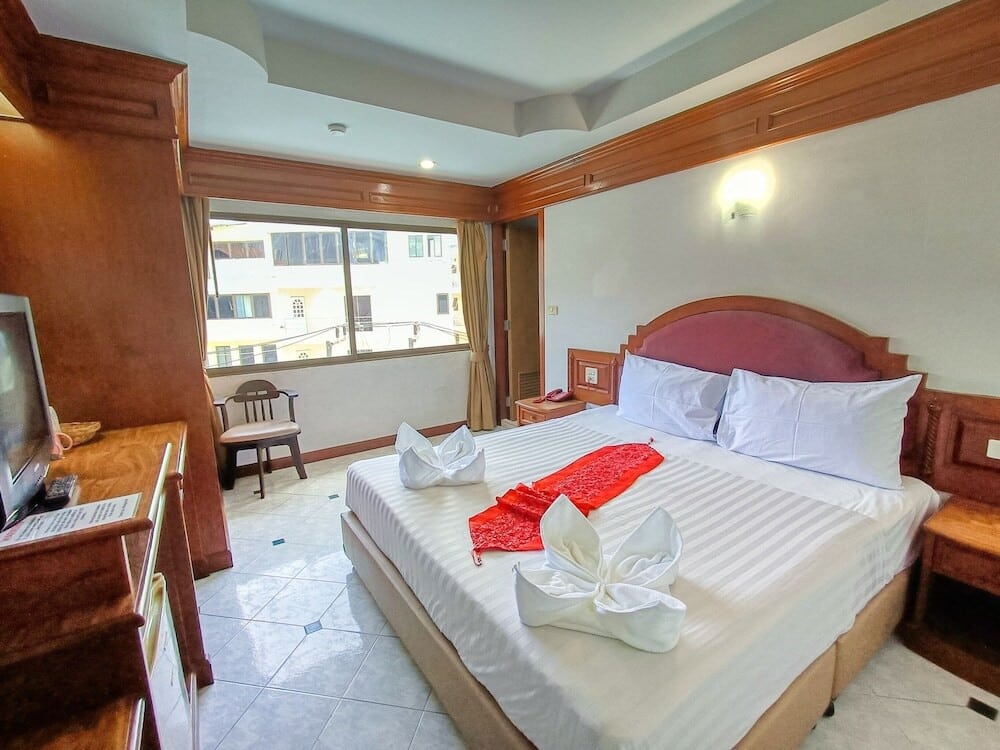 4. Sabaidee Residence
Outside of Sabaidee Residence may be unremarkable, but the air-conditioned rooms are cozy with soft mattresses, fluffy cushions, lots of storage, and a dresser/desk.
Additional amenities include a mini-fridge, cable TV, and free amenities.
Even an outside area where you may relax and enjoy city views is available on your balcony.
For friends who wish to explore Phuket Town and take in the traditional Sino-Portuguese architecture, the two single beds make it the ideal choice.
The Phuket Trickeye Museum is among the many sites that are easily accessible on foot and near public transit.
Address: 119 Sabai Dee Moo 5, Bang Bua Thong, 11110, Thailand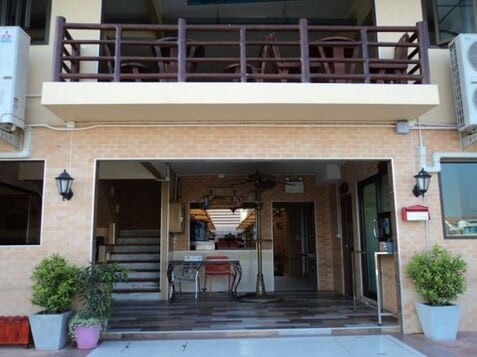 5. Nature Park Resort
In a secluded area of Patong, there lies a tranquil, family-friendly destination: The Nature Park Resort.
The tranquil resort, equipped with lovely gardens and an outdoor pool, may tempt you to stay longer than you intended.
The beach is accessible in 30 minutes on foot. There is a restaurant bar with a pool table; you may use the barbeque grills for outside cooking.
Accommodations are provided in adorable air-conditioned bungalows, each of which has an ensuite bathroom and a small kitchenette.
There are both one- and two-bedroom options.
Address: 63/2 Pisitkoranee Road, Patong, Kathu, Phuket 83150 Thailand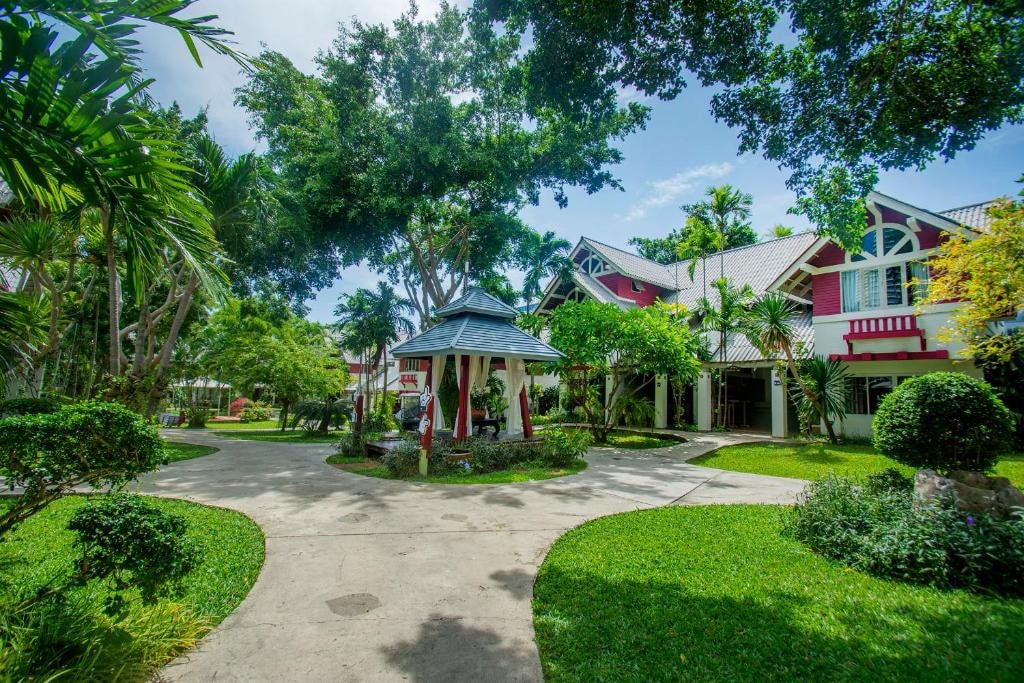 6. Memory 2
Experience the perfect tropical getaway without breaking the bank at theMemory 2, one of Phuket cheap hotels.
You may get a charming ensuite private room in Phuket's buzzing Patong for an incredibly reasonable rate.
There are just 16 guest rooms here, so it is a calm, laid-back place. Within a 15-minute stroll, you can reach Patong Beach and Bangla Road, placing you near the activity.
King-sized beds and private balconies are features of superior accommodations. Families or groups of three can also ask for a fold-away single bed.
There are standard amenities like a fridge and kettle, and there is a TV and desk in each room.
Address: 178/19-20 Pungmuang Saikoe Road, Patong, Phuket, Thailand, 83150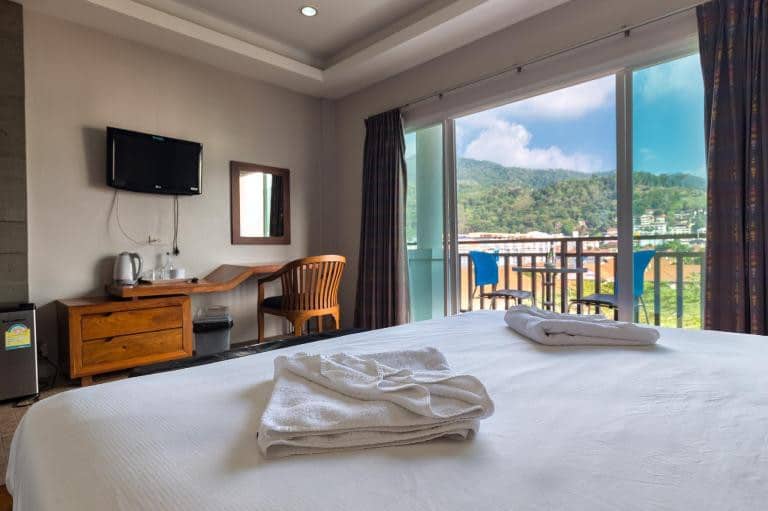 7. Kata On Sea
Several comfortable air-conditioned ensuite bungalows for up to five persons are available at Kata On Sea Patong hotel.
View the lovely plants while relaxing on your balcony.
You may plan a variety of excursions to see different regions of Phuket in addition to the hotel's gorgeous pool, which also includes a separate section for kids.
The resort is situated between the Big Buddha and the beaches of Karon and Kata.
The location has long been a favorite with travelers, and it appears that this is one site where costs haven't been jacked up.
The accommodations are simple yet roomy, with nice views of the hills and the town below. Some apartments even have a distant view of the ocean.
The pricing is just what we want to see, and Kata On Sea draws many frequent travelers.
The busy season is usually full, so call in advance if you can. For a starting price of 50B, WiFi is offered.
Address: 72 Kata Rd., Karon, A.Muang, Phuket, 83100 Kata Beach, Thailand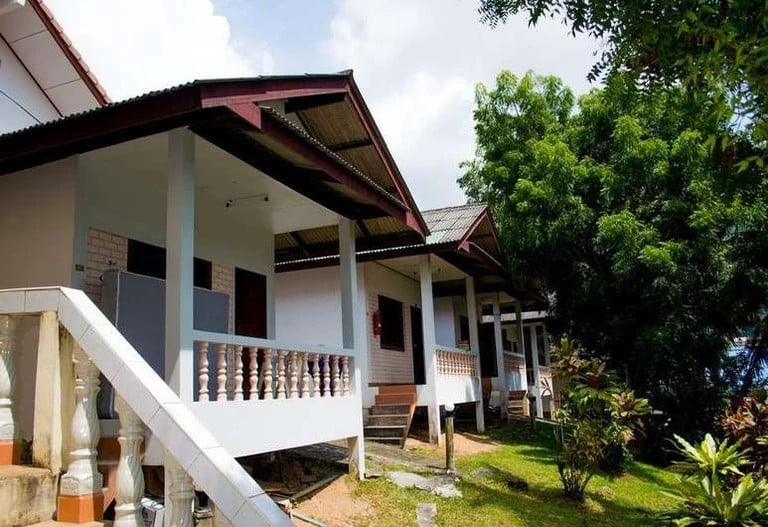 8. Memory Boutique Hotel
At this Patong store, you get a lot of value for your money. Although ordinary rooms don't have windows, they are nonetheless well-lit, secure, and attractive.
The hotel is located on a peaceful street. The distance between Bangla's clubs and pubs and the beach is ten minutes on foot.
For transportation to places like Phuket's Big Buddha statue and its vibrant old town, you may rent a motorbike directly from Memory (try to get a discount on their gasoline).
Address: 178/21-23 Pangmuang Rd., Patong Beach, PU, Thailand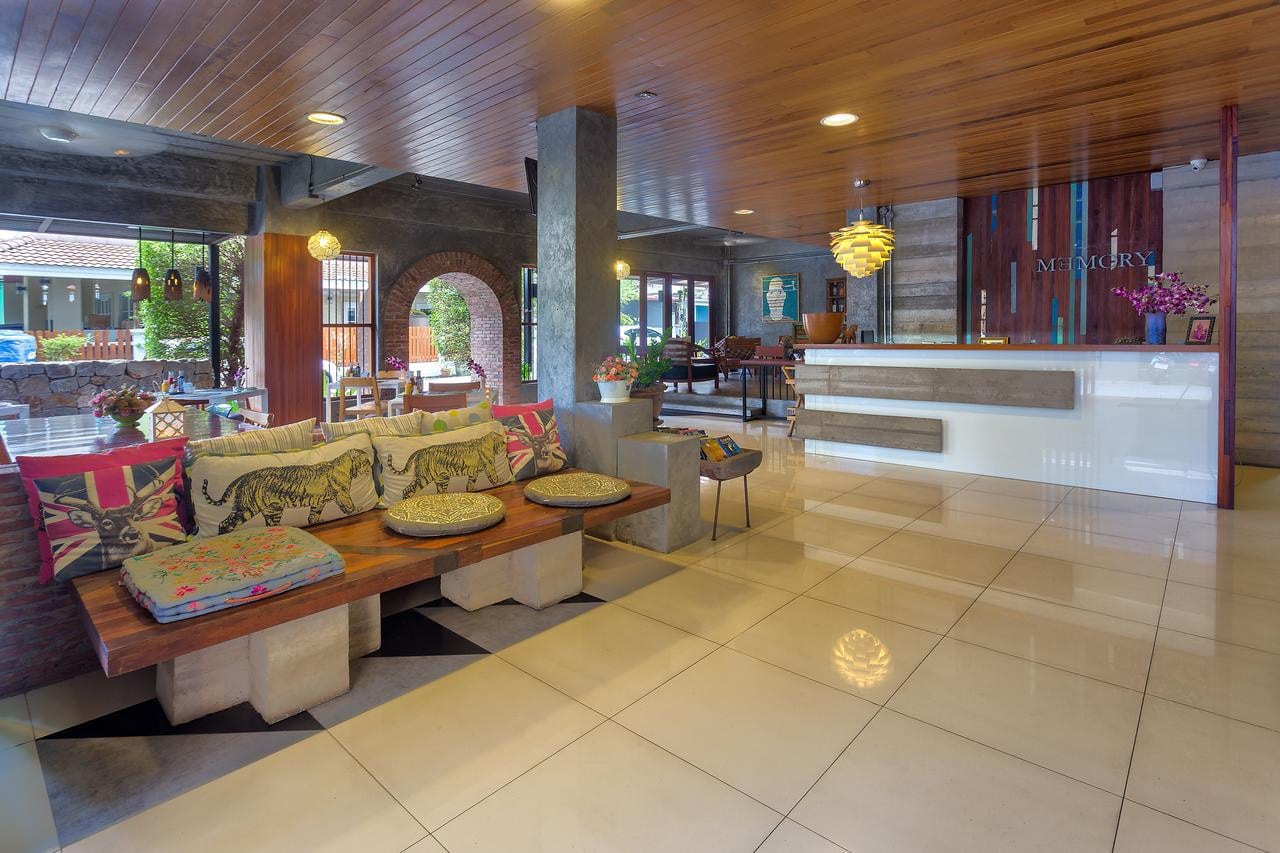 9. Aquarius Gay Guesthouse & Sauna
The popular Aquarius Gay Guesthouse & Sauna is a great pick for LGBTQ individuals.
It offers a laid-back and accepting stay close to the beach, nightlife, and various restaurants in vibrant Patong.
There are several room alternatives. You may socialize in the two hotel bars, relax in the hot tub or indoor pool, catch some rays on the roof terrace, or exercise in the gym.
There is an additional fee for massages. Each room has an ensuite, a fridge, a TV, and a safe.
Aquarius is the only "men only" hotel in Patong, Phuket, with an integrated "men only" sauna. It features 36 rooms and suites, ranging from affordable ordinary rooms to opulent Jacuzzi Suites with individual Jacuzzis.
Furthermore, the beach, major retail malls, and the renowned Bangla Road are all within a 5-minute (500-meter) walk of us.
Address: 127/10-17 Rat-U-Thit 200 Pee Road, Paradise Complex 83150 Patong Beach, Thailand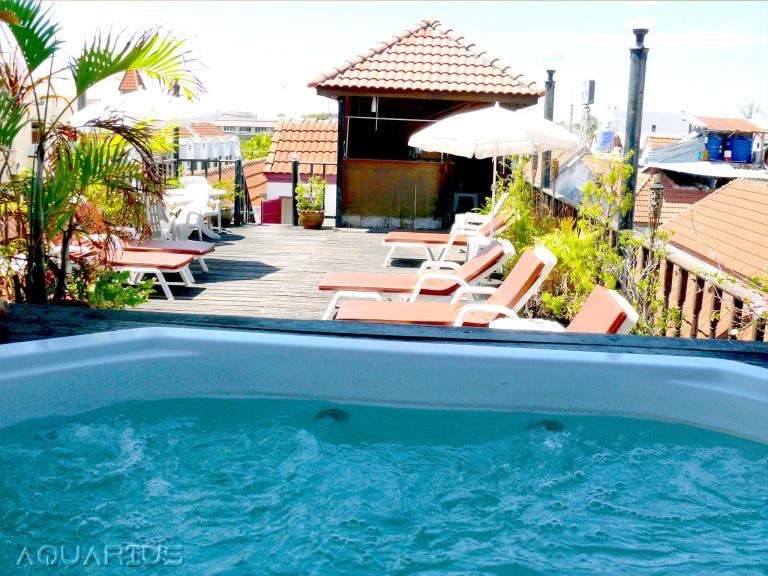 10. Baan Nueng Kata
Baan Nueng is a lovely spot to unwind and enjoy the sun in Kata. The beaches of Karon and Kata are both within a 20-minute walk of the hotel, which also boasts a sizable pool.
The Big Buddha of Phuket and other surrounding attractions like Dino Park Mini Golf and Kata Porpeang Market are conveniently accessible to culture enthusiasts.
This family-friendly hotel offers in-room childcare facilities in addition to a restaurant and bar on the premises.
With the option of a rollaway bed, superior rooms may accommodate two people and one kid. The rooms are equipped with an ensuite bathroom, air conditioning, TV, and fridge.
To accommodate bigger families, connecting rooms are offered.
Address: 4 Kade Kwan Rd, Karon, Muang Disrict, Phuket 83000, Thailand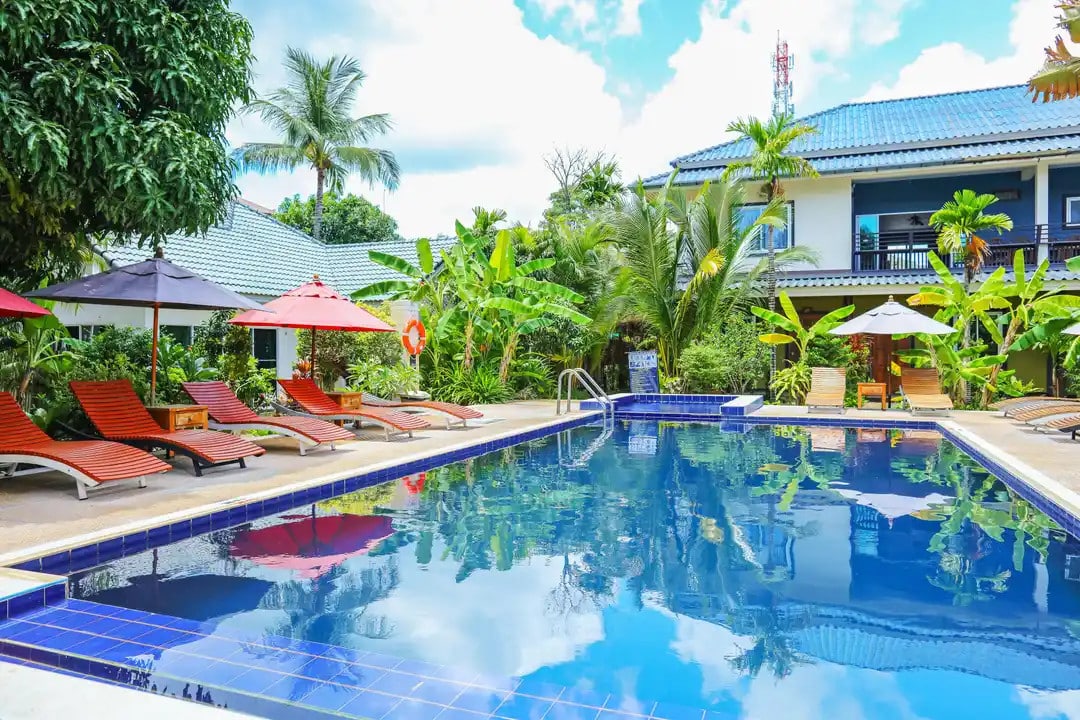 Final Words
You are sure to discover a budget hotel that meets your preferences, whether you wish to immerse yourself in nature, unwind on exquisite beaches, or experience Thai culture.
Editor - Thailand Nomads
Cindy quit her 9 to 5 job to pursue her passion for exploring mesmerizing locations in Thailand. She has been living here for the past 5 years now and through Thailand Nomads, she shares her experiences and insights about the must-visit places in Thailand.
Email: cindy@thailandnomads.com