Are you searching for a romantic and secluded getaway that immerses you in the serene beauty of tropical gardens while offering stunning sea views? Look no further than the Mangosteen Wellness Resort and Ayurveda Spa in Phuket, Thailand.
This upscale resort is a hidden gem perched on a hilltop overlooking the Chalong Bay and islands, offering a perfect blend of relaxation, wellness, and natural beauty.
Why Choose Mangosteen Wellness Resort?
Let us quickly see what makes this resort a must-visit destination in Phuket.
1. Romantic Seclusion
Nestled amidst lush tropical gardens, the Mangosteen Resort provides an intimate and romantic atmosphere, making it an ideal choice for couples seeking a tranquil escape.
The gardens inside the resort are adorned with vibrant flowers, exotic plants, and meandering pathways that lead to secluded spots, perfect for stealing a quiet moment with your loved one.
All the villas at Mangosteen are strategically placed within this natural paradise to maximize privacy and immerse you in the beauty of the surroundings.
Imagine strolling hand in hand through the beautiful gardens, where the only sounds you will hear are the rustling leaves and gentle chirping of birds! This imagination can come true at Mangosteen!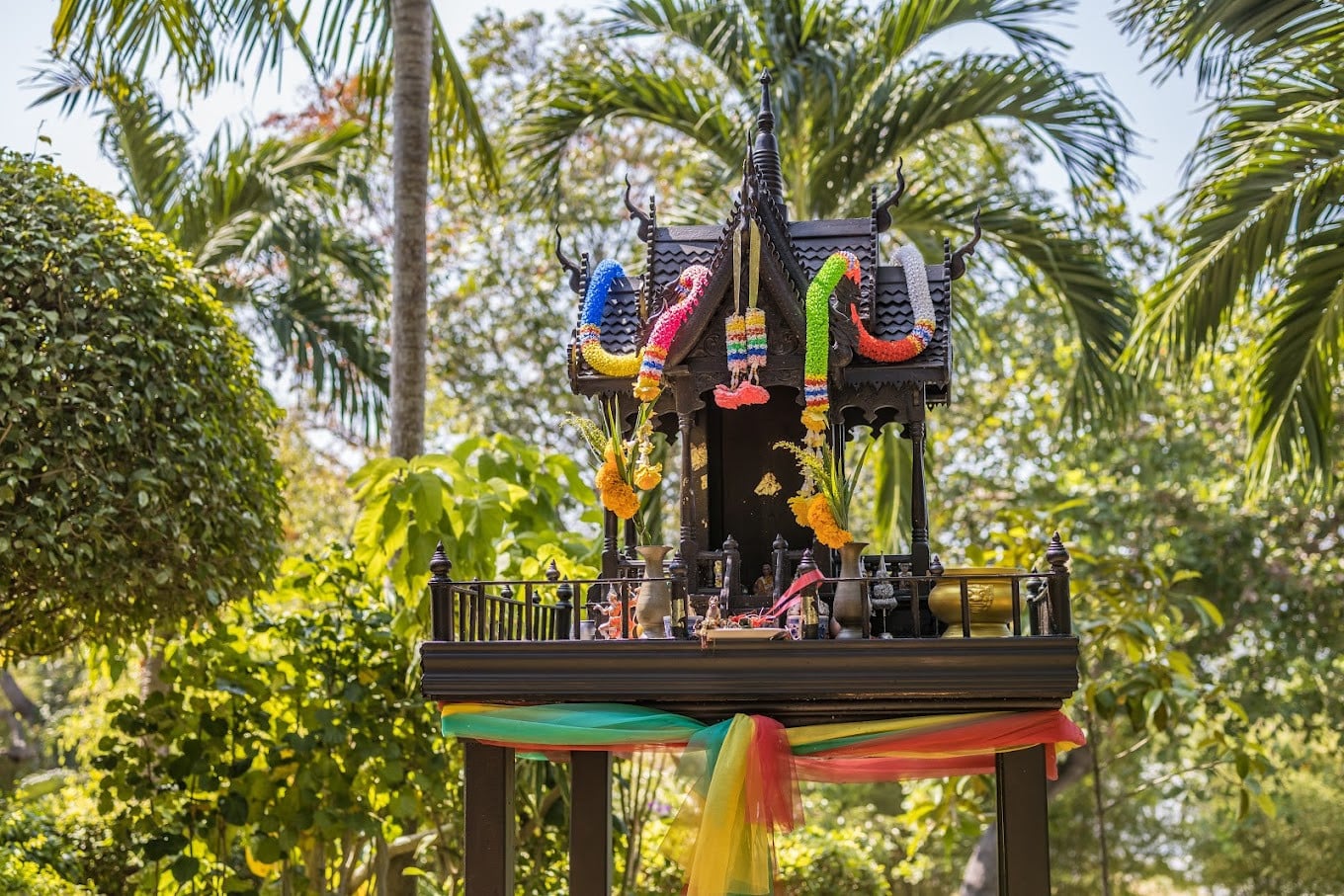 2. Luxurious Villas
The resort boasts 41 charming villas equipped with modern amenities. Each villa features a flat-screen TV and an open-air bathroom with a whirlpool tub, allowing you to sit back and relax while adoring the beautiful sea views through the windows.
The blend of contemporary comfort and traditional Thai design creates a unique and inviting ambiance.
3. Family-Friendly Options
While the resort is loved by couples and solo travelers, it is also great for families. If you are coming with your family, the resort has special family villas just for you. These villas come with kitchens that have everything you need and balconies with amazing views of the sea.
The family villas are really big and comfy, so everyone has space to relax. The balconies facing the sea are fantastic for family get-togethers and watching the beautiful sunsets while talking about your day together. It's a perfect place for family bonding.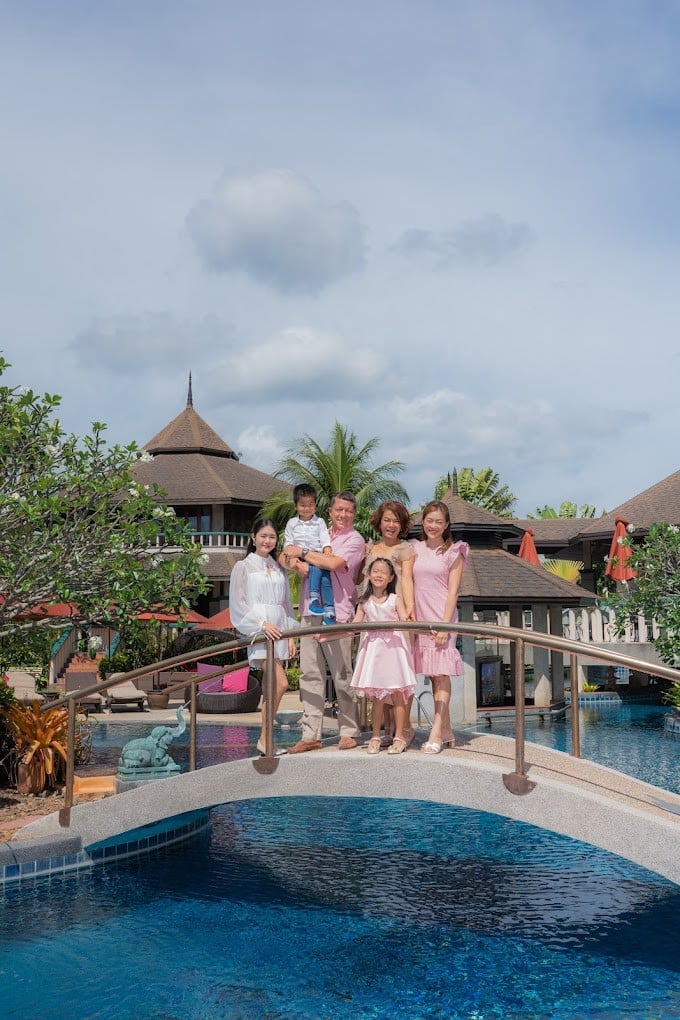 4. Dining Delights
Indulge in an exquisite culinary experience at the casual open-air restaurant within the resort. The restaurant is dedicated to fulfilling your deepest gastronomic desires. It also has an underground wine cellar, a haven for wine connoisseurs and enthusiasts.
The menu comprises a variety of delicious food options from the Mediterranean and Asian cuisine. There is something for everyone to enjoy. You can savor Mediterranean dishes with flavorful herbs and spices or try Asian-inspired stir-fries for a unique taste experience.
After dark, head down to the underground wine cellar, where you can choose from a great selection of wines handpicked by the experts. It is the perfect place to unwind and discover new flavors under the starry sky.
Theme dining nights, including Thai Food Lovers Night and Five Gems of Asia, add variety and excitement to your dining experience. Additionally, the swim-up bar hosts Poolside happy hours, allowing you to relax by the pool while enjoying your favorite drinks.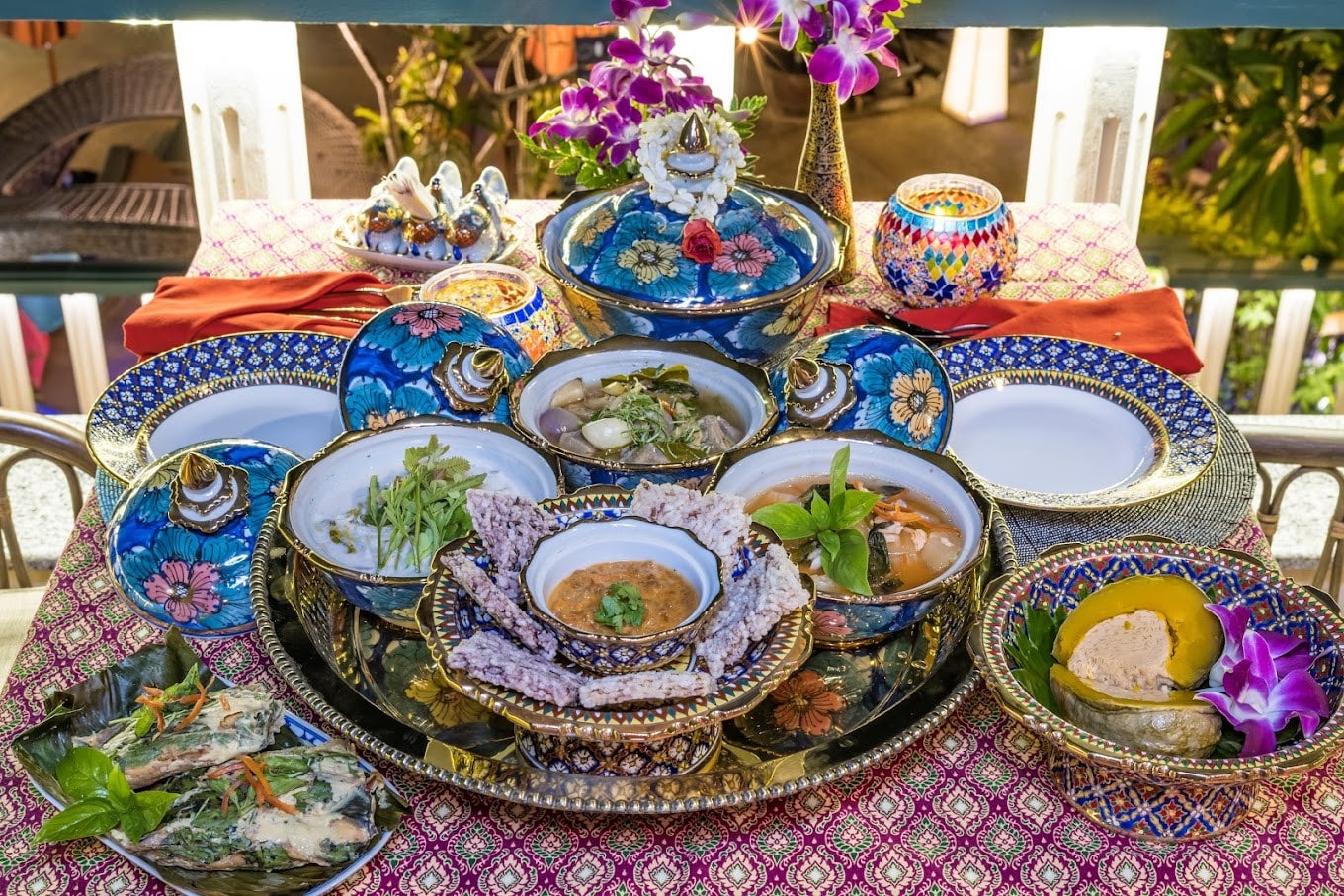 5. Picturesque Saltwater Pool
Immerse yourself in the crystal-clear waters of the saltwater pool, all while soaking in the awe-inspiring sights of the boundless sea.
The pool area inside the resort has been thoughtfully crafted, boasting a meticulous design that includes blue tiles, bridges, islands, and an infinity drop-off with sea views and fountains. The design is such that it transports you to a serene lagoon-like environment instantly.
For an added touch of convenience, the resort has installed a swim-up bar so you can quench your thirst without leaving your idyllic spot in this tropical haven.
The best part is that the pool remains open 24/7.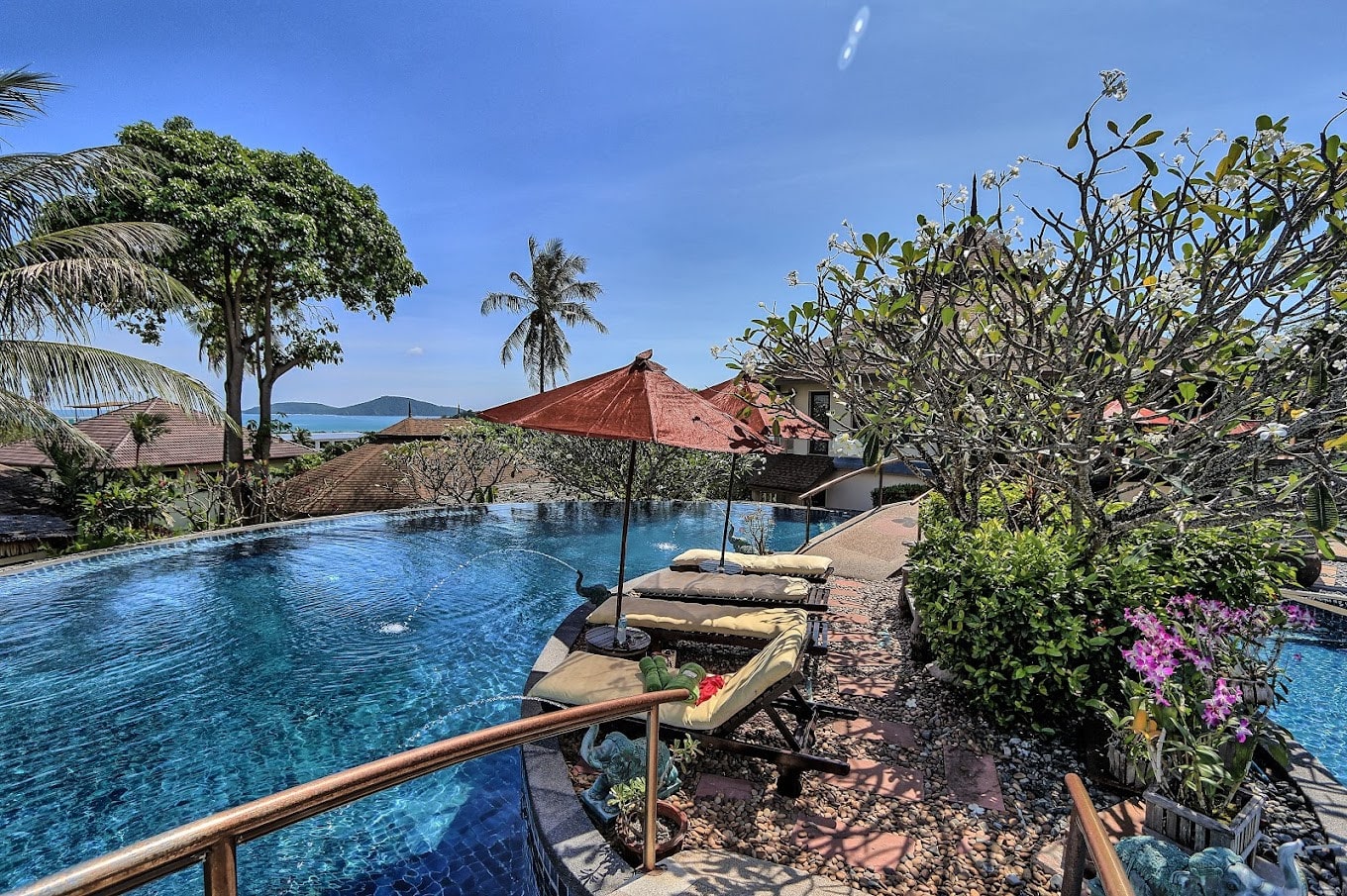 6. Spa and Yoga Retreat
Treat yourself to pure relaxation at the charming spa, where serenity awaits. The resort also has a dedicated yoga center, which is among the best yoga centers in Phuket. Even if you are not staying at the resort, you can still book a yoga retreat session online.
The Ayurveda spa at Mansosteen is equipped with a steam room and a bubbling hot tub, providing the perfect setting for you to unwind.
The spa, with its charming pitched ceilings and warm wooden furnishings, offers a serene and inviting atmosphere. Natural light floods the treatment rooms, creating a soothing environment for your rejuvenating experience.
The team of expert therapists is there to pamper you with a variety of treatments and detox programs designed to rejuvenate your body and mind.
Whether you are looking for a soothing massage, a refreshing facial, or a detoxifying program, the skilled therapists will cater to all your needs.
The spa's tranquil atmosphere and the skillful hands of the therapists combine to create a tranquil environment for those seeking ultimate relaxation and peace. It is a place where you can leave your worries behind and emerge refreshed and rejuvenated.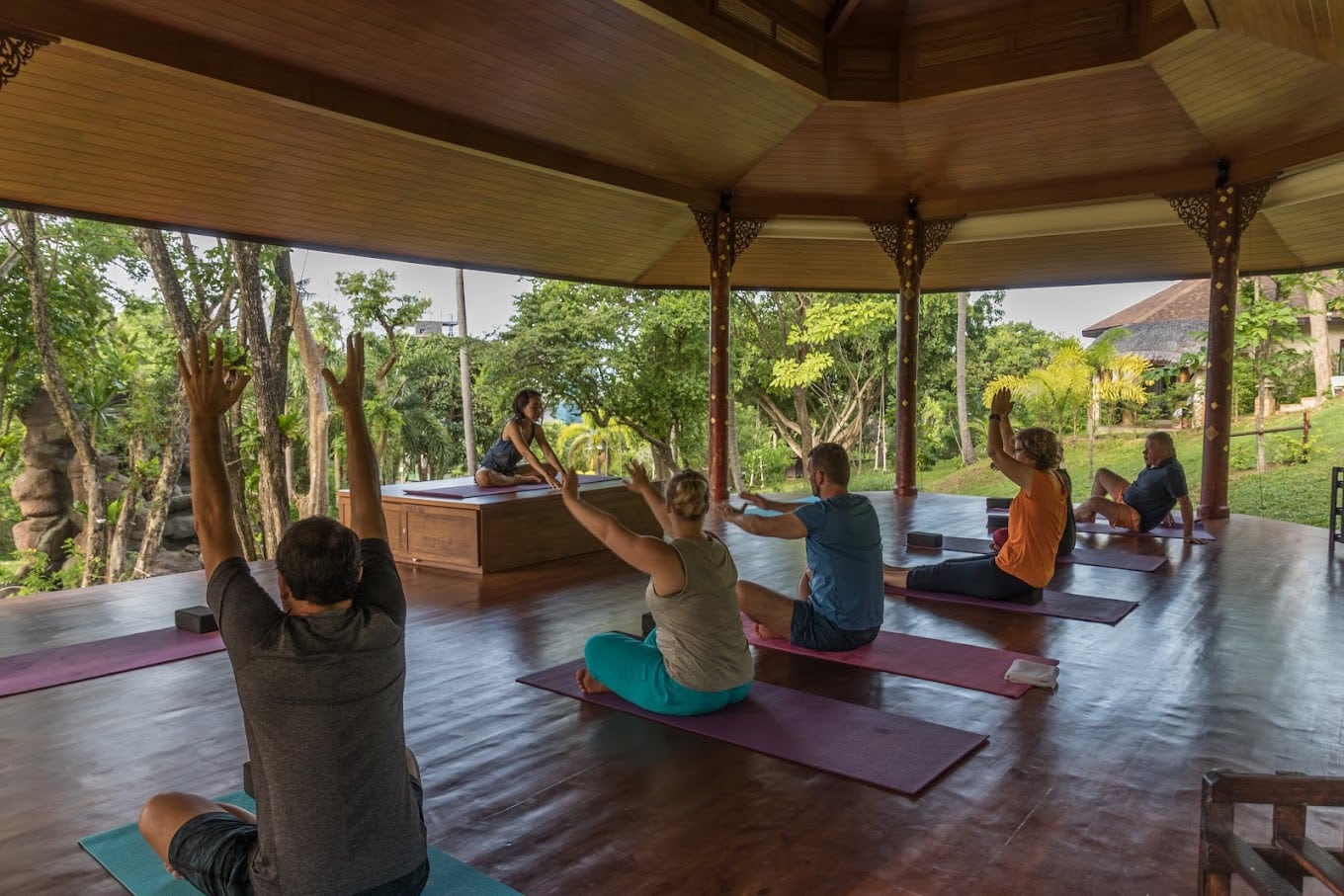 7. Fitness Center
The resort offers a 24-hour Fitness Center that encourages guests to stay active and fit throughout their stay.
This well-appointed facility features large windows that bathe the space in natural light, creating a refreshing and motivating ambiance for workout sessions, whether it be in the early morning or late at night.
Inside the Fitness Center, guests will discover a comprehensive array of equipment designed to cater to their fitness needs.looking for a soothing massage, a refreshing facial, or a detoxifying program, the skilled therapists will cater to all your needs.
The spa's tranquil atmosphere and the skillful hands of the therapists combine to create a tranquil environment for those seeking ultimate relaxation and peace. It is a place where you can leave your worries behind and emerge refreshed and rejuvenated.
This includes a variety of cardio machines, such as treadmills, stationary bikes, and elliptical trainers, allowing individuals to tailor their cardio workouts to their preferences.
Furthermore, the Fitness Center provides a selection of weights and resistance equipment to support strength training, ensuring that visitors of all fitness levels can enjoy a satisfying workout experience.
Whether one is a dedicated fitness enthusiast or simply seeking to stay active while away from home, the hotel's 24-hour Fitness Center offers the ideal environment for maintaining a fitness routine.
With its abundant natural light, well-maintained equipment, and welcoming atmosphere, guests can conveniently pursue their health and wellness goals while enjoying their stay.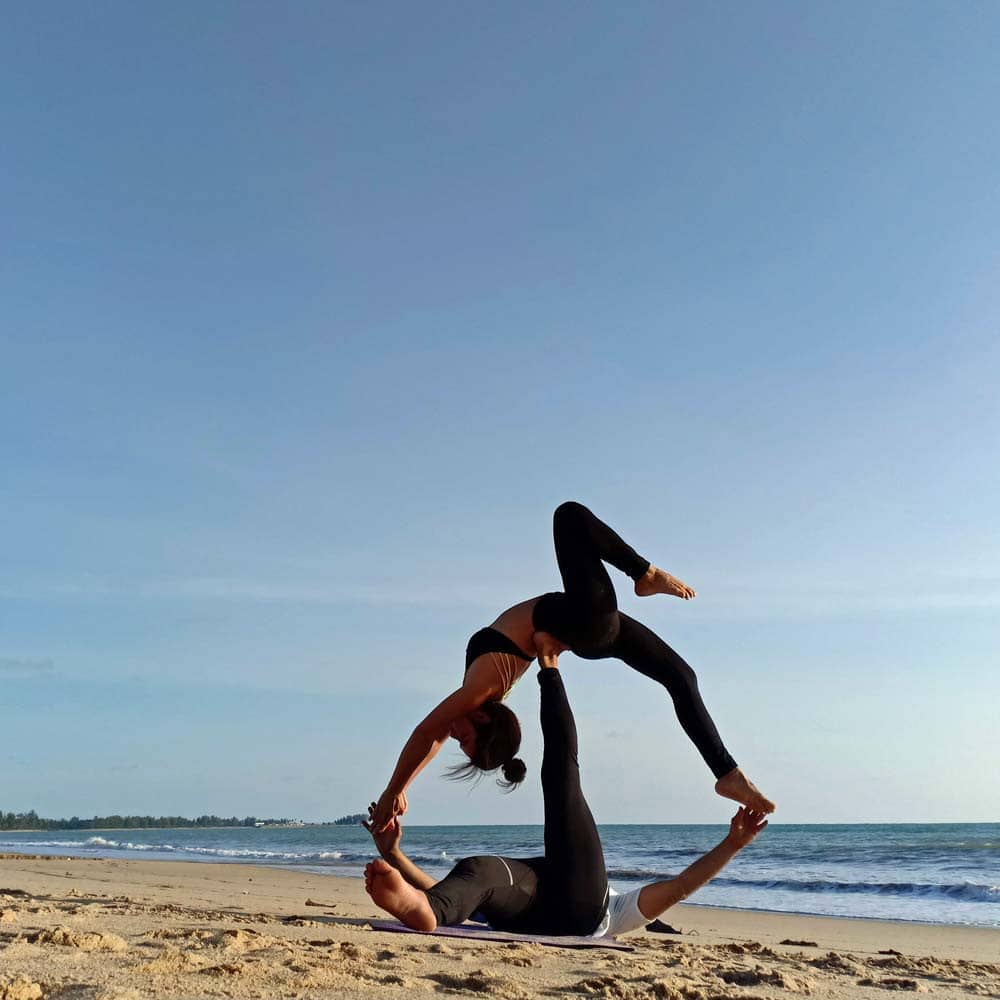 8. Enriching Experiences
Guests at the hotel can indulge in a range of enriching experiences that promise to add a unique and memorable dimension to their stay. The resort offers a wonderful opportunity to immerse oneself in Thai culture through various engaging activities.
For those with a passion for culinary exploration, there are cooking classes where guests can learn the art of Thai cuisine and prepare delectable dishes.
Alternatively, batik classes are available, allowing individuals to delve into the traditional art of fabric dyeing and create their own one-of-a-kind designs.
For the more adventurous souls, the resort organizes market field trips that provide a fascinating glimpse into the local way of life.
These excursions offer the chance to explore lively markets, interact with friendly local vendors, and discover exceptional treasures. Additionally, those looking for underwater thrills can embark on pool diving lessons, unlocking the door to an exciting world of aquatic exploration.
These enriching experiences not only enhance the stay but also offer a profound connection to the local culture, leaving guests with enduring memories and a deeper understanding of the region.
By participating in these activities, visitors can create a truly immersive and unforgettable travel experience.
9. Convenient Amenities
Guests staying at the resort can relish the convenience of a host of thoughtful amenities designed to enhance their overall experience. First and foremost, complimentary parking facilities are available, allowing visitors to park their vehicles without any extra charges securely.
Additionally, Wi-Fi connectivity is accessible throughout the resort, ensuring guests stay connected and informed during their stay.
For those eager to explore the nearby Nai Harn beach, a convenient shuttle service is at their disposal, offering hassle-free transportation to and from the picturesque coastal destination.
Furthermore, for travelers arriving by air, airport transfers can be arranged for a fee, streamlining the process of getting to and from the resort.
These services underscore the resort's unwavering commitment to ensuring the utmost comfort and convenience for its valued guests.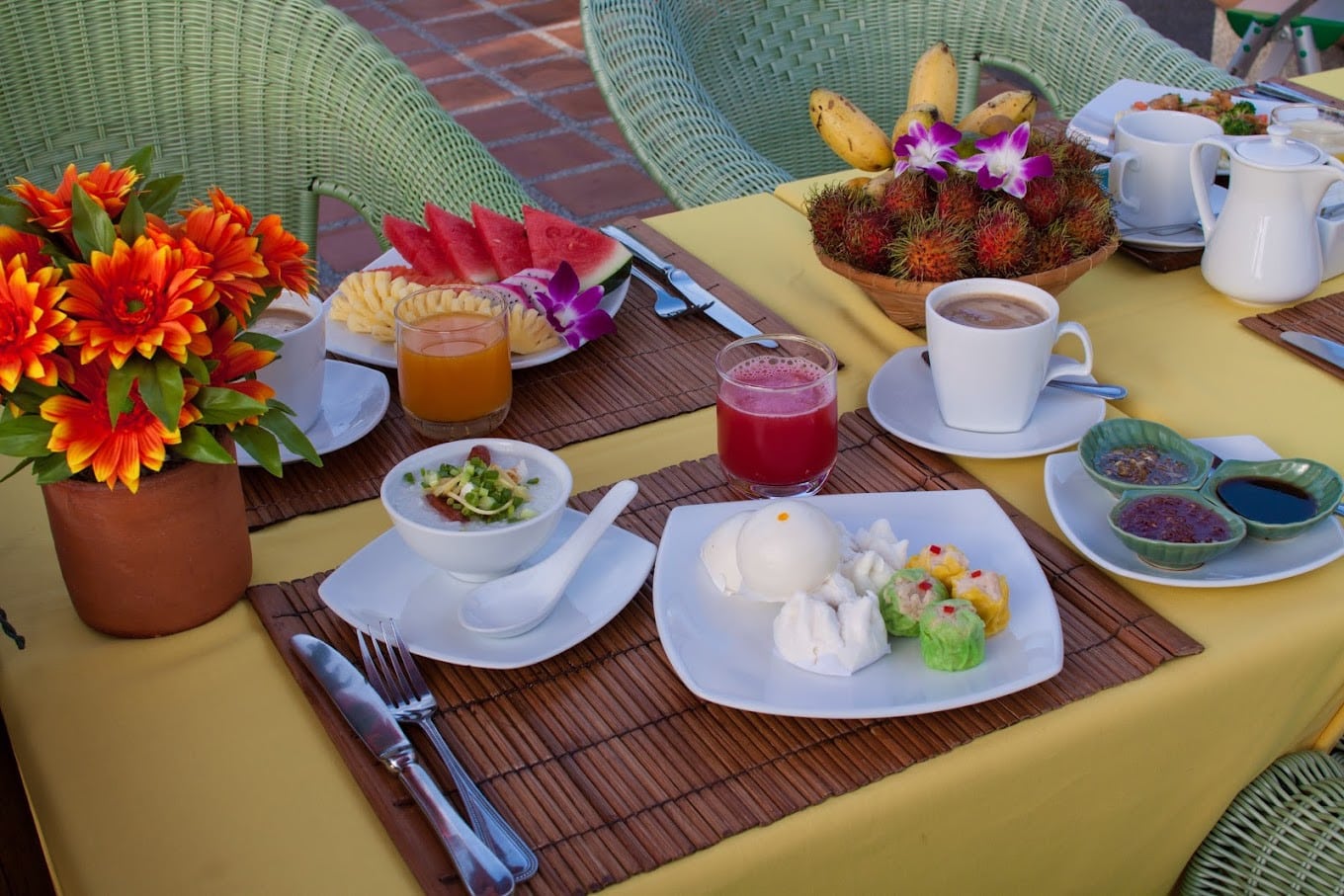 Points to Consider
While the above-mentioned features might be compelling you to book a stay at the Mangosteen resort right away, there are some downsides you should consider before making the final call.
1. Hillside Location
Keep in mind that the resort is situated on a steep hillside, which might require some uphill walking. However, the effort is rewarded with stunning views. The inclines, while challenging for some, add to the sense of seclusion and provide breathtaking vistas.
2. Away from the City Center
If you're looking for a resort in the heart of Phuket, Mangosteen's serene location might not be the best fit. However, the resort's peaceful ambiance offers a perfect escape from the hustle and bustle of city life.
3. Mixed Breakfast Reviews
While the resort offers a breakfast buffet, some reviews indicate that the quality can be inconsistent. Keep in mind that the dining experience can vary, but the resort's other culinary offerings make up for any breakfast-related concerns.
The Bottom Line
The Mangosteen Resort and Ayurveda Spa in Phuket is a hidden oasis for those seeking a romantic and peaceful escape.
With its hilltop location, luxurious villas, and a range of wellness and recreational activities, it is the perfect destination for couples, solo travelers, and families looking to unwind and rejuvenate.
While there are some considerations to keep in mind, the overall experience at Mangosteen Resort is sure to leave you with cherished memories of your time in this tropical paradise.
So, when you are ready for an unforgettable getaway, consider the Mangosteen Wellness Resort in Phuket as your next destination.