Phuket is among the most beautiful and interesting cities in Thailand. What could be better than enjoying the stunning tropical islands off Phuket on a boat? The good news is that Phuket has some really amazing boat services that will make your Phuket trip a memorable one.
To help you plan your tour better, here is a list of the top Yacht Rentals Phuket you can consider.
1. Offspray Leisure
Offspray Leisure is the top boat rental that offers you a fiberglass speed boat that is ideal for private rental for cruising around the islands surrounding Phuket. They have the capacity to accommodate over 17 guests onboard.The private speedboat trips to thePhi Phi Islands, Phang Nga Bay and the Racha Islands.
On the tour you can enjoy snorkeling and sightseeing picturesque spots on the various beaches. delicious gourmet picnic lunch on a quiet beach during the day. In addition to that, you can also enjoy a home-style lunch along with fruits and soft drinks on the beach.
Gile, the owner along with his other crew members are extremely friendly and polite. They allow you to enjoy your trip as per your own convenience, taking sufficient time to enjoy each sport. The Offspray Leisure rental is ideal for people who prioritize privacy.
Location: Maneekraam Soi 9/2, Chalong, Mueang Phuket District, Phuket 83000, Thailand
Phone number: +66 98 018 3781
Opening hours: 24-hr Open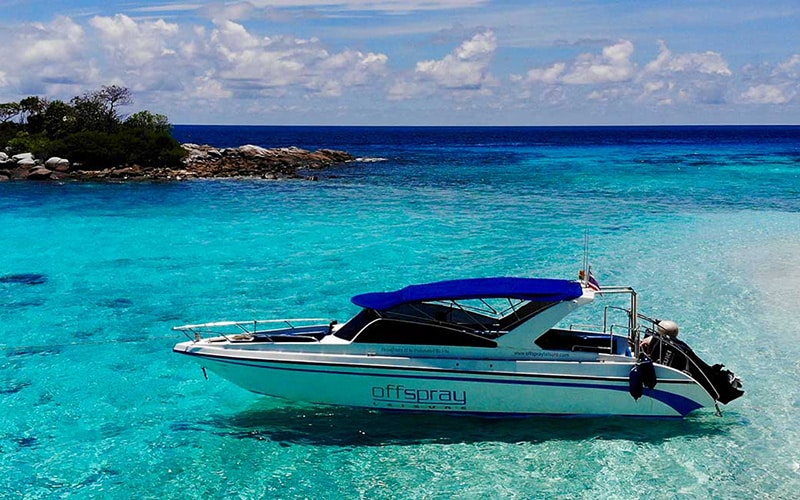 2. Searunner Speedboat Charter Phuket
Searunner is one of the popular private speed boat rentals in Phuket. It organizes charter tours to the Phi Phi Islands, Phang Nga Bay, Racha Islands and beyond. The owner of the rental is very accommodating, insightful, informative, friendly and most importantly trustworthy.
The boat is very comfortable and well-maintained. The entire crew is very professional and tries to serve each guest as per their individual needs and preferences. Customisation of tours is something this rental is very famous for. The trip includes a delicious Thai lunch on the beautiful seaside.
You can enjoy driving speedboats, swimming, snorkeling, and other water sports. The crew allows you plenty of time to soak in the beauty of each spot. They even help you plan the trip keeping the weather forecast in mind. There is water and soft drinks available at all times during the trip.
Location: 58/50 Moo 10 Chaofa West Road Chalong Sub-District, Mueang Phuket District, Phuket 83000, Thailand
Phone Number: +66 84 849 6509
Opening Hours: 8am to 8pm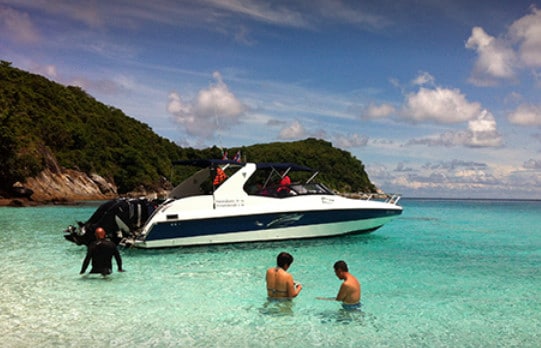 3. Boat Lagoon Cruises - Luxury Yacht Charter
Boat Lagoon Cruises is a famous name in Thailand. It's the best yacht rental that has a huge fleet of boats that you can choose from. All their boats are very uniquely designed and fit to different preferences and tastes. The booking procedure of Boat Lagoon is very smooth.
You can book your trip over email or through their website. They even offer a pick-up service from your hotel or airport. The crew is highly trained and professional. Their team includes some very amazing chefs that serve the guest a lip-smacking lunch on board.
As with other rentals, you can participate in various water sports, enjoy sightseeing, and enjoy everything at your own comfortable pace. Their hygiene and cleanliness is on-point.
Location: 22/1 Moo 2, Thepkasattri Rd., Kohkaew, Muang, Phuket 83000, Thailand
Phone No:+66 76 239 739
Opening Hours: 8:15 to 5:15pm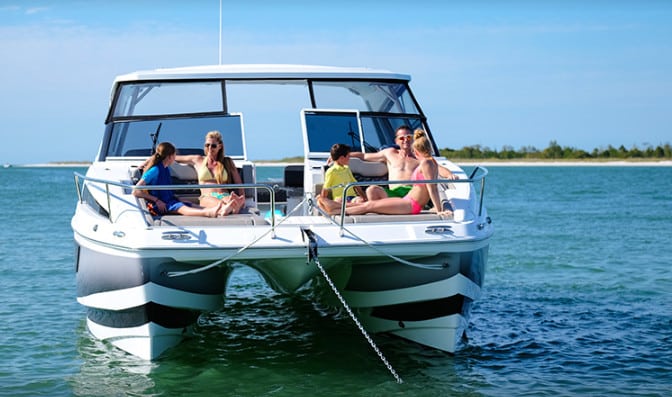 4. Boat in the Bay
You can enjoy a perfect custom boat ride with Boat in the Bay. The captain and crew are locals with in-depth knowledge of all the amazing spots in Phuket and nearby islands. Unlike other boat rentals, Boat in the Bay arranges the meal of their guests at a 5-star boutique resort on Phi Phi island.
The boat was immaculate and very comfortable, with lots of space to relax, and a nice cool air-conditioned salon to nip into whenever you want. It lets you make the most of your boat trip with a giant slide, floating jacuzzi and the James Bond style water scooter.
You even get to see the dolphins in their natural setting and enjoy water sports such as snorkeling or swimming. The entire booking process is very smooth.
Location: 20, Tambon Koh Kaew, Mueang Phuket District, Phuket 83000, Thailand
Phone No: +66 80 040 4059
Opening Hours: Open 24-hr
5.Tiger Marine Charter
The Tiger Marine is one of the charters in phuket that lets you enjoy luxury at a very nominal charge. The rental pays personal attention to your preferences above and beyond. They offer a pick-up service to ensure you have no issues reaching the rental comfortably.
You can book your trip through email or phone conveniently. The boats at Tiger Marine Charter are perfect size and very well designed.Between the islands, you get to enjoy water slides, inflatable kayaks, underwater air for scuba, sea scooter, fishing gear, endless fruit, juices, soda and drinks.
They also offer free wi-fi, a music system and a crew of three with a personal Chef. The food was fantastic.The staff is very knowledgeable, friendly and courteous. The boar has all the toys to make you happy.
Location: 23/1 Muen Damprakot Rd., Chang Phueak Subdistrict, Mueang Chiang Mai District, Chiang Mai Province 50300
Phone No: 065-1238182, 086-9139559
Opening Hours: 8am to 8pm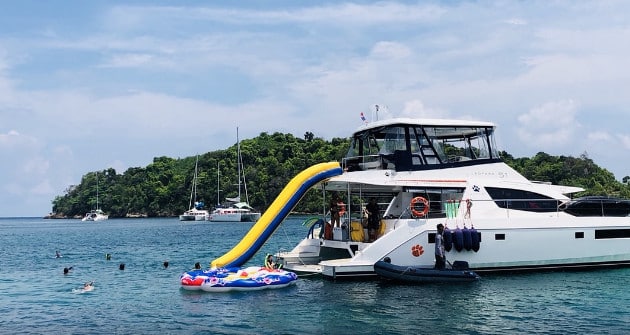 Your Takeaway
With this list of the best rentals, you are all set to embark on your boat tour to explore the beautiful place that Phuket is. If you have not been on a boat before, trust me it will be one of the recreational activities you will keep coming back to. Book your boat trip today!
Editor - Thailand Nomads
Cindy quit her 9 to 5 job to pursue her passion for exploring mesmerizing locations in Thailand. She has been living here for the past 5 years now and through Thailand Nomads, she shares her experiences and insights about the must-visit places in Thailand.
Email: cindy@thailandnomads.com