If you're eager to spot some playful primates during your trip to Phuket, check out our guide about these top spots so you could know where to find monkeys in Phuket in their natural habitat.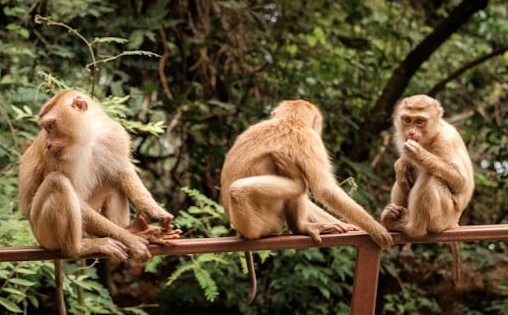 (Picture Credits: Simba Sea Trips)
What is Monkey Hill?
Monkey Hill is another name for Khao To Sae Hill. It is a major tourist attraction where you can see monkeys, free from chains, doing their thing.
Where is Monkey Hill Located?
It is located in the old town of Phuket which is frequently visited by travelers and tourists who want to experience the authentic Thai culture and heritage. The hill is covered with red and white antennas. Here you can find plenty of local markets and eateries. You can enjoy inexpensive street food with some chilled drinks on your way.
Address: Ratsada, Mueang Phuket District, Phuket 83000, Thailand
https://goo.gl/maps/41U5jYSopAMUAQPs5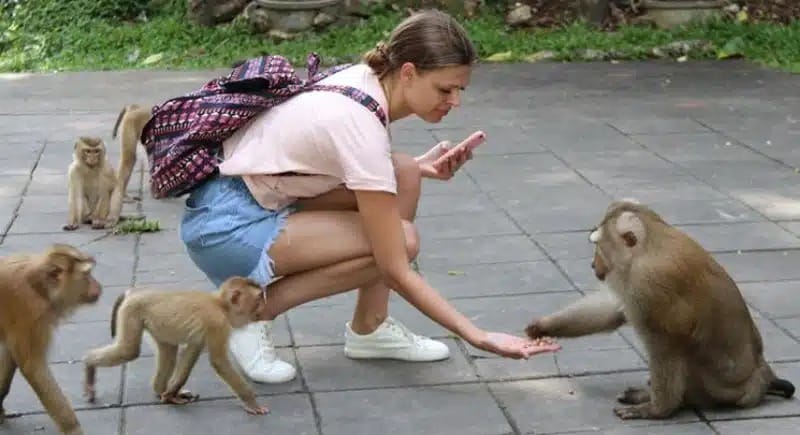 What Time Does it Open?
This spot opens for visitors around 7 in the morning and remains open till 10 at night. However, vehicles are not permitted between 7 am to 8 am and in the evening from 4 pm to 7pm.
How Do I Get There?
If you are staying in the old town of Phuket, you can easily get there on foot as it is just outside of the old town. However, if you are coming from a far off place, you must take a bus or private taxi. The Bus will pull over at Terminal 1 from where you will have to walk for ten minutes to reach the destination.
Since it is not very popular or looked after by any authority, you will have to find the place yourself without much help from the signboards and milestones. On the way to the hilltop, you can stop at the Chinese Shrine.
Upon Reaching Monkey Hill...
At the entrance of the Monkey Hill, you will spot a big pink sign board with two golden monkeys on it. From here, you can walk upwards toward the top of the hill. The walk is about 4 km but we would suggest you take a taxi or tuk tuk. You can easily find them at the base that will take you to the top of the hill. The hill slopes are very steep and the lack of trees make it even worse for a climb. Hence we suggest you to avoid walking to the top or it will drain all of your energy.
There are hardly any vendors on the top, so if you wish to feed the monkeys, you will have to carry your own eatables. You can also buy from the shops at base before heading to the hilltop. There are markers on pavements all through the way that indicate the distance that you have covered. It will give you an idea about the total time of your journey. You can even consider stopping in between to capture the beautiful views on your way.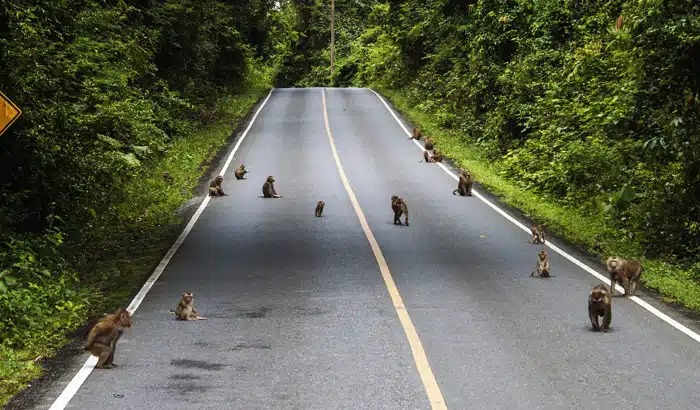 After about 3.5 kms you can find the monkey territory marked by precautionary signs. It is here you will find them- the monkeys hovering all over the place. There are parking spaces for cars and two-wheelers
When Should I Visit Monkey Hill in Phuket?
If you plan to visit Monkey Hill on a motorised vehicle, you can pretty much go any timeHowever, if you want to walk all the way through the hill, consider starting early in the day so that you finish the roundtrip before the peak afternoon. You can also visit during the evening hours when the temperature is bearbly low. Another plus point of visiting the hill in the evening is that you can enjoy the mesmerising sunset view from the top.The place is quietest during the late afternoon.
Monkey Hill Viewpoint
You will have to climb up to over 900 metres from the monkey habitat to reach the monkey Hill viewpoint. The walk of 900 metres is taxing because of the steep slope and the humid weather of Thailand but the view is worth all the struggle.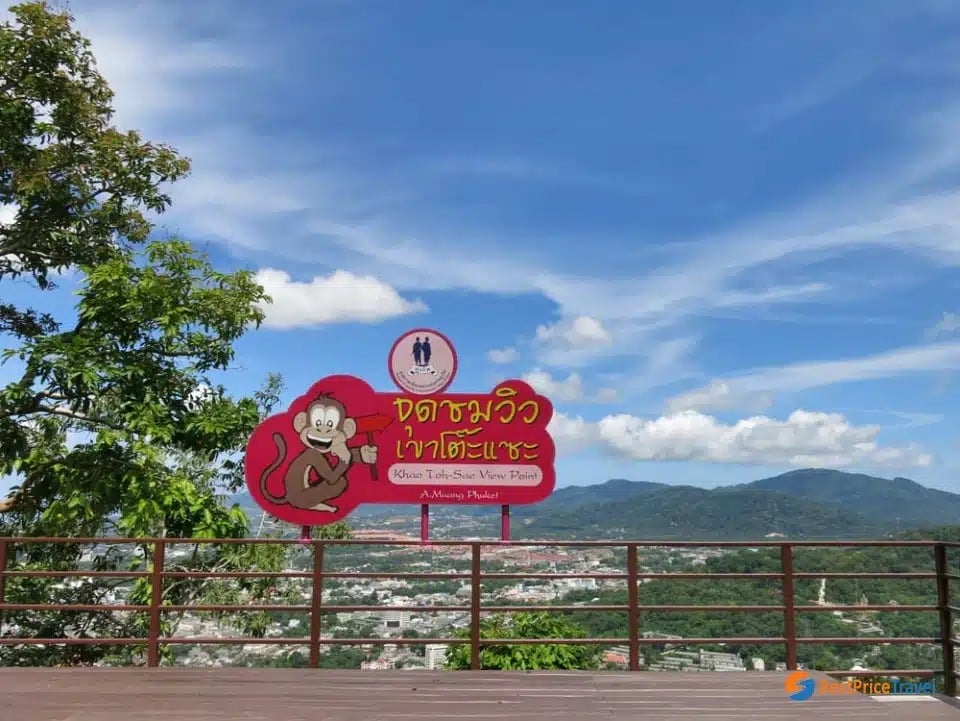 What Should I Carry to the Monkey Hill?
The most important thing that you must carry to the Monkey Hill is a small first aid kit. Since the climb is a steep one with lots of sharp rocks and thorny shrubs, you might get hurt. Another important thing that you must keep is water since there are very fews shops that sell it.
You can also carry some eatables and energy bars as you are expected to feel fatigued during your walk. If you plan on feeding the monkeys, then you must also carry nuts or monkeys or buy it from the shops on the base. Besides, you should wear comfortable shoes to lessen the fatigue and weakness and ease your travel.
Is It Safe To Visit Monkey Hill?
Ordinarily speaking, the monkeys here are not very aggressive. They are very jolly and playful- courtesy their history of human interactions. However, monkeys are still wild animals so you must exercise due care especially while feeding.
What Are Some Rules That I Must Necessarily Follow While Visiting Monkey Hill?
There are no hard and fast rules that guarantee safety from wild monkey attacks. You just have to apply some common sense and follow basic rules. For eg. Do not carry anything important in your bare hands such as a mobile phone, wallet, food packets, etc. Keep these things safely in your pocket. Make sure that nothing is hanging out of your packets and it may tempe them to attack you.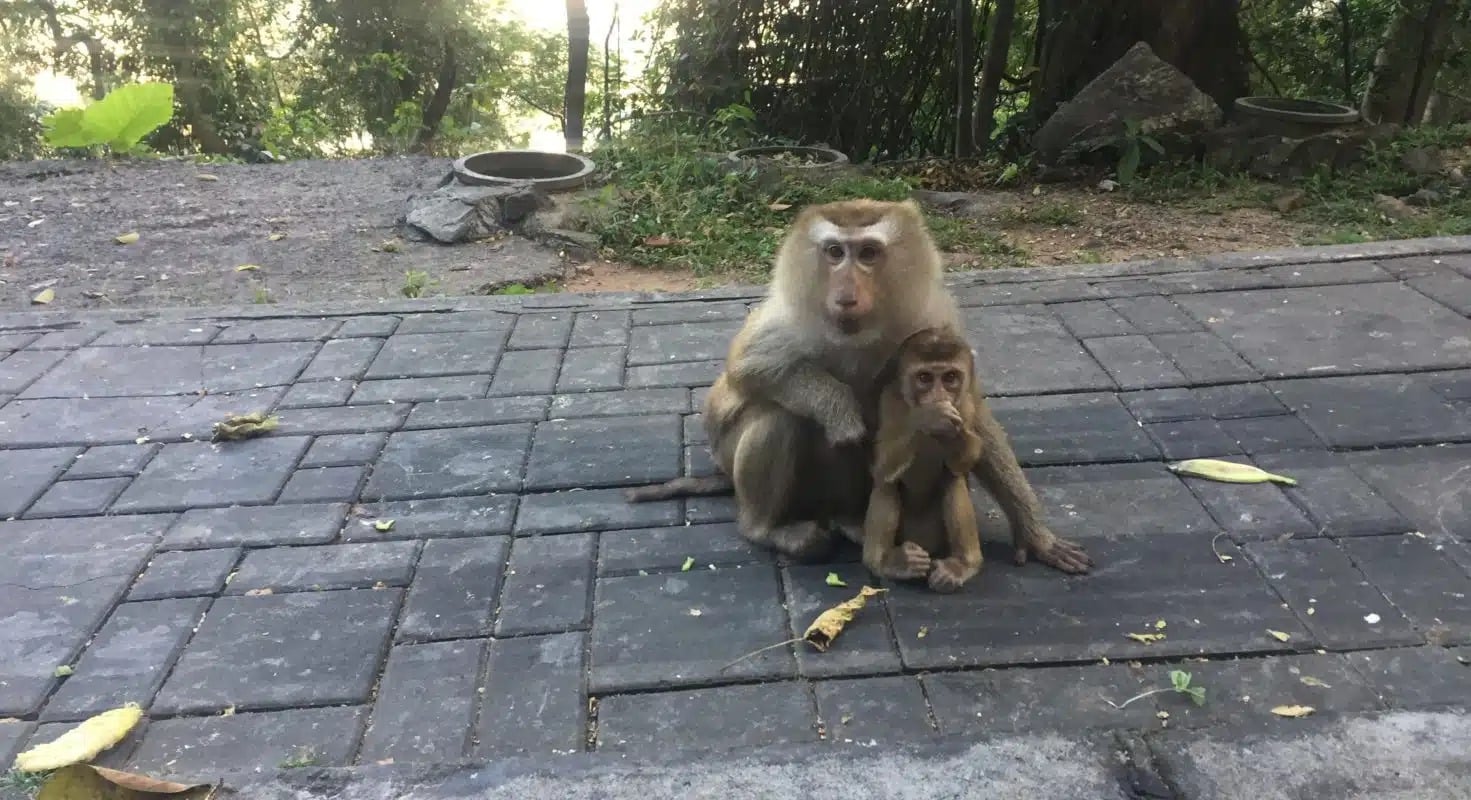 Avoid feeding them from a very close distance. You will find the baby monkeys very irresistible, but maintain a safe distance as the mothers are very vigilant and protective about their little ones. Try to make them comfortable around you to enjoy the natural free flow comedy.
What else can I do near Monkey Hill?
There are plenty of things you can try in the old town near Monkey Hill. There are various eateries where you can enjoy authentic Thai food and even head to the nearby beaches for a relaxing and good experience. The colorful streets have traditional boutique shops, local vendors and trendy eateries. The gleaming night markets are another major tourist attraction here.
Other Places to find Monkeys in Phuket
1. Sirey Island
East of Phuket town, as you drive to Koh Sirey, you will find an area of mangroves where there are plenty of monkeys. There is a small spot especially built for watching the monkeys. The spot was built by the local authorities for the tourists that get fascinated at the sight of monkeys in their natural environment other than a zoo.
2. Wat San Kuha Temple
Also called "Buddha Cave Temple" and "that cave with a Buddha in it", it is located in a cave near Phang Nga Town, at a distance of 90 minute from Phuket. You can find a herd of monkeys outside the temple.
3. Rang Hill
Located towards north of Phuket, the Rang Hill is a very popular viewpoint. You can find monkeys sifting through the garbage and moving mostly around the parking area.
Bottom Line
Hence, we see that the Mountain Hill is the best place to visit to see monkeys in Phuket island. Besides being able to enjoy with monkeys, you can also savour the beautiful hill top view there.