Muay Thai has been a popular sport in Thailand for several decades. With time it gained international popularity and is now a world-famous sport. Thousands drop in Thailand every year to get trained by the best Muay Thai champions. Phuket is a hub for Muay Thai kickboxing, offering an array of top-notch gyms to help you master this ancient martial art. The major cities that provide Muay Thai training are Bangkok, Chiang Mai, Pattaya, and Phuket. Experience the authentic Muay Thai camp in Phuket, where passionate trainers and state-of-the-art facilities await you.
Embrace the art of the eight limbs at the best Muay Thai gyms in Phuket, where dedicated trainers, state-of-the-art facilities, and an unwavering passion for Thailand's national sport come together to create an authentic and immersive experience for beginners, enthusiasts, and professional fighters seeking to hone their skills in the captivating tropical paradise of Phuket.
7 Best Muay Thai Gyms in Phuket – [2023 Update]
1. Sumalee Boxing Gym
Sumalee Boxing Gym is popular in Phuket due to its holistic approach to Muay Thai training. It is located in the center of the island of Phuket on the East Coast. Although it is nestled in a quiet setting, the gym is easily reachable from other parts of the island, especially Phang Nga Bay.
It combines the goodness of traditional Muay Thai training with the modern standards of accommodation, service, and hygiene. It combines optional yoga and nutritional programs to offer a complete package.
There is a vast variety of accommodation options suited for both high-end as well as budget-friendly visitors. It offers both shared rooms as well as luxurious suite rooms. Other features here include a healthy food restaurant: coffee shop and crêperie; on-site swimming pool, Balinese style yoga shala, massage shala, and equipment shop.
Location: 234 Moo 3, Soi Hua Tha, Sri Sunthon Road, Thalang, Phuket 83110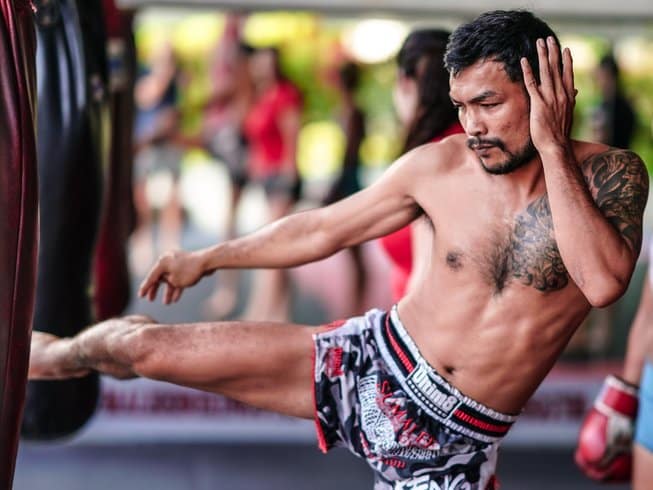 2. Tiger Muay Thai and MMA Training Camp
Located on the Soi Ta-Lad in Chalong, it is the biggest and most recognized Muay Thai, MMA & Fitness Training Camp in Phuket. It is spread across a whopping 8,000 sq meters in the central part of Phuket.
The center has coaches from all around the world who are trained professionals with specializations in fitness, Brazilian Jiu-Jitsu, and MMA. Tiger Gym is divided up into weight and fitness sections along with areas dedicated to the various levels of fight potential.
The camp offers 20 different types of courses along with Mixed Martial Art training. There are different classes for different levels of trainees.
Contact
Open: Monday–Saturday from 7 am to 7pm, Sunday from 11am to 5pm
Phone: +66 (0)76 367 071
Website: https://www.tigermuaythaichiangmai.com/
Location: 7 35 Soi Ta-iad, Chalong, Phuket 83130, Thailand
Prices
Single class, 2.5 hours: 500 baht
Day pass with access to all classes and facilities: 900 baht
Monthly Muay Thai and MMA training: 14,000 baht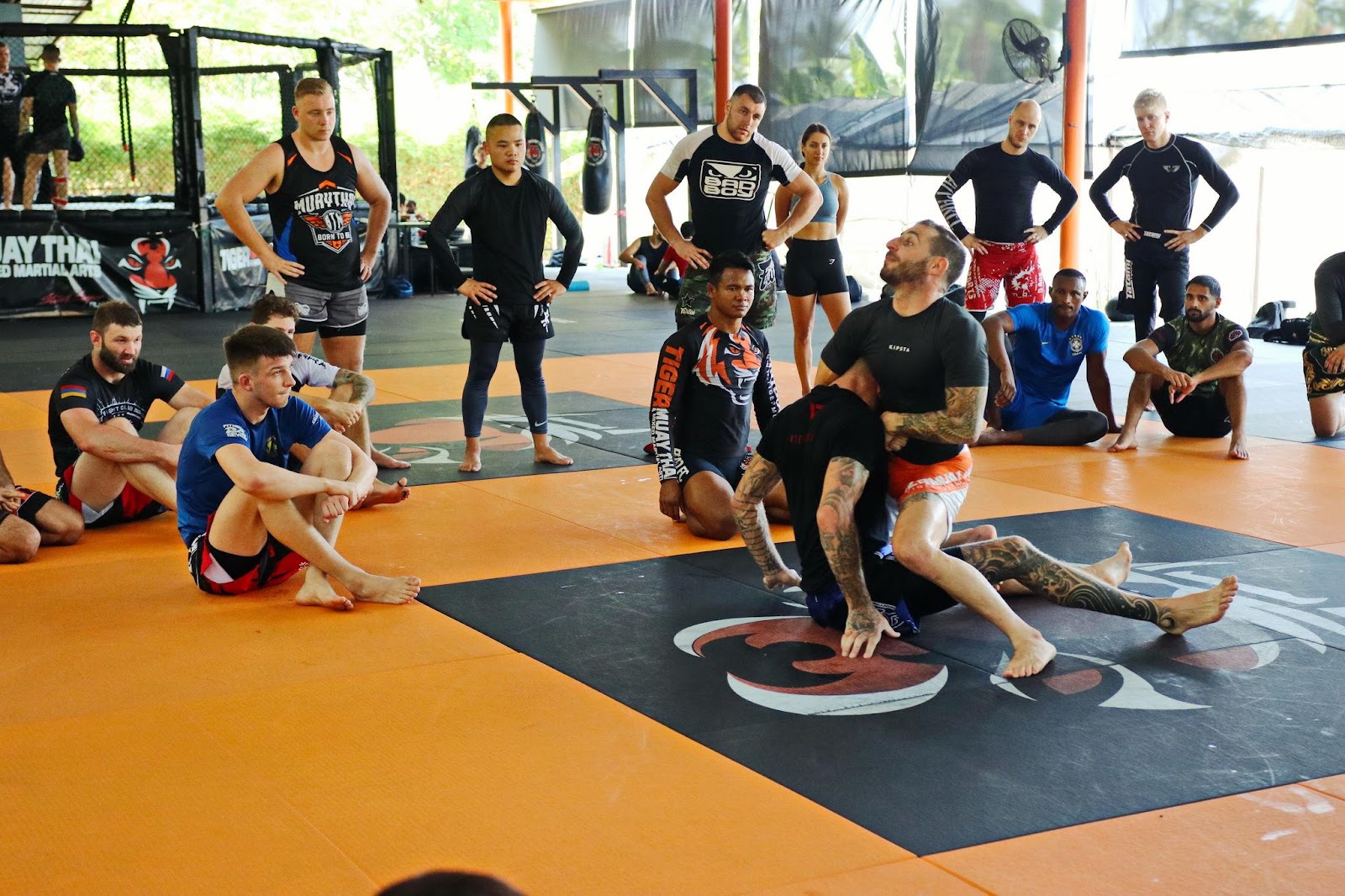 3. Sinbi Muay Thai Training Camp
This camp is located just a few minutes away from one of Phuket's most beautiful beaches – Nai Harn. It was founded by Muay Thai Boxer Khun Singh. It features a fully equipped gym and 3 full-size fighting rings.
All the trainers here are professionals who have fought at some of the highest levels at Kumpinee and Ratchadamnoen stadiums in Bangkok. Some have also reached international levels.
Besides providing top-class training, it also promotes its own fight shows. that take place at well-known stadiums throughout southern Thailand, the stadium in Phuket, and the gym itself. There are rented accommodation options available at a short distance from the center.
Contact
Open:

Monday–Saturday from 7.30 am to 7 pm (closed on Sundays)

Phone:

+66 (0)83 391 5535

Website:

http://www.sinbi-muaythai.com/

Location: 100/15 Soi Saiyuan 9, Rawai, Muang, Phuket 83100, Thailand
Prices
Single class

: 2 hours: 500 baht

One-on-one training

: 800 baht per hour

Monthly Muay Thai training

: 12,000 baht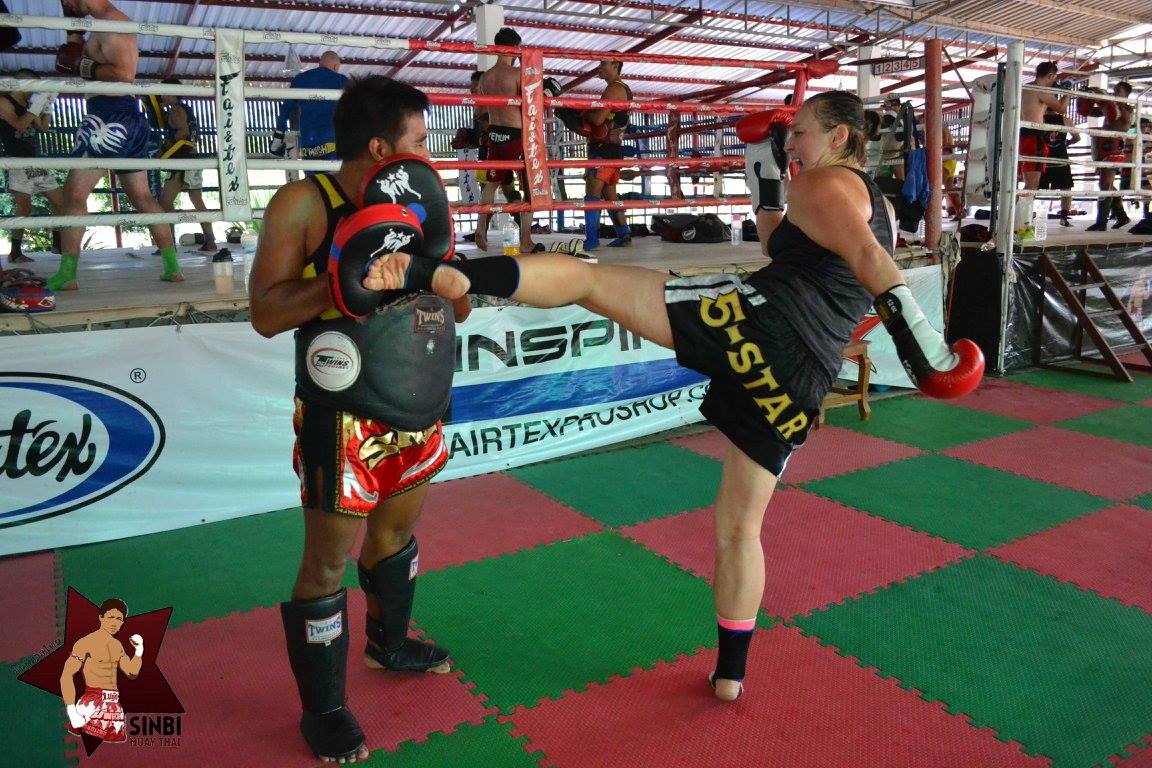 4. Kingka Muay Thai Camp
Kingka Supa Muay Thai was once Rawai Muay Thai, the world-famous & most popular Muay Thai gym in Phuket. The gym has undergone a huge refurbishment and now has a nice new & very welcoming look about it.
The camp has shared accommodation and bungalows on site. The head trainer- Khun Keh specializes in the high-low strategy of fast, strong boxing mixed with low kicks, while Khun Kouprey, another trainer at the center, is focused on boxing techniques.
Boxing gloves, hand wraps, shin guards, ankle guards, belly pads, and kick pads are provided to all the trainees.
Contact
Open:

Monday–Saturday from 7 am to 7pm, Sundays from 9am to 6pm

Phone:

+66 (0)76 226 495

Website:

https://web.facebook.com/Kehmuaythaigym

Location: 43/42 Moo 7, Wiset Rd, Rawai, Muang, Phuket 83130, Thailand
Prices
Single class, 2 hours

: 300 baht

Weekly, 2 classes per day

: 3,000 baht

Monthly, 2 classes per day

: 10,000 baht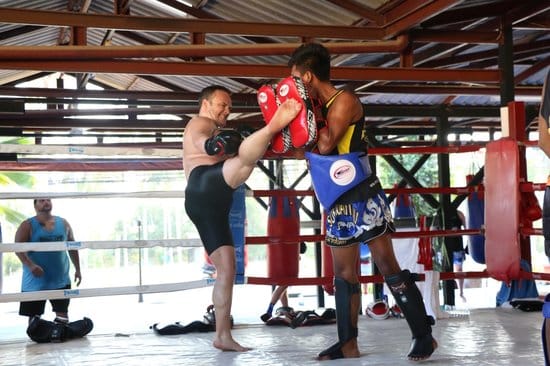 5. Revolution Muay Thai Camp
The Thai camp is conveniently located at a short distance from the most exotic beaches of Phuket- The Bangtao Beach and Surin Beach. The camp is especially popular for the 6 personalized training it offers.
The class size is kept small to ensure the same. The camp has professionals who are trained in different techniques. Training is offered in MMA, Brazilian Jiu-Jitsu, Mx fitness training, yoga, and Western boxing.
Nutritional advice and strength and conditioning training are also available here.
Contact
Phone:

087 276 5024

Website:

https://www.revolutionphuketgym.com/

Location: 72/46 Moo 3, Cherng Talay, Thalang, Phuket 83110
Prices
Drop-in classes

: Muay Thai: 500 baht, Brazilian jiu-jitsu: 500 baht, Functional fitness: 500 baht, Boxing: 500

Monthly Muay Thai

: 11,000 baht

Monthly all access

: 16,000 baht

Accommodation with training monthly packages

: 22,000 baht – 35,000 baht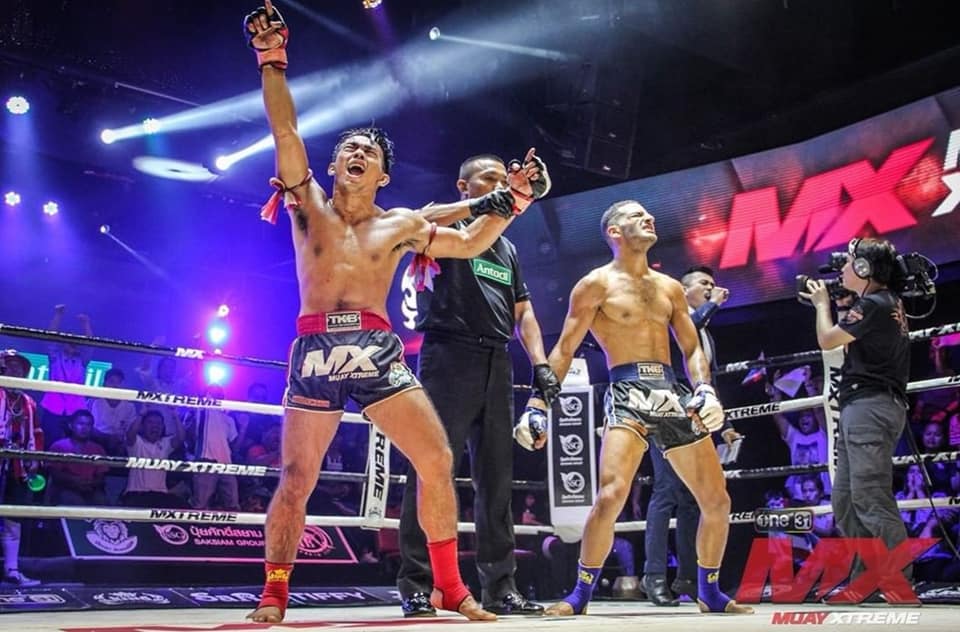 6. Suwit Muay Thai Camp
It is one of the earliest Muay Thai Camps in Phuket town that has been around for over 25 years. Many alumni of the camp have fought internationally. It is located near the famous Phuket zoo on Chalong's ChaoFa East Road.
The camp has a gym, boxing rings, air-conditioned rooms, and a fair-sized swimming pool. It also has on-site accommodation facilities for the trainees. The prices here are very reasonable including the accommodation. The camp organizes a fight night every Friday which is open to the public.
Contact
Open:

Monday–Saturday from 8 am to 6 pm (closed on Sundays)

Phone:

+66 (0)76 374 313

Location: 15 Moo 1, Chao Fa Road, Chalong, Muang, Phuket 83130, Thailand
Prices
Single class, 2 hours

: 500 baht

Monthly training

: 9,000 baht

Monthly training room rental

: 11,000 baht for a fan room, 14,500 baht for AC
7. AKA Thailand
AKA Thailand in Phuket is an offshoot of the original AKA in California, USA. The USA gym is a top centre for MMA training founded by the renowned American kickboxing champion Javier Mendez.
The AKA Phuket branch is not far behind in terms of popularity. It is run by former UFC fighter Mike Swick. It offers a variety of training including Muay Thai, MMA fundamentals, Brazilian Jiu-Jitsu, and yoga. In addition to that, it also offers Strength & Conditioning classes.
As of now, the camp does not have any on-site accommodation but you can take the AKA packages that provide accommodation at nearby hotels or guest houses.
Contact
Phone

: 076 604 004

Website:

https://www.akathailand.com/

Location: 47/31-32 Moo 4, Soi Sermsuk, Viset Road, Rawai, Muang, Phuket 83100
Prices
Single class, 2 hours

: 600 baht

Martial arts training, 1 month

: 12,650 baht

Standard travel package, monthly

: 40,000 baht including training, motorbike rental, airport transfer, accommodation, and some t-shirts and training gear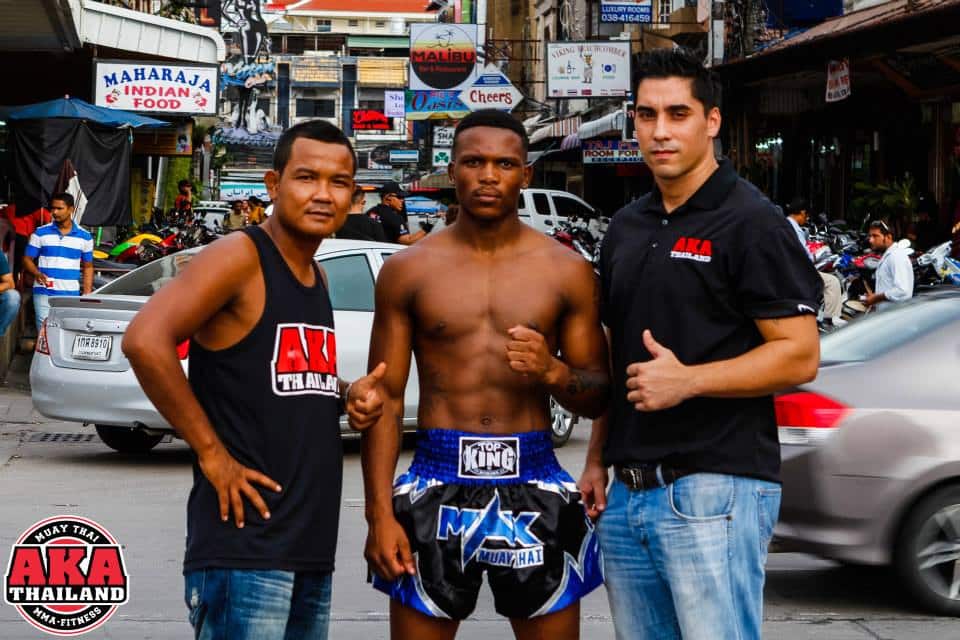 Bottom Line
Hence, we see that Phuket has Muay Thai training facilities for nearly all types of trainees. You can start with the basic training and as you get better, you can shift to the more advanced centers that offer strict courses.
Nearly all the camps offer meals, and a wide range of courses for beginners, intermediates, and advanced Muay Thai enthusiasts.
Editor - Thailand Nomads
Cindy quit her 9 to 5 job to pursue her passion for exploring mesmerizing locations in Thailand. She has been living here for the past 5 years now and through Thailand Nomads, she shares her experiences and insights about the must-visit places in Thailand.
Email: cindy@thailandnomads.com