Phuket is one of the most famous tourist locations owing to its beautiful beaches and mesmerizing mountain and sea views.
The place attracts thousands and thousands of tourists every year who come to enjoy the traditional Thai culture, architecture, night markets, beaches, islands, cuisine, and much more.
While planning a trip to a foreign country, the first thing that you need to care about is accommodation.
Indulge in the ultimate pampering and relaxation at these best Hotels to Experience Luxury in Phuket, where you can experience the very best in luxury accommodations, amenities, and service.
11 Best Hotels To Experience Luxury in Phuket
1. Keemala Phuket
Located in the midst of the Kamala rainforest, this tropical wonderland invites you to have a wonderful stay on its premises and enjoy luxury facilities to the fullest.
Keemala Hotel is a chain of Hyatt Hotels. Therefore, it is a 5-star luxury. This hotel is located away from the city bustles and opens into the vast Andaman sea and Kamala village.
It is one of the best luxury hotels that are close to Patong and Kamala beaches, so you can enjoy sunbathing on the white beach sand anytime.
The villas are spacious and feature private pools. And the decor is traditional and rustic style providing a pure retreat vibe.
The hotel's "feast for the senses" is a delicious cuisine where the chefs would teach you how to cook with the right type and amount of herbs grown in their garden.
Yoga, meditation, and spa are also available, so you must try to get yourself relaxed and rejuvenated.
Address: 10/88 Moo 6, Nakasud Road, Kamala, Kathu, Phuket, 83150, Thailand
Contact: +66 (0) 76 358 777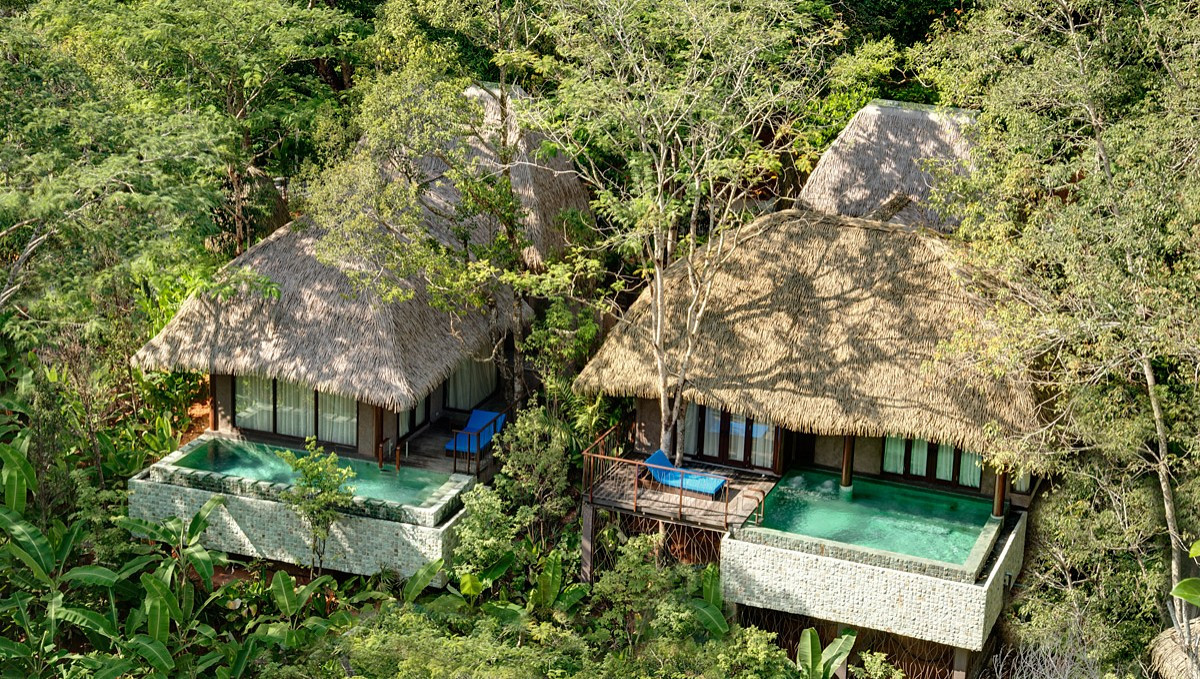 2. Iniala Beach House
This hotel is 25 minutes north of Phuket airport on a secluded Natai beach surrounded by only a few private houses.
There are 10 villas with 3 bedrooms each spread across the property. Each villa is different and unique in its style, all the while screaming 'luxury.'
Some extraordinary features in the rooms are floating furniture, swinging Russian doll chairs, a spa chamber, an infinity pool, spongy floors, and plushy beds.
Their specialty is seafood cooked with a Thai royal recipe under the gudishio of famous chef Sandro Aguilera. The value for money for a five-star luxury hotel is good.
Address: 40/14 Moo 6 Kok Kloi, Takuathung, Phang-Nga, Natai Beach, 82140
Contact: 0066 76 451 456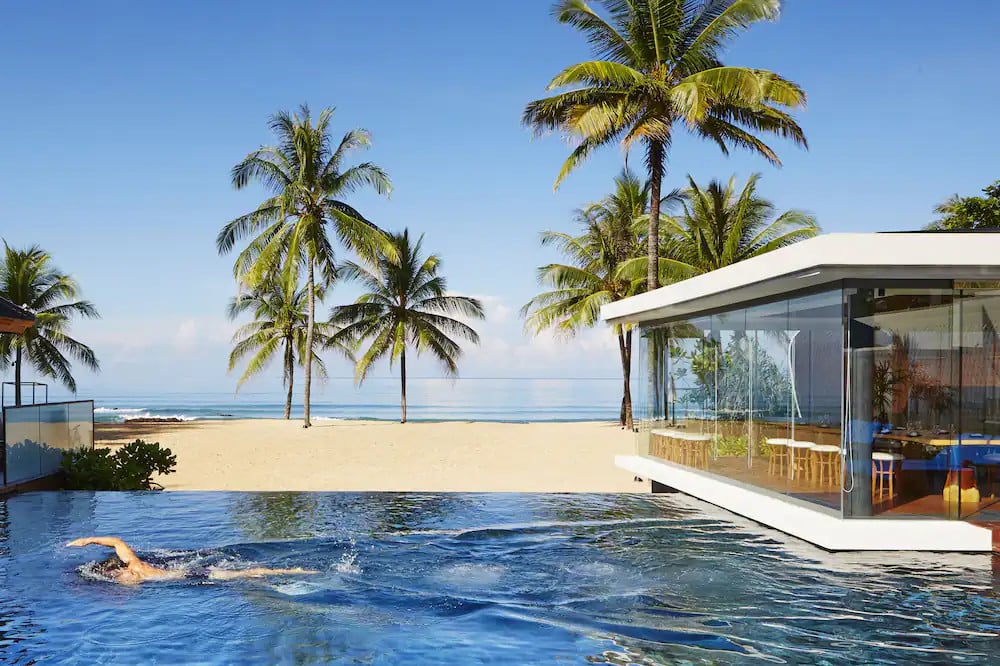 3. Trisara
Located at a 20-minute ride from the airport northwest coast of Phuket, it can be your perfect relaxing getaway.
The Andaman sea and light forestation are spread right in front of the hotel.
The place has a southern Thai architectural design, which looks a little old-fashioned but is compensated with spectacular modern decor and style.
There are a total of 39 pool villas, each of which is in a blend of soothing color themes. The furniture is wooden with a hint of retro, and all other luxurious facilities are available.
There's a gym and a spa room that gives special thermal therapy and skin detoxing cleaning.
You can also explore the farther coastline with the resort's yachts. Pru, the most delicious eclectic western Asian cuisine serving restaurant, is on the beach.
You can also go for the traditional Thai food on the Deck. The resort also has a lot of fun activities stored for children.
Address: 60/1 Moo 6, Srisoonthorn Road, Cherngtalay, Phuket 83110, Thailand.
Contact: 00 66 (0) 76 310100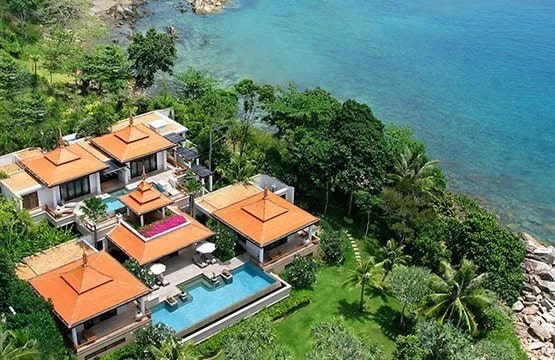 4. Rosewood
This hotel is one of phuket luxury hotels located on the southwest coast of Phuket near the Emerald Bay coast.
What makes this place different is that it has the highest building budget in all of Thailand. And the whole resort is eco-friendly.
There is a rainwater harvesting system, a coral reef restoration program, roof gardens, a big old banyan tree covering a restaurant, and windows that open to the mesmerizing view of the Andaman Sea.
There are 71 suites; some include a single bedroom with a sea view and others with Two bedrooms with a pool that opens to the sea and has direct access to the beach.
The villas are fully furnished in a dark woody theme. The famous Thai restaurant " Ta Khai," run by an old couple, is a go-to place. Their flavors are magic on the tongue.
You can also walk to the nearby restaurants for all other kinds of food. The resort staff is super friendly that will introduce you to their world-famous spa facilities.
Address: Muen-Ngoen Rd., Tri-Trang Beach, Patong, Kathu District, Phuket 83150, Thailand.
Contact: 00 66 76 356 888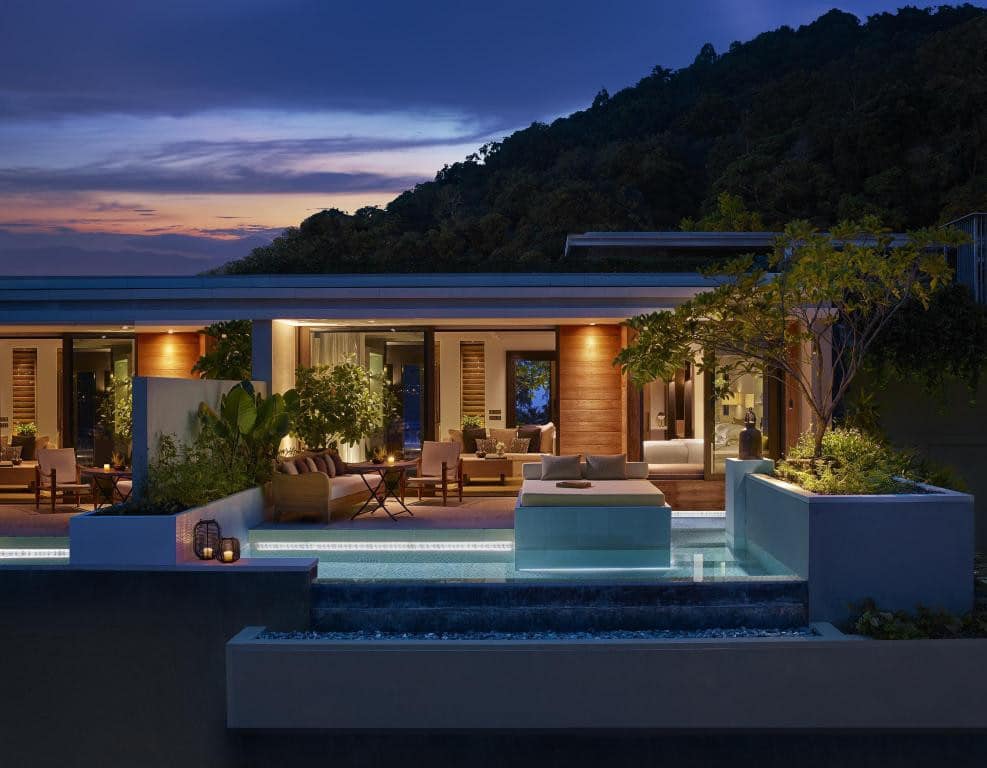 5. Amatara Wellness Resort
This place is in Cape Panwa, southeast of Phuket island, which will be 15 minutes away from Phuket's old town.
The hotel is situated on a peninsula with the sea on one side and a bay on the other. There are 105 villas built in such a way that every villa has a beautiful view of the Andaman sea.
The villas are well-furnished and have marble floors with minimalistic decor.
There is a balcony in every room, and some have private pools. There is also a shared swimming pool that is quite huge.
Here you will also find a Moroccan spa run by professionals, a yoga studio, a gym, a tennis court, and free kids club.
The resort hotel serves breakfast, lunch, and dinner in a gigantic buffet system.
Address: 84 Moo 8 Sakdidej Road, Vichit, Muang, Phuket, Panwa Beach, 83000, Thailand.
Contact: 00 66 76 200 800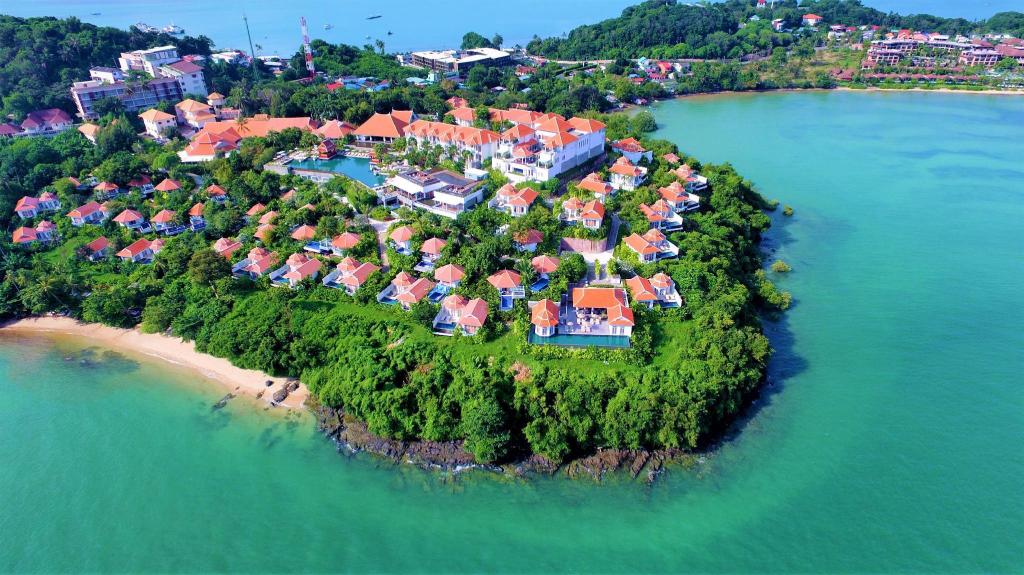 6. Amanpuri
Situated on the southwest coast of Phuket, this hotel is close to two beaches: Pansee Surin Beach and Bang Khao beach.
There are 40 fully furnished suits with traditional Thai ornament decors. The rooms are big with balconies and infinity pools.
The rooms also consist of Digi valet technology, an easy way to control lighting and air conditioning and calculate bills.
There are yoga sessions and Muay Thai boxing for visitors. Massages, acupuncture therapy, colonic hydrotherapy, chelation therapy, and vitamin infusion therapy are all available in the spa section.
Arva- fine Italian dining, The Sunset Terrace, and Buabok are the on-spot food hubs.
Address: 118 Moo 3 Srisunthorn, Phuket, 83110, Thailand.
Contact: 00 66 76 324 333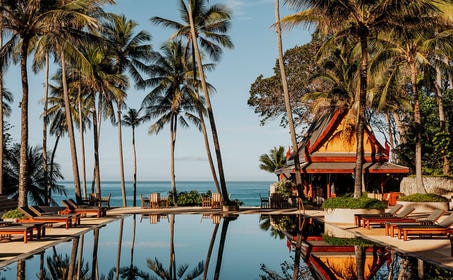 7. Casa Blanca Boutique Hotel
This hotel is one of the great luxury hotels that is located in the Old Town of Phuket. Due to the busy streets and one-way traffic, it can be quite difficult to locate the place.
The hotel has 17 rooms, which are well-furnished with minimalist decor. Few rooms include direct access to the swimming pool at the back, and some come with a front balcony giving the street view.
The hotel is heavily influenced by Spanish architecture with a mix of Sino-Portuguese constructs.
The hallways are painted in mosaic, and chandeliers light up the wooden staircase. The staff at Casa Blanca is very friendly and helpful.
The owner of the place is always present and bakes the morning delicacies for the guests.
The location of the place makes it easier to explore and enjoy the authentic life of the Old Town. You can anytime go out and try different foods and cousins.
Address: 26 Phuket road, Taladyai, Muang, Phuket, Phuket Town, 83000, Thailand.
Contact: 0066 76 219 019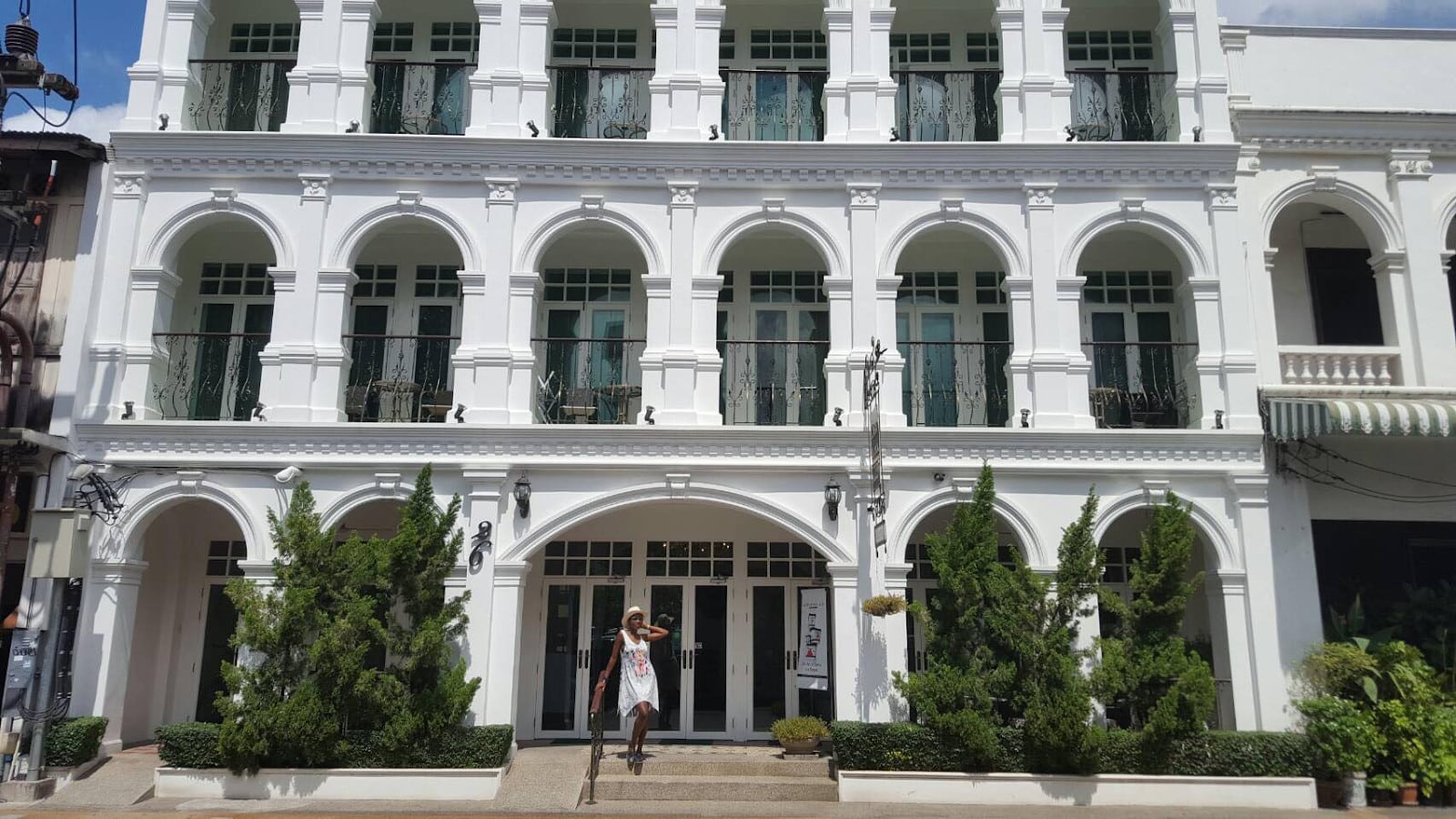 8. Anantara Layan Resort and Spa
This resort is located on North West coast of Phuket on Layan Beach. It is surrounded by forest on one side and the glittery golden special sand of Layan Beach on the other.
This luxury hotel consists of 30 suite rooms and 47 pool villas. The interior is pure aesthetic with din lighting, wooden structure, and fancy ornamented furniture.
The place has a garden of Jasmine, the scent of which is always spread in the air. It offers a complete package with a well-equipped gym, an enormous swimming pool, a therapy spa and also a salon.
You can have easy access to the beach, and the kids can enjoy the children's club while you can enjoy a delicious glass of wine.
The breakfast buffet is a long array of various food and cuisine. There are a lot of extravagant dishes which you must try.
Address: 168 Moo 6, Layan Beach Soi 4, Cherngtalay, Thalang, Layan Beach, 83110, Thailand.
Contact: 00 66 76 317 200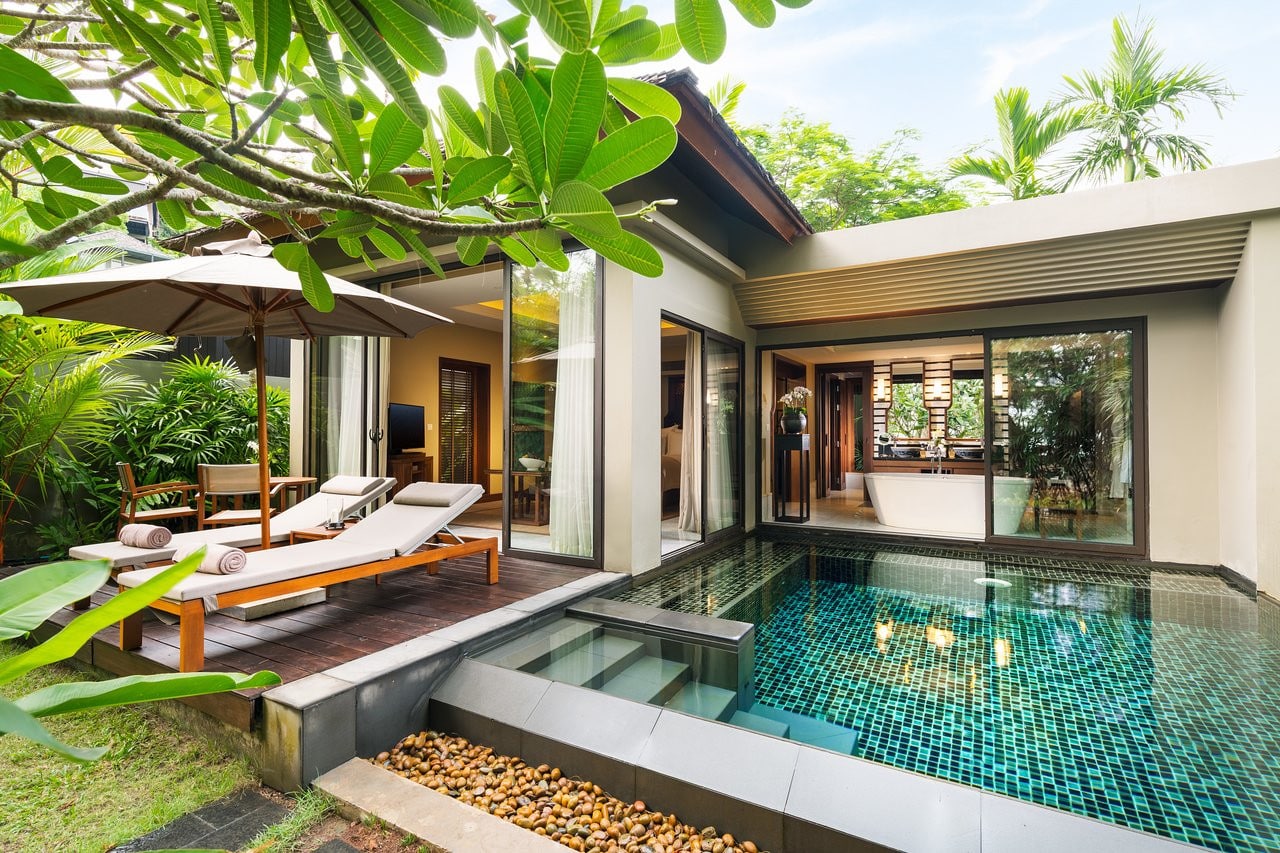 9. Twinpalm Resort
This place is located on the northwest coast of Phuket near Surin Beach. Away from the city crowd, it offers a very relaxing, calm environment.
There are 97 glamorous rooms available, all decorated in a monochromatic theme with nature's touch of wall art and felicitated hangings.
Deluxe rooms have a private pool and terrace with some extra facilities for the staff. The best part is when you check-in, you'll be welcomed with garlands and cocktails.
There is a library, a pool, a fitness center, and yoga and Muay Thai sessions available here.
The whole place is always smelling of the frangipani fragrance that comes from the garden bar. It would be best if you did not miss the buffet, for they serve some of the best-baked delicacies.
The Oriental Spoon Restaurant serves Thai cuisine in the best possible way, and the pool bar cocktails are super fresh and fruity.
Address: 106/46 Moo 3, Surin Beach Road, Phuket, Thailand.
Contact: 00 66 076 316500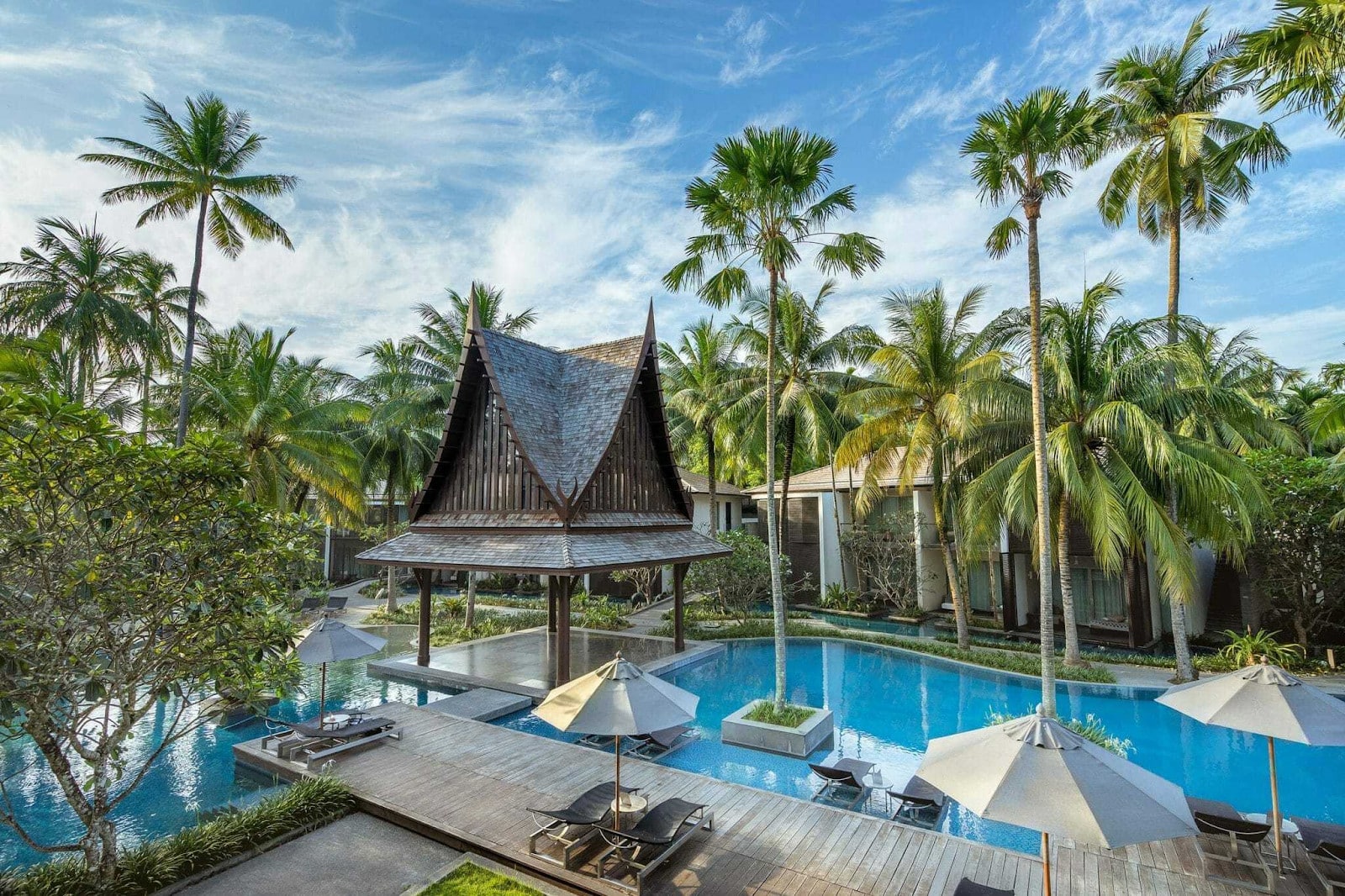 10. Six Sense Yai Noi
Located on Koh Yao Noi island, between Phuket and Krabi, this hotel is pure luxury. The property is spread over a hilly jungle.
There are 56 separate villas with big porches and private swimming pools. With it being half in a jungle, the place has adapted to the wild interior and decor.
Here you can see stone paths and old restaurants. There are butterflies and different variety of birds flying overhead.
All the rooms in the villa have modern facilities, comfy beds, ornate showers, and mesmerizing views.
The best place is the hilltop infinity pool, which is breathtaking. With an experienced staff, there are water sports activities, cooking sessions, Muay Thai boxing, an ayurvedic spa, and much more.
This is a brilliant place to have time away from the crowded towns.
Address: 56 Moo 5, Tambol Koh Yao Noi, Ko Yao Noi, 82160, Thailand.
Contact: 00 66 76 418 500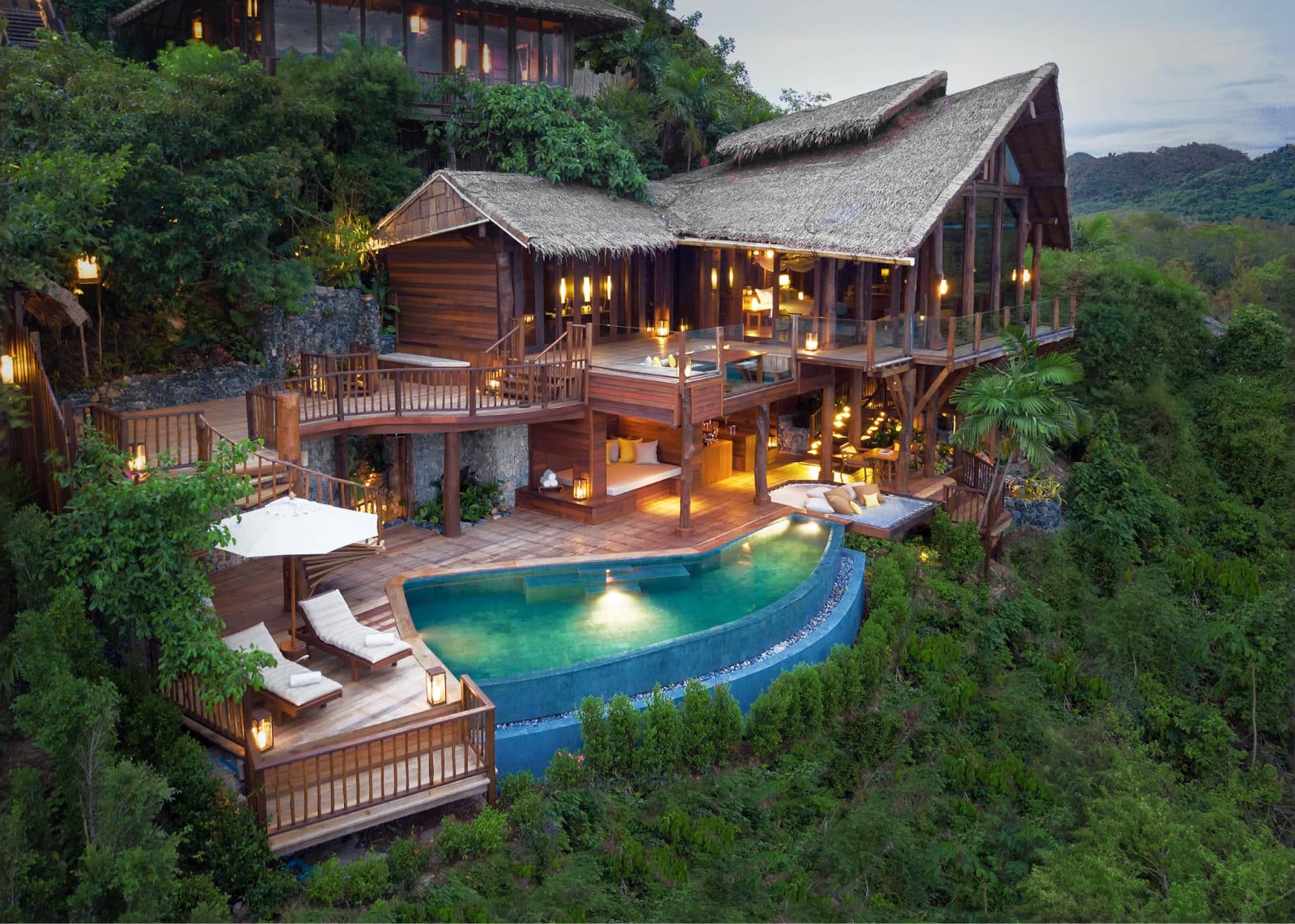 11. Sala
Located on Mai Khao Beach, which is a 20 minutes ride from Phuket airport, this hotel defines minimalist luxury.
There are 32 pool villas that are designed with a modern theme style with simple colors, sophisticated arrangements, outdoor showers, and lush green courtyards with high walls for privacy.
There are also two separate common pools for children and adults. The martini and cocktails of the pool bar are a must-try. You can also access the beach and rent a kayak or paddleboard.
The best part would be getting a relaxing Thai oil massage on the quiet secluded beach.
The Sala restaurant in the Lawn serves a mixture of Thai and western flavors. You can also have the best romantic dinner date on the restaurant top under the sunset.
The breakfast buffet included a variety of delicacies. You can also have food of your choice cooked by requesting the chef. This serene resort can be the perfect getaway for you.
Address: 333 Mai Khao, Thalang District, Phuket 83110, Thailand
Contact: +66 76 338 888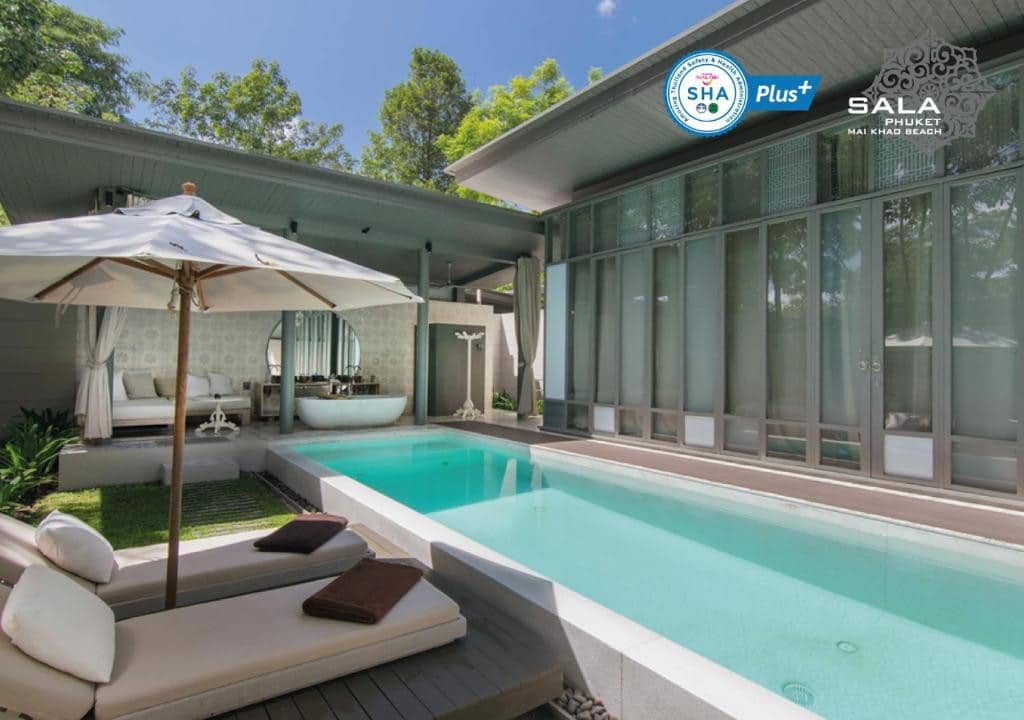 Final Words
Situated in the Andaman Sea, Phuket is endowed with verdant mountains, white-sand beaches, and opulent resorts.
It is a great place to go all year round because of its warm climate and easy access to international airports.
However, sunbathers prefer to go during the dry season, which runs from November to March and is marked by abundant sunshine and a clear sky. Use this Phuket weather guide to plan your perfect plan and have a pleasant travel experience.
Choosing where to base oneself is crucial because the area exceeds 200 sq miles. Thanks to the abundance of upscale resorts and all-inclusive hotels, you'll have a tonne of options.
These luxury hotels mentioned above have been tested for quality and top-notch luxury, so feel free to choose from them.
Editor - Thailand Nomads
Cindy quit her 9 to 5 job to pursue her passion for exploring mesmerizing locations in Thailand. She has been living here for the past 5 years now and through Thailand Nomads, she shares her experiences and insights about the must-visit places in Thailand.
Email: cindy@thailandnomads.com