Welcome to the ultimate Guide to Tipsy Tubing in Pai, where fun, relaxation, and adventure flow together like the gentle currents of the Pai River!
Thailand is known for its temples, sandy beaches, massage centers, and of course, mesmerizing landscapes. With so many things on offer, it can be a daunting task planning an itinerary.
What's better than walking or riding a scooter in Thailand? Well, floating down a river
If you are traveling to Northern Thailand, you must try the Tipsy Tubing in Pai! It is a beautiful daytime activity that attracts digital nomads and backpackers from across the world.
It is one of the most unique activities you do on your visit to the land of the smile.
If you plan to go river tubing for the first time, this guide will give you everything you need.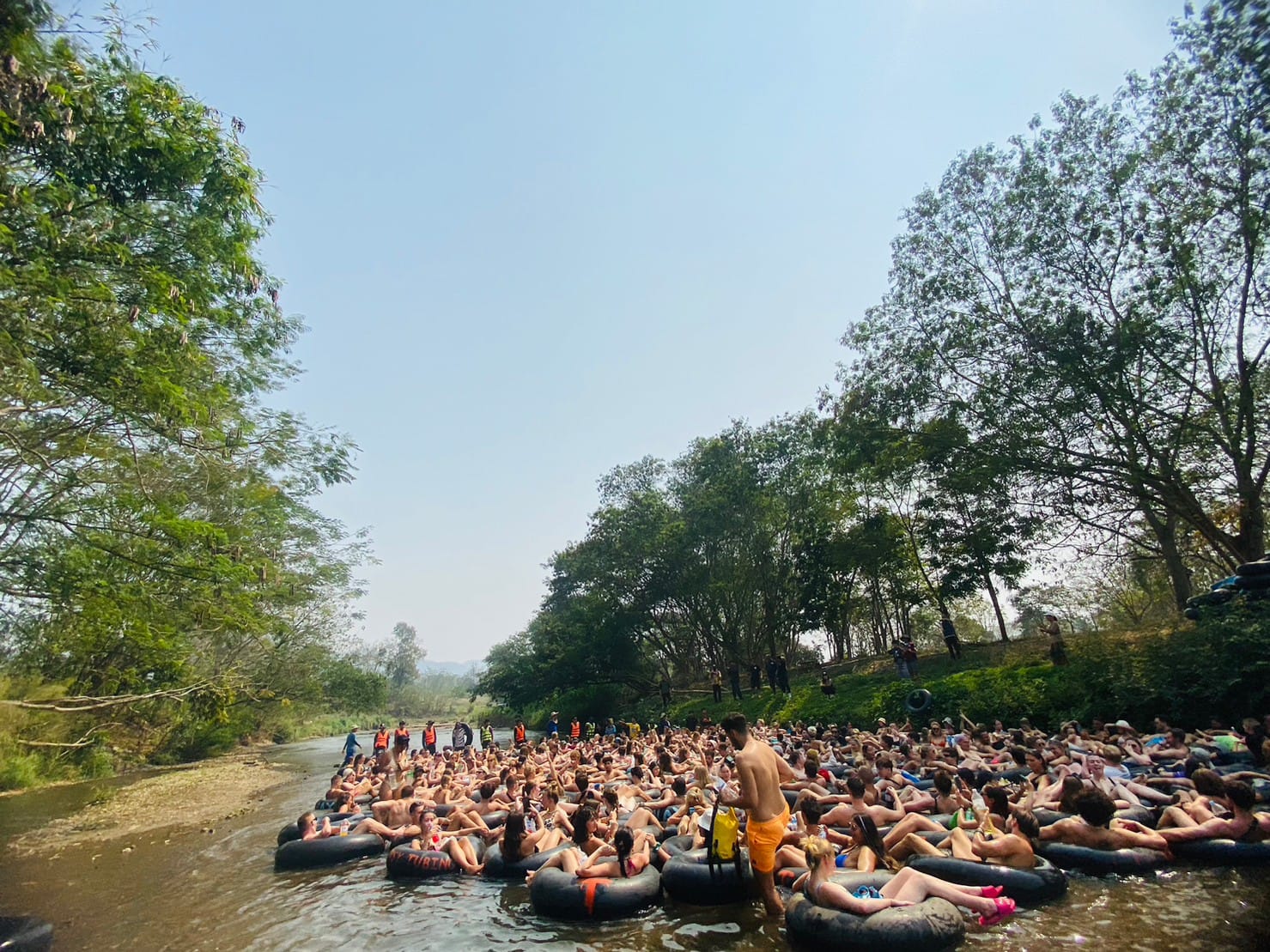 What is Tipsy Tubing?
Thiland's Tipsy tubing is a once-in-a-lifetime activity where you get on a donut-shaped tube and float down a river, usually sipping alcohol.
Now, keep in mind that you have to drink booze while tubing down the river, but it is what attracts people to Pai.
It is one of the most fun and relaxed activities you can do to enhance your travel experience to northern Thailand.
When tubing in Pai, you can meet hundreds of backpackers and fellow travelers.
You may even make some friends and have a lot of fun doing it. As you drift from one corner to another, you are bound to bump into people in the chaos of the tubes.
But don't worry, this exhilarating activity is a great way to escape from the head, which is much needed.
However, if you decide to explore the land on a bike, these rental shops will help you read all about it and get the best prices.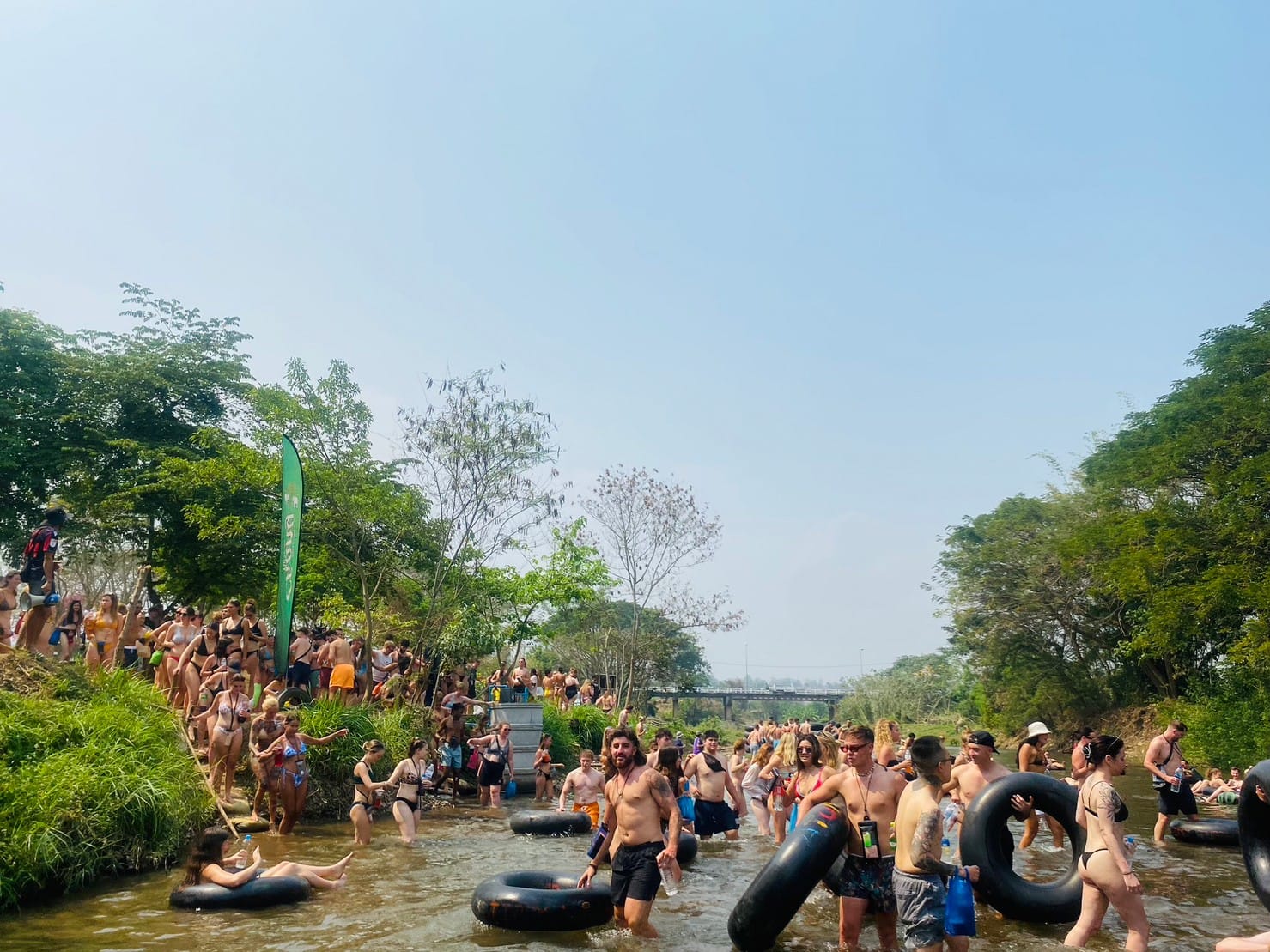 How Does It Work?
Now all you need to do is grab your tube, sit on it, sip your booze, and float your way down the river; you first need to book your slot.
Tipsy tubing lasts for about three hours right from you being picked up and driven to the starting point of the river.
From there, it is pretty simple; you start floating for 30 mins until you reach the halfway point of the river.
At this junction, you can participate in a BBQ party at the riverbank, where you can eat some delicious meals.
Before that, you will get back into the water on your tube and float for another 20-30 minutes until the end.
Pai is considered for tourism, and Mae Hong Son is at the heart of it as many tourists visit this province.
So how do you book your tubing slot? Where is the starting point? What should you wear? Don't worry; we have got you covered. Read on to know more.
How Do I Take Part in Tipsy Tubing?
Tipsy tubing is a leisure activity, but you need to find the right operators for foreign tourists or backpackers like yourself who want to float down the river.
According to The Nation Thailand, there are five operators that are officially registered with Mae Hong Son Tourist Police;
Magic Tubing
Duanden Travel
Pai Authentic Travel
Back Trax Tour
Revolution Pai
You can connect with any operators mentioned above and find the timings and dates to sign up for the event.
Remember, you will find many hostels and shops offering tipsy tubing booking, but I would advise you to connect with these operators to avoid fraud.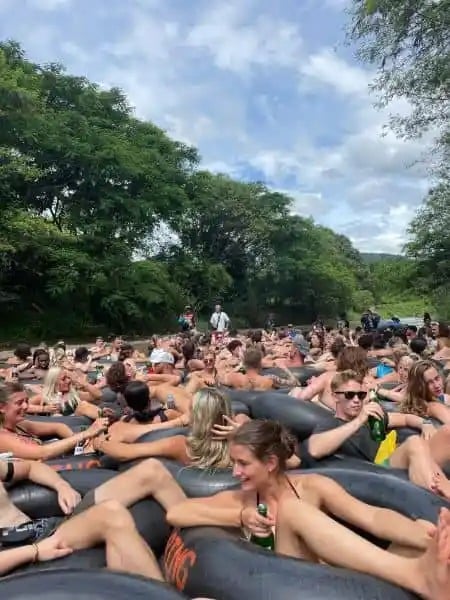 When Does Tipsy Tubing Run?
Tipsy tubing typically runs on Tuesdays and Fridays. However, the day may or may not change depending on the season you are visiting Pai and the weather conditions.
The dry and light rainy seasons are perfect for tubes floating down the river as the water is not too high. Whereas in the heavy rainy season, the river's current can be dangerous, so you should avoid it at all costs.
How Much Does It Cost?
In terms of pricing, tipsy tubing will cost around 300 Baht per person.
This includes everything from transport to the start of the river from your hostel, renting the tube, the halfway BBQ party, and the trip back to the pickup point.
All you need to do is sign up for the event and prepare for the time of your life in the sun!
How Much Beer Can You Get?
Now to the main part of the activity, the drinking!
Tubers are allowed to take their alcohol, and the operators often stop at a convenience store while you are en route to the river.
Whether alone or in a group, you can stock up on any alcohol, but no glass bottles are allowed.
For the safety of the people along and in the river, people who want to drink should only carry cans or plastic bottles.
Sometimes the operators also carry their stock for customers who run out of alcohol.
However, a tipsy tubing ban was passed last year, restricting people from drinking alcohol while floating down the river.
Even though alcohol may not be allowed, you can still have a great time floating down the river and have a great time!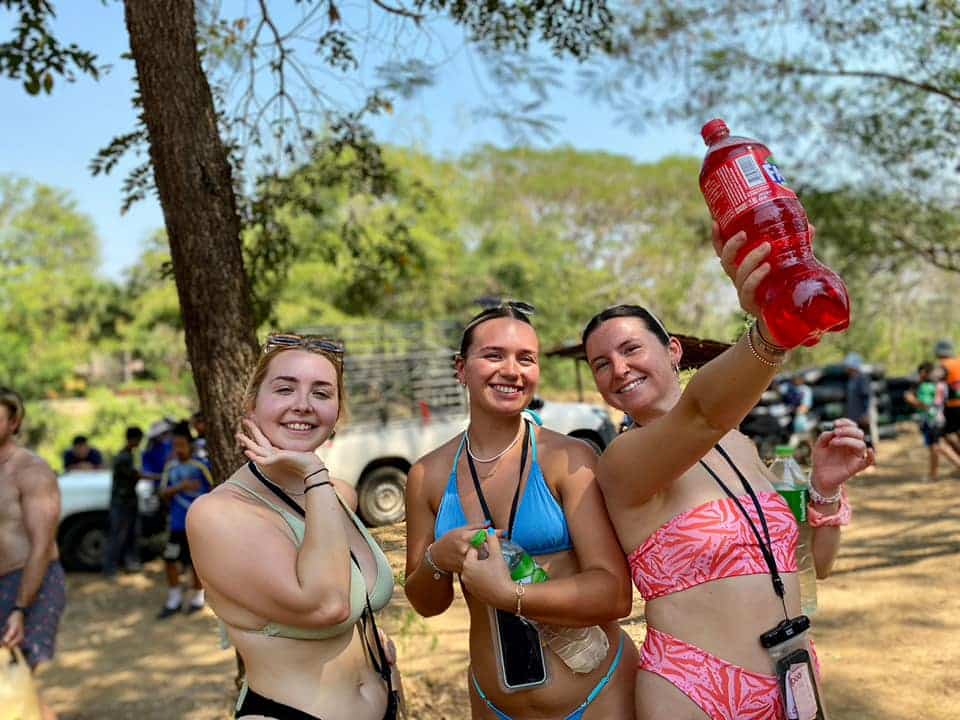 Things to Remember Before Going Tipsy Tubing
Before you enjoy this exciting tipsy tubing activity in Pai, here are a few things you should remember to have a great time in the river.
Carry sunscreen
Wear swimsuit
Waterproof bag for your phone, wallet, etc
Carry cash
A small bottle of water (preferably plastic)
Towel
Remember that you will be floating down a river, meaning you must carry only a few things.
The last thing you would want is you losing your things in the river.
So ensure you are organized and pack only the essentials before tipsy tubing in Pai Thailand.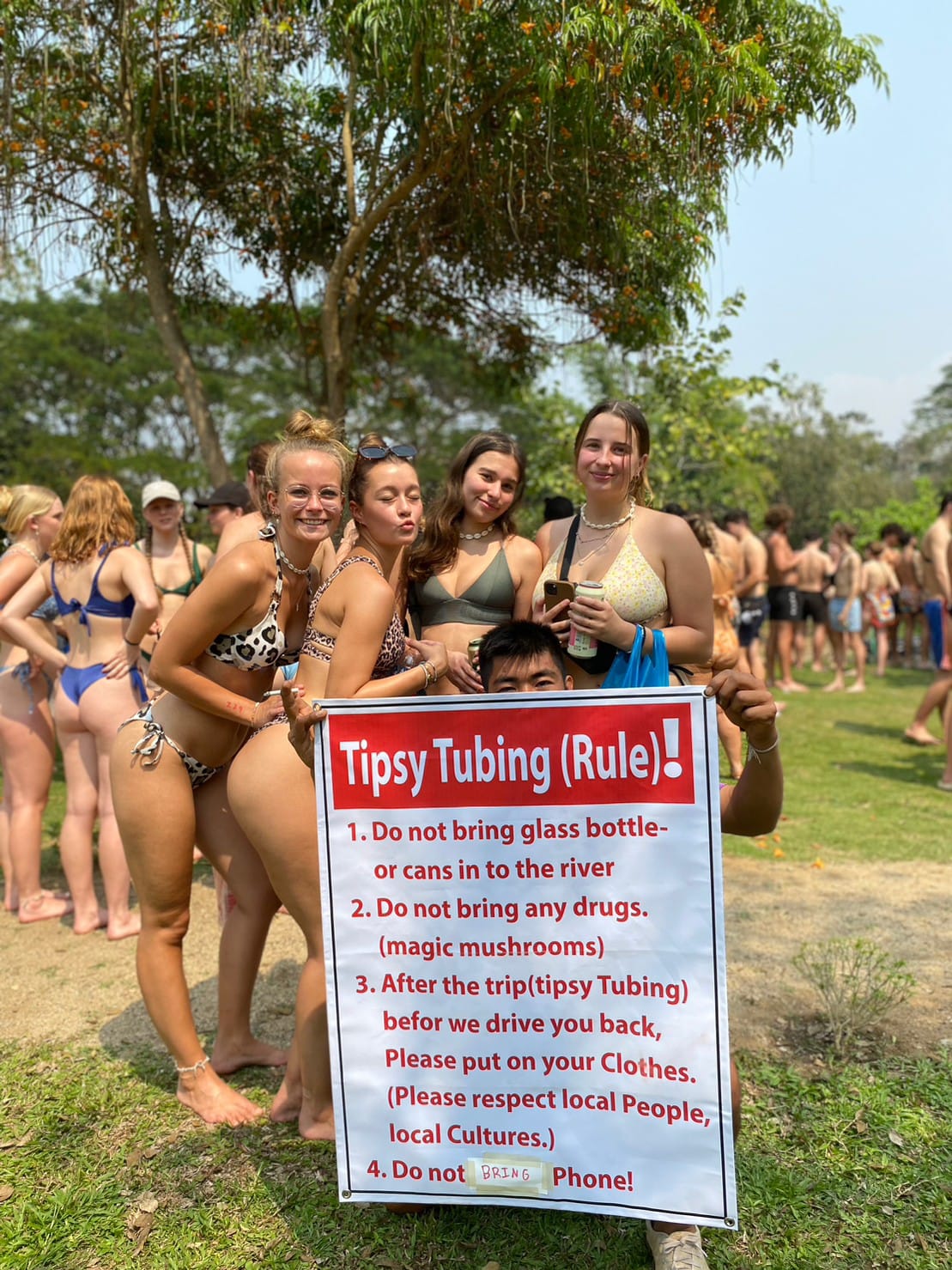 Are You Ready For Your First River Tubing Experience?
Using this guide, you can now participate in one of Pai's best tipsy tubing activities. Furthermore, you will meet many travelers and have fun making friends.
For some people, tipsy tubing might be more adventurous than relaxing, don't worry; we also have a guide on the best hot springs in Pai where you can lay back and admire the beauty of nature.
Hi, I'm Justin Pearce - a passionate traveler who has spent over 6 years of his life exploring lesser-known yet mesmerizing locations in South-East Asia. I am an avid biker who likes covering long distances on a bike. Through Thailand Nomads I want to share my tips and tricks for exploring some of the most popular tourist destinations in Thailands.