Hot Springs are a treat to the eyes and souls of people who genuinely admire the beauty of nature.
The city of Pai has some really beautiful Hot Springs that you must check out on your visit here.
Immerse yourself in the soothing waters of the most Popular Hot Springs in Pai, where the restorative power of natural geothermal springs and the serenity of lush surroundings come together for a rejuvenating retreat in the heart of Northern Thailand.
4 Most Popular Hot Springs in Pai – 2023 Review
1. Sai Ngam Hot Spring
Among Pai's most popular hot springs, the Sai Ngam Hot Spring stands out as a top choice for visitors seeking a very cool and quiet place to relax and rejuvenate. The main pool has crystal clear water and a pleasantly warm temperature, perfect for relaxing.
Being a jungle spa, it features picturesque views that are worth capturing.
It is conveniently located 20 km from central Pai and easy to reach even on a songthaew.
It remains open for visitors from 7 in the morning to 8 at night. It is best to visit here early morning to enjoy a peaceful experience.
The entry fee is 20 Baht for locals and 200 Baht for foreigners.
Address: F95H+JXP U-Mong Mae Na Toeng, Pai District, Mae Hong Son 58130, Thailand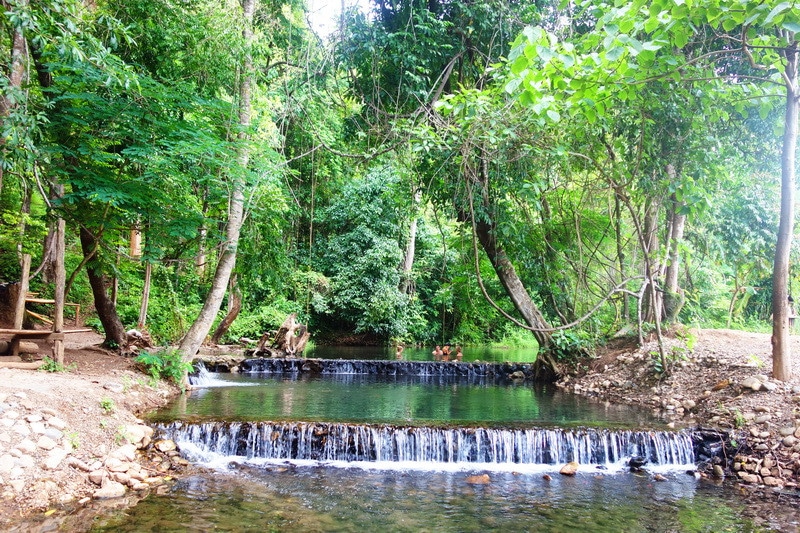 2. Ta Pai Hot Spring
Ta Pai is a top hot spring not just in Pai but entire Thailand. The area surrounding the hot spring is purely magical, especially at the crack of dawn.
There are overhanging vines and tree roots reaching all over, which makes this a perfect spot for some insta-worthy photos.
The water in the spring is as hot as 80 °C, perfect for boiling an egg. However, the authorities have now prohibited the boiling of eggs in the hot spring.
You will find several other pools with water temperatures ranging between 34°C and 38°C. The water is very rich in good minerals.
Address: 8F5F+67M, Unnamed Rd, Mae Hi, Pai District, Mae Hong Son 58130, Thailand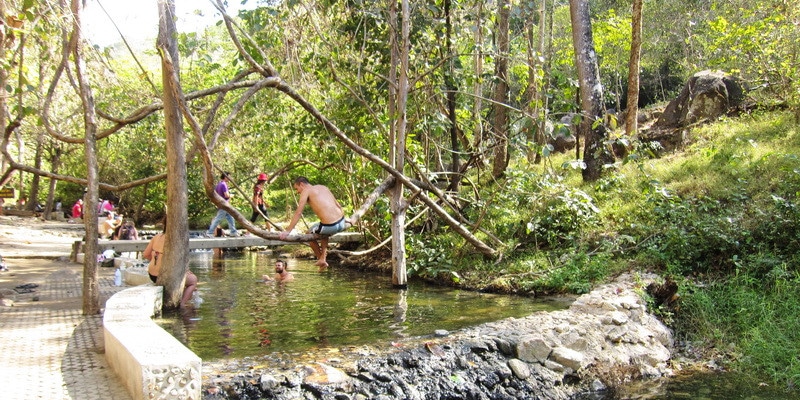 3. Pai Hot Springs Spa Resort
The Pai Hotsprings Spa Resort is a perfect place for relaxing while enjoying the benefits of a mineral water bath.
There are various thermal baths found here, with varying water temperatures and a stunning swimming pool overlooking the river.
In the resort, there are simple cottages with thatched roofs and air-conditioning. Upgraded cottages offer satellite TV, minibars, and tea and coffee-making facilities.
You can choose the accommodation according to your preference and budget.
Address: 84-84/2 Moo 2, Mae Hee, Pai District, Mae Hong Son 58130, Thailand
4. Pai Taradon Hot Spring
It is a naturally occurring hot spring in Pai, which is a sight to behold. The geyser looks majestic, with steam enveloping the surface.
Although there are no pools here to take a dip, the view is worth checking out once. The hot water flows into a nearby river where you can sit and relax.
The water temperature at the Pai Taradon Hot Spring is high enough to boil eggs on it.
There are several small stalls selling eggs in baskets that you can boil yourself over the hot spring.
I would highly recommend you to try this once if you haven't experienced it before.
Address: 1265, Mueang Paeng, Pai District, Mae Hong Son 58130, Thailand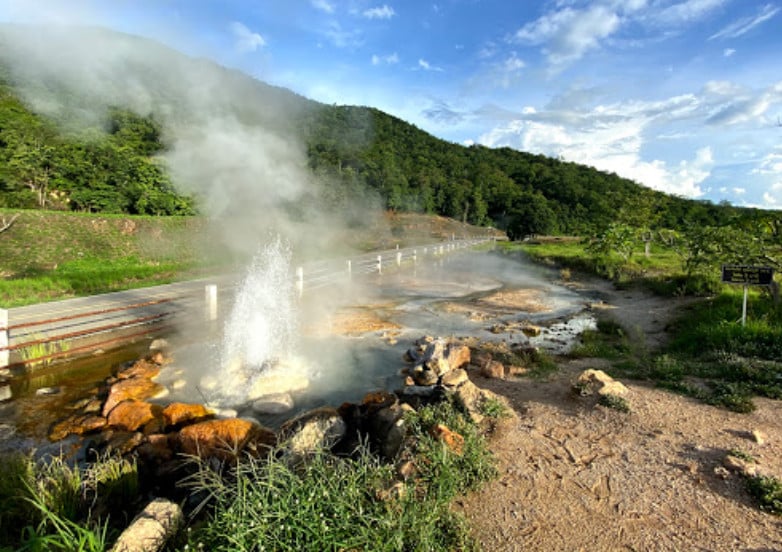 Conclusion
Hot Springs could be amazing recreational spots, especially in a tropical country like Thailand.
However, sometimes the temperature of the hot stream water gets very high and can cause burns if spatters.
Therefore be very careful to enquire about the temperature well in advance and keep a close watch on the kids.