Thailand's largest and most famous island is Phuket City, which attracts millions of tourists every year.
The city is known for its beautiful exotic beaches such as Patong Beach, Karon Beach, Surin Beach, Kata Beach, Paradise Beach, Bangtao Beach, and so many more.
When visiting Phuket on a holiday, many foreign tourists love to drive or ride around the city as it allows them to explore the city according to their perusal.
Most people suggest to tourists that it's safe to drive on Phuket island because the road situation, traffic, or even the rules may differ vastly from your home country.
Bike and car rental are cheap, fun, reasonable, and most of all an exciting experience as you explore the beaches and enticing scenery of the island.
Staying up to date with the latest Phuket news can help you stay on the right side of the law.
In this article, we will cover some important driving tips that will enhance your travel experience while exploring the island.
When traffic is heavy in Phuket, it's crucial to stay alert and drive cautiously, always keeping in mind the unique aspects of the local driving environment.
Navigate the roads of Phuket with confidence but before that there are Phuket Driving Tips You Must Remember, such as adhering to local traffic rules, staying vigilant for motorbikes and pedestrians, understanding right-hand drive, and preparing for varied road conditions to ensure a safe and enjoyable journey on this vibrant Thai island.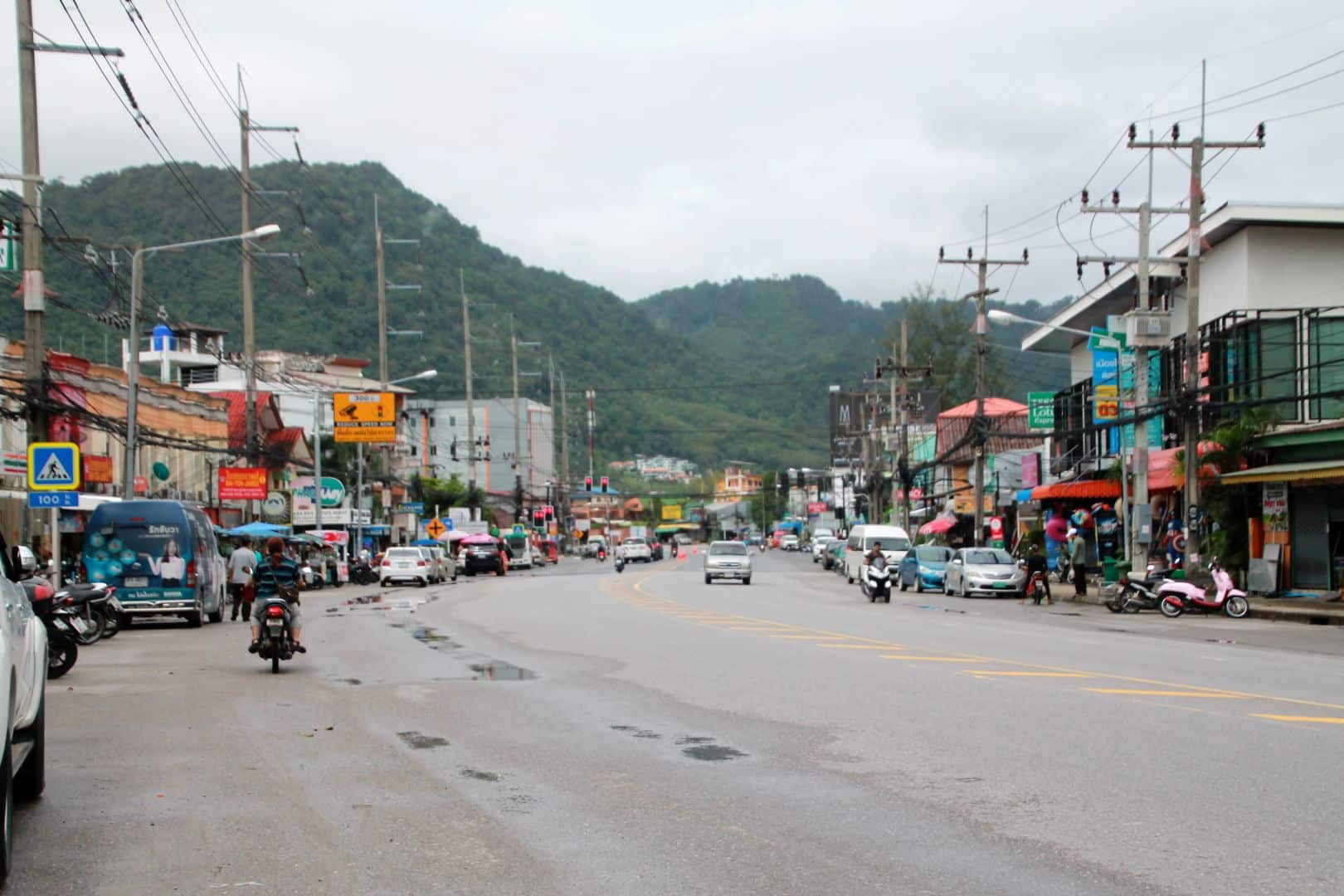 11 Phuket Driving Tips You Must Remember
1. International License
Having an international driving license is absolutely essential in Phuket, Thailand. Even though some rental shops will just accept your national license when renting a vehicle.
A driver's license is essential because if you are stopped by road traffic police, you can be fined anywhere between 200 Baht to 1,000 Baht.
If you do not have an international driving permit and get into a road accident, your travel insurance will be deemed invalid.
2. Helmet
No matter where you ride your vehicle, it is important that you wear a helmet.
Road accidents are quite common in Phuket island because there are several Thai people who ignore the rules of the road such as not wearing a helmet. It is absolutely reckless, illegal, and dangerous for you and the people around you.
Keep in mind that the condition of Thai roads is usually not that great as there are many uneven roads and potholes.
Apart from the risky uneven roads, you can also be fined by the Thai police for not wearing a helmet.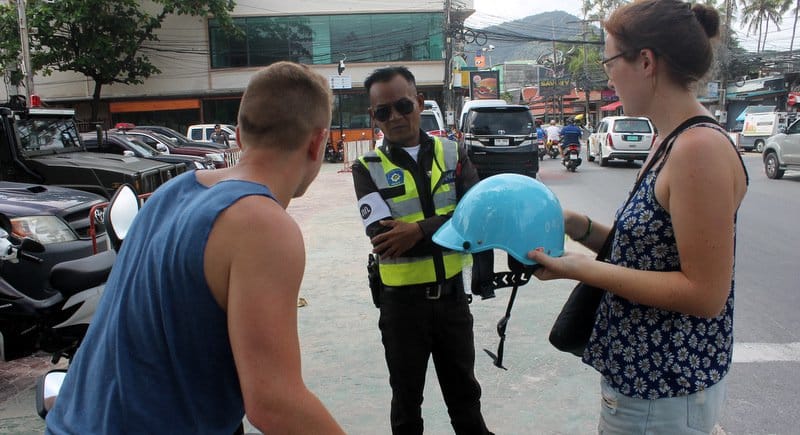 3. Travel Insurance
When you are planning a trip to this beautiful island, obtaining travel insurance is important in case of an unforeseen circumstance.
Even though you consider yourself a safe and well-experienced driver, they can be extremely helpful.
You can even insist on insurance coverage from the rental shop to be on a safer side.
The police, as well as the insurance company, will consider your insurance invalid if you don't have a valid driving license.
4. Wear a Shirt When Driving
While it may seem like a strange law, it is considered indecent exposure under Thai law.
Since there are so many lovely beaches across the island, tourists tend to roam shirtless on their motorbike or scooter as they visit places.
The chances of you being pulled over by the police are quite low, however, they usually just ask you to put a shirt on and rarely fine you 500 Baht.
If you are driving near the beach areas, it shouldn't be a problem but traveling shirtless within the city may regard you as disrespectful and ignorant.
5. Watch Out for Ghost Riders
When driving in Phuket, watch out for Ghost riders, who are Thai driver's who prefer to ride on the wrong side of the road instead of taking the next U-turn.
This is extremely common and can be overwhelming as a tourist who is timid and follows all road rules.
While these Thai drivers may seem to have exceptional driving skills, they can be quite unpredictable.
Make sure that you pay attention to the road as well as the vehicles around you while driving in Phuket.
6. Know Your Fuel
When driving in Phuket, you must know the different types of vehicle fuels in Phuket, Thailand.
Diesel, 91 octane petrol and 95 gasohol are the most commonly used by land transport on the island.
The numbers may seem confusing as the fuel used in Thailand will be different from your home country.
Most rental shops are equipped with brand new bikes, so they will be compatible with both 91 and 95.
However, when renting a bike, the rental owner will usually inform you about the type of fuel you should use.
7. Petrol Stations
Petrol stations are located all across the island usually open from 8 am to 9 pm, while some are open till midnight and others 24/7.
If you happen to run out of fuel while exploring the city, don't worry as you can find roadside vendors selling fuel in hand operated pumps or whisky bottles.
While it is not recommended to fill fuel from them regularly as it may be lower quality, in case of emergencies, it should be enough for you to reach a petrol station.
8. Be Polite
Thai people are extremely friendly and understanding mainly because of their culture.
Being polite is part of their rich heritage and culture, so ensure that you remain calm and be nice.
Now Driving in Phuket Island can be scary especially if you are not accustomed to the constant pace of road traffic.
Experiencing road rage from a Thai driver is highly unlikely so make sure that you stay level headed.
Even though you might see other local riders overtake on the inside, ignore the use of indicators, cut corners, etc you must learn to drive defensively.
9. Drink and Driving is Dangerous
Probably one of the most obvious rules in any part of the world, drinking and driving can lead to road accidents.
When on a holiday, it is common for people to drink more than usual as they want to relax and have a good time.
But driving under the influence of alcohol can lead to a huge fine or jail time if you get pulled over.
Another important reason why you must not drink and drink is if you happen to get into an accident, your travel insurance will not cover you as you disobeyed the law of the city.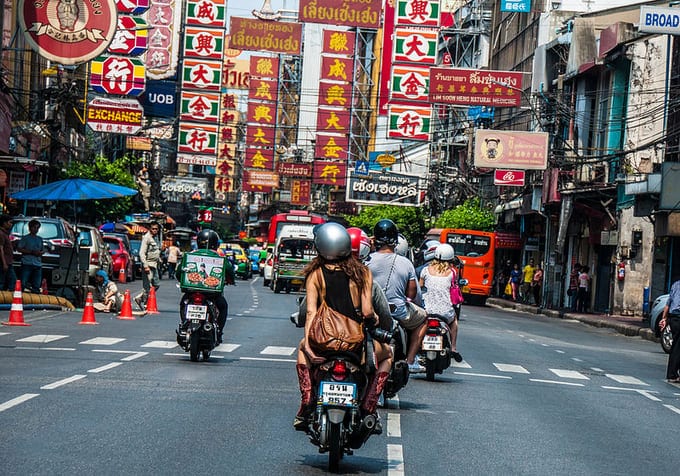 10. Remember Your Number Plate
There are hundreds of bikes and cars that are being rented out to a number of tourists across the city everyday.
These bikes can be quite similar in model, colour and even design. The best way to know your bike is by remembering your vehicle's number plate or at least a portion of it.
Sometimes you may just forget where you have parked your bike or there are several similar looking bikes in the vicinity.
Knowing the number plate will help you find your bike easily and faster, especially during the night.
11. Road Map
When visiting a foreign country, make sure that you have a roap map either with you or an offline version on your mobile phone.
Most road signs on Thai roads are written in both English and Thai, which is quite helpful for tourists.
A roap map can help you plan your routes, manage your time, calculate the distance, and so on when driving in Phuket.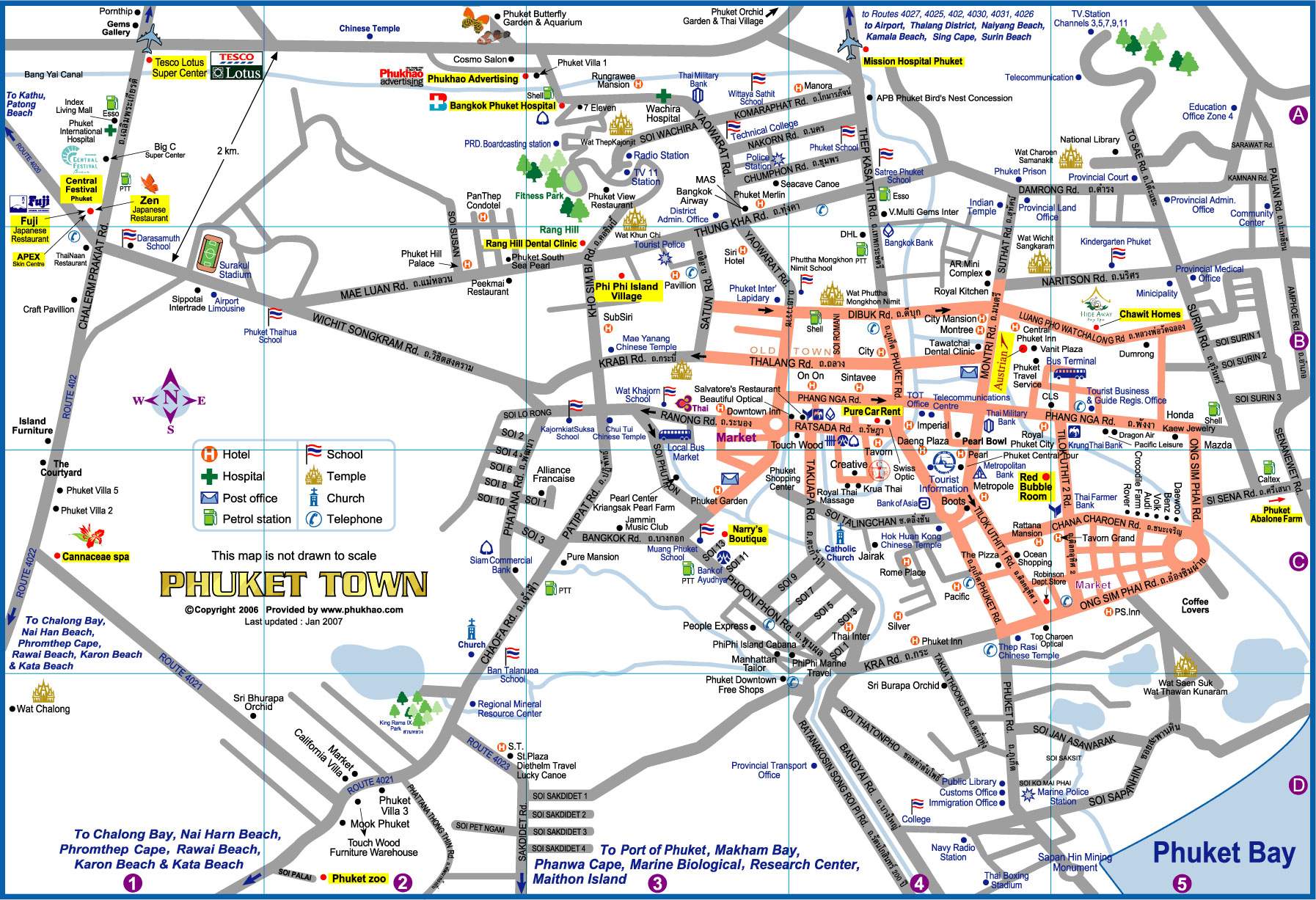 Are You Ready?
Despite reading these aforementioned driving tips in Phuket, you must drive responsibly and be aware of your surroundings at all times.
By following all the laws and protocols set by the island, you will be able to enjoy this beautiful
Editor - Thailand Nomads
Cindy quit her 9 to 5 job to pursue her passion for exploring mesmerizing locations in Thailand. She has been living here for the past 5 years now and through Thailand Nomads, she shares her experiences and insights about the must-visit places in Thailand.
Email: cindy@thailandnomads.com