One thing that we can definitely promise you about Koh Phangan is that you will never get bored here. This underdeveloped island that's located about 12 kilometers north of Koh Samui has something for everyone.
The 125-square-kilometer island has all the characteristics of a tropical paradise: white, powdery beaches, turquoise waters, coconut tree groves, a steep hinterland covered in lush vegetation, and little villages.
The majority of the attractions and activities in Koh Phangan are strongly tied to nature. For those who enjoy exploring, Koh Phangan makes a wonderful vacation destination with its beaches, waterfalls, and vistas.
On the island, new modes of entertainment and recreation have emerged as a result of increased tourism. You can still have a fantastic time on this island even if you don't drink or enjoy partying.
From the busy streets crowded with food booths to the peace of secret beaches, there are countless things to do in Koh Phangan, but here are the top 21 activities that you must definitely try.
Unearth the diverse attractions with our guide to the best things to do in Koh Phangan, from pristine beaches and lush jungles to vibrant markets and exhilarating water sports, all waiting to be explored.
21 Best Things to do in Koh Phangan – 2023 Guide
1. Experience the world-famous Full Moon Party
The island of Koh Phangan is well known for hosting celebrations with a lunar theme. Parties are held on the east side of Koh Phangan's southernmost beach, Haad Rin Beach, during full moons, half moons, and black moons.
The Full Moon Party should be on the bucket list of any party animals out there searching for a traditional backpacker experience in Thailand.
Some tourists visit Koh Phangan only for the Full Moon Party because it is a well-known phenomenon among young tourists.
In comparison to Koh Phangan's famous full-moon party, half- and black-moon parties are a little less well-known. They both take place near Baan Tai Beach, which is north of Haad Rin.
There will be plenty of neon body paint, inexpensive mixed drinks served in plastic buckets, loud music, flashing lights, and dancing at this party. If you enjoy partying, it's one of the greatest things to do in Koh Phangan.
Just keep in mind that many hotels entirely sell out for the event, so reserve your room as soon as you can!
Location: Haad Rin Nok Beach
Hours: Every full moon, all night long
Cost: 100 Baht entrance fee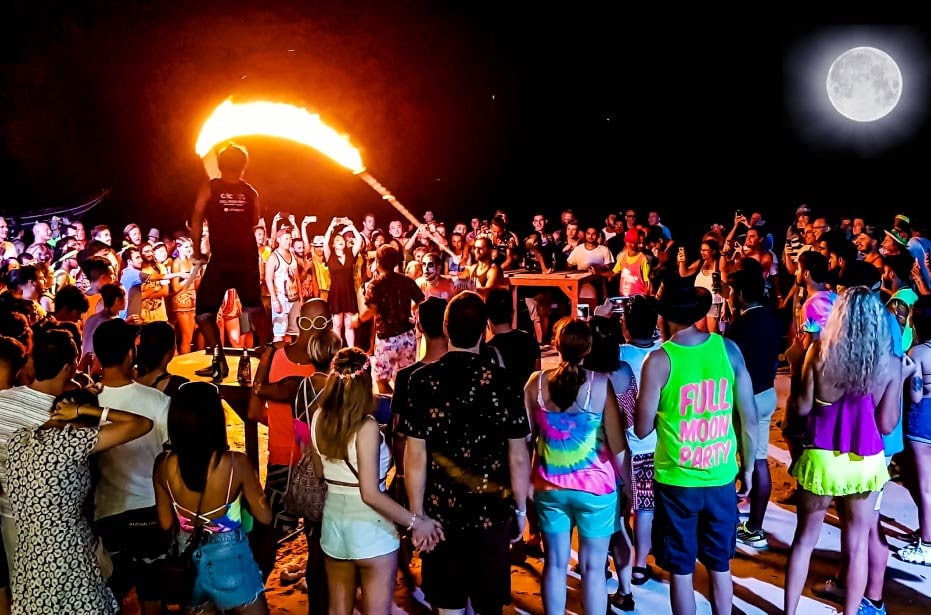 2. Hike to Bottle Beach
The Bottle beach was rated as the greatest in Koh Phangan by Conde Nast Traveler, and we can't agree more.
The beach is quite difficult to reach because it is in the north of the island, but the hour-long hike through the jungle is an exciting adventure. The difficult trip through the forest is worth it once you arrive, but you will deeply regret it if you don't slather yourself with bug spray beforehand.
When you reach the white sands of Bottle Beach, you'll feel as though you've earned your relaxed beach day, so make sure you pack plenty of bug spray and wear excellent walking shoes.
You can expect to go from Coconut Beach to Bottle Beach in a total of about an hour and a half.
Location: The island's North Coast
Hours: Ideally, during the day.
Cost: Free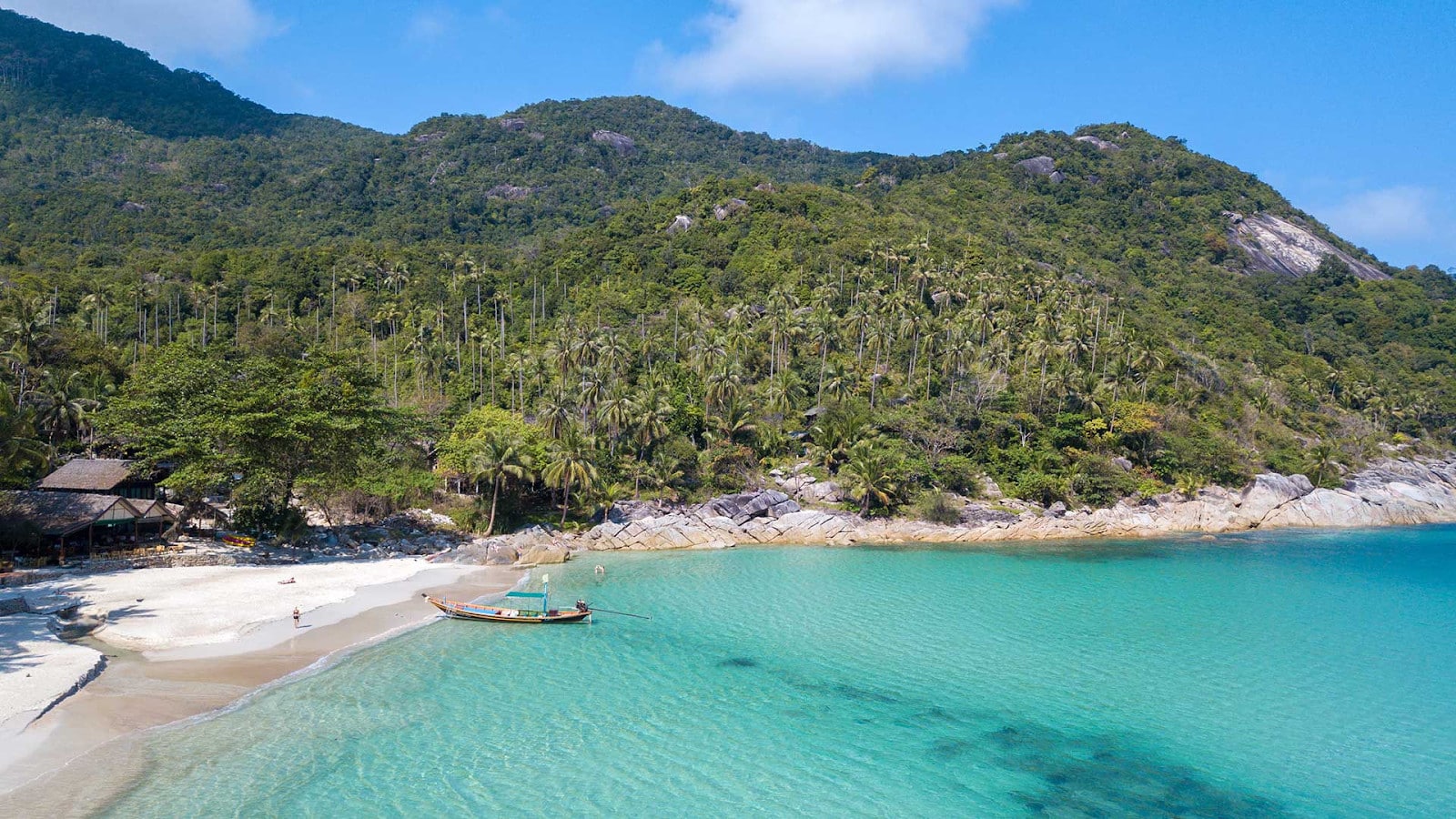 3. Go for Beach Hopping
With so many beaches to visit in Koh Phangan, beach hopping is a must-try thing. The relatively tiny island, which has a radius of around 40 kilometers, contains about 30 beaches with varying lengths and characteristics.
Renting a motorbike in Koh Phangan is very simple and affordable. This makes it convenient for you to explore all these unspoiled expanses of beaches.
Haad Nam Tok is one of the tiny ones that are difficult to get by road (Waterfall Beach). In this situation, renting a long-tail boat for the day might be a good idea. Explore these secluded pockets of heaven by taking a cruise along the stunning Koh Phangan shore.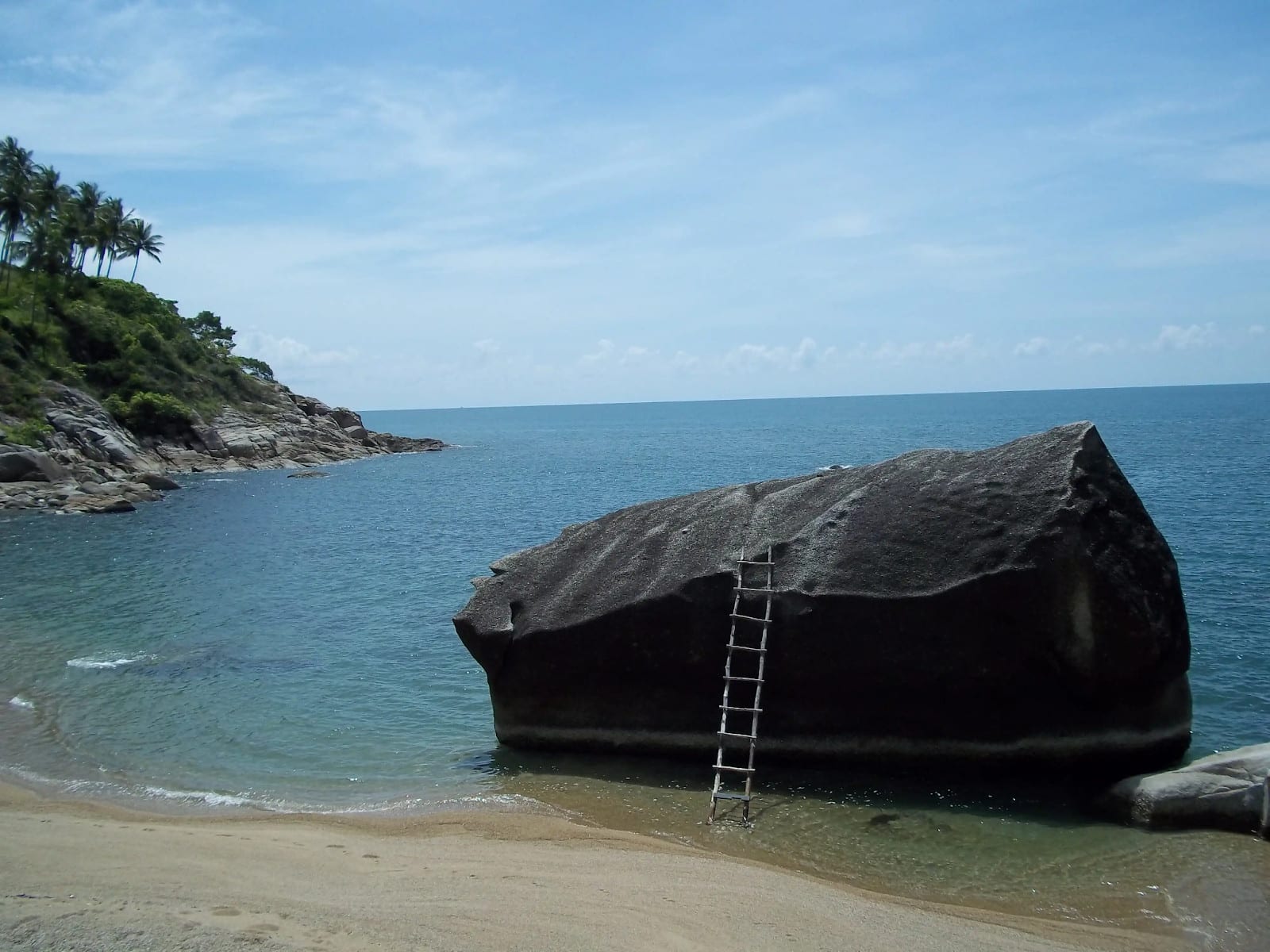 4. Take a Day Trip to Ang Thong National Park
This protected archipelago in Koh Phangan is a breathtaking haven of unspoiled beauty. Put Ang Thong National Park at the top of your list of things to do in Koh Phangan if you're looking for adventure and activity.
Ang Thong National Marine Park is a haven for nature enthusiasts, with its hiking paths, limestone caverns, tall cliffs, palm forests, coral reefs, sandy beaches, and much more.
The park is made up of enormous, lush islands that tower over the water impressively. The park offers a very cool experience because it contains hidden caves that may be discovered by boat or just swimming.
Only tour boats authorised by the government are permitted to enter the marine park. Fortunately, many excellent travel operators provide Koh Phangan to Ang Thong day tours.
Location: In the Gulf of Thailand between Koh Phangan and Koh Samui
Hours: Year-round or April – October for the best weather conditions
Cost: 1800 Baht ($55) for a speedboat tour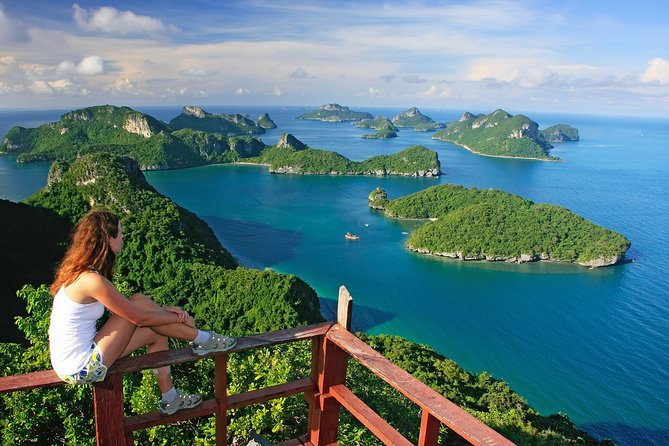 5. Go Scuba Diving
Undoubtedly, one of the best things to do in Koh Phangan is scuba diving.
Koh Phangan in Thailand has beautiful marine life, such as tropical fish, manta rays, coral reefs, and more. Its location of Koh Phangan makes it perfect for diving excursions into the Gulf of Thailand.
The reefs along the northwest coast, starting in Chaloklum, are in good shape. Diving off the beach straight is even an option.
There are various diving locations in Koh Phangan, but the best one is Sail Rock. It has a rich diversity of marine life because it is located 15–40 metres below sea level.
The rock is accessible to divers of all skill levels and is about an hour's boat journey from Koh Phangan. Manta rays, barracuda, and whale sharks are some of the main attractions at this dive site.
The island is home to several truly outstanding dive schools that may provide you with equipment or aid in obtaining your dive certification.
If scuba diving is really your thing, you might also want to visit Koh Tao which is only a short boat ride away, is renowned for its great diving!
Location: Sail Rock, situated between Koh Phangan and Koh Tao
Hours: Year-round, but the best diving conditions are from April – October
Cost: 2000 – 2500 Baht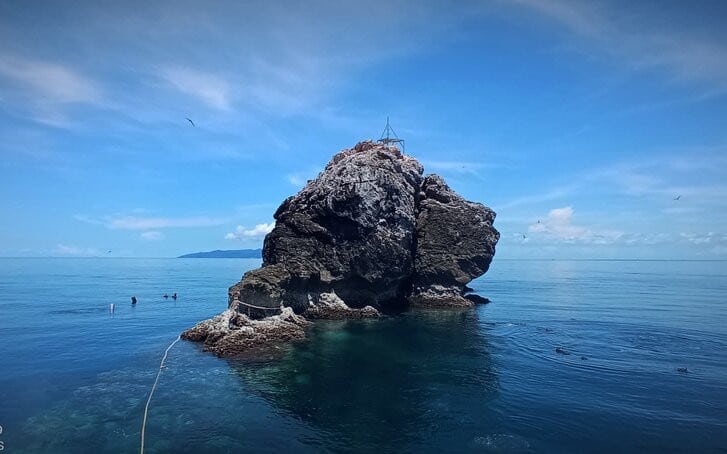 6. Experience Snorkeling
There are top attractions such as snorkeling and scuba diving spots near Koh Phangan. Koh Phangan has everything needed to explore the underwater world, however, it is less well-known than Koh Tao, which is popular as the mecca of underwater sports in the Gulf of Thailand.
Nearly every beach along the west and north shores offers snorkeling opportunities. You can arrange for beach diving as well, but Koh Phangan-based dive shops typically venture further out to sea, in the direction of Koh Tao (some 35 km away).
Sail Rock, one of the area's most stunning dive locations, is located 15 kilometers north of Koh Phangan.
Location: North Coast
Hours: During daylight hours, every day
Cost: 100 baht/ per hour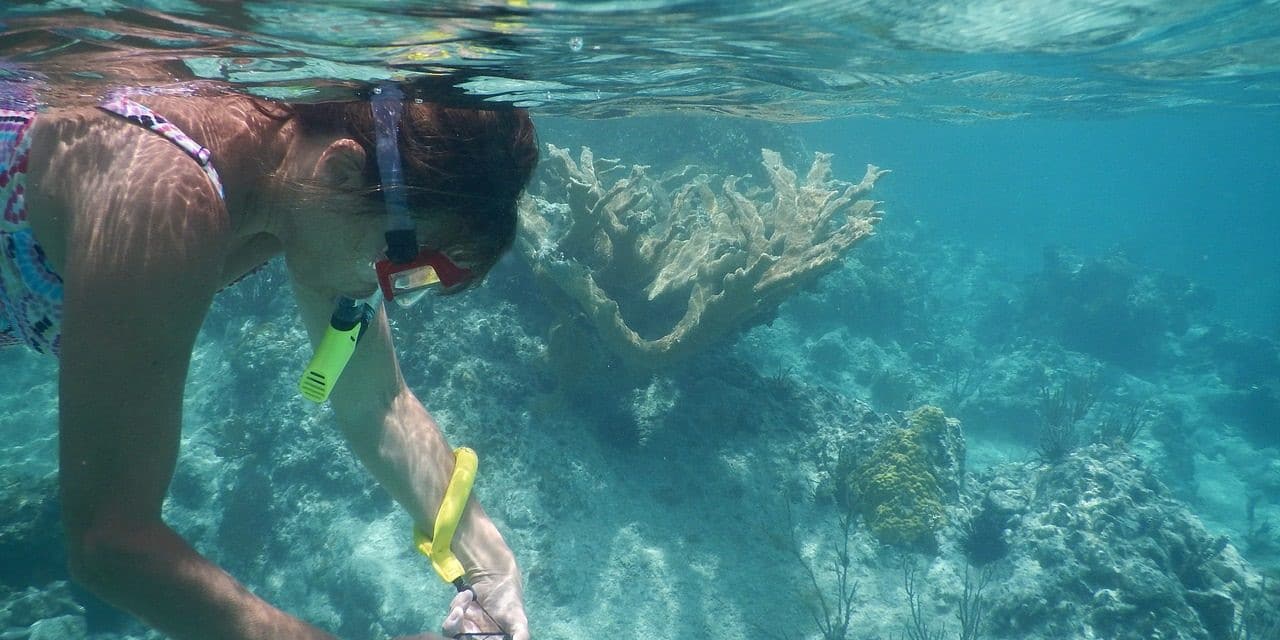 7. Get a Thai Massage
What better way to cure your Full Moon Party hangover than to have a relaxing Thai massage that has its unique charm?
You'll feel extremely rejuvenated after letting the skilled native masseuses knead, twist, and work out the kinks in your muscles.
You should definitely get a Thai massage at least once when visiting Thailand because it is a widely appreciated local institution. Anyone wishing to unwind a little on Koh Phangan should try this pastime.
Be prepared; these massages are intense and sometimes feel like they are holding you up like origami. However, the light and limber feeling you have afterward makes the pain worthwhile.
You must definitely try Thai massage at Wat Pho. It is a popular temple in Koh Phangan. Even when quite crowded during religious holidays, it maintains its tranquility. A sizable lily pond and many modest buildings are located on the expansive grounds.
This temple draws a lot of health-conscious visitors because of its reasonably priced herbal sauna and massage room. It is deemed one of the top massage destinations in Koh Phangan.
Location: Everywhere on the island
Hours: Anytime, ideally daytime.
Cost: 300-1500 Baht for an hour, depending on the quality of the establishment. Street masseurs will charge a lot less than those in proper salons.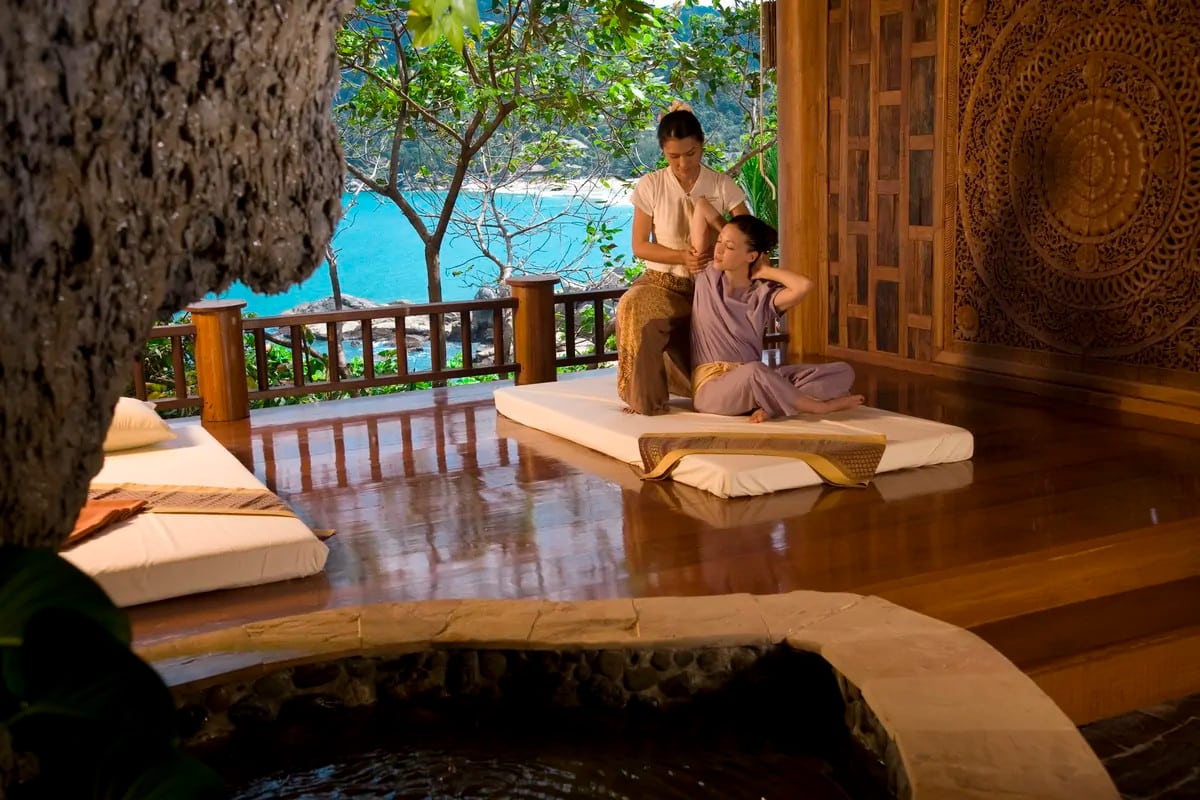 8. Cool down at a Waterfall
Some of the nicest sights of Koh Phangan may be seen inland, among the lush jungle, in addition to all the ocean splendor and white-sand beaches.
There are several cascading waterfalls on Koh Phangan where you may go for a picnic, take pictures, and go swimming in the naturally flowing fresh water.
You should particularly pay attention to Paradise Falls, Phaeng Falls, and Than Sadet, which are significant to the Thai people because of the inscriptions that King Rama VI left on the rocks there.
Both Than Sadet Waterfall and Paradise Waterfall are located close to the road leading to the Thong Nai Pan beaches and Chaloklum Bay, respectively.
The Thong Nai Pan beaches are close to the Than Prawet Waterfall. Last but not least, Than Praphet is a path that plunges into the ocean at Waterfall Beach on the island's southeast shore.
Any of these waterfall visits will undoubtedly be worthwhile if you're up for strenuous walks. However, to make the most of your time around these waterfalls, you must have a good knowledge of Koh Phangan's weather.
Just keep in mind that it's frequently preferable to visit them as soon as the hot season ends and the weather begins to improve.
Location: Almost every region in Koh Phangan has a waterfall.
Hours: Daytime- preferably from July to September
Cost: Free or a very minimal entry fee.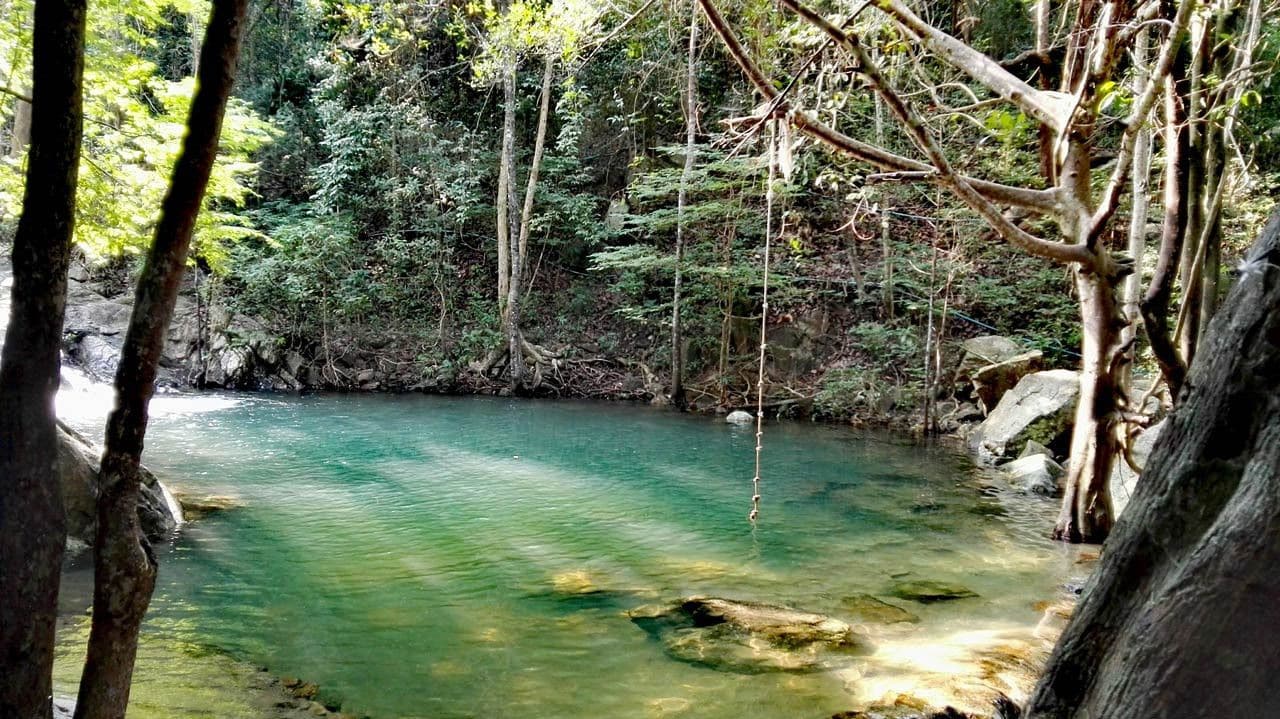 9. Detox with Yoga
Yoga retreats and centers are extremely popular in Koh Phangan. Yoga, which has its roots in India, combines spiritual and physical practices that are similar to meditation and is thought to benefit both the body and the mind.
There are many yoga studios in Koh Phangan, including Orion Healing Centre in Sri Thanu, Agama Yoga Retreat nearby Haad Yuan, and Pure Flow Yoga in Sri Thanu. You can reserve a single session or spend your vacation at a yoga retreat.
A week-long to a month-long retreat is available at the Yoga Retreat, which is tucked away in the jungle. You will practice yoga, meditation, and vegan cuisine throughout your retreat.
Drop-in yoga classes are also available at the Yoga Retreat if you don't have time for a full-fledged retreat.
Location: The Yoga Retreat is in the jungle, ten minutes from Haad Salad Beach
Hours: Every day
Cost: 300 Baht for a drop in class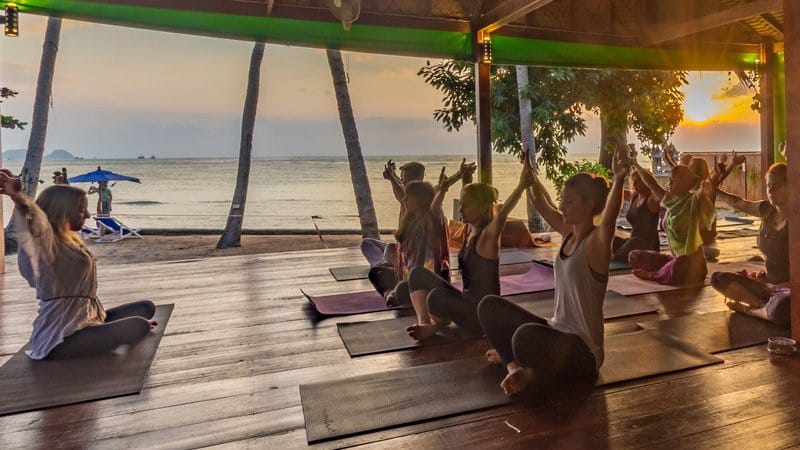 10. Hike Up Khao Ra
This 627-meter-high Khao Ra mountain is one of the best attractions in Koh Phangan. Overlooking Koh Phangan, Khao Ra offers breathtaking views of the Andaman Sea.
A central "road" crosses the island's crest between Ban Tai and the northeastern side's Thong Nai Pan Beach. The only issue is that it is still unfinished, severely rutted, and unlit in some areas.
In any case, it's advisable to ride in a suitable offroad vehicle, like a cab, 4x4 or dirtbike. Avoid attempting to ascend Khao Ra in a regular automobile, especially in the rain!
You may enjoy some breathtaking views by hiking to the top; the roundtrip hike takes around 2-3 hours.
Wearing sturdy sneakers or hiking boots is recommended so that you don't slip or fall. Always carry plenty of water and sunscreen when going on a hike.
Try to hike in the early morning or late afternoon to avoid the midday heat. The hike to Khao Ra is close to the island's north and is absolutely free of any cost.
It is a fairly straightforward climb, so you don't need a guide, and the round trip up and down depends on your pace.
The trail is well-kept. However, the markings are not very clear. There are a few intersections where you won't be sure which way to go, but after moving forward for approximately 100 meters, a sign will appear. You might need to walk back a few steps.
Location: In the North of the island
Hours: Either early in the morning or late in the afternoon to avoid the midday heat
Cost: Free of Cost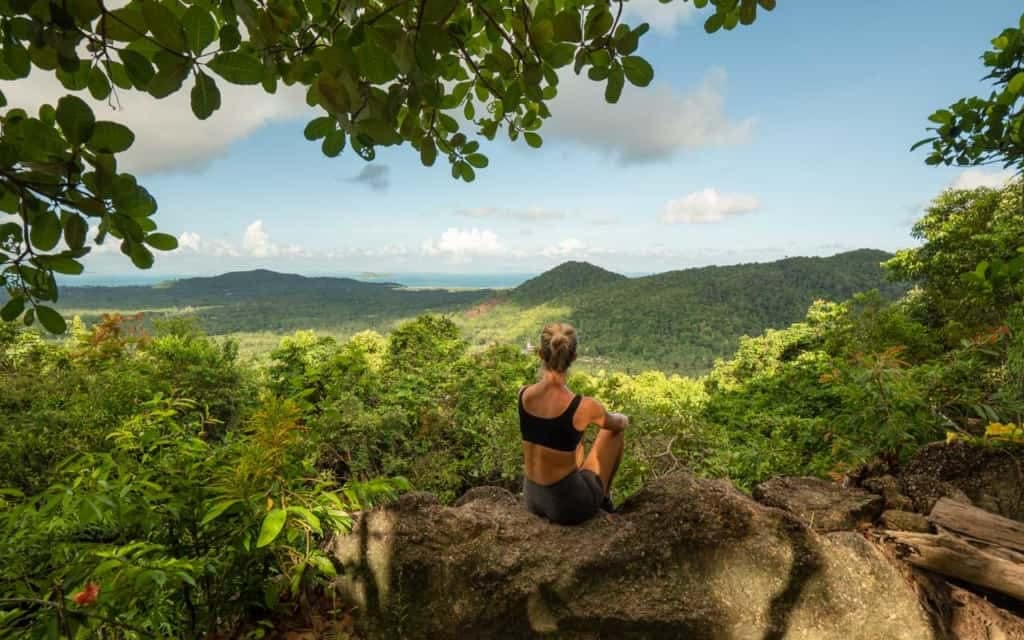 11. Kayak in The Ocean
Grab a kayak and get paddling if you want to explore on your own rather than as part of a tour group. On Koh Phangan, kayaking is a wonderful way to discover the stunning coastline.
Watch your mind and soul open up as you cruise through the turquoise waters and soak in the natural beauty.
Kayak rentals are available at the most popular beaches, but the finest spots are on the west coast's calmer waters. Any beach is wonderful as long as the water is not too rough.
Before you decide, discover about the currents at that beach and don't kayak alone.
Be aware that going against the flow entails going all the way back. Wear sunscreen, sun-protective clothing, and lots of water before venturing outside. Waterproof camera cases are available in Thong Sala and Haad Rin.
The waters from Wok Tum to Koh Ma on the west coast are typically calm and have unspoiled, undiscovered beaches that you may kayak to.
Always follow locals' recommendations before venturing out, and make sure your vehicle is equipped with the necessary safety gear, life jacket, water, etc.
Location: Anywhere. Still, Wok Tum to Koh Ma is a good bet.
Hours: Whenever you want
Cost: 150 Baht/hr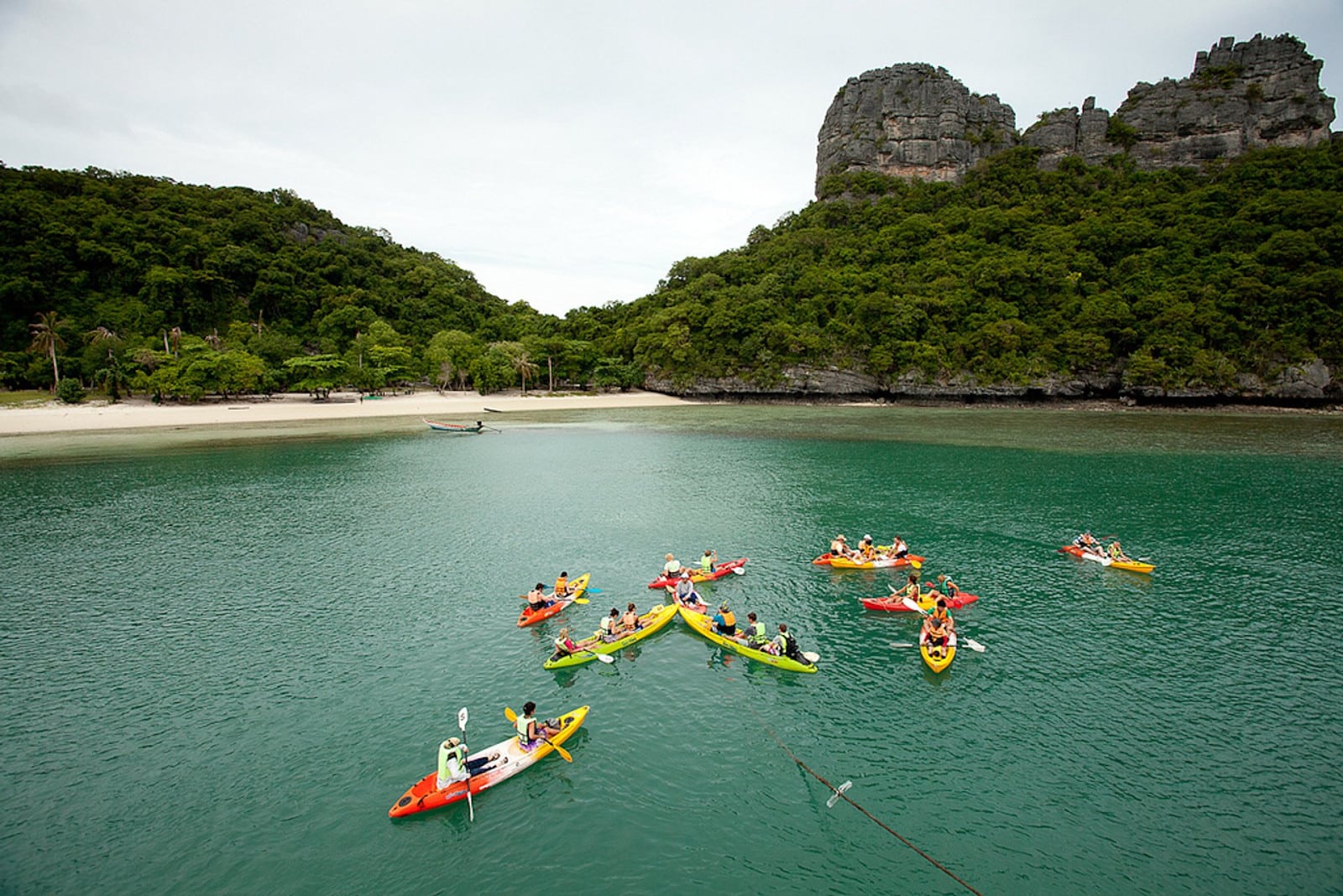 12. Experience Trekking in The Lush Greens
Koh Phangan trekking is a fantastic way to experience the island's wild side. The island is ideal for camping, trekking, and even bushwhacking. The finest location for this daring activity is along the eastern shore.
You can also go hiking in the island's central mountains, notably Khao Ra, which is 630 metres high and offers views of Chaloklum and Thong Nai Pan.
The actual journey is not difficult. However, it is simple to get lost. It is advised to employ a guide for this reason. At the Phaeng Waterfall National Park, you can easily hire a guide.
You can also try trekking from Coconut Beach to Bottle Beach. The difficult trip through the forest is worth it once you arrive, but you will deeply regret it if you don't slather yourself with bug spray beforehand.
You can expect to go from Coconut Beach to Bottle Beach in a total of about an hour and a half.
Location: The island's North Coast
Hours: Year-round, but avoid November as this is when the rain is heaviest
Cost: Free of cost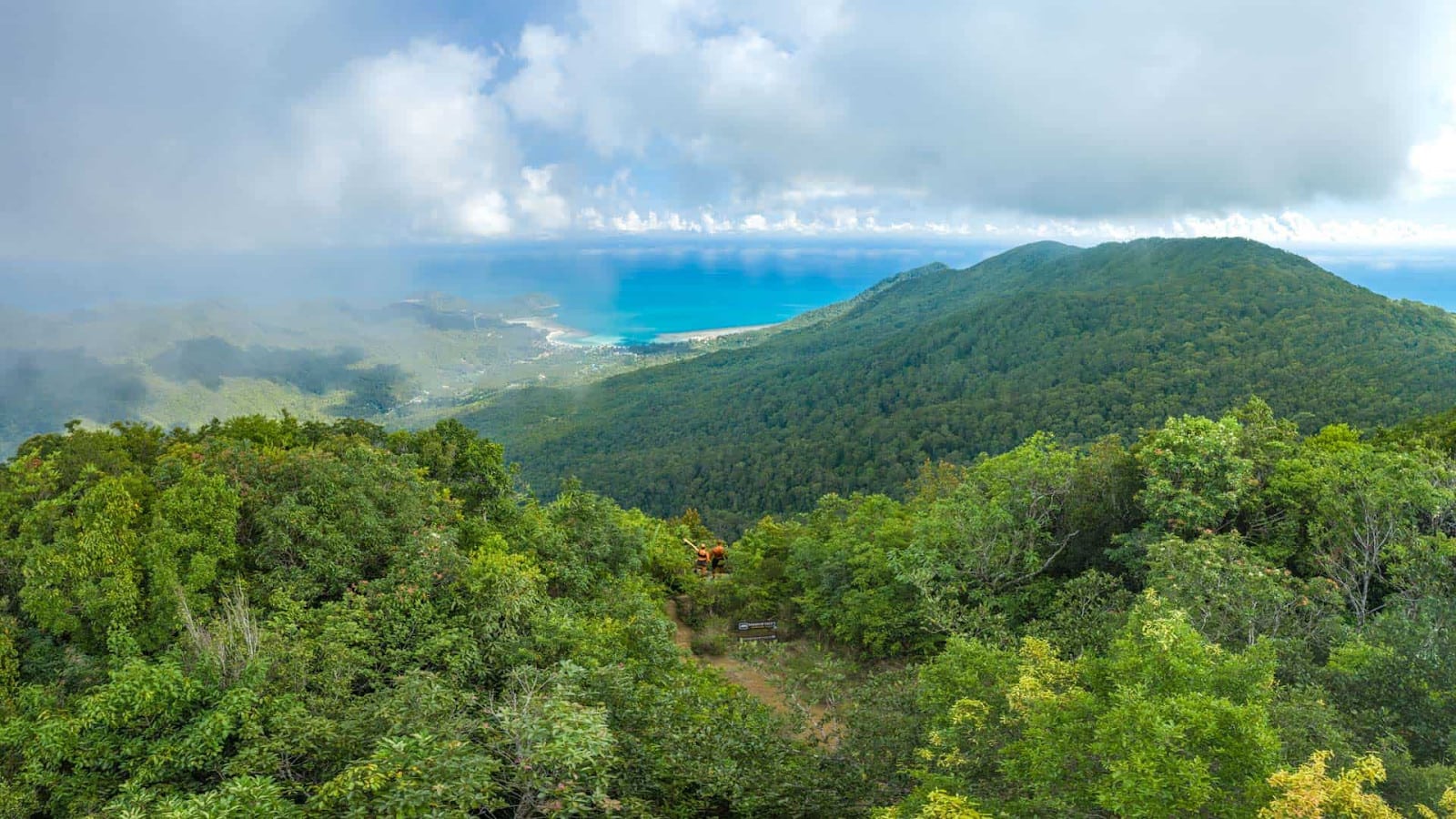 13. Learn how to Prepare Thai Dishes
Though it would be wonderful to consume delicious food, you can also learn Thai cooking techniques while you're here. The good news is that the island is littered with excellent locations for learning how to prepare Thai cuisine.
The skill to prepare delectable Thai foods is a wonderful "souvenir" you may bring back from your trip because Thai cuisine is well-known across the world. With your new culinary abilities, you'll be able to wow your family and friends.
There are several excellent culinary schools in Koh Phangan where you may master the fundamentals of Thai cookery.
You may learn all the insider secrets of becoming a Thai chef from institutions like the C&M Culture Centre in Sri Thanu, The Phangan Cooking Class, and My Wok and Me in Thong Sala.
Location: Pantip Market, Thong Sala
Hours: Check the schedule of the class
Cost: Avg- 2000 Baht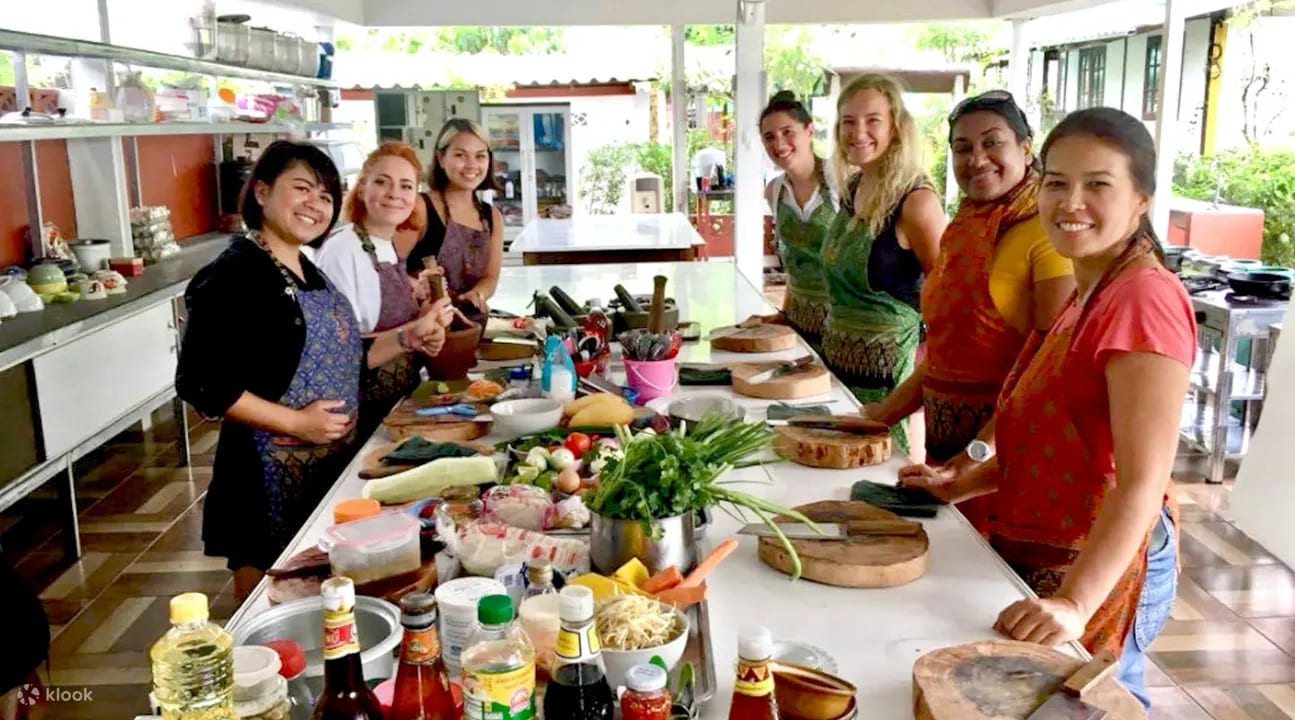 14. Enjoy the Breathtaking Sunrise
Observing the sunset from a tropical island has a truly mystical vibe. You can take in a breathtaking 360-degree panorama view while observing an island sunset from a rooftop bar.
Many of the rooftop cafés and eateries on Koh Phangan provide excellent vantage points for watching the sunset. Some of the best are listed below:
Secret Mountain- Open from 10 a.m. to 9 p.m.
Amsterdam Bar- Open from 12 p.m. until 1 a.m
Three Sixty Bar- Open from 10 a.m. until 12 a.m
You should definitely check out the Secret Mountain restaurant. It is a local restaurant with unparalleled views.
Late in the afternoon, people frequently come here to eat and drink while taking in the sunset. You can see the island in its entirety from up there, and you can even make out the Ang Thong Islands poking out of the water. This is among the top things to do in Koh Phangan.
Location: 42/3 Baan Nai Suan, Moo 2.
Hours: Every day just before sunset
Cost: 50 Baht to use the pool, 500 Baht for food and drinks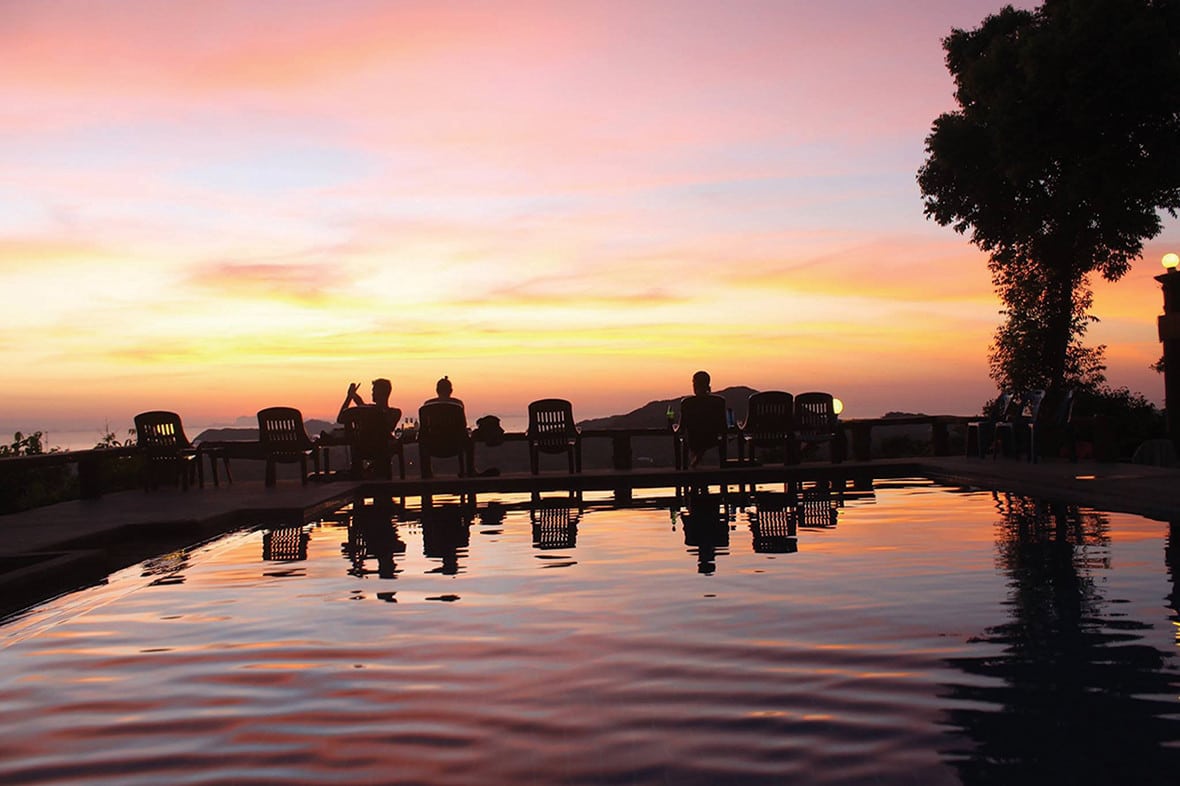 15. Sunbathe On Thong Nai Pan Beach
The beaches on Koh Phangan are, without a doubt, the best Koh Phangan attractions.
Make sure you fit lots of beach days into your Thailand schedule because people travel from far and wide to lounge on the velvety white sand and swim in the pristine waters of the Thai islands.
Visit Thong Nai Pan on Koh Phangan for the ultimate beach day.
The beach at thong Nai Pan is precisely what you would expect to see on an island in Thailand. White-sand beaches, thick palm trees that wave in the breeze, and blue sea that sparkles in the unending sunshine. Grab a refreshing beverage as time passes by.
Lay in the shade beneath a coconut palm or soak up the sun. Splash around and gather seashells. Since this beach on Koh Phangan's northeast shore is so stunning, make sure to take lots of pictures.
Location: On the Northeast Coast
Hours: Every day
Cost: Free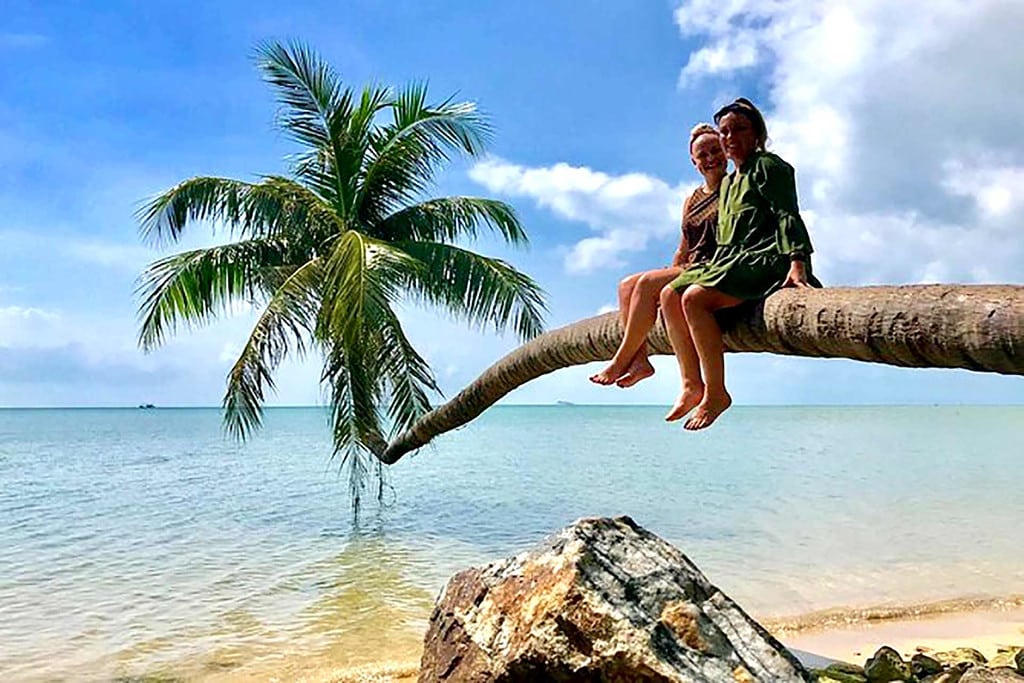 16. Visit Thong Sala's Street Markets
Thong Sala, the center of Koh Phangan is a lively town with lots of entertaining things to do. The town's street markets are its main draw, drawing both visitors and residents in the evenings to peruse the local wares and stuff their tummies with delectable Thai cuisine.
The best street cuisine on the island can be found at the Phantip Night Market, which opens every evening.
The Thong Sala Night Market, also known as the Walking Street Market, takes over the city's main street every Saturday.
At the Thong Sala Night Market, the streets are filled with local sellers' own stalls selling trinkets, apparel, jewelry, and other handcrafted goods.
The market is an excellent spot to consume international cuisine, including sushi, grilled meat and fish, pizza, and Thai rice dishes. There is a tonne of Thai food available here at affordable prices.
Location: Moo 1, Thong Sala, Koh Phangan, Surat Thani 84320, Thailand
Hours: Daily from 4 pm until late
Cost: Entry is Free
17. Take a Road Trip around the Island
Taking a road trip is the best option if you want to see a lot of the island in a short amount of time.
If you don't have a vehicle of your own, there are a few tourism businesses that offer either ATV or road trip activities throughout the island. Also, you can consider renting a bike from these famous rentals in Koh Phangan to explore the island at your own pace.
You'll see all the main locations on the island throughout your tour, including beaches, waterfalls, rooftop bars, and other spectacular locations that you might not have had time to visit on your own.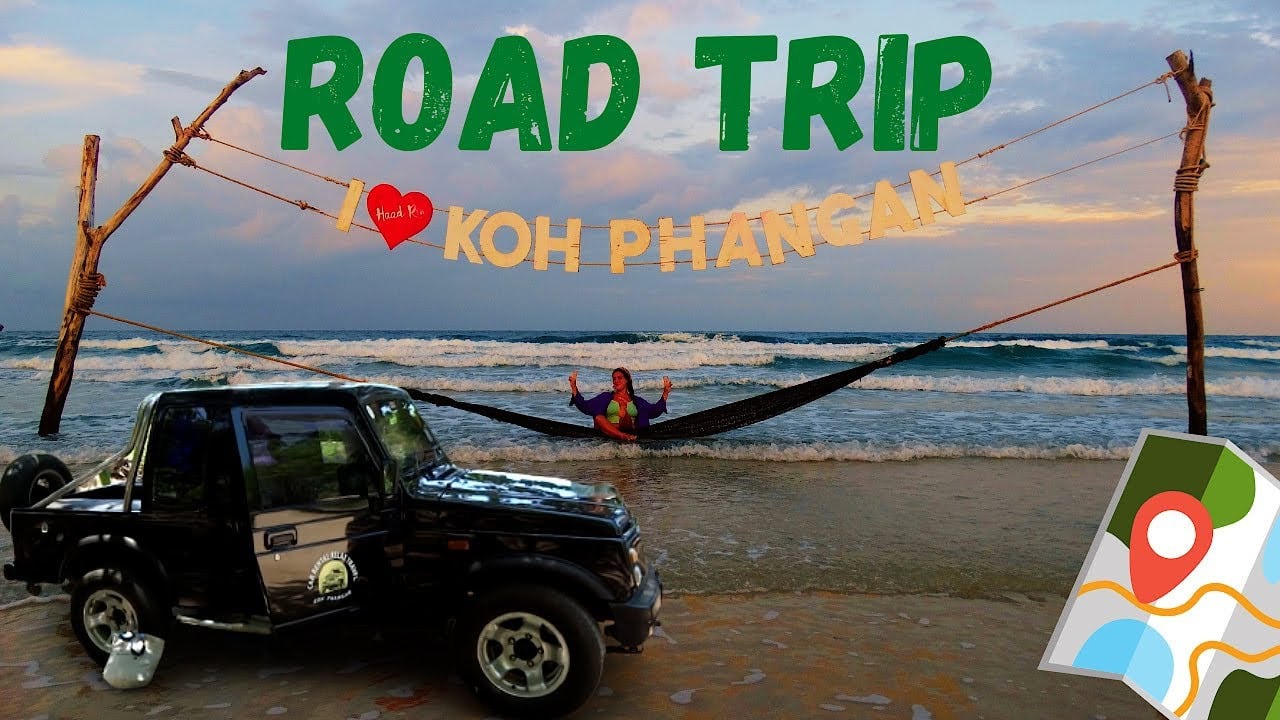 18. Check Out Koh Phangan viewpoints
Mountainous terrain abounds on Koh Phangan, offering visitors a wide variety of breathtaking vantage points. Khao Ra, a 627-meter-tall peak in the island's north-central region, is the highest point.
Hiring a guide at the trailhead is the most effective way to reach the peak. Considering that the walk might be difficult, the cost is not excessive.
In addition to Khao Ra, the island has other excellent vantage locations, including those in Haad Yao, Haad Rin, and between Haad Maehaad and Chaloklum Bay, to name a few.
While some of the Koh Phangan overlooks are just by the side of the road, others call for a little more work to get them.
Visit the Haad Rin Viewpoint for a comprehensive view of the island's south.
Even while it just takes a few minutes, the ascent to the top can be strenuous given the humid, tropical climate, so make sure to bring lots of water.
At the southernmost point of the island, the walk begins behind the Fairyland Resort. You can see Koh Samui in the distance and the adjacent beaches from the summit.
Location: M39C+6X4, Unnamed Road, Haad Rin, Ko Pha-ngan District, Surat Thani 84280, Thailand
Hours: Anytime
Cost: Free Entry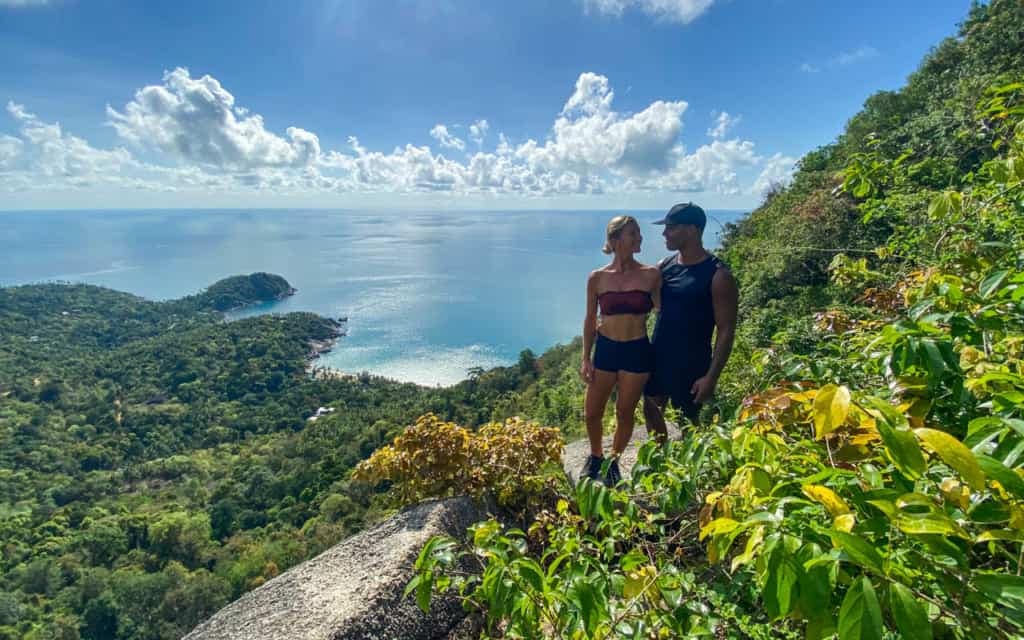 19. Try Hands On Muay Thai Boxing
On Koh Phangan, Muay Thai is a fun after-dinner activity. Thailand's national sport doesn't usually take place in the same spot on the island during regular competitions. Instead, a lottery is used to select the places.
To find out where and when the next fight will take place, go to the closest boxing stadium. The Muay Thai setups at Haad Rin and Thong Sala are very impressive. Numerous camps on the island offer instruction in this sport.
There are 7 Muay Thai Boxing stadiums in Koh Phangan, and contests are held there every evening. For you to master the fundamentals of the sport on your own, some of them even provide training classes!
Location: Muay Thai Boxing Centers
Hours: 7:30 am to 8:00 pm
Cost: 200-400 Baht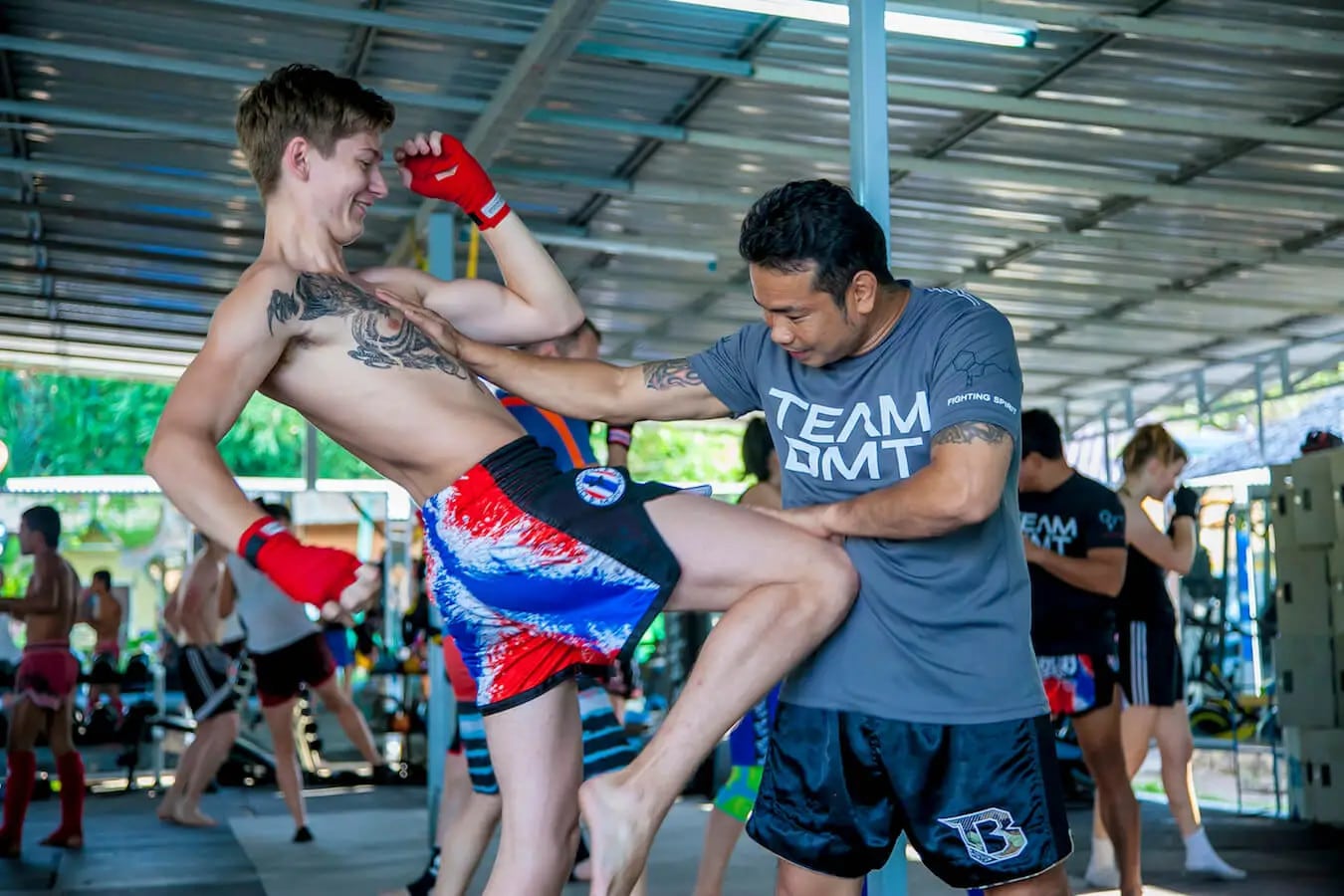 20. Visit the Temples
It is easy to overlook the breathtaking temples on Koh Phangan with so much sightseeing and partying to be done.
However, as temples are magnificent examples of Thai culture and Buddhist architecture, you should make an effort to visit many of them.
The Kuan Yin Temple, Wat Nok, Wat Khao Tham, Wat Pho Kao Nai, and Wat Pho temples are among the most stunning on the island.
If you are running short of time, visit Kuan Yin and Wat Pho at least.
Kuan Yin Temple is on the road leading from Thong Sala to Chaloklum in the north. It consists of 7 separate structures, all of which are magnificent and offer expansive views of the surrounding countryside and Chaloklum Bay.
The compound is decorated with a striking "dragon drum," multiple vibrantly colored pagodas, a big golden Buddha picture, and wind chimes.
Frangipani and bougainvillea are scattered throughout the gardens, while numerous golden warriors stand guard at the entrance. The Kuan Yin Temple was built as a combination of a lighthouse and a temple after initially being intended as a beacon to serve fishermen.
Wat Pho is another very popular temple in Koh Phangan. Even when quite crowded during religious holidays, it maintains its tranquility. A sizable lily pond and many modest buildings are located on the expansive grounds.
This temple draws a lot of health-conscious visitors because of its reasonably priced herbal sauna and massage room. One of the top massage destinations in Koh Phangan, according to visitors to Wat Pho.
Wat Phu Kao Nai is the oldest temple in Koh Phangan. It translates to "temple of the tiny mountain" in Thai. One of the calmest areas on the island, it hosts numerous meditation retreats.
When meditations are taking place at Wat Phu Khao Noi, visitors are asked to observe a respectful silence. It is not permitted to pose with any of the Buddha statues. When visiting the temple, dress appropriately.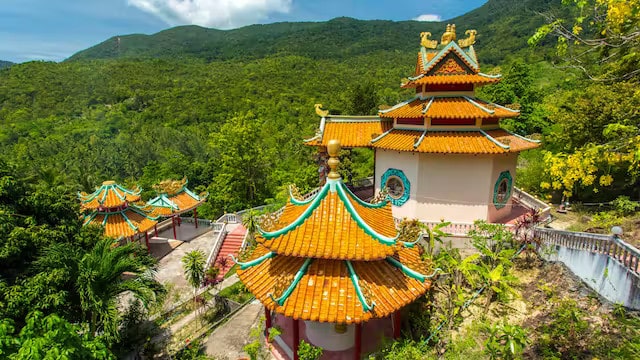 21. Get Wet at Challenge Phangan
The Challenge is a waterpark between Sri Thanu and Chao Phao bays on the west coast of Koh Phangan. It is located near Sweet Water Lake. It offers a thrilling and enjoyable water obstacle course that you must finish in the least amount of time.
Rolling barrels, monkey bars, a rope swing, stepping stones, a climbing mountain, balance beams, and swinging shapes are among the difficult obstacles on this course.
The on-site bar/restaurant offers drinks and refreshments while the entertaining races are going on. Children under the age of 10 must always be accompanied in the water by an adult, and all participants under the age of 18 are required to wear life jackets.
Location: 90/22 Baan Tai, Koh Phangan, Surat Thani 84280, Thailand
Hours: Daily from 10 am to 6 pm
Cost: Entry Fees- 500 THB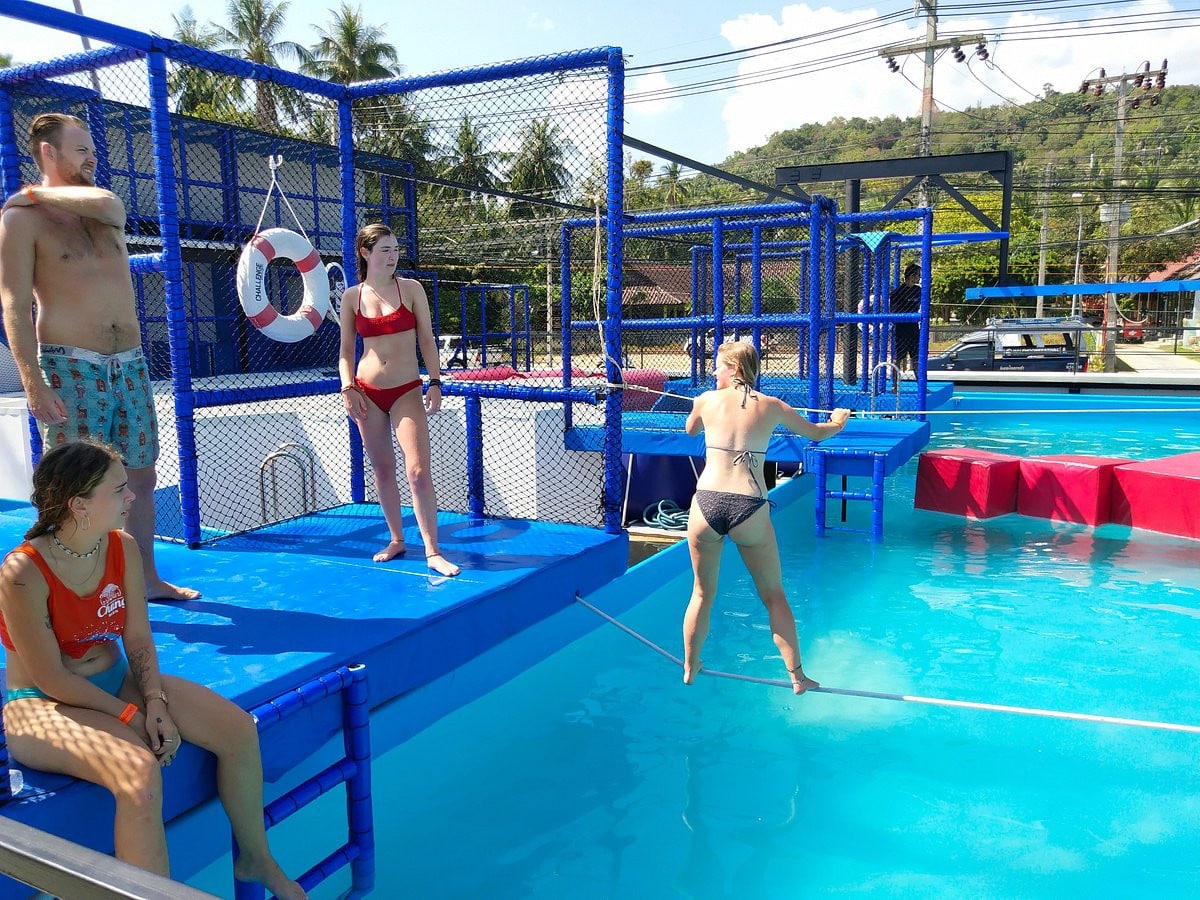 Wrapping Up
As soon as you land in Thailand, you get surrounded by a riot of color and sound the moment. It is new and exciting but also a little intimidating. From the constant turmoil of the capital city of Bangkok, Koh Phangan provides some relief.
Koh Phangan may be bustling with activity, but it also has quiet areas where you may temporarily disconnect from the outside world.
It combines tranquility with excitement and offers a variety of chances for outdoor adventure. You'll have to experience it for yourself to fully get how curious and exceptional it is.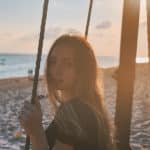 Noah Zaidi is an ardent traveler who has been documenting her Thailand exploration through Thailand Nomads. Her aim is to inform and educate people around the world about the must-visit places in Thailand.