Pai, a small town situated a little far from Chiang Mai, is surrounded by lush green tropical mountains and is inhabited by ethnic hill tribe villagers.
It has always been a popular destination for tourists owing to its beautiful scenic mountains, hot springs, and waterfalls.
There are a plethora of fun activities that you can participate in.
For instance, you can go trekking and hiking up the mountains, take a dip in waterfalls or simply have a relaxing time near the Pai river bank, enjoy the hot water spring or just sit in one of the coffee shops and enjoy the picturesque view of the heavenly town.
Immerse yourself in the enchanting charm of Pai as you explore our handpicked selection of Gorgeous Airbnbs In Pai, offering an idyllic blend of luxury, comfort, and authentic Thai experiences nestled amidst the breathtaking mountain landscapes.
11 Gorgeous Airbnbs In Pai – 2023 Traveller's Guide
1. The Junglow
Located 3km uphill from the main town, the Junglow offers an altogether different experience to visitors.
It is not some fancy modern house but a cute little Hut house that will give you a pure, authentic village vibe.
The place has an incredible panoramic view of the sky that you can enjoy on your patio with a cup of coffee/ tea which is absolutely free.
The rooms are cozy with a single king-sized bed, suitable for 2 guests. You can also access the main kitchen for cooking your own meal. It is fully equipped with a BBQ option also available.
The neighbourhood is very warm and friendly. The houses in the neighbourhood are occupied by locals who are really friendly and welcoming.
Another thing to remember is pets live here rent-free, don't forget to paw'rty with them too.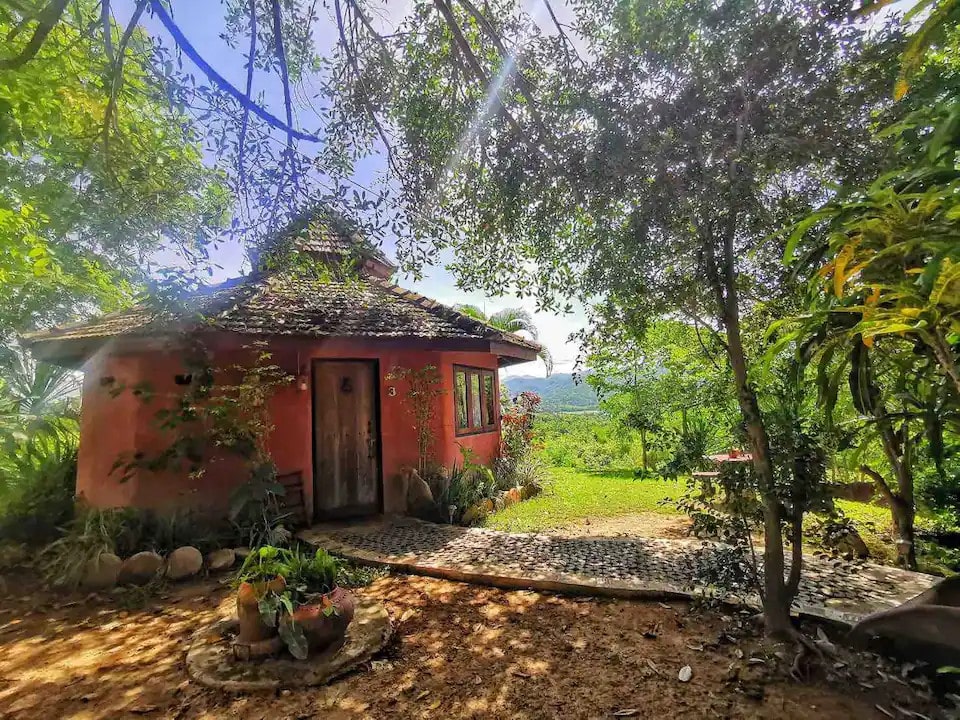 2. Art farm Studio
Are you a passionate traveller who is also an artist at heart, searching for inspiration? Well, this place is perfect for your accommodation in Pai.
The place has 1 bedroom and 1 bathroom and can easily host up to 3 guests.
A kitchen is also provided for if you wish to cook and eat else, the town center is just a 10 mins ride away.
This homestay is surrounded by rice fields and green mountains that give an alluring view from the bedroom window.
This airbnb in pai is for devoid of noise and disturbances. Therefore, you can have the best and most peaceful me-time here.
3. Re-Wild House
What makes this stunning place unique is the organic spas they provide, a rare offering in Pai.
The place is a little far from the town center but close to the famous night market which the tourist should definitely visit.
The bungalow has 1 room with an attached bathroom and free wireless network and can accommodate 2 guests at a time.
This bungalow will be a treat for you to take the yoga session, organic spa sessions and of course, the local delicacies.
The Wat Phra That Mae Yen temple is close by and is a famous spot for tourists as you can get a view of reclined Buddha and the whole ravishing town from atop.
4. Wiang Tai Private Room
This place is located at a 5-minute walk from Pai town. It absolutely gives off a bohemian bodhi retreat vibe.
The interior will give you a simple taste of bohemian luxury in a bodhi tree-style house.
They also run a yoga studio; therefore, the guests have one free yoga class every day for the duration of their stay.
And if you want to take another class, you can always pay and opt for it. Their main focus is to lead an eco-friendly business. Therefore, they only use natural products for every purpose.
The private room hosts upto 2 guests in 1 bedroom with a queen-sized bed. Pai's best cafes and eatery places will be at your doorstep. Also, it is an LGBTQ-friendly household.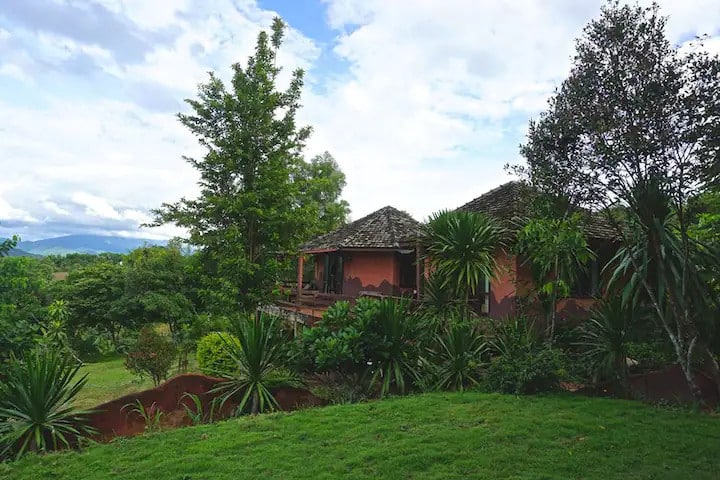 5. Utopia Secret Getaway
This is a whole house which can host upto 8 guests. 2 bedrooms and bathrooms with 4 beds, the house is perfect for a big group or family to stay.
The house is spread over a 7-acre garden. The entire interior and design are modern and match nature.
The communal pool is nearby, so you can always go for a dip. The place also offers Thai oil massages, a dry sauna and a hot tub at a charge.
If you're looking for a space with serenity and calmness to relax or as a getaway, this is the perfect spot.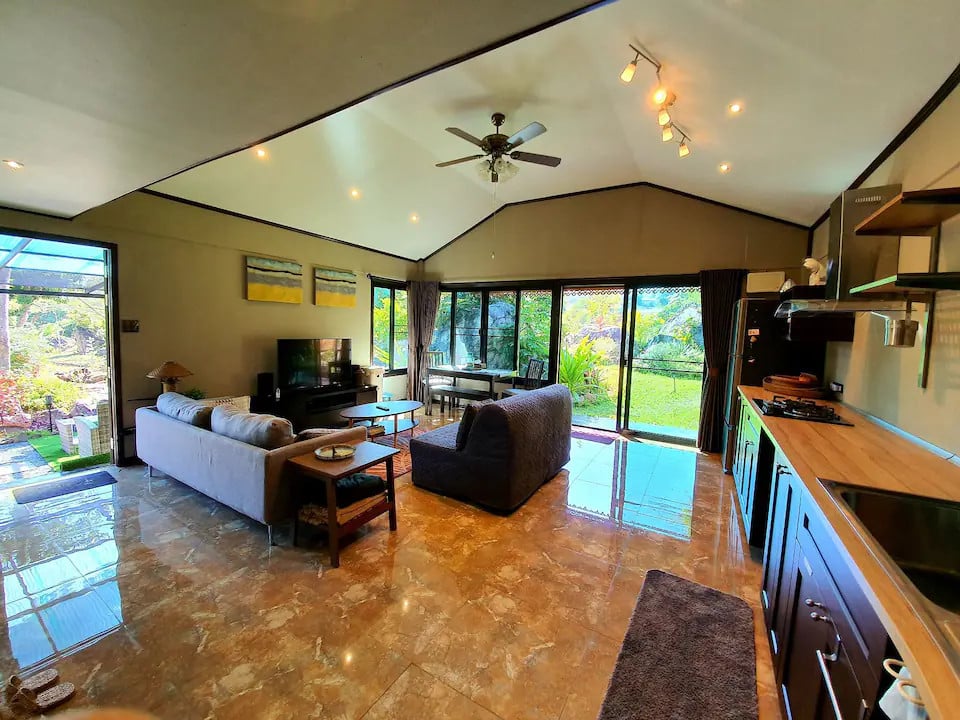 6. Soi One Boutique Bedrooms
Located in the center of Pai town and near the Pai river, this place is usually crowded for its perfect location and nearness to almost everything in town.
Within the place is a shop, restaurant, and bar. You can enjoy the delicious food served in the restaurant and just walk down the walking street and fill up with your favorites.
The bedroom is well furnished with minimal design and an attached suite bathroom, also a refrigerator.
Being in the midst of everything, the place is rich and cultured and has everything that you will need.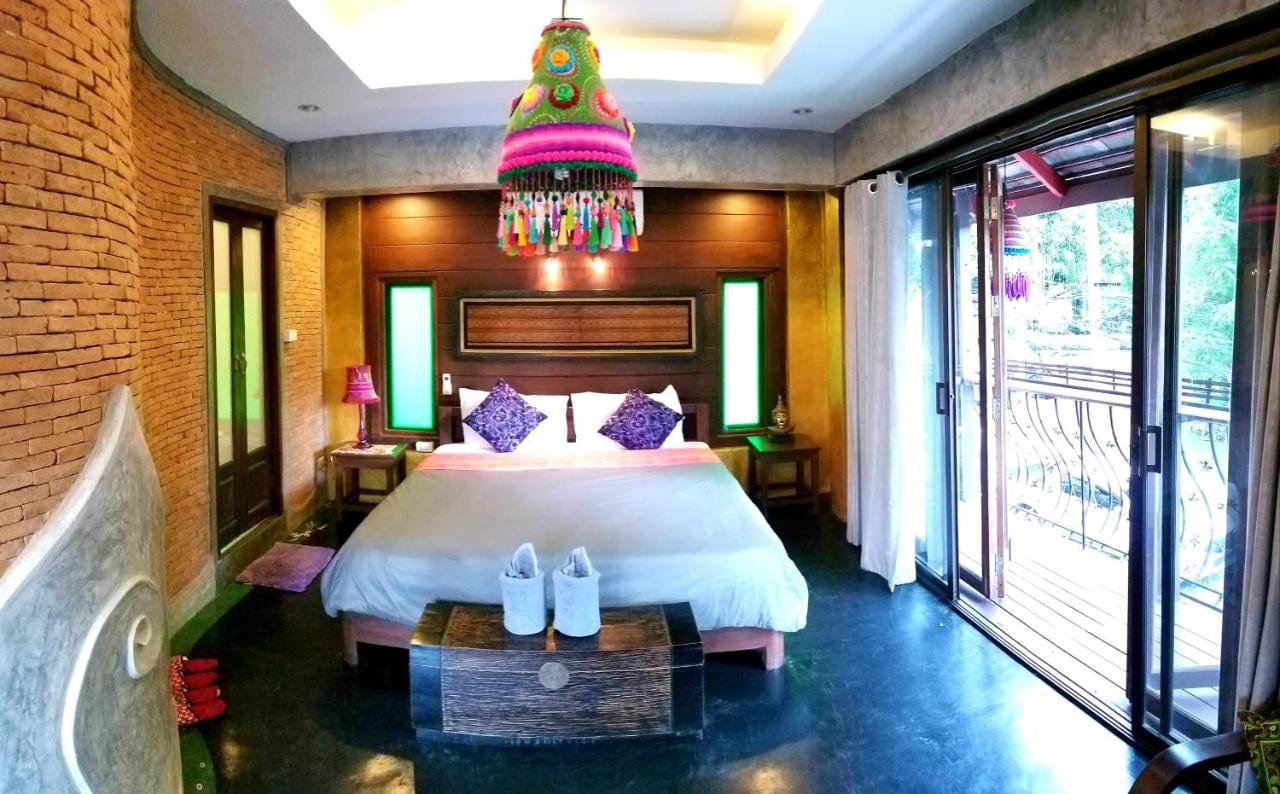 7. The Quarter Pai
The place is a 5-minute walk from the town center. The place has luxurious tiki vibes.
The rooms are fully air-conditioned and quite big, and each room comes with a balcony that shows the magnificent mountain that surrounds Pai town.
Apart from this, the hotel offers an outdoor swimming pool, a minibar, satellite tv, a DVD player, and a free wireless internet network.
This place has a restaurant that serves exotic Thai and European cuisine, and you always have the option to walk down to the main town for delicious food.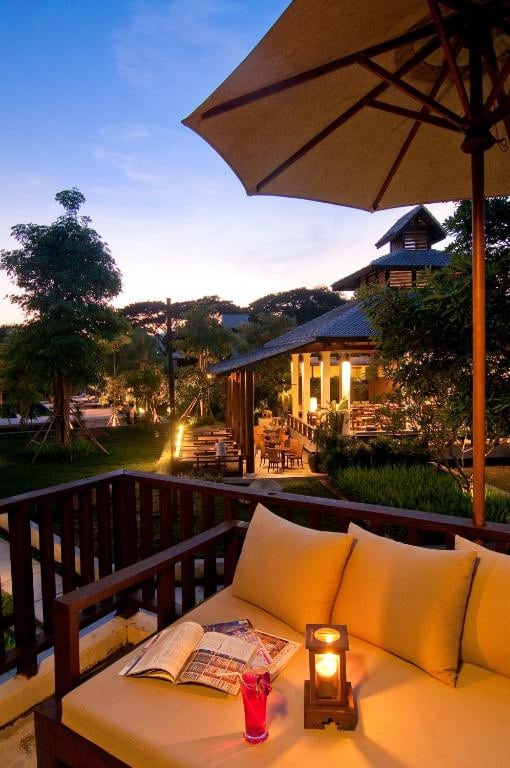 8. Tiny Home
A 10-minute drive from Pai town, in a small village called Maehi, this cute little place is a good getaway.
There are a total of 5 houses in the area, each with a separate 1 unit bedroom and bathroom. The kitchen and parking lots are the same. Therefore, you will have to share.
The property is surrounded by local villagers, mountains, and the Maehi stream. The area is quiet and cozy, and you can be in your own space and at peace.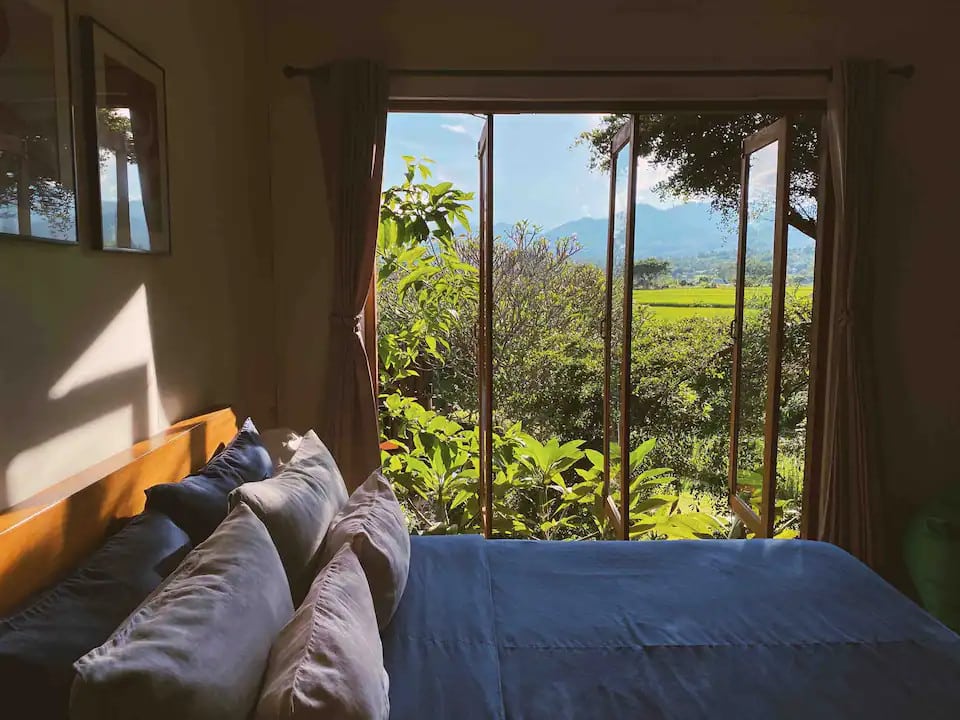 9. Panorama Glass House
This place is a secret hideout within a 15-20 minute walk from Pai town. The place has 1 bedroom for 2 guests to stay.
The room has a big wall-length glass window on two sides showing the divine panoramic view of the green tropical mountains and rice fields.
Being built on an elevation, the cool breeze will be an addition. The rooms are clean and in a modern style with basic furnishing. This is one of the most peaceful locations in Thailand.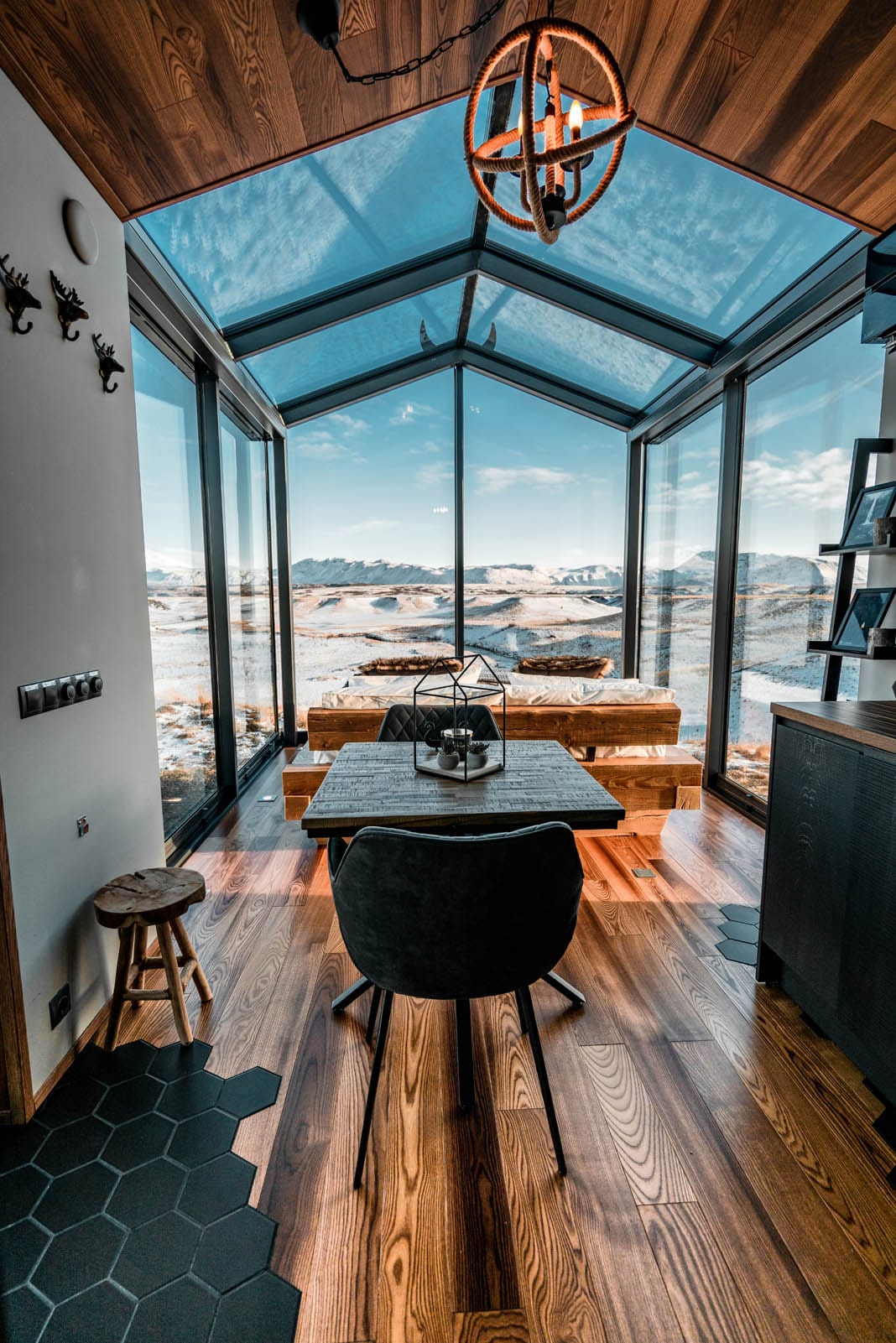 10. Mountain View Cosy Cottage
This is a small cabin in the backyard of private property in Maehi village. The area is completely surrounded by green plants and trees.
The cabin is a single room for 2 guests. Central kitchen access is available, but you can also dine in the little cafe in front of the property.
The rooms are fully furnished with a king-sized bed and a small sofa, and all other basic necessities.
There is a 24×7 flow of fresh air due to the location, and the host is super friendly and lovely people.
11. Spellmaya Cottage
The bungalow is a 10-minute ride from The Walking Street. The place has a separate private entrance for guests to leave and enter at their wish.
It has 1 bedroom for two guests, a balcony with beautiful scenery and a hammock hanging, a hot shower, and a desk.
The kitchen is only available for guests staying for a longer duration. The place is set for guests to relax and maybe catch up on their work.
It'll be best if you interact with the host as they'll guide you to sightseeing locations, cafes, and everywhere you'll want to be.
The place is also close to Pai's elephant camps and hiking trails, so you can always go for adventures.