Phuket is a travel hub, and finding the right accommodation is no easy task. In our hostels guide, we will introduce you to reliable Phuket accommodation options, highlighting hostels you can trust during your stay in this beautiful destination.
Find affordable and trustworthy accommodation at these top hostels You Can Trust in Phuket, where you can meet fellow travelers and enjoy a comfortable stay without breaking the bank.
11 Hostels You Can Trust in Phuket – 2023 Traveller's Guide
1. Patong Backpacker Hostel
It is one of Phuket's top party hostels that you can consider for a memorable stay.
Patong Backpacker Hostel is a preferred option for young and single individuals who want to party hard into the night since it is reasonably priced and located near Patong Beach.
You may also get assistance from the tour desk in planning your local travel. For a hassle-free stay, it also provides laundry and baggage storage facilities.
The car parking and the Wi-Fi are always free, so you can stay in touch and come and go as you please. As a bonus, a restaurant is provided on-site to serve your needs conveniently.
Location: 140 Taweewong rd. T. Hadpatong A. Kathu, Patong, Phuket, Thailand, 83150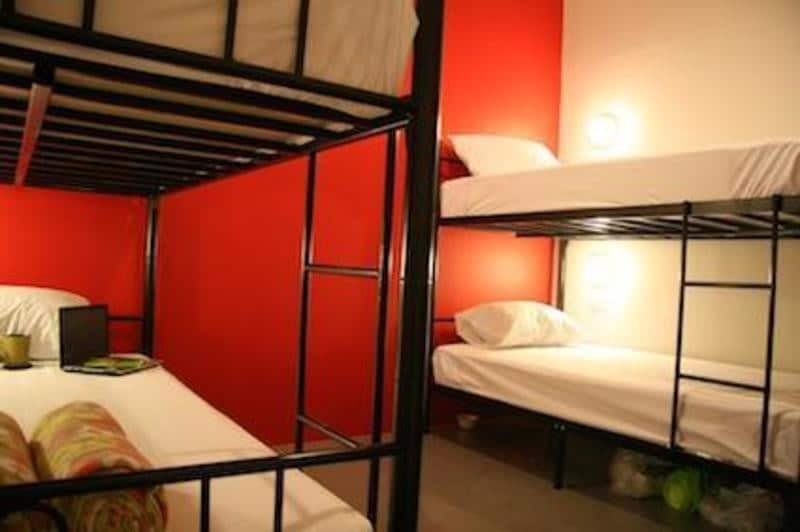 2. Fulfill Phuket
This hostel in Phuket must be taken into consideration if you're seeking accommodations close to the airport because it is only 27 kilometers away.
Fulfill Phuket is the perfect destination for those who prefer beaches to party. It is 300 meters from Old Phuket Town and adjacent to the bus terminal.
To go to the beaches, you can rent a cab. Kata beach is the closest and least congested of all the popular beaches.
Location: Ratsada Rd, Tambon Talat Yai, Mueang Phuket District, Phuket 83000, Thailand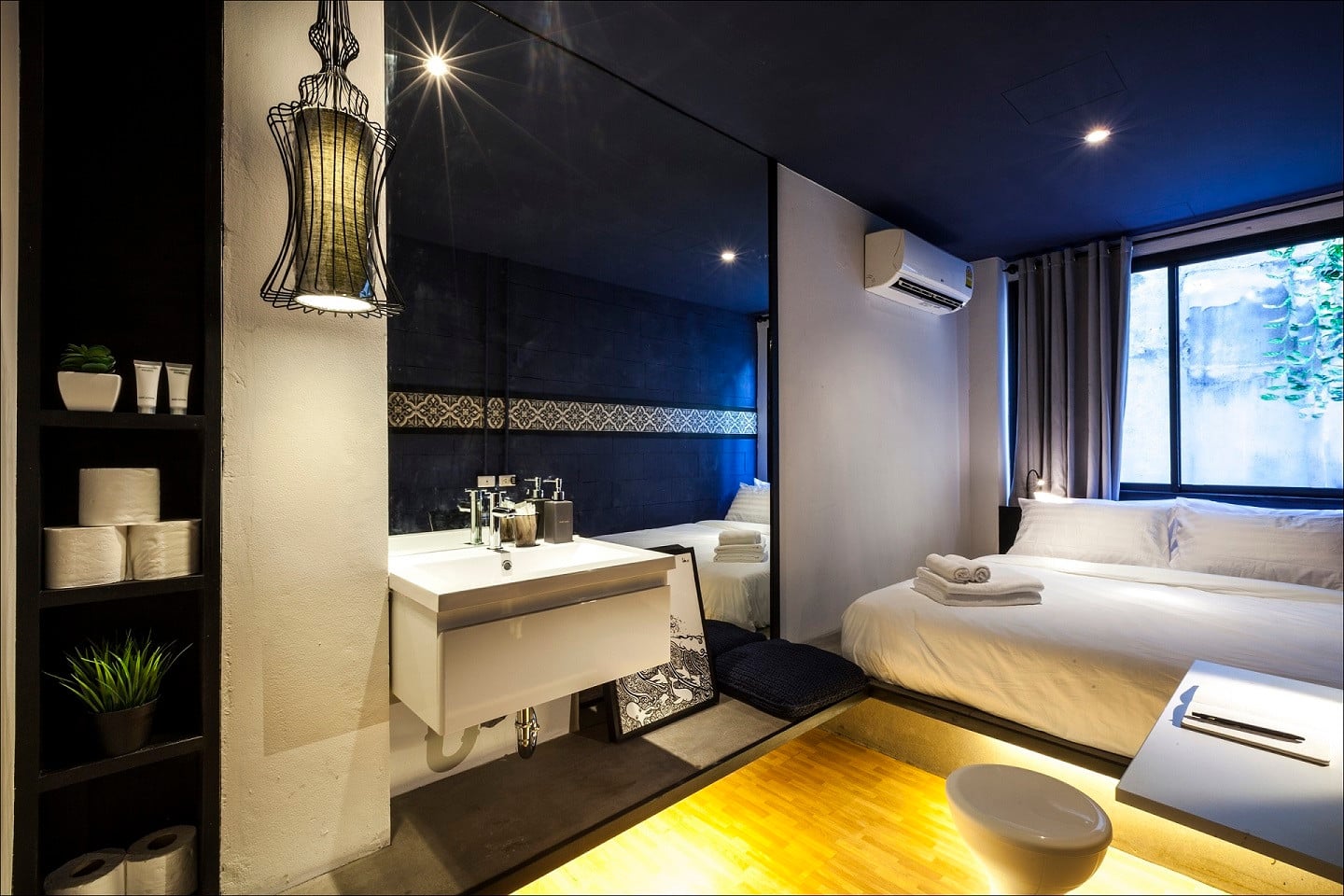 3. Fin Hostel
The Fin hostel Phuket is situated on Kata beach. It was founded by a group of surfers who sought to create a "low-cost hub" for surfers in the center of Phuket.
The interior decor of the rooms is vibrant and in the style of surfing. With all of the standard amenities you would anticipate from a hostel, it is one of the best backpacker hostels in Phuket.
The hostel is just 0.5 km from Kata Night Market and 0.65 kilometers from Kata Beach.
This contemporary house is laid back with standard décor and modern essentials for a wonderful stay.
It ensures the ideal balance of comfort and quiet.
Location: P0, Near Kata Night Market, Phuket Near Kata Night Market, Phuket, Thailand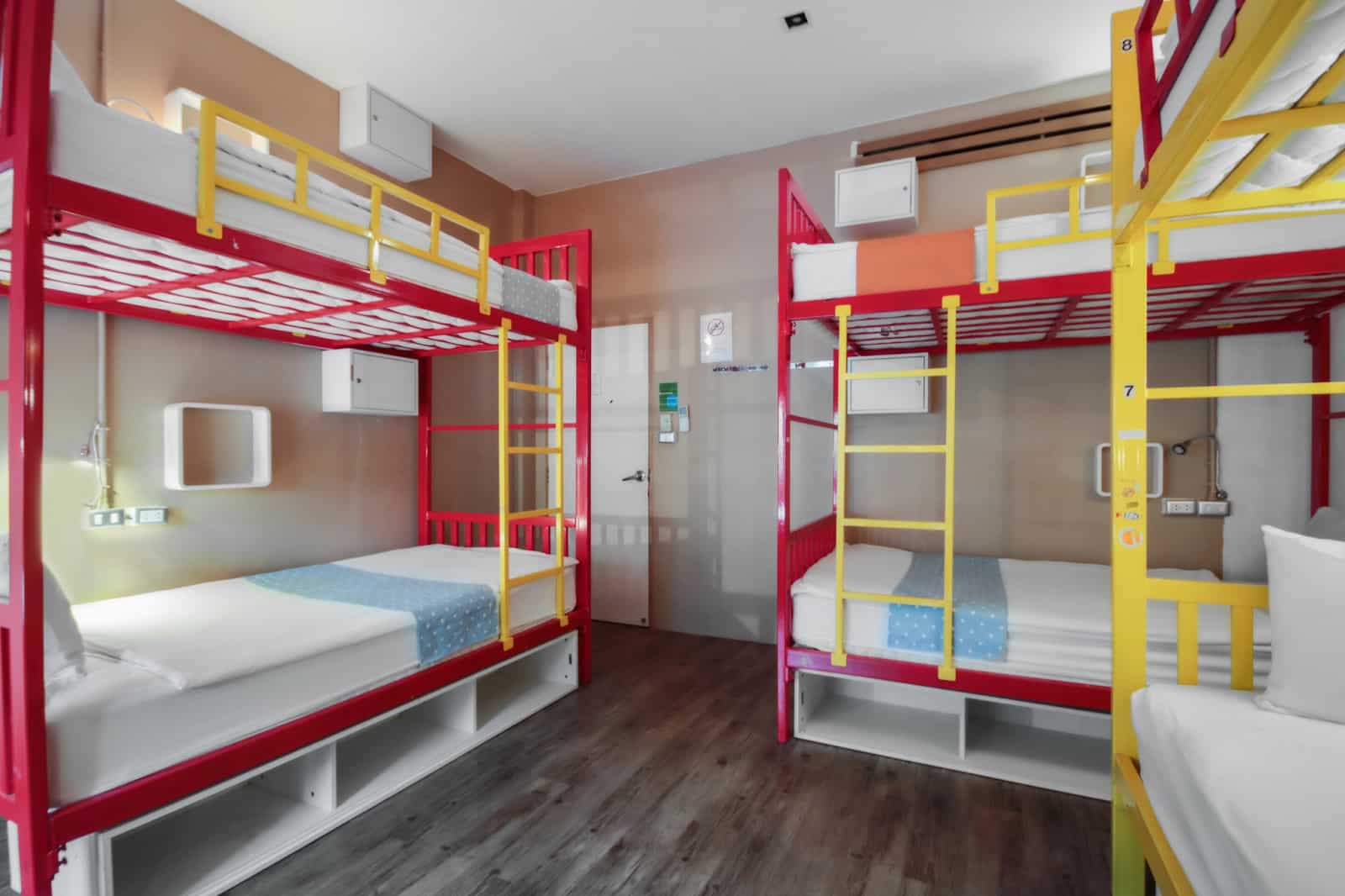 4. Slumber Party Hostel
They pride themselves on being one of Phuket's top hostels. It is one of the liveliest hostels in this area, so if you're considering going on a party trip, try to secure a room here.
The stretch of bars and clubs that make up Phuket's party scene is easily accessible from the hostels because of the hostel's proximity to Bangla Road. It is only a short stroll away.
Additionally, if you're seeking Phuket hostels close to the beach, you may rejoice since this hostel is only a short stroll from Patong Beach.
However, the prices of the hostels could be considerably high during the tourist season, so plan in advance.
Location: 189/3 Rat-U-Thit 200 Years Road Tambon Patong, Chang Wat Phuket 83150, Thailand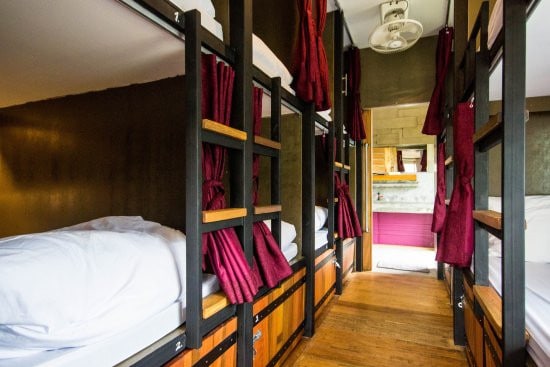 5. Bearpacker Patong Hostel
This hotel is a fantastic spot to stay in the heart of the well-known Patong Beach. It has a lot of convenient amenities that most vacationers look for.
The amenities include an on-site pool, a sizable common space, a selection of dorm rooms, and a mini-pod. What more could you possibly want in a hostel?
There are mixed-gender or female-only dorm rooms with 4, 6, or 8 beds available if you want to get to know and connect with other nice visitors.
The mattresses feature panels and curtains to make sure your stay is private and cosy. A personal locker and a towel are provided in the dorm rooms. For those who want more solitude, the hostel also offers double beds available.
Private rooms come equipped with an en suite bathroom, a safe, a minibar, a refrigerator, and a coffee machine. Both private and shared accommodations have a hairdryer.
Location: 162/3 Thaweewong Road, Patong, Kathu, Phuket 83150 Thailand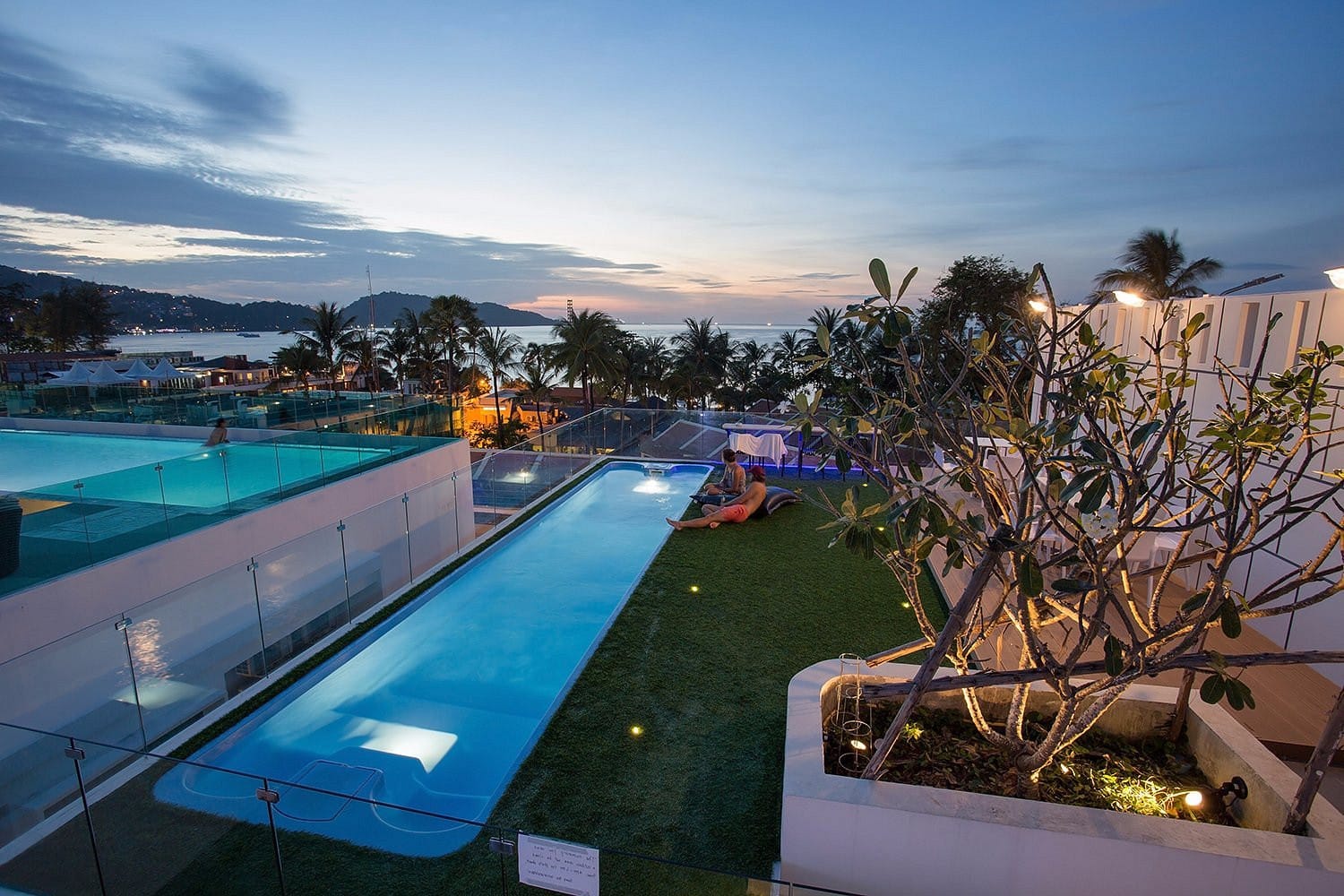 6. Ai Phuket Hostel
The hostel is very conveniently situated in central Phuket. Being on the beach all the time means you lose out on everything else but that is not case with Ai Phuket.
The hostel, housed in a lovely old Portuguese building, is near the bus stop and the retail area.
If you're searching for nice, inexpensive hostels in Phuket, Thailand, this is a wise choice.
The hostel has a tour desk that arranges trips to popular destinations. There is a washing facility, as well as fax and copy services.
Within a 5-minute drive of the property are a variety of neighborhood eateries.
Location: 88 Yaowarad Rd, Tambon Talat Yai, Phuket 83000, Thailand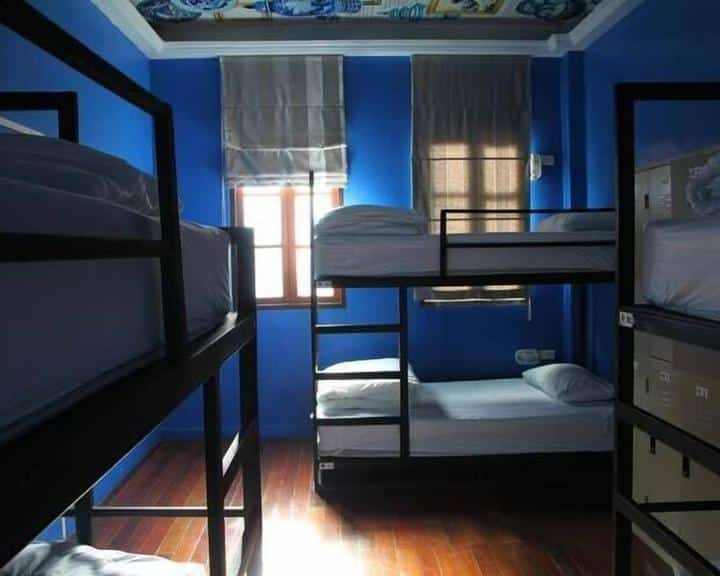 7. Chillhub Hostel
The hostel has a pool of its own on Bang Tao Beach, and you may walk to the beach whenever you choose.
You may meet many people here, and the hostel rooms are perfect for solo travelers. Unquestionably, it is among the top beachside hostels in Phuket.
The hostel is a 3-minute stroll from Catch Beach Club and 1.4 kilometers from Tesco Lotus Supermarket Cherng Talay. The building has a patio and garden views.
Each room at the hostel has a patio, and a private bathroom with a bathtub or shower, and some rooms also include a terrace.
Location: 69/140-142, Moo3, Bangtao Beach Soi 2 Cherngtalay, Thalang, 83110 Bang Tao Beach, Thailand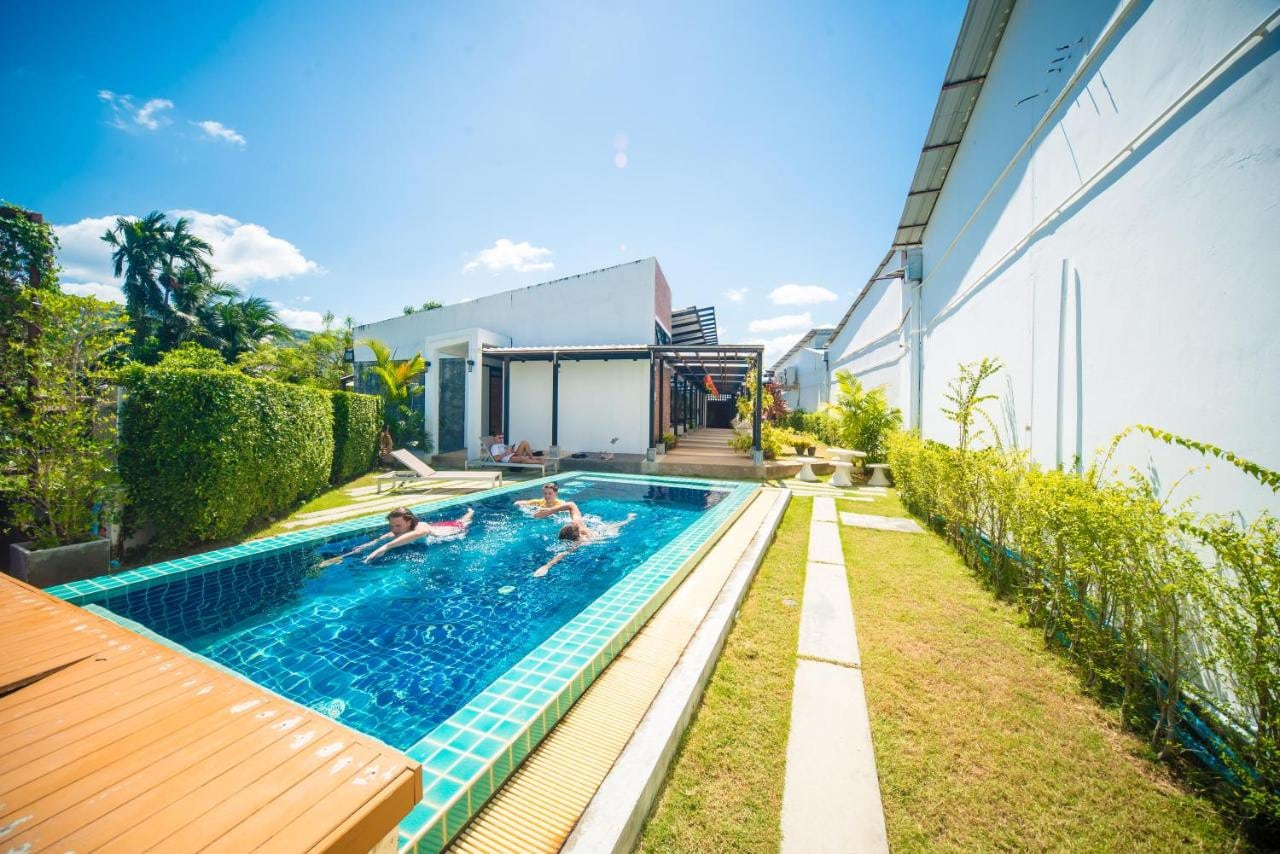 8. Hub Hostel
One of the most popular hostels in Phuket, Hub is located close to the airport. It is the best option if you wish to stay in a capsule hostel while visiting Phuket.
Additionally, they provide complimentary transportation to and from the airport, which is wonderful if you've travelled for 20 hours to come to Thailand via airline.
They provide reasonably priced, hygienic dorm rooms. Above all, the hostel provides free WiFi, which is a great advantage.
Patong Beach and Karon Beach are the most well-known beaches 20 to 25 kilometers from here.
You may come and go as you choose because both the Wi-Fi and the parking are always free.
This facility brings you close to sights and fascinating eating alternatives because of its convenient location in Phuket's Airport neighborhood.
Don't leave without seeing the renowned Bangla Road.
Location: 106/12, 4031 (Phuket Airport) Rd., Tambon Sakhu, Phuket Airport, Phuket, Thailand, 83110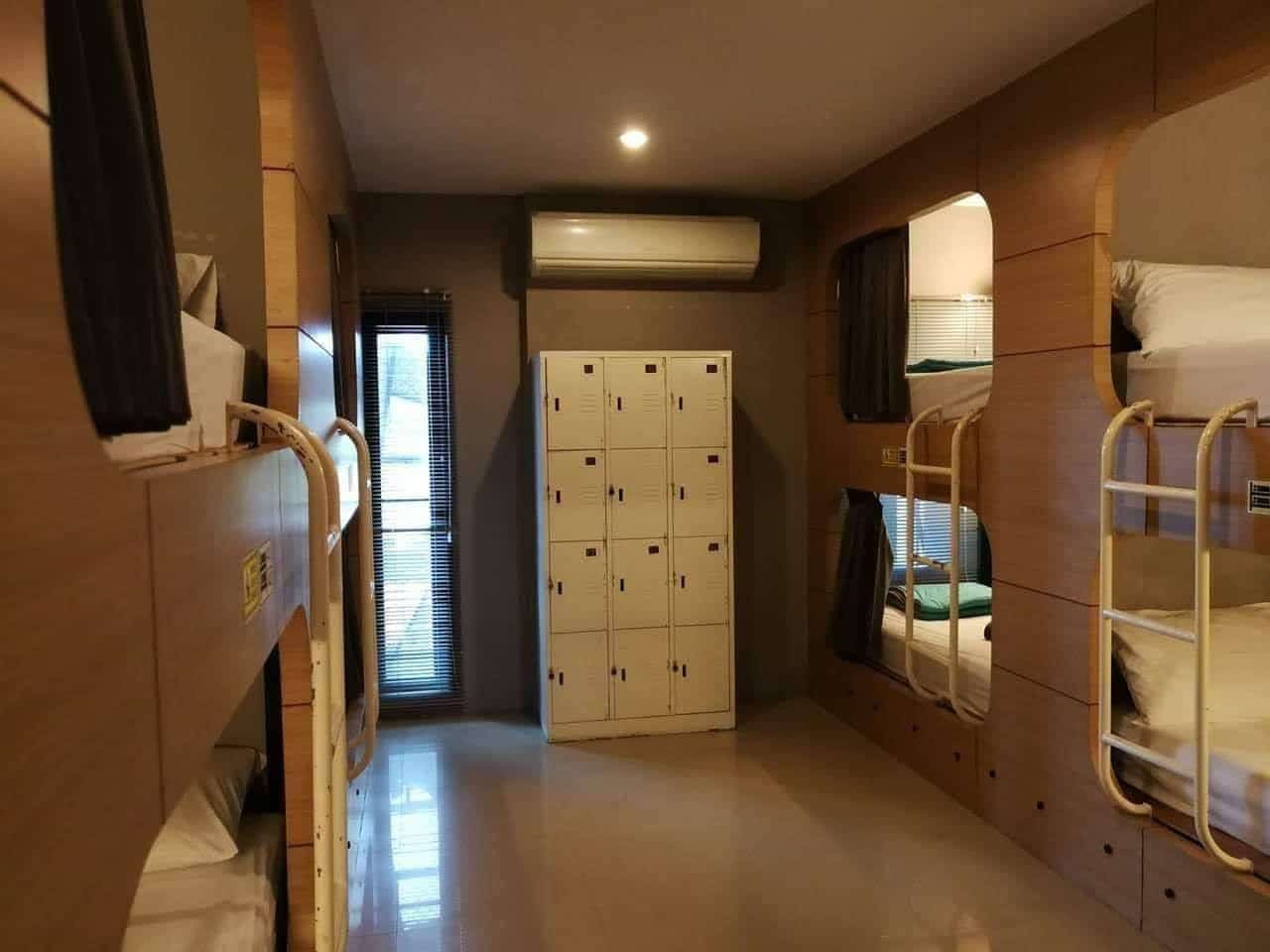 9. Balcony Hostel Patong
This is another popular beachfront hostels in Phuket. Itl has mixed 4-bed dormitories and a guest lounge.
The terrace café and bar, where customers may enjoy an afternoon coffee or a nightcap, is one of the establishment's unique features.
A bicycle may also be rented here as well if you want to explore the area. The availability of WiFi also simplifies life!
The hostel provides private dorm rooms with air conditioning and is located 5 minutes from Patong Beach.
A tour desk and free WiFi are available everywhere in the hostel. The Jungceylon Shopping Center and Bangla Road are both within a 10-minute drive of the guesthouse.
Phuket Town can be reached in 20 minutes, while Phuket International Airport can be reached in 55 minutes.
Location: 34/23 Prachanukroh Rd., Patong, Kathu, Phuket 83120 Thailand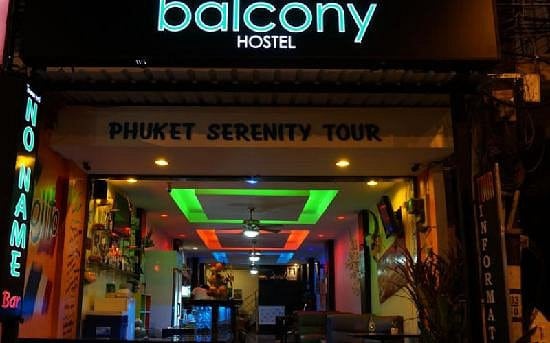 10. Lub D
Lub d Phuket Patong has the largest selection of hostel lodging in Asia. Along with spacious areas for social gatherings, it offers comfortable dorms and private rooms.
Other offerings include a Muay Thai gym, co-working area, breakfast, and beverage bar, and spacious swimming pool,
Patong Beach, Patong Boxing Stadium, Bangla nightlife, and Jungceylon retail center are accessible by foot from here.
Both individual and dorm-style rooms with air conditioning are available at Lub d Phuket Patong.
This chic hostel has a café, free WiFi, a co-working area, a cool-down room, and an outdoor pool.
At Lub d, private rooms come with a bathroom, a closet, and a safety deposit box. Some accommodations have a fridge, minibar, or coffee machine.
Towels, personal lockers, and safe deposit boxes are offered to dormitory room guests. Both private and shared accommodations have a hairdryer.
Deluxe double rooms and Junior double/twin rooms are available.
Comfortable women's dormitory The Lub d Patong's personnel is available at the front desk 24 hours a day to assist guests with storing their bags.
The on-site tour bureau can help plan interesting day trips. Additionally offered are a communal lounge, conference spaces, and laundry service.
Location: 5/5 Sawatdirak Road, Patong, Kathu, Phuket 83150 Thailand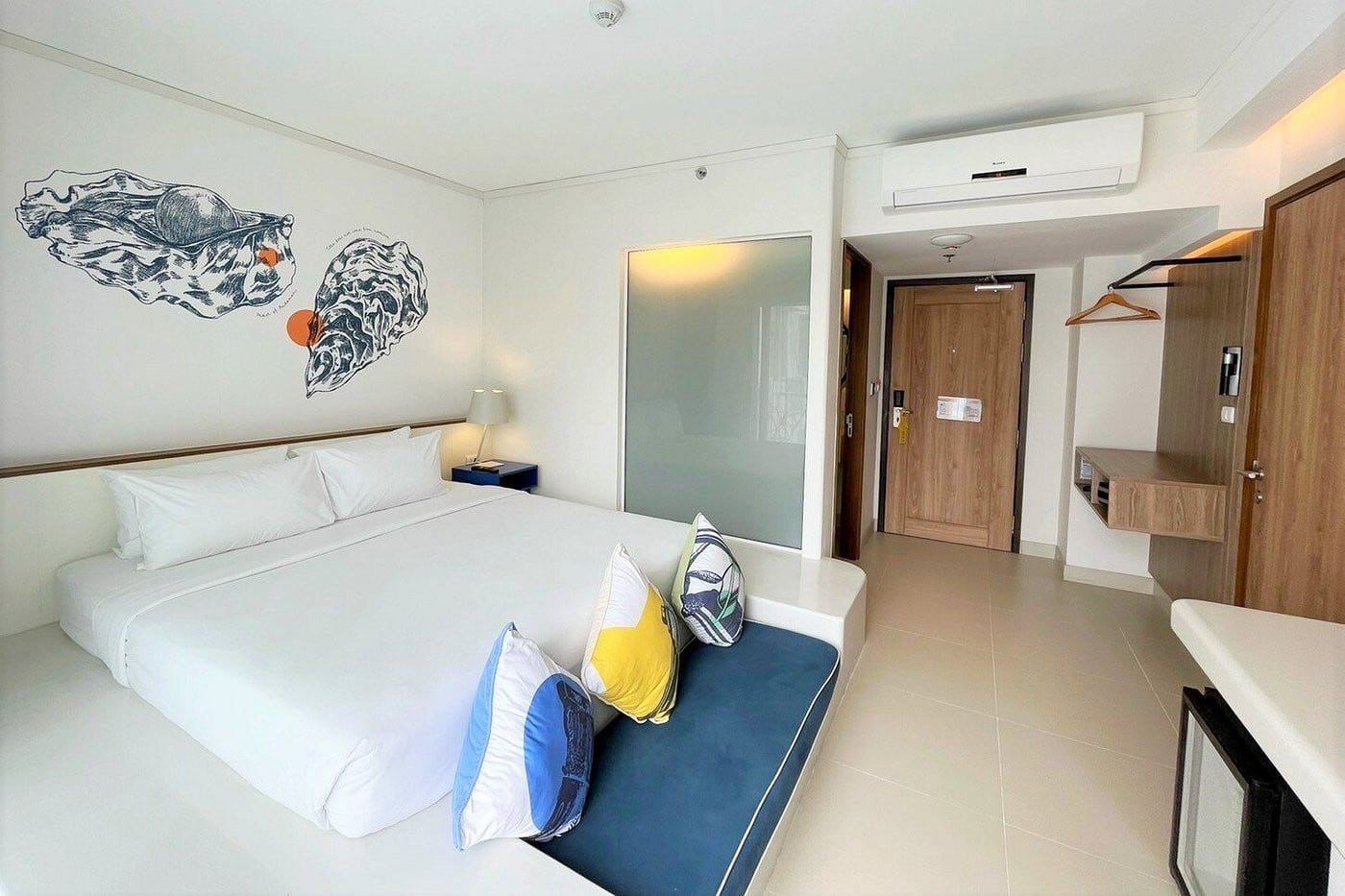 11. Capzule Bed Phuket
Phuket's city center is where Capzule Bed is situated, 800 meters from Phuket's old town. The outside and interior of the building are both designed in the Peranakan style, a fusion of Chinese and Portuguese elements.
It has a bar and air-conditioned guest rooms. The hotel also features a balcony and a tour desk. The kitchen at this place is shared. Visitors can use the communal lounge and currency exchange.
The hostel has common bathrooms and wardrobes in each room.
Those staying at Capzule Bed Phuket also get a continental breakfast.
Location: 19/1-2 Montree Road, Muang Phuket, Thailand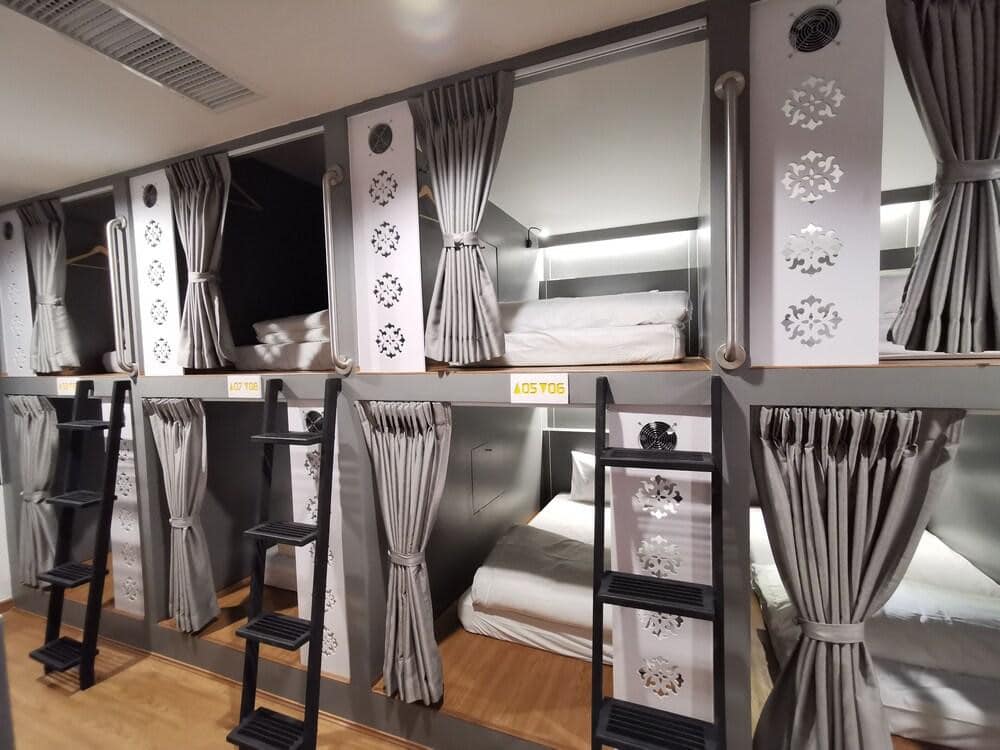 Wrapping Up
Hostels are the most convenient option for budget travelers. However, if you wish to experience a unique luxury, don't forget to try out these luxury hotels and exotic villas with pools.
To further enhance your trip experience, you must plan a visit to the crazy Bangla road to experience the peculiar nightlife of Phuket. Alternatively, you can just sit by these exotic beaches or visit a waterfall and let yourself immerse in the beauty of this place.
We assure you that this experience will make your entire trip memorable.
Editor - Thailand Nomads
Cindy quit her 9 to 5 job to pursue her passion for exploring mesmerizing locations in Thailand. She has been living here for the past 5 years now and through Thailand Nomads, she shares her experiences and insights about the must-visit places in Thailand.
Email: cindy@thailandnomads.com