Haad Rin, Baan Tai/Baan Kai, Thong Sala, Srithanu, Haad Yao, Haad Salad, Mae Haad, Chaloklum, Bottle Beach, and Thong Nai Pan are some of the greatest places to stay on Koh Phangan.
Koh Phangan has everything you might want, from cozy hostels to opulent hotels right on the beach.
Thailand has come to be associated with picture-perfect white sand beaches, delectable cuisine, and limitless experiences.
Koh Phangan has a huge variety of lodging options to suit every budget, unlike many island locations like Bora-Bora, which cater only to luxury seekers.
Find the best Areas to Stay in Koh Phangan, where stunning beaches, vibrant nightlife, and serene retreats come together to cater to every traveler's taste and preference.
10 Best Areas to Stay in Koh Phangan – 2023 Guide
1. Haad Rin
Owing to the famous Full Moon Party, this southern beach is one of the best places to stay on Koh Phangan.
A rocky headland separates the quieter Sunset Beach (Haad Rin Nai) from the busier Sunrise Beach (Haad Rin Nok), which is the site of Thailand's renowned monthly Full Moon Party.
Even when the festivities are not raging, visitors can expect to delight in everything this beach paradise offers. Guests may get their party at least once a month.
Regular fire performances, a tonne of beach bars, and low-key dining options all fit the backpacker's mood wonderfully.
The best part is that it is very easily accessible. The trip from the pier only takes around 30 minutes.
In Haad Rin, there are various lodging for travelers. They can get nice places with cool people for a lot less money than they would on other beaches.
Haad Rin is the place to go if you want to party and meet people from all over the world!
Here, you may choose from various pubs and eateries and daytime water sports and activities, including beach volleyball, sailing, and scuba diving. The beachside neighborhood comes alive at night with bars, clubs, and music venues.
Additionally, Haad Rin is a fantastic location for shopping. It is simple to locate boutique stores that extend from the town to the dock. There is a large selection of reasonably priced crafts, jewelry, clothing, and traditional Thai things that you can take back home as souvenirs.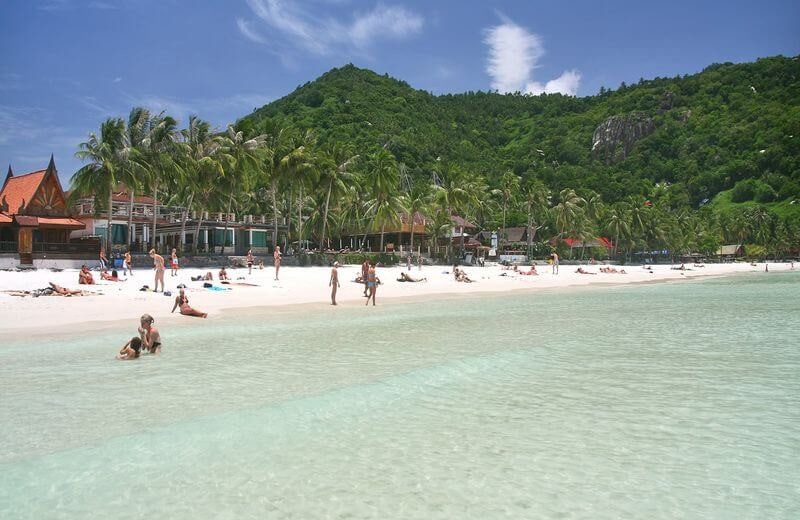 2. Baan Tai
Baan Tai and Baan Kai are well-liked locations for people who are stying be close to the excitement.
It is one of the cheap places situated in the southwest of Koh Phangan, between Haad Rin and Thongsala.
The only place Koh Phangan travelers should look for accommodations is Baan Tai.
As the sun is up, this beach is renowned for being immaculate and stunning, and when it sets, it turns into a lively gathering spot.
Long white sand beaches can be found in Baan Tai, along with a cute little village full of eateries, bars, ATMs, and shops. It also provides breathtaking vistas of Koh Samui.
In Baan Tai, there are many beach bars, and you only have to walk a few steps before hearing some incredible local music.
If partying is your style, this area of Koh Phangan is where you want to be for sure because there are beach clubs there as well!
Baan Tai offers a wide variety of dining establishments. Western favorites and traditional Thai dishes, are available.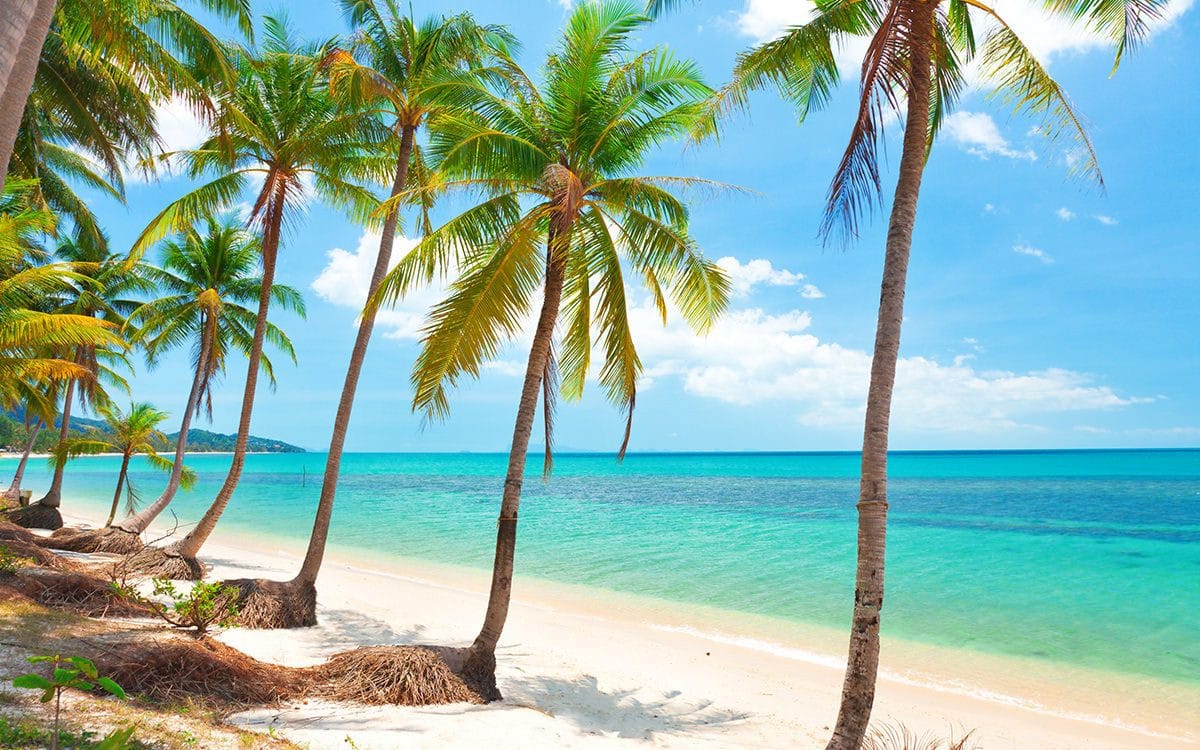 3. Thong Sala
Although Thong Sala is frequently disregarded as one of Koh Phangan's top places to visit, its recognition has recently increased.
You will find some of Koh Phangan's top eateries in Thong Sala. Here, you may find the best seafood in the world. Additionally, there is a thriving local market and many bars that welcome both Thai and foreign visitors.
Take advantage of the night market, where you may eat delicious local cuisine for unbelievable prices.
There are lodging options for practically any preference as well. Due to the large selection of hostels and resorts, you'll see both budget travelers and more affluent visitors mixing together.
Thong Sala is a delightful mashup of almost everything. Without being as extreme as the Full Moon Party, it also has a fantastic party vibe!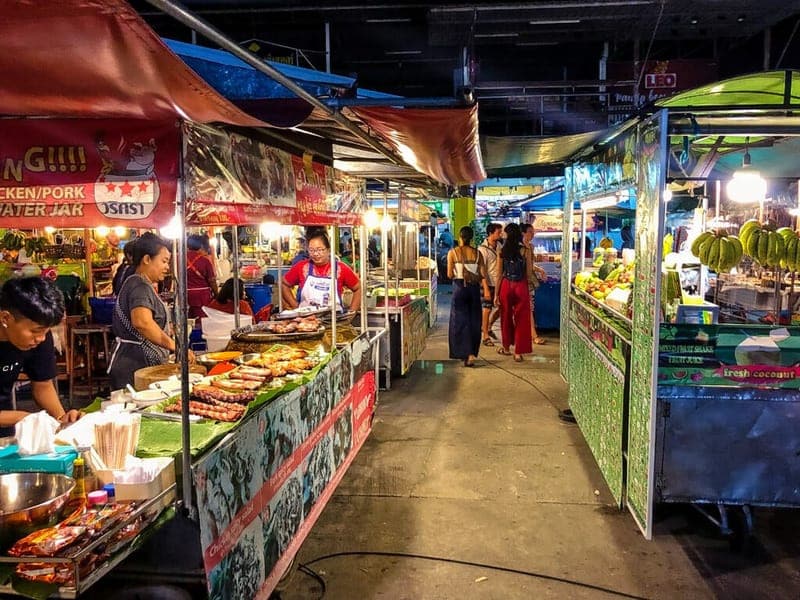 4. Sithanu
Due to its natural formations and laid-back atmosphere, Srithanu is among Koh Phangan's most distinctive and ideal places to visit. On Srithanu, you may find standard beach attractions like white sand beaches, calm waters, and many resorts.
Laemson Lake is a freshwater lake that is located nearby. It is a nice area to go boating, see a variety of aquatic creatures, and unwind from the busyness of the rest of the island.
Additionally, there are numerous genuine Thai eateries and local markets in this fishing harbor.
It is the greatest area on the island to get your fill of tropical fruits and veggies.
Don't be afraid to attempt making your own real Thai curry because there are many places you may stay in this area that have kitchens!
Backpackers may find Srithanu to be less appealing because many of the accommodations are on the pricey side. Srithanu is a good spot to stay if you have some extra money to spend and don't mind avoiding the hostel.
Here at Sithanu, you can have a more genuine experience, avoid crowds, and steer clear of conventional island parties in this area of the island.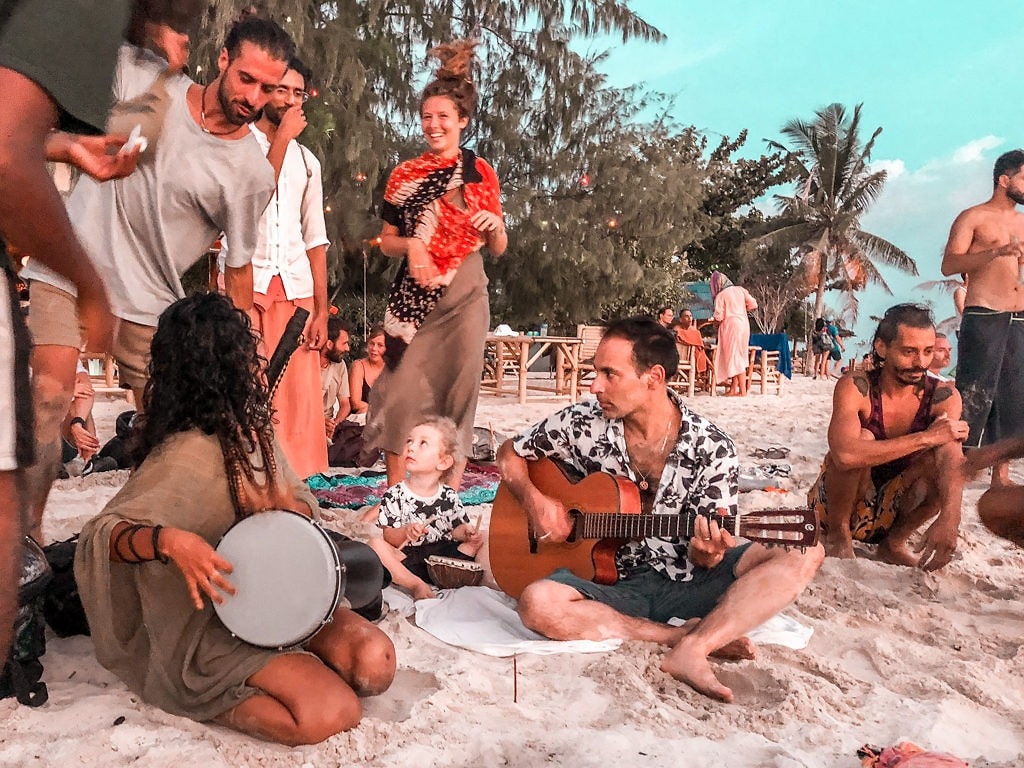 5. Haad Yao
Haad Yao is one of the greatest places for longer stays in Koh Phangan if you enjoy the outdoors. This stunning beach, one of the best in Thailand, has dazzlingly clear water and snow-white sand.
Haad Yao has a lot of vegetation as well, and you may walk a little bit down the beach if you desire.
It is an ideal location for snorkeling and diving in Koh Phangan. Discover the magnificent coral reef that is just off the coast by diving beneath the waves. The reef is a great place to spend the day exploring and admiring the amazing marine life that frequents this area of the island.
There aren't any large or hazardous creatures in Haad Yao, simply colorful schools of fish.
Haad Yao is clearly not a beach for parties. There are some adorable bars and eateries there, but those seeking clubs and late-night celebrations should search elsewhere.
As a result, it ranks as one of Koh Phangan's top accommodations for those seeking a tranquil beach getaway.
You can stay in these modest bungalows and hostel-style lodgings and are sure to run into other beach and outdoor aficionados while you're here.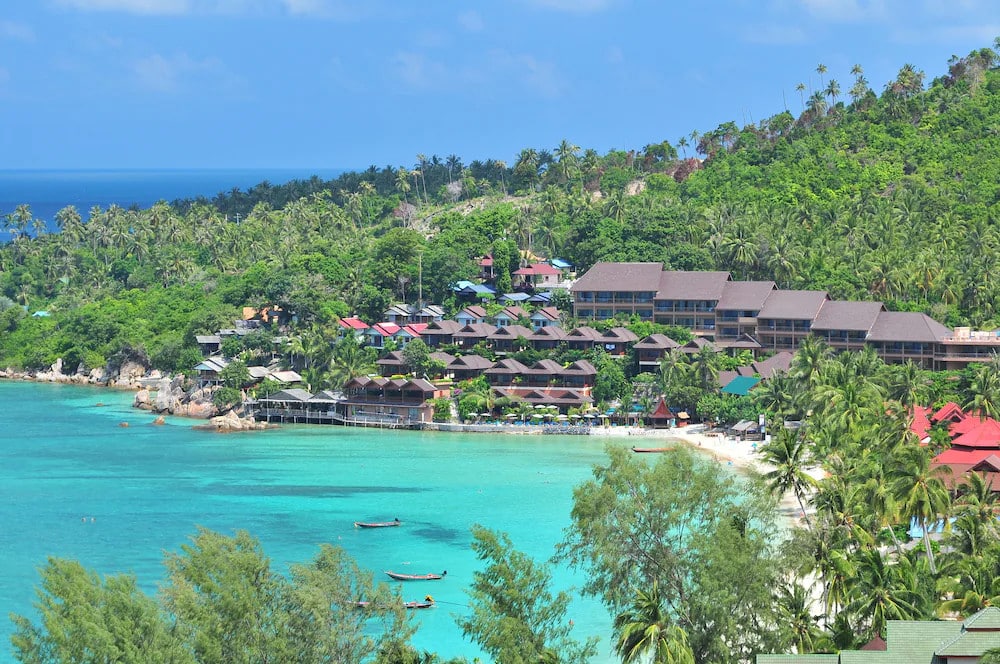 6. Haad Salad
One of the nicest beaches in the entire unspoiled paradise of Koh Phangan, Haad Salad provides a tranquil alternative to the Full Moon Party's throngs of people.
In addition, you can venture off the beaten path a little bit and explore some of the lush vegetation that is located on either side of this lovely beach. Haad Salad is one of the greatest places to stay on Koh Phangan if you enjoy wandering and taking in various scenery.
Underneath the waves, in the warm, shallow water, are stunning coral formations. If you decide that you want a little more adventure in your life, a diving school is also close by.
Koh Phangan offers some of the best diving in the world, and you'll feel at ease diving in such a beautiful setting. This location's water is sufficiently clear to allow for constant visibility, which is a significant benefit for novice divers.
Haad Salad doesn't have the boisterous backpacker bars you'll find on other beaches, but it still has lodging options for just about every price range.
Booking in advance is advised if you want to ensure that you can get a spot because this is one of the top spots to stay in Koh Phangan for nature lovers.
Every budget may be accommodated, so savvy travelers who reserve in advance will be able to find a place to stay that fits their price range.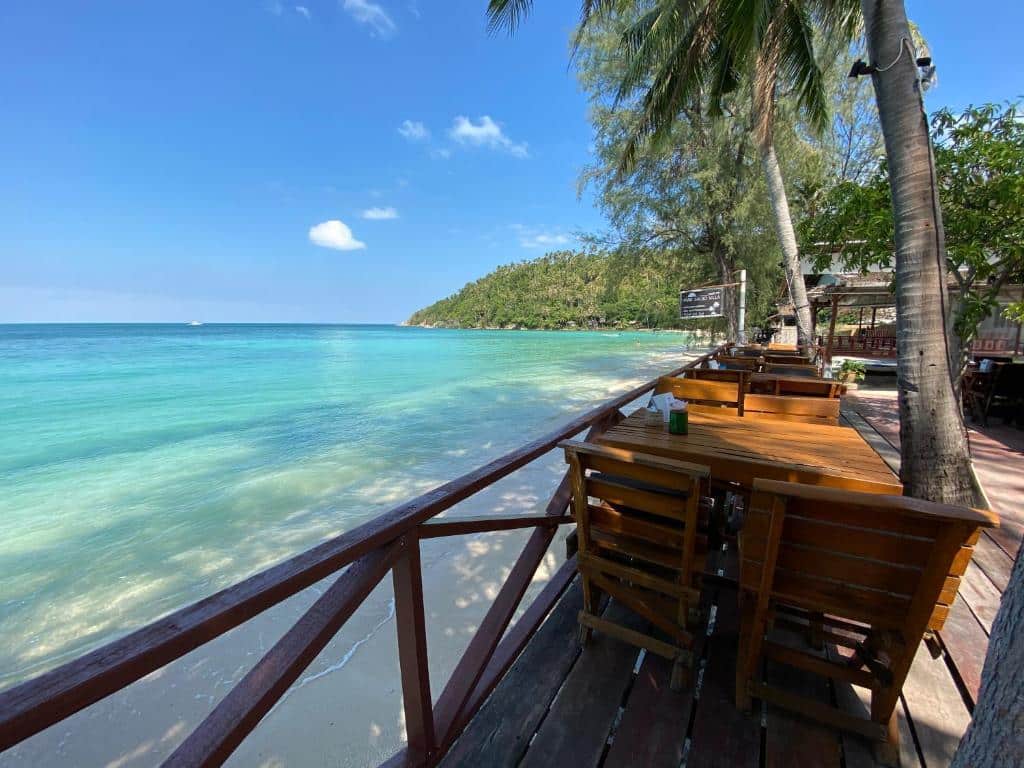 7. Mae Haad
If you're looking for somewhere to stay on Koh Phangan that is a little more opulent than the rest of the island, Mae Haad is the place to go. You have a selection of a few resorts, and the majority of them offer stunning beach views.
Even though there are a few budget accommodations nearby, this beach doesn't have the same backpacker atmosphere as other parts of Koh Phangan. A much more relaxed and opulent atmosphere prevails.
Mae Haad's beaches are purer and more undeveloped than those in other places because it isn't a popular tourist destination. Mae Haad is a peaceful, lovely location that's perfect for unwinding.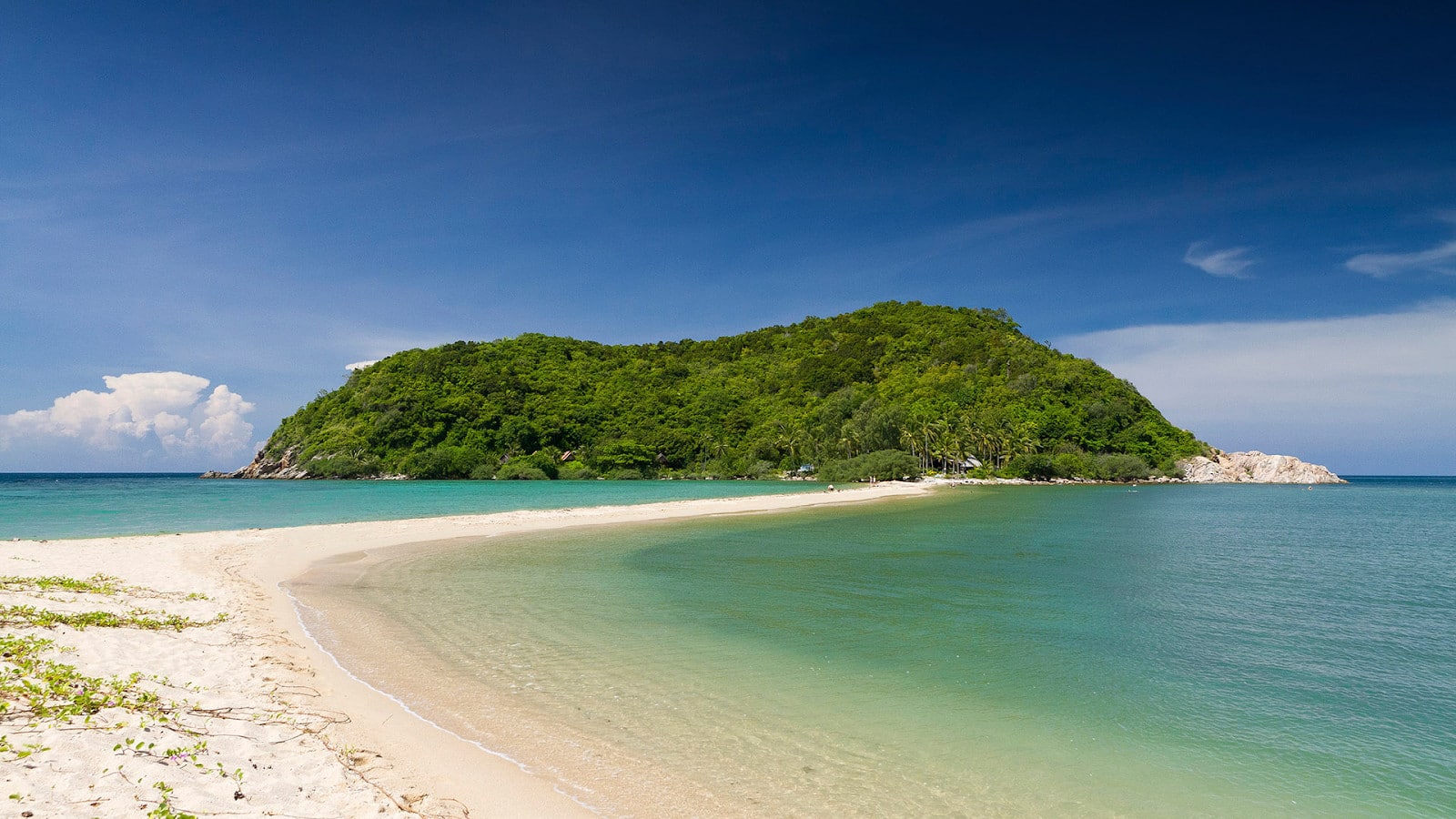 8. Chalok Lam
Chalok Lam might be the location you're looking for if you're wondering where to stay in Koh Phangan to experience the island's best natural beauty. When you picture the islands, this is what comes to mind.
A three-kilometer shoreline spans along Chalok Lam, and you can walk it from beginning to end. A great area to take in the environment is in the distance, where gorgeous mountains protrude up.
This charming little town was once a fishing community, and you can still see traces of that way of life here. Wat Pra Sanctum is an operational temple where you may experience some authentic Thai culture.
Also nearby is an elephant camp that practices compassionate treatment of the animals. Visitors will get the opportunity to observe these gentle giants up close, which is an intriguing change from the usual island activities.
Additionally, there are numerous local outdoor dining alternatives and affordable lodging options. Both luxury and backpacker guests will like Chalok Lam as a terrific place to stay.
The one restriction is that this location is unquestionably not a party town, so those seeking a little more excitement may wish to explore other parts of the island.
Chalok Lam is a peaceful and picturesque town that is one of the best places to stay in Koh Phangan if you want to unwind and experience some local culture.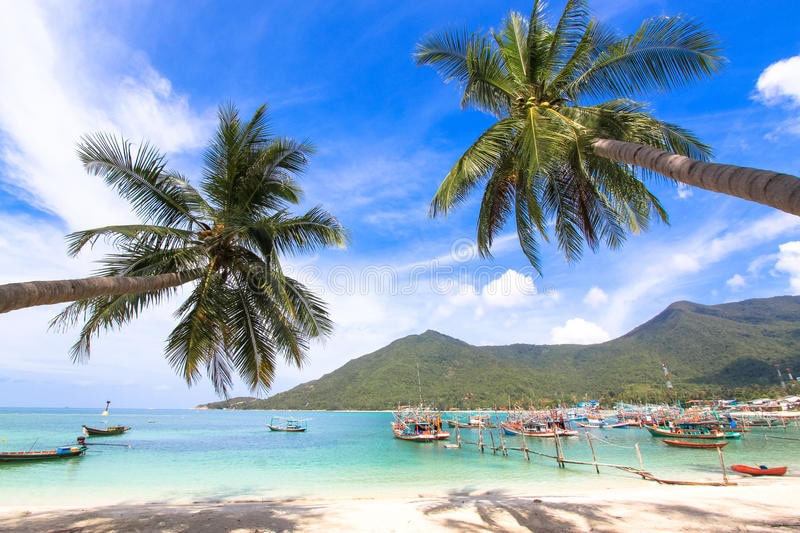 9. Bottle Beach
Bottle Beach might not be the first place that comes to mind when considering where to stay in Koh Phangan. It's a little challenging to get here because of how far away it is. But those who have arrived safely at gorgeous Bottle Beach say the trip was completely worthwhile!
Bottle Beach can be reached by water taxi, motorcycle, or hike from Koh Phangan's northernmost point. The dock can get you there quickly, but when you get there, remember to haggle over the cost of your taxi.
Avoid riding scooters on narrow mountain roads if you're not comfortable with them.
A few resorts and more modestly priced bungalows are available at Bottle Beach. Foodies will adore Bottle Beach since there are so many delicious traditional Thai foods to taste, including rice, curry, and shrimp.
Bottle Beach is not for you if you're seeking nightlife. However, if you want to enjoy a drink while watching the sunset, head to one of the resort bars in this stunning corner of heaven.
At Bottle Beach, relax with a tropical favorite while you watch the sun go below the horizon. In this breathtaking Thai paradise, relaxation is the name of the game!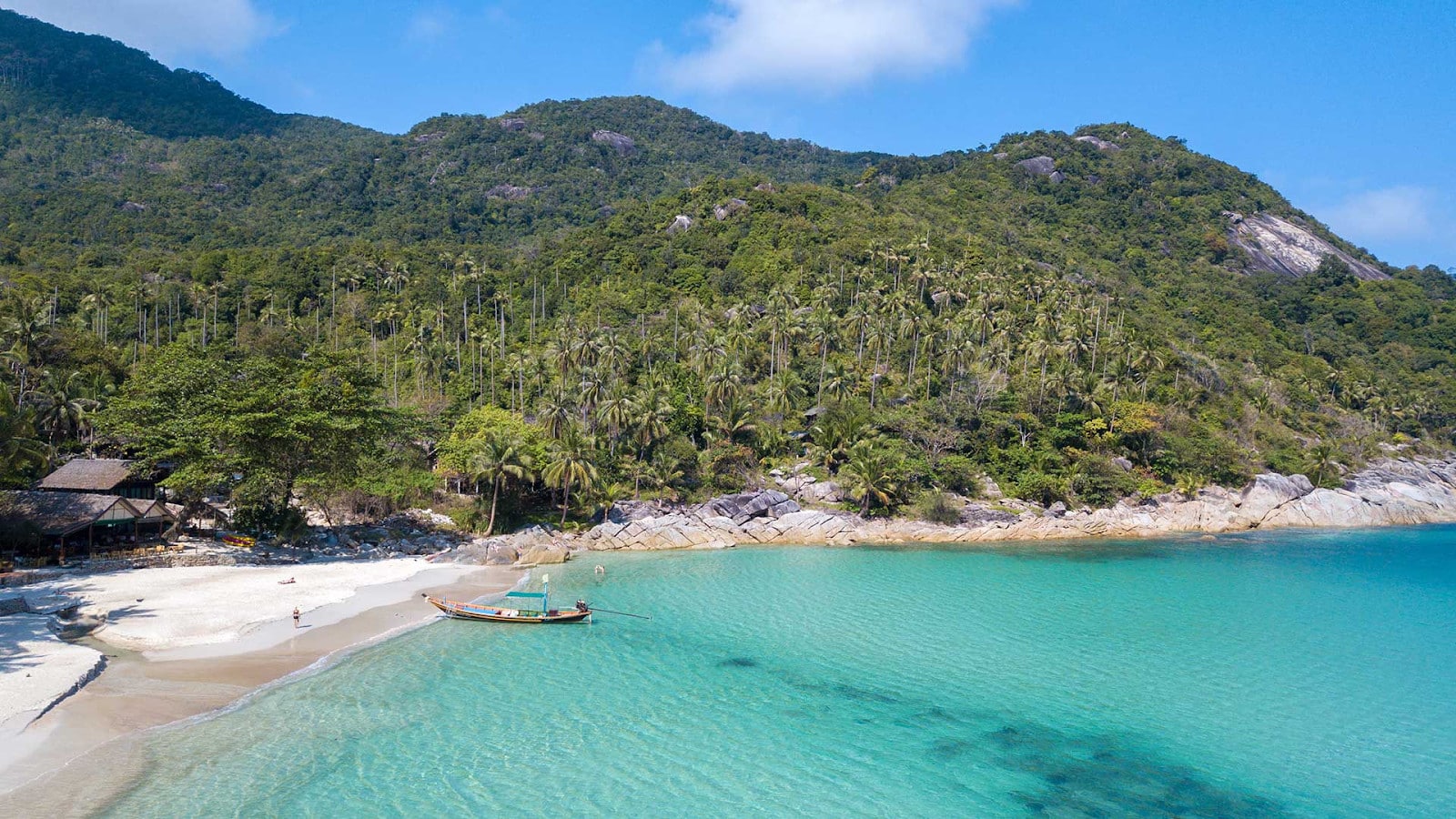 10. Thongs Nai Pan
In Koh Phangan, Thong Nai Pan is among the best places to stay if you want to experience the island's spectacular natural beauty and fauna. This area of Koh Phangan is covered in enormous lizards.
Do not be concerned; unless provoked, they will not harm you. They merely want to take in the beach as much as you do.
While living in Thong Nai Pan, you'll also discover that waterfalls are not far away. The views from the summit make the climb worthwhile because jungle waterfalls are among the most beautiful sights in the world.
In this region of the island, you may also practice yoga on the sand and get a soothing massage. It's far from the loud club music and wild parties of other places and better suited to leisurely exploration.
There are lots of establishments nearby, although they tend to be quiet and a little more upscale. Thong Nai Pan offers the best of all worlds: a great location to unwind, explore, and have an exciting adventure!
Accommodation costs here may be a little higher than what backpackers are used to spending. There are many hotels and bungalows in Thong Nai Pan, all of which are more expensive than the hostels in other parts of the island.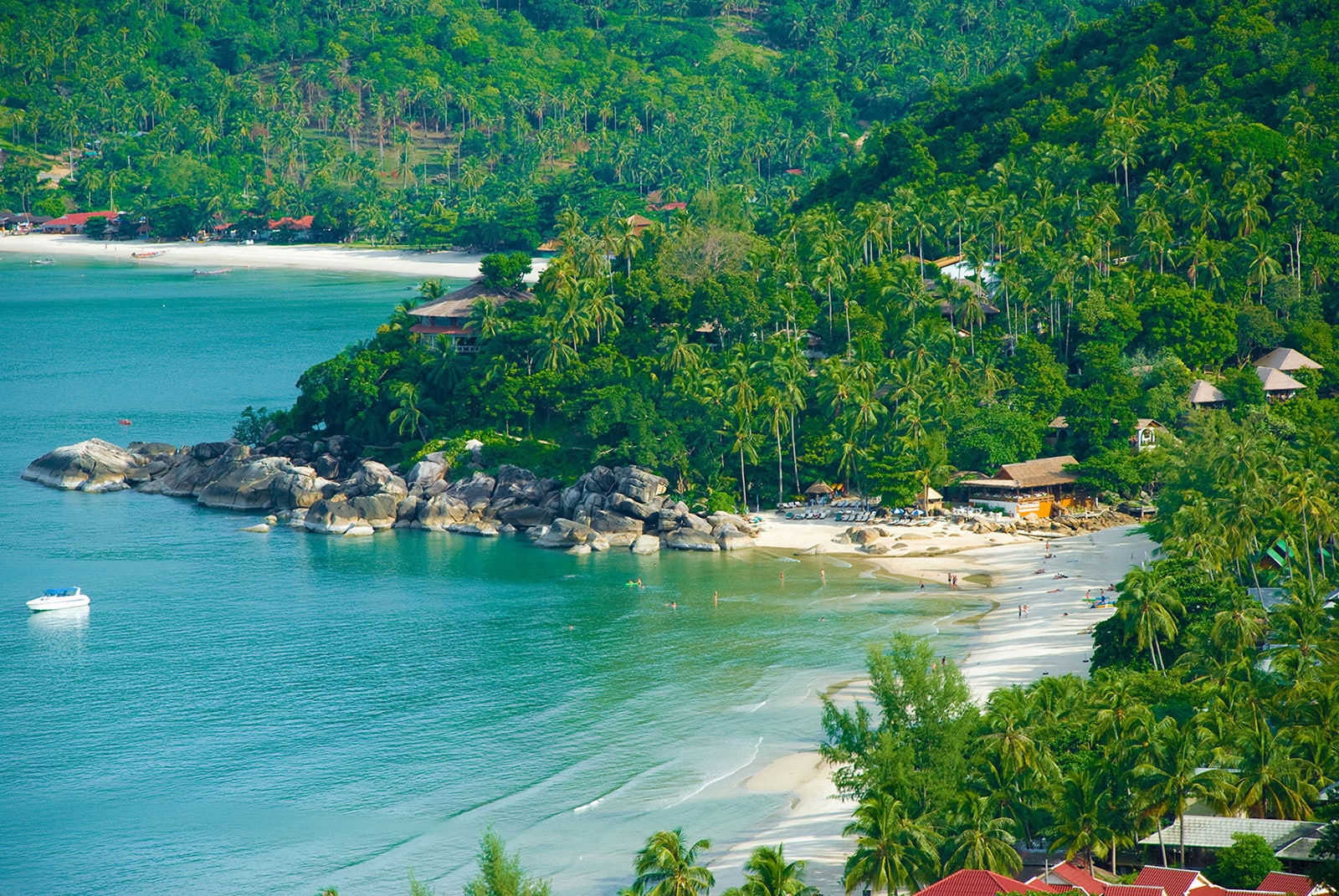 Wrapping Up
Thousands of tourists flock the Koh Phangan island each month to attend the parties. The accommodations had to be scaled back to meet the new demand because these gatherings have grown to epic dimensions.
Travelers can expect to encounter distinctive landscapes and a drastically diverse experience in every direction on the island.
Vacationers who want seclusion stay at hotels and resorts where the lodging becomes the goal in and of itself.
The ability to roll onto the beach just outside your front door is still available without costing an arm and a leg.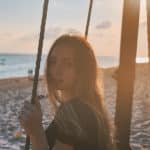 Noah Zaidi is an ardent traveler who has been documenting her Thailand exploration through Thailand Nomads. Her aim is to inform and educate people around the world about the must-visit places in Thailand.