Discover a refreshing oasis in the city with our guide to the best public parks and gardens in Chiang Mai, where lush greenery, serene lakes, and tranquil paths provide the perfect retreat from the hustle and bustle of this captivating Northern Thai destination.
5 Best Public Parks and Gardens in Chiang Mai – [2023 Guide]
1. Nong Buak Haad Park
It is the most famous park in Chiang Mai, and rightfully so! The Nong Buak Haad Park is situated on the southwestern side of Chiang Mai.
It has an absolutely stunning setting where you can just sit back and relax and let the beauty of Chiang run over you!
Every corner of the garden has fine details that have been in pure artistic fashion, with various seasonal flower displays, food stalls, lawned areas, and water features.
Whether you wish to enjoy a picnic with your family, try out the yoga asanas, jog, play or just sit back and relax, it is the perfect place!
Location: Arak Rd, Tambon Phra Sing, Amphoe Mueang Chiang Mai, Chang Wat Chiang Mai 50200, Thailand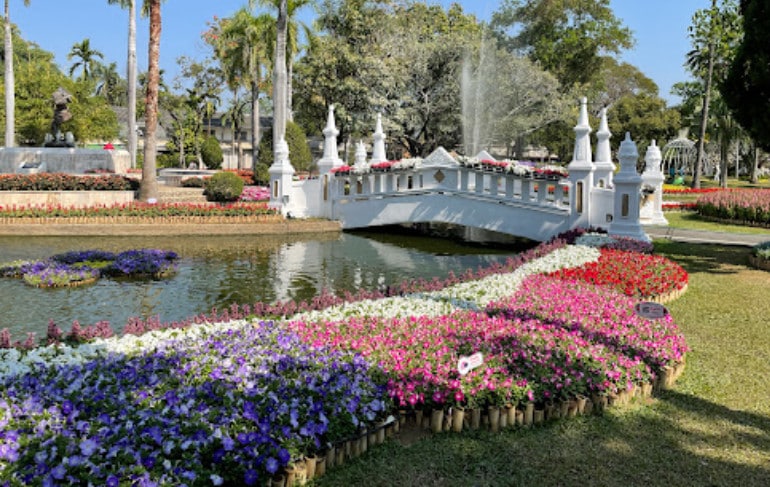 2. Royal Park Rajapruek
The Royal Park is one of the best parks that is very popular public garden situated about 10 kilometres southwest of Chiang Mai.
It is nestled in a lush green and picturesque landscape setting that adds to its charm.
The park has stunning architecture with fine details that are certain to hook you. It was host to the Royal Flora Expo in 2006 and, since then, it has been duly taken care of.
Besides being a place of recreation, it is also a centre for research and learning.
The main attractions of the park are the Royal Pavilion, orchid pavilion, flora glasshouse, shaded paradise, rose paradise and bug world.
Since the entire garden is set up in a huge area, it is impossible to reach everywhere on foot.
You can take the shuttle tram or rent a bicycle to explore the place.
Location: Nong Kwai, Amphoe Mueang Chiang Mai, Chang Wat Chiang Mai 50100, Thailand
Entry Fee: Adults - THB 200, Children - THB 150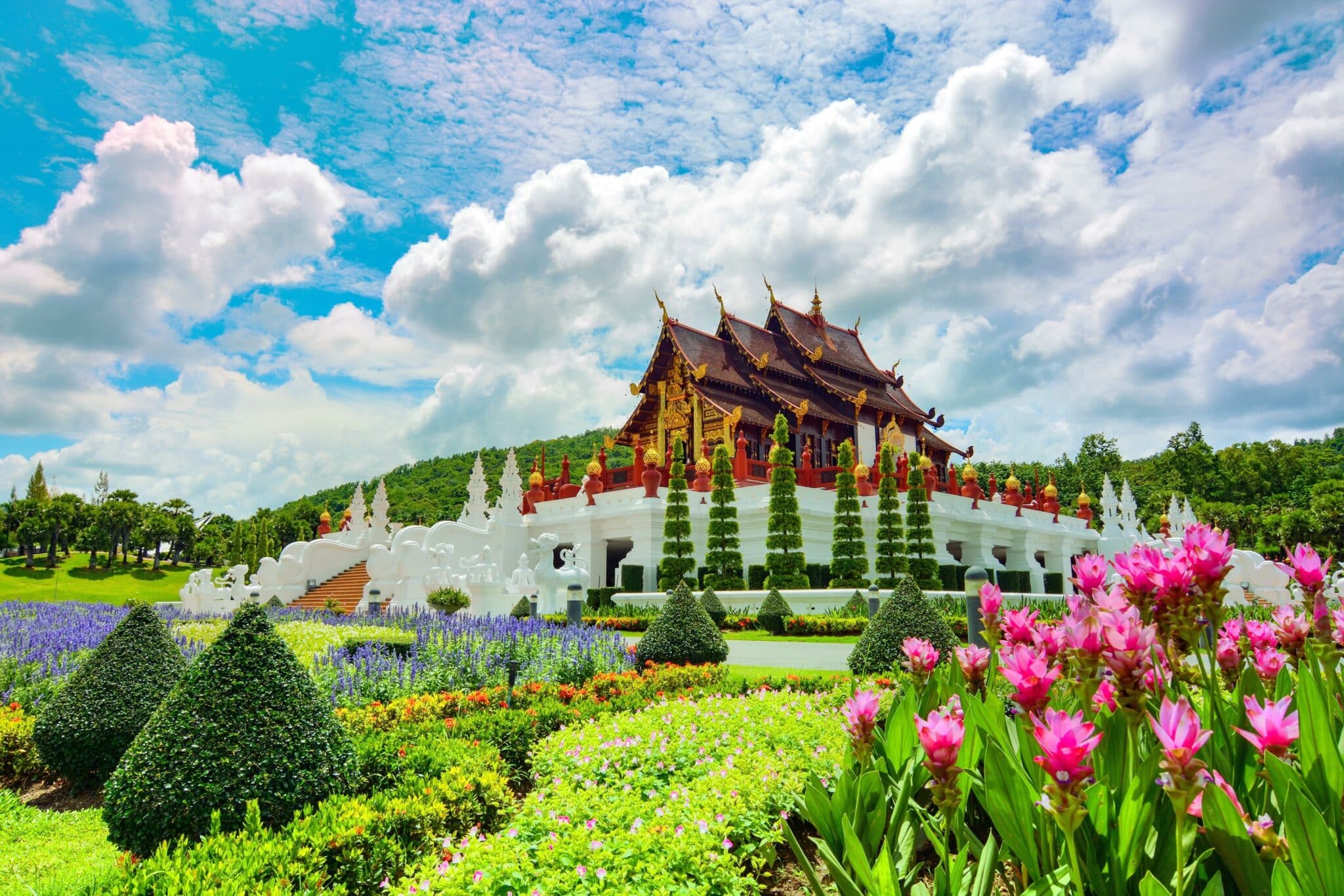 3. Huay Kaew Arboretum
It is not a typical garden or park but an Arboretum. An Arboretum is "distinct from a forest, nursery or park; it is, in a sense, an outdoor museum of trees.
It is where wide varieties of trees are grown for research, educational, and ornamental purposes; trees and shrubs are cultivated for exhibition."
It is a lesser-known treasure of Chiang Mai that offers some fantastic views in the lap of nature.
You can find an overwhelming variety of birds here, including Asian Barred Owlet, White-breasted Waterhen, and Greater R-T Drongo.
Address: RW6X+4QF Huay Kaew Road Tambon Su Thep, Mueang Chiang Mai District, Chiang Mai 50200, Thailand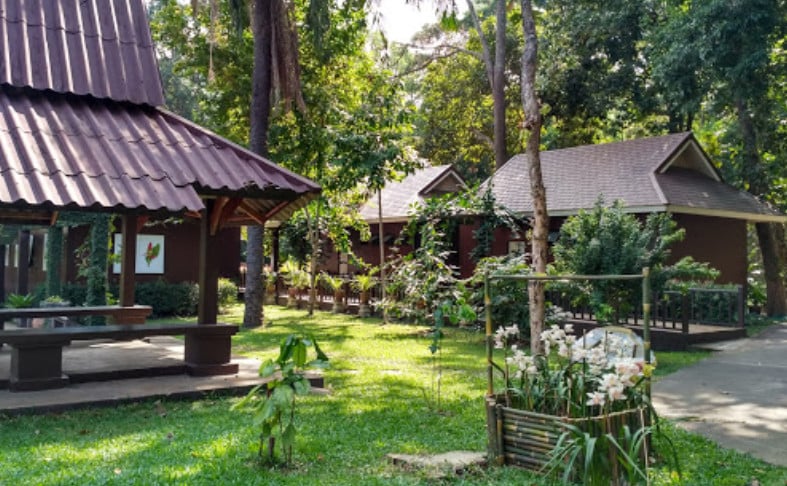 4. Jubilee Public Park
Jubilee Public Park Chiang Mai is a lesser-known park, mostly known to joggers and runners. The park has a running trail of half a kilometer, surrounded by trees.
Here you will also find a small artificial lake where you can sit back and relax.
Address: Q23M+93C, Tambon Tha Sala, Mueang Chiang Mai District, Chiang Mai 50140, Thailand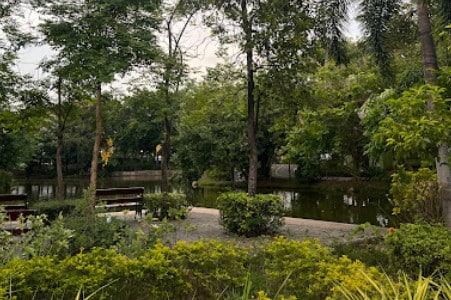 5. Rama IX (Rama 9) Lanna Public Park
This is the largest park in Chiang Mai. Here at Lanna park, you can find a beautiful lake that runs through the center of the park.
The lake is surrounded by walking/running paths that are covered by shade trees.
Here you can find plenty of thick grass where you can have a family picnic under the shade of canopy trees.
The park also features a croquette course and a football pitch at the west end.
The paths are suitable for jogging. In addition to that, there are some outdoor exercise machines as well.
Address: RXCH+773, Chang Phueak, Mueang Chiang Mai District, Chiang Mai 50300, Thailand
Entrance fee: free
So, now that you have the list ready, don't forget to pay a visit. Write to us and let us know how did you like the parks in Chiang Mai.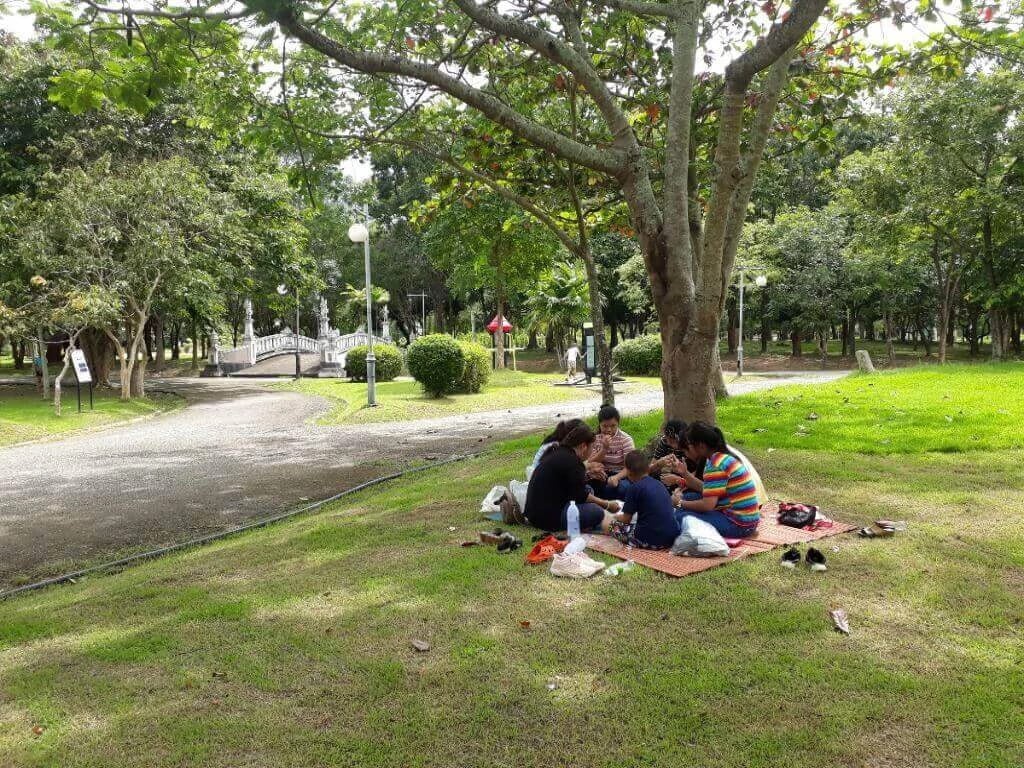 Founder - Thailand Nomads
Jordan started Thailand Nomads primarily for sharing his experience of exploring Thailand for several years. The objective is to help tourists especially digital nomads plan their travel itinerary when visiting Thailand.
Email: jordan@thailandnomads.com