A fantastic way to spend quality time in Phuket is to stay in one of the amazing pool villas overlooking the Andaman Sea. Private pool villas in Phuket offer the luxury of having your own pool, creating a relaxing and exclusive vacation experience. These villas are extremely well-kept and roomy, providing guests with a comfortable and spacious retreat during their stay in Phuket. The pool is a fantastic feature of these private pool villas, where guests can cool off and unwind in complete privacy.
Although the pool villas are slightly expensive compared to other accommodations, the experience will be worth every penny.
Indulge in luxury and seclusion at one of the Top Private Pool Villas in Phuket, offering a personalized and exclusive experience with stunning views and unparalleled amenities.
17 Private Pool Villas in Phuket – 2023 Review
1. Village Coconut Island Beach Resort
The Village Coconut resort is conveniently located on the Phang Nga Bayfront, just minutes from mainland Phuket. It was initially discovered by shipwrecked explorers hundreds of years ago.
Even after so many years, the resort still retains its sense of mystery and adventure. The decor, furniture, and other elements reflect the original essence of the place.
There are three different kinds of stay options to cater to different needs.
Jacuzzi suites, Grand Villas, and Pool Villas are all designed to offer an exquisite getaway experience to couples, families, friend groups, and solo travelers.
All the stay options encapsulate the privacy and luxury that have come to define The Village. There is a selection of high-end restaurants and bars for your gastronomical needs.
Besides, there are numerous fun activities, including Mountain Biking, Sailing, Kayaking, Thai cooking courses, Spa treatments, and boat trips that you can partake in.
It is a perfect blend of luxury, tranquillity, and adventure.
Other amenities here include outdoor pools, a kitchenette, a flat-screen TV, and a private garden.
Location: 51/7 Moo 6, T.Koh Kaew, A Muang, Phuket 83200 Thailand
Phone: +66 (0) 76 352 148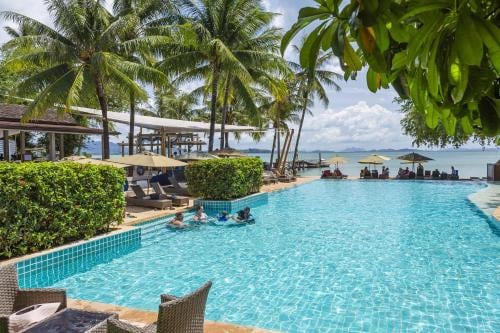 2. The Pavilions
Perched dramatically atop one of Phuket's highest points, Pavilions is one of the best adults-only resorts in Phuket, featuring private pools, patios and sundecks.
It is a part of the famous pavilion hotel chain that has branches in over 16 countries on two continents, i.e., Asia and Europe.
With beach vistas, each villa in Pavillion is curated for world-class experiences. There are both three-bedroom and four-bedroom villas and also penthouses available for guests.
You can also book upgraded villas and dual-storied bungalows with steam rooms, whirlpools, and balconies.
To treat your tastebuds, there are three award-winning restaurants and bars here that serve exceptional gourmet cuisine. There's also a Colonial restaurant-cum-bar here that you must definitely try.
The resort also features state-of-the-art amenities, including a spa and wellness center, a lap pool, and a fully-equipped fitness center.
The villas' spaciousness makes for a peaceful environment, creating a quiet sense that time is standing still.
Location: 31/1 Moo 6 Cherngtalay Thalang Phuket 83110, Thailand
Phone: +66 (0) 7631 7600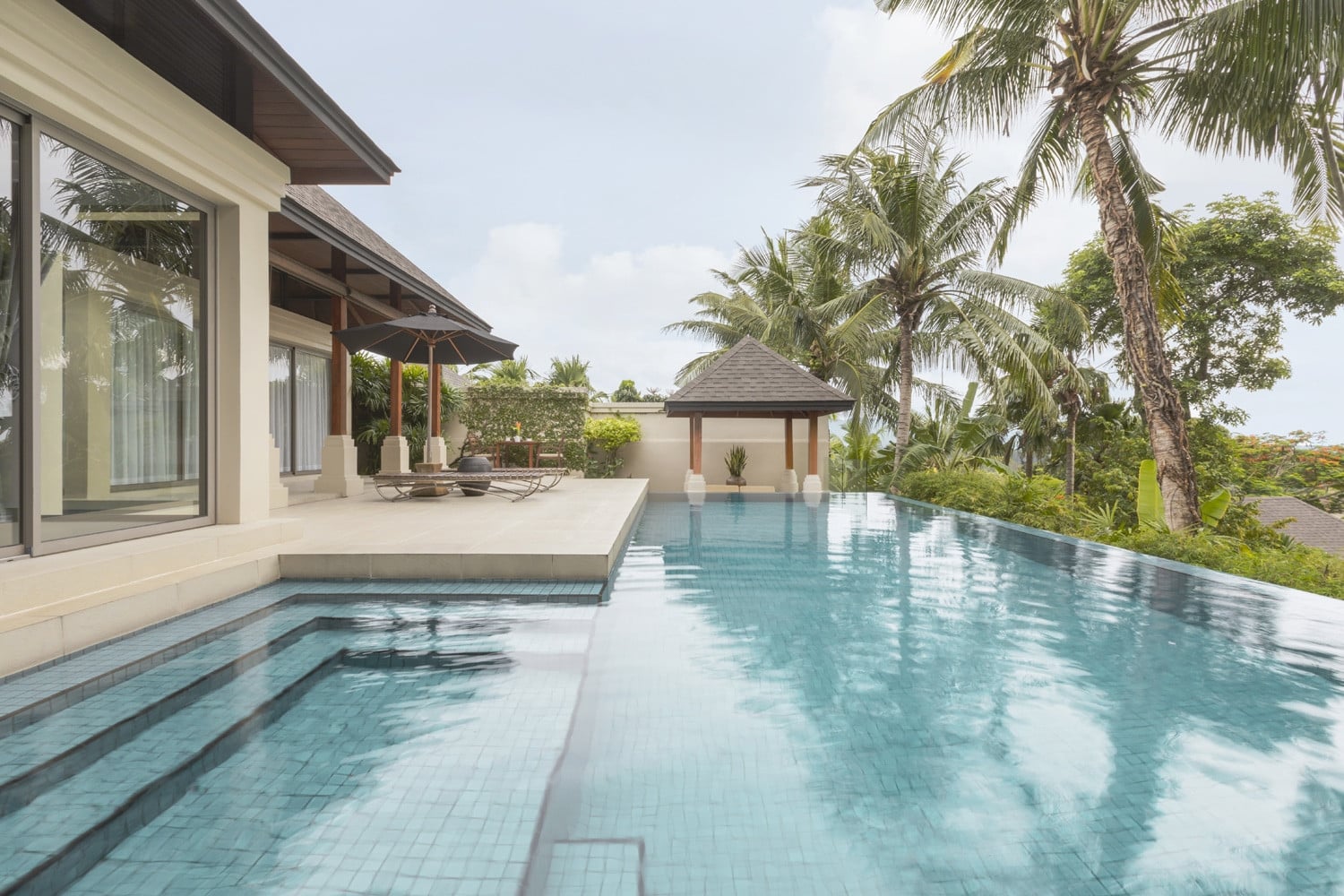 3. Sea Host Inn
As the name suggests, this villa is inspired by the ocean theme and is adorned with décor and furnishings that will make you feel like you're surrounded by the sea.
The villa features splendid views of the city, the gardens, and the mountains, which offer an extraordinary respite from mundane life.
It offers a host of amenities for comfortable accommodation and a serene experience. The villa is just 5 minutes from the beach, so you can go there walking as and when you like.
There are a total of 18 air-conditioned rooms featuring minibars and LED televisions.
Additional amenities here include an outdoor pool, computer station, dry cleaning/laundry services, wireless internet access, luggage storage, and tour/ticket assistance.
The resort also offers a roundtrip airport shuttle for a surcharge. This facility is available round the clock and you have free self-parking available onsite.
Location: 214/4 Patak Road, Baan Karon, Maung, Phuket, 83100 Karon Beach, Thailand
Phone: +66 81 415 5544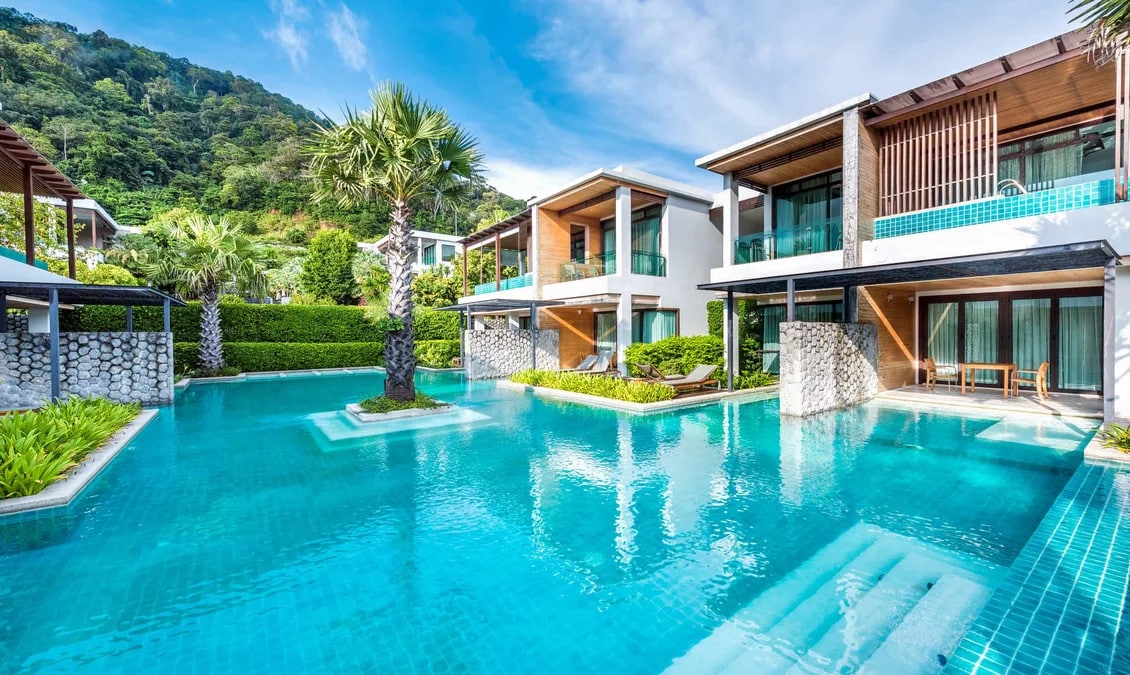 4. Villa Platinum
Villa Platinum offers affordable luxury for travelers who are on a budget. The property is located in Rawai. The central location provides easy and fast connectivity to the major transit points of the city.
Some popular transit points from the villa are Rawai Beach Bus Stand, Minibus station, Yanui Beach, Kratom Beach, and Kata Bus Stand.
The Villa is in proximity to some popular tourist attractions and other places of interest in Phuket.
Here you get a smooth check-in/check-out process, flexible policies, friendly management, and great customer satisfaction.
The Villa has a standard Check-In time of 03:00 PM and a Check-Out time of 12:00 PM.
Each villa boasts an outdoor pool and a fully furnished kitchen to ensure a comfortable stay for the guests.
Location: Villa 10A, 10B 76/131 Moo 2, Viset Road, Rawai beach, 83150 Rawai Beach, Thailand
Phone: +66 98 059 1853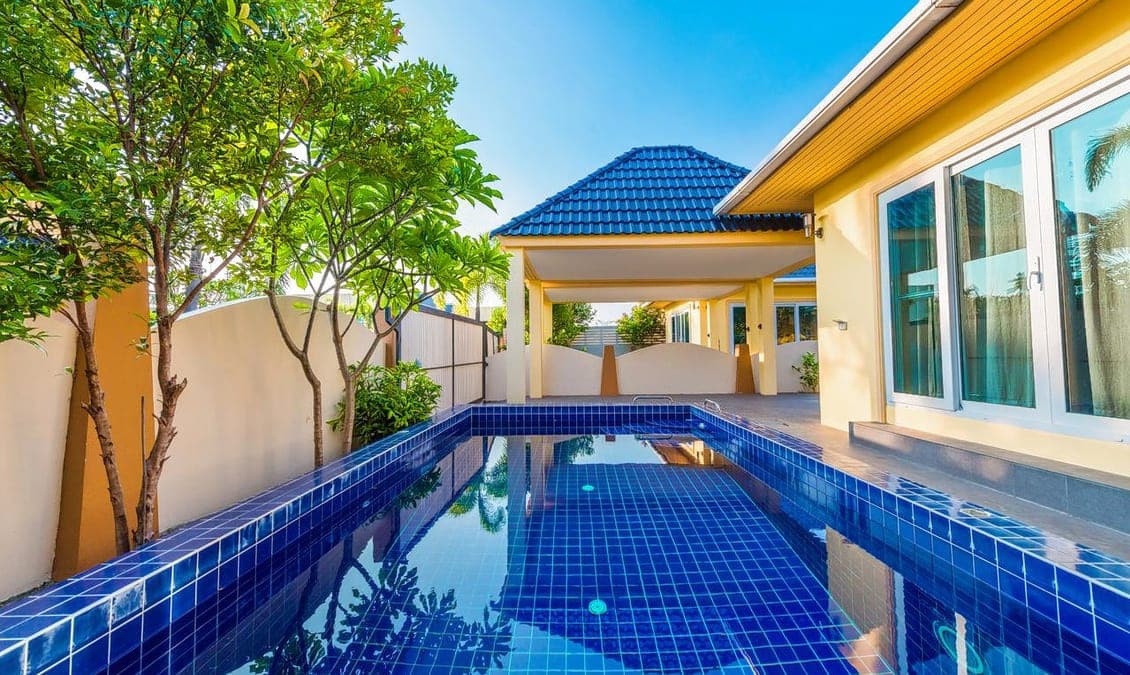 5. Six Senses Yao Nai
This resort is perfect for a peaceful getaway in Phuket. Six senses are splendidly spread across 24 acres of land in the laps of nature.
This quiet retreat, away from the hush bush of the city, offers luxurious comfort and unparalleled tranquility as it overlooks Phang Nga Bay.
To ensure a comfortable stay for the guests, it has spacious living areas, sun loungers, attached bathrooms, and a dedicated dining area.
A distinguishing feature of these villas is the rejuvenating body treatment sessions offered here. The stay options include single bedrooms, multiple bedrooms, and an extraordinary Villa.
You can choose from the dramatic bay or romantic forest views."Stilted and thatched" sets the mood for all-pool villas and suites that perch like plush tree houses within tropical greenery.
Other amenities here include free Wi-Fi, an airport shuttle, a Bar, a Spa, and wellness center, and outdoor movie screenings.
Location: 56 Moo 5, Tambol Koh Yao Noi, 82160 Ko Yao Noi, Thailand
Phone: +66 76 418 500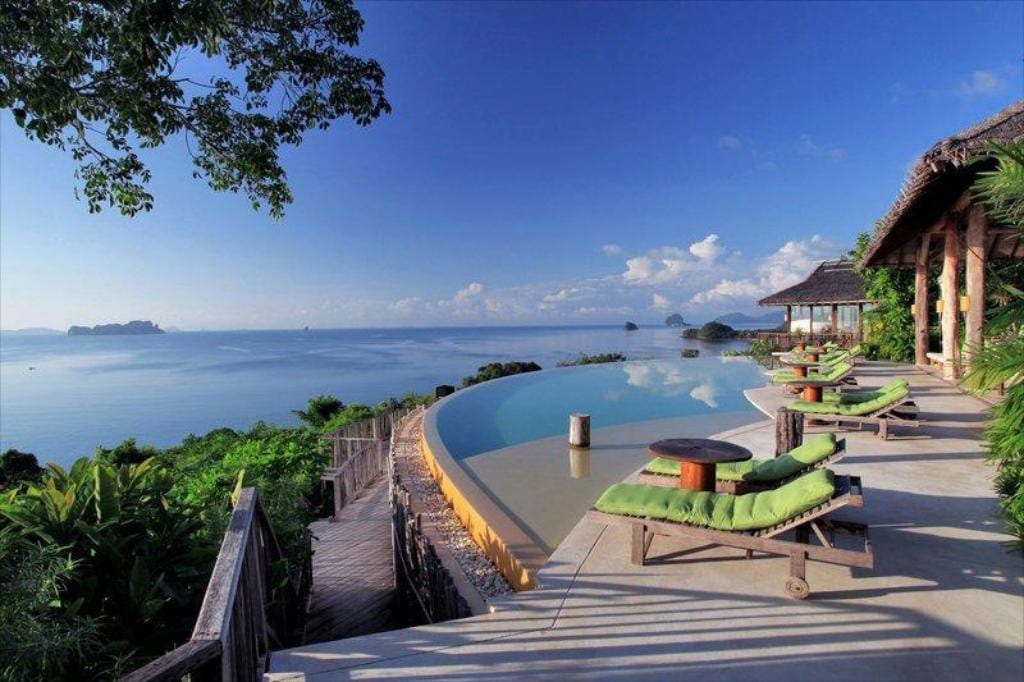 6. Sri Panwa Phuket Luxury Pool Villa
Sri Panwa is an oasis of calm and luxury set in one of the finest locations in Phuket.
It is one of the top properties in Thailand, perched high on Cape Panwa and commanding breathtaking views of the Southeastern tip of Phuket.
It is a family-owned and managed estate and the first resort in Phuket by the Charn Issara Group, one of Thailand's most established developers.
The villa is spread across 40 acres of land, surrounded by tropical rainforests. The Villas here overlook the Andaman Sea.
Each villa has a minibar, private pool, air-conditioned rooms, flat-screen TVs, and an attached bathroom.
Additional amenities include a tennis court, fitness center, free kayak rides, and much more.
If you visit here anytime, do not forget to try their traditional Thai massage experience.
Some villas at Sri Panwa boast full and uninterrupted 300-degree ocean views. The interiors reflect tropical Contemporary designs with signature terra cotta exteriors.
The fine bed linens, customized toiletries, gourmet mini-bars, and traditional handcrafted furnishings make it feel like a home away from home.
All the villas have top-quality surround sound entertainment systems and iPods preloaded with music to suit any vibe.
Location: 88 Moo 8, Sakdidej Road, Tumbon Vichit, Muang, 83000 Panwa Beach, Thailand
Phone: +66 76 371 000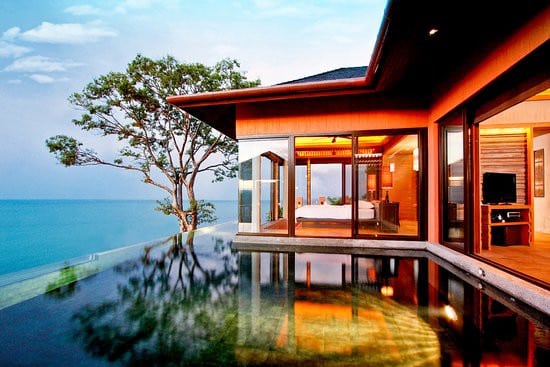 7. Villa Padma Phuket
Villa Padma is one of the finest collections of luxury villa rentals in Phuket. It offers beautiful west-facing panoramic views toward the island's foothills.
The villa is a perfect tranquil escape with luxurious appointments to enchant and mesmerize every guest. It features four spacious bedrooms positioned privately amongst unique living areas that offer exclusive amenities and luxuries.
The entire space is embellished with hand-carved traditional Thai friezes, sculptures, and contemporary chic and appealing artwork.
Each bedroom has a dedicated work desk with various international sockets and high-speed internet. The bathrooms have vast rain showerheads and beautiful Terrazzo soaking tubs.
There is a specialized Yamaha iPod dock placed in every room. Western and Thai Restaurants are also located in the estate overlooking Phang Nga Bay.
Address: The Cape Residences, Cape Yamu 222 Moo 7, Thalang, Paklok, Phuket 83100, Thailand
Phone: +852 8120 8488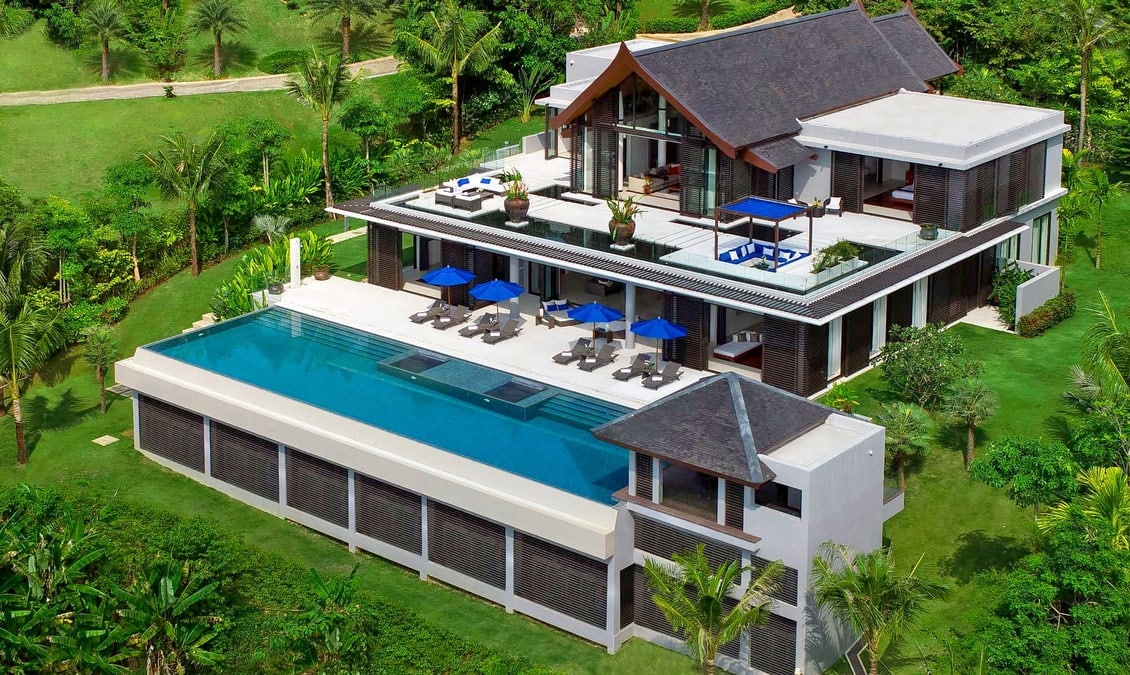 8. Ananta Thai Pool Villa
The Ananta Thai Pool Villa is conveniently located at a 5-minutI which is rare in other luxury pool villas in Phuket.
The villas represent the pinnacle and elegance of residential architecture of the Central Plain of Thailand and offer between 50 and 98 square meters of combined living space.
Each Villa offers a garden, courtyard plunge pool, main swimming pool, or mountain view.
Some Villas feature a covered, open-air living room on the ground level decorated with objet d'arts and antiques from our Owner's Private Collection.
Address: 34/70 Soi King Pattana 4, Saiyuan Rd, Moo 4, Rawai Sub-District, Mueang District, Phuket 83130 THAILAND
Phone: +66 76 540 514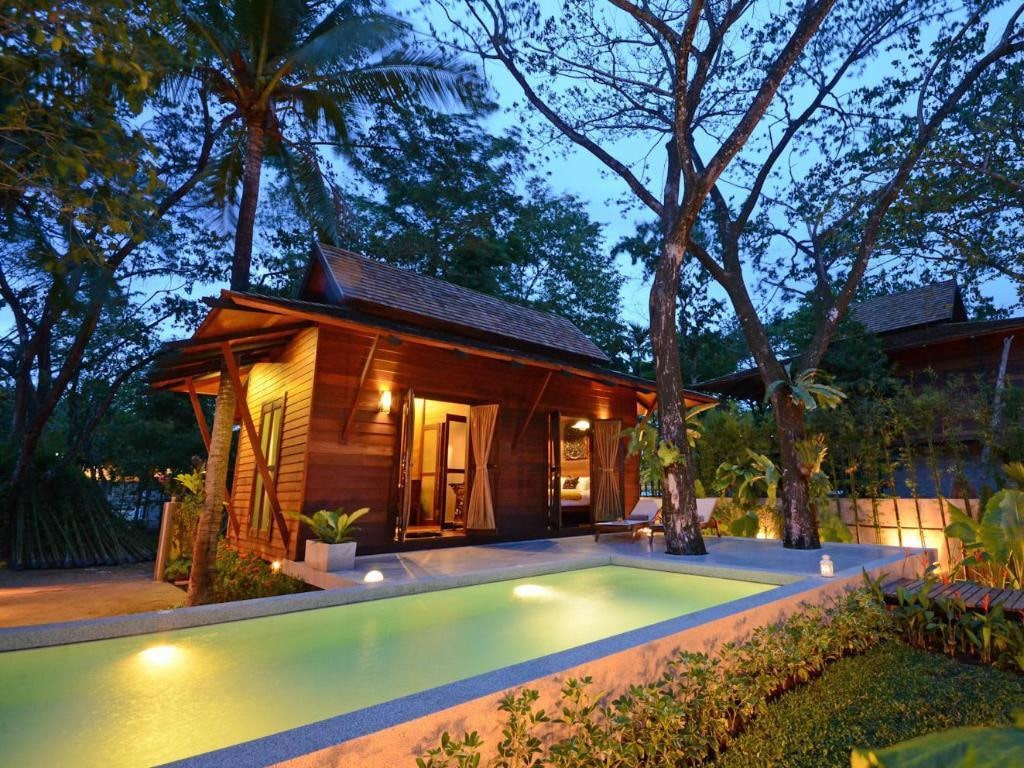 9. Two Villas Holiday Phuket
Located 5 minutes from Nai Harn and Rawai beach, this 4-star property is one of the popular Private Pool villas in Phuket.
It features spacious villas with a kitchen, a private swimming pool, and an endless array of perks to complement your stay.
Surrounded by lush green gardens and decorated with traditional Thai décor, you can avail the benefit of a number of amenities to suit your comfort.
The property exudes the charm and grace for which the Thai style is renowned. It has a stunning architectural design, evoking a sense of peace and serenity.
There are three types of stay options available here- single-bedroom villa, single bedroom with a private pool, and double bedroom with a private pool.
Location: 136/275 Moo4, Soi Pattana Saiyuan-Kata Road, Rawai, Muang, Phuket 83130, Thailand
Phone: +66 76 613 080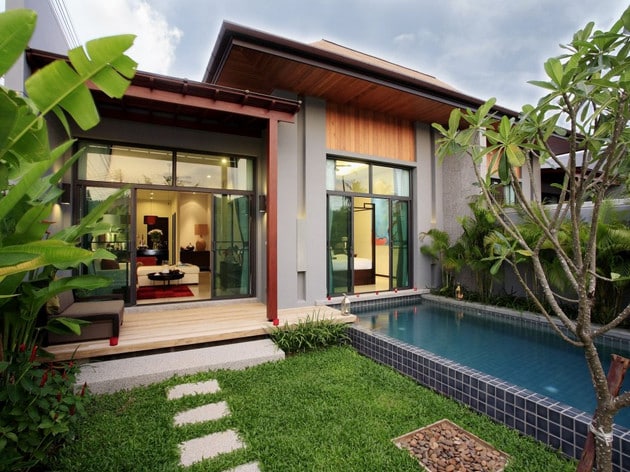 10. Kiri Villas Phuket
Kiri Villas in Phuket features traditional Thai decor and is equipped with the most contemporary amenities.
All room types offer an abundance of private space and a serene atmosphere, perfect for a relaxing holiday.
The different stay options here are 2-bedroom Villa, 1-bedroom Villa Canal, 2-bedroom Villa Canal, and a 1-bedroom red suite villa.
All these accommodations have private swimming pool villas, open-air outdoor showers and private gardens, a private sunbathing deck in all pool villas, flat screen LCD TV plus MP3 compatible DVD player, and satellite/cable television.
Other amenities include refrigerators, minibars, aircon, and wifi access throughout the villa.
Location: 232/1 Moo 6, Bandon-Ban Yai Road, Si Sunthon, Thalang District, Phuket 83110, Thailand
Phone: +66 82 420 4738
11. Naiharn Garden Villa
The Naiharn Garden Villa is conveniently set on Rawai Beach, 1.5 km from Nai Harn Beach and 2 km from Ao Sane Beach.
It offers luxurious and comfortable accommodation with free WiFi, air conditioning, and access to a garden with an outdoor swimming pool.
Each villa comes with a garden, and outdoor swimming pool; guests can choose from one, two, or three-bedroom villas.
It is among the top-rated villas in the Nai Harn beach area, with various renowned restaurants nearby to treat your taste buds.
Additional amenities here include free parking, room service, a bar, a sun terrace, barbeque, a patio, a garden, and more.
Location: Q8P8+GRG 4233 Rawai, Mueang Phuket District, Phuket 83100, Thailand
Phone: +66 76 388 902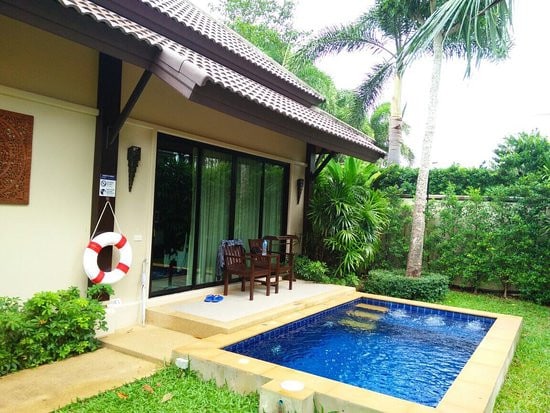 12. Wings Phuket Villa
Located near the popular Bang Tao Beach, the Wings Phuket Villa offers an exotic variety of facilities that will make your Thailand trip a truly memorable.
It features an outdoor pool, a fitness center, and free wifi throughout the property. There is also an on-site parking facility available here.
This four-star property is close to various popular attractions in Phuket, the famous Bangla road being one of them.
This Peranakan Style villa is ideal for couples or a small group of friends. The master bedroom with a king-size bed and luxurious en-suite bathroom opens out to a private garden.
The living and dining areas are open-plan and complete with a fully-equipped kitchen. There is an in-house small cafe here serves freshly brewed coffee and some bakery products.
Location: 68/80 Moo 4, Pasak Soi 8, Choeng Thale, Phuket 83110, Thailand
Phone: +66 76 613 080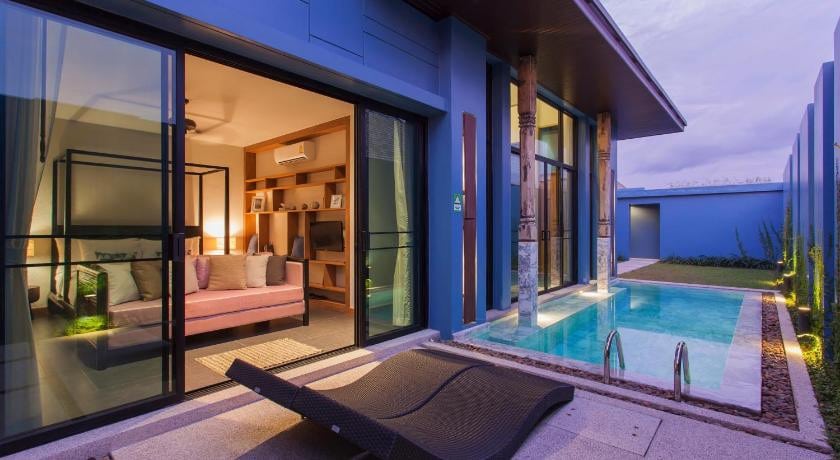 13. Jasmine Villa
If you are looking for a sophisticated and splendorous stay option in Phuket, Jasmine Villa would be the best option for you.
The villa is conveniently situated in the Chalong part of Phuket. It is very close to various popular attractions such as Tesco lotus, Chalong pier, Big Buddha, Phuket seashell, and interesting dining options.
It has four large en-suite bedrooms, a private pool, indoor and outdoor poolside seating, a modern kitchen with appliances, indoor dining areas, a comfortable lounge, and a private driveway with a gated entrance.
Villa Jasmine has four en-suite bedrooms. 3 x double bedrooms, and 1 x twin room (two single beds). The single beds can be pushed together to make a double bed if required.
The villa has a private chef to prepare Thai and Western meals as per your preferences. Breakfasts are complimentary here, with an option to choose from American, Western, and Thai cuisine.
Location: 10/1 Patak Soi 2, Kata, Phuket, 83100, Thailand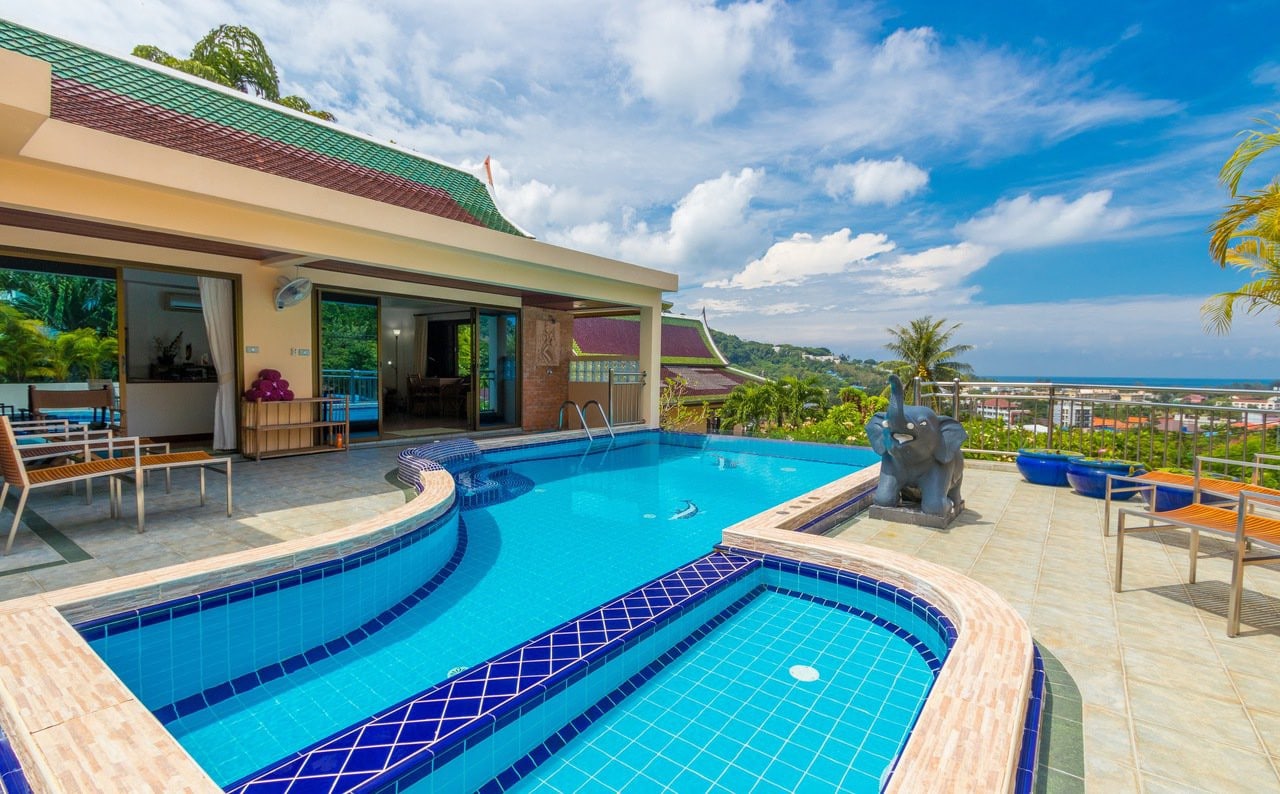 14. Coconut Grove Boutique Residence
Surrounded by lush greens, this place offers a mix of tranquility and modern amenities, which is sure to make your stay a memorable one in Phuket.
It is one of the most trending properties in the Nai Harn beach area suitable for couples, friends and family.
Each villa features a private kitchen, separate living room, plunge pool and private Zen stone garden perfect for your BBQ.
You get to enjoy the gracefully furnished fine Thai woodwork and plunge pool access from the bedroom.
In-villa comforts include a flat-screen TV, a Cable TV network and free Wi-Fi. We also provide concierge services, we can attend to business and travel needs.
All excursions, entertainment, yachting, and car and motorcycle rental can be arranged for you.
Each villa can accommodate 2 Adults and 1 child.
Location: 23/67 Soi Khokmakham, Rawai Sub-District, Muang District, Phuket 83130, Thailand.
Phone: +66 64 062 2242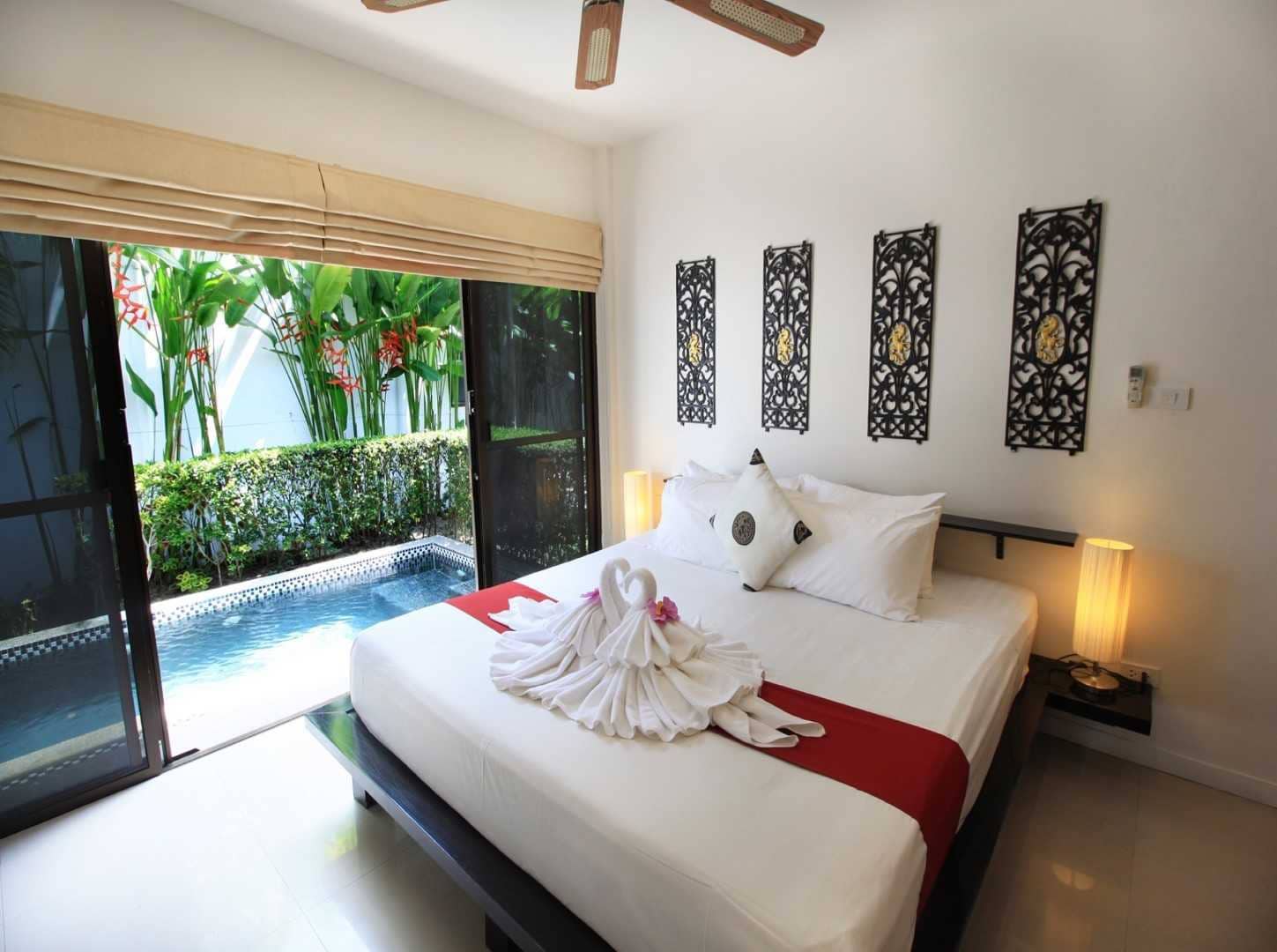 15. Villa Savarin
Villa Savarin is located in the popular district of Ban Pa Khlok. This accommodation features private pools, neat decor, a kitchen area, and sea-view villas.
You can also go for a relaxing sunbathing on the terrace. There are a total of 9 bedrooms here with attached washrooms and 1 common washroom. All the rooms are fully air conditioned.
Each room has a flat-screen television with DTH/Cable connection. There is a dedicated breakfast area which is very spacious and airy. Here you can enjoy your meals comfortably. Breakfast is complimentary in Villa Savarin.
Unwind at the villa's private spa or refresh in the 24-meter swimming pool! In order to ensure a fitness retreat for the guests on their trip, there is a gym facility and a beachfront yoga deck in the villa.
Savarin guests also enjoy access to Point Yamu through COMO resort facilities, including its private beach club on Naka Yai island, at a nominal fee.
Location: 222 33-34 Moo 7 Pa Klok, Thalang District, Phuket 83110, Thailand
Phone: +852 8120 8488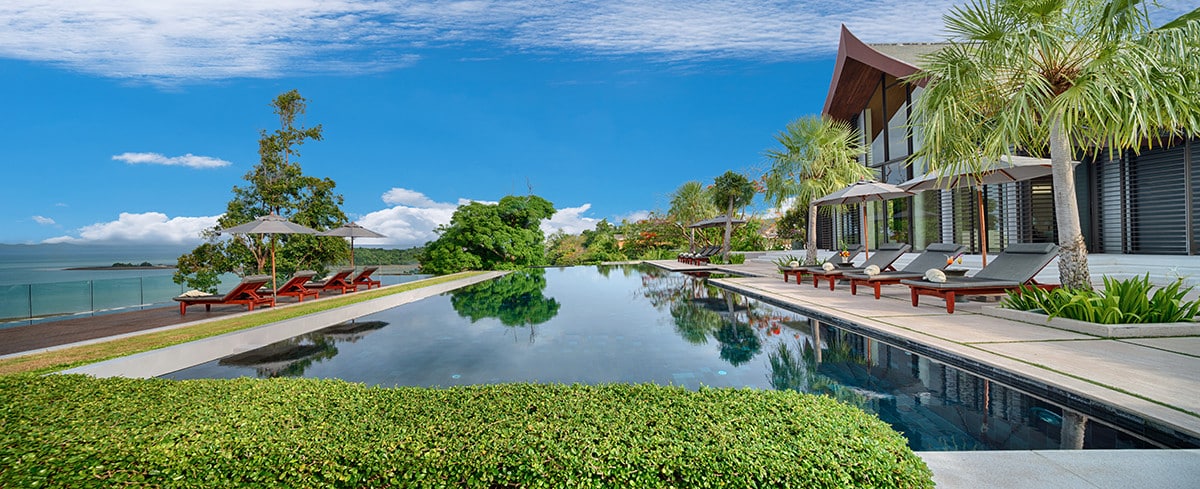 16. Villa White Elephants
Villa White Elephants is situated at a 5-minute drive from the beautiful Nai Harn Beach in southern Phuket.
It features 3 bedrooms with a private swimming pool and garden.
Three spacious bedrooms come with an en suite bathroom and a flat-screen TV. One of the bedrooms is detached from the main building.
There is a fully equipped kitchen with an oven and dining table here. Enjoy a memorable barbecue experience right near the pool.
Guests can also make use of a handmade pool table that was made in Saint Petersburg. For convenience, the villa's management team offers arrangements for airport transfers, car hire or a private chef.
Some popular attractions near the villa are at Phuket Shooting Range, Dino Park Mini Golf, and Chalong Pier.
Location: 24/72, MOO 1, Nai Harn beach, Tambon Rawai, 83100 Nai Harn Beach, Thailand
Phone: +66 86 023 8054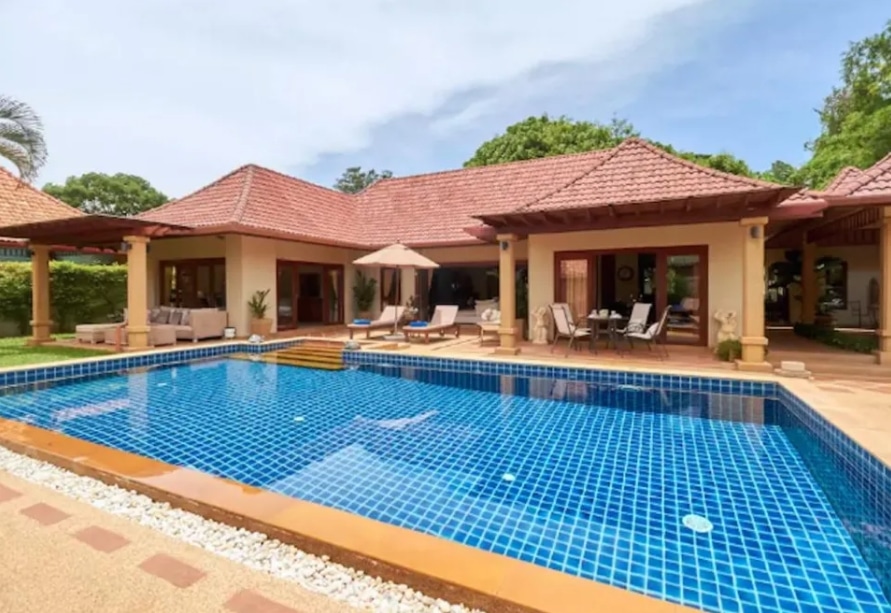 17. The Naka, Phuket
This pool villa raises the bar of Phuket's tourist industry with accommodations, facilities and services which are certain to exceed everyone's expectations.
The villa is in close proximity to the white sands of Patong Beach and boasts private balconies, with a unique design, outdoor pools and restaurants.
This pool villa resort is perfectly located at Yae beach. It is possibly the only resort on the island to offer two natural settings where an exclusive beach meets with an unspoiled hillside.
The entire villa is tastefully decorated with selected Thai-style decor. There are attached bathrooms with opulent designs, safety boxes, refrigerators and much more.
Location: 1/18, 1/20 Kamala, Kathu District, Phuket 83150, Thailand
Phone: +66 76 337 999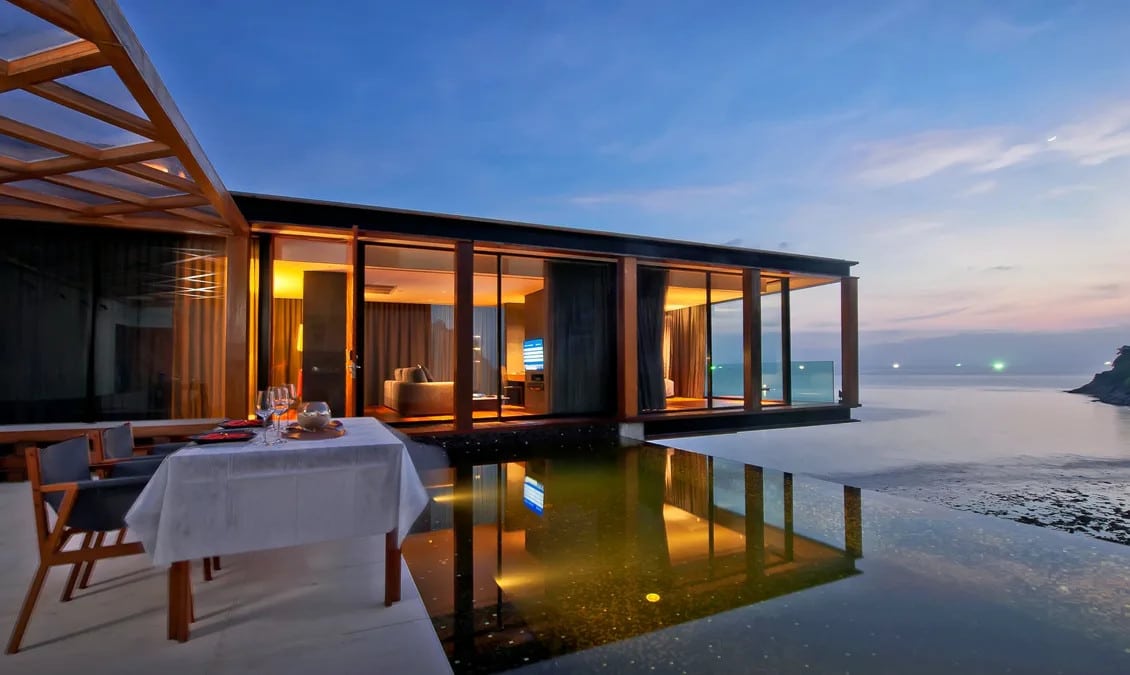 Wrapping Up
A pool villa is not just a room but a way of life. We highly recommend you try one of the above-mentioned pool villas for a memorable stay in Phuket.
Our personal favourite is Antara owing to its top-class services and reasonable pricing. However, we would love to hear about your experiences.
Do write to us and tell us how you liked your pool villa experience in Phuket. Don't forget to read about the best time to visit Phuket before you plan your trip.
Editor - Thailand Nomads
Cindy quit her 9 to 5 job to pursue her passion for exploring mesmerizing locations in Thailand. She has been living here for the past 5 years now and through Thailand Nomads, she shares her experiences and insights about the must-visit places in Thailand.
Email: cindy@thailandnomads.com