Krabi and Phuket are two treasures in the Asian paradise divided by Phang Nga Bay.
Most travelers often have these two outstanding southern Thailand resorts on their bucket lists, and for a good reason.
While Phuket is renowned in the travel industry as one of Thailand's top tourist destinations, Krabi is a relative newcomer to the vacation world.
However, its appeal has increased quickly. These two exotic locations have always kept tourists on their toes, as choosing between them is like deciding between brownies and pancakes!
Both places have the same geographical characteristics, a wealth of captivating activities, and magnificent tranquillity.
Delve into the distinct charms of Phuket Vs. Krabi as we compare these two popular Thai destinations, each offering its own unique blend of stunning beaches, vibrant culture, and thrilling outdoor adventures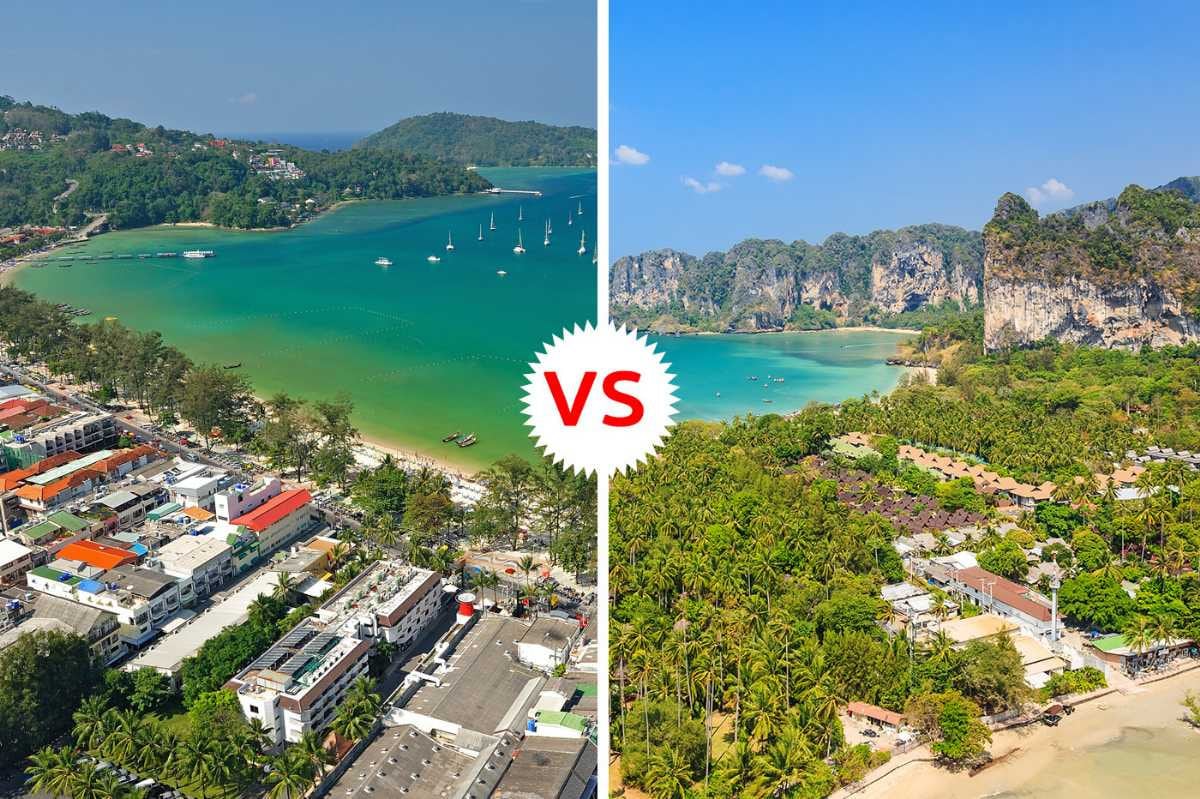 8 Phuket Vs. Krabi? Which one is a better travel destination
Phuket Vs. Krabi: An Overview
Climate
Both locations have tropical monsoon weather. However, Krabi receives more rainfall than Phuket.
Geography
Both of these islands are in southern Thailand. Krabi comprises an enormous 4708 sq KM distributed among 80 pet islands, while Phuket island is stretched across 543 sq KM with 30 little islands.
Best Time to Visit
Phuket is ideal between December and March, although Krabi sees a greater influx of visitors from October to April.
Terrain
Phuket is all about mountains and beaches, whereas Krabi contains mangrove forests ans limestone cliffs.
1. Beaches
Both Phuket and Krabi have really gorgeous beaches; however, we'd say that Phuket is better in this regard. This is because the sand on Phuket beaches is incredibly soft and white, and the sea is ideally calm and warm.
On the other hand, Krabi has a better array of beaches. It is home to some of the finest coral reefs in the world, hence an ideal spot for snorkeling.
Phuket
Phuket has more than 30 beaches, the majority of which feature smooth white sand and crystal-clear waters—the stereotypical tropical island utopia.
The majority of beaches in Phuket are quite accessible and have excellent amenities close by, thanks to a decent road network.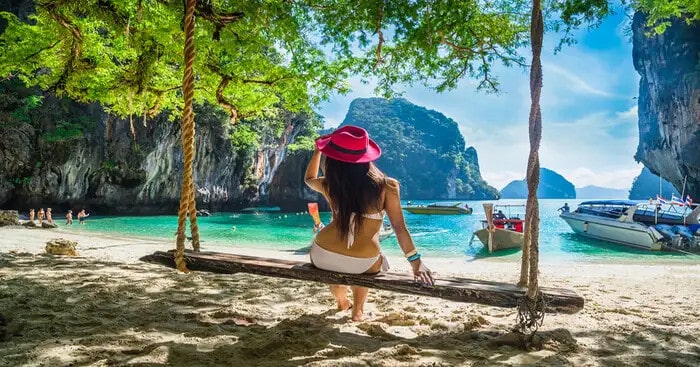 Krabi
Krabi Province also boasts a lot of beaches if you count all of the little islands that make up the province. Many are difficult to reach and frequently need at least a brief boat excursion.
This benefit is that there are fewer structures, less traffic, and fewer peddlers to disturb your tranquility. Thus, the beaches largely maintain their natural environment.
The Krabi is more appropriate as a honeymoon destination since it is less popular. Phuket is known for its bustling nightlife and beachfront activities.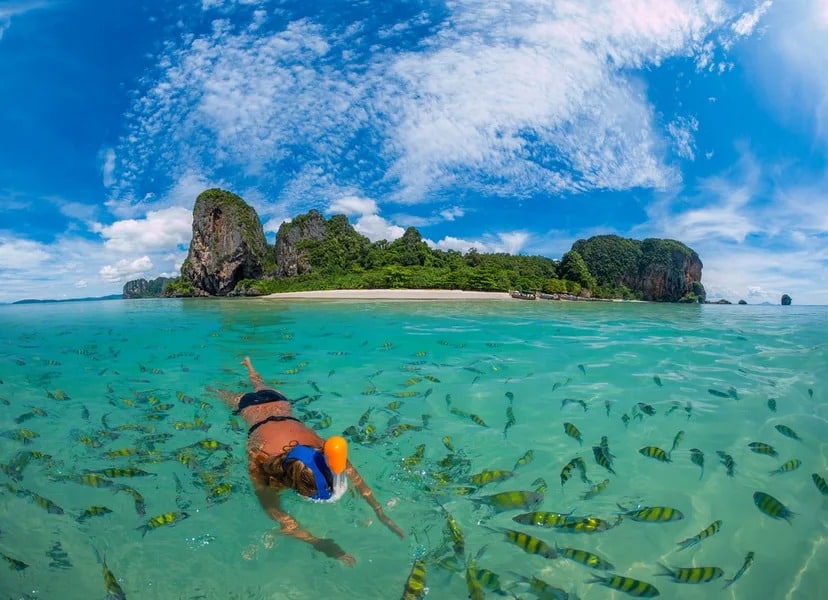 2. Nightlife
Phuket has the upper hand in terms of good nightlife. Krabi's beaches are subject to tight enforcement rules. Thus, the nightlife scene is not as crazy as in Phuket.
In Phuket, you are free to party all night long. Krabi has Karaoke and live music performances at the pubs to compensate for this.
Phuket
The nightlife in Phuket is fairly diverse, with different locations hosting unique experiences. The Bangla Road is, without a doubt, the island's party hub.
Numerous top-notch nightclubs may be found nearby, along with a large number of beer bars, go-go bars, and lounges.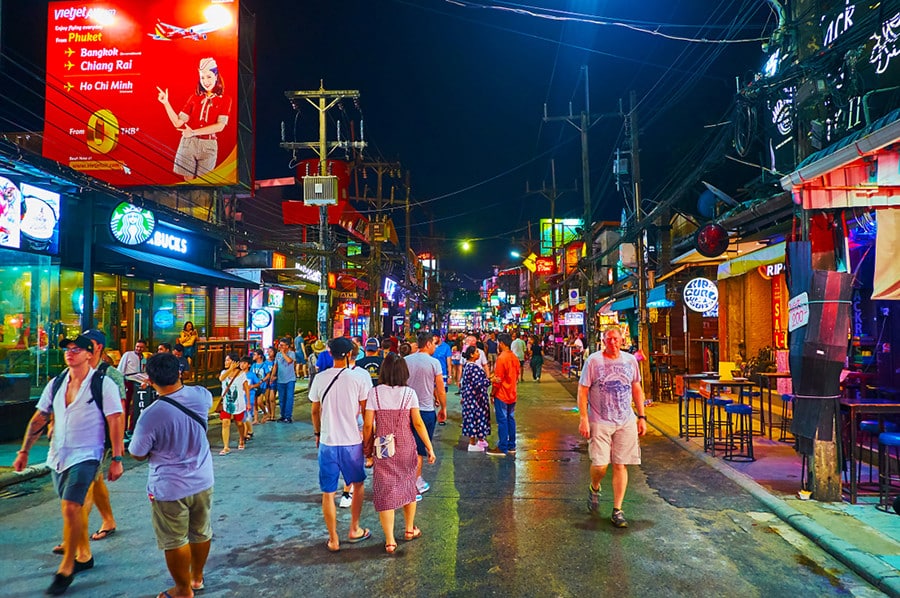 Krabi
Krabi too has a decent nightlife night scene but is not as crazy and wild as Phuket. There are various pubs and bars where you can dance to the beats all night long.
Krabi makes the most of its beachfront by offering a variety of laid-back party spots where you can sip your beverages next to crashing surf.
3. Cultural Experience
For a cultural experience, Krabi would be a better choice than Phuket.
Phuket is certainly more modernized than Krabi, and you can easily find big brands and chain stores here. However, it also boasts a lot of cultural sights.
Phuket
Before becoming a popular tourist destination, Phuket had a really interesting and long history.
It features beautiful temples, shrines, and Sino-Portuguese architecture. You can also explore the vibrant alleyways of Phuket Old Town.
The Vegetarian Festival is only one of the many events and festivals that are exclusive to Phuket.
Krabi
The majority of Krabi's top attractions are natural ones. The famous Emerald Pool, the stunning caverns in the province's national parks, and its unspoiled coastline are all must-sees.
Some cultural attractions of Krabi include Tiger Cave Temple, Wat Kaew, Ao Nang Mosque, and Big Buddha.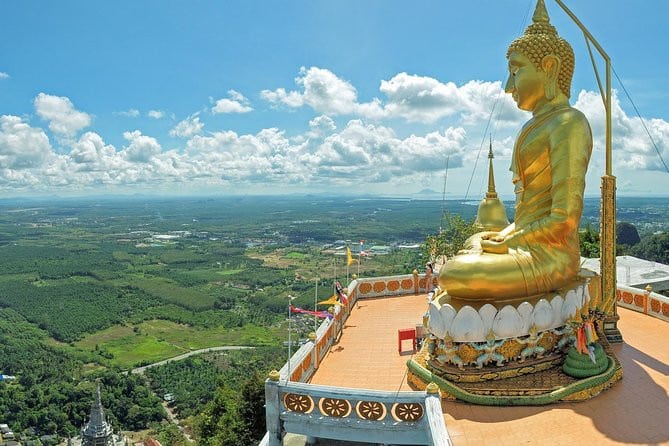 4. Food Options
In terms of cuisine, Phuket and Krabi are fairly similar. The main course is seafood. Both islands provide Western, Indian, Japanese, Chinese, and Thai food and other cuisines.
However, Phuket is the ultimate gourmet paradise!
Phuket
With a posh, sophisticated vibe and a long history in the tourism spotlight, Phuket provides a fantastic selection of fine-dining options, even close to some of the island's more secluded beaches.
You have many options when looking for a special place to eat in Phuket, whether you prefer delectable Royal Thai cuisine or high-quality offerings from around the globe.
You can also find a good number of Indian restaurants in Phuket for an even more diverse food palette.
Krabi
Krabi makes up for its lack of sophistication with its natural resources, which include a picturesque environment.
In Krabi, it's not difficult to discover beachside locations with your toes in the sand that are just as romantic as Phuket's fine-dining establishments but more casual and informal. Krabi make great romantic getaways for couple.
5. Activities
Krabi's kilometers of dense woods provide an adventure that rivals Phuket. When it comes to experiences, Krabi has a lot to offer.
Owing to the enormous diversity of marine life and the outlying island's options, various underwater world exploration activities can be found in both places.
Squids, stingrays, and reef sharks are just some of the many aquatic animals you may see.
Phuket
The city is well known for its early morning gyrocopter and paramotor flights.
Phuket offers a staggering array of entertaining activities, most of which are professionally organized and vigilantly monitored.
This includes practicing Muay Thai at one of the many gyms, ziplining at locations like Flying Hanuman, cable water skiing at Anthem Wake Park, and more.
Numerous top-notch scuba diving facilities, go-kart tracks, golf courses, flow riders, and more are also available.
Krabi
ATV tours, white water rafting, rock climbing, and dirt riding are just a few of the numerous adventures Krabi has to offer.
Try the zip line and treetop adventures with your family for an exhilarating time with your family.
The unspoiled natural environment of Krabi is its biggest asset. Island-hopping, jungle hiking, and kayaking are all great activities for adventurers.
But those who prefer something more extreme may try rock climbing in Krabi, which is reputed to be among the best in Thailand.
6. Shopping
Phuket and Krabi are very different in terms of shopping options. While Phuket features grand shopping malls, Krabi is better for local items and handicrafts.
Phuket
The retail options in Phuket are one of the best examples of the city's refinement as a travel destination.
Both large shopping centers with well-known brands and tiny stores selling fashionable designer clothing can be found on the island.
Even while it may not be as much of a haven for shoppers as Bangkok is, you could still spend an entire day shopping here and not get bored.
Krabi
Krabi has a humble shopping landscape with little stores and marketplaces selling local goods and crafts.
Although there might not be as many outlets, you have a better chance of finding something unusual and distinctive.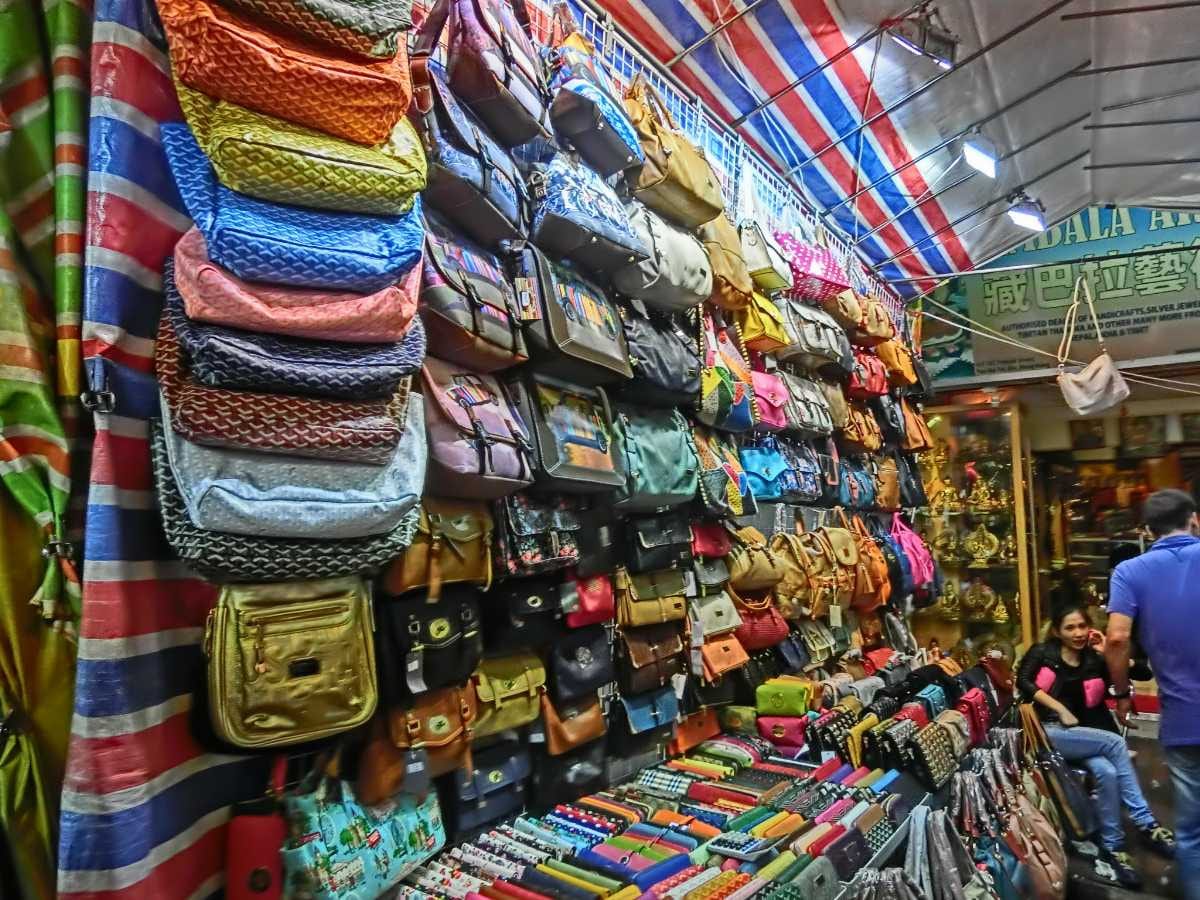 7. Lifestyle and People
Phuket has a modern touristy vibe, while Krabi has a very laid-back life. If you wish to immerse yourself in the culture of the place, Krabi should be your pick.
Phuket
Phuket is a famous international vacation spot. With its upscale hotels, several yachting marinas, shopping centers, fine-dining restaurants, and upscale clubs.
Even Phuket Old Town, which was constructed during the height of the tin mining boom, exudes elegance.
Krabi
Krabi never saw an industrial boom as Phuket did. As a result, it has essentially remained a small, rural village.
However, it has a far more "Thai" flavor than Phuket, drawing travelers with its inexpensive lodging, carefree nightlife, and laid-back vibe.
8. Affordability
Phuket being a more popular destination, is obviously more expensive compared to Krabi.
Phuket
Phuket being a more popular destination, Phuket has a wide variety of luxury hotels. The hotel prices go up substantially from November until the end of April.
An average 3-4 star hotel stays in Phuket would cost around THB 10000 for two people.
It is ideal for high-end travelers willing to soak in the luxury of Thailand.
Krabi
Krabi is comparatively cheaper. A 3-4 star hotel in Krabi would cost you around 3,000 to 4,000 Baht during the high season.
Krabi is more suitable for budget backpackers who want to explore Thai culture in its raw form.
Final Words
If you want a classy vacation in a handy and developed location, pick Phuket.
On the other hand, Krabi is great if you want to unwind or have fun in the great outdoors. Its relatively underdeveloped environment is advantageous to individuals who desire to get away from worries in a setting free from the excesses of contemporary culture.
A one-and-a-half-hour trip separates Phuket and Krabi. Rather than choosing just one, you may enjoy the best of both worlds.
Editor - Thailand Nomads
Cindy quit her 9 to 5 job to pursue her passion for exploring mesmerizing locations in Thailand. She has been living here for the past 5 years now and through Thailand Nomads, she shares her experiences and insights about the must-visit places in Thailand.
Email: cindy@thailandnomads.com