When comparing Phuket vs. Bali, it's important to note that both destinations have their own unique charm and attractions.
Bali offers more choices in terms of activities and experiences, while Phuket is known for its cleaner beaches.
Bali also boasts better viewpoints, providing breathtaking panoramas of the island.
However, if you're planning your trip based on the weather, consider that the rainy season has definitely ended in Phuket, making it a great time to visit this beautiful Thai destination.
In addition to its great surfing beaches and rice terraces, Bali is a seaside town with a friendly, inviting environment and a rich past.
On the other hand, Phuket has plenty to offer as well! It is a tropical haven that begs to be discovered.
Phuket has swiftly become one of the most popular travel destinations in the world because of its incredible nightlife, gorgeous beaches, islands, and water sports.
The kind of beaches you will discover, the food, the language, the history and culture, the main tourist sites, and so on would be very different at these two places, making the decision easier.
Weigh the tropical allure of Phuket or Bali, two of Asia's most beloved island destinations, each with their own unique charms—from Phuket's stunning beaches, vibrant nightlife, and diverse attractions, to Bali's rich cultural heritage, lush landscapes, and world-renowned surf spots.
Let us walk through the differences to see where you should head for a vacation in 2023.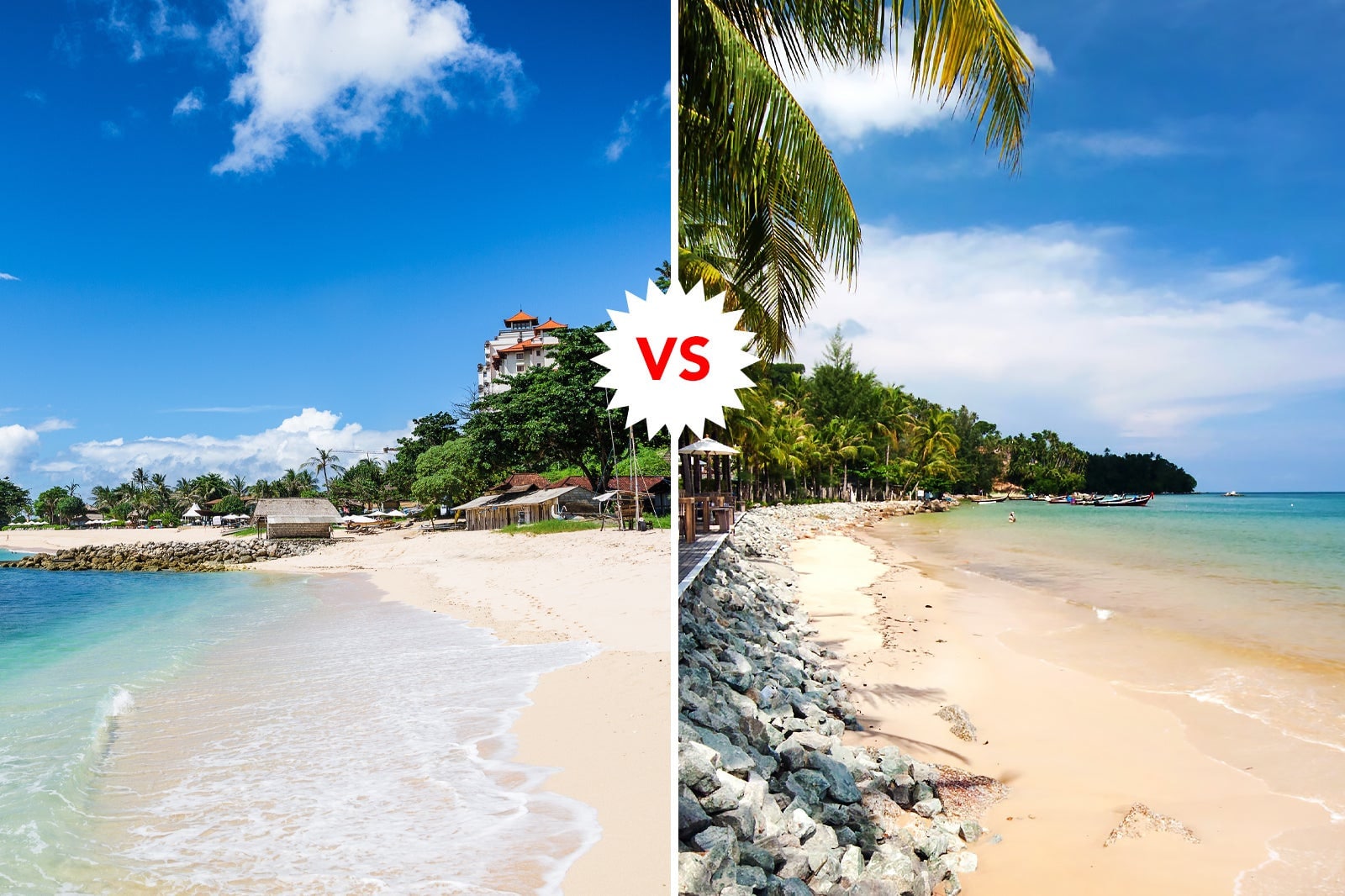 8 Phuket Vs. Bali – The Debate Is Settled
1. Accessibility
Both places are easily accessible from most South-Asian Countries.
Phuket
The Phuket International Airport is conveniently connected to all prominent international locations in addition to Thailand's largest cities.
India and Phuket are connected by direct flights. Jet Airways, Thai Airways, Singapore Carriers, and Malaysia Airlines are a few of the airlines that fly this route.
Buses and domestic buses are available if you visit another Thai city before traveling to Phuket. In such circumstances, going via Bangkok is the most preferred route.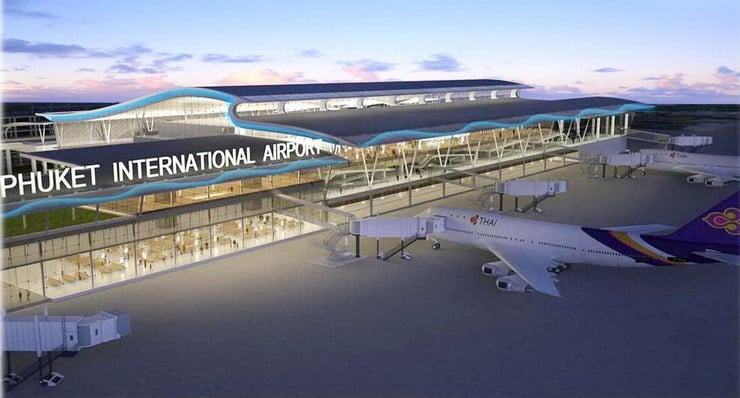 Bali
Bali is easily accessible from major South-Asian countries through Bali's Denpasar International Airport.
Some of the Bali Airlines like Singapore Airlines, AirAsia, Malaysia Airlines, Jet Airways, and Thai Airways.
A maritime route would be another somewhat longer way to get to Bali.
If you're searching for a maritime route, we recommend flying to Singapore, Java, or Sumatra first. It will be simple to embark on your ship-bound trip to Bali from there.
2. Best Time To Visit
Phuket
The best time to visit Phuket is during the winter months of November to February. Phuket experiences its hottest weather from mid-March to mid-May.
But keep in mind that there will be more people around because it is more "in-season."
Since the nation is tropical, we wouldn't advise you to plan your vacation based on the weather because there aren't any significant seasonal differences.
The monsoon season, which runs from May to October, may be best avoided if you don't like the rain.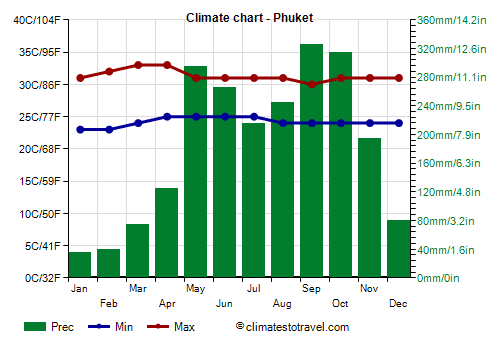 Bali
The best time to visit would be in the second part of the year when the weather is beautiful and sunny and ideal for relaxing by the beach.
Although, there could be a few bouts of rain now and again.
Bali's monsoon season lasts from October to April. Nevertheless, don't let this discourage you since if you go during this time, you'll still receive enough sunlight.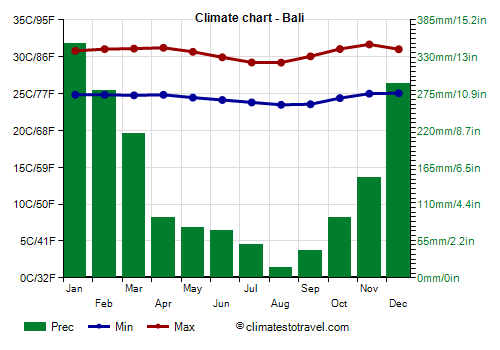 3. Safety
Both Phuket and Bali are considerably safe destinations for a trip. But if we had to pick one, it would certainly be Bali.
Phuket's night scenes make it more prone to vices and crimes. Otherwise, it is also decent and safe.
However, as a prudent precautionary step, you must avoid walking in a dimly lit area, confrontations with locals, and keep a vigilant eye on your food and drinks when at a bar or the night market.
4. Beaches
In General, beaches in Phuket are considered better than Bali because the sand in Phuket is softer and the water calmer.
Bali, on the other hand, has beaches that feature roaring waves.
This is the main reason why it is a popular snorkeling destination.
Phuket
Phuket offers the ideal recipe for the ideal holiday location. Golden beaches, undiscovered cliffs, swinging palms, and a wide range of water sports are all there.
Popular beaches in Phuket, like Patong and Karon, are always crowded and are an ideal choice if you want to try different water sports.
The beaches in Layan and Kata are more serene and quite popular with single people and couples.
More than 30 beaches can be found in Phuket, and island hopping is the ideal way to find some of the best-kept secrets.
In addition to various water sports like paragliding, surfing, snorkeling, and banana boat excursions, Phuket is home to some of the top diving locations.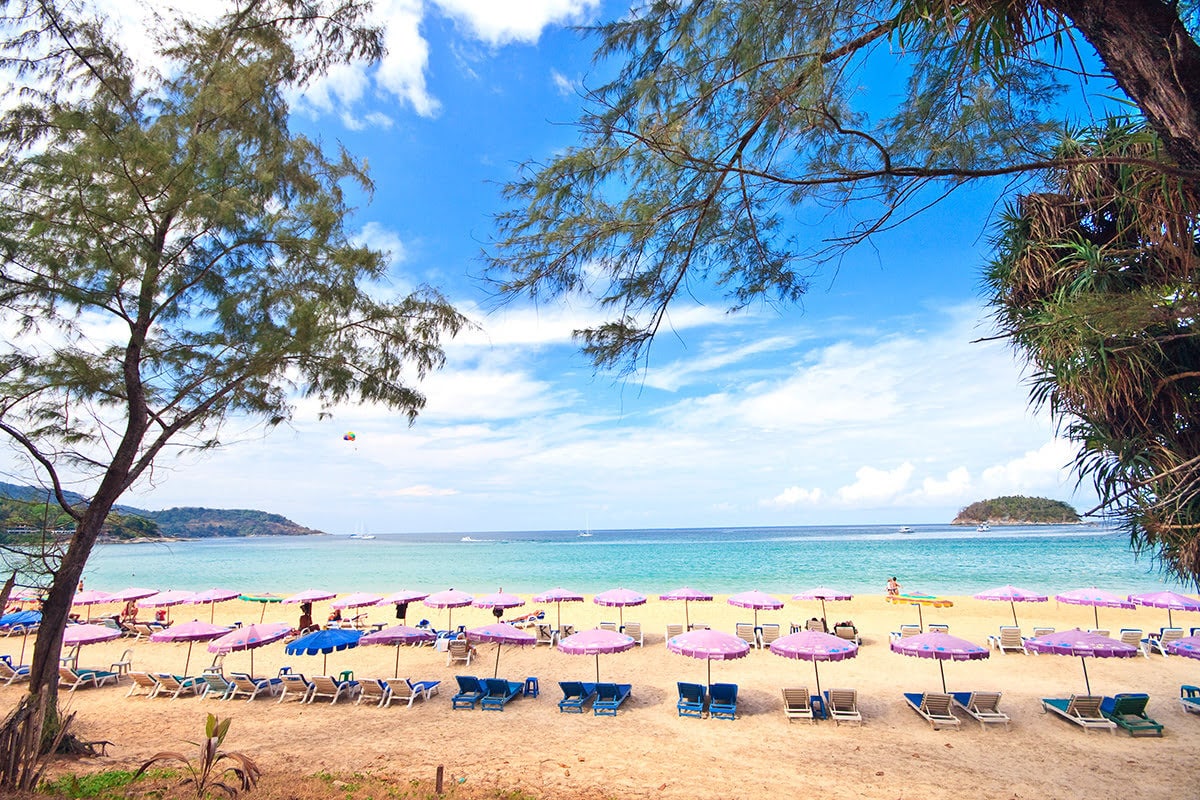 Bali
Bali has some of the greatest beaches in the world for surfing and snorkeling. You may go island hopping and take a quick excursion to SeaWorld in addition to tanning.
The most well-known beaches close to upscale resorts include Seminyak, Nusa Dua, and Jimbaran.
Sail towards the coastlines of Uluwatu, Bingin, and Padang Padang if you want quieter, more tranquil environments.
The introduction of beachfront luxury resorts in Bali has changed how families and groups of friends may holiday.
The typical view from above features luxurious resorts close to palm palms, fine white beaches, and cozy cliffs.
5. Dining Options
Phuket
Southern Thai, Malay, Chinese, and Indian cuisines have been incorporated into the cuisine of Phuket. In other words, many different South Asian cuisines can be enjoyed in Phuket.
The food of Thailand is frequently characterized as having a dash of spice and flavors of sweet and sour.
Nowadays, practically everyone is familiar with dishes like sticky mango rice, fish cakes, tom yum goong, and pad thai.
You may choose from upscale eateries as well as roadside vendors, and food kiosks in Phuket. Seafood has a big presence here, and many eateries are selling delicious seafood meals.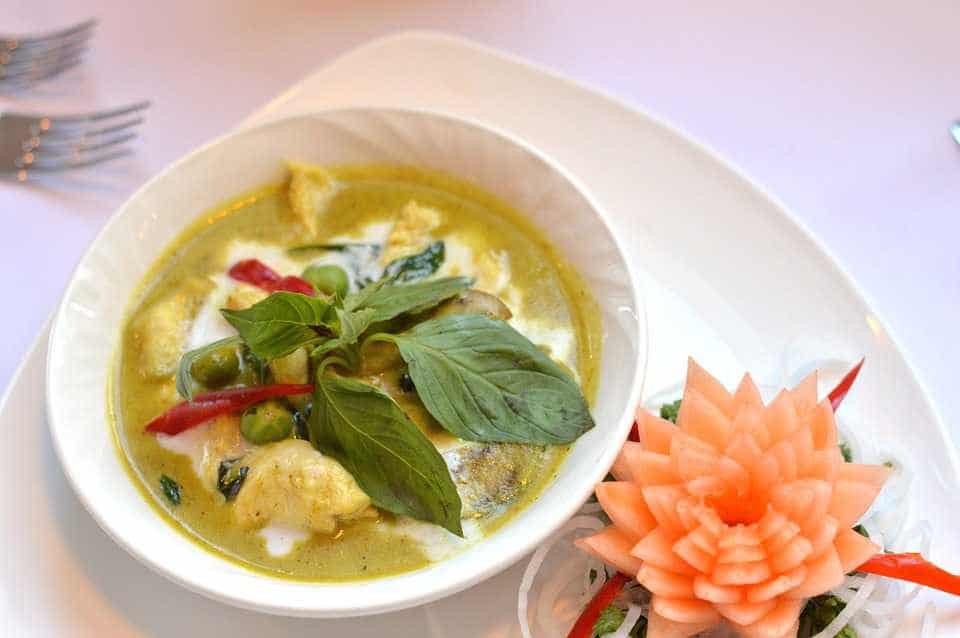 Bali
Indian, Chinese, and Thai flavors are all deliciously incorporated into Balinese food. This cuisine is flavored with tints of garlic, chili, lemongrass, and ginger.
In Balinese food, curries, rice, and fried or grilled meals are all served together. You may eat at upscale restaurants or inexpensive vendors on the street in Bali, but pay attention to the food's quality.
There are very few venues in the city where you may sample genuine Balinese food because Bali's street food culture is not well-established.
6. Shopping
The shopping experiences at these two locations are very different. While Phuket is known for large and established malls, Bali is great for cheap bargains.
Phuket
Phuket is renowned for its must-visit night markets, where you may find lovely vintage items, handcrafted jewelry, purses, and other things at affordable costs.
The island of Phuket provides everything for customers to choose from designer brands to inexpensive souvenirs, thanks to a variety of huge and well-established shopping complexes.
Despite being a national product that is not really manufactured on the island, Thai silks are nonetheless available in Phuket.
A few little art studios may be found in Phuket, especially in and around Phuket Town.
Bali
Bali is known for its unique and fashionable resort apparel, independent boutiques, exquisite furnishings, and home design.
Bali provides a vast variety of regional arts and crafts, with entire markets devoted to these goods for travelers searching for traditional souvenirs.
It is home to several talented sculptors and artisans who produce an endless supply of high-quality items, which makes haggling simple.
The island is a hotspot for inexpensive imitation goods, including watches, purses, and sunglasses.
With various new facilities opening up to complement the island's more conventional retail environment with a more contemporary shopping experience, Bali is quickly catching up in terms of mall development.
Therefore, whether you choose to shop in Bali or Phuket entirely depends on the type of shopping experience you're seeking.
You may shop til you drop at each location, so make sure you leave enough room in your luggage to get everything home.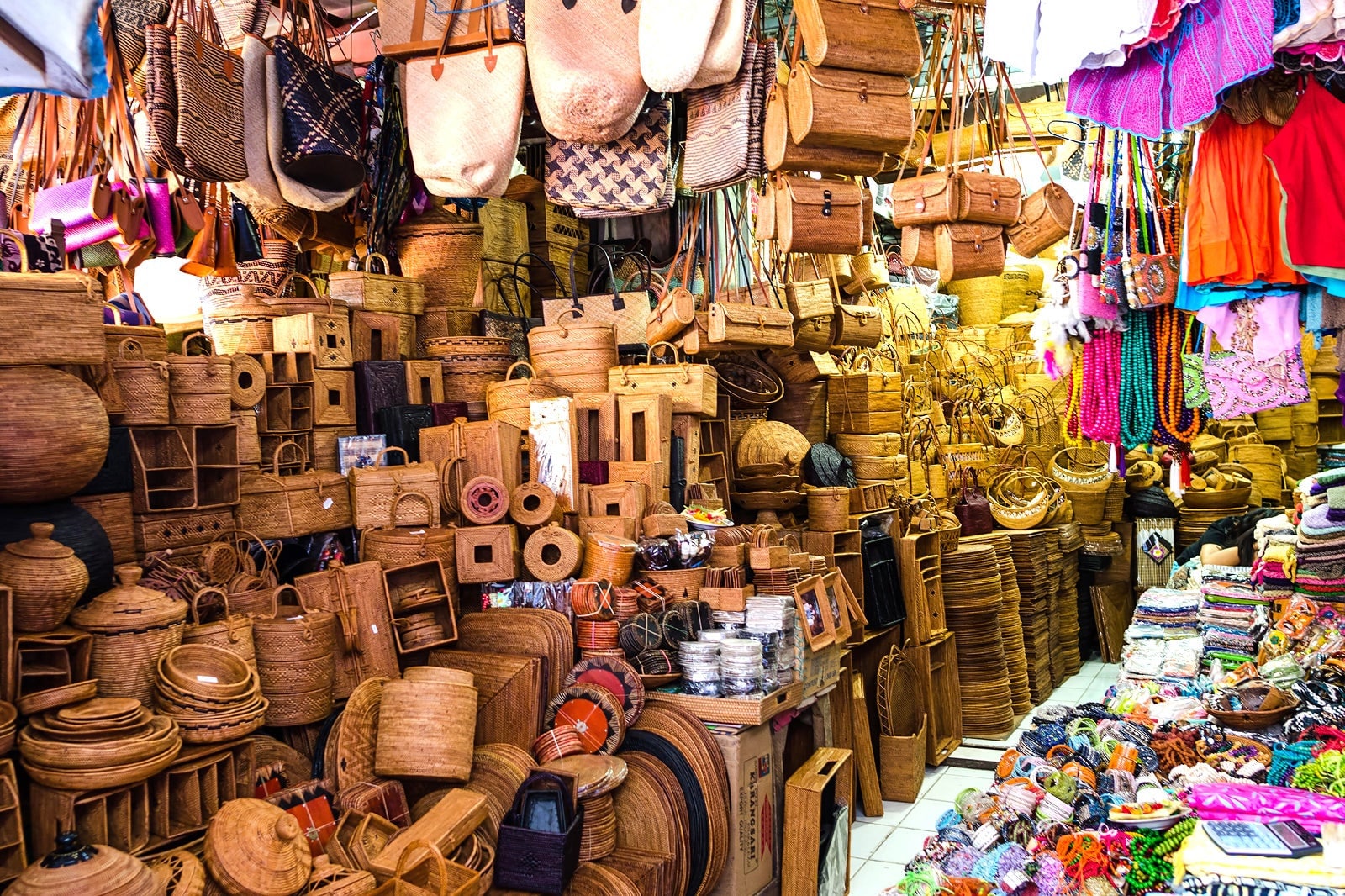 7. Nightlife
Both Phuket and Bali have burgeoning nightlife scenes, which are growing each year. However, Phuket's nightlife is any day bigger and better.
Phuket
Bangla Road in Phuket has the most vibrant nightlife in the area. From upscale clubs to shady pubs and go-go dance clubs to cabaret performances, Phuket has it all.
This location might be exciting to visit if you're searching for a unique experience. However, not everyone will enjoy the ambiance and mood here.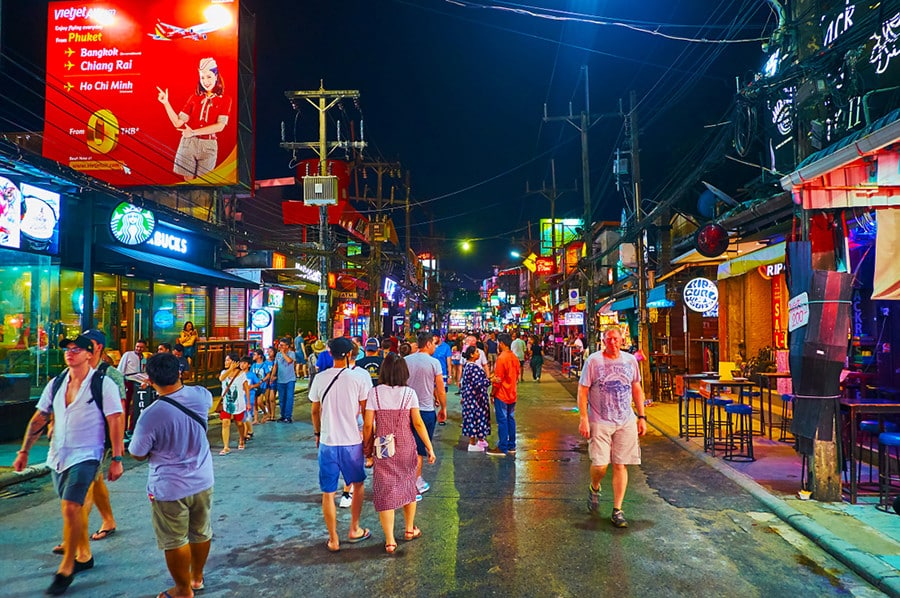 Bali
Bali offers a bewildering variety of nightlife activities. There are innumerable alternatives in the Kuta, Legian, and Seminyak neighborhoods, ranging from seaside shacks to upscale clubs with international DJs.
Large-scale dance festivals with an impressive roster of worldwide performers, including "Dreamfields Festival" and "Ultra Bali," are also held on the island.
Bali caters to all sides of the music spectrum, from the casual traveler seeking a quick night at the club to the music-hungry serious traveler.
8. Honeymoons and Romantic Getaways
Bali has always marketed itself as a high-end holiday destination with a laid-back vibe. While Phuket may have better beaches and nightlife, Bali is certainly a better option for romantic getaways.
Phuket
Enjoy the vistas of the blue waters, gorgeous beaches, and soft, white sand with your partner in Phuket. For a romantic break on a tropical beach, Phuket is the best place to go.
There is a wide variety of luxury hotels, private pool villas, and beach resorts in Phuket can make your honeymoon a truly memorable one.
If that was not enough, it also has some gorgeous wedding venues that will make your wedding photographs look right out of a fairytale.
Try out some adventure sports together, have some delectable Thai food, or finish the day at the spa.
Of course, romantic strolls, viewing the Andaman Sea sunset, and other such activities are essential.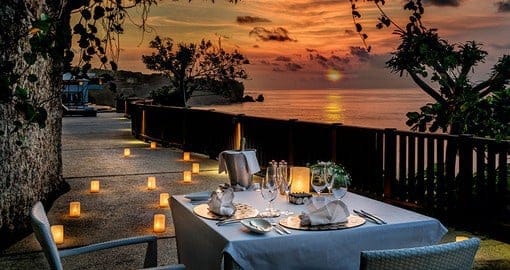 Bali
Couples will never be short of options in Bali. No matter when you choose to go on vacation, Bali is a terrific location because of its year-round agreeable temperature.
It offers some of the most romantic alternatives out there. There is something for any couple looking for romance, from beach huts to gorgeous villas to beach-view lodges.
The abundance of activities that couples may engage in together is another aspect that makes this location ideal for a romantic holiday.
Take a trek up a volcano, go surfing or snorkeling, or simply unwind on the beach. We often envision romantic strolls at dusk and candlelit dinners for two among the terraces of rice fields when we talk about the beach.
Regarding romantic dinners, we must mention that you may have your supper in a remote beach cave in Bali. Here, you may enjoy delectable cuisine while listening to the waves.
While you and your significant other are visiting these locations in Bali, don't forget to take some instragammable couple photographs.
Wrapping Up
Hence, we can conclude that both places have a very different vibe. You can go with Phuket if you want nightlife, fun, beautiful beaches, and a gorgeous sea view.
Alternatively, Bali could be a good choice for people who are looking for a relaxing vacation with a mix of adventure and cultural sightseeing.
Editor - Thailand Nomads
Cindy quit her 9 to 5 job to pursue her passion for exploring mesmerizing locations in Thailand. She has been living here for the past 5 years now and through Thailand Nomads, she shares her experiences and insights about the must-visit places in Thailand.
Email: cindy@thailandnomads.com