Phuket's shopping scenario continues to transform, reflecting the island's substantial evolution over the past two decades.
While it may not evoke nostalgia for travelers who visited in the last century, these modern shopping malls provide an excellent respite from the heat and those occasional rainy days.
In recent years, Phuket's shopping malls have adapted to the rapidly changing market, making them relevant destinations.
You will discover renowned clothing brands and a comprehensive selection of cosmetics for those who may have left their favorite lotion behind. Additionally, global franchises like Starbucks, KFC, and popular doughnut and burger outlets have a presence here.
1. Jungceylon Shopping Mall
Jungceylon Shopping Centre is the biggest mall in downtown Patong, Phuket. It is right across from Bangla Road, which is famous for its nightlife. The mall has two main stores: Robinson Ocean Jungceylon, a fancy department store, and Big C Extra Jungceylon, a large supermarket.
Inside, you can explore over 200 other shops. They sell branded clothes, sunglasses, makeup, shoes, DVDs, video games, mobile phones, and lots of other stuff. But it is not just for shopping; it is also a great place for fun.
You can watch movies at SF Cinema City or go bowling at SF Strike, which has 16 lanes. it is perfect for days when it is raining or too hot to be at Patong Beach.
Downstairs, you can buy all sorts of things, from beautiful rugs to relaxing facial massages. They often have good deals on clothes that aren't too expensive.
The mall is well-lit and open, and it is designed to handle up to 45,000 shoppers every day, even though it never gets that crowded.
Jungceylon recently had extensive renovations and is now mostly open again.
You can find lots of famous brands at Jungceylon, especially at the Robinson Department Store in the first building. There's even an Apple store, computer shops, and big sports stores to keep you entertained.
If you need phones, games, or electronics, head up to the second building's top floor, next to the cinemas. And remember 'Big C,' the two-story supermarket with all the groceries you need for cooking or daily life during your holiday.
Location: Rat Uthit Road 200 Pa Tong, Kathu District, Phuket 83150, Thailand
Opening Hours: 11 am to 10 pm
Phone: +66 76 600 111
2. Central Festival Phuket
Central Festival Phuket is an excellent shopping mall just outside Phuket Town. It is more than just a shopping destination; it is a one-stop solution for all your needs. Whether you are seeking fashion, entertainment, or a diverse range of dining options, this mall has it all.
It is known as the shopping hub of the island, featuring over 400 stores selling everything from silk and clothing to laptops and books.
This shopping paradise is connected to Central Floresta, located across the road and linked by a footbridge. Together, they form one massive shopping complex.
You can easily spend a whole day here shopping, catching the latest movies, and dining at a variety of international restaurants. The highlights of this mall include the massive Aquaria, one of Thailand's largest aquariums, where you can witness trainers feeding otters and penguins.
The multi-level department store offers an array of products, from high-end fashion to bedding and toys. Make sure to check out B2S, the well-lit store with books, CDs, and DVDs at great prices.
While exploring Central Phuket, it is worth keeping a few practical tips in mind.
Remember to hold onto your receipts and be on the lookout for VAT refund coupons at the mall's tax invoice desk. This coupon, when combined with your receipt and the purchased item, can be presented at the airport for a tax refund.
Getting to Central Phuket is a breeze. If you are heading from Patong, you will spot it on your left before reaching Phuket's main crossroads.
You will appreciate the free underground parking if you arrive by car. Alternatively, if you are traveling by taxi or bus, you can easily disembark at the main entrance.
So, whether you are looking to escape the rain or the heat, Central Phuket is the place to be.
Location: 74, 75 Wichitsongkram Road, Wichit, Muang, Phuket 83000, Thailand
Operating Hours: Daily from 10:30 am to 10:00 pm
Phone: +66 (0)76 603 333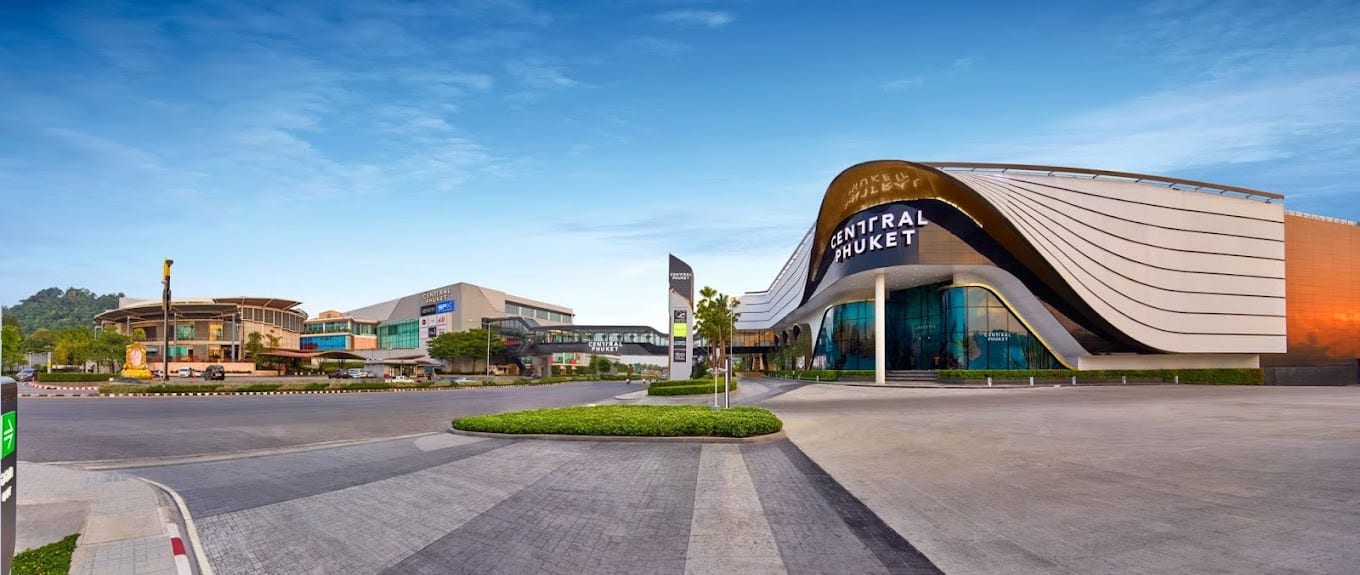 3. Limelight Avenue Phuket
Limelight Avenue in Phuket Town is a contemporary shopping and dining destination located in the heart of the city.
Located on New Dibuk Road, just steps away from Phuket Old Town, this modern shopping mall offers both locals and visitors a welcome escape from the island's heat.
Spread over approximately 7,000 square meters in a two-story building, Limelight Avenue provides ample parking space for your convenience.
The mall ensures that travelers staying in the city center find an array of boutiques, restaurants, bars, and services within easy reach.
On the ground floor, some outlets open directly onto the street. you will discover a large Tops supermarket, open from 6 a.m. to midnight, for all your convenience product needs.
Tom 'n Toms Coffee keeps its doors open 24/7, while Pint Factory serves as a bar and brewery venue. For delectable Thai cuisine, head to Lemongrass.
Inside the mall, a central plaza with an escalator awaits, alongside a pond featuring a striking metal-carved terrestrial globe. Bronze statues of old Thai men in colonial-style attire add to the ambiance.
The first floor also hosts various small outlets, offering everything from health cafés and jewelry stores to Japanese restaurants and noodle shops.
Downstairs, a bustling food court boasts 15 stalls serving reasonably priced local specialties. The second floor is dedicated to both shopping outlets and stalls, offering a diverse range of products at budget-friendly prices.
You will find shops specializing in jewelry, T-shirts, phone cases, handbags, fashion wear for men and women, toys, handcrafted souvenirs, and cosmetics.
The mall also caters to personal grooming and music enthusiasts. Get Nailed & More provides manicures, pedicures, and nail art services, while a music shop and school with a stage for student performances adds to the mall's vibrant atmosphere.
Limelight Avenue Phuket is a convenient and stylish destination for a diverse range of needs, offering a comfortable retreat from the city's hustle and bustle.

Location: 2/23 Dibuk Road, Muang, Phuket 83000, Thailand
Open: Daily from 10 am (shops close at different times)
Phone: +66 (0)76 682 900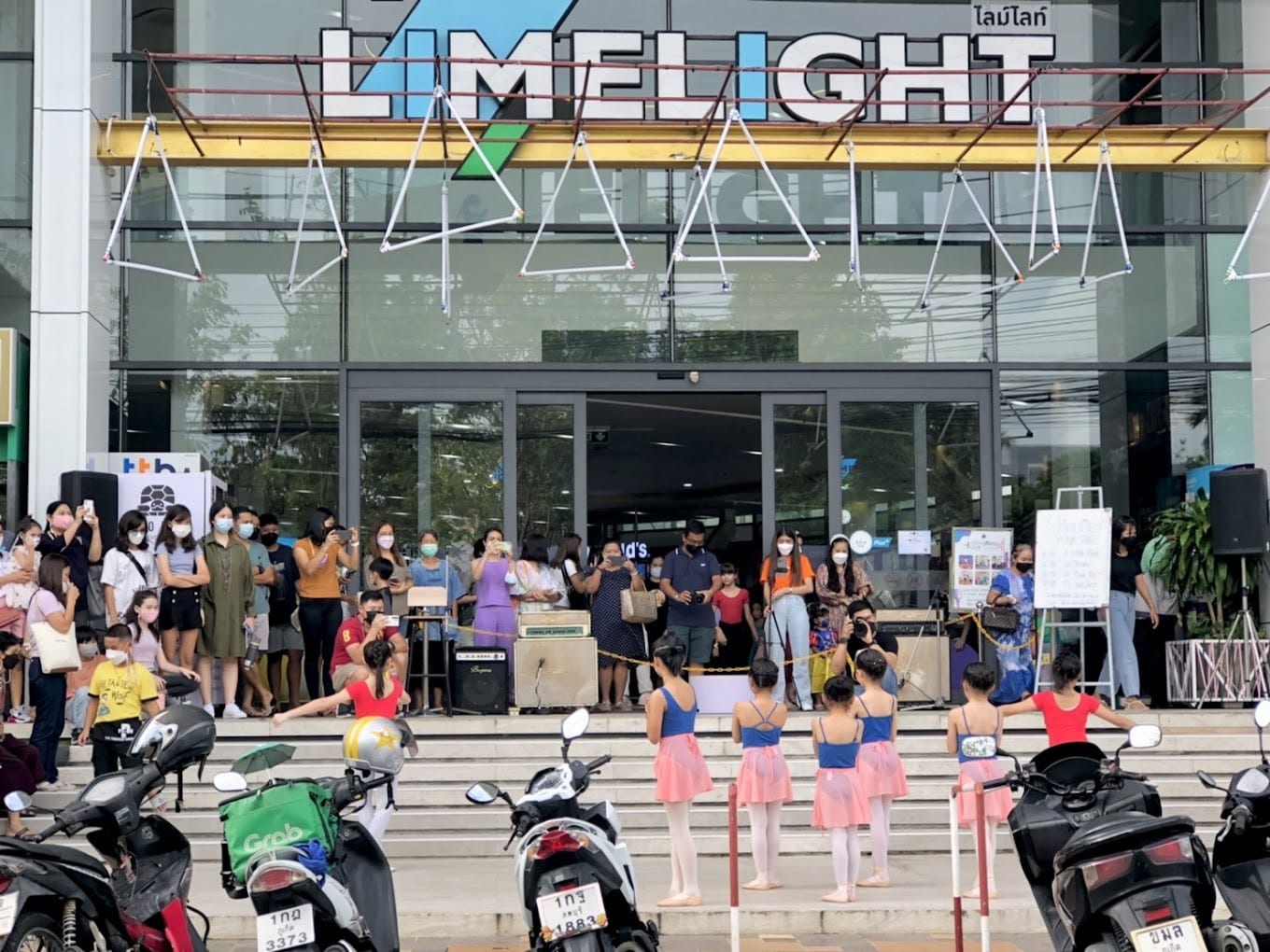 4. Central Patong
Central Patong Shopping Mall is the latest addition to Phuket's competitive shopping scene. Located in the bustling Patong Beach area, this brightly lit mall joined the retail landscape shortly after the expansion of the Floresta branch of Central Festival in Phuket Town.
Central's footprint on the island continues to grow. Situated just across the street from the popular Jungceylon Mall in Patong Beach, Central Patong appears to have a different target audience.
While Jungceylon offers a mix of entertainment, dining, and shopping, Central Patong focuses primarily on shopping and food.
If you have visited Central department stores in Bangkok, you will find the layout of Central Patong familiar. The ground floor features cosmetics, sunglasses, and accessories, the second floor hosts a variety of clothing brands, and the upper floor is dedicated to luggage and toys.
Phuket, and particularly Patong, is known for its night markets and bargain shopping, which raises questions about the success of an upmarket shopping mall in the area. Shortly after its opening, Central Patong seemed relatively quiet.
The underground floor comes to life with two main sections: the Central Food Hall supermarket and the dining area. Central Food Hall offers high-quality fresh products, while the dining area boasts a well-designed food court and independent restaurants.
Location: 198/9 Soi Rat U-Thit Road, Patong Beach, Kathu, Phuket 83150
Open: 10:30 am – 10:30 pm
Phone: 076 600 499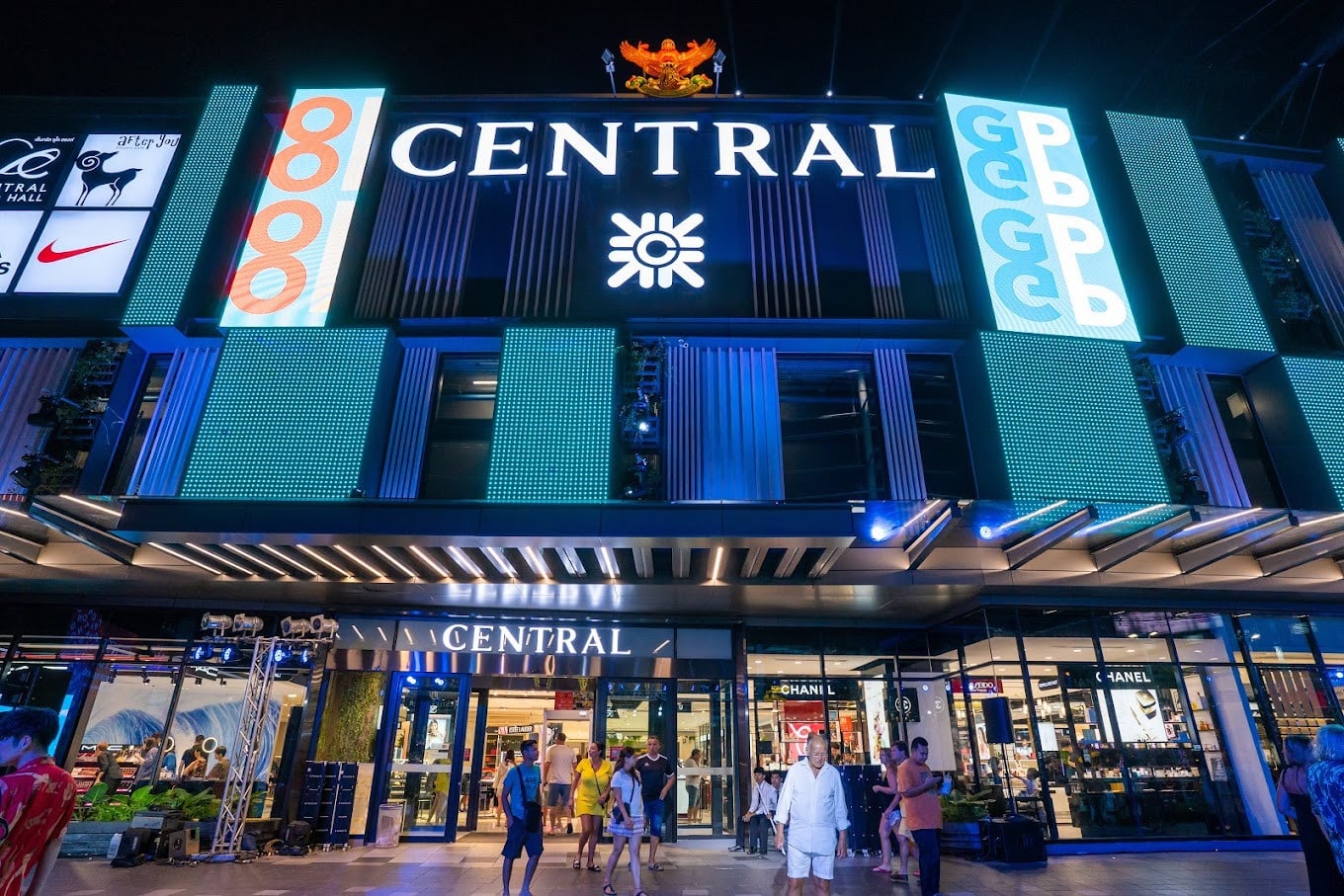 6. Porto de Phuket
Porto de Phuket is a vibrant open-air community mall that has quickly become a sought-after destination. It is situated near Bangtao Beach in the Cherngtalay district.
Part of the same brand family as Central Phuket and Central Patong, Porto de Phuket offers a unique shopping experience distinct from multi-story shopping malls.
Spanning extensive grounds at the entrance of Laguna Phuket, Porto de Phuket primarily caters to the thriving community of residents residing in the surrounding condominiums, apartments, and luxury villas.
Unlike traditional malls, Porto de Phuket features single-story shops, restaurants, and a massive supermarket, directly competing with the well-established Boat Avenue next door.
For those seeking a shopping paradise, the Central Food Hall supermarket at Porto de Phuket is a standout attraction.
Covering an immense area, it showcases an impressive array of products, both local and imported, including an extensive selection of wines. Residents and visitors in the Bangtao area are now spoiled for choice with Central Food Hall and Villa Market next door.
The mall also houses a SuperSport shop, a haven for sports enthusiasts offering a wide range of gear and equipment, from shoes and swimwear to sports apparel and fitness equipment. Additionally, B2S, located nearby, offers an assortment of books, toys, and stationery.
Porto de Phuket isn't just about shopping; it is also a hub for dining and entertainment. Visitors can choose from a dozen restaurants, including well-known franchises like Wine Connection and branches of local eateries such as Tu Kab Khao and Suay Restaurant.
Whether you are in the mood for international cuisine, seafood, or a delightful dining experience, Porto de Phuket has a culinary delight to suit your palate.
With its strategic location and diverse offerings, Porto de Phuket has quickly become a favorite among locals and expatriates in the area, offering a unique blend of shopping, dining, and community experiences.
Location: Choeng Thale, Thalang District, Phuket 83110
Hours: 10 am – 10 pm
Phone: 076 368 291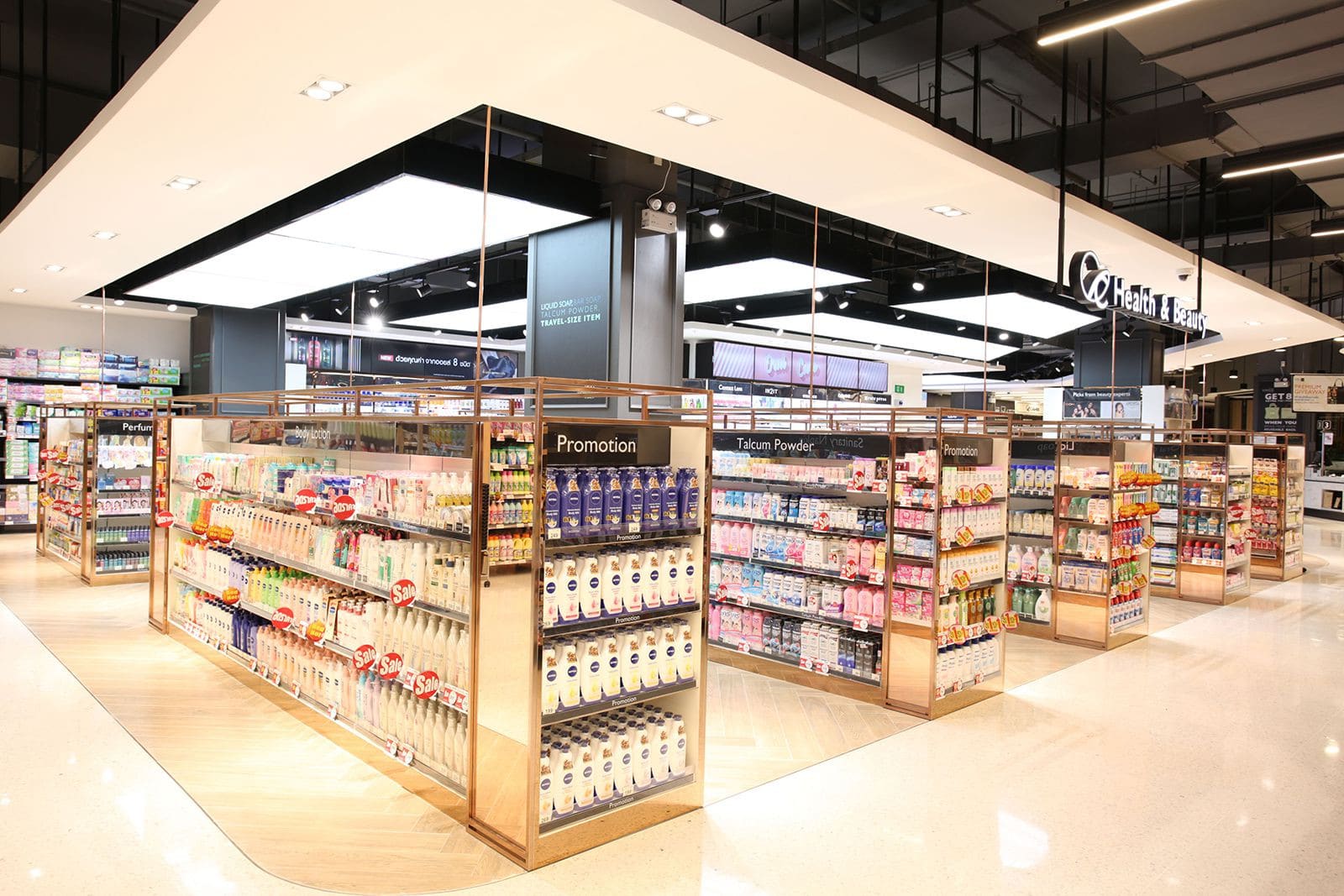 7. Banana Walk
Banana Walk, nestled just 100 meters south of Soi Bangla on Patong Beach Road and adjacent to Banana Disco, is a captivating shopping center that offers a unique and modernistic shopping experience.
The mall spans over 4,000 square meters across three floors. Its design is characterized by minimalist aesthetics with polished concrete walls. It features a towering Plexiglas structure over a spacious open area.
At night, it boasts a captivating lighting display, evoking the ambiance of a futuristic spaceship docking station from a sci-fi movie.
The mall boasts three primary shopping categories: shopping, dining, and cosmetics, ensuring that visitors can find virtually anything they desire, from dining and beverages to shopping for various products.
Patrons can also pamper themselves at the spa or visit one of the hair salons for a fresh look.
Banana Walk is a culinary paradise featuring numerous food and beverage outlets affiliated with some of Thailand's most renowned chains.
On the ground floor, visitors can savor the flavors of establishments like Sizzler Steakhouse, The Coffee Club, Swensen's Ice Cream, Kentucky Fried Chicken, and Segafredo Zanetti Espresso.
A row of ATMs is situated on one side of the open area on this floor, while a covered beer 'garden' in the center hosts nightly live music.
The second floor houses Wine Connection, offering panoramic views of Patong Bay, as well as Yoshinoya and a Villa Market outlet known for its range of imported and local food products and daily necessities.
Boots, a well-known pharmacy, is also conveniently located on the ground floor, with numerous other shops and services on the second floor.
Here, you will discover Banana Spa, Nail Club, iBeat (an Apple Computer store featuring the latest electronics), and Siam Pearl (a pearl and jewelry shop).
The third floor is home to fashion and sportswear shops like Coco (offering hats, earrings, and gifts) and Quiksilver (specializing in swim and beachwear).
For those in need of a haircut, there's Paul Mitchell, a Korean hairdressing chain, while the Momento Aesthetic Centre offers an array of plastic surgery services, including Botox, filler treatments, thread lifts, and laser procedures.
Situated right on the beachfront, Banana Walk is a delightful addition to Patong's shopping and dining scene. Its prime location offers a pleasant environment for shopping, dining, and relaxation, making it a must-visit destination in the heart of Patong Beach.
Location: 124/11 Thawewong Rd, Patong, Kathu, Phuket 83150, Thailand
Open: Daily from 11 am to 11 pm
Phone: +66 (0)76 341 489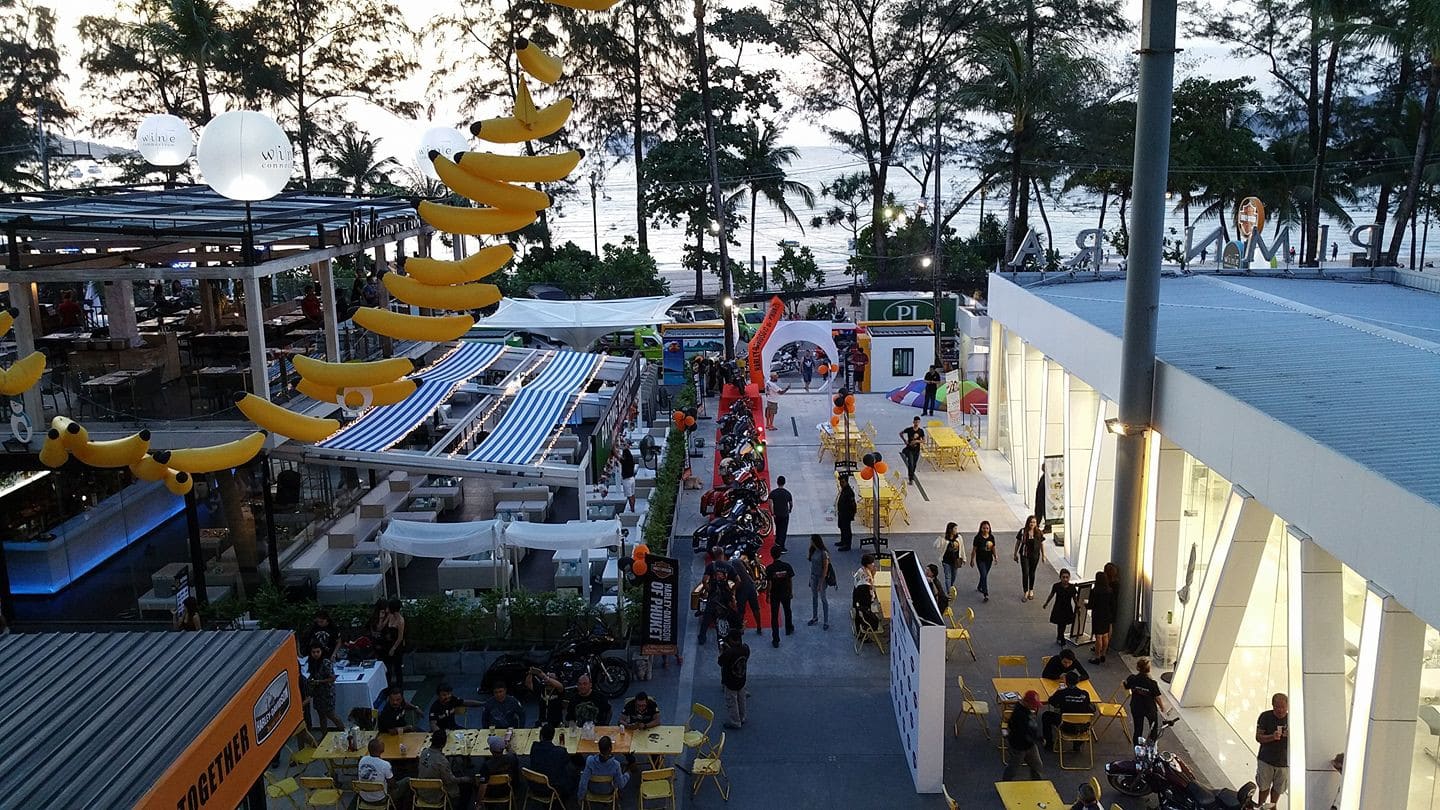 8. Robinson Lifestyle Thalang
Robinson Lifestyle Thalang, Phuket's latest shopping mall, is conveniently located near the famous Heroine's Monument, making it easily accessible for travelers arriving from Phuket International Airport.
This expansive two-story mall boasts a wide array of well-known brands commonly found in Thai shopping centers.
While the shopping experience is typical, it serves as a welcome addition for residents in this part of Phuket, offering a more convenient alternative to the distant Central Floresta shopping mall.
Within the mall, you will encounter popular Central Brands such as Super Sports and Power Buy. Additionally, there are several franchise restaurants like Bonchon, KFC, Pizza Company, Sizzler, MK Suki, Yayoi, and Hachiban Ramen.
A spacious food court offers a traditional Thai dining experience, and numerous coffee shops and bakeries, including Bake A Wish, After You, Swensen's, and Kamu Kamu, cater to those seeking sweet treats and caffeinated beverages.
To complete the entertainment options, Robinson Lifestyle Thalang features the ever-present SF Cinema, ensuring a well-rounded shopping and leisure experience for visitors.
Location: 36 Tilok Utis Road, Muang, Phuket 83000
Phone: 025 650 012
Hours: Mon-Fri: 10.30 am – 10 pm, Sat-Sun: 10.30 am – 10 pm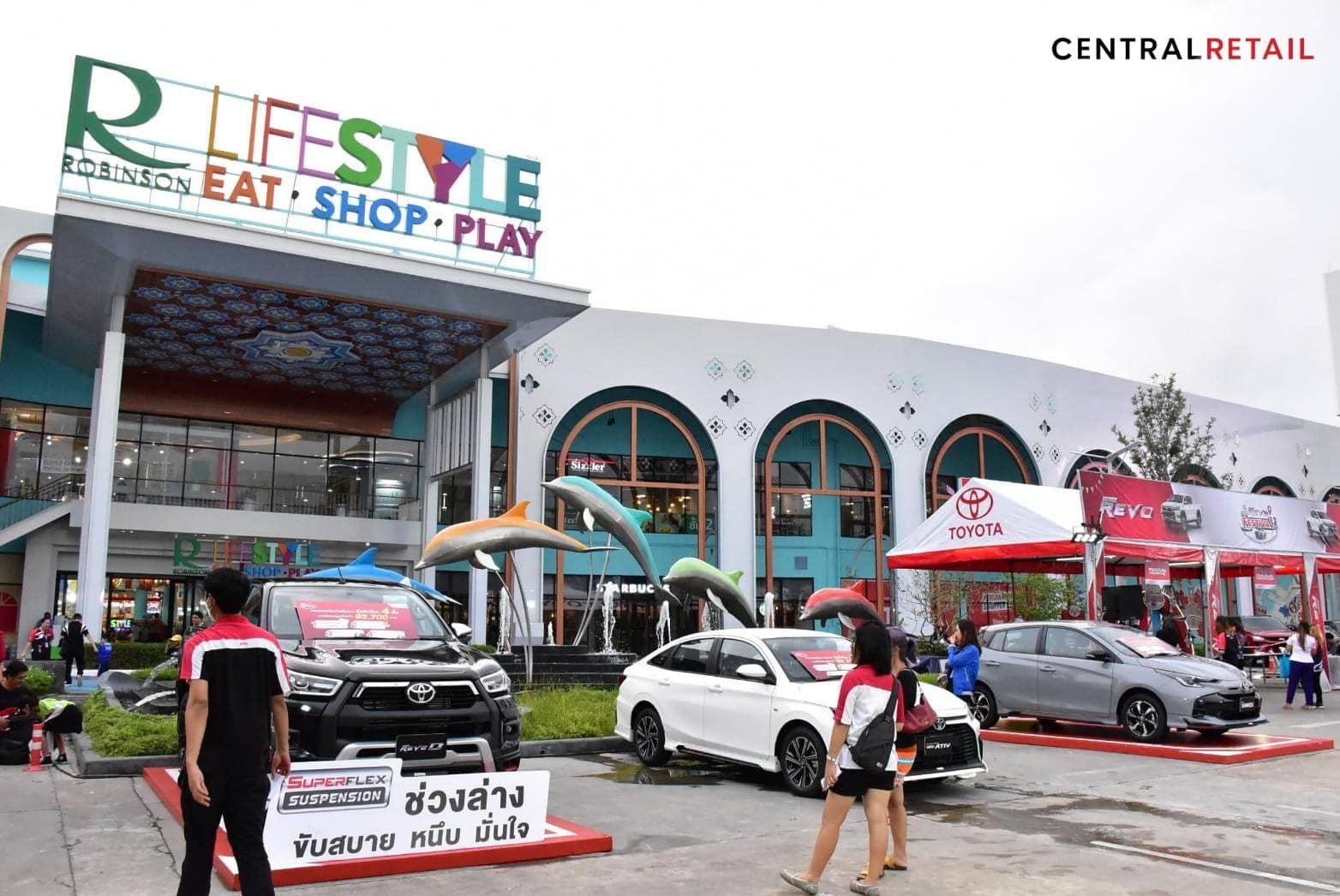 9. Home Pro Village
Home Pro Shopping Mall in Chalong, while relatively modest, offers a wealth of conveniences, particularly for expats in the area.
This shopping destination caters more to the local expatriate community than to tourists. Villa Market, an anchor store within the mall, boasts an extensive selection of groceries, wines, fresh produce, and imported goods, making it a valuable resource for residents.
Adjacent to Villa Market, you will find Home Pro, a massive store that specializes in home improvement and carries a comprehensive range of products for enhancing your living space.
Although this might not be of primary interest to all readers, it is worth mentioning for those looking to enhance their homes.
Phuket HomePro Village encompasses the expansive home improvement store along with several other retail outlets and banks. These include Boots Pharmacy, Top Charoen Optical, a camera and IT shop, sportswear stores, and more.
The presence of a Villa Supermarket within the complex makes Home Pro Shopping Mall a favored destination for the local expat community, offering a convenient one-stop shopping experience.
Location: 61/10 Moo 10, Chalong, Muang, Phuket, 83130, Thailand
Open: Daily from 8 am to 10 pm
10. Big C
Just a short 300-meter drive north from Central Shopping Mall on Bypass Rd, you will come across Big C, another shopping haven. Its outdoor parking area is quite spacious, and you can also find underground parking if needed.
Here, you will encounter various clothing stalls and vendors selling car accessories and delightful home décor items.
Once you step inside the mall, you will find a decent selection of shops and dining options. There's a convenient food court where you can grab a quick bite.
Remember to explore the Big C supermarket, where you can shop for groceries and other essentials. it is a convenient stop for both locals and visitors in the area.
Location: 72 Moo 5, Wichit, Muang, Phuket 83000, Thailand
Open: Daily from 9 am to 11 pm
Phone: +66 (0)76 249 444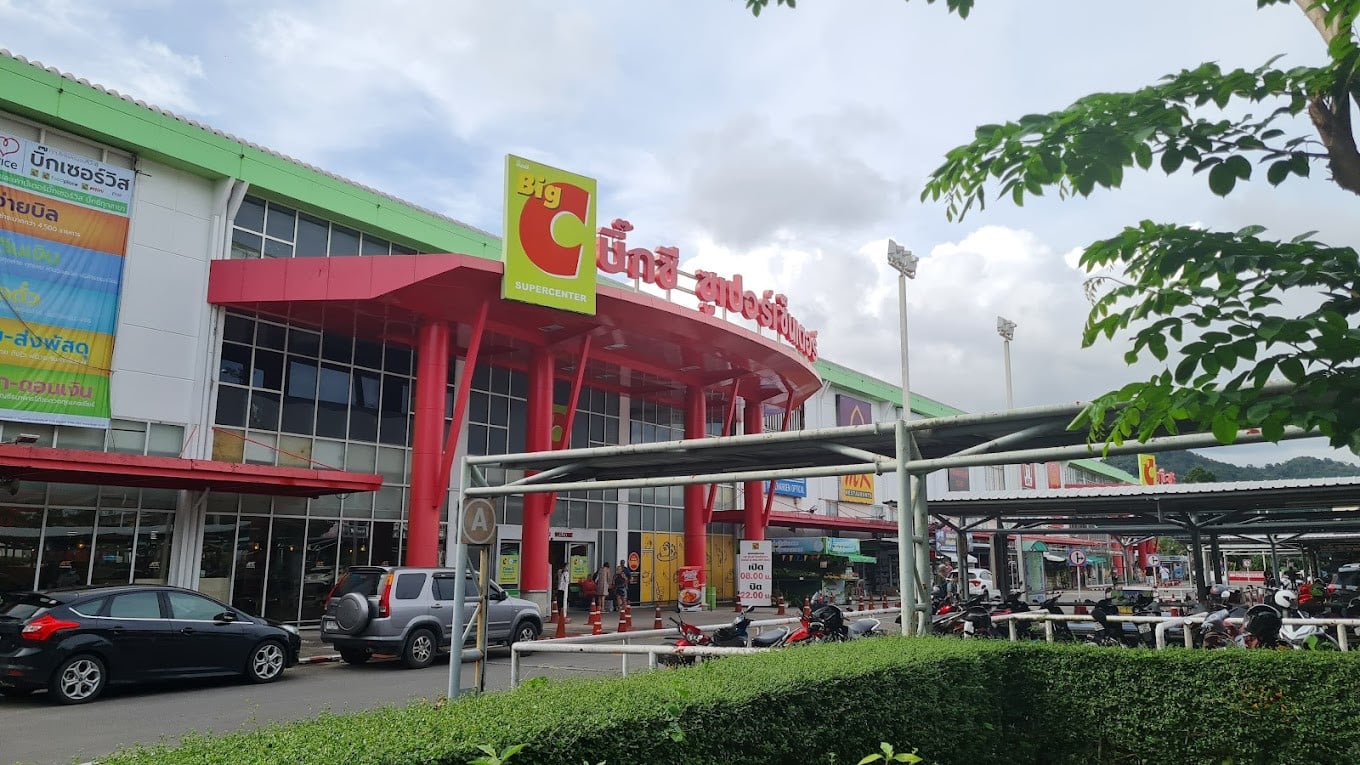 11. Supercheap
Supercheap, located just north of Phuket Town, is a colossal warehouse-like market that covers an area almost as large as a city block.
When you step inside, you will be greeted by a staggering variety of products stacked high, ranging from everyday items to the unexpected. Such a retail spectacle under a single roof might be a rare sight in the West, but it is a thriving shopping experience here in Thailand.
While Supercheap mainly caters to wholesale buyers (including many restaurants and bars), individual shoppers can also enjoy the island's lowest prices on various goods.
Part of the fun when visiting Supercheap is navigating its seemingly chaotic layout. It might not make much sense, but that's what makes it one of Phuket's most unique experiences.
The supercheap complex spans about 12,000 square meters and, from the outside, resembles a standard supermarket like Big C or Tesco Lotus. The notable difference is its remarkable height, giving it a distinct presence.
When you visit, keep in mind that backpacks and large bags aren't allowed inside Supercheap. Instead, you will need to leave them at the entrance, where you will receive a ticket to retrieve them later.
Once inside, you will be amazed by the immense size of the supermarket. The ceiling soars about 15 meters above you, and the rear of the building stretches a whopping 120 meters away.
Built upon a sturdy metal framework painted in white with a corrugated galvanized iron roof, the supercheap resembles a labyrinth.
Its pathways are marked by orange-painted metal shelves, and the cement flooring creates a clean and organized environment. To help shoppers find their way through the aisles, there's a floor plan displayed near the entrance, including an English version.
Some sections, such as electronics, pharmacy, liquors and wines, and frozen goods, are housed in air-conditioned areas accessible through automatic doors.
Location: 46-30 Thepkasattri Rd, Rassada, Muang, Phuket 83000, Thailand
Open: Daily from 4 am to 10 pm
Phone: +66 (0)76 609 000
Parting Words
Phuket's shopping scene has evolved significantly over the past two decades, offering a range of modern malls that provide respite from the heat or rainy days.
These shopping centers have adapted to the changing market, offering not only renowned clothing brands and cosmetics but also global franchises like Starbucks and KFC.
Each mall offers a unique experience, from the entertainment-focused Jungceylon to the diverse offerings of Central Festival Phuket.
So what are you waiting for, exciting fun awaits you at Phuket!