Phuket FantaSea, the only cultural theme park on the island, is designed to showcase Thailand's exotic heritage and classic Thai traditions using advanced cutting-edge technology.
Delve into Thailand's exotic myth, mystery, and magic as you explore the ideal all-in-one entertainment venue.
Featuring extravagant cultural shows, a Thai nighttime cultural theme park atmosphere, shopping in the Festival Village, and dining in the Golden Kinnaree Buffet Restaurant, Phuket FantaSea is inspired by Thailand's rich and exotic heritage and presents Thai culture and tradition in a unique and captivating manner.
Immerse yourself in the dazzling world of Phuket FantaSea, a mesmerizing cultural theme park that showcases the rich heritage and vibrant traditions of Thailand through awe-inspiring performances, stunning special effects, and a captivating storyline, all set within the magical realm of this enchanting entertainment destination on the picturesque island of Phuket.
Owing to the world-class technology it employs, it has become a key attraction not just in Phuket but the whole of Thailand.
The theme park is designed to demonstrate Thailand's exotic heritage and classic Thai traditions using advanced cutting-edge technology and special effects.
The goal is to acquaint the people with Thailand's spellbinding charm and beauty in a way that is not just modern and advanced but also fun to consume.
3 Phuket FantaSea: What's the Buzz About?
About the FantaSea Park
The park is spread out in a wide 30-acre area. The park's three major attractions make it so popular among locals and tourists.
1. Festival Village
It is the most happening shopping street in Phuket. A stroll here would take you through Thailand's architectural history.
Each facade of the festival village offers a unique shopping experience to the visitors.
You can buy high-quality and locally-sourced silk, leather, handicrafts, ceramics, jewelry, souvenirs, and quirky elephant articles from 15 different shops.
The festival village street is home to the Kamalan people; hence, you get to experience a warm welcome reflective of Thailand's legendary hospitality.
Here, you get to witness highly-skilled villagers demonstrating a range of traditional arts and crafts. In addition, you can enjoy watching cultural parades, pageants, street shows, and elephant rides.
The vast cavern of Hanuman's Lair is full of surprises and games, exclusively for the kids. This trickster king of the monkeys promises fun and excitement for everyone.
You can enjoy a sumptuous meal at Pier restaurant and have a good drink in the beer garden.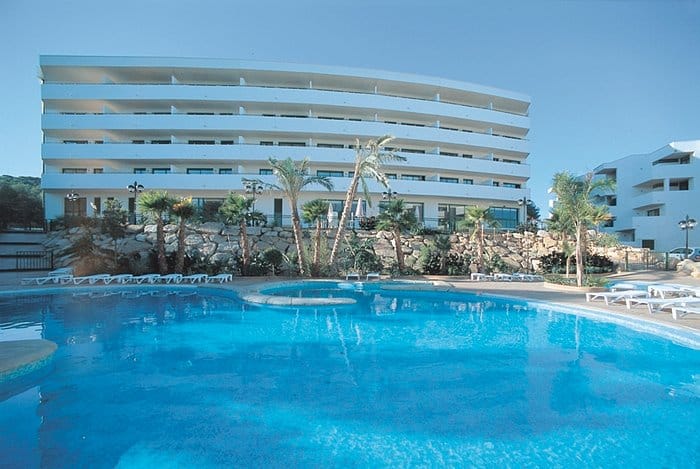 2. Golden Kinnaree
It is the world's grandest Thai and International Buffet restaurant with a 4,000-seat dining facility.
Here mythical Kinnarees, half-bird and half-woman of legendary beauty and graciousness look after their guests like proverbial kings.
The restaurant employs some of Thailand's best chefs. You can enjoy a sumptuous feast of Royal Thai dishes and delicacies from popular international cuisines amidst a mystical Himmaphan forest setting.
The grand restaurant has a wide range of facilities to host banquets, conferences, corporate meetings, and theme parties, all in a one-of-a-kind atmosphere of Thai mythology.
The buffet timings are from 6 pm to 9 pm.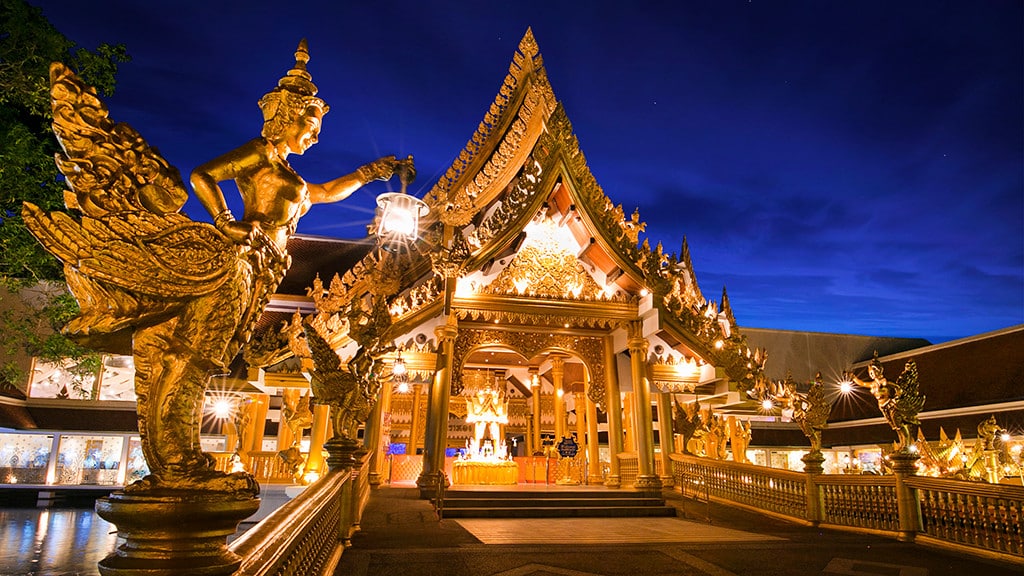 3. Fantasy of a Kingdom
It is a Las-Vegas style Thai Culture & Illusion theatrical spectacle featuring over 150 casts and 44 elephants.
It is an audio-visual extravaganza that incorporates Thai culture with magical illusions.
The show uses 4-D in-theatre effects, aerial ballet, acrobatics, indoor pyrotechnics, special effects, elephant performances, and stunts to create a theatrical masterpiece guaranteed to thrill the visitors.
The visitors are taken on a journey through Thai history, across its various regions, exotic songs, and dances that make the kingdom so dazzlingly attractive.
Mythology is demonstrated through the acrobatic antics of Hanuman and his monkey warriors or the exquisite movements of the beautiful Kinnarees.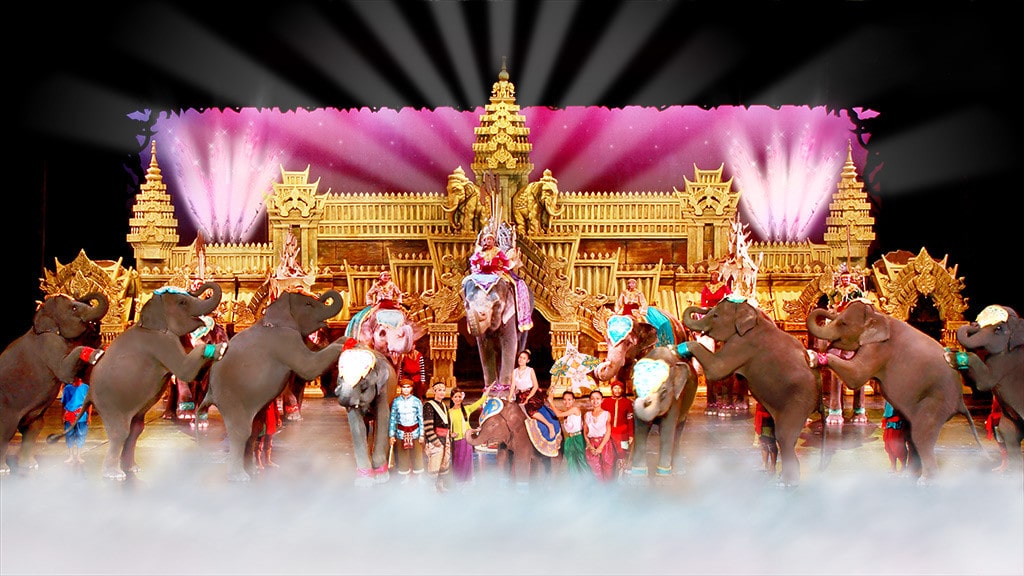 How to Reach FantaSea Park?
Location: 99 M3 Kamala Kathu Phuket 83150 Thailand
Phuket FantaSea is located on Kamala Beach, 9 KM from Patong Beach. It is easily accessible from all central locations in Phuket.
The park also offers an in-house transfer service.
To avail of the service, you have to make a reservation on +66 76 385 111 or +66 76 680 888.

The service is both for pick-ups and drop-offs. The drop-off service begins after the show has ended.
After the show, the Transfer Service leaves approximately every 10 minutes until midnight.
Tickets

Park Operating Days and Hours
Phuket FantaSea Cultural Theme Park is open every day except Thursday. If Thursday falls on a public holiday, the park may be open as usual.
The park remains open from 17:30 to 23:30.
So, if you are planning to visit Phuket anytime soon, do visit the FantaSea park to get amazed by Thailand's exotic Myth, Mystery, and Magic. Unlock your imagination and immerse yourself in the Thai fantasy.
Editor - Thailand Nomads
Cindy quit her 9 to 5 job to pursue her passion for exploring mesmerizing locations in Thailand. She has been living here for the past 5 years now and through Thailand Nomads, she shares her experiences and insights about the must-visit places in Thailand.
Email: cindy@thailandnomads.com