Experience a fun-filled outing at Bamboo Mini Golf in Pai, where creatively designed courses, charming bamboo-themed obstacles, and a laid-back atmosphere come together for a delightful and entertaining activity perfect for families and friends in this tranquil Northern Thai town.
About the Pai Bamboo MiniGolf
The Pai Bamboo is a 13 hole golf course located very close to Pai, 3.5 km from Pai Airport. The golf course is surrounded by lofty mountains that give the golf course a truly picturesque backdrop.
The golf course has nine 3 pars, 2 five pars, one 4 and one 6 par.
There is a hole deemed 'the happy ending', in which if you get put and get a hole in 1, you get two points knocked off your score.
The mini golf course is well-kept and hence in excellent condition. The entry fee is very affordable- only 120 Baht per person, hence you should definitely try it once.
The course is set up on an old paddy field. Here you get to play golf with bamboo sticks and tennis balls which is not only unique but fun. You can easily make your booking through the phone.
The owner of the golf course, Jim and his family are very courteous and friendly. He attends to all the players personally and takes them through the various ways of playing golf there.
After playing golf, you can sit down for a sumptuous meal here.
The cafeteria has a decent menu and serves Schnitzel, burgers, chips and a side salad. You can also taste the very delicious homemade rosella juice.
Location: Mae Na Tong, Pai District, Mae Hong Son 58130, Thailand
Phone: +66 86 204 1953
Facebook: https://www.facebook.com/playminigolfpai/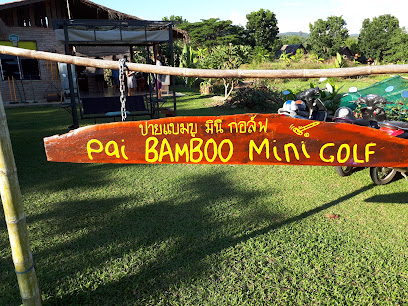 Hi, I'm Justin Pearce - a passionate traveler who has spent over 6 years of his life exploring lesser-known yet mesmerizing locations in South-East Asia. I am an avid biker who likes covering long distances on a bike. Through Thailand Nomads I want to share my tips and tricks for exploring some of the most popular tourist destinations in Thailands.