Despite the giant technological leaps humans have taken over the years, there are realms where nature still has the upper hand. You can witness it in Chiang Mai through the various organic shops available here.
Discover the finest in natural living with our guide to the best organic products in Chiang Mai, where eco-friendly shops, sustainable markets, and farm-to-table eateries offer a wide range of wholesome goods for a healthier lifestyle in this captivating Northern Thai city.
7 Where to Shop Organic Products in Chiang Mai? – 2023 Guide
1. Goodhealth Market
It is one of the most popular organic shops in Chiang Mai, located on Sridonchai road, near the Suriwong Book Center.
The shop sells health and organic products, cold juices, international products, packaged foods, vitamins, beauty, and natural body care products.
They have a particularly good range of rare cooking ingredients, such as quinoa, red lentils, and psyllium husk, as well as regular items, such as dried fruit, nuts, and seeds.
The shop features a diverse collection of different organic tea leaves and coffees which you should try once.
The quality of the products is excellent, along with good packaging that ensures it remains fresh for a long time. The prices are very reasonable considering the fine quality of the products.
The shop is not 100% vegan but is an excellent stop to buy plant-based items.
Address: 48, 3-5 Sridonchai Rd, Tambon Chang Khlan, Mueang Chiang Mai District, Chiang Mai 50100, Thailand
Phone: +66 53 206 888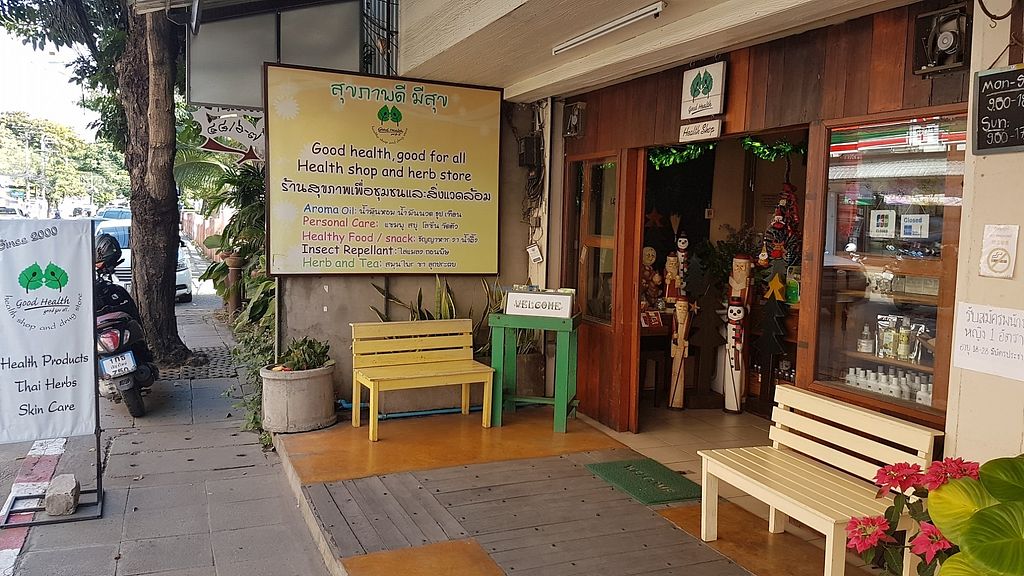 2. Aden Health Shop
It is a one-stop solution for organic products in Chiang Mai. The shop is presently in the JingJai market and was previously located on Nimmana Haeminda Rd.
Aden health store sells a wide variety of natural products, including snacks, cereals, grains, condiments & spices, food supplements, herbs, superfoods, detox, honey, sweetener, oils, and home and lifestyle products.
Some of their best-selling products are goat milk kefir, an enema detox set, pure aloe vera juice, pressed flaxseed oil, and oregano oil.
The prices are slightly high compared to the other organic stores nearby.
Address: Jing Jai Market zone A, Atsadathon Road, T. Patun, A. Muang, Chiang Mai 50300
Phone: 081 882 7004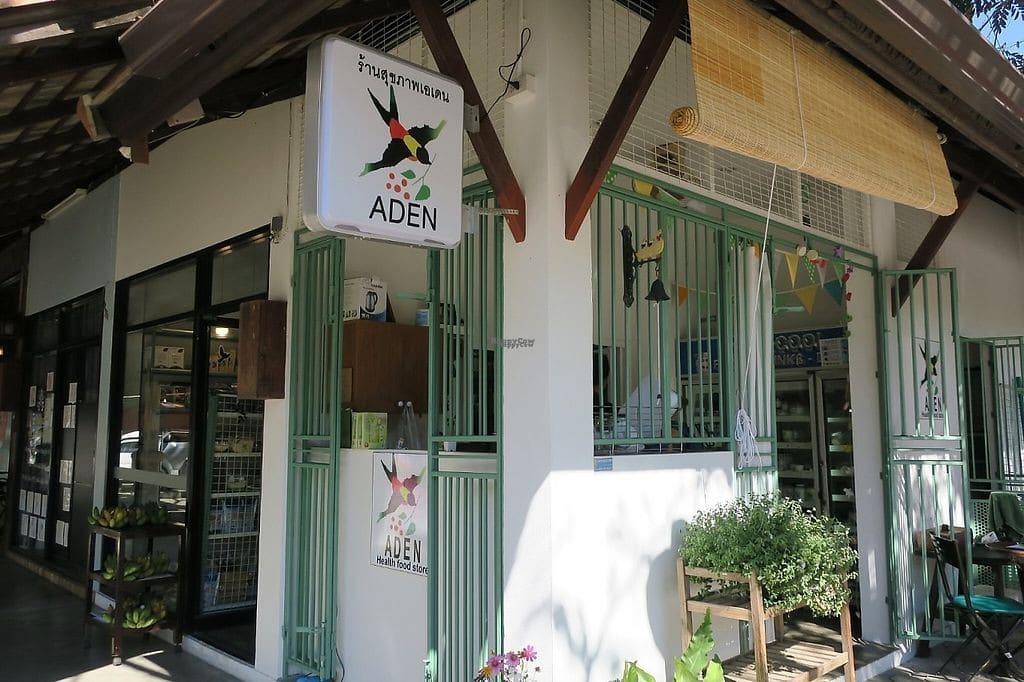 3. Tops Green Chiang Mai
Tops Green is a popular organic store with numerous branches in Thailand, including Bangkok and Chiang Mai.
The Chiang Mai store is near the JingJai Farmers market. They have top-quality products for those wanting to live a healthier and more natural lifestyle.
Prices are a little bit more than average. The store has a nice bakery and fresh food section.
The market has a parking facility, but it may get very crowded on weekends.
You can find detergents sold by weight, beeswax wraps, wooden tableware, marche bags, organic ingredients, and more.
There are also souvenirs such as soap, honey, essential oils, and yardum. You can also find cold beer here in the eat-in space near the bread corner.
Address: RX4W+PG, Tambon Chang Phueak, Mueang Chiang Mai District, Chiang Mai 50300, Thailand
Phone: +66 84 043 4064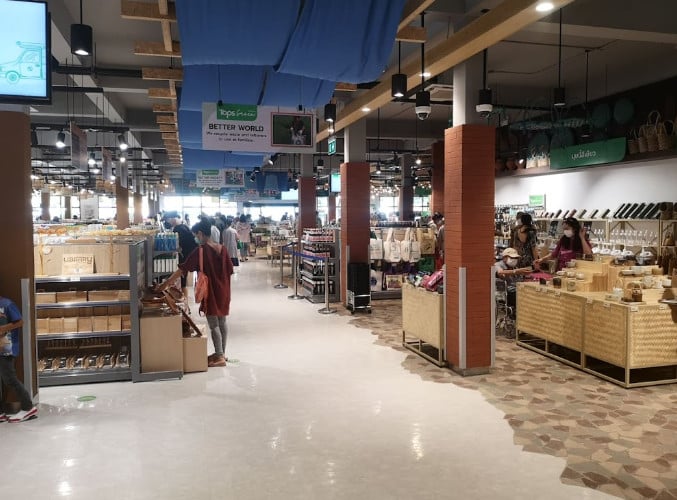 4. Greenpea Organic Market
It is a small organic shop selling many vegan items, including granola, cereal bars, dried fruit, quinoa, nuts, and seeds.
It also sells superfood powders such as cacao, spirulina, acai, pea protein powder, and herbal body care products.
The staff is very warm and welcoming and will help you shop well.
Address: 499/26 Moo 6 Somphot 700 Pee Road, San Phi Suea, Mueang Chiang Mai, Chiang Mai 50300, Thailand
Phone: +66 93 192 7129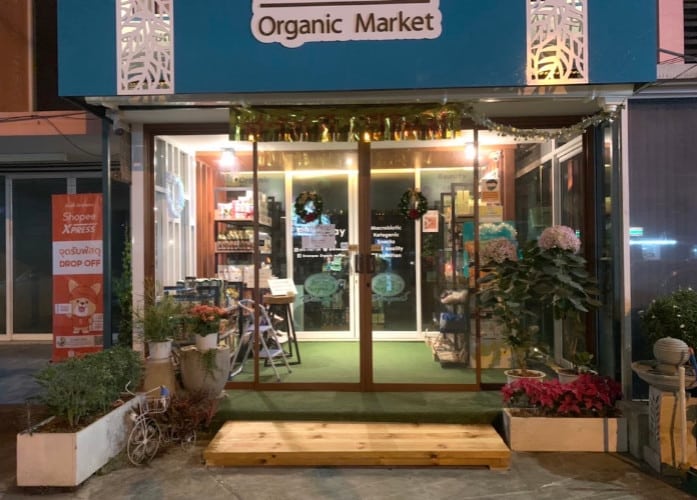 5. Star Crystals Organic
Star Crystals is an organic and vegan shop featuring a Himalayan salt room and handmade organic cacao, coffee, and tea menu.
It also sells salt lamps, jewelry, raw chocolate, snacks, and cooking items. There are various events and workshops held here regularly.
It has a very friendly and community vibe. The place is also breast-feeding friendly, as all places should be.
The drinks served here are delicious. There is also a parking facility nearby, so you need not worry about the safety of your vehicles.
Address: 5, 1 Nimmana Haeminda Rd Lane 9, Tambon Su Thep, Mueang Chiang Mai District, Chiang Mai 50200, Thailand
Phone: +66 64 002 3510
6. JJ Organic Market
The JJ Organic market is located north of the ancient city of Chang Phueak.
It's considerably more laid back than other markets, allowing you to relax while enjoying a tasty snack and a wonderful cup of local coffee.
Excellent used furniture, antiques, spa items, vibrant arts and crafts, and even fresh food are available. Beautiful Lanna-style décor gives the market's interior a distinctly traditional Thai vibe.
Every health enthusiast should make a point of stopping by this wonderful retailer of all things organic on Wednesday or Saturday mornings.
Everything is guaranteed to be toxic-free, including the locally sourced vegetables and pre-cooked food for sale. Remember to bring your bag!
Address: 45 Atsadathon Rd, Pa Tan Sub-district, Mueang Chiang Mai District, Chiang Mai 50300, Thailand
Phone: +66 53 231 520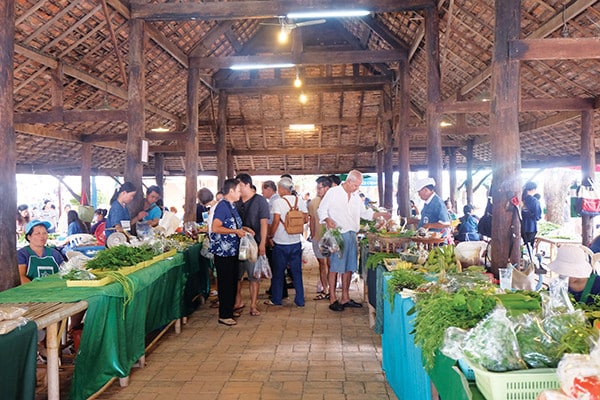 7. Free Bird Cafe
The cherished Free Bird Café recently moved to a new site. It prides itself as Chiang Mai's first zero-waste lifestyle business.
Customers are urged to bring their recyclable containers to the refilling station, where soaps, shampoos, and other products are offered.
Along with clothing, reusable straws and other home products are offered. The menu includes well-known and delicious vegan food.
As they frequently host parties, this is also a great area to hang out with friends for a casual meet-up with nomad females.
All revenues are donated to charitable causes, including free education for Burmese refugees.
This organic shop is worth it by supporting a worthy charity, meeting great people, lounging, and enjoying really nutritious and delectable food.
Address: 14 Sirimangkalajarn Road, Mueang Chiang Mai District, 50200, Thailand
Phone: 081 028 5383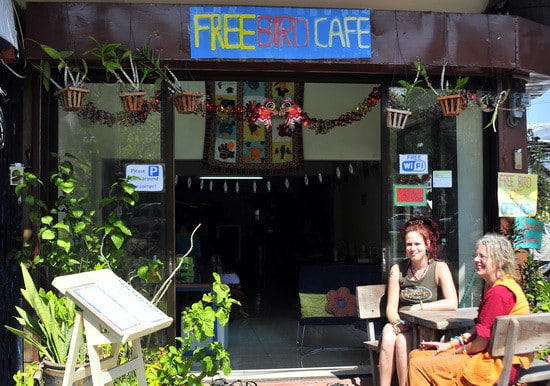 Final Words
Be careful of the shops that sell low-quality products under the guise of organic and cruelty-free commodities.
After you are done buying organic products from the trusted shops mentioned above, try out the top-notch Thai silk that is famous worldwide.
Founder - Thailand Nomads
Jordan started Thailand Nomads primarily for sharing his experience of exploring Thailand for several years. The objective is to help tourists especially digital nomads plan their travel itinerary when visiting Thailand.
Email: jordan@thailandnomads.com