Are you ready to experience the vibrant nightlife in Phuket? Patong Beach, located on Bangla Road, is the epicenter of nightclubs, discos, and late-night entertainment.
If you're looking for the best clubs in Patong Beach to dance the night away beyond the official 2 a.m. closing time, you're in for a treat. While there are several nightclubs and discos to choose from, we've handpicked seven top-notch venues that are worth mentioning.
The best part? Many of these nightlife hotspots are conveniently located near each other, right along Bangla Road. Plus, some offer free entrance, while others provide hand stamps, allowing you to come and go as you please.
Keep in mind that some of these clubs fill up quickly, so it's beneficial to know where to start your night if you prefer an early kickoff
1. Tai Pan Club
One of the oldest and most cherished venues in Patong Beach is the Tai Pan Club. Over the years, it has undergone various transformations, and today it enjoys tremendous success.
It consistently draws a crowd without being pushy towards patrons. Tai Pan is an old-school club with great sound, impressive lighting, and a fantastic atmosphere. Best of all, there's no entry fee!
For those looking for a bit of nostalgia mixed with a modern twist, Tai Pan Club offers the best of both worlds. The club's enduring popularity speaks to its unique charm and enduring appeal.
The dance floor is where the magic happens, with a blend of classic and contemporary tunes that keep the crowd moving. The lighting and sound system create a captivating ambiance, making it an excellent place to lose yourself in the music.
One of the standout features of Tai Pan is its offer of free entry. To sweeten the deal, they hand out vouchers in nearby streets, which entitle you to a complimentary shooter when you purchase a drink.
It's a welcoming and budget-friendly club, making it an excellent choice for a night out in Patong Beach.
Location: 165 Rat-U-Thit 200 Pee Road, Patong, Kathu, Phuket 83150, Thailand
Open: Daily from 8.30 pm to 2 am
Phone: +66 (0)83 647 5159
2. Illuzion Club
Illuzion Phuket is a rising star on Bangla Road in Patong Beach, and it's housed in what used to be an old shopping mall right across from the massive Sugar Club. This colossal venue can host up to 5,000 standing guests, along with numerous VIP tables.
As soon as you step inside, you'll be captivated by the music and the electric atmosphere, and you can't help but notice the outstanding sound and lighting system. Best of all, the entrance is free.
If you're looking for a top-notch experience, Illuzion Phuket delivers on all fronts. With a spacious dance floor and an array of VIP tables, you can choose the atmosphere that suits your mood.
The club often hosts internationally renowned DJs, so you're in for an unforgettable night of music and entertainment. Whether you're sipping cocktails at a VIP table or dancing with the crowd, Illuzion's high-energy vibe makes it one of the hottest party destinations in Phuket.
As the night progresses, Illuzion's laser light show adds a mesmerizing visual element to the music, enhancing the overall experience. The club's prime location on Bangla Road ensures that you're never far from the action.
And if you're in the mood for something special, their bottle service and attentive staff will make your night truly memorable.
Location: 31 Bangla Road, Patong, Kathu, Phuket 83150, Thailand
Open: Daily from 9 pm to 1 am
Phone: +66 (0)93 583 4766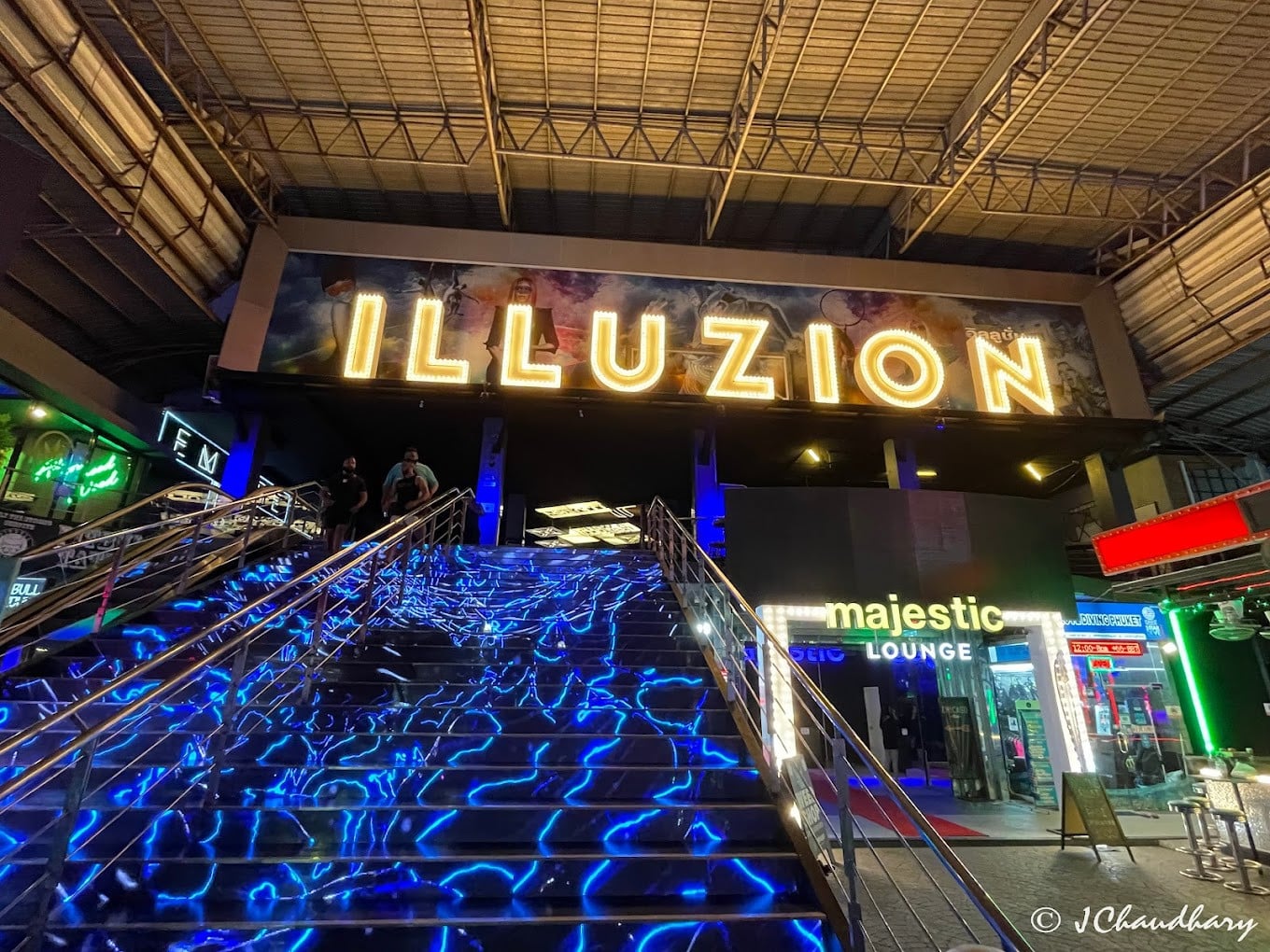 3. Sugar Club Phuket
Sugar Club, originally from Bangkok and now thriving in Patong Beach, is an international-standard Hip Hop venue. It boasts a lineup of international DJs, including big names like Rae Sremmurd, Fatfingaz, Baby Yu, and Lil Yachty, all supported by local talents.
You can spot this brightly illuminated new club right in the heart of Bangla Road. Not only is the entrance free, but you can enjoy drinks starting at just 200 baht for a local beer.
With a great stage, a powerful sound system, a VIP zone, and incredible dancers, Sugar Club is a hip-hop lover's paradise.
For an extraordinary night out, Sugar Club offers a unique blend of entertainment. The massive neon display on Bangla Road is an iconic landmark in Patong Beach, and it marks the entrance to this lively club.
The impressive stage and state-of-the-art sound system ensure that you won't miss a beat of your favorite hip-hop tracks. The VIP zone is perfect for those seeking an exclusive experience, with comfortable seating and excellent views of the dance floor.
The club's dancers add a dynamic element to the atmosphere, and you'll find yourself grooving to the beats in no time.
The combination of international and local DJs keeps the music fresh and diverse, making Sugar Club a go-to destination for anyone looking to immerse themselves in the hip-hop scene.
Whether you're a seasoned clubgoer or a first-timer, Sugar Club welcomes all with open arms. With affordable drink prices, this club offers an incredible night out that won't break the bank.
Location: 70/3 Bangla Road, Patong, Kathu, Phuket 83150, Thailand
Open: 24 /7
Phone: +66 (0)98 889 8590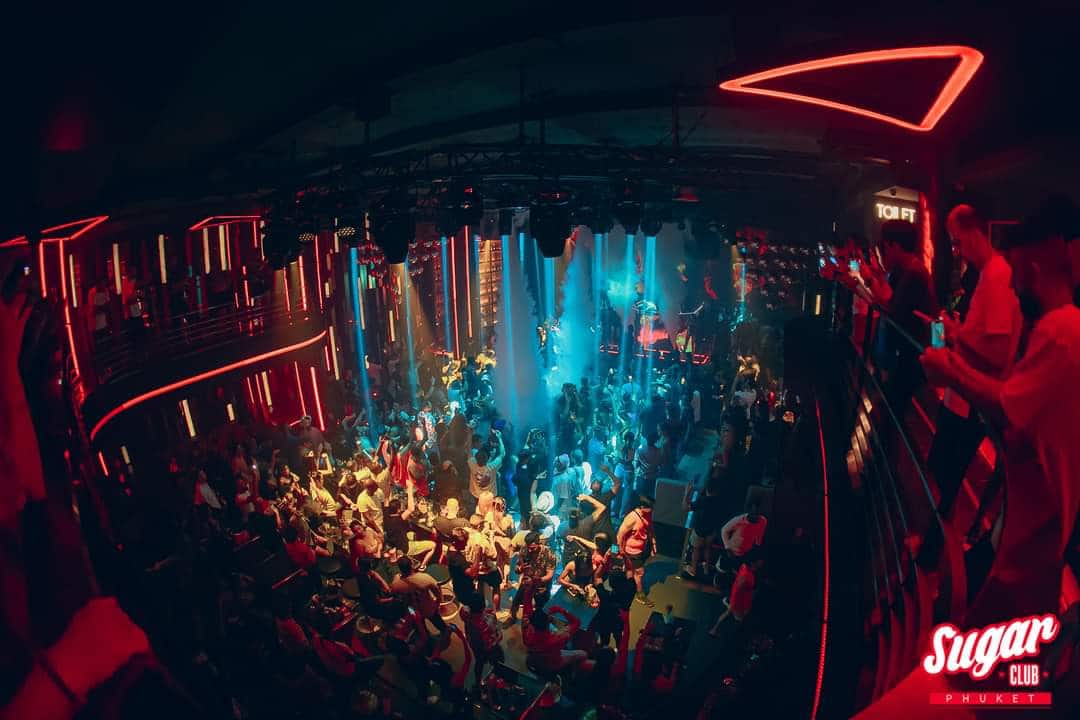 4. Tiger Disco
Replacing the now-defunct 'Old Tiger Disco' on Bangla Road, the 'New Tiger Disco' is a spacious yet empty cave situated on the top floor of a three-story entertainment complex that resembles a massive, psychedelic Flintstone's cave.
While it's reminiscent of the old Tiger Disco, it hasn't quite matched its popularity due to the presence of the thriving Illuzion Club next door.
Tiger Disco may be off the beaten path, but it offers a unique clubbing experience that's hard to find elsewhere. The club's distinctive interior design, resembling a prehistoric cave, sets the stage for an unforgettable night.
The massive space provides plenty of room to dance and explore, and it's a great choice for those who prefer a more open and spacious club environment.
While it might not have reached the heights of Illuzion, Tiger Disco still packs a punch with its impressive lighting and sound setup. The cavernous surroundings make for a memorable backdrop as you dance the night away.
The club's free entrance policy makes it accessible to everyone, ensuring that you can experience a one-of-a-kind night in Patong Beach.
Location: 49 Bangla Road, Patong, Kathu, Phuket 83150, Thailand
Open: Tuesday, Thursday–Friday from 8 pm to 4.30 am, Wednesday, Saturday–Monday from 8 pm to 4 am
Phone: +66 (0)83 183 7777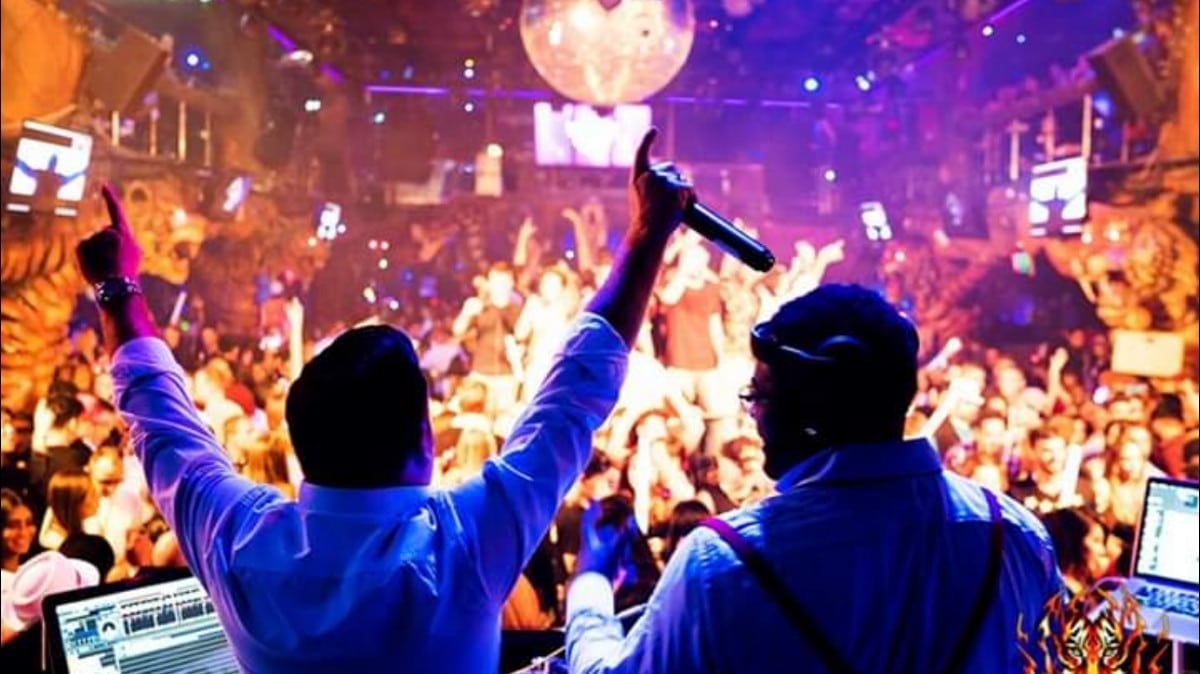 5. Hollywood Phuket
Located at the beach end of Bangla Road, Hollywood Phuket is a well-loved nightlife spot with a history of bringing exceptional entertainment to partygoers for many years.
While it briefly changed names in the past, it didn't take long for it to return to its roots, reigniting the great parties with its renowned EDM and house beats that it has always been known for.
For those seeking an electrifying night filled with pulsating beats, Hollywood Phuket is a must-visit destination. Nestled at the beach end of Bangla Road, this club offers a vibrant atmosphere that is a testament to its long-standing popularity.
The club's specialty in EDM and house music ensures that the dance floor is always alive with energy and excitement.
Hollywood Phuket is known for its two-room setup, with the first room bustling with enthusiastic patrons and central tables where you'll find young Thai girls enjoying the night. The real magic happens in the second room, where the dance floor beckons with its hypnotic music.
The club's security personnel ensure that your night is safe and memorable. While the club is temporarily closed, when it reopens, you can anticipate a night filled with fantastic music, a lively crowd, and an unforgettable experience in the heart of Patong Beach.
Location: Soi Hollywood, 7 Bangla Road, Patong, Kathu, Phuket 83150, Thailand
Open: Daily from 9 pm to 6 am
Phone: +66 (0)93 642 0495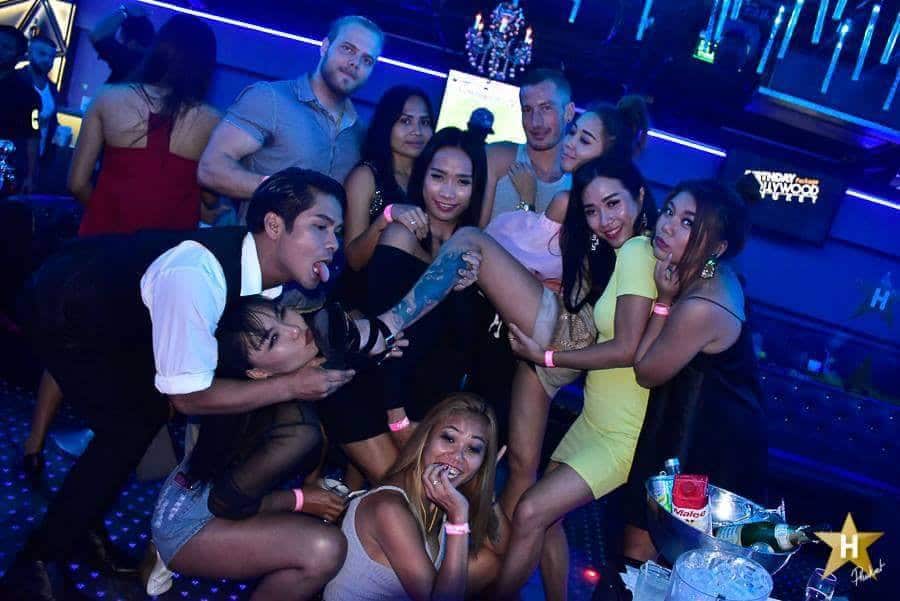 6. Paradise Beach Club Phuket
Nestled in an isolated bay near Patong, Paradise Beach Club Phuket stands as a sprawling and well-developed party destination that combines the best of shopping, dining, and entertainment.
It offers visitors a taste of Koh Phangan-style beach parties, all while maintaining an air of exclusivity that doesn't come with a prohibitive price tag. What sets Paradise Beach Phuket apart is its unique approach to celebrations – it pays homage to the lunar phases.
This means that it doesn't just limit the festivities to the full moon; it also recreates the famous half-moon and black-moon parties of Koh Phangan, ensuring that the party never stops.
The club's dedication to embracing these lunar rhythms sets it apart from other beach clubs on the island.
Paradise Beach Club Phuket is a must-visit for those seeking an island-style party experience. Its beautiful location and versatile entertainment options make it an excellent choice for anyone looking to have a great time by the sea.
While it's open from 9 a.m. to 7 p.m. daily, you'll find that the real fun begins when the sun goes down, and the beach comes alive with music, dance, and good vibes.
Location: 109 Muen-Ngern Road, Patong, Kathu, Phuket 83150, Thailand
Open: Daily from 9 am to 7 pm
Phone: +66 (0)83 743 9009
On Top Day & Night Beach Club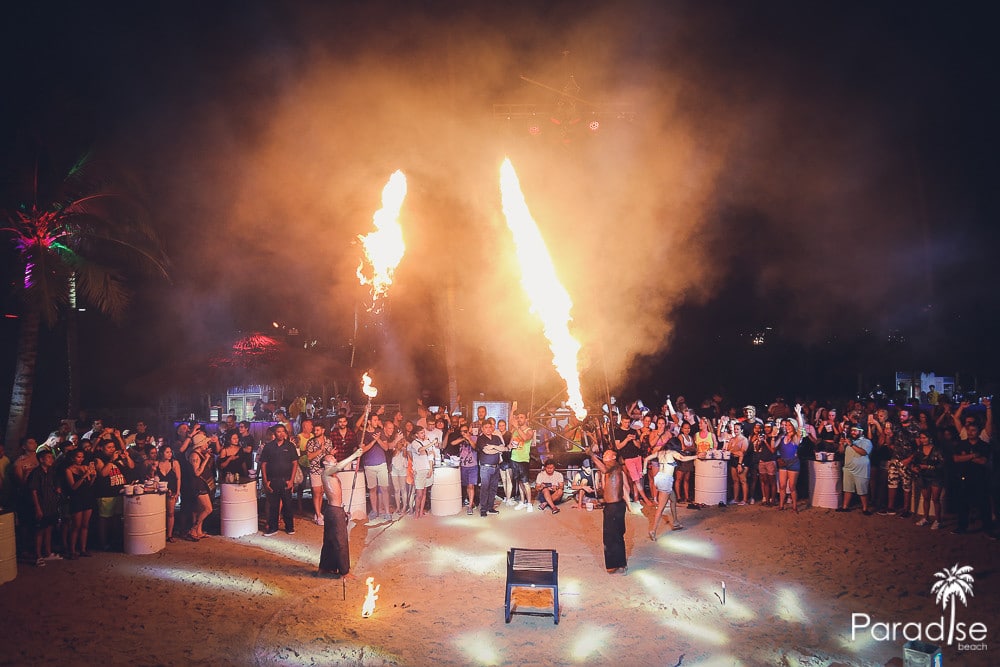 7. On Top Day & Night Beach Club
On Top Day & Night Beach Club is the ultimate rooftop and poolside party haven situated atop the Hotel Swissotel Resort Phuket Patong Beach on Ruamjai Road.
While it may not offer the direct beachfront experience, it more than compensates with its funky atmosphere and unique offerings, making it a standout nightlife destination.
The club boasts an impressive range of ingenious signature cocktails that are a treat for your taste buds. It's not just about the drinks; On Top Day & Night Beach Club is also known for its tasty snacks that perfectly complement your beverages.
What truly sets this venue apart is the presence of a resident mermaid, adding a touch of enchantment to your party experience.
With its location on the 7th floor of Hotel Swissotel Resort, you'll get breathtaking panoramic views of Patong. This elevated position, combined with a vibrant atmosphere, ensures that On Top is always buzzing with energy.
Whether you're looking to relax by the pool or dance the night away, this club offers a diverse range of experiences. Open daily from midday to midnight, it's a fantastic place to unwind, enjoy the cool sea breeze, and savor the night in style.
Location: 7th Floor, Hotel Swissotel Resort Phuket Patong Beach, 48 Ruamjai Road, Patong, Kathu, Phuket 83150, Thailand
Open: Daily from midday to midnight
Phone: +66 (0)85 577 9212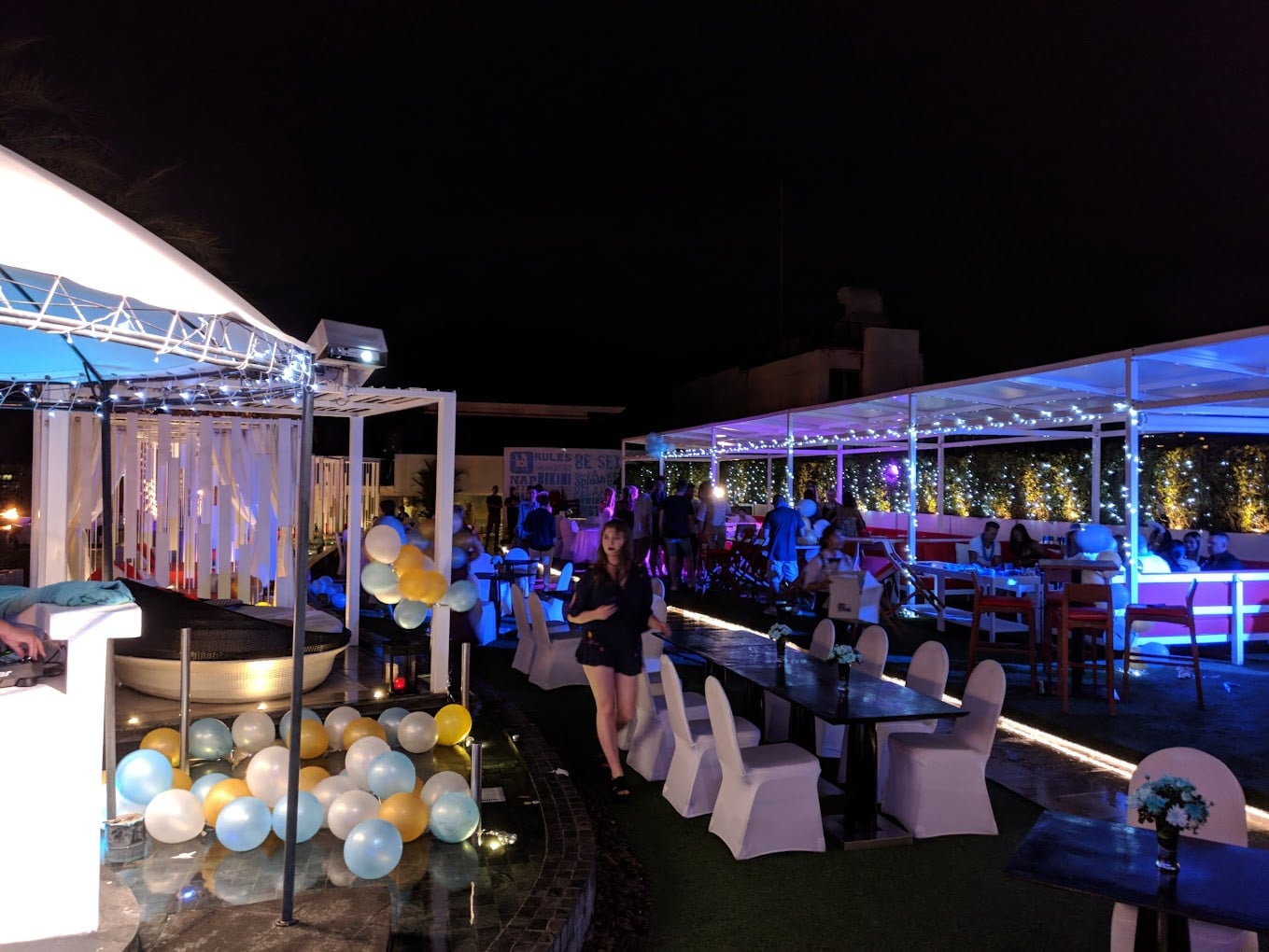 Final Words
There you have it – a guide to some of the best nightclubs in Patong Beach, Phuket. Whether you're into hip-hop electronic beats or want to dance the night away, these clubs offer a diverse range of experiences. Enjoy your nights out in this vibrant part of Thailand!