Nai Thon Beach, a peaceful oasis nestled between the bustling Patong Beach and the serene Nai Harn Beach, offers a tranquil retreat for visitors looking to escape the crowds.
People prefer this beach because it is peaceful, with just the right number of hotels and restaurants.
It is also popularly known as Andaman White Beach. The beach has a very laid-back vibe, doesn't feel overly secluded, and has all the amenities you need for a fantastic vacation.
You can always hire a vehicle in Phuket and drive to Patong for a great night out or further south for a discovery day because the island is very small.
Escape the hustle and bustle of Phuket's busy tourist areas and experience the serenity of Nai Thon Beach: An Oasis of Peace in Phuket.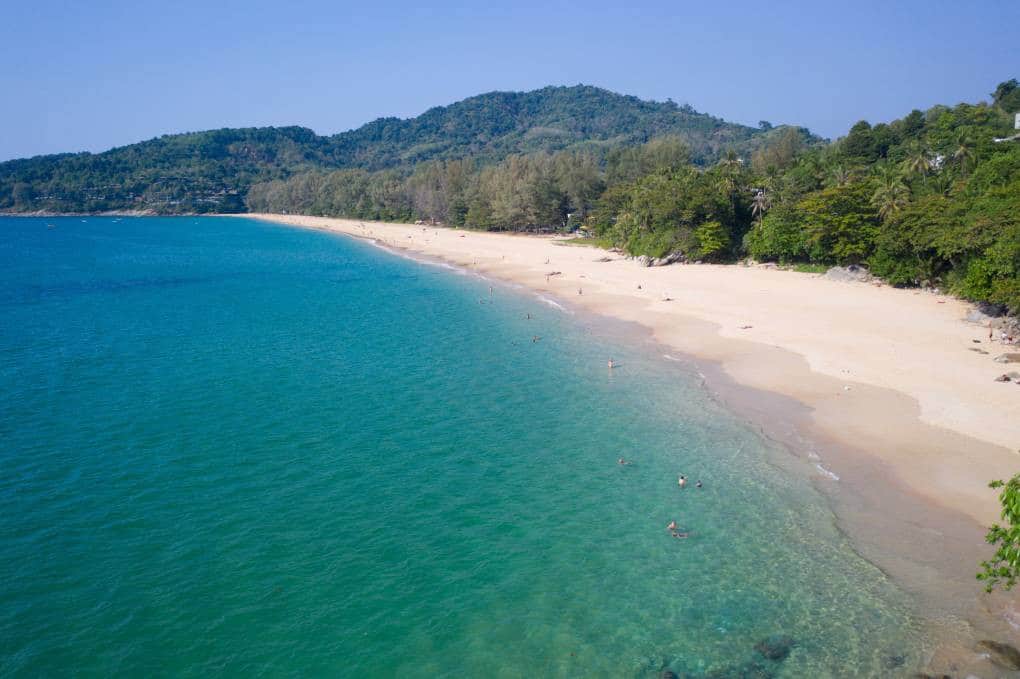 About the Nai Thon Beach
Amazingly long and broad, the beach is split in half by a small rock formation. It is lined by plenty of big trees that provide enough shade to visitors.
There is another secluded area on the beach which is lesser known. To access it, you will have to go past the rock formation.
Swimming is excellent in the peak season, thanks to the smooth sand.
At the southernmost point of Naithon, there are loungers, umbrellas, and refreshments in addition to a small restaurant.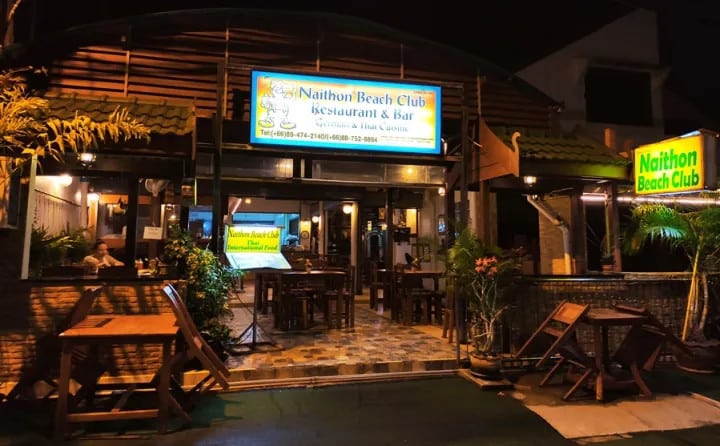 How to Reach Nai Thon Beach?
The journey to Nai Thon is equally, if not more, delightful than the beach itself. A winding, narrow road travels through one of Phuket's last surviving natural jungles as it approaches the shore from the south.
When approaching the beach from the north, the route will pass past a settlement and a valley filled with beautiful greenery.
You have the option of going solo and exploring the island. The best option would be to walk and explore if the weather permits, of course.
Additionally, bicycles may be rented for 200 baht per day. You can also get a motorcycle or car from the various bike and car rentals in Phuket.
The cost of a motorcycle for a day in high season is 300 baht. Short taxi trips are also available, such as lodging on the main road.
What to do on Nai Thon Beach?
The finest activities in Nai Thon include scuba diving, which can be organized via the dive shops on Beach Road, and exploring rocky coves, which can only be reached by longtail boat.
A few nearby long-tail boats give a touch of Thai beauty to the ocean's atmosphere. Use a long-tail boat to go fishing on the sea if you enjoy the sport.
Contact the neighbourhood fisherman on the beach to make arrangements for this.
Due to its clean seas, a beach is a fantastic place for snorkelling as well. For those who are more daring, the accessible resorts also offer enjoyable snorkelling excursions.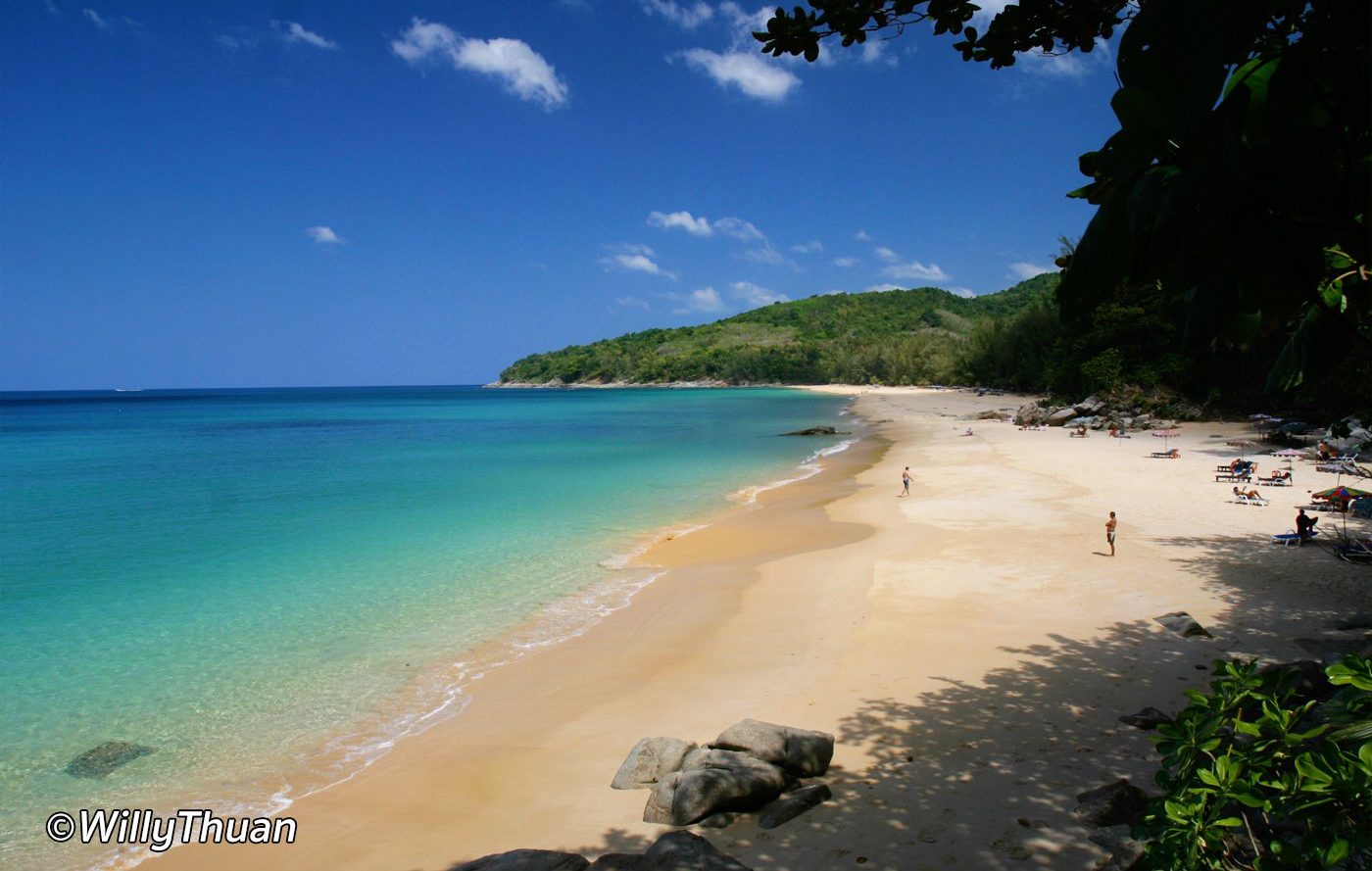 Stairway to Heaven
These partially concealed wooden staircases on Nai Thon beach are a well-liked Instagram location. Although they had been there for a while, most people fail even to notice this masterpiece.
They descend all the way from the road to the beach, but they are in deplorable condition, so make use of them while you can!
Keep in mind that the beach's state changes with the seasons. Strong tides can bring in a lot of trash during the low season.
Where to Eat on Nai Thon Beach?
Along Nai Thon Beach's whole length, small, casual restaurants are located on the sand and provide inexpensive, peaceful meals.
Either house across the street or tents on the beach are used for cooking food. There are a variety of tables and chairs, from outside plastic settings to sturdy timber settings with tablecloths.
The greatest dishes are frequently served at dingy-looking establishments, proving that looks may be misleading.
The price of the main meals starts at approximately 70 baht. The quality of beachfront dining at this price cannot be found elsewhere in Thailand.
The overall atmosphere is very calm and tranquil, with no jazzy loud music parties.
Other things to do on Nai Thon Beach include scuba diving, which can be organized through the dive shops along the beach road.
You can also explore the rocky coves, which can only be reached by long-tail boats. On the island's northern coast, there are mangrove forests.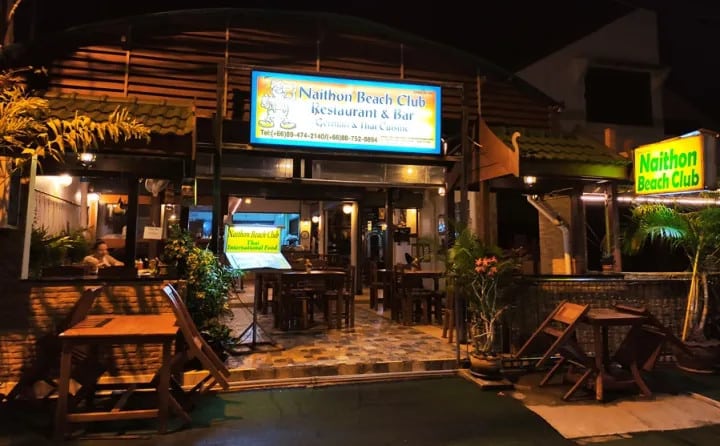 Wrapping Up
We agree that Naithon Noi beach is difficult, if not impossible, to reach. But trust me, the distance would be all worth it.
An interesting fact about the magnificent Naithon Beach is that it features another sister beach just a short distance away, namely, 'Naithon Noi' means 'small Naithon!'.
This beach is wonderful and less well-known, yet it offers restaurants and street food.
So when visiting Nai Thon, don't forget to pay a visit to this little paradise.
Check out our article on the best beaches in Phuket to learn about other beaches in Phuket.