Although Phuket is renowned for its stunning beaches, it is also home to some of the most breathtaking waterfalls in Thailand. Here are the best waterfalls in Phuket that offer a refreshing escape from the tropical heat and a chance to reconnect with nature.
5 Best Waterfalls in Phuket
1. Bang Pae Waterfall
Located inside the Khao Phra Thaeo National Park, Bang Pae is first on our list of Phuket waterfalls and by far the biggest waterfall in Phuket. It lies north of Phuket near the east coast. The waterfall is 18 meters high and is surrounded by exotic animals and magnificent landscapes that are a treat for both the locals as well as tourists.
The waterfall has breathtaking rural scenery, a huge field of rubber plantations, pineapple fields, and a few restaurants surrounding it that makes it even more pleasurable.
As the waterfall does not run dry at any time of the year, you can visit it anytime.
It is also home to the Gibbon Rehabilitation Center and is free to visit. The best time to visit the waterfall is around the peak rainy season i.e from May to December.
The trail to the waterfall is quite challenging so it is highly advised to wear sturdy shoes to avoid slipping.
Location: Pa Klok, Thalang District, Phuket
Timings: 8:00 AM to 4:30 PM
Entry Fee: 200 Baht person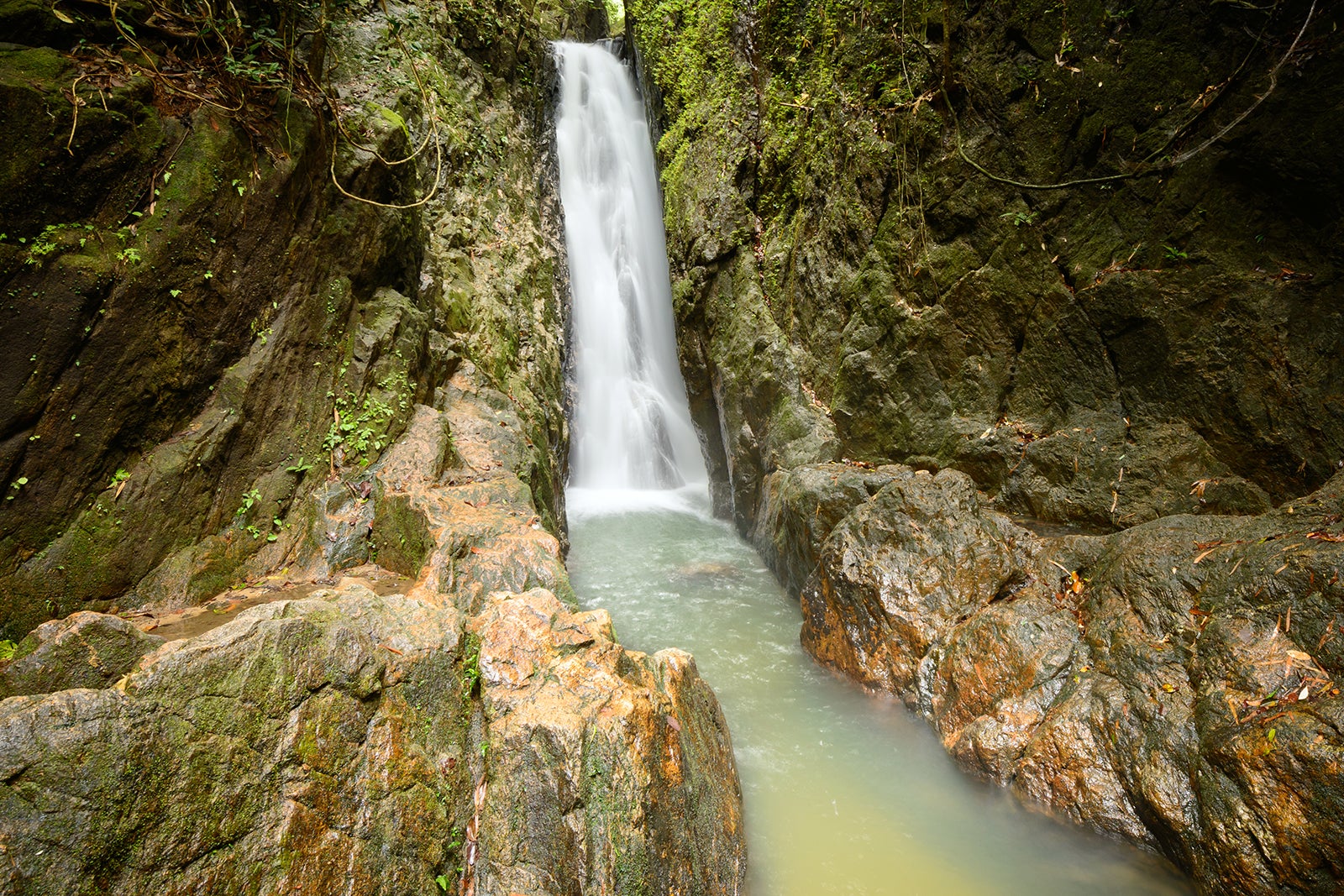 2. Ton Ao Yon Waterfall
It is one of the untraversed waterfalls of the Phuket town located 3.6 km east of the Khao Khad Viewpoint in Cape Panwa.
Due to its discreet location, it is only visited by locals and well-informed tourists and hence remains unspoiled to date.
You can spot several drop pools on your way to the waterfall, some are so big that you can even bathe in them.
The shade provided by the tropical trees from the surrounding forest lends it a peculiar tranquillity that would make you want to stay there a little longer.
Since the terrain leading to the waterfall is hard and through varying arrangements of sharp rocks, it is important to come well-prepared with comfortable shoes and preferably a small bottle of water.
Location: Wichit, Muang, Cape Panwa, Phuket 83000, Thailand
Timings: Open 24 hours
Entry Fees: None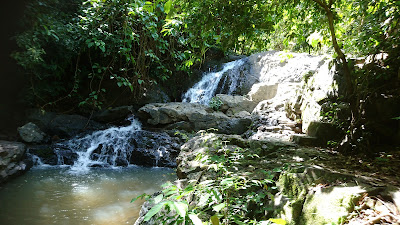 3. Kathu Waterfall
The Kathu waterfall is conveniently located in the centre of the Phuket island near Patong. It has a series of drop pools leading all the way up to the main pool which is at an elevation.
The ascent is quite challenging but the view you get after reaching the top is certainly worth all the effort.
However, it is advised to carry lots of water and sturdy shoes as you walk up. The best time to visit the waterfall is after monsoons when the water is plenty.
Although avoid going there during monsoons as the stairs can get very slippery.
You can find plenty of shades on the stairs where you can stop by to catch a breath. At the bottom, there are plenty of places selling snacks and drinks.
Location: Kathu, Phuket 83120, Thailand
Timings: Open 24 hours
Entry Fees: 100 Thai Baht for foreigners and THB 20 for locals.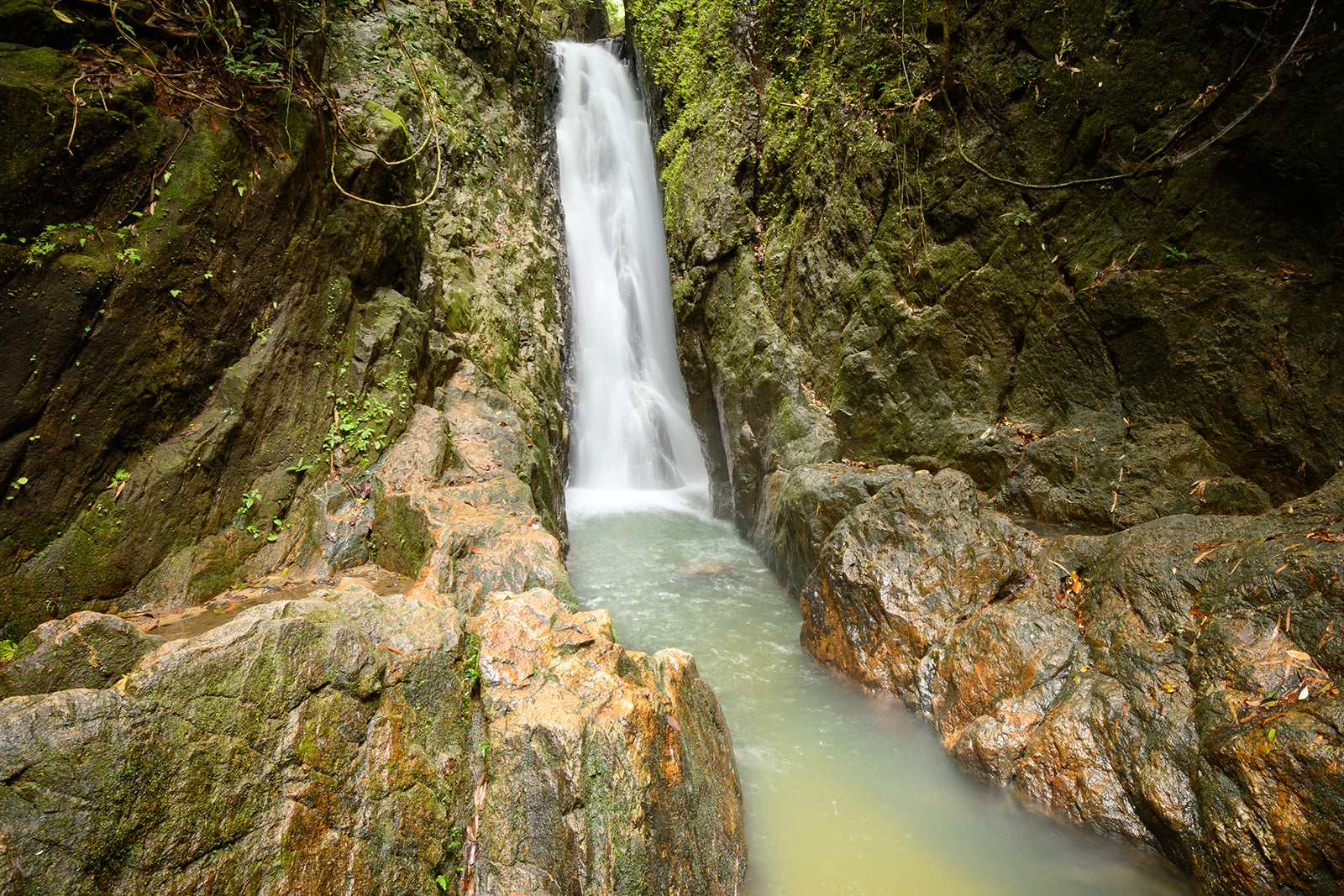 4. Ton Sai Waterfall
The Ton Sai waterfall is located just 20 minutes from Bang Paeon in the northeastern part of Phuket.
Due to its inland location, far away from the beaches, the waterfall remains uncrowded at most times.
However, the 3-km long road leading to the Ton Sai Waterfall is very beautiful and enthralling and keeps getting better as you near the waterfall.
Although the waterfall is not as humongous as the waterfalls on this list, it is perfect for people who want perfect tranquillity close to nature.
There is also a two-kilometre, well-signed trek around the back of the waterfall for those who want to try hands-on something adventurous.
There is just one modest restaurant near the waterfall, so it is good to pack some food from home or your hotel.
Address: Thep Krasatti, Thalang District, Phuket
Timings: Open 24 hours
Entry Fees: 200 Baht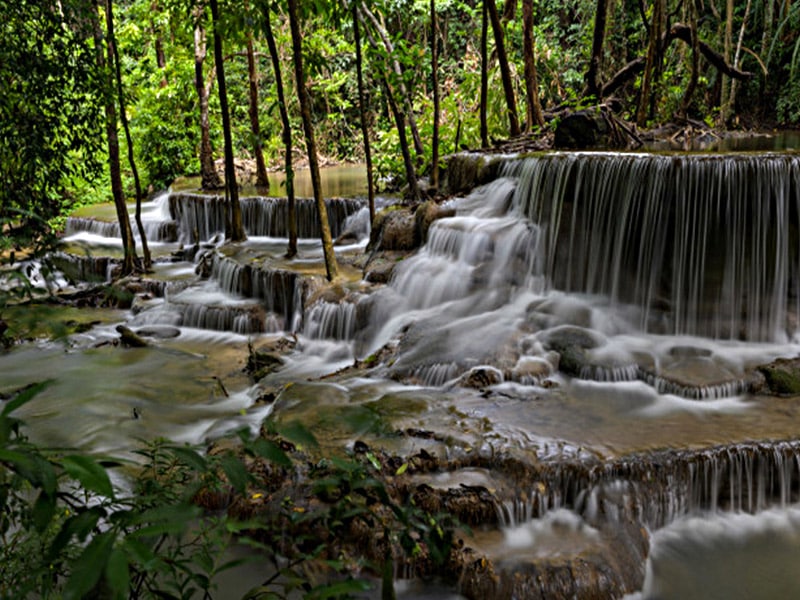 5. Lampi Waterfall
The Lampi waterfall is especially popular as a picnic spot because of its easy accessibility and a short 3-minute walk from the parking spot, unlike the other waterfalls where you have to either trek your way or walk long distances to reach the main spot.
You will have plenty of varied food stalls around the waterfall and also small shops selling swimwear and even souvenirs.
The waterfall itself is so mesmerizing that you will get lost in its beauty. How it cascades from the forest makes the tourist go aww in its charm.
The water is not very deep hence very safe for swimming. Also, it is cold enough to cool down the summer heat of Thailand.
Address: Thai Mueang, Thai Mueang District, Phang-nga
Timings: 9:00 AM to 6:00 PM
Entry Fees: Foreigners- 100 and for Locals- 20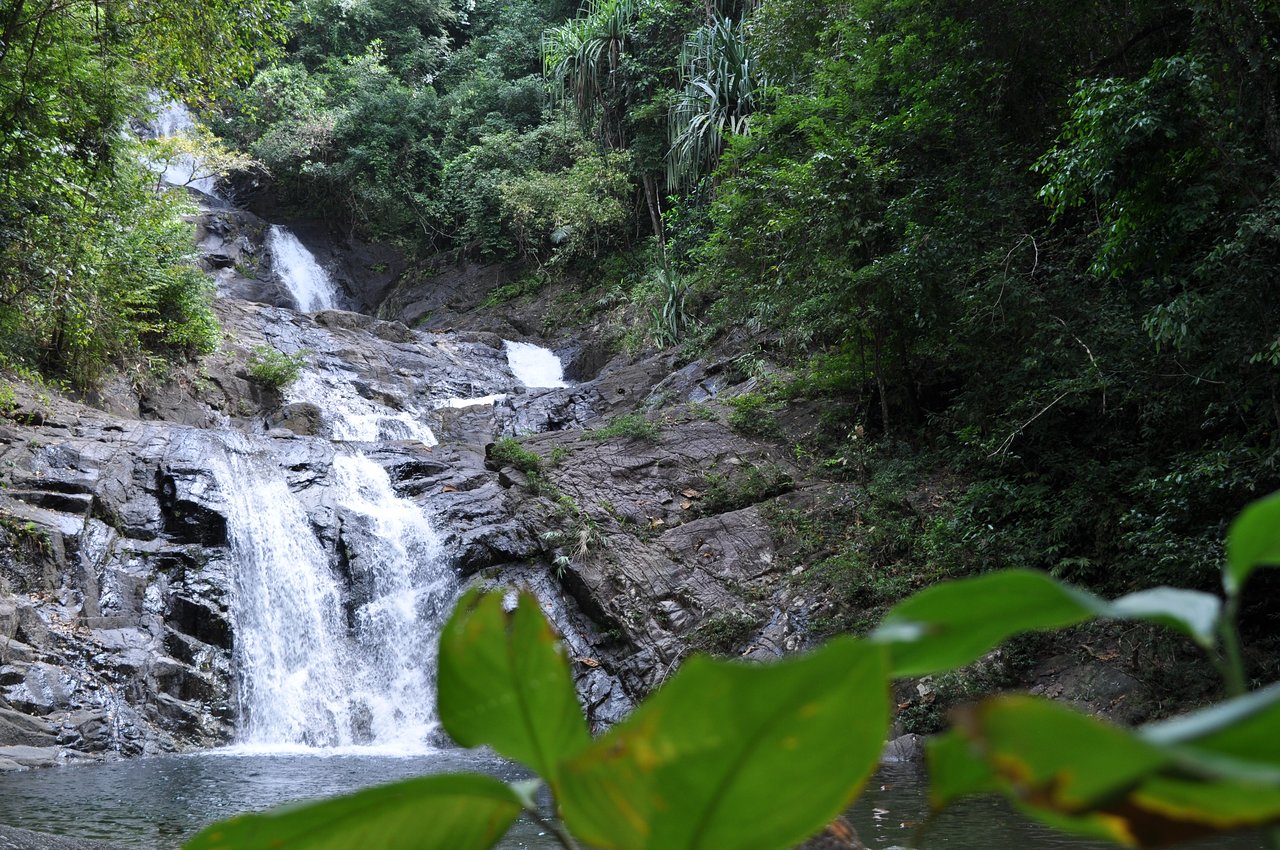 Need More Information About Phuket's Waterfalls?
Apart from the listed waterfalls, you can also visit Wat Khao waterfall and Ton Phrai. The best time to visit any of these waterfalls is right after the monsoon when the water flow is at its best.
Going during the monsoon season might be a little risky because of the slippery rocks and trails.
Be mindful to carry your swimsuits and some eatables and avoid wearing fancy footwear. For more information read these other interesting articles about Phuket.
Editor - Thailand Nomads
Cindy quit her 9 to 5 job to pursue her passion for exploring mesmerizing locations in Thailand. She has been living here for the past 5 years now and through Thailand Nomads, she shares her experiences and insights about the must-visit places in Thailand.
Email: cindy@thailandnomads.com