Muay Thai also popularly known as Thai boxing is a full-contact combat sport that has its origins in Mae Mai Muay Thai (Muay Boran), which is an ancient Thai fighting technique. The sport uses a wide range of standing percussion and clinch techniques.
The discipline involved in Muay Thai boxing is referred to as "the art of eight weapons" or "the science of the eight limbs".
This is because it allows the two fighters who challenge each other, to use various combinations of punches, kicks, elbows and knees, using the eight parts of the body as points of contact.
The scope of Muay Thai training in the city of Kanchanaburi area is still evolving and more gyms are expected to come up in the years to come.
However, there is this one gym that makes up for the disappointing number of gyms in the area.
Discover the best Muay Thai gyms in Kanchanaburi, where expert trainers, state-of-the-art facilities, and a welcoming atmosphere combine to create the perfect environment for learning the ancient martial art of Muay Thai, sharpening your skills, and embracing the physical and mental strength that comes with mastering Thailand's national sport.
1 Best Muay Thai Gyms in Kanchanaburi – 2023 Update
Sitmonchai Muay Thai Gym
It is undoubtedly the best Muay Thai gym in the Kanchanaburi area. The gym is located at a distance of only 95 kilometres from Bangkok and hence has visitors from Bangkok city as well.
The gym has been in the business for over 20 years and it clearly shows in the quality of its training.
It's a good gym that enjoys a whopping 4.0 rating on google reviews. It is named after the senior trainer and owner, Pornsanae Sitmonchai, who has won 9 championship titles in his career and is regarded as one of Thailand's toughest and most aggressive fighters. He is accessible at all times at the centre.
The trainers, as well as the other maintenance staff, are very warm, and welcoming hence you would not feel awkward here irrespective of your current experience.
The hospitality is amazing and there is an accommodation facility as well. Those who stay even get to taste the authentic homemade Thai food cooked here.
Address: Thetsaban 12, Tha Maka, Tha Maka District, Kanchanaburi 71120, Thailand
Website: http://sitmonchai.com/
Telephone: +66 64 205 0891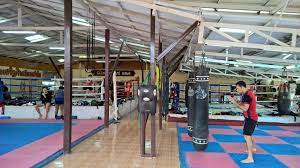 Editor - Thailand Nomads
Cindy quit her 9 to 5 job to pursue her passion for exploring mesmerizing locations in Thailand. She has been living here for the past 5 years now and through Thailand Nomads, she shares her experiences and insights about the must-visit places in Thailand.
Email: cindy@thailandnomads.com