In the foot of mountainous terrain, Kanchanaburi provides a wonderfully scenic setting for playing golf in Thailand. We are listing the best five Golf Courses in Kanchanaburi that you should definitely try.
Tee off in style at the best golf courses in Kanchanaburi, where lush landscapes, challenging terrain, and world-class facilities come together for the ultimate golfing experience.
5 Best Golf Courses in Kanchanaburi – 2023 Guide
1. Blue Sapphire Golf and Resort
It is a stunning 36-hole track in Kanchanaburi located 30 minutes away from the city center. The layout at the Blue Sapphire Golf and Resort is divided into two courses- the 18-hole Canyon Course and 18-hole Ocean Course.
There are five distinct tee positions to cater to all levels of golfers. Every hole is very unique and named after its characteristics. The golf course features a clubhouse, restaurant, on-site houseboat, and resort-style accommodation facility.
Address: 85 Moo 13, Tambon Chongdan Kanchanaburi, Thailand
Contact: +66 34 581 227
Website: https://www.facebook.com/BlueSapphiregolf/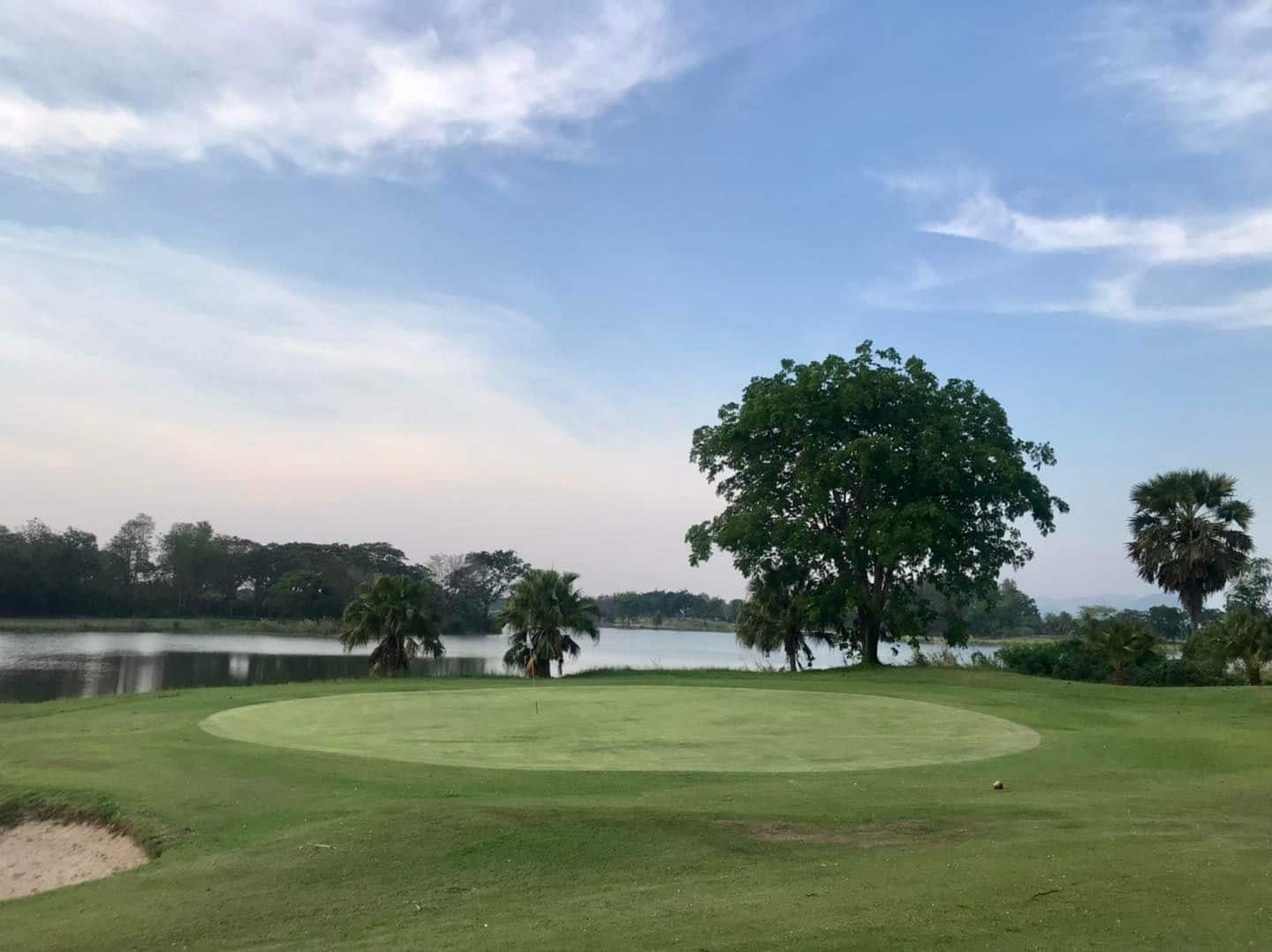 2. Dragon Hills Golf & Country Club
The Dragon Hills Golf Club is the best golf course in Kanchanaburi having an 18-hole layout spread over 2,400 acres of lush green jungle. It was designed by Jim Enge. Its location in the center of a jungle makes it a perfect place for the sport of golf. It offers a combination of undulating fairways and greens, lateral water hazards, doglegs, and strategically located sand traps.
The signature holes are 10, 11, and 12. The golf club has a small rustic clubhouse and also an on-site lodging facility for those who want to stay back for a night or so. The accommodation facility is very modest and not as lavish as some golf courses of Bangkok or Chiang Mai offer.
Address: 192 Tambon Ang Hin Ang Hin, Pak Tho District, Ratchaburi 70140, Thailand
Contact: +66 32 240 504
Website: http://www.dragonhillsgolf.com/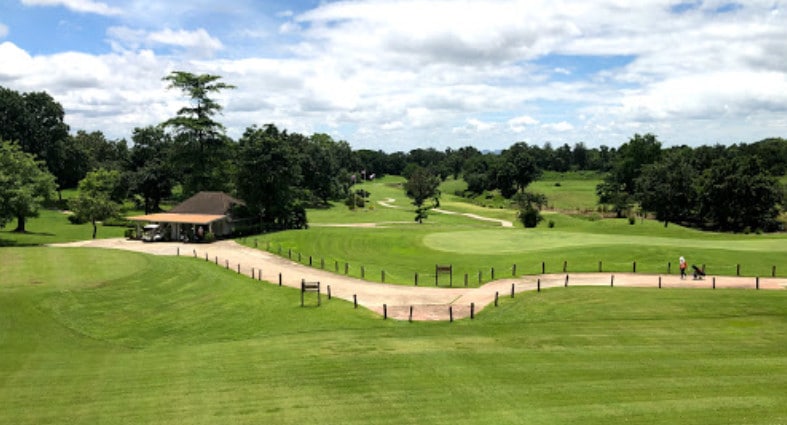 3. Blue Star Golf Club
It is one of the most adventurous Kanchanaburi golf courses that features cliffs and severe drop-offs. All the holes of this golf course are very challenging, hence, it is not for amateur players. All the holes feature fairways edge dropoffs, large pot bunkers with deep sand, and greens undulations.
The golf course is perfect for professional golfers who love challenges. It is very popular among locals. It is not as modern as the other golf courses in Thailand, but certainly a good option for those golfers who are on a tight budget.
Address: 8F3H+X4W, Bo Phloi, Bo Phloi District, Kanchanaburi 71160, Thailand
Website: https://www.facebook.com/BLUESTARGOLF/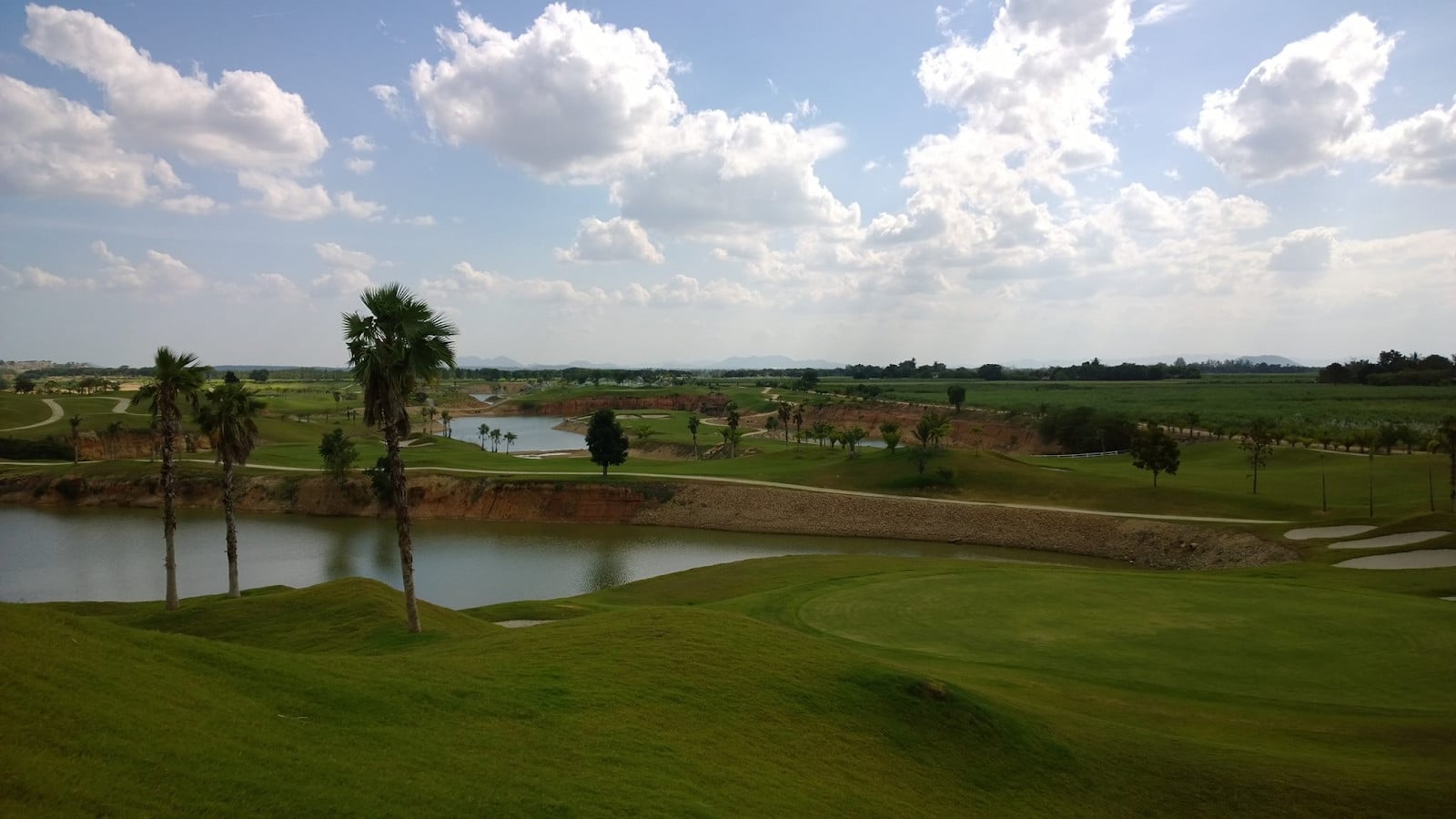 4. Grand Prix Golf Club
It is one of the most well-conditioned golf courses in Thailand's Kanchanaburi Province. The golf course has a vast open space with panoramic views of Burmese mountain ranges. A large river divides the course and adds more charm to the natural scenery.
The golf course is only 30 minutes away from Kanchanaburi town and 2 hours from Bangkok. It has a modern clubhouse and a top-class golf resort.
Address: 9FGX+XH9, Chong Dan, Bo Phloi District, Kanchanaburi 71160, Thailand
Contact: +66 87 155 4888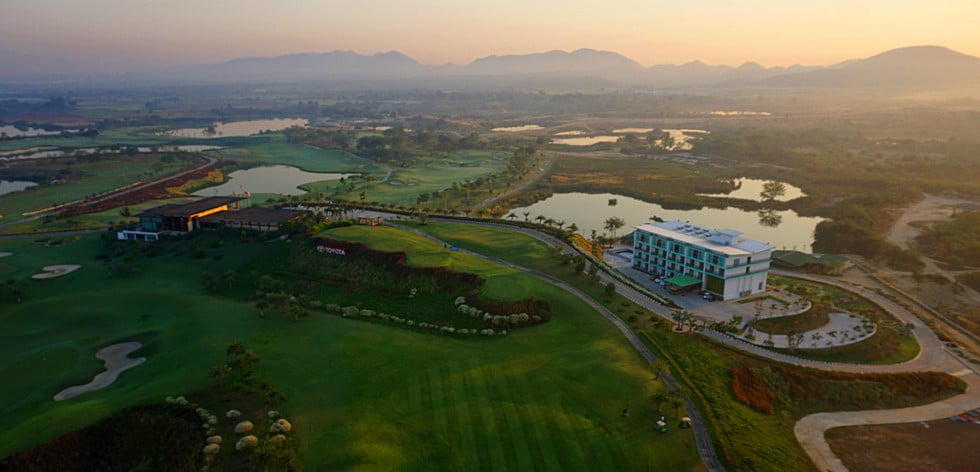 5. Mida Golf Club
It was initially developed under the name of Lion Hills Golf and Country Club and later underwent renovation in 2010 and came to be known as Mida Golf Club. It is spread over an area of 800 acres and is par-72. It is famous for its scenic views.
It is a good option for family outings and caters to all levels of golfers. The golf course has a driving range, pitching and chipping areas, and a practice green along with a clubhouse. It is located 35 minutes West of Kanchanaburi off Highway 3229, and hence can be reached easily.
Address: 123 Lat Ya, Mueang Kanchanaburi District, Kanchanaburi 71190, Thailand
Contact: +66 81 173 1976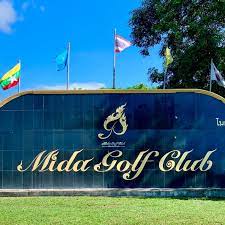 Bottom Line
The Golf Courses on Kanchanaburi island are very diverse and cater to the needs of both amateurs as well as professional golfers. If you plan on playing golf in Kanchanaburi, you can conveniently choose from these.
Editor - Thailand Nomads
Cindy quit her 9 to 5 job to pursue her passion for exploring mesmerizing locations in Thailand. She has been living here for the past 5 years now and through Thailand Nomads, she shares her experiences and insights about the must-visit places in Thailand.
Email: cindy@thailandnomads.com