Located in the breathtaking natural beauty of Thailand, Kanchanaburi is the perfect retreat for nature enthusiasts and adventure seekers alike.
But beyond its picturesque beauty and historical sites, Kanchanaburi has also emerged as a surprising destination for those seeking a different kind of experience – the world of cannabis.
As attitudes toward cannabis continue to evolve globally, Kanchanaburi has embraced this shift, offering a unique selection of cannabis shops that cater to both medical and recreational users.
Join us as we embark on a journey through the best cannabis shops in Kanchanaburi, where relaxation and exploration intertwine.
1. PrikPot
Discover Prikpot, the ultimate online destination for cannabis enthusiasts. Explore a wide range of top-quality cannabis products, from carefully grown strains to exciting edibles that will delight your senses.
With an easy-to-use website, Prikpot welcomes both experienced users and newcomers to the world of cannabis, making your shopping experience informative and enjoyable. Prikpot stands out by being open about where its products come from and their effects.
Each product comes with clear details about its origin and what you can expect, helping you choose what suits you best. Plus, Prikpot's discreet packaging and smooth delivery bring the cannabis experience right to your door, saving you the trip to a physical store.
In a changing world, Prikpot keeps responsible cannabis use in mind, offering a convenient and accessible way to explore and enjoy high-quality products.
To ensure you make the most of it, I am assigning you a discount code called 5OFF. This will give you a 5% discount on all products in the shop.
So why wait?
2. Cannabis Cafe Kanchanaburi
Tucked away in the Thanon Sangchuto area, Cannabis Cafe has gained immense popularity in Kanchanaburi. With a focus on holistic healing, this dispensary offers a curated selection of organically grown cannabis products.
From soothing CBD-infused teas to carefully crafted strains designed to enhance mindfulness, Cannabis creates an atmosphere where visitors can truly connect with nature and themselves.
To add more, it has staff that speak fluent English, making the interaction convenient for all kinds of visitors.
Address: Thanon Sangchuto, Tambon Tha Ma Kham, Kanchanaburi, 71000, Thailand
Closed: 8:30 am - 7 pm
Phone: +66 88 587 7877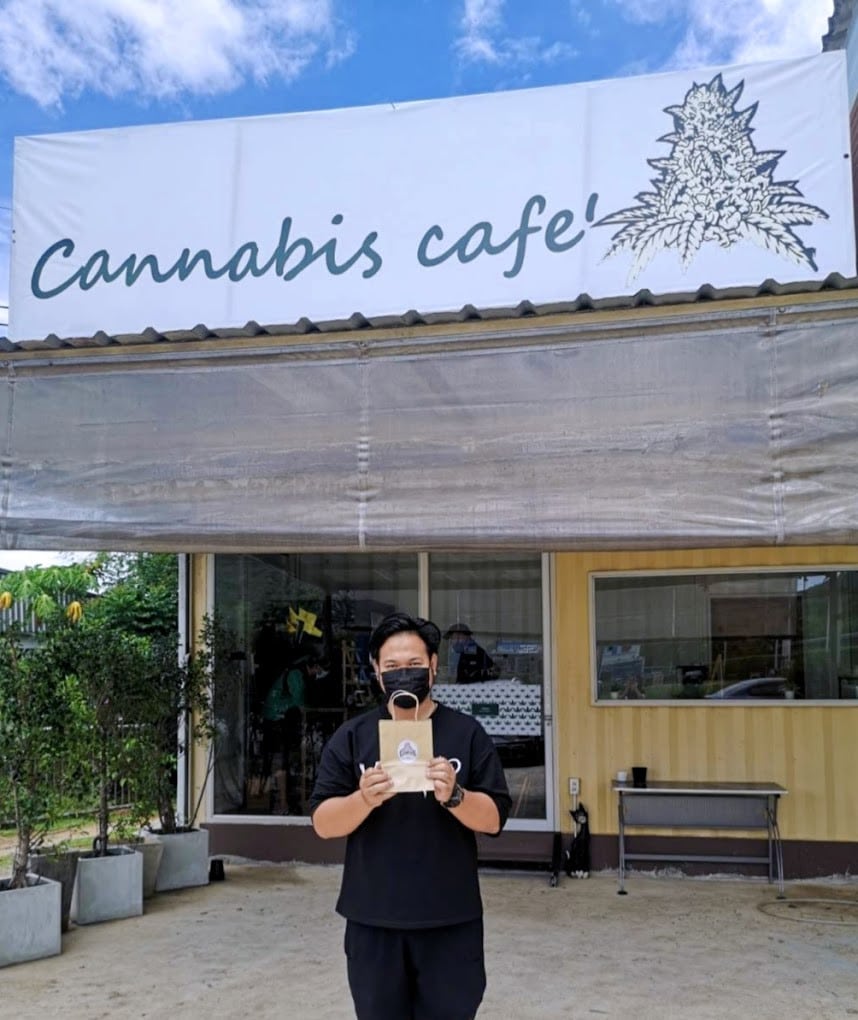 3. Zamzara Kanchanaburi Cannabis Shop
Combining artistry with cannabis, the Zamzara Kanchanaburi Cannabis Shop is a must-visit for those who appreciate both aesthetics and relaxation.
Located in the heart of Kanchanaburi's art district, this shop showcases a diverse array of cannabis products in an environment reminiscent of an upscale art gallery.
The knowledgeable staff are eager to guide visitors through a selection that includes locally grown strains celebrated for their flavor profiles and therapeutic benefits.
Address: Next to Seven, 17 River Kwai Rd, Ban Tai, Mueang Kanchanaburi District, Chang Wat Kanchanaburi 71000, Thailand
Hours: 10 am - 3 am
Phone: +66 87 990 0808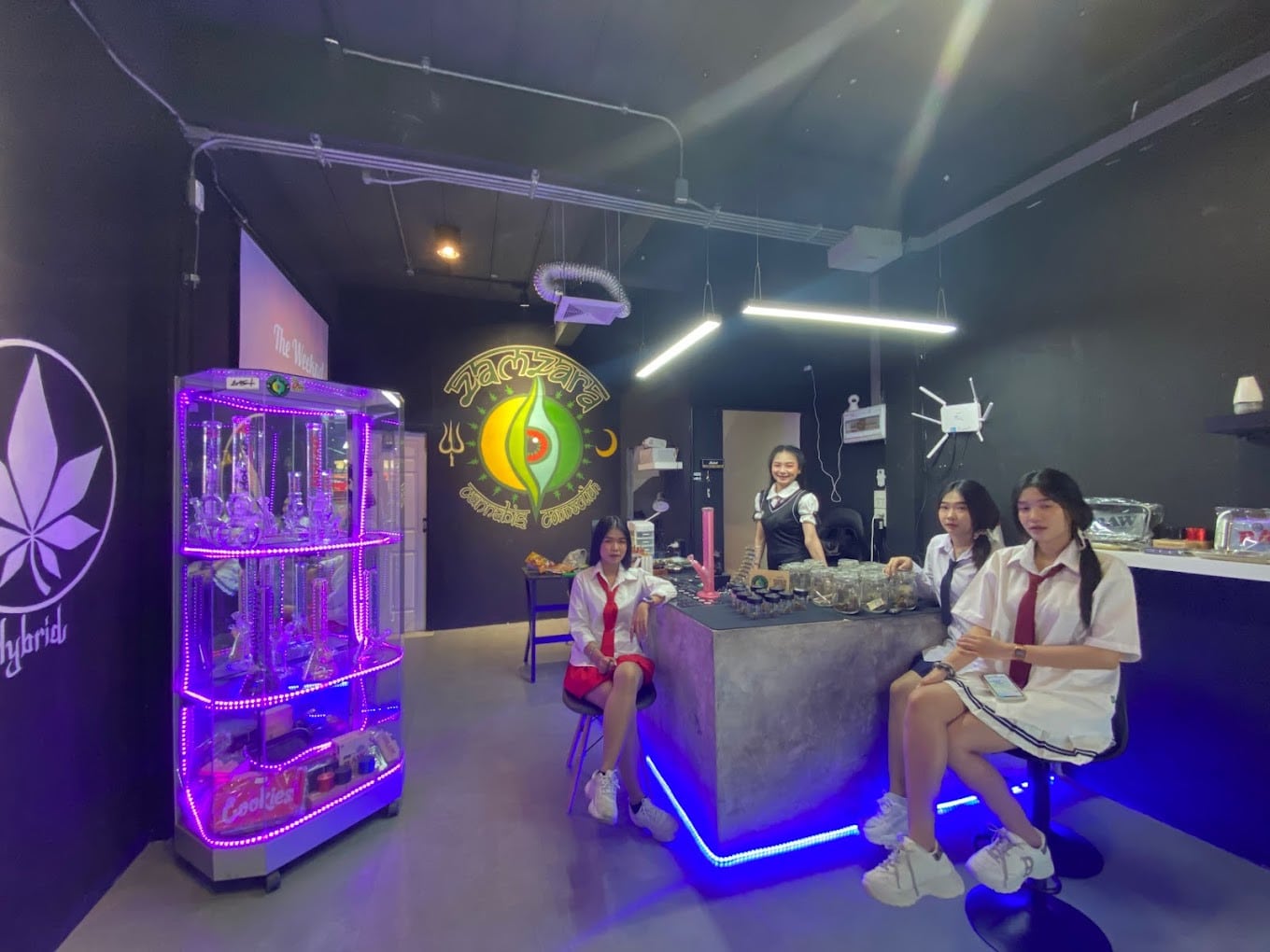 4. Ganja Witch Weed Cafe
Ganja Witch Weed Cafe has become a popular go-to place for cannabis in Kanchanaburi lately.
It is a small pot shop with satisfactory service and a selection of THC and CBD oils, marijuana flowers, and pre-rolled joints.
The owner, Kan, is a very knowledgeable guy who is more than happy to give you some extra information about cannabis products and can even help you choose.
Address: 18 River Kwai Rd, Tha Ma Kham, เมือง Kanchanaburi 71000, Thailand
Hours: 3 pm - 10:30 pm
Phone: +66 91 789 5661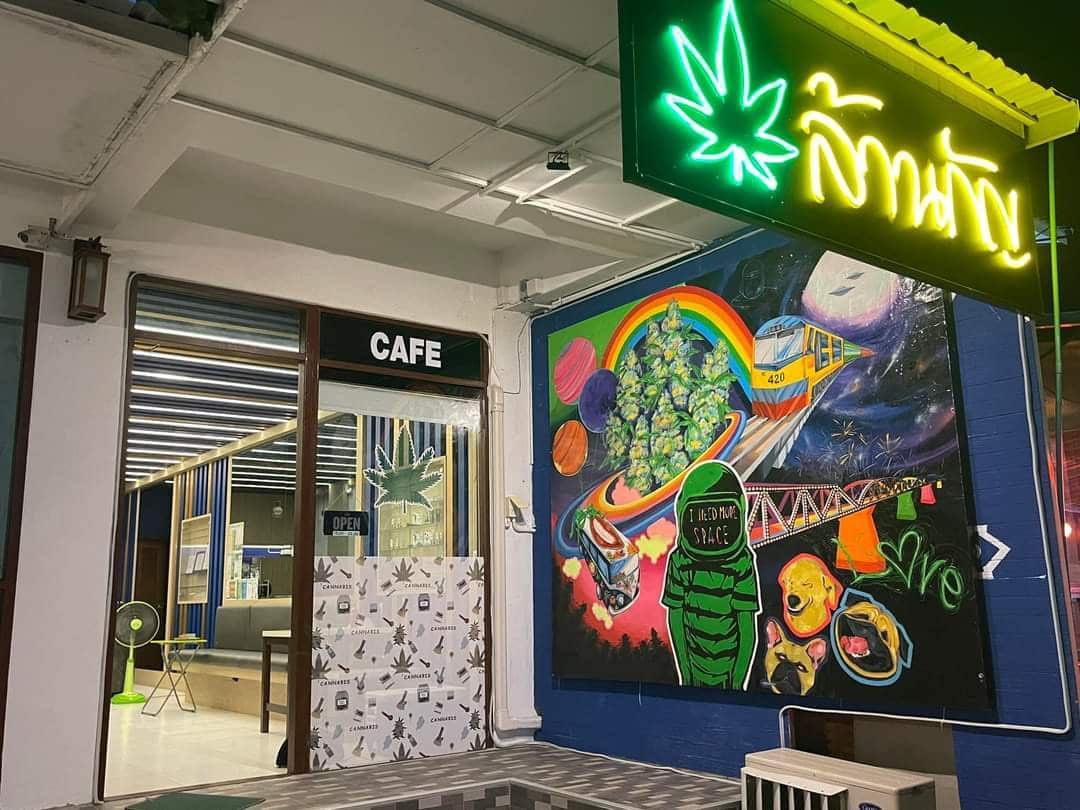 5. PeaceGarden 420 Shop
Blending the laid-back atmosphere of a coffee shop with the excitement of a cannabis dispensary, Peace Garden has become a social hub for both locals and travelers.
The cafe's menu features an assortment of cannabis-infused edibles, allowing patrons to savor their cannabis experience through delectable treats.
From cannabis-infused pastries to artisanal beverages, Peace Garden upgrades cannabis consumption to a multisensory delight.
Address: 169 1 3199, Lat Ya, Mueang Kanchanaburi District, Kanchanaburi 71190, Thailand
Hours: 10 am - 12 am
Phone: +66 92 923 3934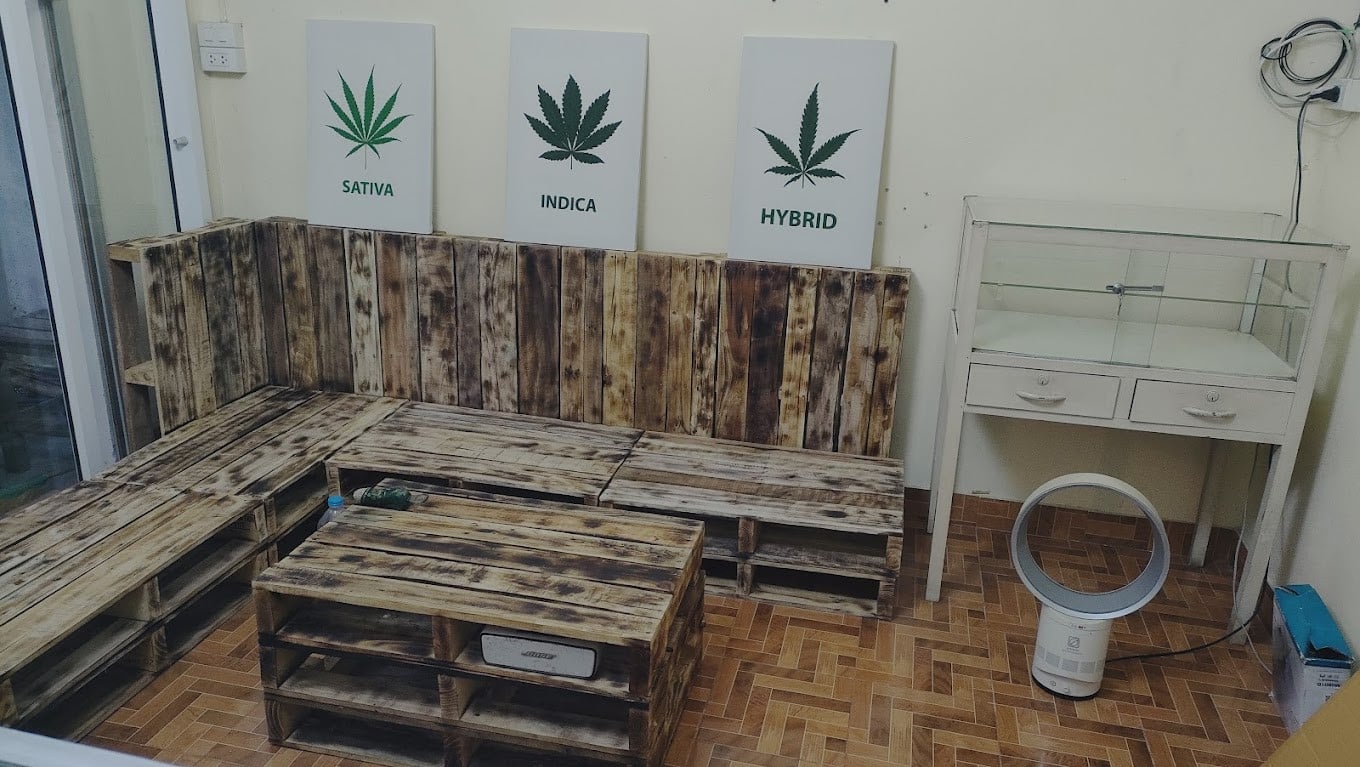 Before We Part
In a world where cannabis is progressively shedding its stigma, Kanchanaburi emerges as a destination that celebrates both the plant's potential and the art of relaxation.
Whether you're a seasoned cannabis enthusiast or a curious traveler looking to explore new horizons, these cannabis shops offer a glimpse into a more mindful and balanced way of living.
As you plan your visit to Kanchanaburi, remember to respect local laws and regulations regarding cannabis use. While these cannabis shops provide a unique and exciting experience, responsible consumption and consideration for the local community are paramount.
So, embark on this journey with an open mind and a heart eager to discover the blissful union of nature, culture, and cannabis in the enchanting realm of Kanchanaburi.
Editor - Thailand Nomads
Cindy quit her 9 to 5 job to pursue her passion for exploring mesmerizing locations in Thailand. She has been living here for the past 5 years now and through Thailand Nomads, she shares her experiences and insights about the must-visit places in Thailand.
Email: cindy@thailandnomads.com