The international sport of Thailand, Muay Thai is not just popular internationally for the quick moves but the various health benefits it offers. Hundreds of people drop by Chiang Mai every year to learn this sport for general fitness and weight loss. Today it has gone beyond that and is considered a way of self-discovery by some tourists. For MMA enthusiasts, Chiang Mai also offers MMA training camps, where you can sharpen your skills in both Muay Thai and other martial arts disciplines.
Hone your skills at the best Muay Thai gyms in Chiang Mai, where dedicated trainers, authentic training methods, and supportive atmospheres come together to help you master Thailand's revered martial art.
1. Bangarang Muay Thai Gym
Bangarang Muay Thai Gym offers an immersive experience for individuals seeking to learn the traditional art of Muay Thai while improving their fitness levels.
Situated amidst serene surroundings in Chiang Mai, this gym provides a unique opportunity to train under the guidance of accomplished Muay Thai champions from Chiang Mai stadium.
The gym's Muay Thai program is designed to cater to participants of all skill levels, whether you're a beginner looking to embark on your martial arts journey or an advanced practitioner seeking to hone your skills.
With two daily Muay Thai training sessions available seven days a week, you'll have ample opportunities to develop your techniques and stamina. One of the standout features of Bangarang Muay Thai Gym is the access it provides to a range of facilities.
Participants not only benefit from comprehensive training but also enjoy full access to gym amenities, including a swimming pool, which is perfect for relaxation and recovery after intensive workouts.
Additionally, the gym offers comfortable accommodations with 14 nights of stay, complete with three generous-sized meals daily, ensuring a holistic fitness and training experience.
Airport transfers to and from Chiang Mai International Airport are included in the package, making your arrival and departure hassle-free.
The gym's commitment to creating a supportive and enjoyable atmosphere for its guests is further enhanced by free Wi-Fi throughout the resort, ensuring you stay connected even in this peaceful retreat.
Overall, Bangarang Muay Thai Gym provides a well-rounded experience for those looking to embrace the art of Muay Thai while enjoying the tranquil ambiance and modern amenities it offers.
Due to their wide popularity, their sessions get sold out very quickly.
2. Santai Muay Thai
It is considered the best gym in Chiang Mai owing to its quality training. The gym is located at a distance of 15 km from Chiang Mai city in the countryside of San Kam Phang.
It is popular among people for its professional trainers who have won several Muay Thai Championships.
The gym has onsite accommodation facilities both for budget cautious and high-end trainees where they can stay during their training. The cost per session at Santai is 3,00 THB, 3,000 THB for a week, and 10,000 THB for a month's training.
Contact:
Website:

https://muay-thai-santai.com/

Telephone:

+66 82 528 6059

Email:

info@santaimuaythai.com
3. Hong Thong Muay Thai
This Thai gym was started by twin brothers Joe aka "Hong Thong Noi" and Gen aka "Hongthong Lek" in 2013. Both the brothers are professional fighters who have previously worked in various renowned gyms in the other parts of Thailand.
Besides having academic qualifications in Sports Science and Physical Education, the duo has vast experience and practical knowledge about professional fighting that makes them perfect trainers.
The gym has adequate accommodation facilities for the students. Previously the gym was located in Han Dang but has now been shifted to Tasala near the Promenade Shopping Center.
The cost per session at Hong Thong Muay Thai is 5,500 THB/day whereas charges for training two times a day for one month is 9,000THB.
Contact:
Website:

http://muaythaigymhongthong.com/

Telephone:

+66 89 275 3188

Email:

info@muaythaigymhongthong.com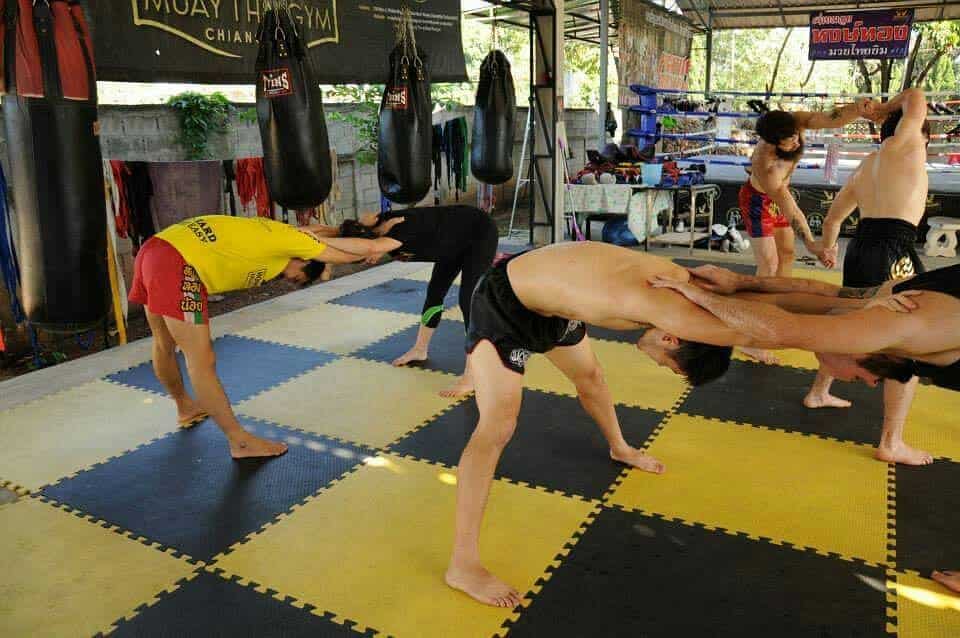 4. Lanna Muay Thai Gym
Also known as Kiatbusaba, it is one of the earliest gyms in Chiang Mai Province. It was initially located near Chiang Mai University on Huay Kaew Road.
The gym was named after its founder, Andy Thompson. He was the first-ever foreigner to open a gym in Thailand. After his death, the gym is now looked after by Kru Boom and other trainers who grew up there.
The gym has been home to many renowned Thailand fighters such as JR and Kunlun. One striking feature of this gym is that it conducts an all-female class on Saturdays exclusively for women who don't feel comfortable training around men.
The gym closed during Covid and has now relocated to the Saraphi area.
The cost per session is 350THB/day and for two sessions is 500 THB/day whereas the cost for two-time training for a month is 8,800THB.
Contact:
Website: https://boonlannamuaythai.com/
Telephone: +66 65 218 2255
Email: boonlannamuaythai@gmail.com
Address: Tha Wang Tan, Saraphi District, Chiang Mai 50140, Thailand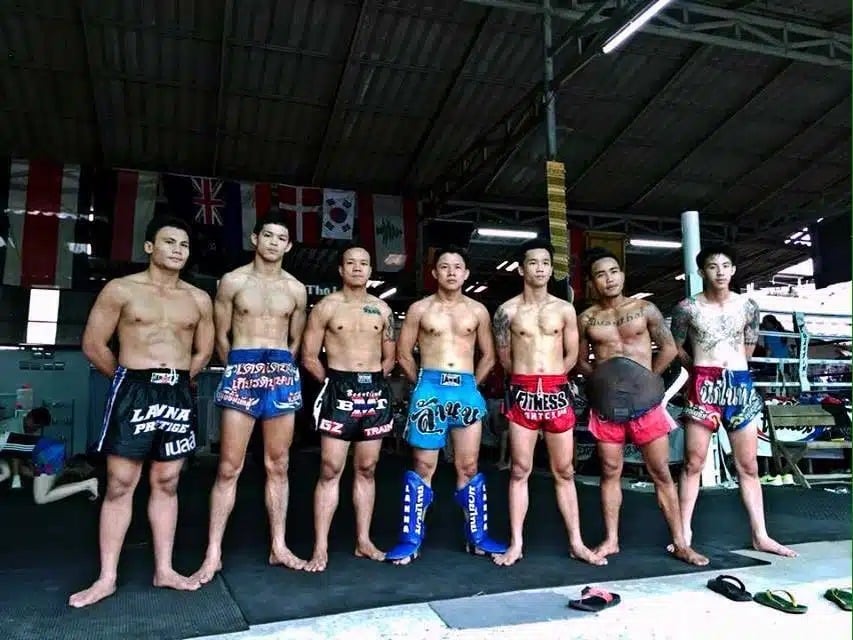 5. Chiangmai Muay Thai Gym
The gym is conveniently located in the heart of Chiang Mai's old city. It is particularly popular among amateur fighters who want to start from the basics and also tourists owing to its location.
The trainers here are very friendly and hence perfect for the novices to learn the art and get confident gradually. The fees are as less as 400 baht for a coached training session for newbies 2 pm daily and private lessons 1000/day per person.
The gym lacks some apparatus but the price and friendly trainers make up for the same. The gym trainers are professionals that are fluent in English which is a plus for first-time visitors. You can easily book your class by texting them on Facebook.
Contact:
Website:

https://www./Chiangmai.Muay.Thai.Gym

Telephone:

+66 95 915 7488

Email:

s.thitithan@gmail.com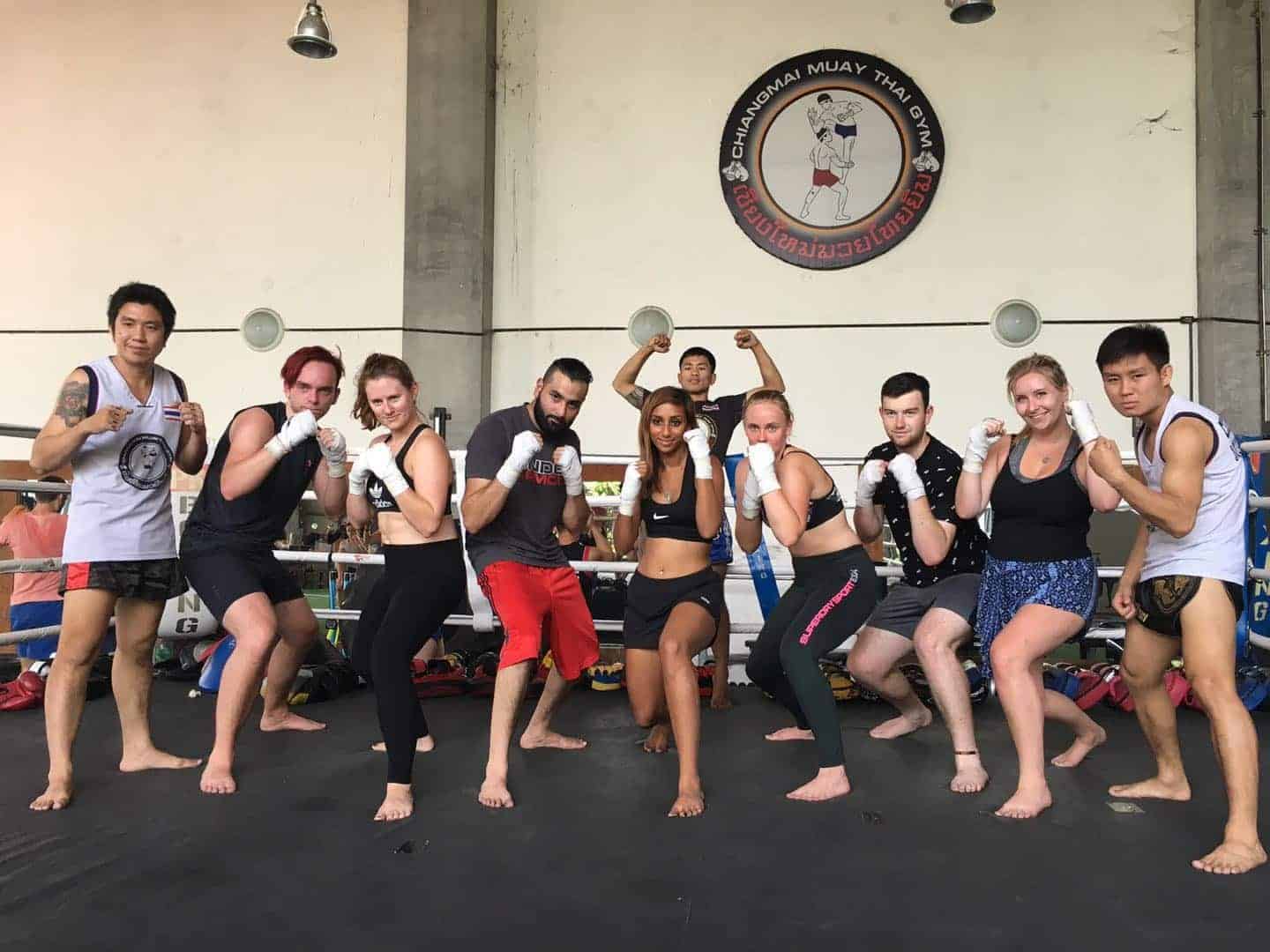 6. SKP Muay Thai Gym
The gym is located 20 km east of Chiang Mai in the town of Sankamphaeng. The training at SKP Muay Thai is under the supervision of renowned fighters, Kru Keng and Kru Golf.
It caters to both experienced fighters and newbies. The coaches are especially focused on clinch training. As clinch is considered the weaker spot of westerners, it is particularly famous for this training.
The Gym has trainers from the infamous Pinsinchai Gym in Bangkok. All the trainers currently g here are former Lumpinee Fighters.
They're very technical, boxing and beginner-friendly. To add, the atmosphere around the camp is perfect for relaxing after a good fight.
1 month's training at SKP Muay Thai Gym costs 9,000 THB.
Contact:
Website:

http://www.skpmuaythai.com/

Telephone:

+66 91 481 2468

Email:

skpmuaythai@gmail.com
7. Dang Muay Thai Chiang Mai
Dang Muay Thai stands as the premier Muay Thai training facility in the heart of Chiang Mai's historic old town, boasting an expansive and modern workout space spanning over 9000 square feet.
Equipped with a full-size Muay Thai ring and an impressive lineup of more than 20 punch bags, this gym offers a top-notch training environment. In January 2023, Dang Muay Thai relocated to a brand-new facility, further enhancing its dedication to providing an exceptional training experience.
The gym's standout feature is its team of expert Muay Thai trainers, collectively amassing nearly ten decades of experience. These trainers are former Muay Thai Champions across various weight classes, boasting a wealth of knowledge from hundreds of professional Muay Thai fights.
Dang Muay Thai offers a comprehensive range of training options, including private one-on-one sessions and group classes, making it a go-to destination for individuals looking to learn and excel in the art of Muay Thai.
Contact:
Website: https://www.dangmuaythai.com/
Telephone: +66 (0)857227130
Email: info@dangmuaythai.com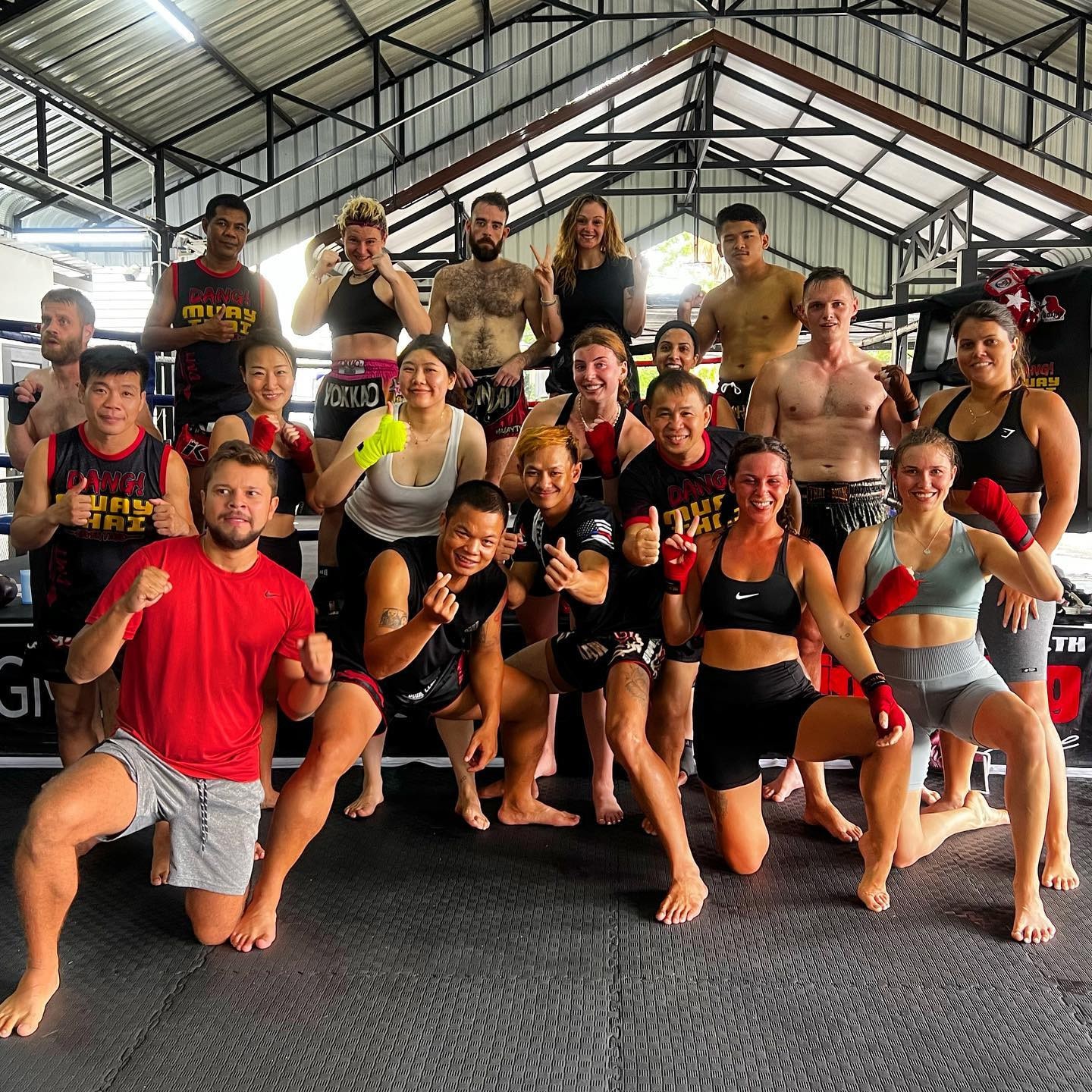 Bottom Line
Muay Thai is getting increasingly famous internationally, so much so that it has been granted the provisional Olympic status and is very soon expected to be one of the main Olympic sports.
So if you are planning to visit Chiang Mai anytime soon, we would suggest you visit one of these Muay Thai gyms to see closely why it is garnering so much respect.