Besides being famous for its exotic beaches and gleaming night markets, Chiang Mai is also home to some amazing wellness retreats that are the cherry on the cake for your getaway vacations.
We have enumerated the Top-9 Meditation Retreats in Chiang Mai that you must drop by for an ease-up.
1. Suan Sati Meditation Retreat
Suan Sati Meditation Retreat is located in the peaceful countryside, just a short drive from Chiang Mai. The center invites guests to get on a journey of self-discovery amidst the natural beauty of the rice fields.
Their year-round meditation and yoga retreats take place in an eco-friendly environment. The daily schedule at Suan Sati is thoughtfully designed.
You'll have the chance to participate in two yoga and meditation sessions every day, with an additional workshop either in the morning or evening. These sessions offer an opportunity to connect with your body and mind, guided by experienced instructors.
But it's not all about practice; the retreat center provides space for relaxation, too. Guests can choose to unwind with books and games or explore the scenic surroundings through leisurely walks around the lush rice fields and along the serene riverbanks.
Food is an essential part of the Suan Sati experience. Their menu is entirely plant-based and celebrates the rich flavors of Thai cuisine, complemented by some familiar Western favorites.
The commitment to freshness is unwavering, with the chef diligently sourcing local ingredients daily from markets and stalls in the area. This ensures that every meal is not just nourishing but also a delightful culinary journey, offering guests a true taste of Thailand's vibrant culture.
Whether you're new to these practices or have been on the path for some time, the retreat center offers a variety of all-inclusive packages at affordable rates.
Accommodations include comfortable shared bungalows and dormitories, each thoughtfully designed to promote restful nights and a sense of community.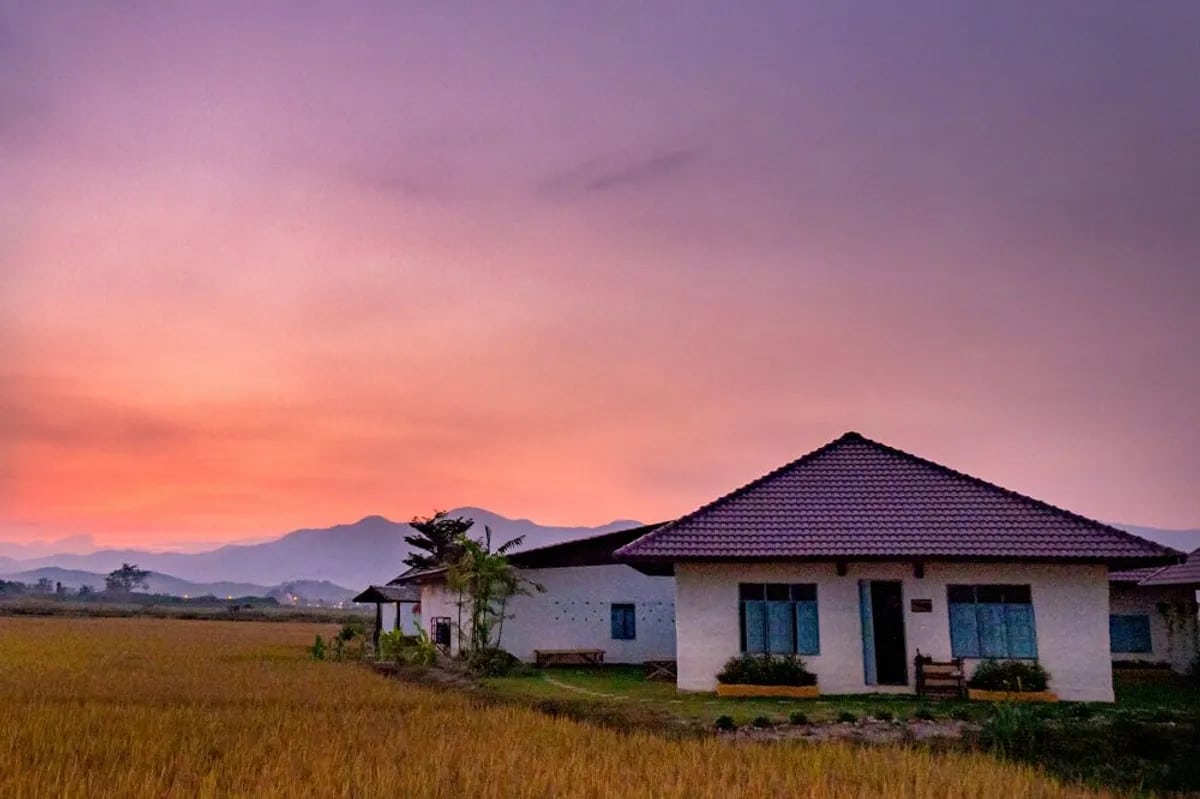 2. Meditation Retreat at Chiang Mai Thapae Resort
Thapae Resort offers a rejuvenating Meditation Retreat, a perfect escape for those willing to recharge and break free from their everyday routines.
With a blend of stimulating yoga sessions, Buddhist meditation practices, nourishing vegan meals, and creative activities, this retreat caters to all levels of experience, from beginners to advanced practitioners.
Guests can explore various yoga styles, including Vipassana, General Yoga, and Hatha Yoga, each tailored to enhance physical and mental well-being.
The delectable vegan and gluten-free meals provide healthy fuel for your body. At the same time, the serene surroundings and luxurious colonial charm of the resort create an exotic refuge from the stresses of modern life.
The retreat offers an array of activities, from daily yoga and meditation sessions to painting and Thai dessert cooking classes. Additionally, a Tuk Tuk rides through the ancient city, and visits to sacred temples offer a glimpse into the local culture.
Whether you seek inner peace, mental strength, or simply a break from the hustle and bustle, the Chiang Mai Thapae Resort Meditation Retreat provides the structure and tranquility needed to rejuvenate the mind, body, and soul.
Take the chance to step into a world of luxury, immerse yourself in Lanna cultural beauty, and savor the delights of 100% vegan meals in this meditation retreat center.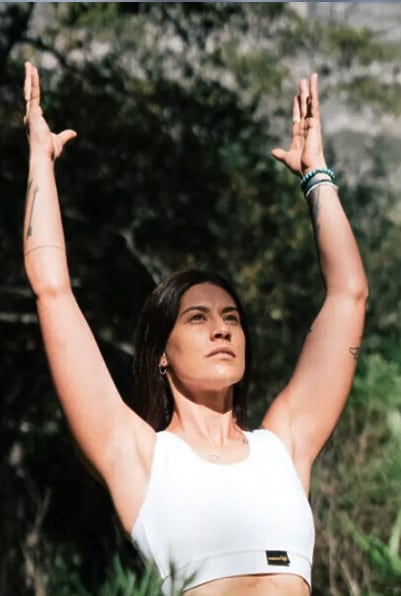 3. Mahasiddha Meditation & Yoga Center
It is a highly acclaimed Tantra and Yoga school located at a distance of 2 km from Chiang Mai city. The primary objective of Mahasiddha is to broaden the perspective of the trainees and help them live a more meaningful and conscious life.
The main coaches of the center, Uriel, Blandine and Radu firmly believe in the constant transformation of the soul through spiritual education. They offer a variety of courses for spiritual growth.
The most popular is their 5-day immersion course that takes a person through systematic study of Tantra yoga in theory as well as practice.
The course focuses on spiritual development through elevating consciousness. Besides, there are workshops on Saturday that cover topics such as inner growth, self-awareness, spiritual awakening, meditation, etc.
It also offers yoga retreat chiang mai, at the foothills of Mae Takhrai mountains, surrounded by lush green farms.
Contact
Address: 100 On Tai, San Kamphaeng District, Chiang Mai 50130, Thailand
Telephone- +66 61 378 4194
Email- Tantrayogachiangmai@gmail.com
Website-http://www.tantrayogathailand.com/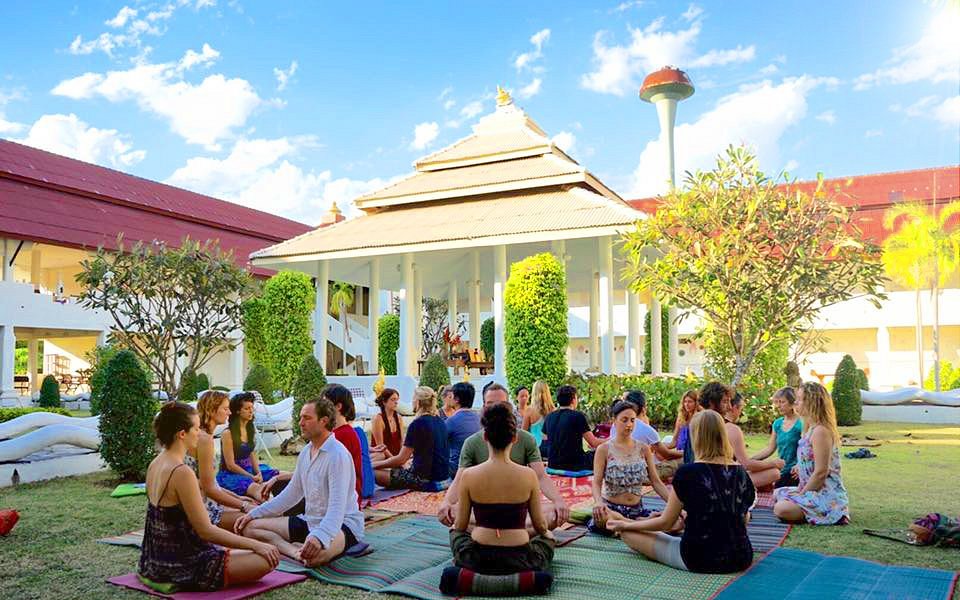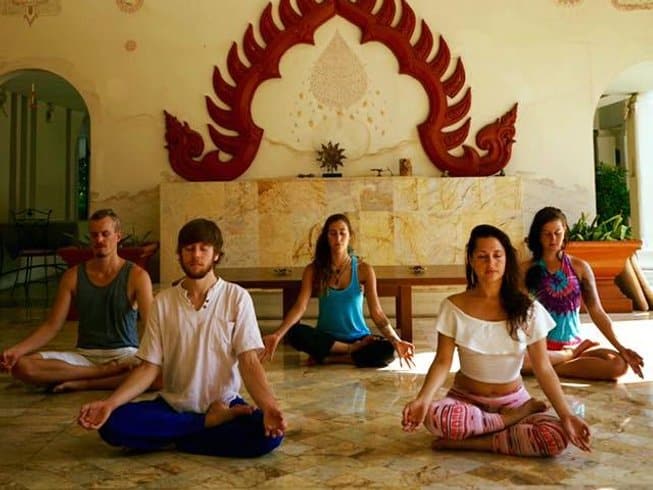 4. International Buddhist Centre or Doi Suthep Vipassana Meditation
The center is located at Phra That Doi Suthep in Chiang Mai. It mainly focuses on Satipatthana Vipassana i.e. Insight Meditation in line with the 4 Foundations of Mindfulness.
The classes here usually begin after lunch. The most unique thing about the International Buddhist Centre is that it gives individual attention to each guest.
Each person is allowed time with the headteacher Ajaan Buddhasak who gives them individualized instruction based on their practice and progression.
The center offers retreats where the four bases of mindfulness i.e. observing body, feelings, mind, and mind-objects are taught. For new guests, the basic meditation course extends for about 3 weeks.
The lessons are delivered both in Thai as well as English depending upon the convenience of the learner. It offers on-site accommodation in single rooms for both men and women.
Contact
Address: Wat Phra That Doi Suthep, Ratchaworawihan, Mueang Chiang Mai, Mueang Chiang Mai District, Chiang Mai 50200, Thailand
Telephone -+66 053 295 012
Email- doisuthepinfo@gmail.com
Website- https://www.fivethousandyears.org/

5. Body and Mind Healing
Body and Mind Healing is a registered holistic center that focuses on the ancient Chinese practices of Qigong, Tai Chi, Yoga, and Reiki for relaxation, good health, and personal growth.
The center uses Asian healing arts inspired by countries such as India, China, and Japan. It also offers courses in astrology reading, sexual alchemy, and proper nutrition.
The school aims to connect the guests with their true selves and lead them on the path of self-actualization so they can fully utilize their caliber.
It does so by educating them on energy recharge, stress reduction, emotional balance, addiction elimination, health, and healing. They also have a 5-days course for beginners that involves a step-by-step introduction to Yoga exercise and meditation.
Contact
Address: 26 Bumrung Buri 1 Alley, Tambon Phra Sing, Mueang Chiang Mai District, Chiang Mai 50200, Thailand
Telephone: +66 85 621 1374
Email: info@bodyandmindhealing.org
Website: https://bodyandmindhealing.org/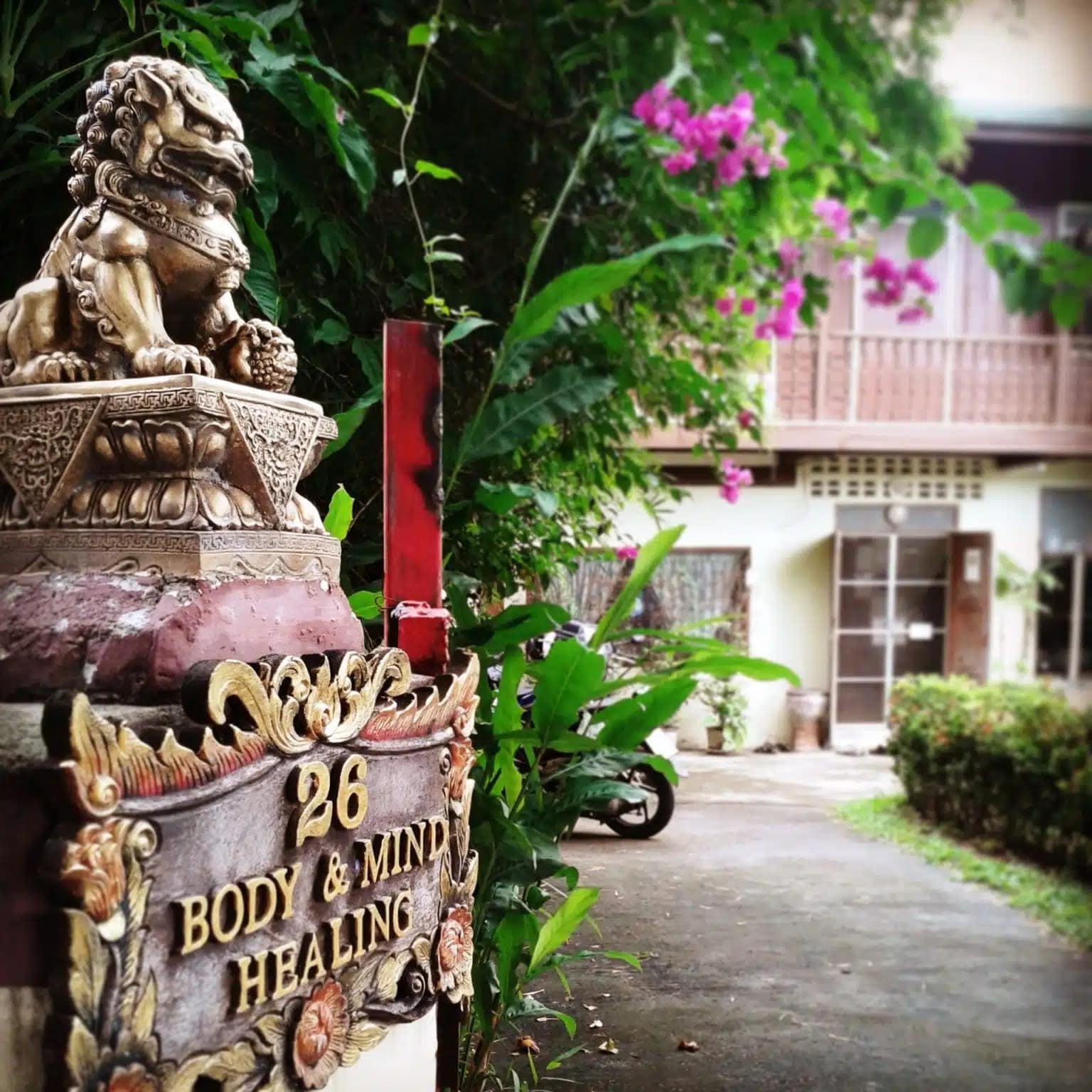 6. Pa Pae Meditation Retreat
It is an international retreat center located at a distance of 70 km from Chiang Mai. The aim of the center is to educate international visitors who are inclined towards meditation.
Since Thailand is world-famous for the Buddhist Wisdom, thousands of tourists who visit the island are interested in learning about it.
The center offers various programs in which experienced coaches teach the basic concepts of meditation and its benefits. It offers a three-day yoga retreat in chiang mai for the guests at 13 USD.
One of the notable programs is the Buddhist Ordination experience where you can develop a better understanding of Buddhism by spending quality time with a monk
Contact
Address: Pa Pae, Mae Taeng District, Chiang Mai 50150, Thailand
Telephone: +66 81 764 2417
Email: papaemeditation@gmail.com
Website: http://www.papaemeditation.org/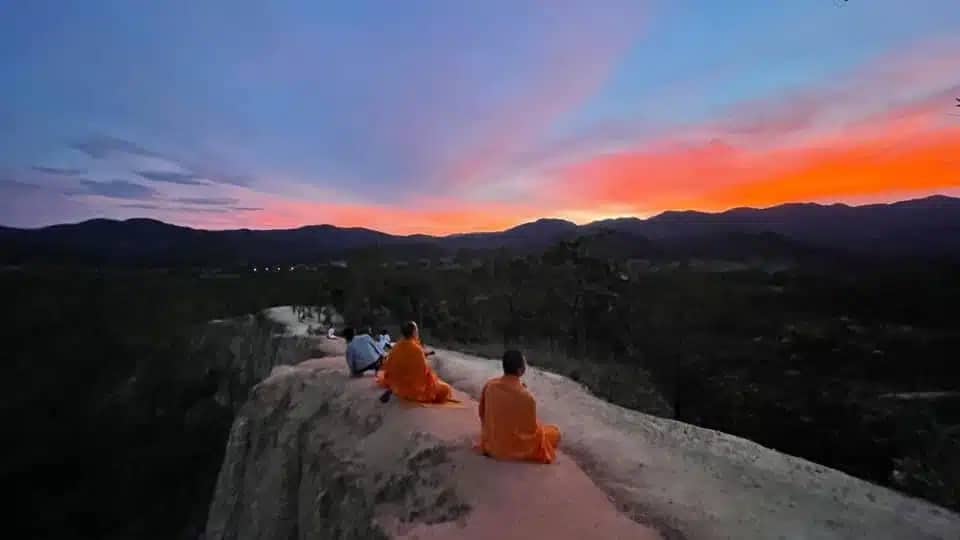 7. Buddhist Community Development Center
The Buddhist Community Development Center is oriented towards the practice of Vipassana Meditation in the Theravada Buddhist Tradition. Vipassana Meditation here is led by the renowned Venerable Clyde Jarudhammo.
He is the only Thai Monk to complete the 50 Days Vipassana Instructor's Retreat at Wat Chom Thong. He is also the only Thai Monk in the world to complete the 90-day Instructor's Retreat for Vipassana Reporting.
Vipassana is an observation-based journey towards self-exploration. It focuses on the connection between mind and body through disciplined attention to the physical sensations.
The center offers courses and retreats to encourage observation and development of awareness. Unlike traditional retreats, the Buddhist Community Development Center encourages respectful social interactions with the other guests.
Contact
Address: Near Wat Sriboonruang, Sansai, Fang, Chiang Mai 50110
Telephone- : +66 92 276 0420
Website- http://www.templeretreatthailand.com/
8. Meditation Center Wat Umong
The Meditation center was founded to propagate principles of Buddhism. In addition to that, the center believes in honing the mind-body connection and assuaging the inner turmoil for mental peace.
The center was officially acknowledged as the seventh provincial meditation center by the Royal Thai Sangha Organization in 2008.
It is located in the foothills of Doi Suthep which makes a perfectly serene and peaceful place for meditation. The center offers teachings in Buddhist Meditation- primarily Vipassana meditation based on the four foundations of mindfulness. It preaches Dhamma to both Thai locals and Tourists.
Contact
Address: Suthep, Mueang Chiang Mai District, Chiang Mai 50200, Thailand
Website: http:www.watumong.org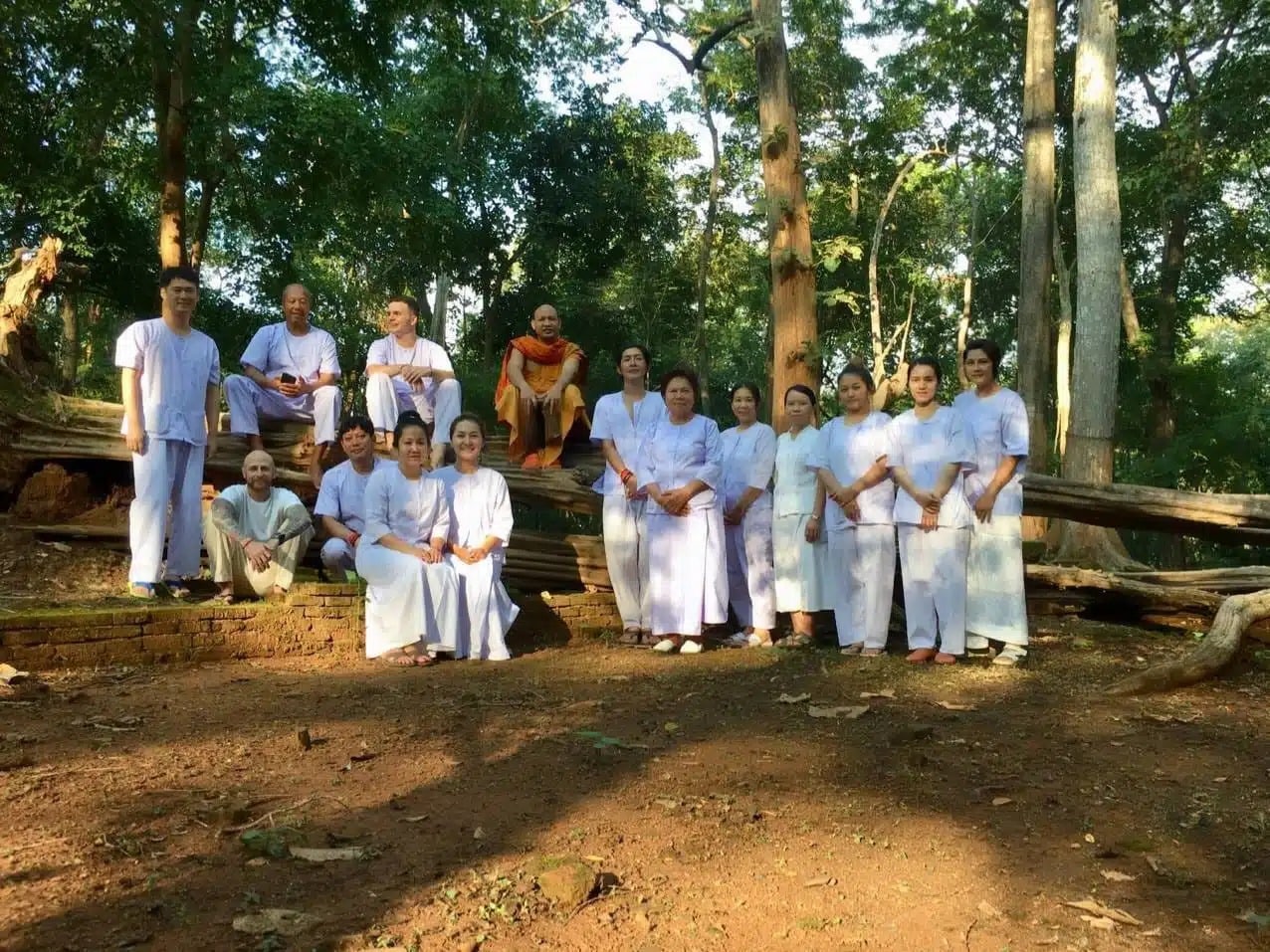 9. Wat Ram Poeng
The Meditation Centre of Wat Ram Poeng is nestled on the secluded edges of Chiang Mai just on the outskirts of the Old City. The center is surrounded by woods on all sides.
The campus is divided into two sections out of which one is exclusively reserved for the monks and the other is for the meditators.
People from all religions, castes, creeds, and countries are welcomed here without any discrimination. It offers a 26-day basic course in Vipassana meditation for newbies.
Wat Ram Poeng's objective is to educate people about the Buddhist Principle of Dhamma. The Dhamma principles focus on the liberation of the mind and soul from the transitory attractions of the world.
According to the Dhamma teachings, seeking the pleasure of the world is like eating sugarcane from top to bottom where the sweetness lessens as you progress.
Contact
Address: A road west off Canal Road(Route 121). Approx 2.5 k.m. south of the Canal Rd. and Suthep Rd.Intersection.
Telephone: 053-278620
Email: watrampoeng@hotmail.com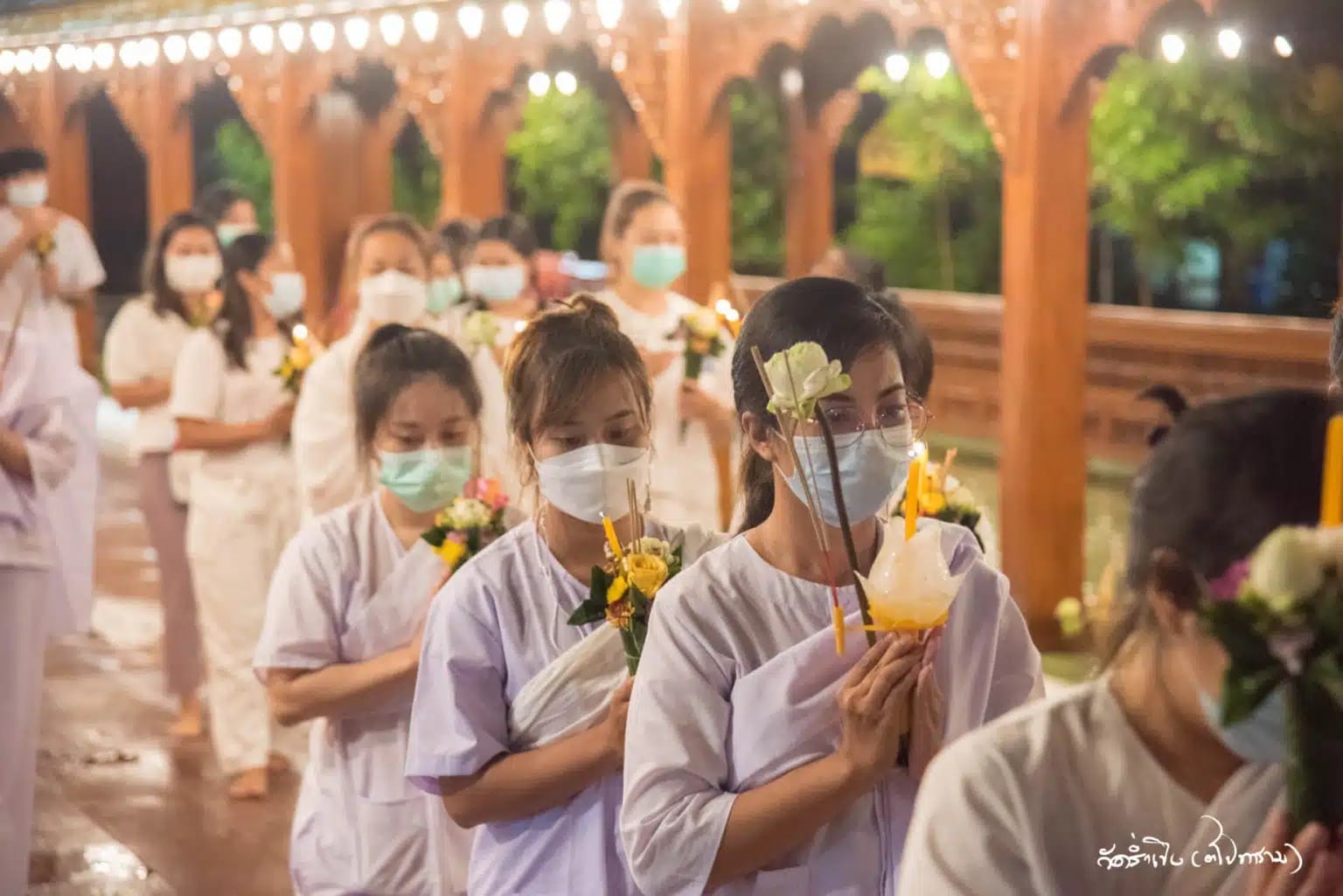 Bottom Line
If you plan on visiting Chiang Mai for a vacation anytime soon, we highly recommend you to visit any of these meditation centers for a wholesome relaxation experience.
Many tourists swear by these meditation centers that have completely changed their perspective about life.
Founder - Thailand Nomads
Jordan started Thailand Nomads primarily for sharing his experience of exploring Thailand for several years. The objective is to help tourists especially digital nomads plan their travel itinerary when visiting Thailand.
Email: jordan@thailandnomads.com