Explore the Best Marinas in Phuket, where world-class facilities, exceptional services, and stunning coastal views come together to provide the ultimate hub for yachting enthusiasts in this spectacular island paradise.
Phuket is a well-liked yachting resort, and its protected east coast makes for an ideal mooring spot with a variety of large marinas nearby.
For a number of reasons, many people consider the island of Phuket to be the sailing capital of Asia.
Boat owners will discover top-notch amenities at Phuket's marinas since they aim to suit the needs of their frequent guests.
With its abundance of beautiful landmasses and glittering waterways that look like they belong in a novel, the area has an irresistible nautical allure.
It's important to note that you can only approach Phuket's eastern shoreline from the south.
The Sarasin Bridge, which blocks the way around the island's north and is too low for most boats to pass through, remains closed.
We are listing down some ports regarded as the island's greatest marinas, from breathtaking beauty to first-rate amenities and opulent waterfront restaurants.
5 Best Marinas in Phuket That You Should Definitely Check Out
1. Phuket Yacht Haven
In 1997, Phuket Yacht Haven Marina opened its doors with 150 spaces for all kinds of watercraft.
It's something that you should check out certainly.It is situated on the island of Phuket's northeastern shore, in a tranquil region. It is close to the airport—less than 15 minutes by car.
Both tourists and sailors looking for a decent port-of-call for the start and end of maritime exploration tours will find this marina site to be excellent.
This marina's position in the northeast puts it closer to Phang Nga Bay, home to magnificent limestone islands, including James Bond Island.
This marina can accommodate boats up to 80 meters long with a maximum draught of 5 meters.
Some amenities include rebuilt docks, boardwalks, and complete hook-ups with phone, power, water, and WiFi access, in addition to the marina's more than 200 berths.
Location: 141/2 Moo 2, Mai Khao, Thalang, Phuket 83110, Thailand
Phone: +66 (0)76 397 908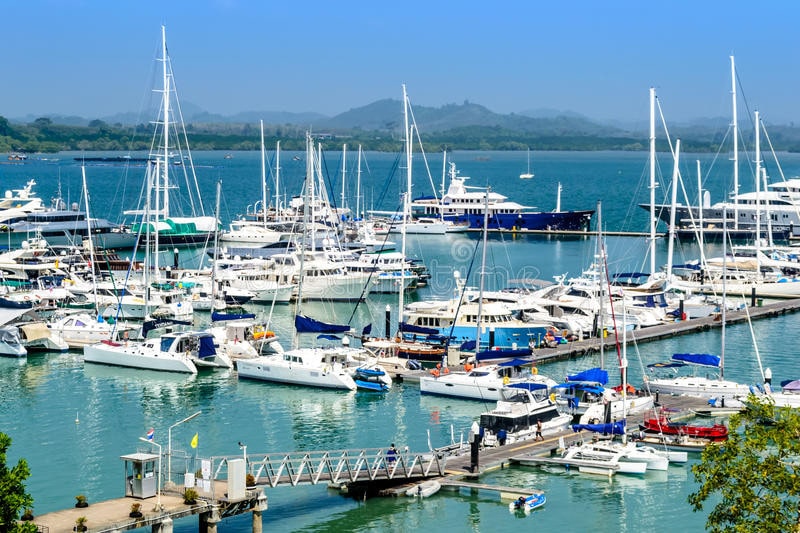 2. Phuket Boat Lagoon
Boat Lagoon Phuket is conveniently located on the northern fringes of Phuket Town. It was the first marina complex on Phuket Island and has been fully operating since 1994.
Owing to its ideal location, it has easy access to a number of luxurious condominiums, serviced apartments, workplaces, quaint stores, and a variety of restaurants.
Before it developed into an exclusive lifestyle and residential village, Phuket Boat Lagoon was a tidal flat on the stream of Klong Tha Rua, a lengthy, shallow, meandering watercourse.
Three service cranes with a combined lifting capacity of 80 tonnes are among its amenities, in addition to dry stack storage spaces large enough to accommodate 20 speedboats.
It also offers 180 berths, each with access to water and power and 144 hard-standing spaces for vessels.
Yacht owners may get all the help they need to maintain and repair yachts up to 80 tonnes at Phuket Boat Lagoon thanks to the marina's skilled management and comprehensive choice of services, which include dry stacking and travel lift.
Location: 22/1 Moo 2 Thepkasattri Rd, Koh Kaew, Muang, Phuket 83000, Thailand
Phone: +66 (0)76 239 888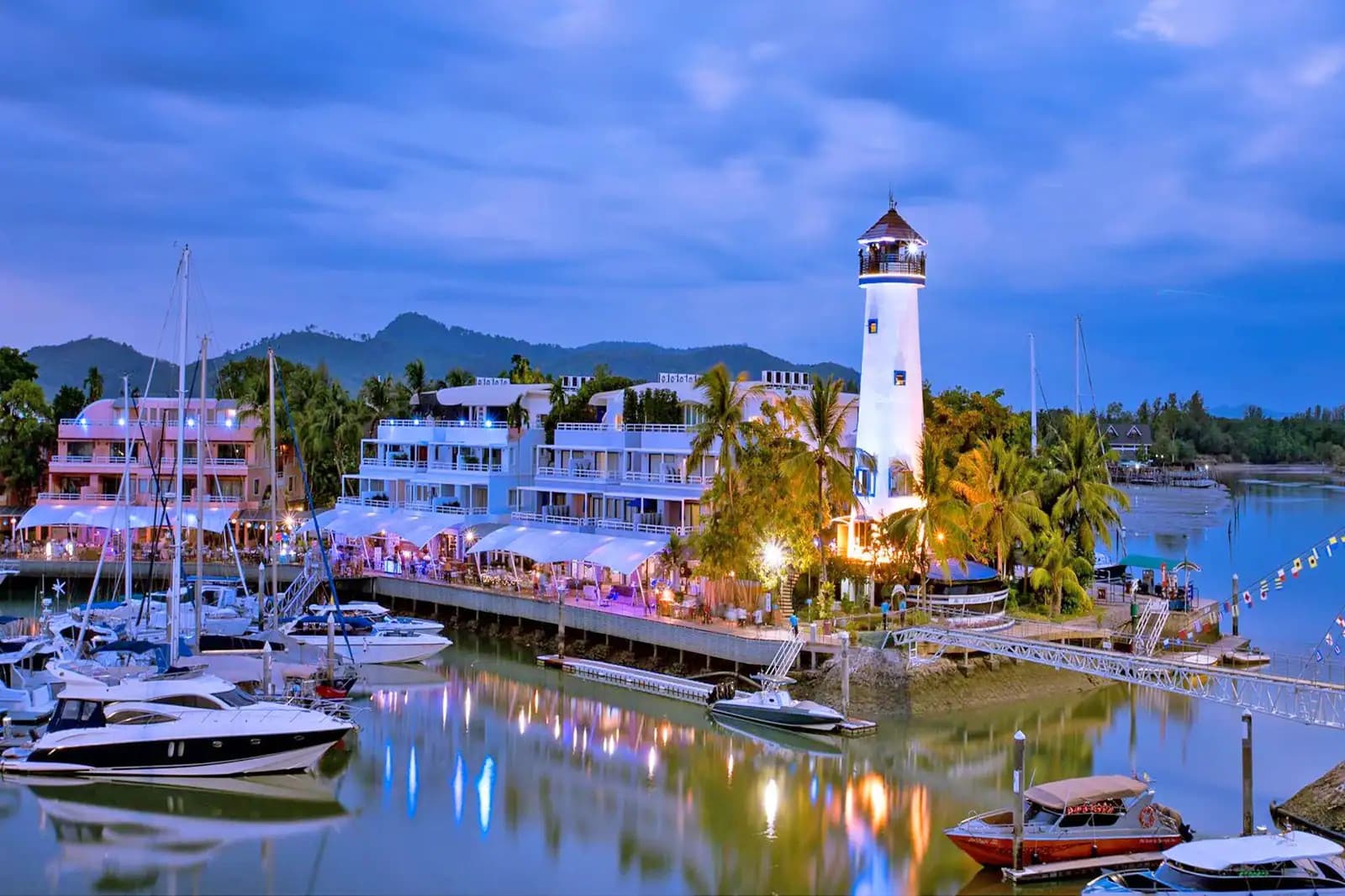 3. Royal Phuket Marina
It is the first luxury lifestyle marina of the highest caliber in Thailand. The Royal Phuket Marina is located on more than 30 hectares of excellent property on Koh Kaew, near Phuket Boat Lagoon.
The marina is one of Asia's top boating centers, with 350 slots for boats up to 35 meters long and 400 luxurious riverfront residences, penthouses, and apartments.
It is the only marina on the island with a boat lock, a non-tidal deepwater basin, and private moorings just outside of homes.
It is also Asia's most advanced and high-tech yachting infrastructure. In the midst of beautifully planted parks and gardens, more than half of Royal Phuket Marina is devoted to entertainment and retail establishments.
The British Yacht Harbour Association has given the marina its 5 Gold Anchor Award. It is the ideal location for sailing and serves as the starting point for island hopping because it is close to Asia's greatest cruising seas.
The Koh Phi Phi white sand beaches and the Krabi limestone cliffs are also close by. As a result, visitors may choose between cruising, tanning, or exploring Krabi's limestone cliffs.
The Similan islands, which are a few hours away from the marina and are excellent for diving, are perfect for thrill-seekers and adrenaline addicts.
Location: 68 Thepkasattri Rd, Koh Kaew, Muang, Phuket 83000, Thailand
Phone: +66 (0)76 360 811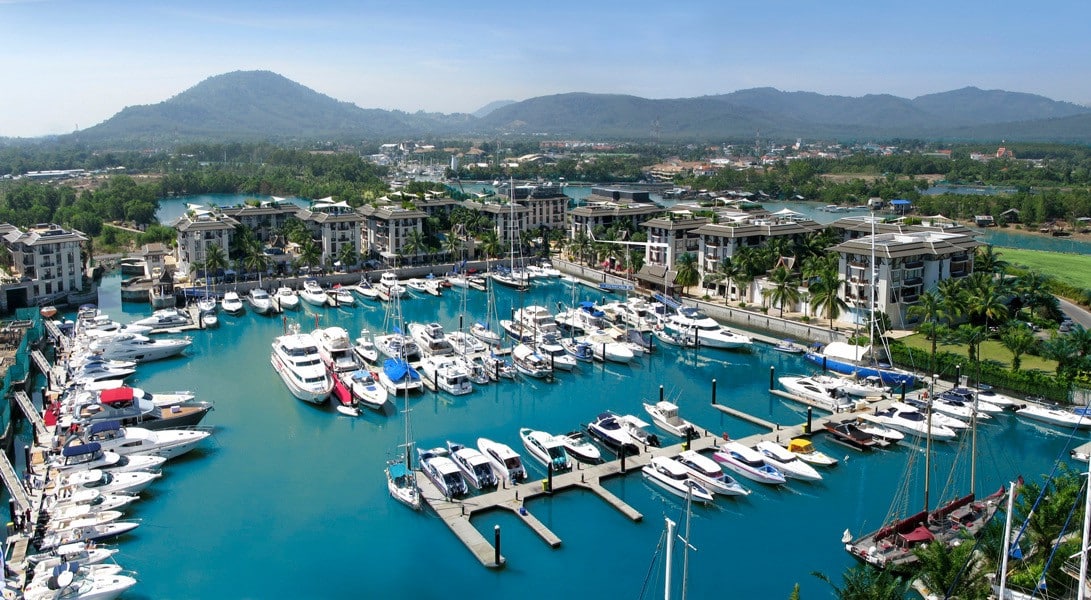 4. Ao Po Grand Marina
At the entrance to Phang Nga Bay, you will find the famous Ao Po Grand Marina. There are no tide limits, and this Marina is accessible 24/7.
The marina can handle boats up to 100 meters in length thanks to its 300 berths and 10-meter-wide promenade.
It is ideal for yacht shows and yachts since it has a minimum depth of 3 meters inside and 7 meters on the seaward side of the outside pier.
Thus, the annual Thailand Yacht exhibition is held in The Ao Po Grand Marina. The Port of Call Restaurant and the D' Deck Bar are two of the top restaurants here.
An abundance of pure water is provided within the docks by its cutting-edge reverse osmosis system.
Its subterranean fuel tanks can store 20,000 liters or three times as much gasoline and diesel.
Due to the size of Ao Po Grand Marina, a well-designed breakwater is necessary to protect yachts from the elements and surges.
Address: 113 Pa Klok, Thalang District, Phuket 83110, Thailand
Phone: +66 76 336 200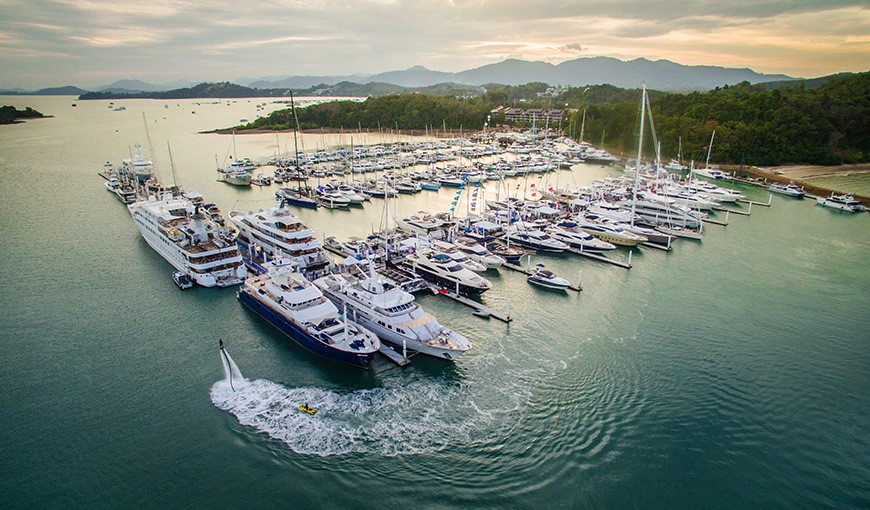 5. Galileo Yachting
Galileo Yachting is regarded as the pinnacle in crew sourcing for private luxury superyachts on a global scale.
With the belief that Thais have the greatest hospitality abilities in the entire globe, Galileo Yachting developed a top-notch training facility in Phuket to train both Thai and foreign candidates as a result.
The students at Galileo receive the best training possible from a team of qualified instructors with years of expertise in the superyacht business.
After completing the "Superyacht Stewardess Training Course," the students are equipped with the abilities and information necessary to succeed as superyacht stewardesses.
Captains from all over the world contact Galileo for a skilled and devoted crew. They have international recruiting representatives that help the students locate the ideal position on board a luxury superyacht.
Location: Yacht Haven Marina 141, Mai Khao, Thalang District, Phuket 83110, Thailand
Phone: +66 91 034 9081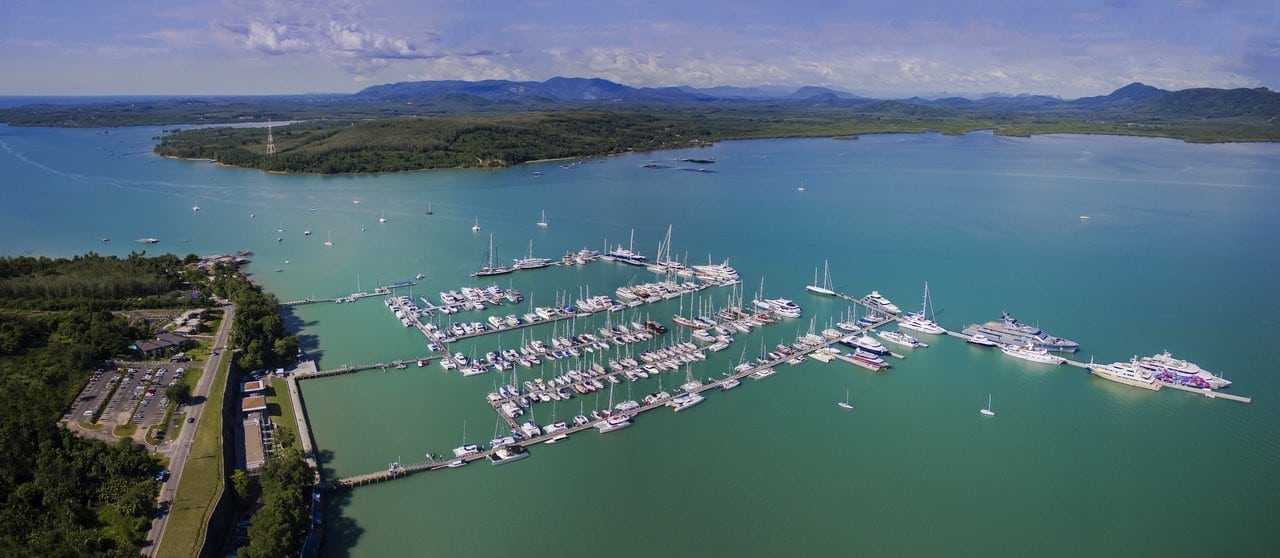 Wrapping Up
The marinas are known for their beautiful tropical environment and mild year-round weather. Additionally, Phuket has safe moorings and anchorages.
The island also provides a superb selection of luxurious lodgings, including luxury villas and hotels with a global reputation.
This is why Phuket is a popular sailing destination and why many yachting enthusiasts love to visit the island.
Each marina has contributed to making Phuket one of the top locations for yachting excursions, and it is responsible for a sizeable portion of sailors that visit the island's seas.
Ultimately, whichever option you choose, you are sure to enjoy a fun nautical vacation in Phuket within a posh and upscale complex.
Editor - Thailand Nomads
Cindy quit her 9 to 5 job to pursue her passion for exploring mesmerizing locations in Thailand. She has been living here for the past 5 years now and through Thailand Nomads, she shares her experiences and insights about the must-visit places in Thailand.
Email: cindy@thailandnomads.com