Phuket, Thailand's largest island, is renowned for its stunning beaches, vibrant nightlife, and abundant tourist attractions. While it's a well-loved destination for many, some seek a quieter, more peaceful escape from the bustling crowds. Mai Khao Beach, located on Phuket's northern shore, is the answer to this yearning for tranquility.
In this article, we invite you to explore the hidden gem of Mai Khao Beach, where nature's beauty reigns supreme and serenity is a way of life.
Location and Accessibility
Mai Khao Beach is located in Phuket's extreme northwest, extending nearly 11 kilometers. It's conveniently situated just a short drive from Phuket International Airport, making it an accessible destination for travelers arriving on the island.
This beach, part of Sirinat National Park, boasts Phuket's longest shoreline. Due to the nearby international airport, numerous planes fly low over Mai Khao Beach daily. The beach is frequently referred to as Airport Beach or Sanambin Beach. Sanambin is the Thai word for airport. Stop at Mai Khao Beach for a fantastic Instagram shot when visiting Phuket!
The Beauty of Mai Khao Beach
Mai Khao Beach is an unspoiled paradise with a long stretch of soft, powdery white sand that seems to stretch endlessly. The turquoise waters of the Andaman Sea gently lap at the shore, creating a mesmerizing contrast against the clear blue sky.
Tall casuarina trees provide natural shade, making it an ideal spot for relaxation and sunbathing. With its calm ambiance, the pristine beach is perfect for long walks along the shoreline and taking in breathtaking sunsets.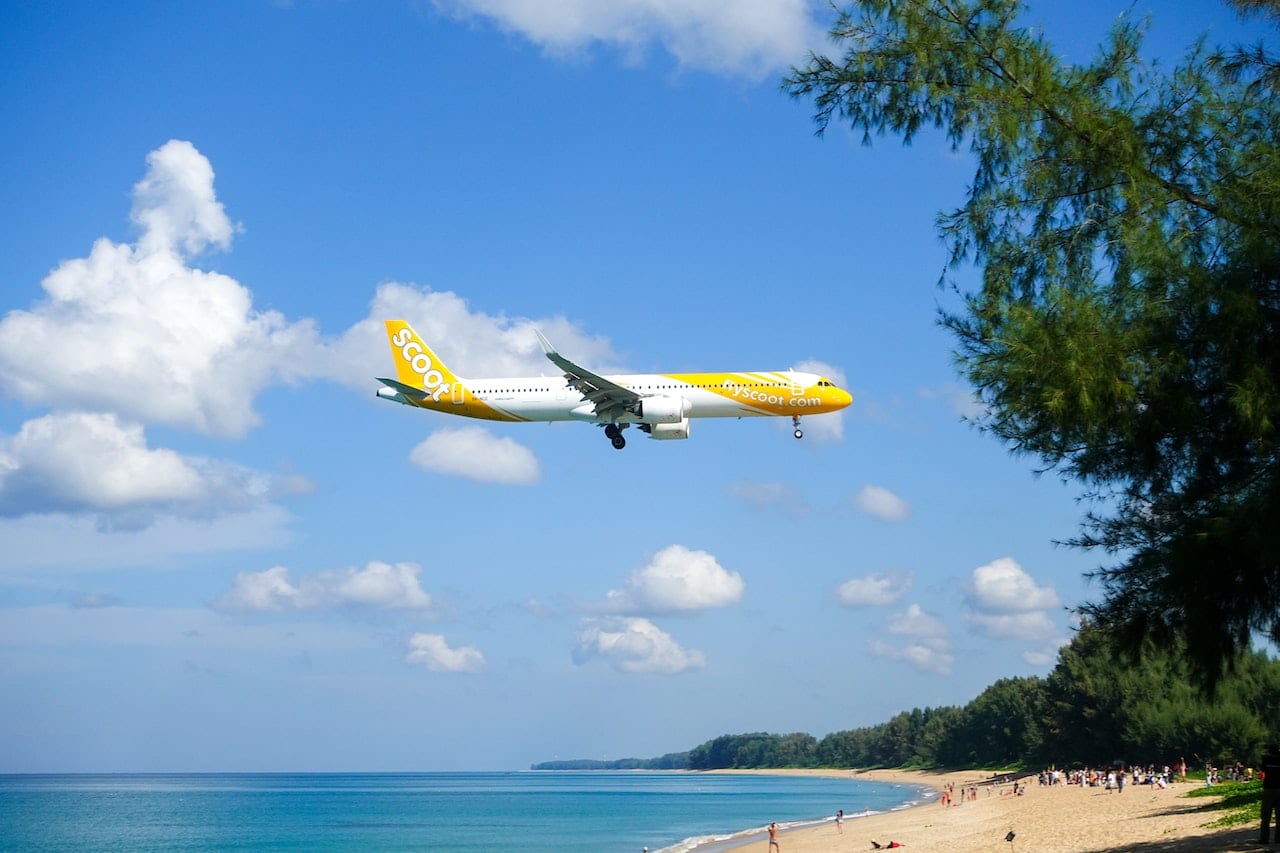 Activities and Attractions
While Mai Khao Beach is a place for relaxation, it has its share of activities and attractions. Water sports enthusiasts can enjoy jet-skiing, paddleboarding, and snorkeling in the clear waters.
Nearby, you can visit the Sirinat National Park and its pristine mangrove forests. The Mai Khao Marine Turtle Foundation is also a must-visit, where you can learn about their efforts to protect sea turtles and even witness a turtle release.
Although there are a few attractions nearby that you could visit, including Turtle Village Shopping Mall, Wat Mai Khao, Splash Jungle Water Park, and Sirinath National Park, the beach is very isolated, so you won't have any trouble finding your very own private place for a swim.
You may also get a spa treatment and a Thai massage at one of the resorts. When visiting Phuket, Splash Jungle Water Park is undoubtedly a must if you have children; it will provide you with a day filled with memorable water-related activities.
You might see it advertised at the Tesco Lotus Central Festival in Phuket Town, Jungceylon in Patong Beach, or any other places listed above. The entrance cost is approximately 1,495 Bath for adults and 750 Bath for children.
Not a shopping paradise
Shopping in Mai Khao differs significantly from in Phuket Town or Patong Beach. You can still find stores like Eye Bright, J&P Gems, Jim Thompson, Kashmir Gallery, PIK LIK, Private Collection, Red Coral, Soul of Asia Art & Boutique, StarBlu, Triumph, and Turtle Mart at the area's new Turtle Village Mall.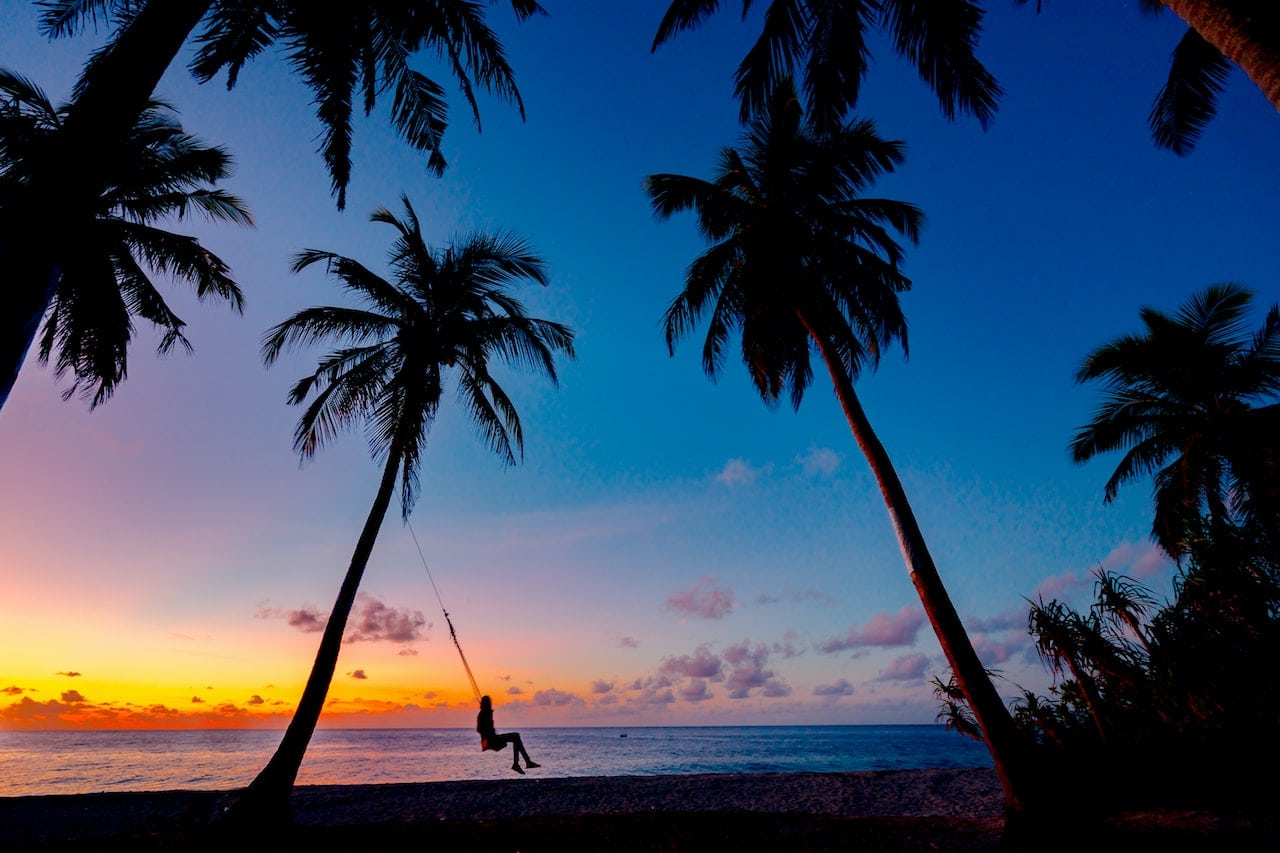 Sirinath National Park
Sai Kaew Beach, Mai Khao Beach, Naiyang Beach, and Naithon Beach are the four beaches that make up the Sirinat National Park, a protected land area facing the Andaman Sea on Phuket Island's northwest coast.
Although no hotels are in the park, locals enjoy camping in tents and having barbecues, especially on weekends. The park is a modest 90 km2 and covered in enormous casuarina trees.
The planes landing over the beach in the high season are arguably the most exciting sight to see (in the low season, they land on the other side of the runway, which is much less impressive).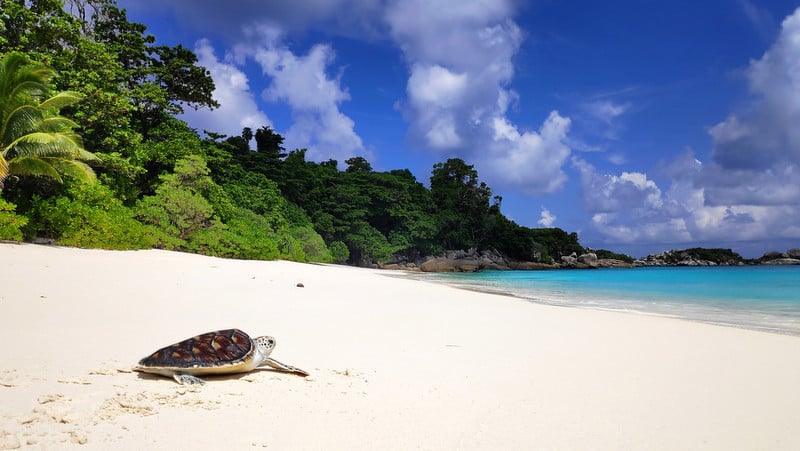 Nai Yang Beach
The tranquil and restful Nai Yang Beach, with its wide sandy crescent and shallow water, is located just south of Maikhao. Nai Yang is nearby, and the various restaurants there are ideal for leisurely savoring cocktails and a Thai dinner with a sunset, as Mai Khao has no facilities on the beach.
If you're curious to discover more of Phuket's exquisite beaches, don't miss our guide on the "13 Most Exotic Beaches in Phuket." It's a comprehensive resource that will help you plan your beach-hopping adventure along Phuket's captivating coastline.
Where to Stay
For those looking to immerse themselves in Mai Khao Beach's beauty fully, there are several accommodations to choose from. Luxury resorts like the JW Marriott Phuket Resort & Spa and Anantara Mai Khao Phuket Villas offer exquisite oceanfront villas and top-notch amenities, ensuring a luxurious and comfortable stay.
Here are some of the accommodations you can explore:
JW Marriott Phuket Resort and Spa - SHA Extra Plus gives easy access to Mai Khao Beach's undeveloped beach area while offering a private retreat. It offers 11 eating options in addition to 3 outdoor pools. There is complimentary parking.
11 miles separate Marriott Phuket Resort from Phuket International Airport. Shuttle services to Patong Beach and Phuket Town can be arranged for an additional fee.
At the Marriott Resort, soundproofed rooms feature their balconies or patios with views of the grounds, the pool, or the ocean. Everyone has a flat-screen cable TV. There is also a minibar and a tea/coffee maker available. There is a 24-hour room service available for the comfort of the guests.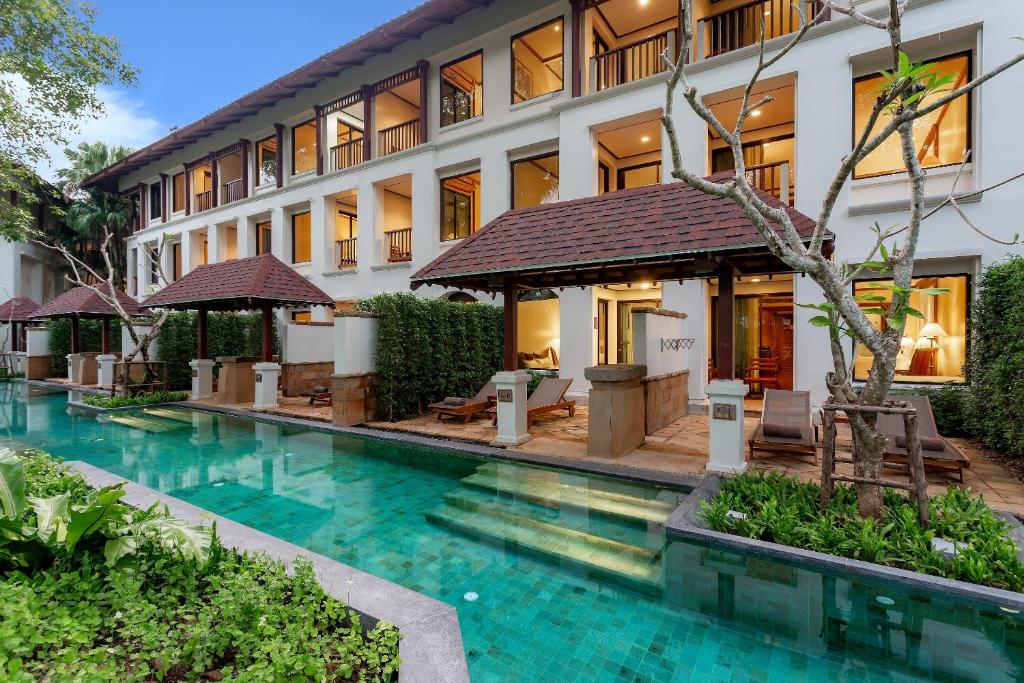 Anantara Mai Khao Phuket Villas, situated on Mai Khao Beach and partially abut Sirinath National Park, have a beachfront infinity pool, five dining options, and villas with private pools and sundecks.
Phuket International Airport is 15 minutes away from Anantara Mai Khao Phuket Villas. Phuket Town and Patong Beach are both a 30-minute drive apart.
Each villa has a personal wine store and an espresso machine. For the enjoyment of the visitors, a flat-screen TV, DVD player, and BOSE sound system are offered. There is a two-person terrazzo bathtub in the bathroom.
Visitors can unwind on the exclusive beach or massage in a spa's exclusive treatment room. The resort's attractions include yoga, aerobics, and Thai cookery classes. There are additional facilities for water sports.
One of our all-time favorite hideaways in Phuket is Sala Phuket Resort and Spa on Mai Khao Beach, but it is not a hotel for everyone. With a distinctive setting and complete privacy, it is a romantic retreat dedicated to couples. Although such a luxury is expensive, it is still within reach,
SALA Phuket Resort, located along serene Mai Khao Beach, offers lush gardens, two beachfront pools, and villas with private pools and sundecks. There is a spa with a sauna and a steam room.
The trip to SALA Phuket Resort & Spa from Phuket International Airport takes 20 minutes. The 25-minute ride will take you to the lovely Phang Nga Bay.
Flat-screen cable TVs and DVD players are available in the rooms and villas at SALA. With free-standing baths outside and a view of the pool, the villas feature outdoor bathrooms. Free WiFi is available.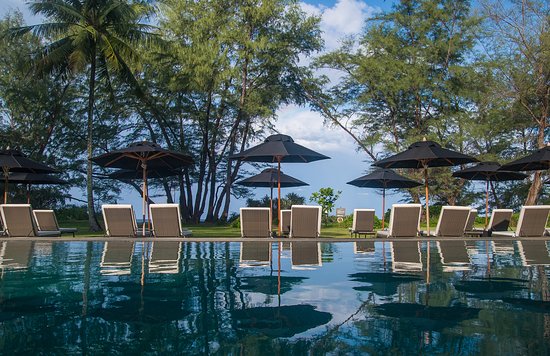 The Splash Beach Resort, Maikhao Phuket, offers practical and welcoming lodging along an 11-kilometer stretch of Phuket's northwest coast. a sizable convention center and a variety of on-site restaurants and bars are all present.
Each contemporary apartment, which includes various lodging options such as rooms, suites, penthouses, and villas, provides free WiFi and views of tropical gardens, the pool, or the Andaman Sea. There are flat-screen TVs with cable channels available. Some rooms come equipped with a kitchen and balcony.
Where to Enjoy Thai Local Cuisine
Exploring the local cuisine is a delightful part of any trip, and Mai Khao Beach offers a range of dining options. From beachfront seafood restaurants serving freshly caught fish to charming Thai eateries serving authentic dishes, you'll find plenty to satisfy your palate.
Only a few restaurants are available in Mai Khao; these include a few beachfront eateries, Bill Bentley Pub, La Cucina at JW Marriott, Sala Phuket, Seaside Cottages & Restaurant, Siam Deli at JW Marriott, Swensens, and The Coffee Club. Besides a nice meal and a few drinks at one of the resorts, there is little to do in Mai Khao at night.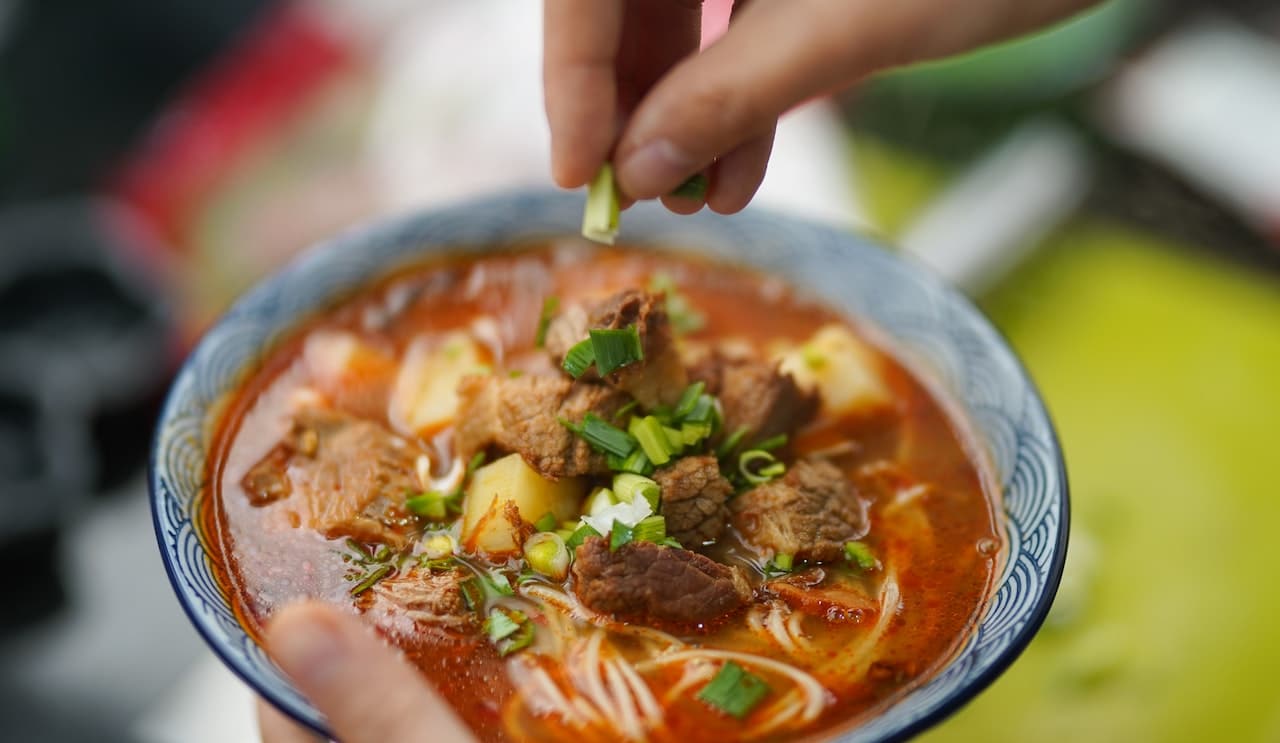 Why you should come to Mai Khao Beach: Serenity and Seclusion
Compared to Phuket's more well-known beaches like Kata, Patong, and Karon, Mai Khao Beach—often referred to as Haad Mai Khao by the Thai themselves—is far less frequented. Naturally, the atmosphere is much quieter here, particularly in light of the beach's vastness.
There are certain days when it looks like nobody is at the beach, which may be the case occasionally. The beach is Phuket's longest, stretching for about ten kilometers. Simply said, there are more beaches per square kilometer. Having a beach to oneself is pleasant.
Unlike some of Phuket's more crowded beaches, Mai Khao Beach offers a sense of seclusion and tranquility that's hard to find elsewhere.
Here, you can escape the noise and distractions of the world and truly connect with nature. The serene atmosphere invites visitors to unwind and recharge, making it an ideal destination for honeymooners, couples, and anyone seeking a peaceful escape.
Testimonial from a Visitor: "Mai Khao Beach was a revelation. I couldn't believe I was in Phuket—the calm and quiet were so soothing. It's like having your private piece of paradise."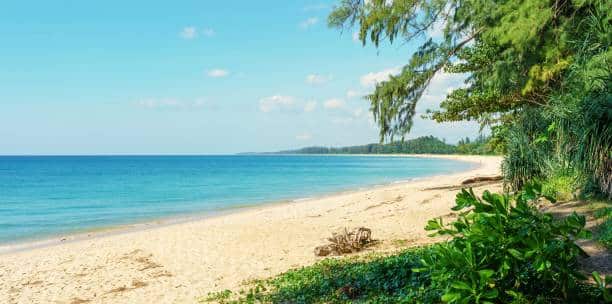 Tips for Visitors
If you plan to visit Mai Khao Beach, consider the following tips:
The best time to visit is during the dry season, from November to April.
Remember to bring sunscreen, a hat, and plenty of water to stay hydrated.
Be respectful of the local environment and wildlife.
Frequently asked questions about Mai Khao Beach.
What is Mai Khao known for?
Mai Khao Beach is known for its serene and unspoiled beauty, featuring a long stretch of soft, powdery white sand and the turquoise waters of the Andaman Sea. It's also renowned for its tranquility and seclusion, offering a peaceful escape from the bustling crowds of more touristy areas in Phuket.
Can you swim at Mai Khao Beach?
Yes, you can swim at Mai Khao Beach. The clear and calm waters make it ideal for swimming. However, like at any beach, it's essential to be cautious of ocean conditions and follow safety guidelines, especially if you're not an experienced swimmer.
Is Mai Khao a good area to stay?
Mai Khao is an excellent area to stay, especially if you're seeking a quieter and more peaceful atmosphere. It offers a range of luxury accommodations, including oceanfront villas and top-notch resorts like the JW Marriott Phuket Resort & Spa and Anantara Mai Khao Phuket Villas. It's a perfect choice for those who value tranquility and natural beauty.
What is the most popular beach to stay in Phuket?
While Phuket has several famous beaches, Patong Beach is often considered the most popular and bustling one, known for its vibrant nightlife, shopping, and entertainment options. However, choosing the best beach in Phuket depends on your preferences. Mai Khao Beach is an excellent alternative if you prefer a quieter and more serene experience.
Conclusion
Mai Khao Beach is a hidden treasure on the island of Phuket, offering a serene and picturesque escape from the hustle and bustle of more touristy areas. Its natural beauty, tranquility, and range of activities make it a must-visit destination for those seeking a quieter and more peaceful slice of paradise.
Ready to experience the serene beauty of Mai Khao Beach for yourself? Start planning your getaway today. Book your accommodations, explore the local cuisine, and get ready to unwind in one of Phuket's best-kept secrets.