Phuket, a tropical paradise, invites families with lots of fun activities for both kids and adults.
Beyond the beautiful beaches, Phuket has a range of family-friendly adventures that can make your vacation even better.
From exciting water parks to unique attractions, here's a handpicked list of 24 things to do with your children in Phuket.
1. Connect with Gentle Giants at Elephant Jungle Sanctuary
At Elephant Jungle Sanctuary Phuket, children have the opportunity to interact with elephants in a respectful and enjoyable way.
Unlike traditional elephant trekking, this sanctuary ensures no one rides the elephants. Instead, visitors can feed, play with, and even bathe these majestic creatures.
A truly unforgettable experience for kids and adults alike.
Address: 2/12 Kathu, Kathu District, Phuket 83120
Visits: Morning 6:30 am – 12.30 pm, Afternoon 11.30 am – 5.30 pm
Phone: 094 663 6592
Prices: Adults: 5,500 baht, Children (7-10): 3,500 baht
2. Dive into Andamanda Phuket Water Park
Andamanda Phuket is one of the most famous and grandest water parks in Phuket. It guarantees hours of aquatic fun for the whole family.
With a sprawling area featuring a variety of slides, pools, and play areas, this aquatic playground offers sheer delight. Kids and toddlers have their own dedicated zones for safe enjoyment.
Dive in and create lasting memories!
Address: 333 Kathu, Kathu District, Phuket 83120
Open: 10 am – 7 pm
Phone: 076 646 777
Prices: Adults: 1,500 baht, Kids: 1,000 Baht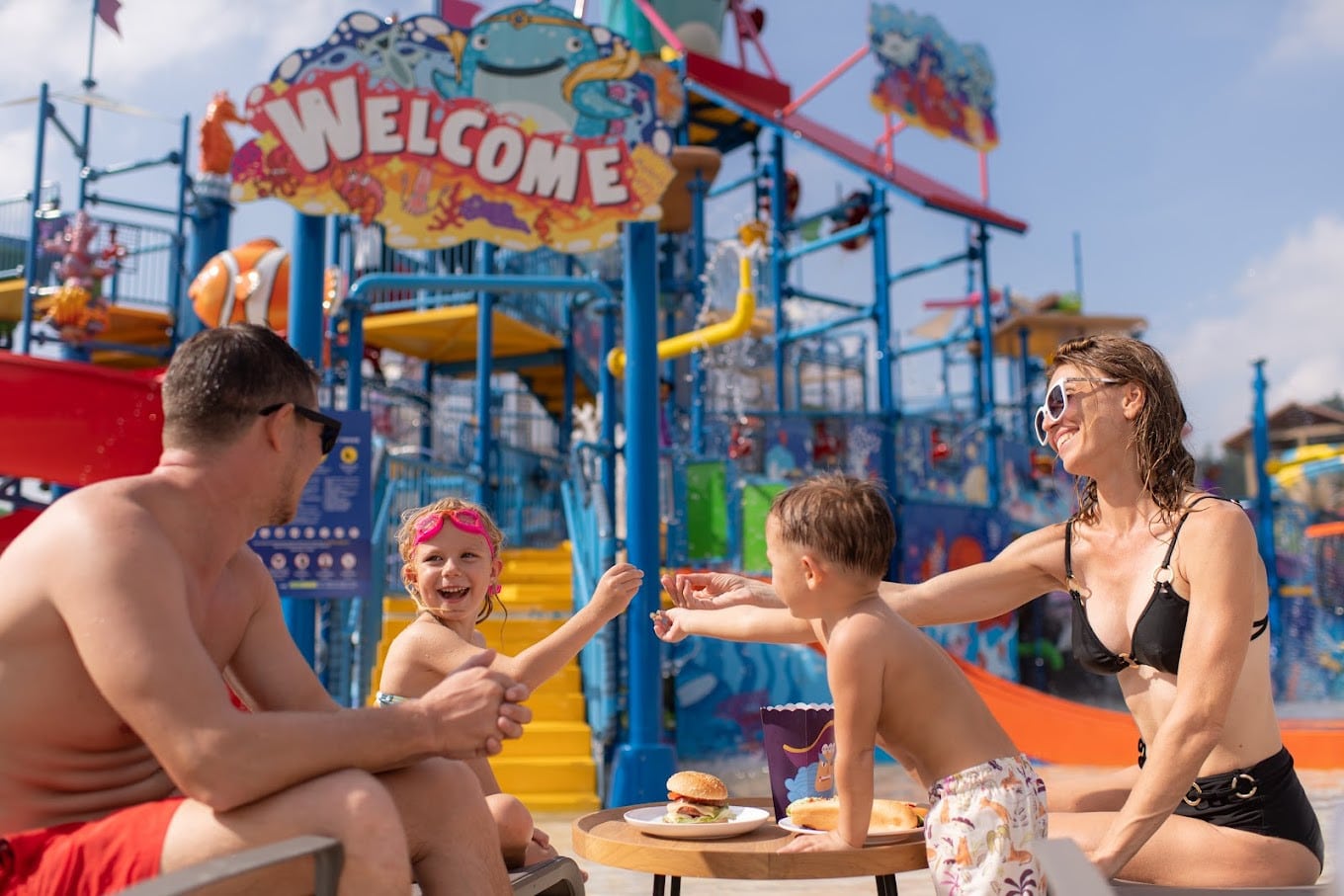 3. Splash into Blue Tree Water Park
Blue Tree Phuket is an expansive water park where adults and kids can revel in the warm waters of this tropical paradise.
Spread across an area of 17000 square meters, its vibrant, multicolored building is deemed as a hub of excitement. The park offers a diverse array of water activities, from thrilling water slides to zip lines and paddleboarding.
It is a colorful oasis you can not miss, located halfway between Bangtao Beach and the iconic heroine's circle. Make a splash and let the fun begin
Location: Cherngtalay
Address: 4/2 Srisoonthorn, Cherntalay, Phuket 83110
Open: 10 am – 6 pm
Phone: 076 602 435
Price: 950 baht for adults, 350 Baht for kids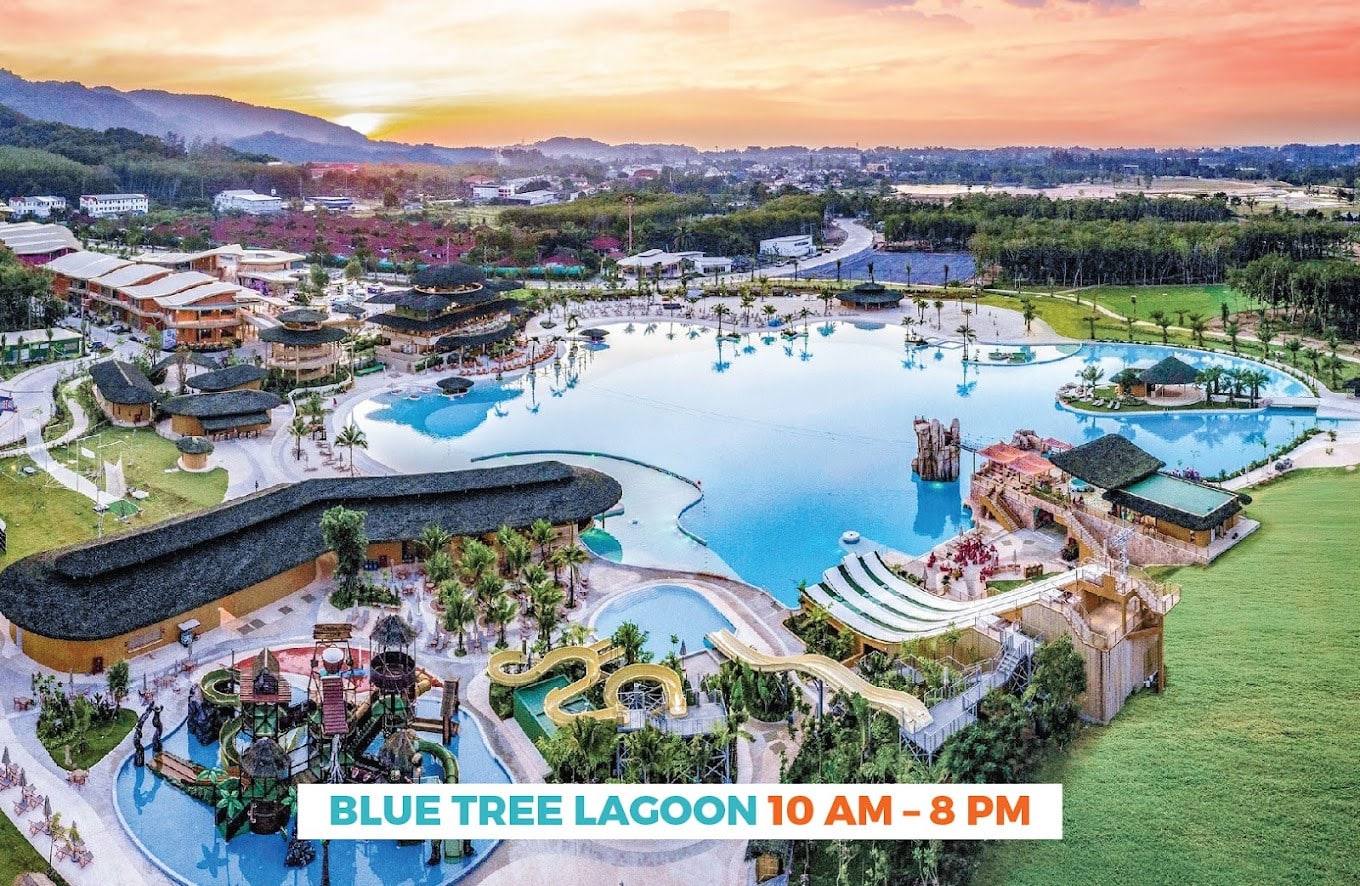 4. Surf's Up at Surf House Phuket
Surf House Phuket is an artificial wave sport that offers an exhilarating introduction to surfing with its artificial wave technology.
It consists of two parallel high-pressure water streams that flow up an inclined slope at a very high speed, enough to create enough lift for a person.
Whether you are a beginner or experienced, riding the waves here is a safe and enjoyable experience.
Instructors ensure you and your kids master the art of surfing, providing endless fun and excitement.
Location: Kata Beach
Address: 4 Soi Pakbang, Karon, Mueang Phuket District, Phuket 83100
Open: 10 am – 10 pm
Phone: 091 914 5546
Facebook: https://www.facebook.com/supersurfkata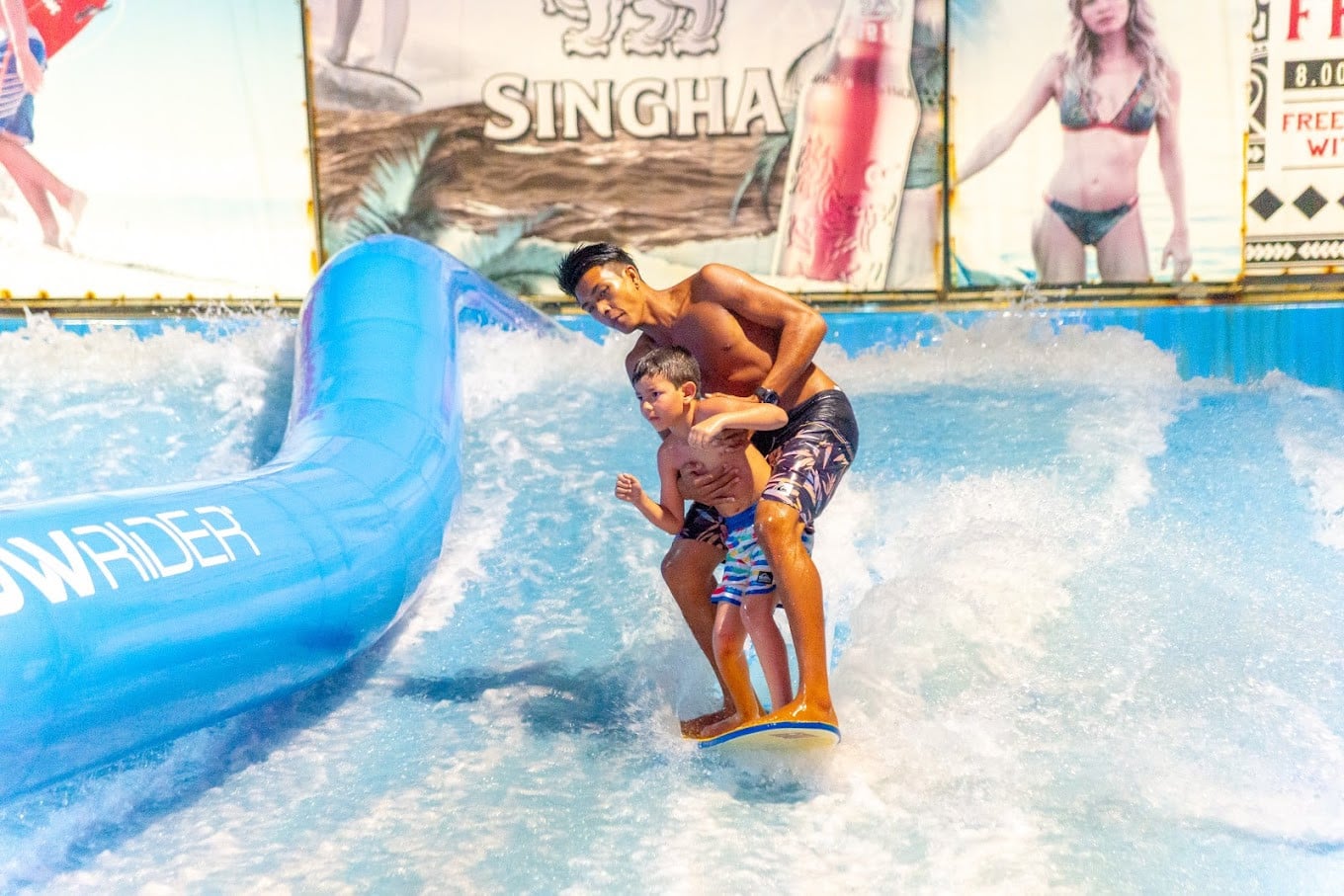 5. Glide Through the Canopy at Flying Hanuman
Glide through the treetops in the lush jungle of Phuket with Flying Hanuman.
The course encompasses 28 wooden platforms constructed with an eco-conscious approach to preserve the trees, linked by two sky bridges and featuring 15 ziplines.
The park spans over 80,000 square meters of forest, with the tallest platform soaring to a height of 40 meters and the most extensive zipline extending for 400 meters!
With a strong focus on safety, kids as young as four can participate, making it an exciting family outing.
Location: 89/16 Moo 6, Soi Namtok Kathu, Wichitsongkram Road, Kathu, Phuket 83120
Open: 8 am – 5 pm
Courses: 8 am – 10 am – 1 pm – 3 pm
Phone: 076 323 264-5, 081 979 2332
Prices: 3,250 baht (28 platforms), 2,300 baht (16 platforms), 3,490 baht (28 platforms + meal)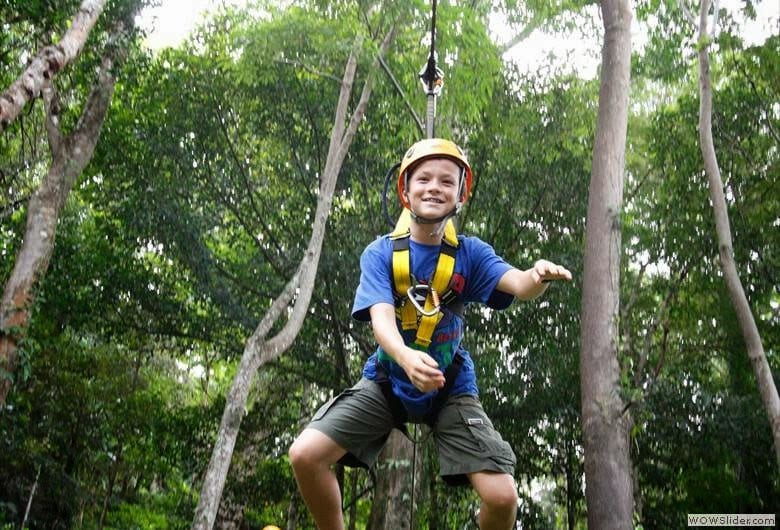 6. Baan Teelanka - The Upside Down House
Baan Teelanka – The Upside Down House is one of Phuket's most unusual and engaging attractions.
Step into a world where everything is flipped on its head, making for mind-boggling photos and videos that will leave your friends and family in awe. Get creative and have a blast exploring this wacky museum. You would not want to miss this unique experience!
Location: Village No. 5 51/11 Chalermprakiat Ratchakan Thi 9 Road, Ratsada, Mueang Phuket District, Phuket 83000, Thailand
Open: 10 am – 6 pm
Phone: +66 84 456 5279
Email: baanteelanka@gmail.com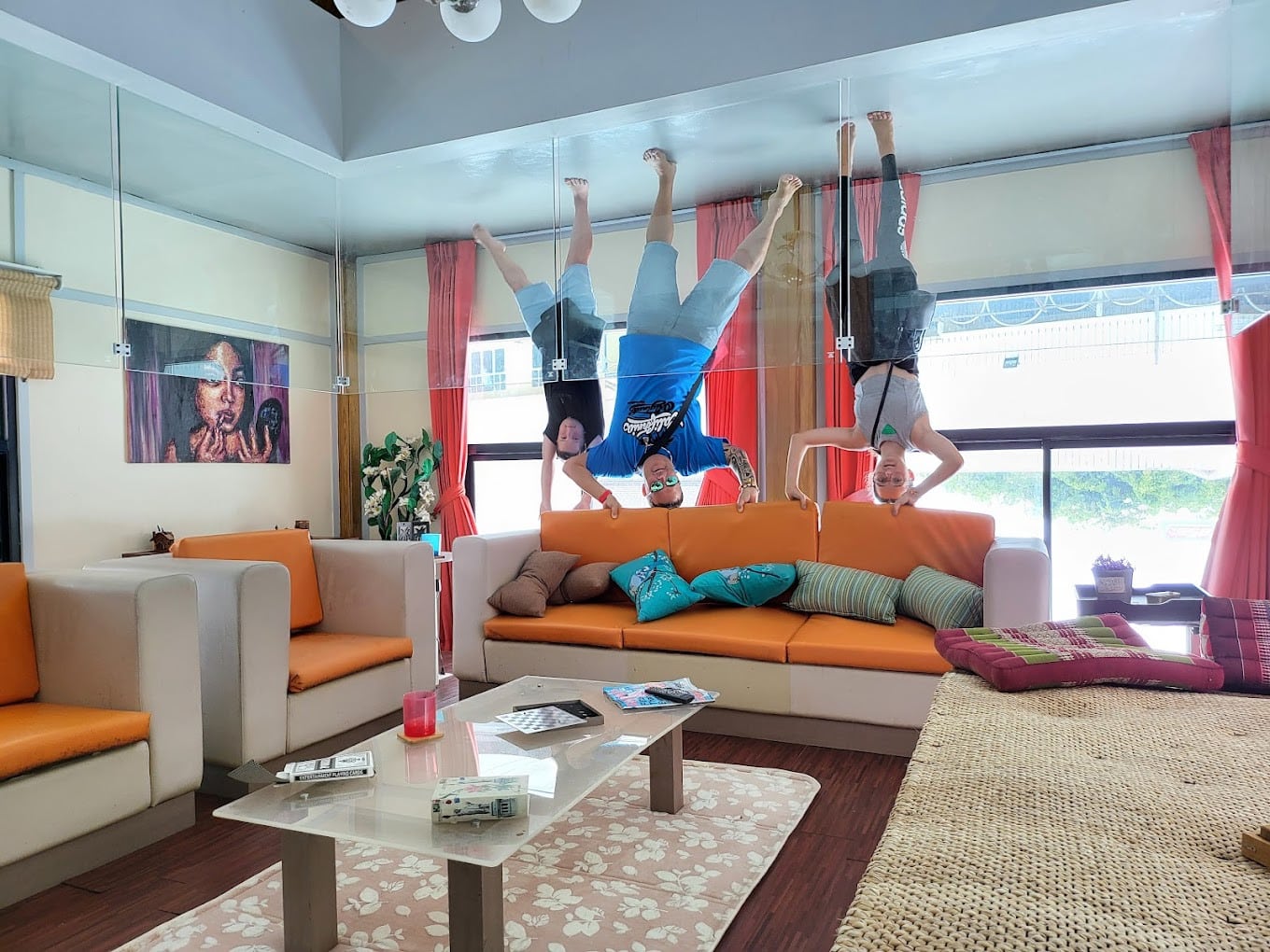 7. Embark on a Magical Journey at Carnival Magic
Experience the enchantment of Carnival Magic, a captivating 40-acre Thai carnival theme park known as the Magical Kingdom of Lights.
Situated on Kamala Beach, it boasts an array of record-breaking attractions that can't be found anywhere else in the world. Immerse yourself in the spectacle!
Address: 999 Kamala, Kathu District, Phuket 83150
Open: Carnival Magic is open every Monday, Wednesday & Saturday.
Hours: 5.30 pm – 11.30 pm
Website: www.carnivalmagic.fun
Tel: + 66 76 385 555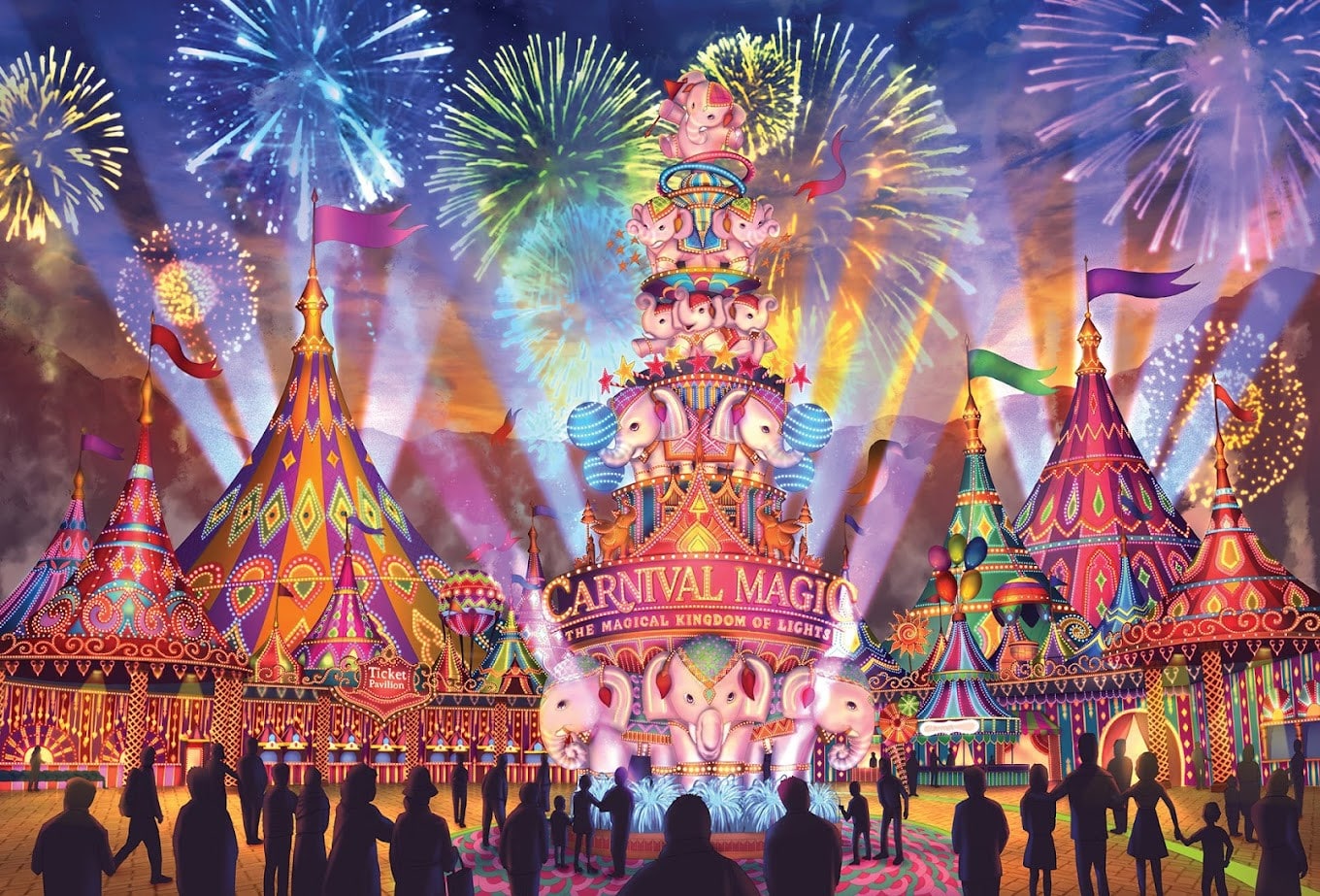 8. Enjoy Playtime Paradise at Phuket Kids Clubs
Phuket's Kids Clubs are interactive wonderlands designed for family fun.
Parents can engage with their children in these playful areas, offering an array of kid-friendly facilities and activities.
From ball games to art classes, these clubs ensure that your kids are entertained throughout your stay.
9. Snap and Share at the Selfie Experience
The Selfie Experience in Phuket is a vast photo playground covering 3,000 square meters indoors.
With over 40 backgrounds to choose from, it's a delightful way for families, friends, and selfie enthusiasts to escape the heat or enjoy a rainy day.
Address: 99/99 Moo 5 Chalermprakiat Road T, Ratsada, Mueang, Phuket 83000, Thailand
Hours: 10 am – 9 pm
Price: 400 baht
Phone: +66 98 895 4796
Facebook: The Selfie Experience on Facebook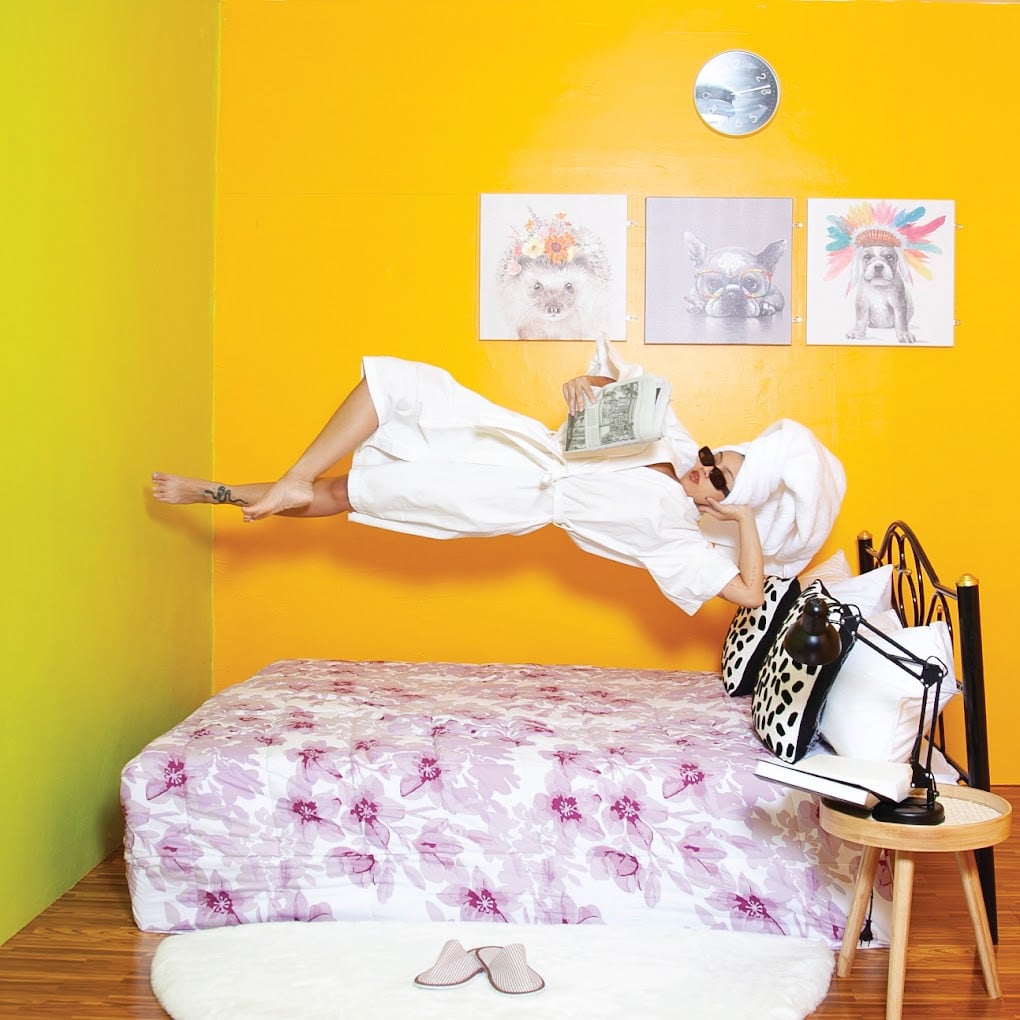 10. Step into the Water Wonderland at Splash Jungle Water Park
Splash Jungle is a medium-sized water park near Phuket Airport. Its main attractions include high-speed slides and a mad spinning funnel that promises a thrill.
A separate kids' pool offers safe fun for the little ones. While it may be a bit pricey compared to parks in other countries, the sheer joy is worth every baht.
Location: Mai Khao Beach

Address: Soi Mai Khao 4, Mai Khao Beach (Next to Phuket Airport)
Open: Daily 10 am – 6 pm
Phone: 076 372 111
Price: Adult: 1,305 Baht, Child (5-12 Years): 630 Baht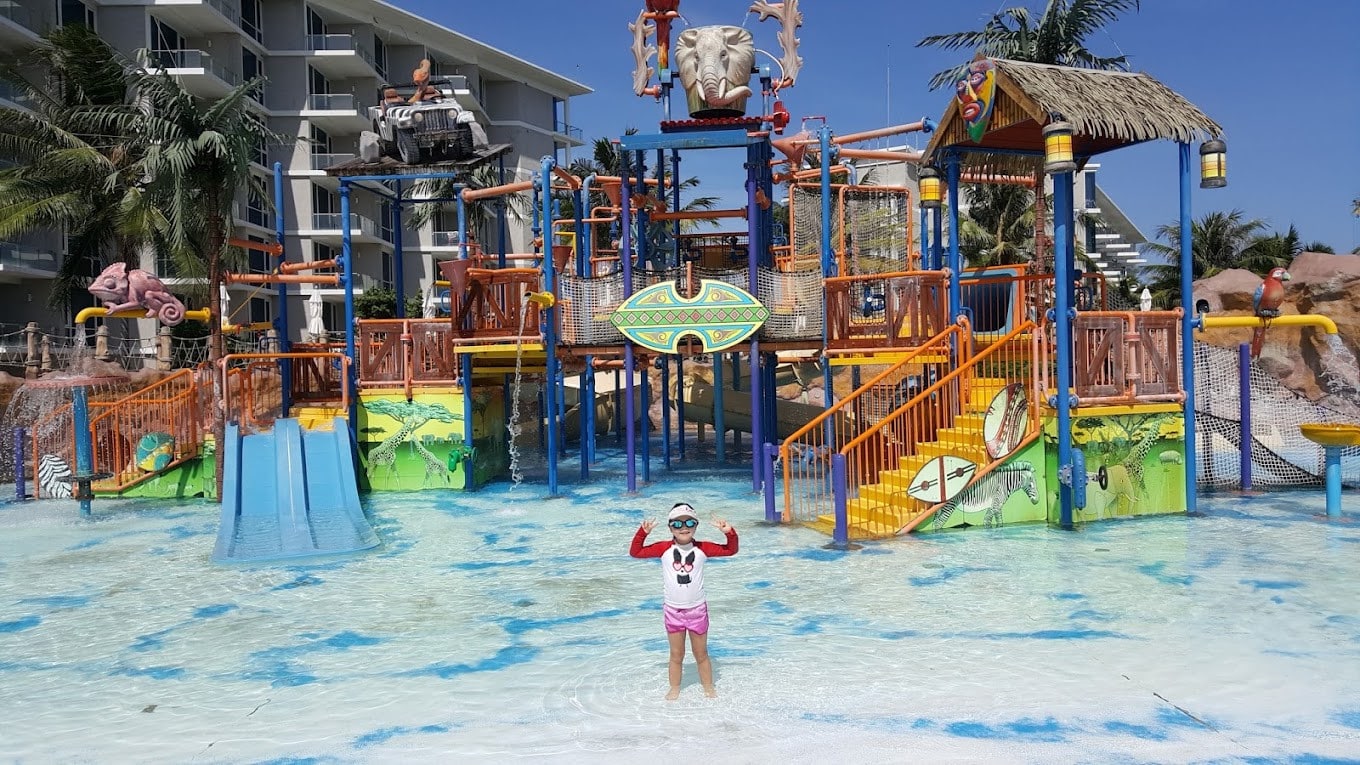 11. Experience Wakeboard at Phuket Cable Ski
Phuket now boasts three wake parks, making this thrilling activity even more accessible to all age groups. Even the youngest children can get in on the action using a kneeboard, which offers greater stability while still delivering an exciting experience.
It is a remarkably safe adventure that's bound to leave them wanting more. Sharing this exhilarating experience with your kids can be a memorable bonding opportunity, and it will undoubtedly be a topic of conversation for days to come.
If you happen to slip or fall, your only landing spot is the water. However, thanks to the life jacket provided, it's an easy endeavor to swim to the nearby shore, where a waiting boat will promptly come to your rescue.
The pricing stands at 750 Baht for an hour or 1,000 Baht for a two-hour session.
Address: 3 Wichit Songkhram RoadKathu, Kathu District, Phuket 83120, Thailand

Hours: 10 a.m to 6 p.m
Phone: +66 84 321 4525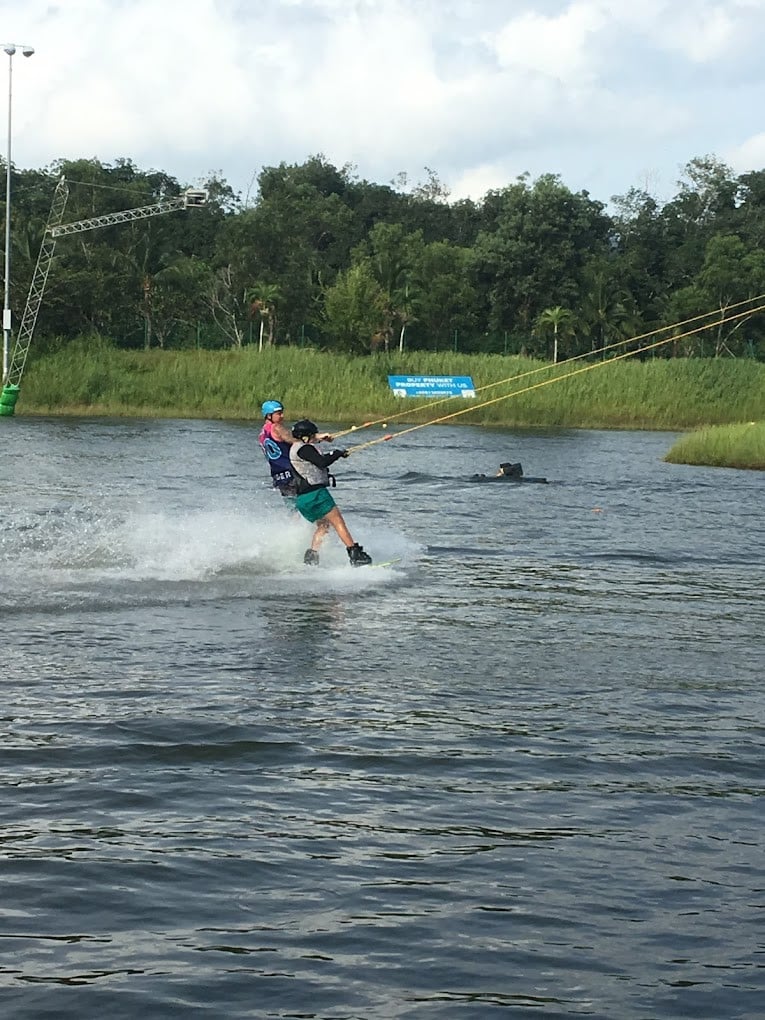 12. Make a Splash at Aquaria Phuket
Aquaria Phuket, located on the lower floor of the Central Floresta building in Phuket Town, is the largest aquarium in Thailand.
It's a fantastic place for families to explore a diverse range of marine life. Visitors can stroll through indoor and outdoor areas, encountering giant freshwater fish, stingrays, otters, penguins, leopard sharks, and various other shark species.
Don't miss the animal feeding and presentation events that take place every hour, offering an engaging and educational experience for kids and adults alike.
Location: B1 floor, Central Floresta, 199 Vichitsongkram Rd, Wichit, Muang, Phuket 83000
Open: 10 am – 7 pm daily
Phone: 076 629 800
Price: Adults 712 baht, children 392 baht (3-11 years old)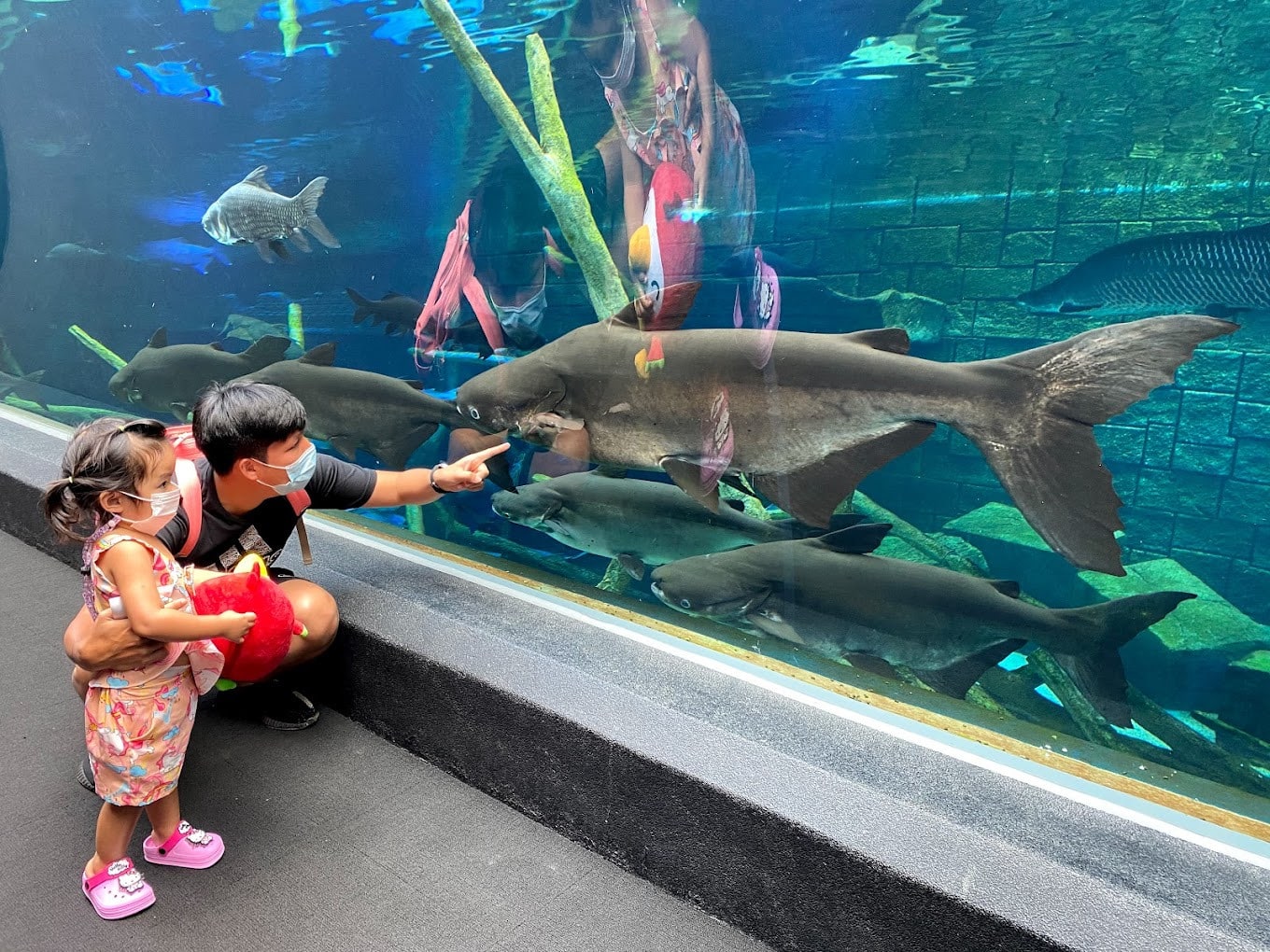 13. Feel the Need for Speed at Go Kart Racing
Give your kids a chance to experience the thrill of go-kart racing at a safe and well-protected track.
From 15-minute sessions on normal karts to double karts for younger children (at least 1.25 cm tall), this activity offers high-speed fun for the whole family.
You will make your child's day by letting them take the wheel and race to victory!
Location: 118/5 Vichitsongkram Road, Kathu, Phuket, 83120
Open: 10 am – 7 pm
Phone: 076 321 949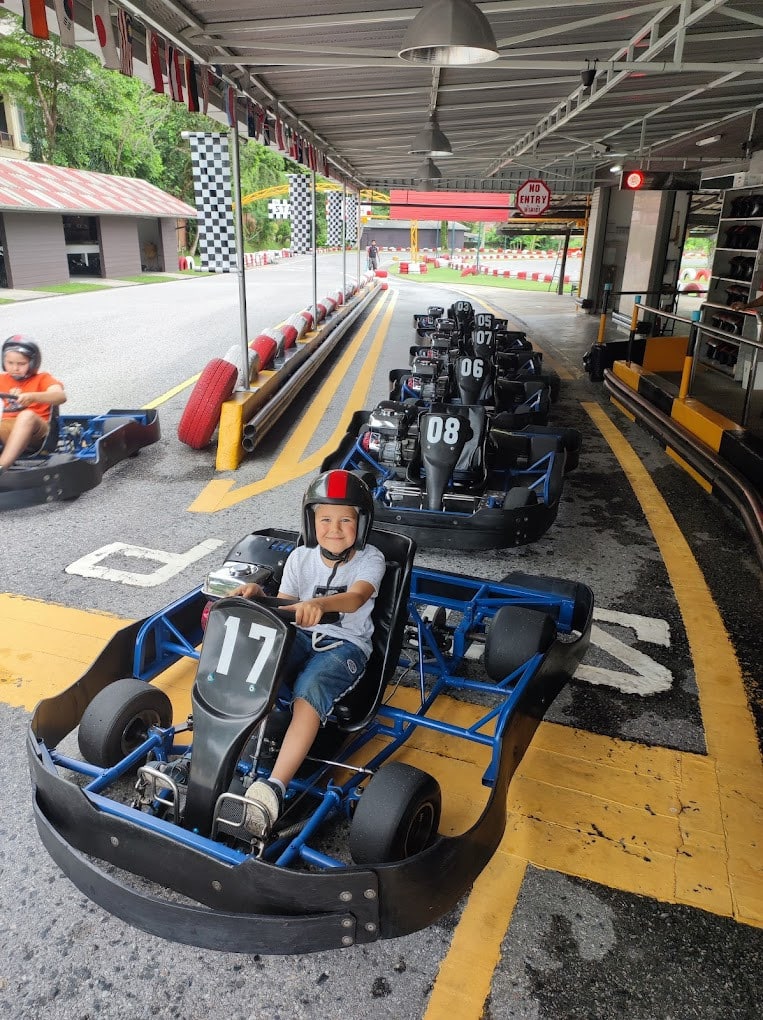 14. Enjoy Water Fun at Rawai Park Kids Club
Rawai Park Kids Club, located on Rawai Beach in the southern part of the island, is tailor-made for young children.
The highlight is a spacious shallow pool equipped with water slides, fountains, and waterfalls where kids and parents can have a splashing good time.
Additionally, the park offers a vast indoor area filled with toys, an outdoor playground, and a safe climbing area for older kids.
Address: Rawai Beach, 58/88, Soi Rouyphad, Rawai, Muang, Phuket 83130, Thailand
Open: 10 am – 6 pm
Website: https://www.instagram.com/rawaipark/
15. Have a Dino-Tastic Adventure at Dino Park Mini Golf
Dino Park Mini Golf, nestled in Kata Beach, provides a dino-tastic adventure for families. With its prehistoric jungle setting, complete with life-sized dinosaurs and an active volcano, it's a mini-golf course like no other.
The 18-hole course offers fun challenges for players of all ages. After you have enjoyed a game, head to the Flintstones bar for a refreshing drink and one of their famous Dino burgers.
Address: 47 Karon Rd, Karon, Muang, Phuket 83100, Thailand
Hours: 10 am - 10 pm
Phone: +66 76 330 625
Website: https://www.dinopark.com/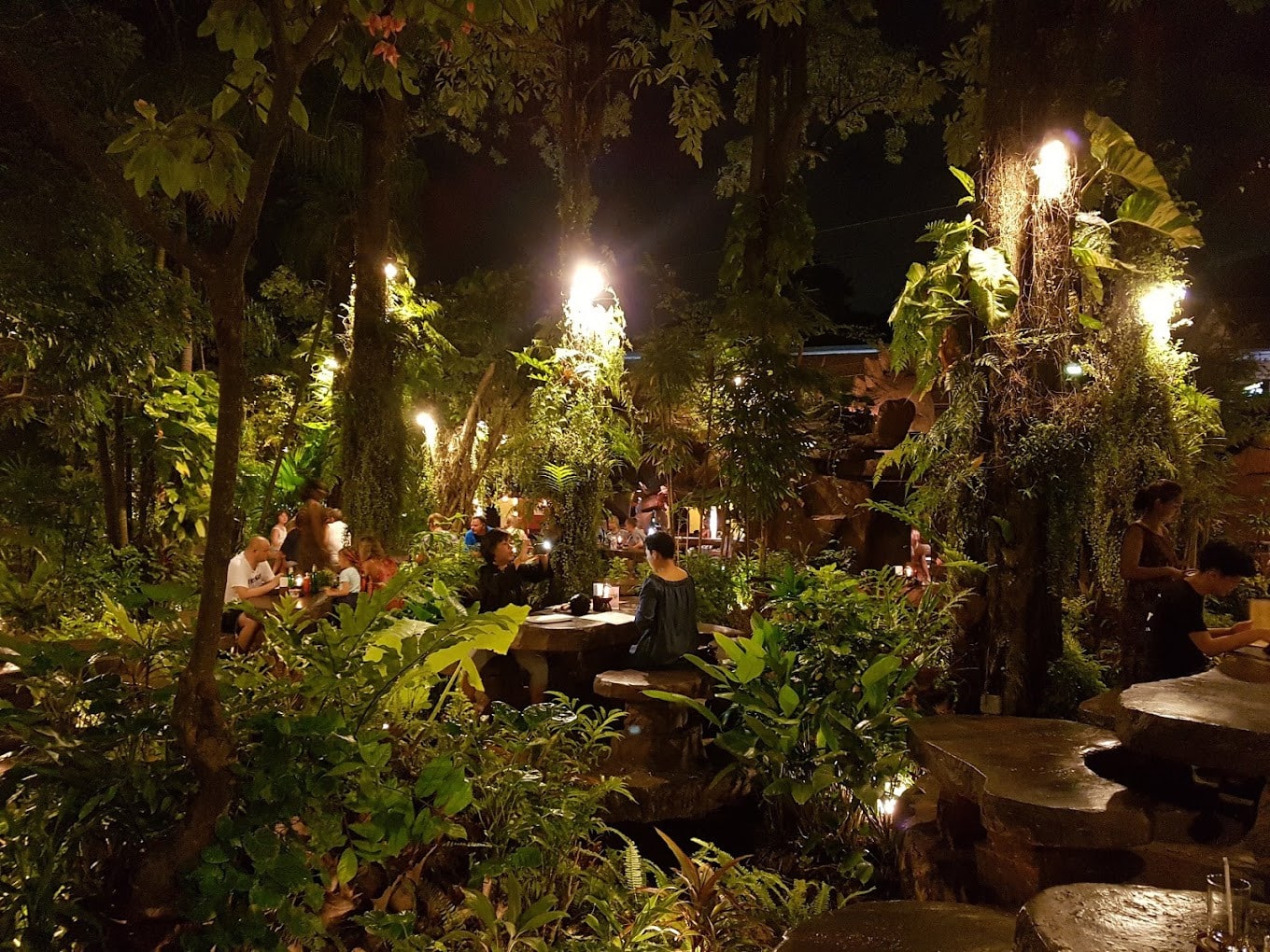 16. Reach New Heights at Rebel Rock Climbing
Rebel Rock Climbing in Cherngtalay is an indoor climbing paradise suitable for climbers of all ages and skill levels.
The facility boasts a 3-story, 700 sqm set of walls that include top-rope walls, boulder walls, lead climb walls, boulder caves, and top-out boulder walls.
It is a perfect place for the family to stay active and challenge themselves in a safe and supervised environment.
Address: 194/6 M.7, Srisoonthorn Rd, Thalang District, Phuket 83110, Thailand
Hours: 10 am to 8 pm

Phone: +66 76 608 734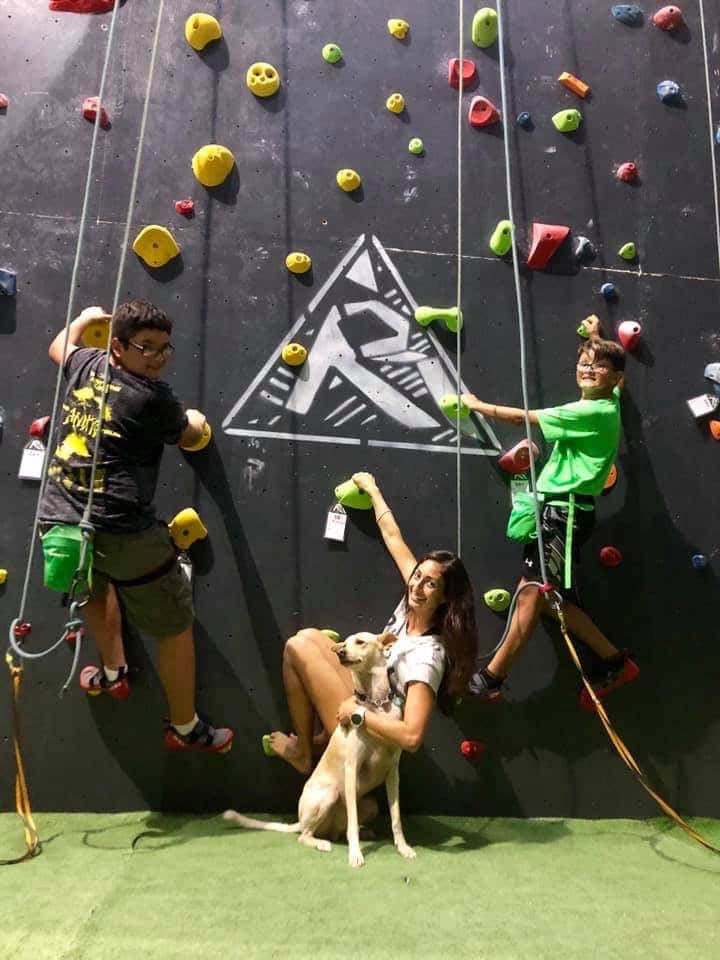 17. Glide on Ice at Ice Arena Phuket
If your family enjoys ice skating, head to Ice Arena Phuket, located in the scenic Boat Lagoon area.
With an entrance fee that includes skate rentals, it's a convenient way to enjoy this indoor activity. You can even add a "penguin" for added support, which is great for beginners.
Check their opening hours and take advantage of the skating sessions while exploring Phuket.
Address: 20/97 Moo2 Tambon Koh Kaew Amphur Muang Boat Lagoon Phuket, Ko Kaeo, Mueang Phuket District, Phuket 83000, Thailand
Hours: 9 am to 6 pm
Phone: +66 76 604 111
Website: https://icearenaphuket.crd.co/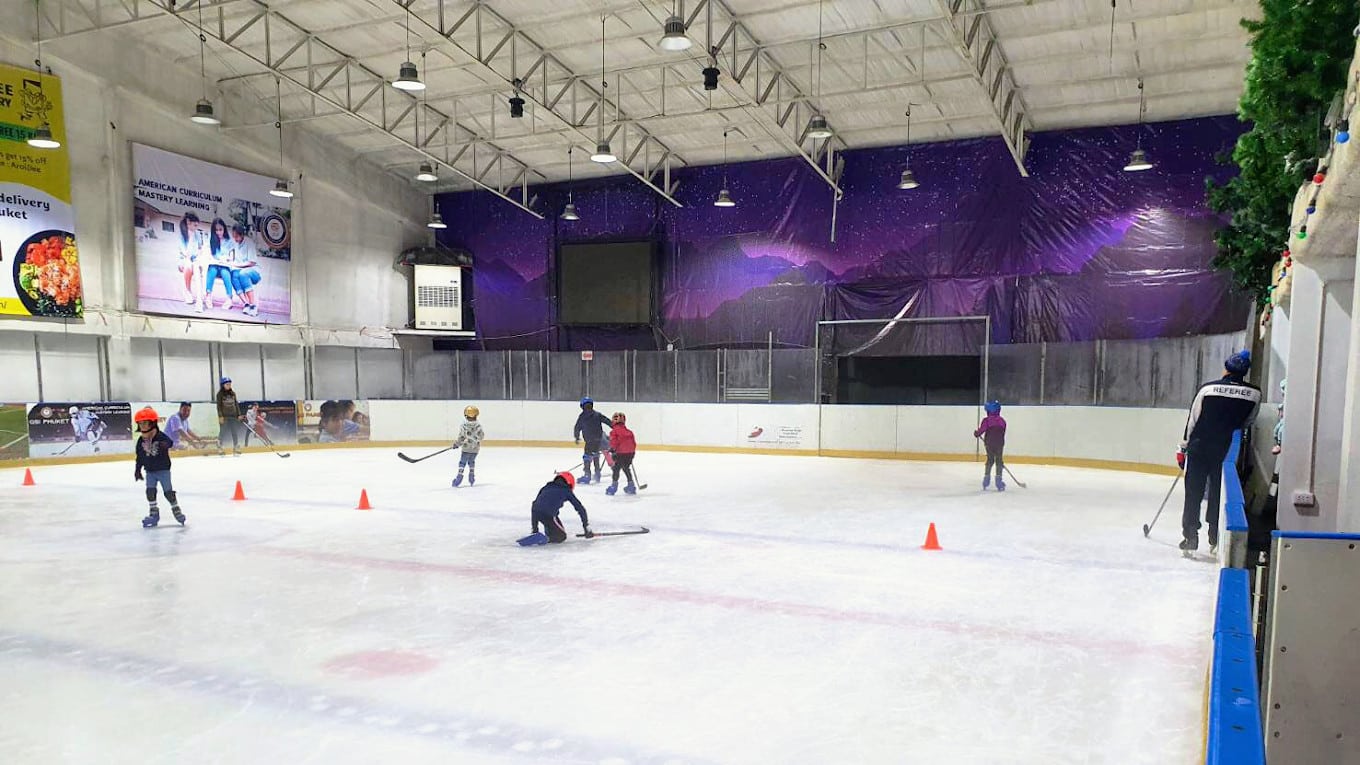 18. Immerse in Virtual Reality Fun at Game Space
Game Space Phuket on Bangla Road in Patong Beach is a hub of excitement for gamers and virtual reality enthusiasts.
It offers a range of fantastic games and thrilling virtual reality rides for an hour or two of immersive entertainment.
Even if you're not playing, watching others take on the spinning contraptions is great fun. Game Space is especially popular in the evenings but also provides an exciting option for a rainy day adventure.
Address: 29/1 Bangla Rd, Pa Tong, Kathu District, Phuket 83150, Thailand
Hours: 4 pm to 1 pm
Phone: +66 76 344 193
Website: http://www.gamespacelaserbattle.com/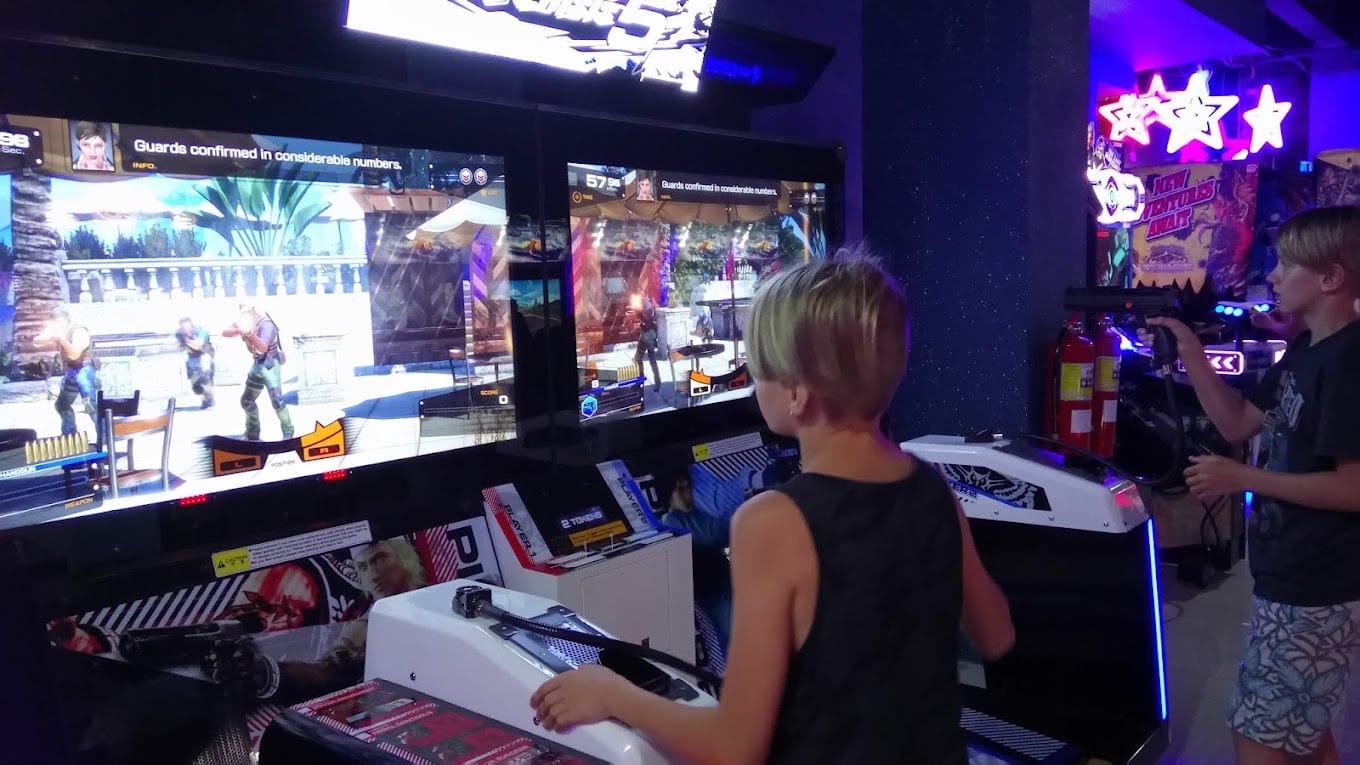 19. Explore Marine Life at Phuket Aquarium
The Phuket Aquarium in Cape Panwa offers an educational and interactive experience for families.
While it is not as massive as Aquaria in Phuket Town, it serves as a Phuket Marine Biological Center (PMBC), providing an opportunity to learn about marine life in a more intimate setting.
It is a great place to visit on a rainy day, and you might even get the chance to see baby turtles. Plus, it's more affordable than its counterpart in Phuket Town.
Address: Village No. 8 51 Sakdidet Rd. Wichit, Mueang Phuket District, Phuket 83000, Thailand
Hours: 8:30 am to 4:30 pm
Phone: +66 76 391 126
Website: https://phuketaquarium.org/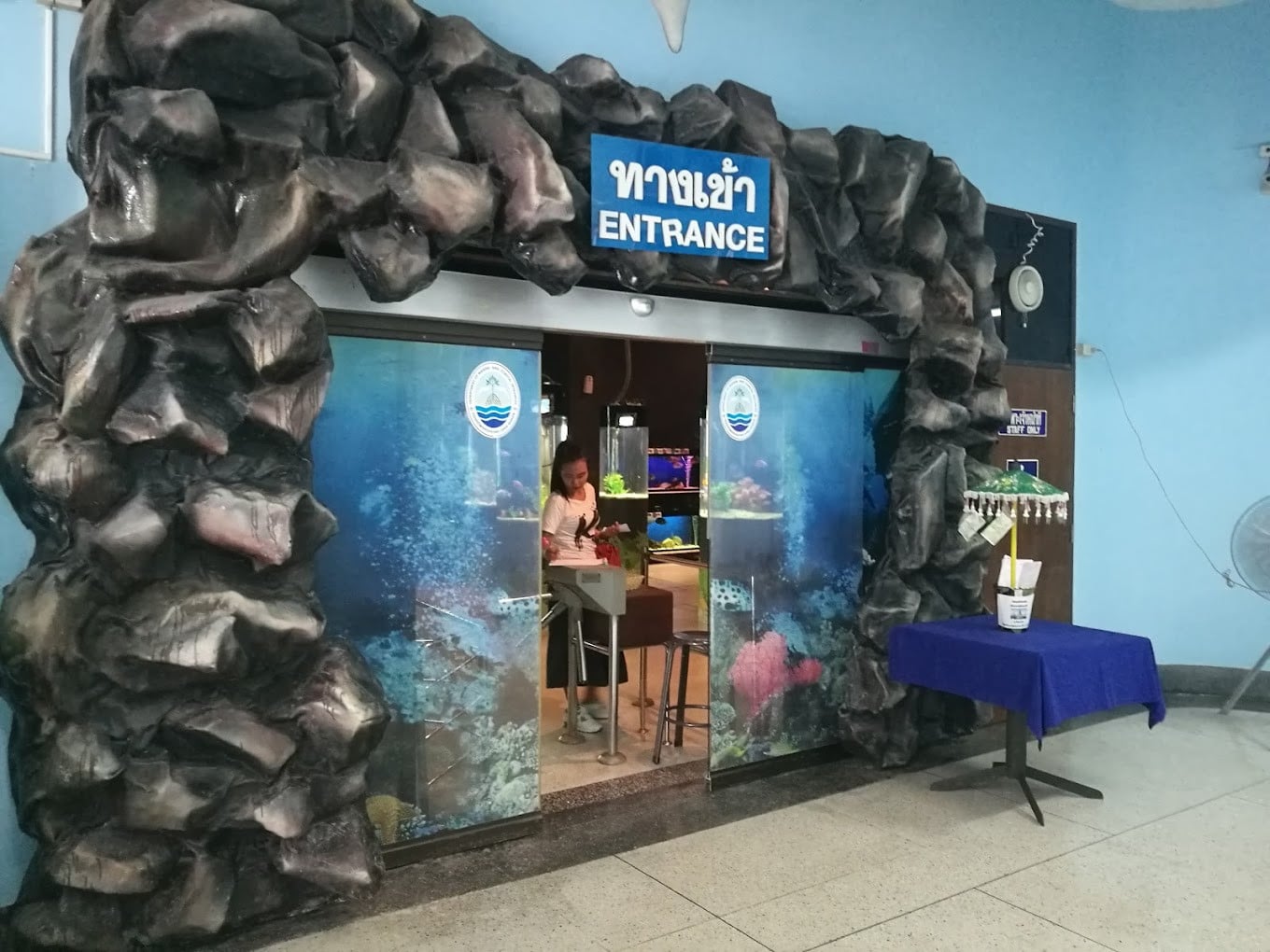 20. Dive into Discover Scuba Diving
For families with older kids (starting at around eight years old), consider Discover Scuba Diving in Phuket.
It is a fantastic way to introduce children to the world of diving without going through a full certification process.
Many hotels offer this course in their pools, providing a safe and fun introduction to the joys of underwater exploration.
Website: https://www.padi.com/courses/discover-scuba-diving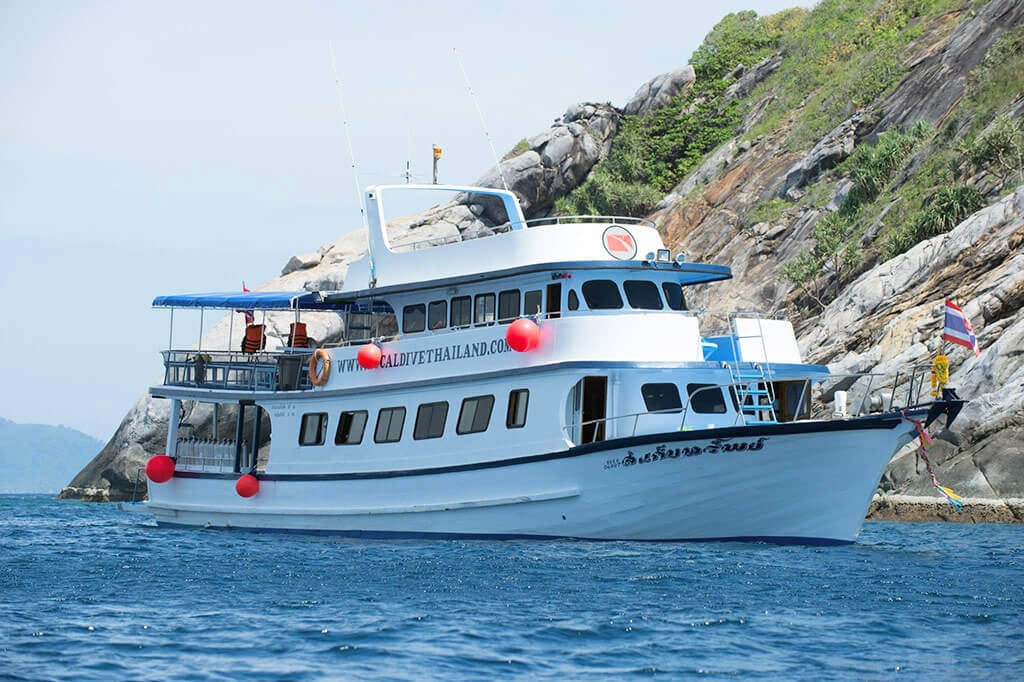 21. Adventure with ATVs in the Mangrove
Embark on a thrilling ATV ride through the mangroves and forests, reaching a hidden mangrove beach that's inaccessible by car.
This adventure offers not only exciting off-road experiences but also the chance to explore unique Phuket vegetation.
Located just a few kilometers from the Heroine Monument on the way to Bang Rong Pier, it's an adventure that the whole family will remember.
Prices
Adult Riders: 1,600 Baht
Child Riders: 1,300 Baht (from 8 years)
Child Passenger: 1,100 Baht (from 4 years)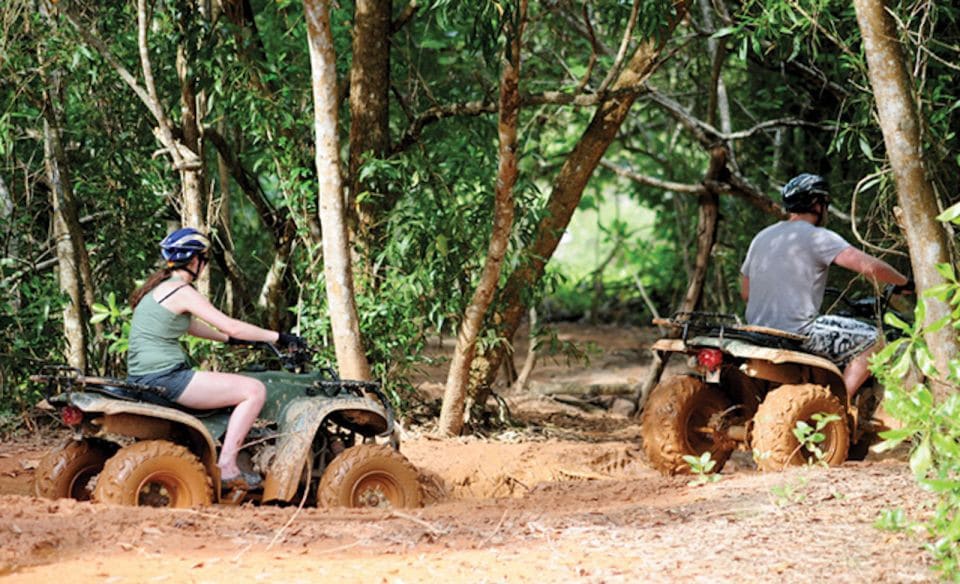 22. Horseback Riding at Chalong Beach and Bangtao Beach
Enjoy a leisurely horseback ride along Chalong Beach or Bangtao Beach with your kids. Small horses make it easy for young riders to enjoy the experience.
Both the Phuket Riding Club in Chalong and the Phuket International Horse Club in Bang Tao offer horseback riding opportunities for families.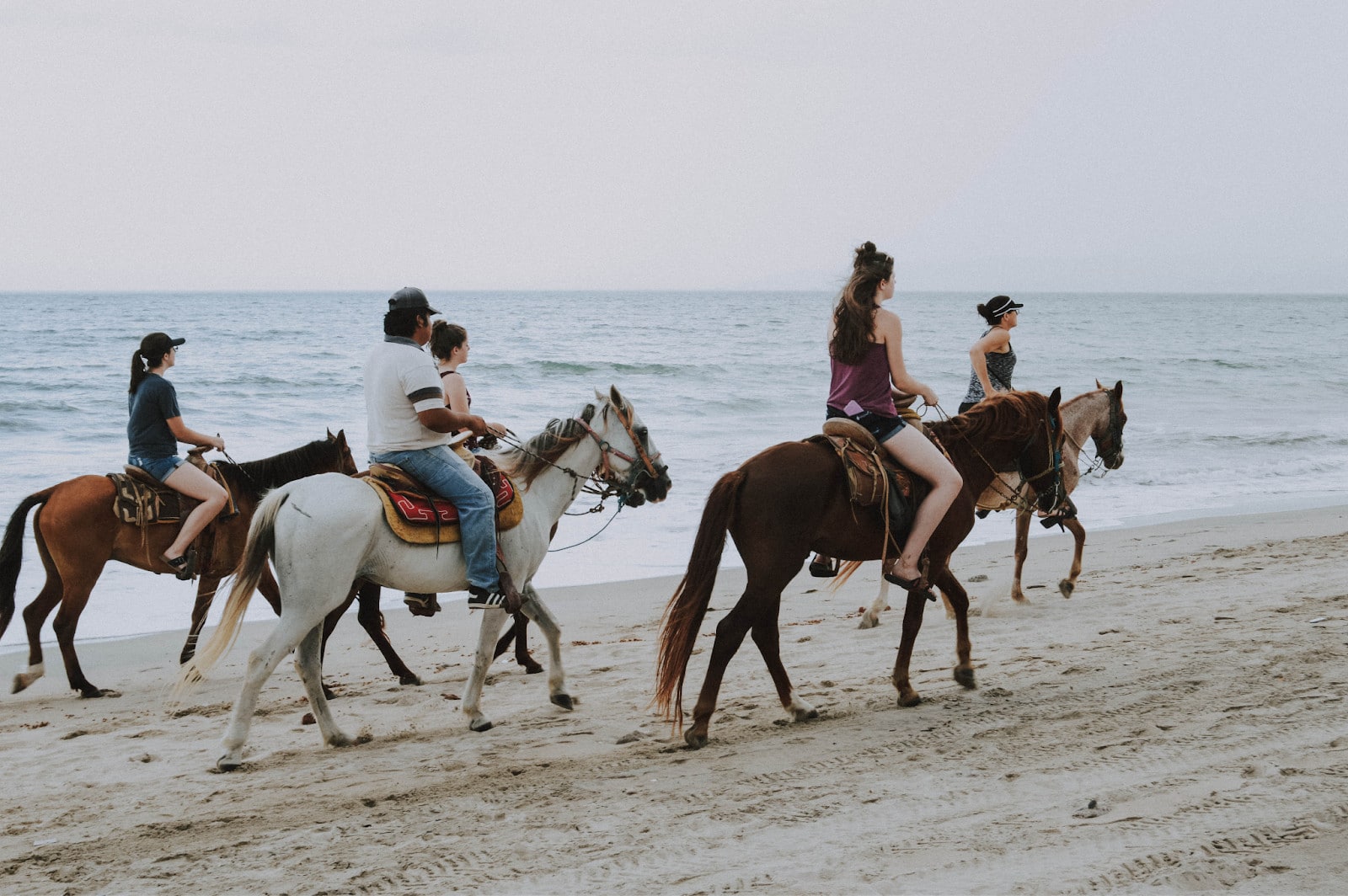 23. Rafting Adventure for Teens at Khaosok
For adventurous families with teenagers (12 years old and above), Khaosok offers a thrilling white-water rafting adventure.
After a safety briefing, gear up with helmets and life jackets and experience the excitement of rafting. Starting gently and then progressively picking up speed, it's an adrenaline-pumping activity that promises a safe and unforgettable adventure.
Address: Phanom District, Surat Thani, Thailand
Prices: Adult 2,300 baht, Children: 1,800 Baht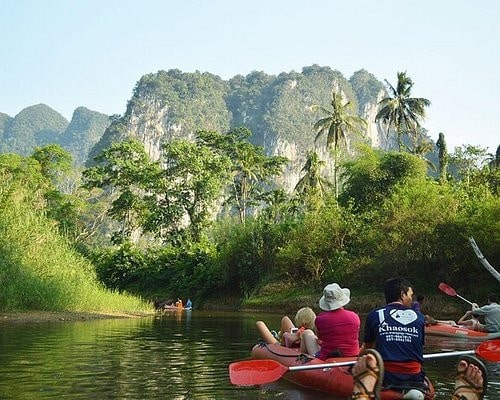 24. Explore Art at Phuket 3D Museum
Phuket 3D Museum, located not far from old Phuket Town, is an interactive art exhibit where you can immerse yourself in a variety of large paintings.
Each painting creates fun scenes that you can interact with, resulting in playful and memorable photos. While the entrance fee is slightly higher, the fun poses and amusing photos you will take are well worth it.
Location: 130/1 Phang Nga Road, Soi Phang Nga 1, Talad Yai, Phuket 83000
Open: Daily 9 am – 9 pm (last admission 8 pm)
Tel: 076 212 806
Price: 500 Baht for adults, 250 Baht for children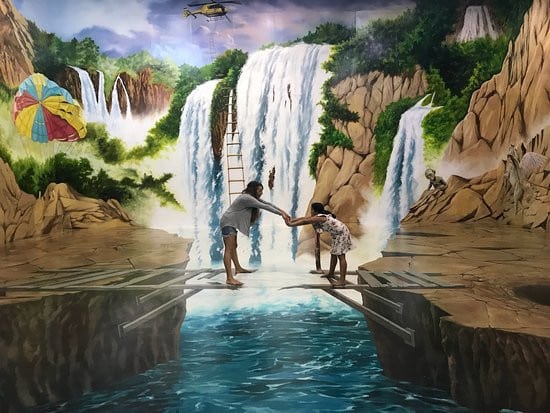 Wrapping Up
Phuket offers a diverse range of activities for families, ensuring that everyone, from kids to adults, will have an unforgettable experience on this tropical island.
It also offers a wide selection of family-friendly resorts, ensuring a comfortable and enjoyable stay.
Whether you are seeking relaxation by the pool or thrilling jungle adventures, Phuket's warm hospitality and diverse activities promise cherished memories for the whole family, making it a top destination for family vacations.