Karon Beach, or Hat Karon as it is called in Thai, is one of Phuket's longest beaches in Phuket. It stretches 5 km long and features beautiful white sand with picturesque views of the turquoise Andaman Sea.
If you want the beach to yourself, head to the northern end of the beach, which is typically uninhabited. Even while it is more crowded towards Kata on the southern end, it is still easy to locate a peaceful space for oneself.
The peak season (November to April) experiences the fewest waves, and hence the water is stunningly clean.
However, during the southwest monsoon season, Karon Beach is subject to hazardous surges and riptides (May–October). Despite the presence of lifeguards on the beach, it is advisable to heed warning flags and use extreme caution.
Many times at night, sea turtles will deposit their eggs in the sand. Inform your hotel of any turtle sightings or turtle footprints so they may get in touch with the Phuket Marine Biological Center.
By saving wounded turtles and caring for their eggs in a secure setting, the organization's Sea Turtle Conversation Project hopes to increase the population.
To make the most of your trip to this beautiful destination, be sure to consult a Karon Beach travel guide for insider tips and recommendations.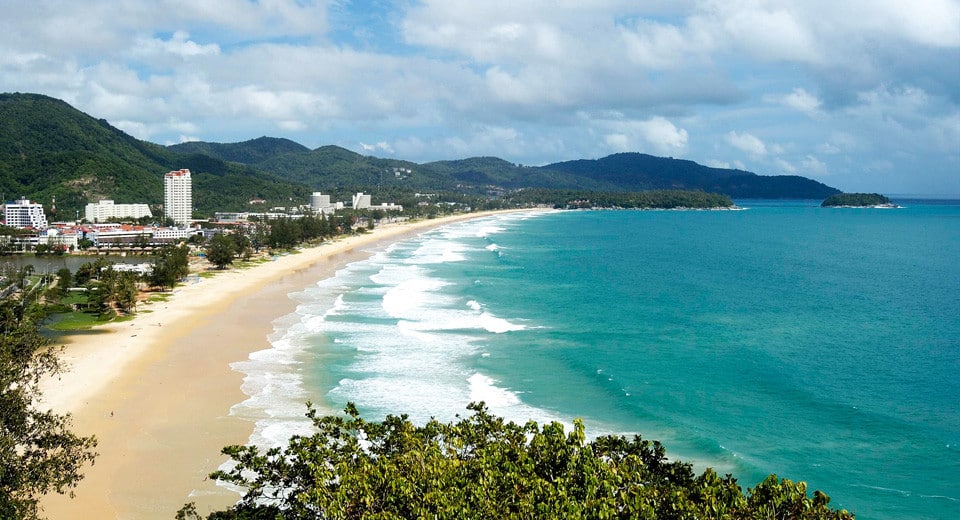 How to Reach Karon Beach
Taxis or Grab cars are the most relaxing and practical means of transportation from Phuket Airport to Karon Beach, which is roughly 40 km.
Karon Beach can be reached by car in 1 hour and 20 minutes from Phuket Airport.
Only 6 kilometres separate from Patong from Karon Beach. Although it takes roughly an hour to walk between the two beaches, using a cab is more convenient and pleasant.
Three Parts of the Karon Beach
Karon Beach is ideally divided into three distinct parts: Karon Center (a small town), the Lake area and the beachfront road that ends at the hill reaching Kata Beach.
Karon Center and Patak Road
From the incredibly posh and complicated "Karon Circle," Patak Road primarily runs perpendicularly inland toward the temple.
It is tiny, disorganized, and has an old-fashioned vibe; parking is also impossible there. You may find a few well-known restaurants, convenience stores, and a tonne of bars of all shapes and sizes in the area.
The Lake Area
Numerous attempts have also been made to transform the lake around the circle into an upscale neighbourhood or a conference centre.
The lake occasionally holds one of those well-liked neighbourhood fairs where you may partake in standard fair activities, sample regional cuisine, and even shop, especially around the Songkran Festival.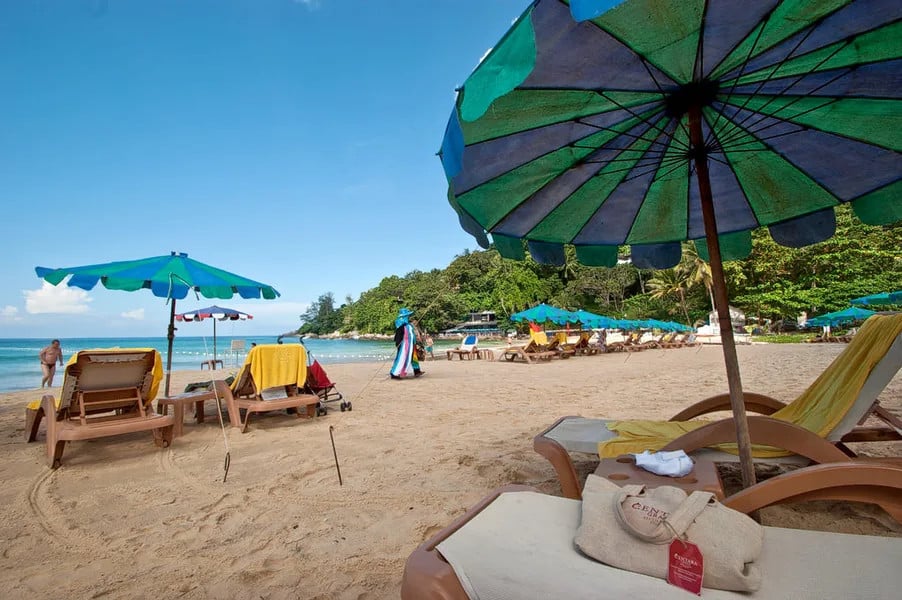 Beach Front Road
The beachfront road is largely populated by huge resorts and a few modest hotels. You'll discover Karon Beach Square and the Night Bazaar at the start of the beach road.
This temporary covered market sells largely t-shirts and beach accessories, including all the typical knockoff brands.
What to Do on Karon Beach
There are a variety of different activities that you can indulge in on Karon Beach.
Visit the Karon Temple
The stunning Karon temple, also known as Wat Suwan Khirikhet, welcomes tourists every day of the week. You are free to go about, take pictures, and savour the ancient carvings and artwork.
Consider making a modest payment as a homage to the Gods. The temple holds a well-known market with a wide selection of food and trinkets twice a week.
Just like at any temple in Thailand, remember to dress decently. This means no short skirts, no sleeveless tops, and no topless attire. You may enter the temple without shoes or hats.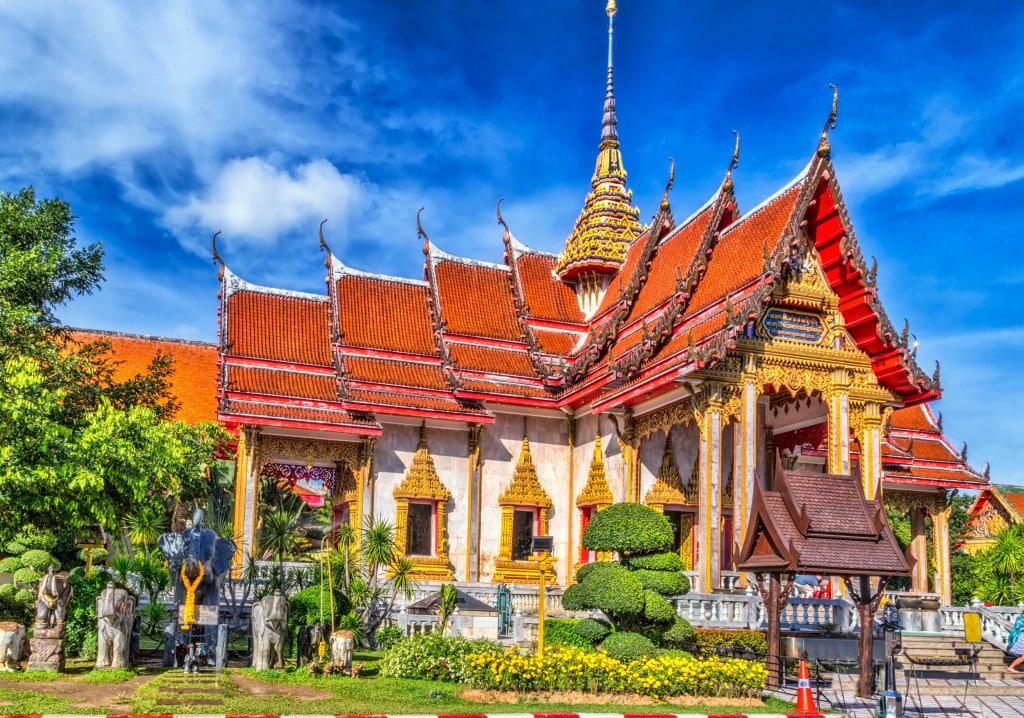 Watch the Naga of Karon Beach
Not far south of the circle, on the shore, is this fabled golden snake or dragon coiled. Thais come here to give sacrifices and show reverence.
The naga, symbolised by a huge serpent, is a significant figure in Thai mythology. The god Naga is revered as the guardian of springs, wells, and rivers.
They increase the land's fertility and provide rain. Nagas are typically shown as golden snakes, like the one at Karon, although occasionally, their colouration can vary greatly.
The local culture includes four different varieties of Nagas: the dark Naga, guardian Naga, water Naga, and spirit Naga. The statue at the monument is a guardian-style statue.
It is a fascinating monument to behold and represents the customs and beliefs of the area.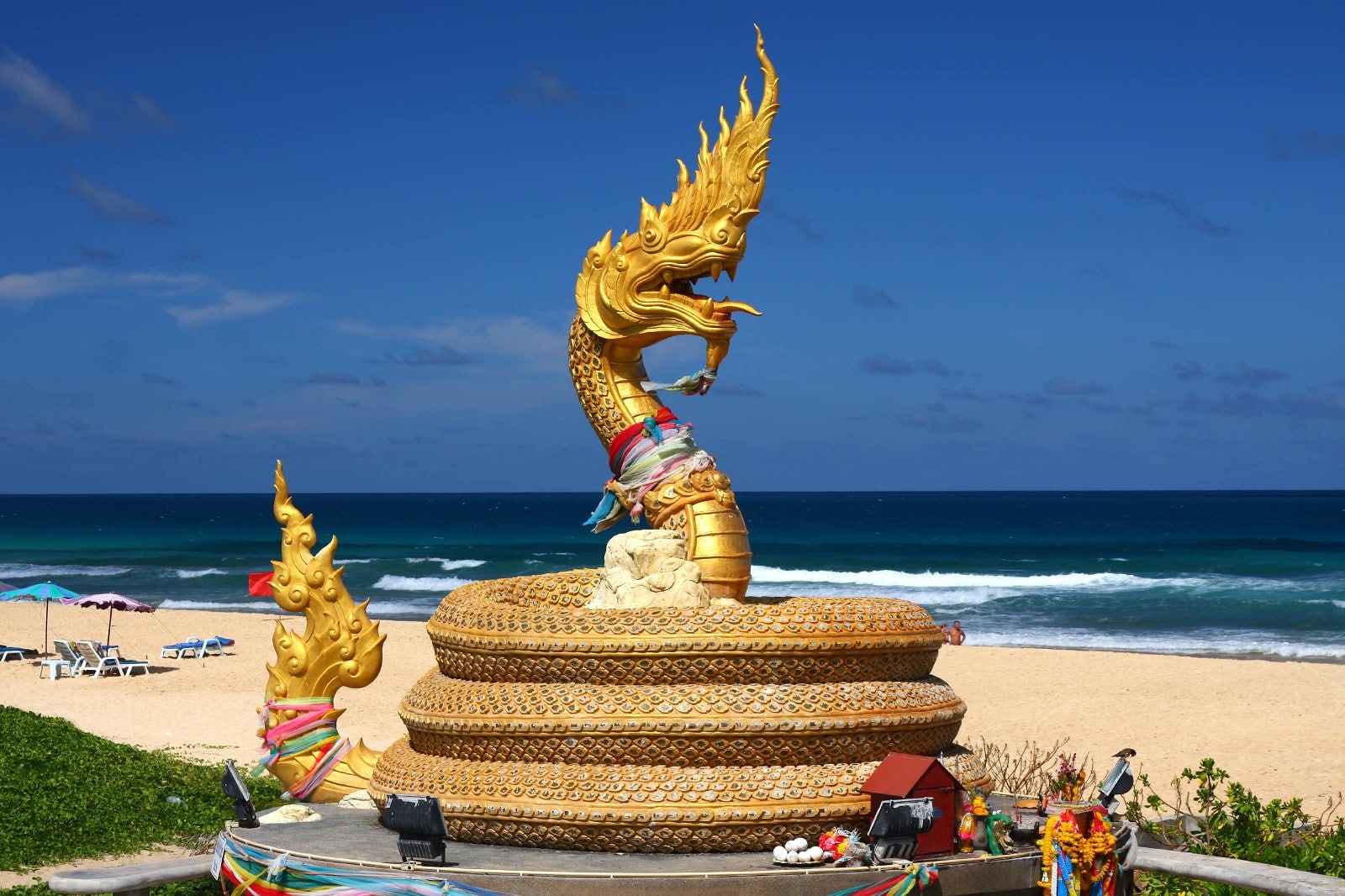 Visit the Dino Mini Park
Dino Park is a mini-golf course with dinosaurs and even a volcano that was inspired by Jurassic Park. Although technically located in Kata Beach, it's close to Karon.
The Jurassic Park-like atmosphere of the 18-hole golf course adds to the pleasure of the game. Near each hole are enormous dinosaurs. The park also has a dramatic volcano that erupts every 30 minutes with backdrop blasting noises.
After a long day at the beach, it's the ideal place for some energising food and a pleasant experience. It is preferable to visit the park after sunset.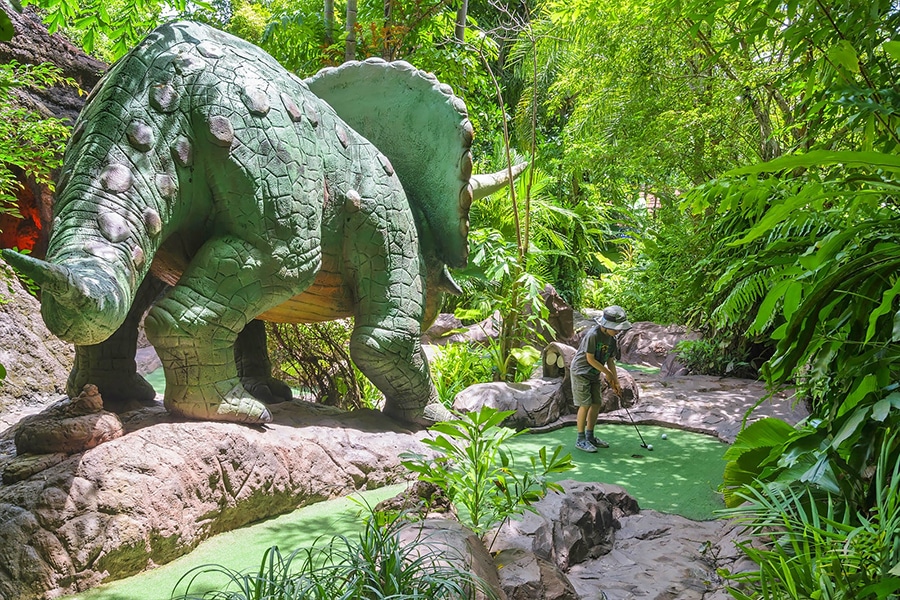 Get a Relaxing Spa Treatment
It would be a pity not to take advantage of the high standard and variety of treatments offered at this cost, as Thailand is widely recognised for its massages and aromatherapy.
If it's raining sometimes, conclude your beach day with a spa treatment at Centara Grand Beach Phuket or Movenpick Resort.
Facilities on Karon Beach
Karon Beach lacks public restrooms. However, some eateries across the street from the beach frequently let you use their facilities in exchange for a small fee.
The southernmost portion of the beach, close to the Karon Circle, is where most roving sellers may be found.
Beach mats and tiny umbrellas are simple to find at neighbourhood stores and supermarkets close to Karon Beach. Depending on the size, prices range from 300 to 600 baht.
Where to Eat on Karon Beach
There are a lot of mid-range and luxury resorts on Karon Beach, and many of them include on-site restaurants providing a variety of cuisines.
There is a fair selection of Thai seafood eateries between the beach and Karon Lake, to the immediate north of Karon Circle.
There are numerous other restaurants along the beach road between Karon and Kata.
Aroona Plaza's resort restaurants and standalone eateries provide affordable local and foreign cuisine.
The Movenpick Resort's Karon Beach Square is a collection of eateries best known for El Gaucho, which serves excellent steaks and Brazilian churrasco.
Two Chefs and Karon Cafe are fashionable places to get comfort cuisine.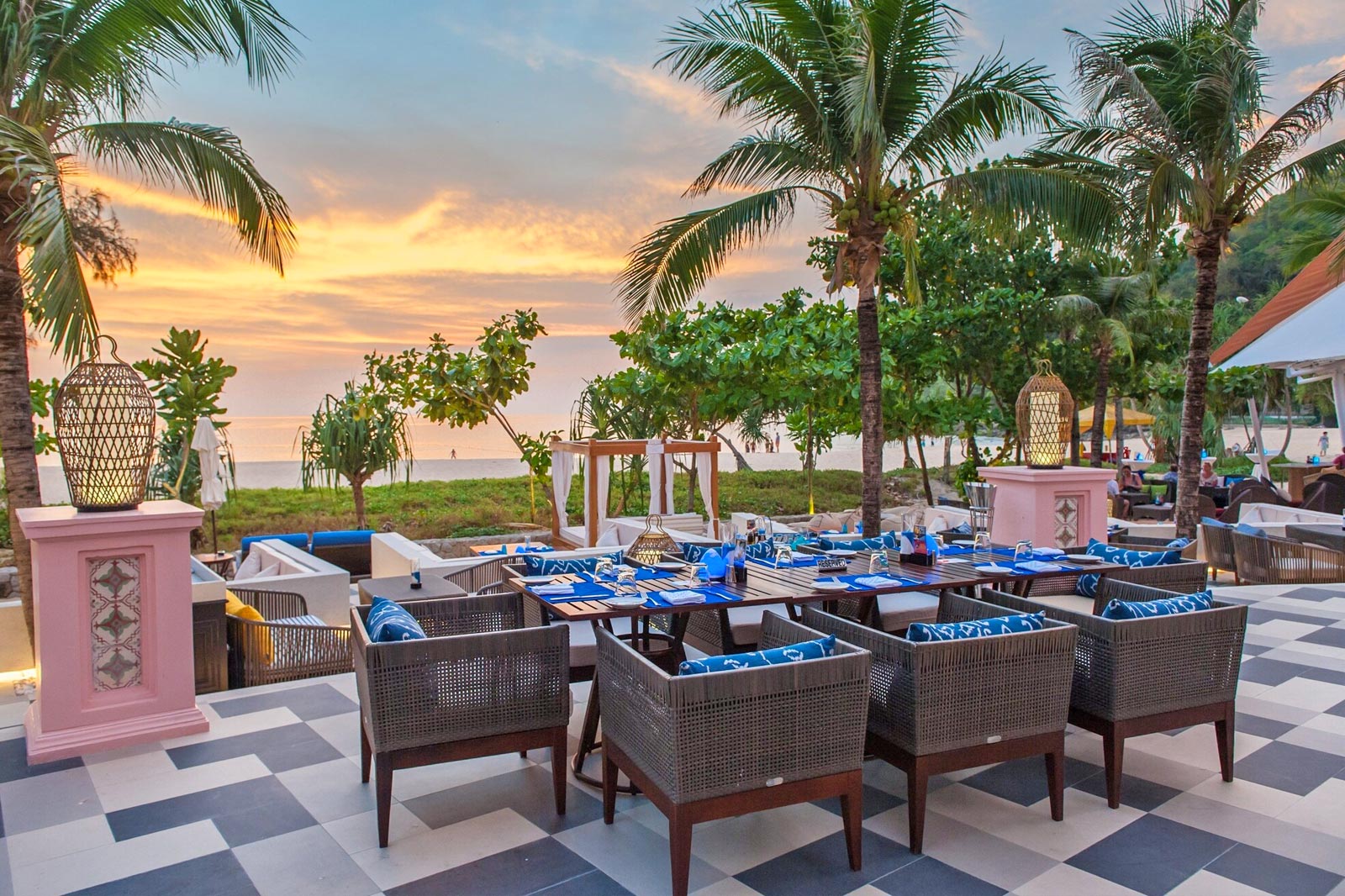 Karon Beach Nightlife
There is decent nightlife on Karon Beach, which might not be as jazzy as Patong Beach's Bangla Walking Street but good enough for a detox.
Three areas make up Karon's nightlife: the best known is close to the Karon Circle, where there are a few bars and live music venues; a little further is a tiny alley once known as "Little Bangla"; and a short distance from there is an L-shaped street close to Kata Beach, where you can find some beer bars.
Shopping on Karon Beach
Karon Beach has sufficient shopping options to cater to both shopaholics and people looking for an essential commodity on the beach.
Additionally, there are several marketplaces, bazaars, and night markets here on the beach from where you get to buy good quality souvenirs.
You can visit the Karon Bazaar to buy affordable t-shirts, purses, pants, beach accessories, and inexpensive souvenirs. Don't forget to haggle hard because most sellers can communicate in excellent English.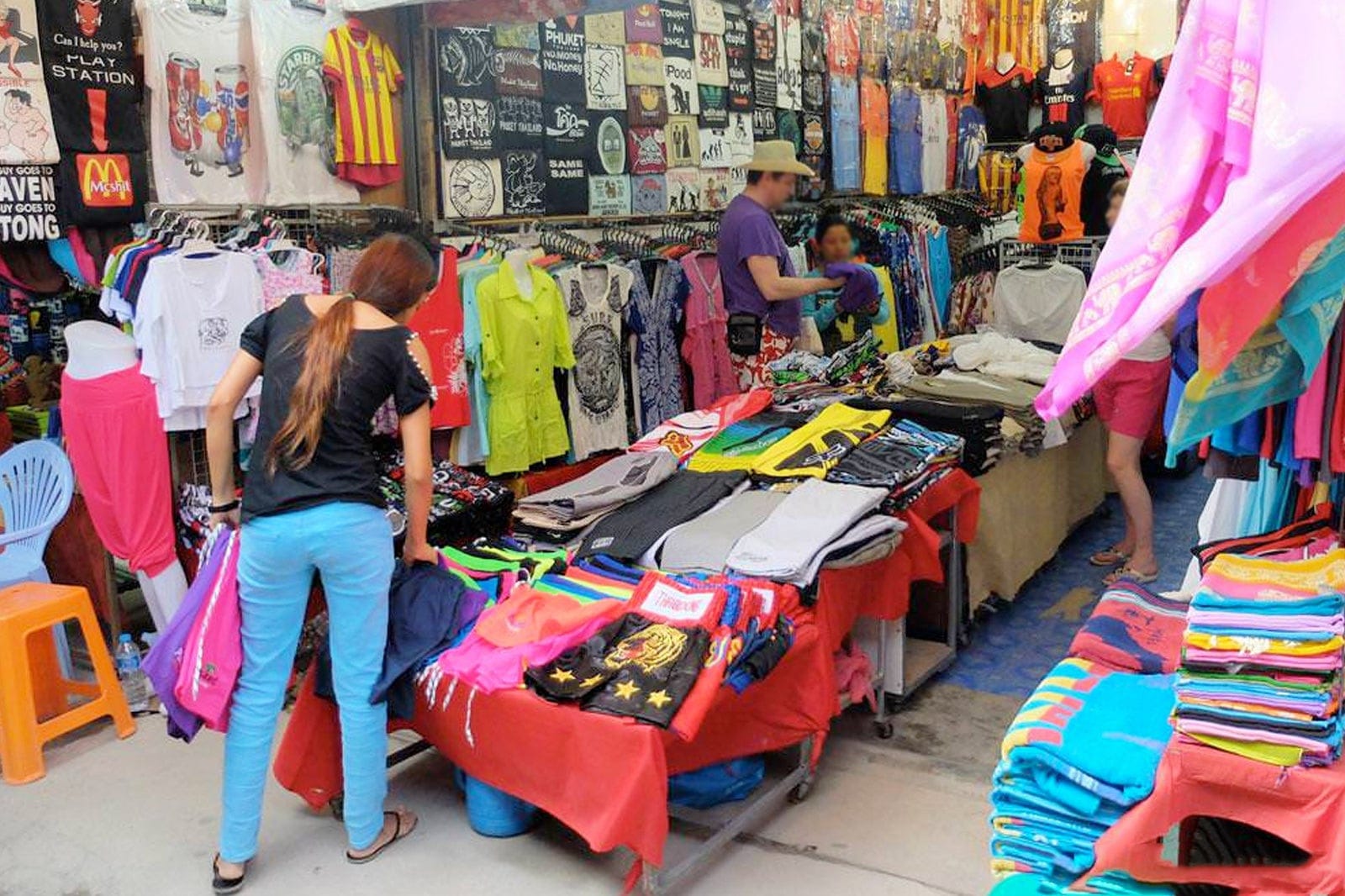 Wrapping Up
Karon Beach has a thriving nightlife and a wide variety of restaurants, but it isn't quite as seedy, crowded, or noisy as its bigger sibling Patong.
Karon is comparable to Kata Beach, except I believe Kata has more upscale food and entertainment alternatives.
It is a family-friendly spot owing to its broad, calm beach, a wonderful assortment of hotels for all price ranges, a respectable number of restaurants, several small local stores, a temple market, and some nightlife.
You can even try beach hopping here as Patong Beach is only 5–10 minutes away via taxi. Read about all other beaches in Phuket for more information.
Editor - Thailand Nomads
Cindy quit her 9 to 5 job to pursue her passion for exploring mesmerizing locations in Thailand. She has been living here for the past 5 years now and through Thailand Nomads, she shares her experiences and insights about the must-visit places in Thailand.
Email: cindy@thailandnomads.com