When the full moon celebration rolls around, every hotel and hostel on Koh Phangan close to Haad Rin beach is completely booked. Prices in Haad Rin will triple during this busy time, and many hotels will only accept reservations for a minimum of three to five nights.
You will like it close to the beach party area if you want to be in the thick of things and don't mind the people and noise. If not, you can consider locations a little further away but still accessible on foot.
The Haad Rin streets will remain crowded throughout the night, so it is typically safe to stroll back to your lodging in safety. You can use one of the nightly group cabs if you stay further outside.
Experience the ultimate Full Moon Party getaway in Koh Phangan by staying at one of these amazing hotels to Stay for Full Moon Party in Koh Phangan, strategically located near the epicenter of the festivities and offering a perfect blend of comfort, convenience, and top-notch amenities, ensuring that you have an unforgettable stay while you dance the night away under the moonlit tropical skies.
9 Amazing Hotels To Stay For Full Moon Party in Koh Phangan
1. Skymoon Resort
The Skymoon Resort in Haad Rin has accommodations with a fitness center, free private parking, a bar, and a garden just a short walk from Haad Rin Nok Beach.
Visitors have access to an indoor pool and a vehicle rental facility. The hotel has complimentary WiFi, room service, a shuttle service, and a 24-hour front desk.
A seating area, a flat-screen TV with satellite channels, a safety deposit box, and a private bathroom with a shower, bathrobes, and slippers are included in each room at the resort.
The accommodations come with a coffee maker. You can choose among rooms with balconies or views of the pool. A desk and a kettle are offered to all visitors in the accommodations.
At the Skymoon Resort, guests can enjoy a buffet breakfast. The lodging comes with a deck. Activities like diving and snorkelling are available to Skymoon Resort visitors in and around Haad Rin.
The resort is 500 metres from Leela Beach and 1.1 kilometres from Haad Rin Nai Beach.
Address: 130/62 m.6 Baantai Koh Phangan, Surat Thani 84280, Thailand
Phone: +66 77 960 491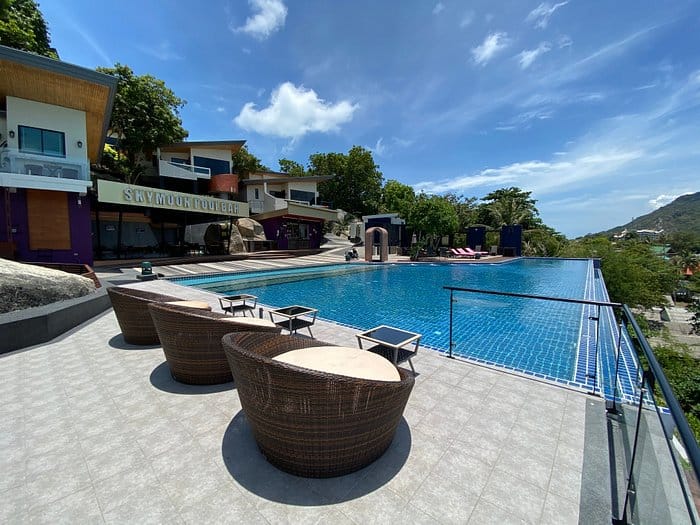 2. Palita Lodge
Palita Lodge is situated on Haad Rin Beach, 1 km from Haad Rin Bridge. Here, there is a pool, a restaurant, and a room with a balcony. There is no cost for parking.
The Lodge Palita's rooms are warm and colourful. Headphones, a minibar, and satellite TV are provided in every room. The rooms each include a private bathroom with a hot shower.
A pool bed and the chance to play beach volleyball are two ways to unwind at the hotel. The hotel offers sightseeing, snorkeling, and diving excursions. Additionally, currency exchange is possible.
Visitors can eat at the beachfront restaurant Terrace, which offers a variety of Western and Thai cuisine. Thongsala Ferry Bridge is 8 km away from Palita Lodge
Address: 119 Moo 6 Koh Phangan, 84280, Thailand
Phone: +66 92 617 4911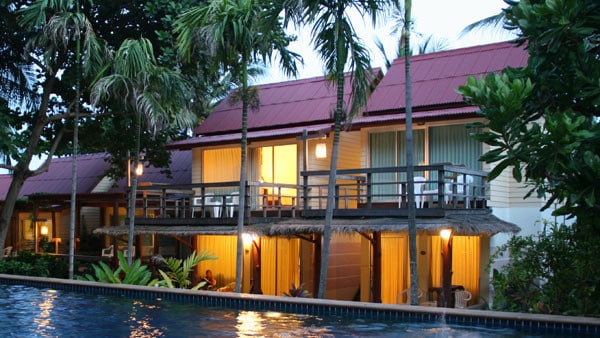 3. House of Sanskara
Set in Haad Rin, near Haad Rin Nai Beach and Haad Khontee Beach, the House of Sanskara features free WiFi, a restaurant, and a bar.
Phaeng Waterfall is 14 km from the lodge, while Tharn Sadet Waterfall is 17 km from the property.
It is best suited for couples who like adventures.
Address: 134, Ban Tai, Ko Phangan, Surat Thani 84280, Thailand
Phone: +66 77 375 160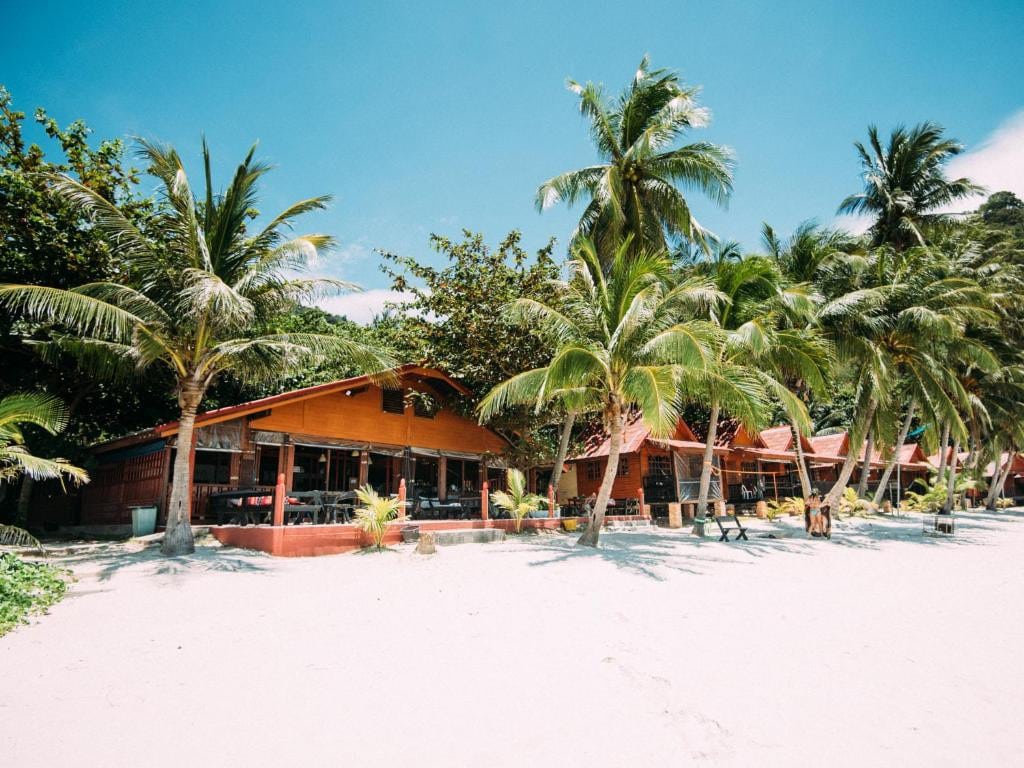 4. The Cabin Beach Resort
Located along the remote Leela Beach on Koh Phangan, The Cabin Beach Resort offers beachfront residences surrounded by industrial loft themes. You can connect it to free WiFi everywhere.
All rooms are fully furnished with air conditioning, side corners and TV. You get your own bath with a bathtub or shower, grocery-free bath products and earplugs.
Cabin Beach Resort is located about 700 meters from Haad Rin beach, where the famous full moon party takes place. The accommodation offers free transport from Haad Rin Brewery, which is approximately 1 km away.
Address: 130/63 LeeLa/CoCo Beach Moo 6, Tambon BaanTai Koh Phangan, Surat Thani 84280, Thailand
Phone: +66 63 613 0289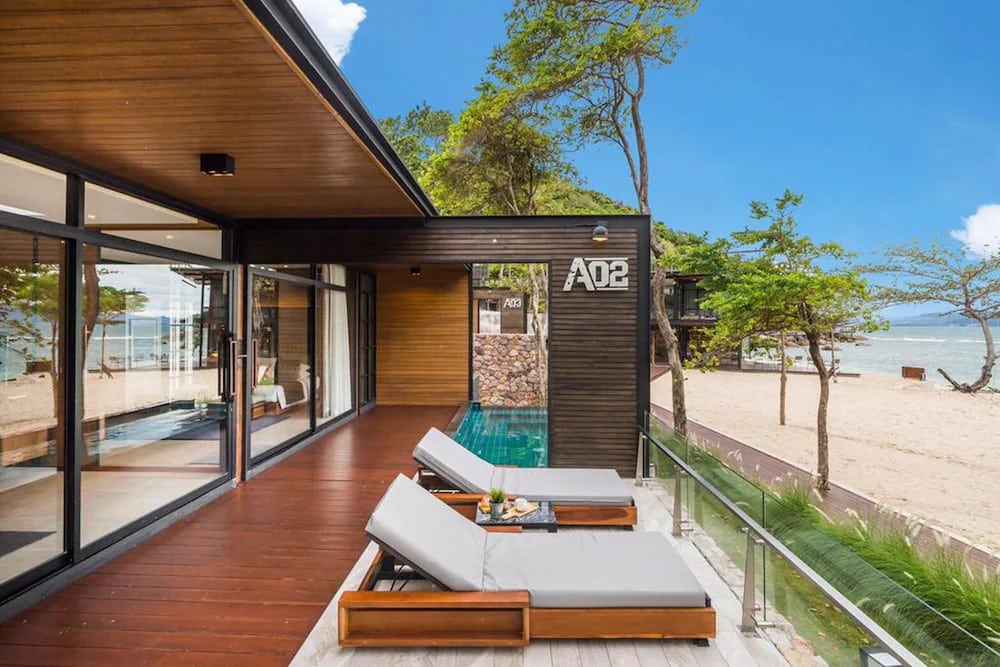 5. Sarikantang Resort & Spa, Koh Phangan
Sarikantang Resort & Spa is located on Seekantang Beach in Koh Phangan. The vacation home features an indoor pool, spa, and private beach. In public spaces, Wi-Fi is free.
Every room has a minibar, a TV with cable and satellite channels, a treadmill, air conditioning, and a balcony. The rooms are set in a tropical garden. Rooms with DVD players are available.
The resort is 8 miles (13 km) from Samui Airport and a leisurely 5-minute drive from the well-known Full Moon party at Haad Rin.
Free transportation from the Haad Rin brewery is available.
Traditional Thai massage therapies and personalized body wraps are available at Sarai Spa. In the tourist information center, day trips can be planned, and complimentary DVD rentals are available.
Sea Terrace Restaurant & Bar serves fresh, grilled seafood and Thai and foreign cuisine and offers a view of the beach. Additionally, every month there is a dinner buffet available.
Address: 129 Ban Tai, Ko Pha-ngan District, Surat Thani 84280, Thailand
Phone: +66 77 375 055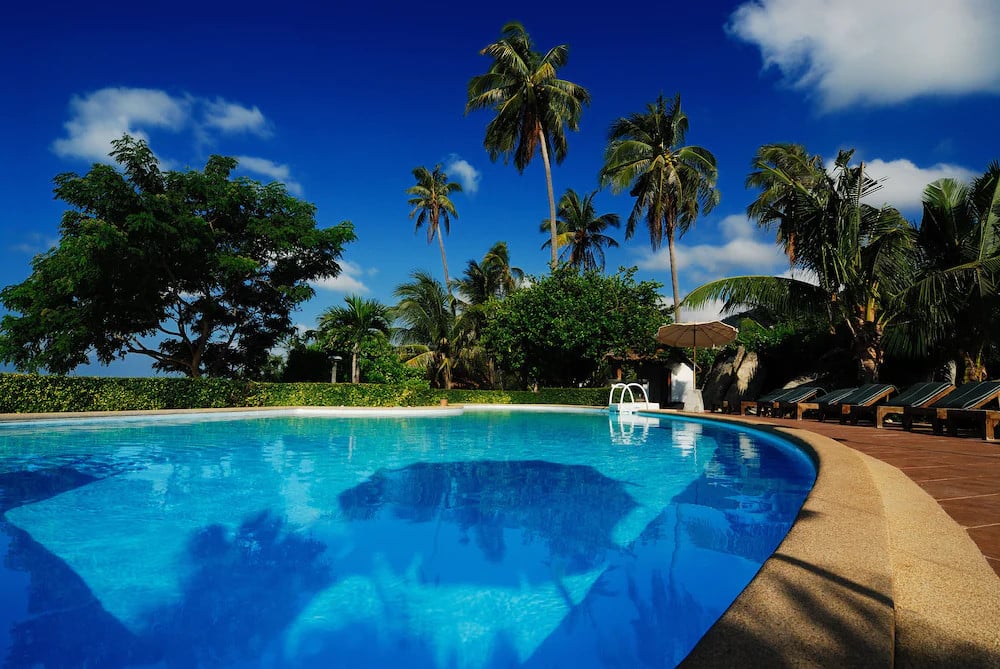 6. Yoghurt Home 3
Located at a 1-minute walk from the full moon party at Haad Rin, Yoghurt Home 3 offers laundry, transportation, rum, and bedrooms with free Wi-Fi. Free private parking is available on-site.
The accommodation is a 5-minute drive from Haad Rin Bridge and a 45-minute drive from Thongsala Bridge.
All rooms are equipped with air conditioning and it can be distinguished by their own baths, while the bedrooms have shared baths.
You can rent a car and explore nearby places. The staff at the tour desk will kindly help you with sightseeing tours and itinerary planning. The accommodation also offers luggage storage.
You will find local restaurants in the area around Yoghurt Home.
Address: 90/6 Soi Tommy, Haad Rin, Full Moon Party Beach, Koh Phangan, Suratthani, Thailand.
Phone: +66 77 375 332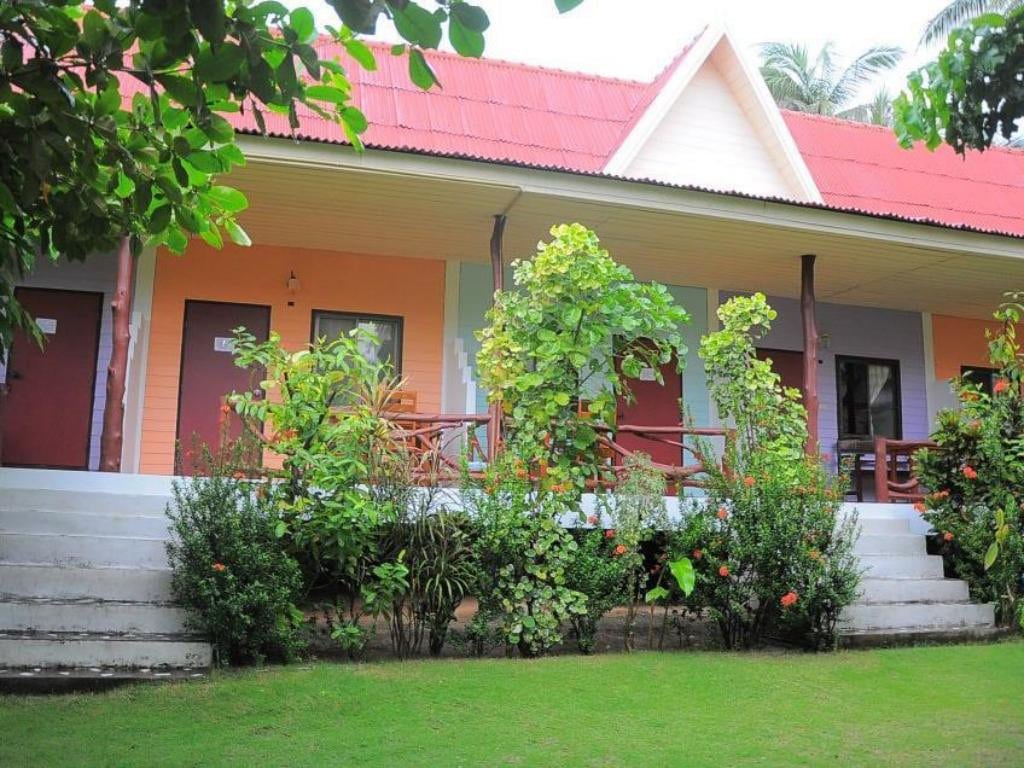 7. Tommy Resort
Excellent Thai cuisine, inexpensive fresh cool beer, and a prime location for the Full Moon Party? Everything you need to keep busy before and after the celebration is available at Tommy Resort.
The proprietors of this bungalow resort are welcoming and will go above and beyond to make sure you enjoy your stay. From their bedroom to the pool to the bean bags on the sun porch, everything is kept spotless.
Additionally, a free transfer is available from Tong Sala pier. Definitely, the best spot to be if you want a clear view of the fire performances while still having some privacy!
Address: 90/13 6 views 6 months ago Ko Pha-ngan Sub-district, Ko Pha-ngan District, Surat Thani 84280, Thailand
Phone: +66 77 375 215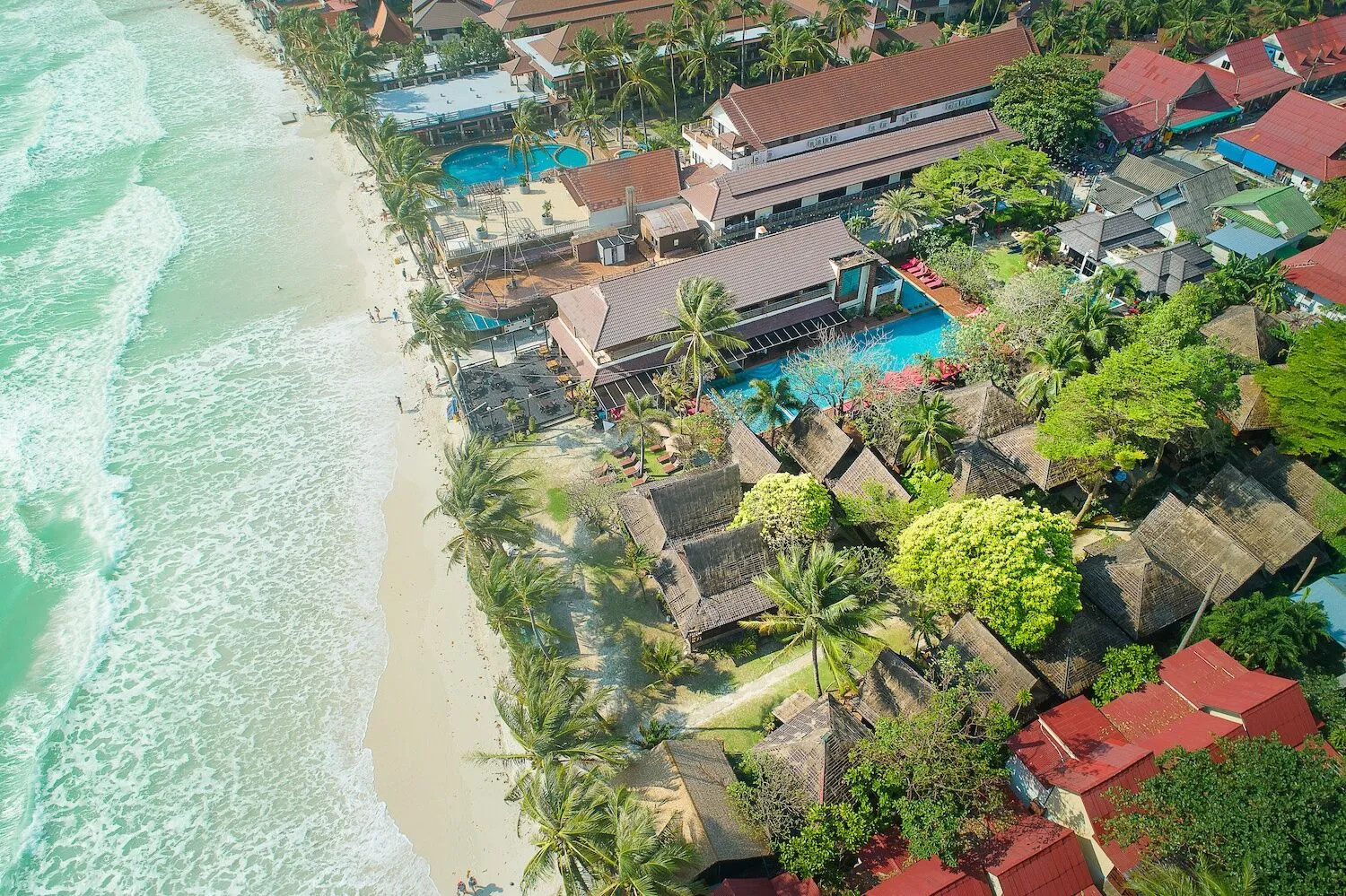 8. Princess Paradise
If you want a peaceful and relaxing stay, the 17-minute walk to this 4-star hotel from Haad Rin Beach is well worth it.
From reserving a seat at the best restaurants in town to making reservations for the taxi and ferry to your next destination, the front desk will assist you with all of your needs.
The majority of the villas in this area have stunning sea views. You can treat yourself and sip delicious cocktails by the pool during happy hour.
Address: 117/11 Moo 6 Bantai Koh Phangan, Surat Thani 84280, Thailand
Phone: +66 77 914 423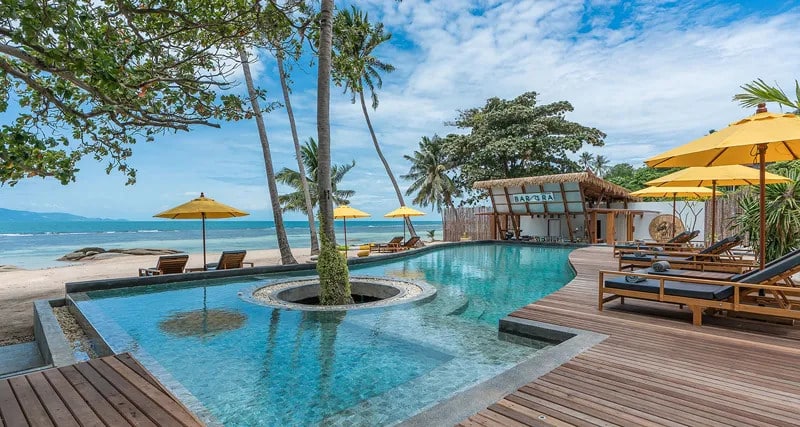 9. Dreamville
Dreamville is the place of dreams if you prefer to be able to walk to the pier, the city center, and the Thong Sala night market. Even though the hotel is only a five-minute walk from the center, it feels more like a quaint jungle villa.
This location has just been renovated, so everything is brand-new and spotless. For visitors who want to explore all of Koh Phangan and take advantage of Thong Sala's commercial activities, Dreamville is fantastic. A 25-minute drive from Haad Rin beach will get you a taxi.
Address: 133 M1, Thongsala Thongsala, Surat Thani 84280, Thailand
Phone: +66 65 713 5228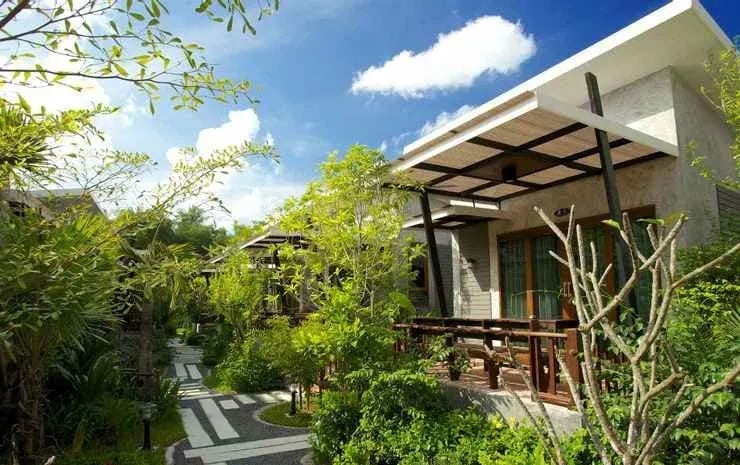 Wrapping Up
The best hotels in Koh Phangan offer luxury amenities and a prime location, making them the perfect place to stay for the Koh Phangan full moon party.
Expect these locations to sell out quickly during the Full Moon party time due to the increase of beachgoers at Koh Phangan over the past few months. As an alternative, there are numerous hostels and motels to select from, both on the beach and in other locations across the island.
More importantly, plan your dates in advance, do your homework, and enjoy yourself at Thailand's biggest beach party.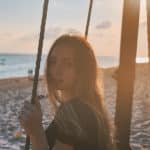 Noah Zaidi is an ardent traveler who has been documenting her Thailand exploration through Thailand Nomads. Her aim is to inform and educate people around the world about the must-visit places in Thailand.