Ryn Authentic Tea
Embrace the magic of Koh Phangan's Full Moon Festival guide, designed to help you navigate the island's pulsating celebrations, dazzling fire shows, and eclectic music scenes under the enchanting glow of the lunar spotlight. Survive one of the craziest parties on earth with our guide. From food to accommodation, we cover everything that you will need.
Quick Facts about the Moon Party Thailand:
Book your stay in advance; prices are hiked massively closer to the party date
Use train-boat and bus-boat combinations to reach Haad Rin beach
Best time to visit the full moon party is just after the rainy season November-January
There is an entrance fee of 100 Baht, which is reasonable and mainly focused on the after-party clean-up
The remaining Full Moon Party in 2023 are:
Tuesday, 8 November
Thursday, 8 December
I'm sure you have heard many stories about the famed full moon party at Koh Phangan island by now.
While the nightlife in all of Thailand is exciting, most tourists visit the island for one thing: the full moon party at Haad Rin Beach. These wild moon parties are a one-of-a-kind experience that attracts thousands and thousands of people each year.
While it is quite hard to resist this if you love to party, there are certain ways you can experience it so that you don't overspend and have the best time of your life.
Get ready to experience the ultimate beach party with our Koh Phangan's Full Moon Festival guide, featuring everything you need to know to make the most of this unforgettable event.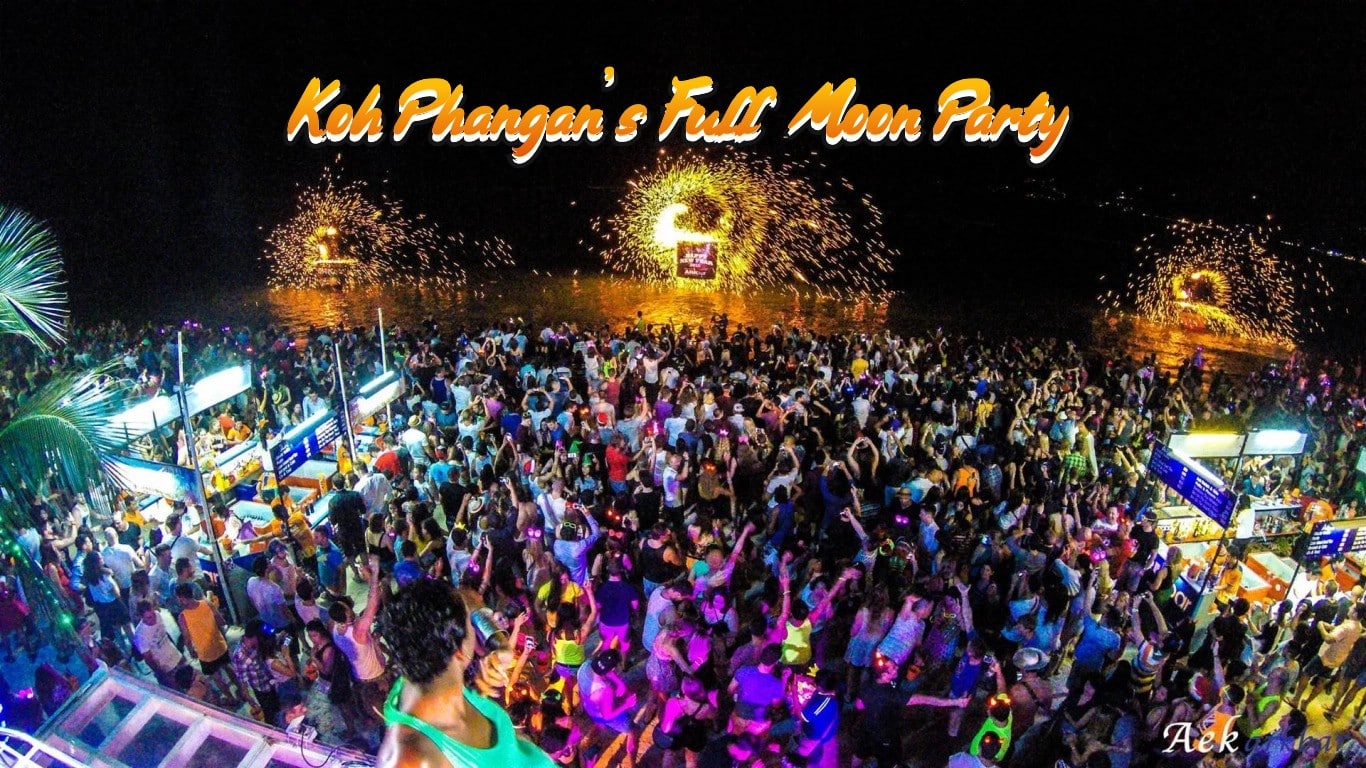 What is the Full Moon Party?
As the same suggests, it is a party organized during a full moon night. One of the most exotic appeals about it is that it is celebrated at the beach and not a club or bar, or house.
You may wonder how this wild party came into existence; well, the locals tell many origin stories all over the island.
The full moon party is believed to have started somewhere in the '80s when Thailand emerged as a backpacker travel destination.
A small group of tourists gathered together to drink and dance under a full moon, and it was so good that they came back the following year as well.
Eventually, the word spread about this party, and today you will find more than 30,000 travelers drinking, dancing, and partying through the night.
In fact, sometimes, the party tones down by late afternoon. So if you are traveling for the moon parties, don't expect to sleep!
While we may never know the true origin of this legendary party, it is a critical part of Thai's party culture.
While the copycat half-moon party or the black moon party are also organized on the island, they can't compete with the full moon festival.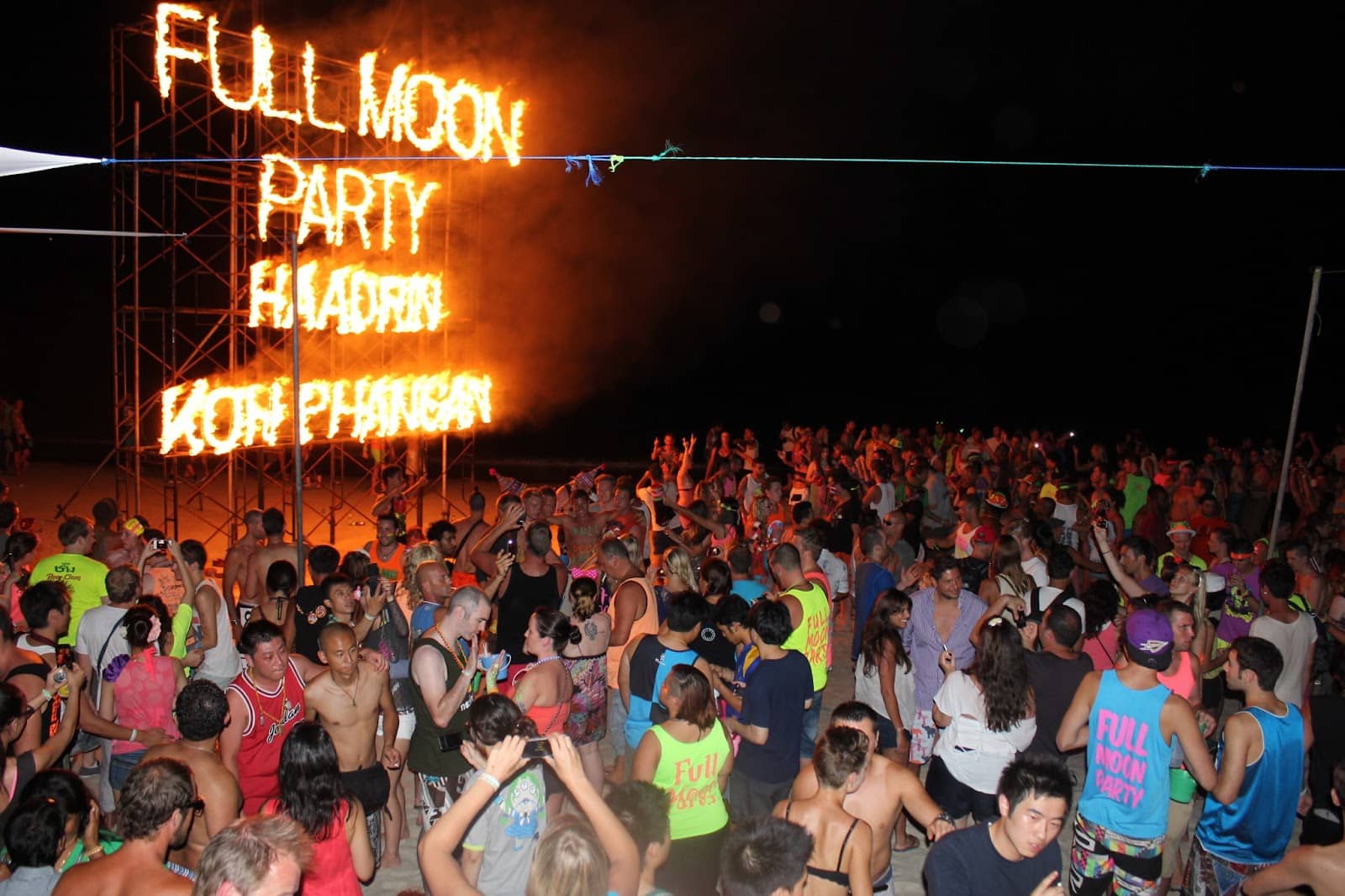 When is the Best Time to Visit for the Full Moon Party?
The best time to visit the full moon party is just after the wet season, and the cold season is emerging between November-January.
This is also considered peak season, so if you plan to visit, make sure to book your tickets and stay in advance.
Now the best part about these moon parties is that they are conducted every month, so make sure that you are aware of the lunar cycle. With just two months remaining before 2023 ends, it'll be best to start preparing for the following year.
Koh Phangan is the fifth largest island in all of Thailand and is located in the beautiful Surat Thani province.
The island is surrounded by thick green rainforests, clear blue seas, and white sandy beaches, which makes it a perfect spot to host this party in a tropical paradise.
If you need clarification about the seasons and weather of Koh Phangan, use this guide so that you can make the most of your trip.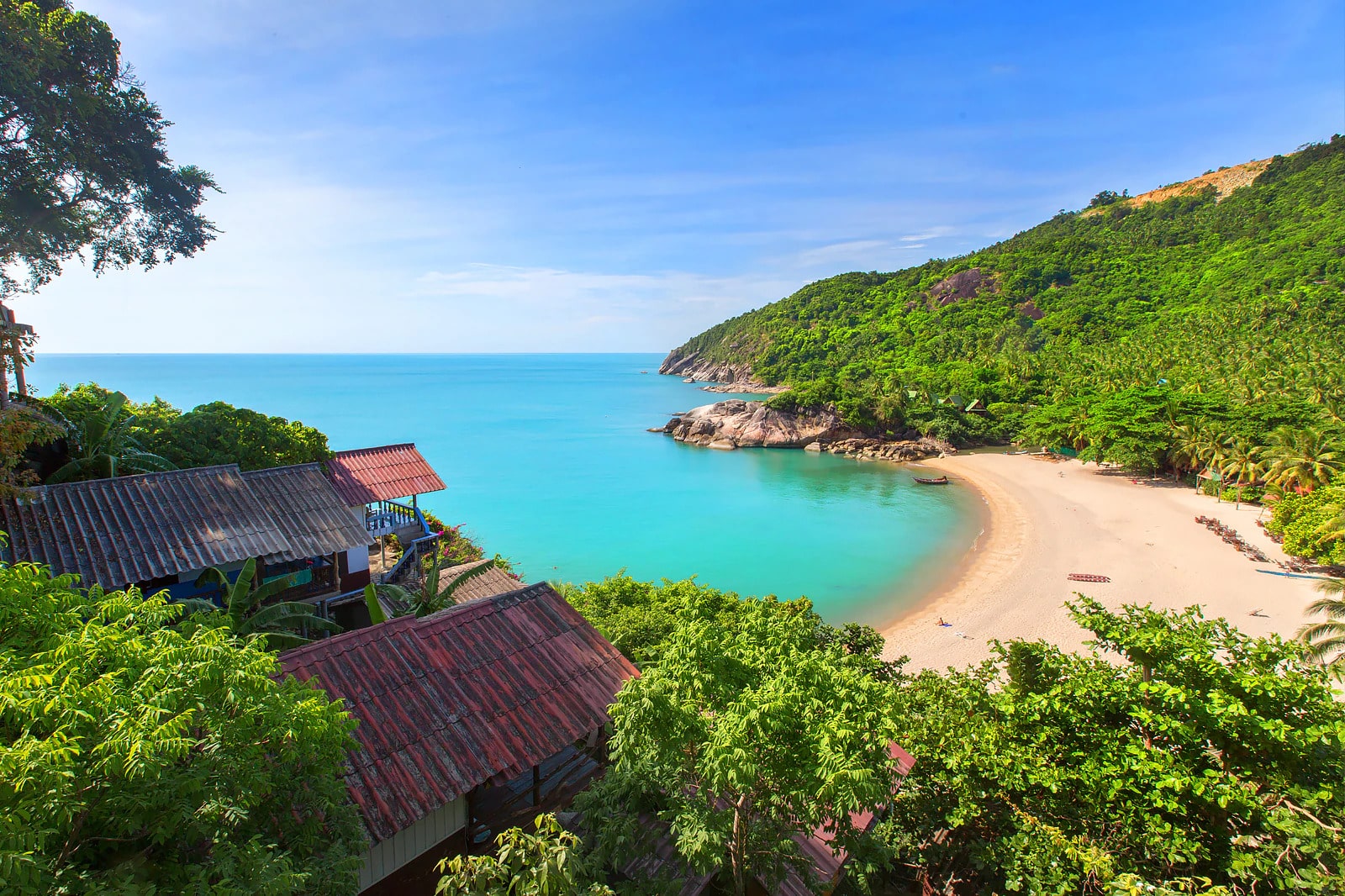 When are the Full Moon Parties in 2023?
While we have only two months for this wonderful year to end. You step into the year 2023 with a bang by booking your tickets for the next full moon party.
Here is the full moon party 2023/2023 schedule:
2023
Tuesday, November 8, 2023
Thursday, December 8, 2023
2023
Friday, January 6, 2023
Sunday, February 5, 2023
Tuesday, March 7, 2023
Friday, April 5, 2023
Friday, May 4, 2023
Sunday, June 4, 2023
Sunday, July 2, 2023
Thursday, August 3, 2023
Thursday, August 31, 2023
September 29, 2023
Friday, September 29, 2023
Monday, October 30, 2023
Monday, November 27, 2023
Wednesday, December 27, 2023
Sunday, December 31, 2023
Keep in mind that there may be changes in the dates of these moon parties.
How Do I Get To the Full Moon Party?
One of the most popular questions that travelers have asked is how to reach the full moon party, and as it is an island, there is one mode of transportation, boat.
The moon festival is located at Sunrise Beach, also known as Haad Rin Nok. And the way to reach your destination is by train-boat and bus-boat combination travel packages which travel agencies offer.
But before that, you need to know which region you will be visiting so that you can plan your trip well.
Koh Samui and Surat Thani have the closest airports to Koh Phangan, so visitors can travel to the island; you also have the option to travel from Chumphon.
While visiting the Surat Thani, you can make the most of your day trip by exploring different activities in the province to enhance your trip further.
Lomprayah and Raja are two ferries that you will find from any of these places, which takes you to the party island
If you are looking for accommodation to keep your luggage and freshen up, here is some reasonable Airbnb in Koh Samui that can work great for you.
Make sure you do your research well before heading to Koh Phangan.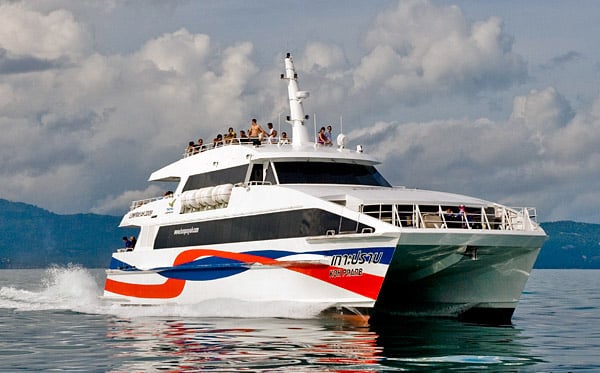 Where Should You Stay For the Full Moon Party?
When traveling to Koh Phangan thailand, look for accommodation closest to Haad Rin. By doing so, you can drop by your hotel for any emergency easily and also save money along the way.
While there are hotels and airbnbs all across the island, you should book your room in advance. The last thing you want to do is show up on the day of the beach party and hunt for places to stay.
Keep in mind that staying closest to Haad Rin beach can be expensive because of the demand. To help you choose the best options, here is a list of Airbnb's in Koh Phangan that may work well into your budget.
Most people who party hard end up spending the whole night at the beach and heading back to their room or wherever they are traveling from the next day. There is a designated sleep area for those who can't keep up.
For people on a budget, you can consider staying at the nearby islands like Koh Samui, but you will need to spend money on travel to and fro from the moon festival.
I suggest spending 3-4 days in Koh Phangan so that you can explore the island.
Even after the party, there are many things to do all over the island, so make sure you visit some of the famous attractions on the island.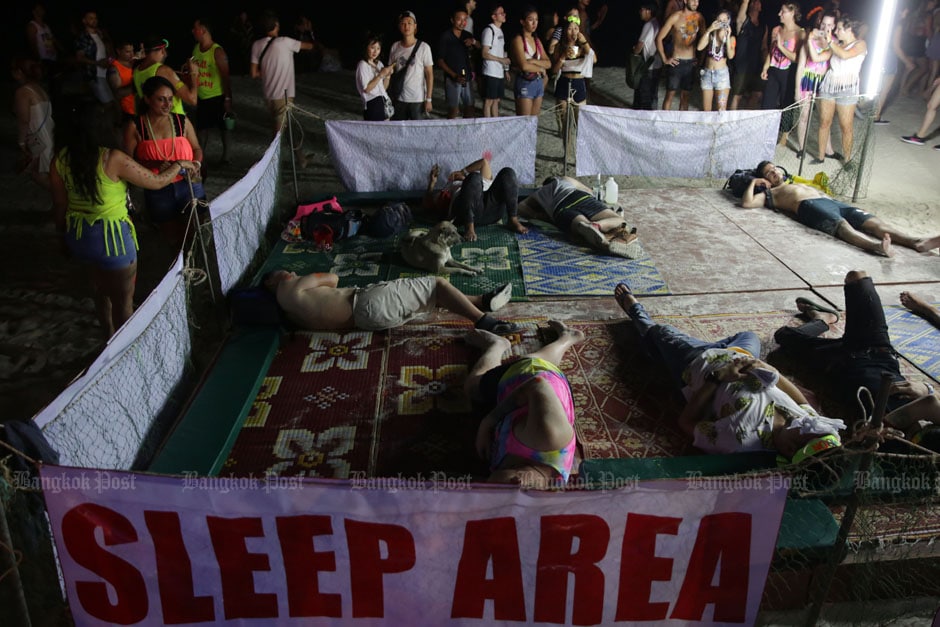 What to Expect at the Full Moon Beach Party?
The party begins at dusk as the night welcomes the full moon hovering over Haad Rin beach. You'll see people trickle onto the island from all sides as they get ready to celebrate and have the time of their life.
The best part about the night is that local business owners and organizers will get together to ensure the people visiting the island have a great time.
Remember, the party is an informal event at the beach, so you will see people decked up with all sorts of clothing or barely any clothing.
One of the most common themes of the night is glowing sticks, fluorescent face painting, as well as clothing; it is probably a signature attire amongst the attendees.
The music is one of the biggest highlights as it reverberates throughout the island no matter where you go. Partygoers can enjoy an eclectic range of music; techno, trance, house, EDM, reggae, and drums and bass.
Well, it doesn't end here; as the music waves through the beach full of dancing, you will find restaurants and bars offering a variety of alcohol and soft drinks.
On the island, you will find many local traders that offer these lovely buckets of cheap alcohol that are widely sold to the people.
This basket of intoxication is packed with cocktails, spirits, and mixes that will definitely spice up your night. Along with your drinks, you will also find several food vendors ready to satisfy your hunger cravings.
As the MCs take the stage, you will witness some of the craziest games that occur at the party, like fire eaters, skipping over flaming ropes, chin-up challenges, limbo, and so on.
Everyone is encouraged to participate in these somewhat-suicidal activities but do so at your own risk.
While there is no end to the music and dancing, you will notice many travelers crashing or heading back to their rooms in the early hours of dawn.
If you are planning to attend the full moon party anytime soon, make sure that you carry cash of around 500-1500 Baht for the night.
Relevant Costs at the Moon Party
Food: 70-100 Baht for local food and over 200 Baht for European cuisine
Toilet: 20 Baht (yes, they charge for toilets)
Alcohol Bucket: Anywhere between 150-300 Baht
Beer: 40-100 Baht (depends on the vendor)
Cocktails: 100-200 Baht
Cigarettes: 75 Baht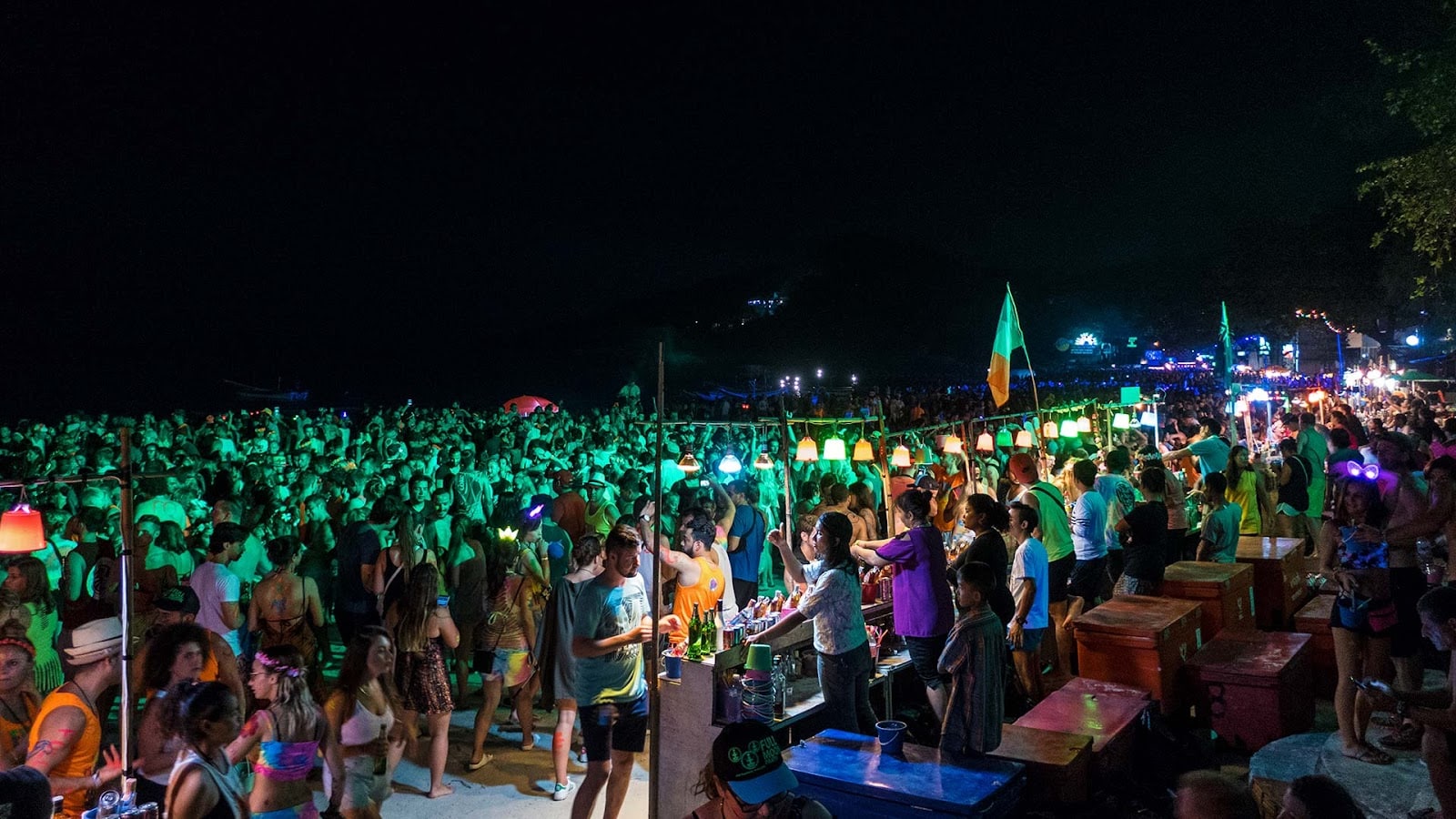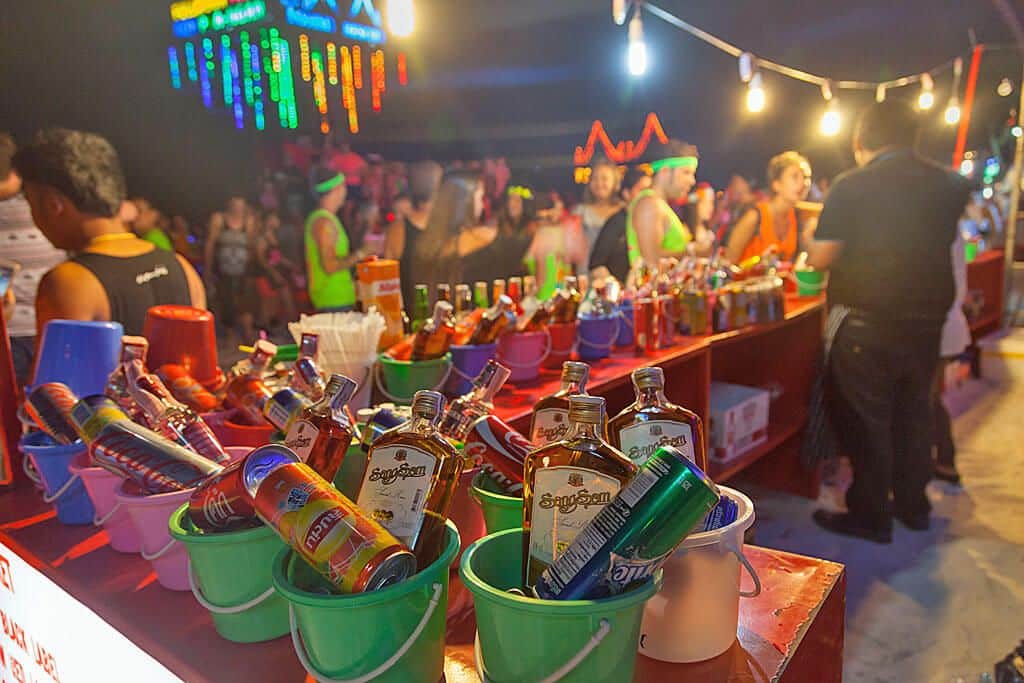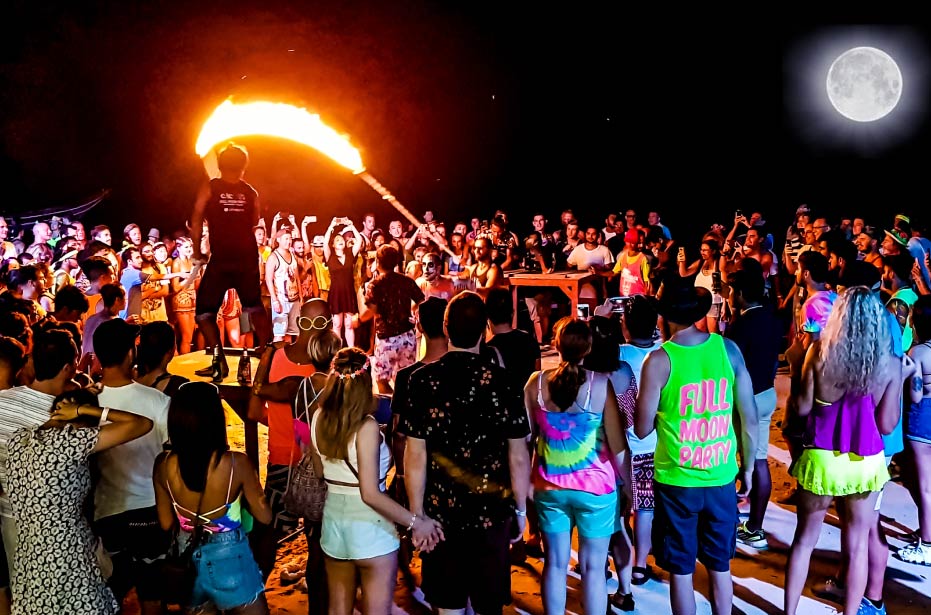 Survival Tips That Every Partygoer Needs at the Full Moon Party Thailand
The full moon party can be overwhelming, and things get out of hand often. Use these tips to ensure that you have a safe and blissful time at the sunrise beach:
Know your limits
Before you do anything at the moon parties, it is important that you understand your limitations.
The last thing you want is to get sick because you did not pace yourself enough.
Remember that the party goes on through the night, so understanding your limits will ensure that you stay in bed appropriately.
Avoid drugs
Apart from drinks, drugs are widely sold during the full moon but note that it is illegal in Thailand.
If you get caught buying or holding drugs, you will definitely spend time in prison and pay a huge fine.
A quick tip if you think about buying drugs is that there are many undercover cops dressed in regular clothes posing to be dealers.
As a tourist, it is best to stay away from any type of drugs your whole trip.
Stay hydrated
One of the best tips to ensure that you party hard through the night is to stay hydrated.
Whether you are going to drink alcohol or not, you need to ensure that your body receives enough water.
Thailand is relatively hot and humid throughout the year, so that you will lose a lot of water, and with all the dancing, definitely!
Hydrating yourself well will also help reduce your hangover the next day.
Stick with friends
Spending the night with your friends is a great way to enjoy moon parties.
However, with so many activities across the island, it cannot be easy to track each other's movements.
Travel in packs or groups of 2-3 at all times so that you will stay aware while enjoying your party.
Stay out of the ocean
One of the biggest temptations when partying on the island is to play in the ocean. Now while it sounds fun but it is extremely risky.
The strong waves of the ocean can suck you right inside, and at the same time, your drunkenness will not be of any help.
Additionally, since the toilets have an entry fee, you will see many men answering nature's call in the ocean.
Probably why the waters are warm, lol! Either way, stay safe and don't enter the ocean.
Leave personal items at home
With over 20k-30- partying all over the island, the last thing you want is to be a victim of theft or be careless of your belongings.
The best thing to do is leave all your personal items behind and only keep your essentials close to your body at all times.
Wear footwear
Lastly, the most vital tip we can give you is to wear footwear at all times.
Even though you are at the beach, there are many sharp objects in the sand because of broken beer bottles and other objects.
Second, it's dark, and you are sometimes in a different sense because of the drinking.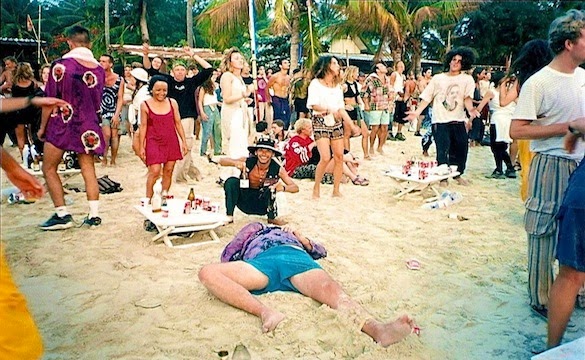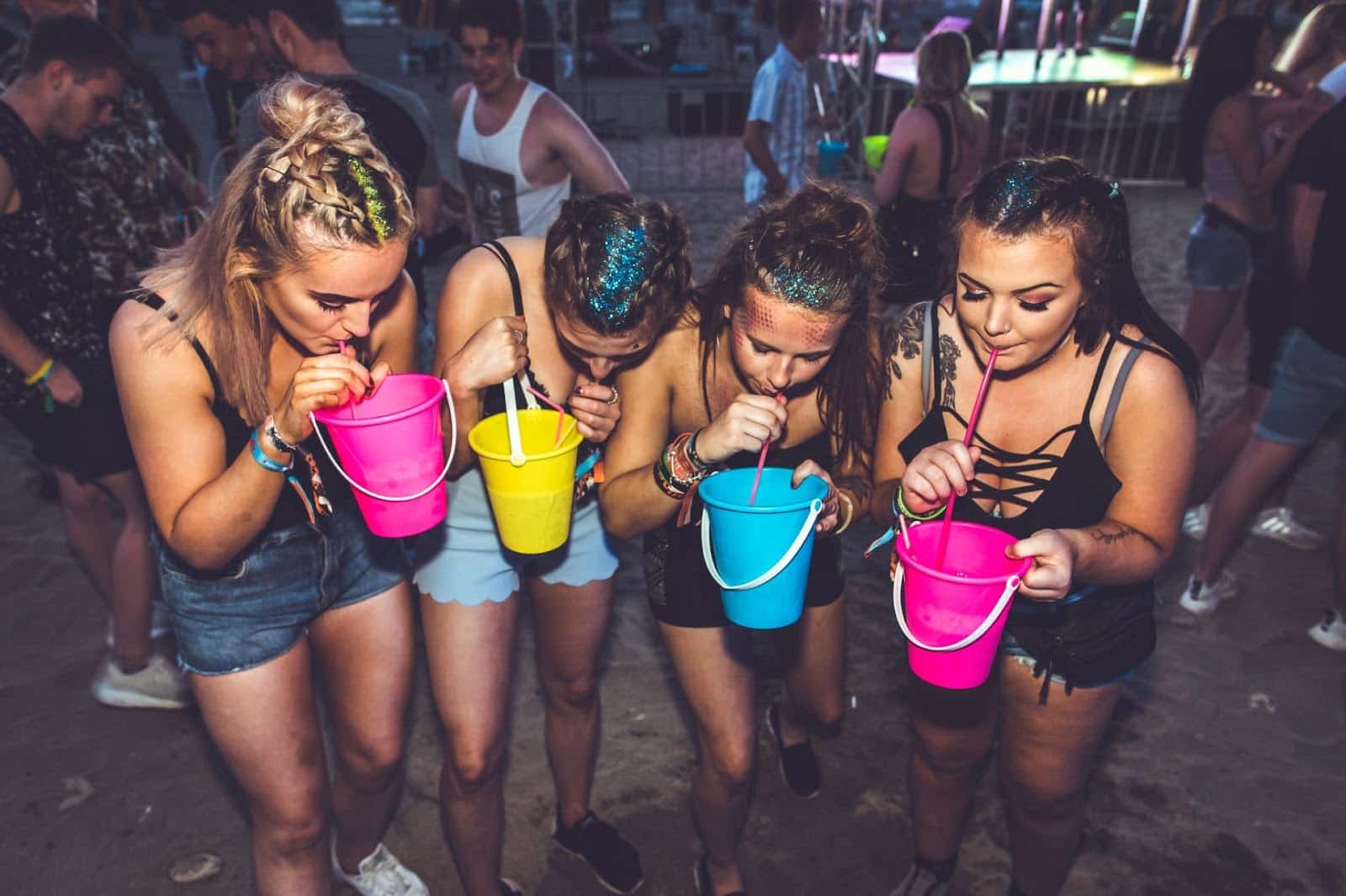 Get Ready to Partyy!
Aren't you excited already to visit one of the wildest parties on earth? We hope this guide has provided all the information you need for your next trip to Thailand.
We at Thailand Nomads are focused on providing the most accurate directions so that you have a fantastic travel experience.