While Koh Tao has a more illustrious history as a scuba training location, diving off Koh Phangan can provide a more relaxed experience.
It gives you plenty of time to explore this picturesque, densely forested island and its many vast beaches.
There are currently over 20 dive schools to choose from in Koh Phangan. They can be found everywhere in places like Baan Tai, Haad Rin, Haad Yao, and Thong Nai Pan.
Experience the amazing marine life and vibrant coral reefs of Koh Phangan with the best dive schools in the region.
Embark on an underwater adventure at the best diving schools in Koh Phangan, where experienced instructors, comprehensive courses, and world-class dive sites come together to provide an unforgettable introduction to the stunning marine life and vibrant coral reefs of this tropical paradise.
7 Best Diving Schools in Koh Phangan – 2023 Review
1. Chaloklum Diving
The Chaloklum Diving School is considered to be the best on the island. Nick, Lek, and Michael opened Chaloklum Diving School in Koh Phangan in 1995. This was a year or so after they fell under the spell of the island and the clear, warm waters of the Gulf of Thailand.
A wide range of PADI courses is offered here, including Explore Scuba Diving, Open Sea, Speciality, Rescue Diver, Adventure, Advanced, Deep Diver, and more.
If you don't want to do thonly part of e course or are only in town temporarily, they even provide enjoyable dives with PADI guides.
Chaloklum Diving School, started as a two-person dive shop where the owners were doing it all by themselves.
They taught PADI courses without the luxury of online learning, DVD, or air-con.
They have been PADI diving instructors in Thailand for over 25 years now. The select Chaloklum Diving team comprises truly enthusiastic PADI professionals who are mainly trained in-house.
They are a fully insured and licensed TAT (Tourist Authority of Thailand) dive center.
Address: 56/1 Moo 7, Chaloklum Village, Koh Phangan, Suratthani 84280. Thailand.
Phone: +66 861206461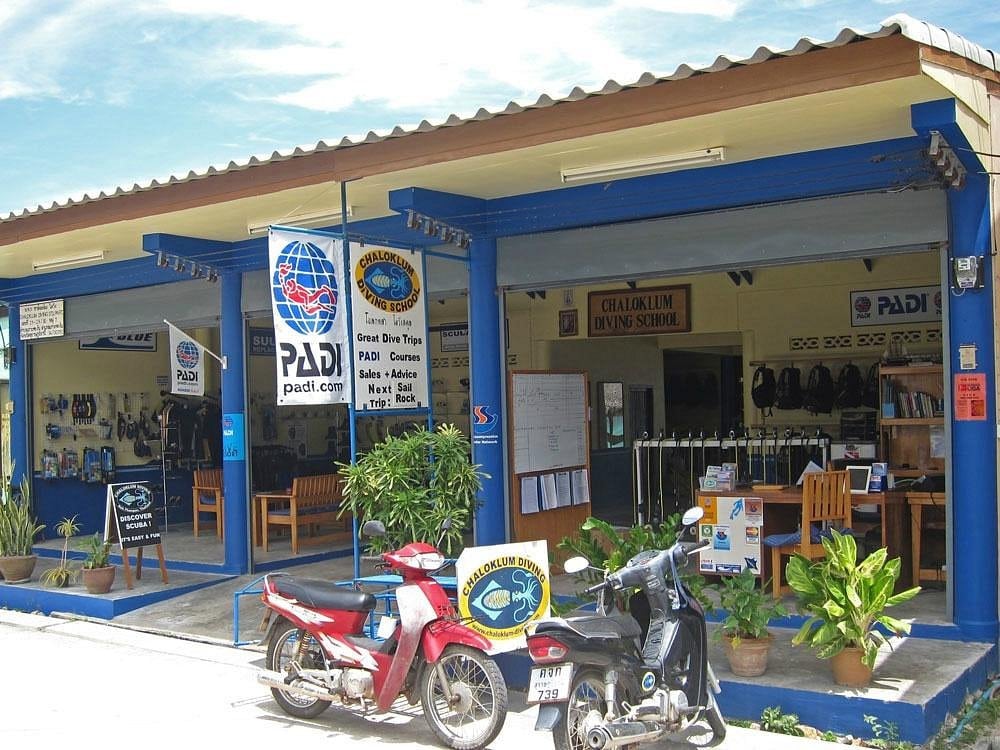 2. Sail Rock Divers
It is a 5-Star PADI resort located in Chaloklum. They offer PADI courses from complete beginner to professional levels.
They also provide fun diving and snorkeling trips to Sail Rock, the most famous dive site in the Gulf of Thailand.
They offer trips to Koh Tao and Angthong National Marine Park. You should definitely check out Koh Tao if you are intrigued by the beauty of nature and don't like crowded places.
There are accommodations, go-pro packages, teacher packages, and both fun and PADI courses offered.
The resort has its own pool, which is ideal for lounging, and also has a 3 m deep area that's great for learning to dive.
Additionally, they offer fully equipped 16-meter dive boats that are located 2 minute's drive offshore.
All the classrooms here are air-conditioned classrooms.
On-site, there are 10 private bungalows with king-size mattresses, air conditioning, and kitchens in 5 of the bungalows.
They have earned the coveted title of PADI Career Development Centre, the only Dive Resort on the Island to be awarded this as a leader in diver education.
Address: 15 Moo 7, Ko Pha-ngan Sub-district, Ko Pha-ngan District, Surat Thani 84280, Thailand
Phone: +66 80 885 7268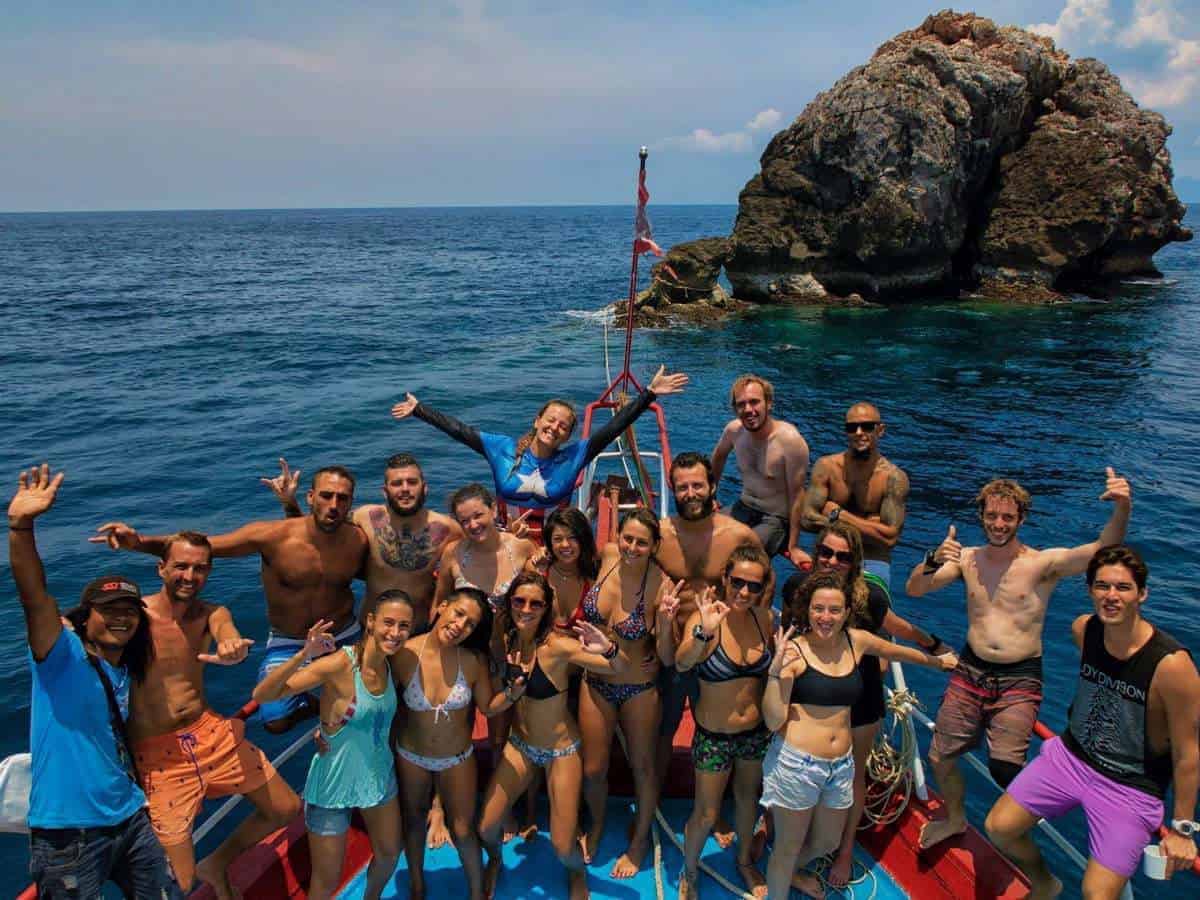 3. The Dive In
This effective diving school successfully balances high-quality customer service with a relaxed atmosphere.
Although slightly more expensive than its rivals, the quality of its training programs is unmatched, with kindness and patience being the defining characteristics of every employee.
It is one of the most firmly established and respected PADI Dive centers on the beautiful island of Koh Phangan.
It offers small groups, personal attention, quality service, professional and unbiased advice, and some of the most experienced and qualified staff on the island.
Qualified dive groups are also kept to a minimum and are also split by experience level (unless requested otherwise) to ensure the best dive experience for all.
It is one of the best-equipped dive schools on the island and can provide for a wide range of divers and snorkelers, catering for all sizes from XXS – XXXL.
All of their equipment undergoes regular maintenance to ensure compliance with legal servicing requirements.
​
Address: Chaloklum Village, Ko Pha Ngan 84280, Thailand
Phone: +66 (0)77 374 262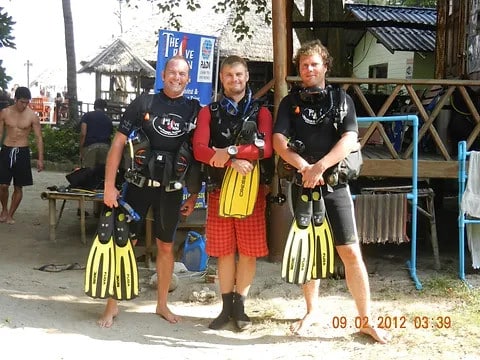 4. Haad Yao Divers
Haad Yao Divers has existed since 1997. It is among the top diving schools with the longest history. It is one of the island's pioneer dive operations.
It has provided reliable service and top-notch instruction to both local as well as tourist divers.
Its highly diverse staff of instructors fosters a very sociable, enjoyable atmosphere while management maintains small group sizes and strongly emphasizes customer care.
It participates in projects to monitor coral reefs and conducts business in accordance with its dedication to environmental responsibility. Haad Yao is also a locally managed Green Fins Thailand group member.
Their international team consists of enthusiastic and highly qualified PADI Instructors and Dive Masters from England, France, Switzerland, and Germany.
Location: 84/31 Moo 8 Koh Phangan, Suratthani 84280 Thailand
Phone: +66 (0)86 279 3085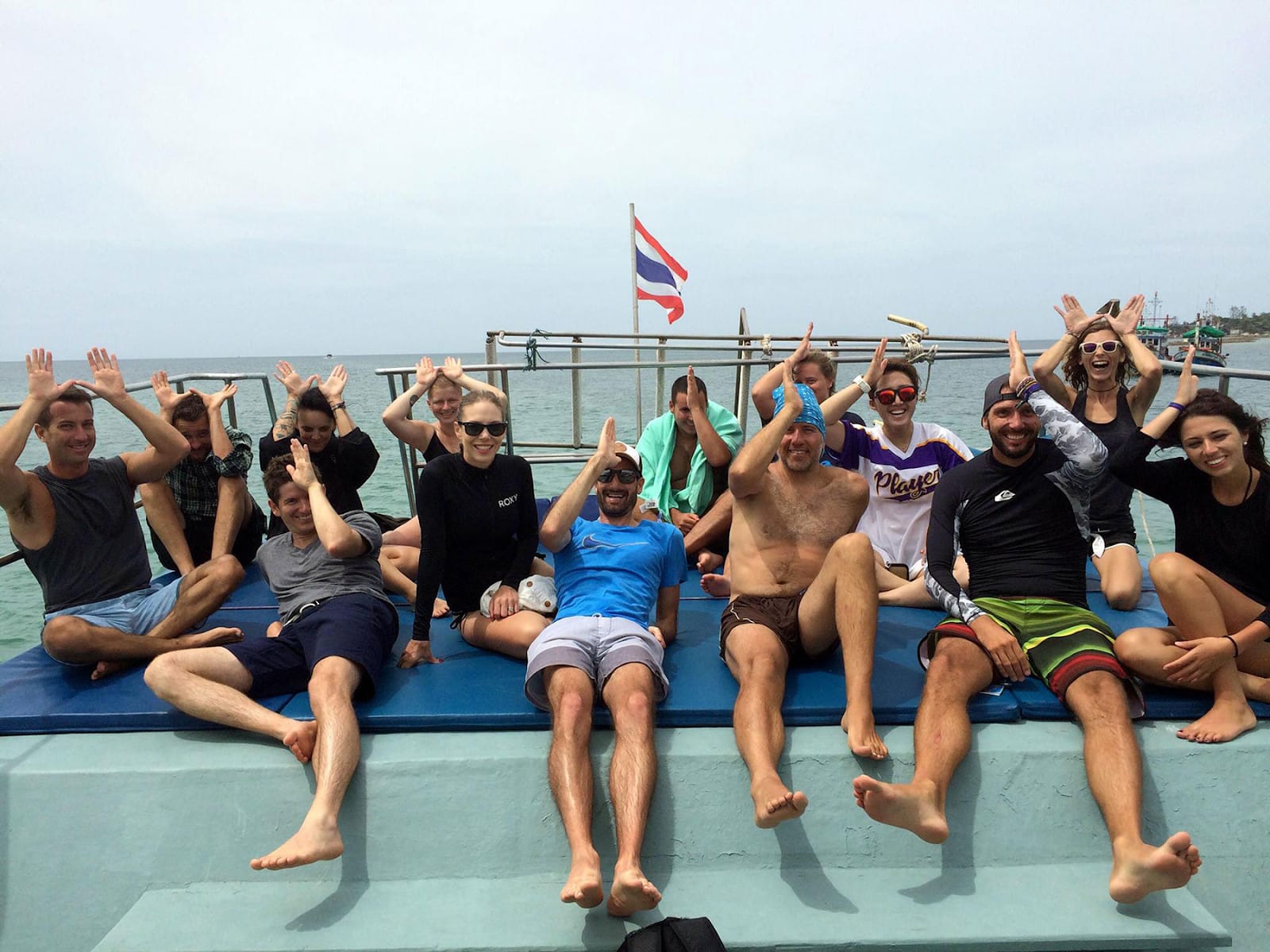 5. CORE Sea
CORE Sea is Koh Phangan's marine conservation and research center, perfect for people who already have a diving license and want to learn more about the underwater world.
It is a great place to learn diving, as the trainers here are highly skilled and talented.
They train participants in aspects of marine biology and conservation during their named conservation training program, which typically lasts for about two weeks.
Participants learn about robust local fish and coral identification, monitoring and evaluating the health of the coral reef ecosystem, working on artificial coral structures and nurseries.
Since it is situated in the middle of the Samui Archipelago, you can easily access Koh Samui, Koh Tao, and the Ang Thong and Chumphon National Marine Parks.
Address: 94 Moo 7, Koh Phangan, Chaloklum, 84280 Surat Thani
Phone: +66 (0) 872 739 663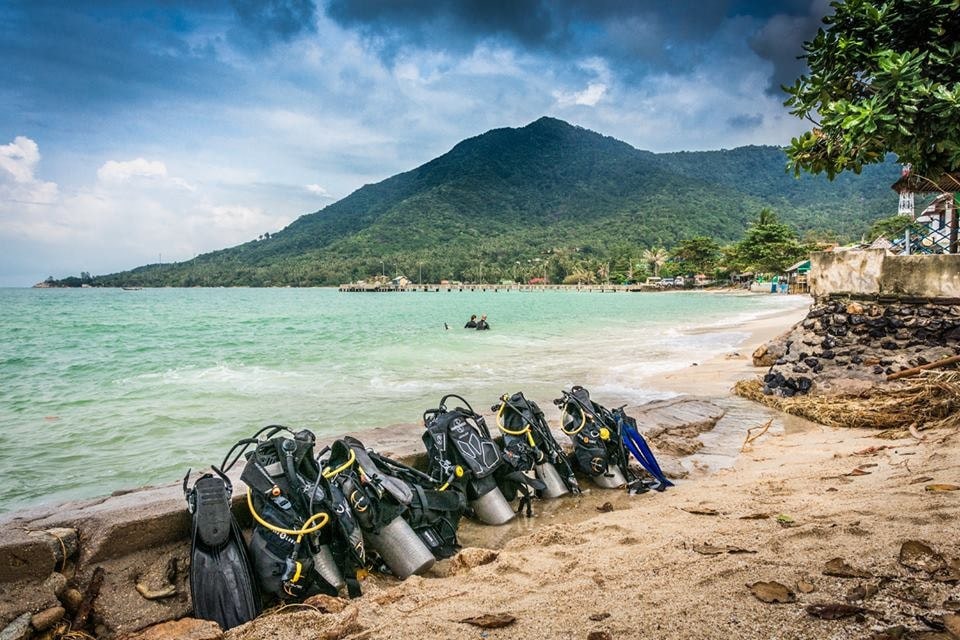 6. Plongee
Plongee is a complete dive center offering a wide range of high-quality scuba diving products and services. Its specialized and personalized approach makes it stand out and unique in Koh Phangan.
With advanced wreck, cave, and technical diving courses, Plongee is committed to excellence and safety that trickle down in all its diving activities.
Just remember that you are already paying a fair amount of money, and it is down to your own safety. This is why they are confident that customers who recognize the value of teaching and safety will not hesitate to choose Plongee.
They offer a wide range of services, including snorkeling, dive trips, and test drives. They focus on uniformity and high standards as an IANTD and SSI institution.
Pongee is also the only technical diving center in Phangan and offers lessons in cave diving, wreck diving, and rebreathers (CCR). Additionally, it specializes in French language teachers.
Address: 38/7, Wok Tum, Koh Phangan, Surat Thani 84280, Thailand
Phone: +66 86 390 9058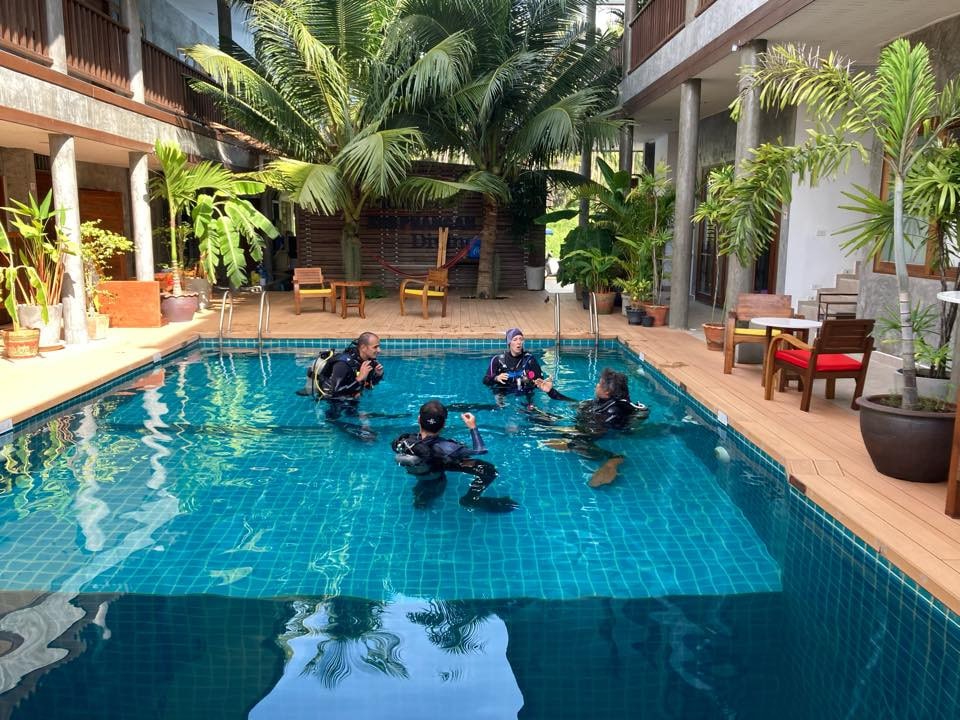 7. Lotus Diving
Lotus Diving, established in 1999, is now an SSI Instructor Training Dive center located in Chaloklum.
Chan, a local from Chaloklum, is the owner of Lotus Diving, the only Thai-owned diving shop on the island and one of the original dive shops on Koh Phangan.
After returning from living in Switzerland for 11 years, he established his diving shop on Koh Ma, where dive trips were offered from a traditional longtail boat.
Since Chan and his worldwide team of SSI Scuba Instructors and Dive Masters provide local expertise, high levels of service, and instruction, the diving school has grown in reputation and business.
The fully equipped dive center has many air-conditioned classrooms, a lounge area, and a dedicated swimming pool.
The spacious classrooms are equipped with everything needed, such as televisions for the media parts of courses, whiteboards, and big tables and are away from the main road to help you study in a distraction free environment.
Address: 57/6 moo7 Chaloklum, Koh Phangan, Surat Thani 84280, Thailand
Phone: +66 77 374 142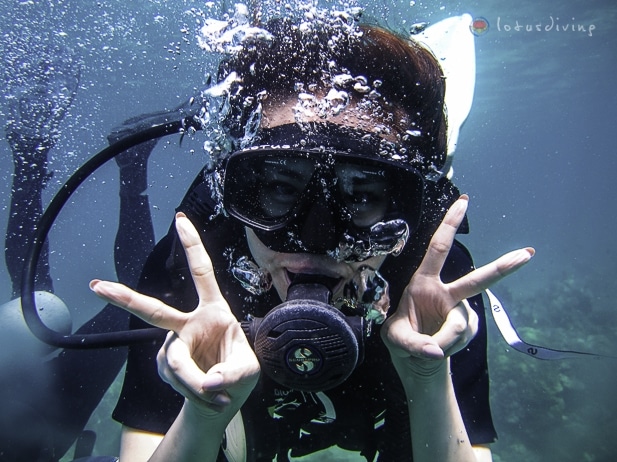 Wrapping Up
Receive the highest-quality training and guidance from the most recommended diving schools that we have mentioned above.
Most people normally list diving on their bucket lists, and Koh Phangan is ideal and reasonably priced for it.
For anyone interested in learning more about underwater life, it is worthwhile to try it.
When you have the assistance of professionals, you have nothing to be afraid of.
So next time you are in Koh Phangan, do not forget to try the two most famous recreational activities: Diving and Full Moon Party.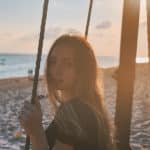 Noah Zaidi is an ardent traveler who has been documenting her Thailand exploration through Thailand Nomads. Her aim is to inform and educate people around the world about the must-visit places in Thailand.