Welcome to the world of wellness and rejuvenation in the stunning tropical paradise of Phuket.
In this blog, we will explore the 11 best detox and cleanse retreats in Phuket. Whether you are looking to reset your body, find inner peace, or simply unwind in a beautiful setting, these retreats have something special to offer. Let us quickly check them out.
1. CC's Hideaway
CC Hideaway is located in the heart of Kata and overlooks the mesmerizing Andaman Sea. It is a must-visit spot for those seeking a memorable detox and cleanse retreat in Phuket.
This boutique hotel is a hidden gem that grants easy access to three of Phuket's most pristine beaches: Kata Noi, Kata, and Karon. The seamless blend of awe-inspiring vistas, contemporary comforts, and traditional Thai decor creates an oasis of serenity for all guests.
Whether you are in search of respite from urban life, yearning for a yoga retreat, or desiring a wellness holiday, CC's Hideaway is your ideal destination.
At CC's Hideaway, they offer year-round detox and cleanse retreats designed to cater to individual preferences and dietary needs. Nestled amidst the beauty of nature, their rooftop studios provide expansive views that inspire tranquility.
The Wellness & Thai Restaurant, 'Prana Eatery,' complements the detox experience by serving delicious and nutritious cuisine.
As one of the greenest hotels in Phuket, CC's Hideaway also presents various packages like the Rejuvenating Holistic Detox Package, ensuring guests achieve their wellness goals.
With daily yoga classes and enticing promotions like the Smart Deal, CC Hideaway guarantees a holistic and revitalizing experience amidst the splendor of Phuket's most beautiful beaches.
2. Anahata Luxury Mind Detox Yoga & Wellness Retreat
The detox retreat at Anahata Phuket offers a holistic approach to well-being. It is suitable for people seeking weight loss, rejuvenation, or a personalized wellness journey in Phuket. Its closeness to the Surin beach is a cherry on the top!
Anahata Retreat Phuket's philosophy centers on addressing the whole of you. Their wellness packages include luxurious 5-star accommodations, invigorating yoga and meditation classes, nourishing raw food, healing therapies, and more.
With daily wellness check-ins, fitness classes, and spa treatments, you are all set to return home rejuvenated.
With a team of experienced professionals by your side, your personalized well-being review will guide you toward a healthier and revitalized future.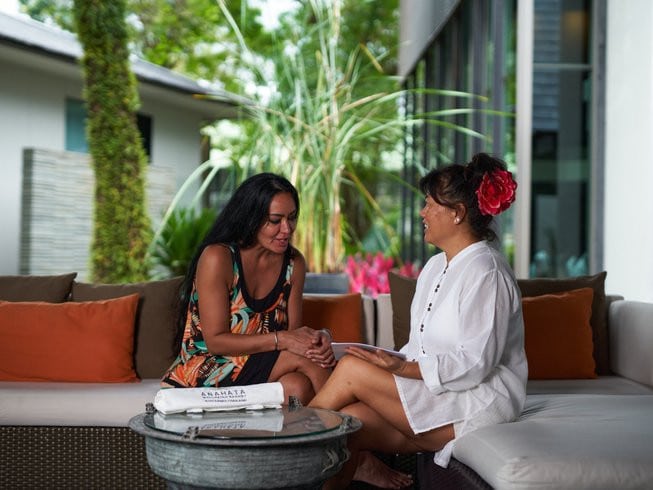 Don't forget to check out their 5-day detox program. This program offers a holistic approach to well-being, featuring daily yoga and meditation classes, massages, holistic treatments, and guided walks.
you will cleanse and reboot your body with freshly prepared fruit and vegetable juices while receiving complete natural herbal supplementation.
With personal wellness support, spa treatments, fitness classes, and roundtrip airport transfers, this immersive 5-day retreat is designed to leave you feeling rejuvenated and revitalized, regardless of whether you are a seasoned detoxer or a beginner.
3. Water Fasting Yoga and Detox Retreat at Traditional Ashtanga Yoga Shala
This retreat in Phuket offers an 8-day Water Fasting Detox and Yoga program that aims to bring balance to the body. Water fasting is a technique that helps the body work better.
It is possible to extend the program for up to 31 days, depending on the participant's body's needs. Some may benefit from a longer program, while others can achieve the same results in a shorter period.
During the retreat, guests can expect a combination of yoga styles, including Ashtanga, Nidra, Power, Dynamic, and General Yoga, suitable for beginners, intermediates, and advanced practitioners.
The food provided is vegan, raw, and organic and accommodates various dietary preferences, ensuring a nourishing experience. Moreover, the retreat includes additional perks like Thai oil massages and online retreat sessions to enhance the overall well-being of participants.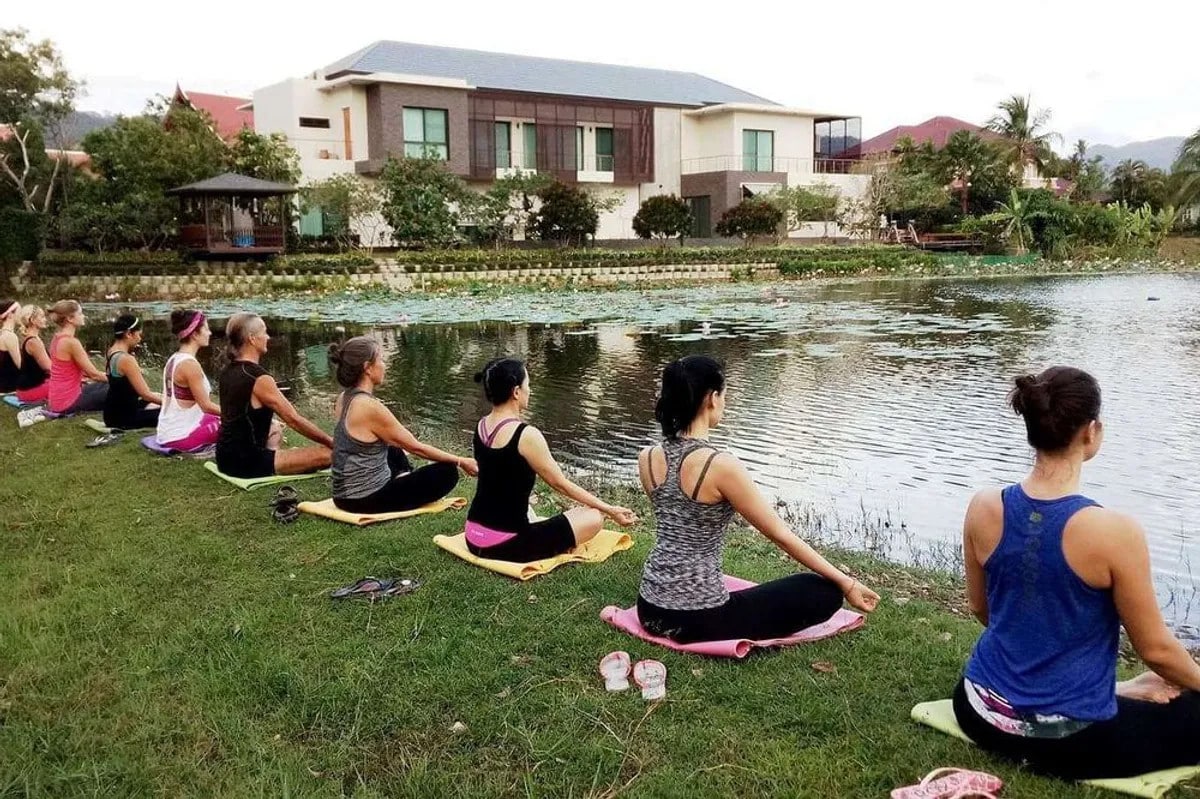 What makes this retreat special is the personalized approach. The professional yoga therapist tailors the program to suit individual needs based on their constitution, age, and requirements.
Water fasting is seamlessly integrated with traditional yoga practices and cleansing techniques to ensure a smooth and effective process.
This retreat offers a unique opportunity to find mental and physical strength inner peace, and a chance to detoxify the body and mind in a tranquil setting in Phuket, Thailand.
Location: Traditional Ashtanga Yoga Shala Phuket
4. Yoga and Wellness Retreat in the Heart of Phuket
At the Hilltop Wellness Retreat in Phuket, guests are in for a rejuvenating and immersive experience. The day begins with breathtaking morning yoga sessions set against the panoramic backdrop of Phuket Town and the stunning Phang Nga Bay.
Whether you prefer the early Sunrise or a later morning Yoga session, the yoga deck offers spectacular views that will inspire your practice.
Throughout the day, you will have the opportunity to explore Phuket Island, delving into the local culture, nature, and wellness activities.
As the sun sets, the focus shifts back to body, mind, and soul, with relaxing yoga sessions either in the serene studio or amidst the natural beauty of the outdoors.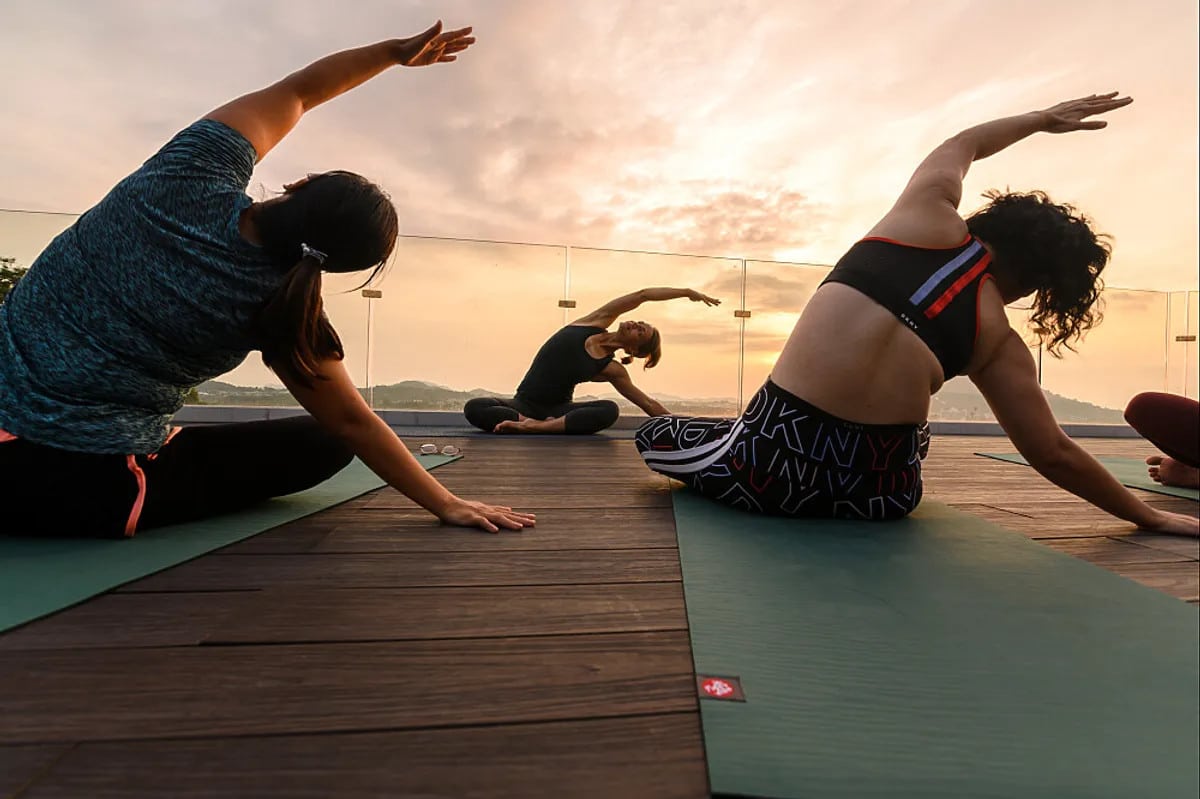 The retreat boasts a variety of yoga styles suitable for all skill levels, including Dynamic Yoga, Hatha Yoga, Yin Yoga, Vinyasa Yoga, Restorative Yoga, and General Yoga.
The culinary experience is equally enriching, with a menu featuring vegetarian, vegan, and egg-free options, allowing guests to savor authentic Thai flavors without leaving the retreat.
The tranquil location in the hills provides a peaceful escape from the hustle and bustle of everyday life, complemented by a private luxury yoga studio and an infinity pool with breathtaking views.
The place also features an award-winning Plearn Restaurant, which serves dishes from all four regions of Thailand.
With experienced instructors offering individual attention, you can get on a journey of self-discovery, restore your mind, body, and soul, and connect with nature in the Land of Smiles.
At the Hilltop Wellness Retreat, every moment is an opportunity for transformation and rejuvenation.
Location: Hilltop Wellness Resort
5. Cleansing and Detox Retreat at Aleenta
In the serene setting of Aleenta Phuket, the Cleansing & Detox wellness retreat offers a transformative experience to cleanse the body and mind. This retreat combines various yoga styles, suitable for all levels, and can be personalized with the help of a wellness consultant.
Guests can choose between three daily wellness meals or a cleansing program catering to various dietary needs. The retreat also provides daily herbal teas, juices, and coconut water to support detoxification.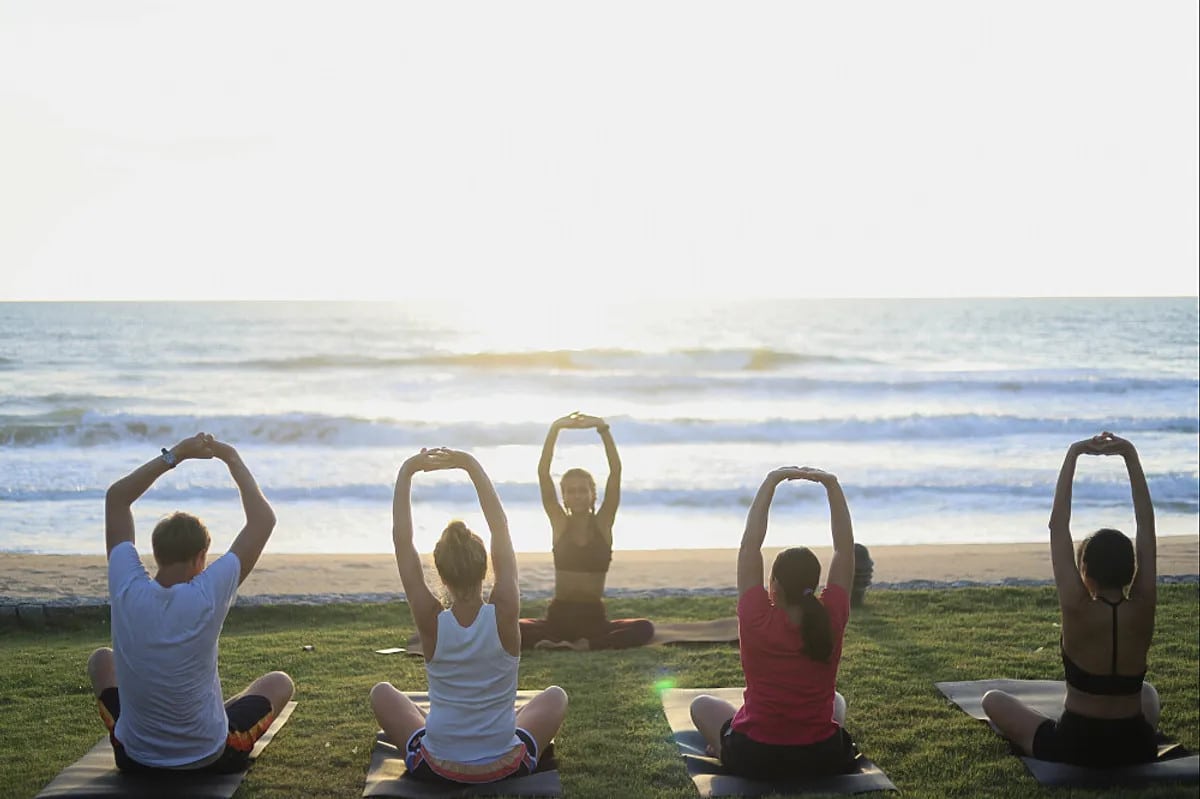 The retreat stands out with heated hydrotherapy sessions, digital detox, and ample sleep opportunities to reduce stress.
Additionally, Aleenta- known for its luxurious pool villas in tropical gardens, offers an ideal backdrop for relaxation and self-discovery. The program includes health assessments to gain insights into well-being.
By the end of the retreat, guests experience physical and mental cleansing, a clearer mind, increased productivity, and tools for a balanced lifestyle.
Aleenta's focus on well-being makes this retreat special, encouraging guests to embark on a journey of self-discovery and transformation.
Location: Aleenta Resort
6. 7-Day 'Energize & Explore' Private Luxury Retreat at Soul's Escapes
At Soul's Escapes, this 7-day retreat program offers an exclusive experience designed to cater to individuals with demanding, high-pressure careers.
This retreat seamlessly combines the rejuvenating power of private yoga classes with therapeutic pampering, creating an oasis of wellness for the body and tranquility for the mind.
The retreat's yoga program caters to various skill levels, from beginners to intermediates, ensuring that everyone can participate and benefit. Vegetarian cuisine takes center stage here, and what makes it truly special is its commitment to 'Pure Gastronomy.'
The resort's own farm provides nearly half of the vegetables and herbs used daily in their organic Thai cuisine. These fresh ingredients, including basil, chili, galangal, lemongrass, and kaffir lime, form the foundation of Thai culinary delights that will tantalize your taste buds.
As for accommodations, Soul's Escape offers a dreamy escape into nature with uniquely designed tree houses, clay cottages, bird's-nest villas, and tent villas, all immersed in the lush Thai forest.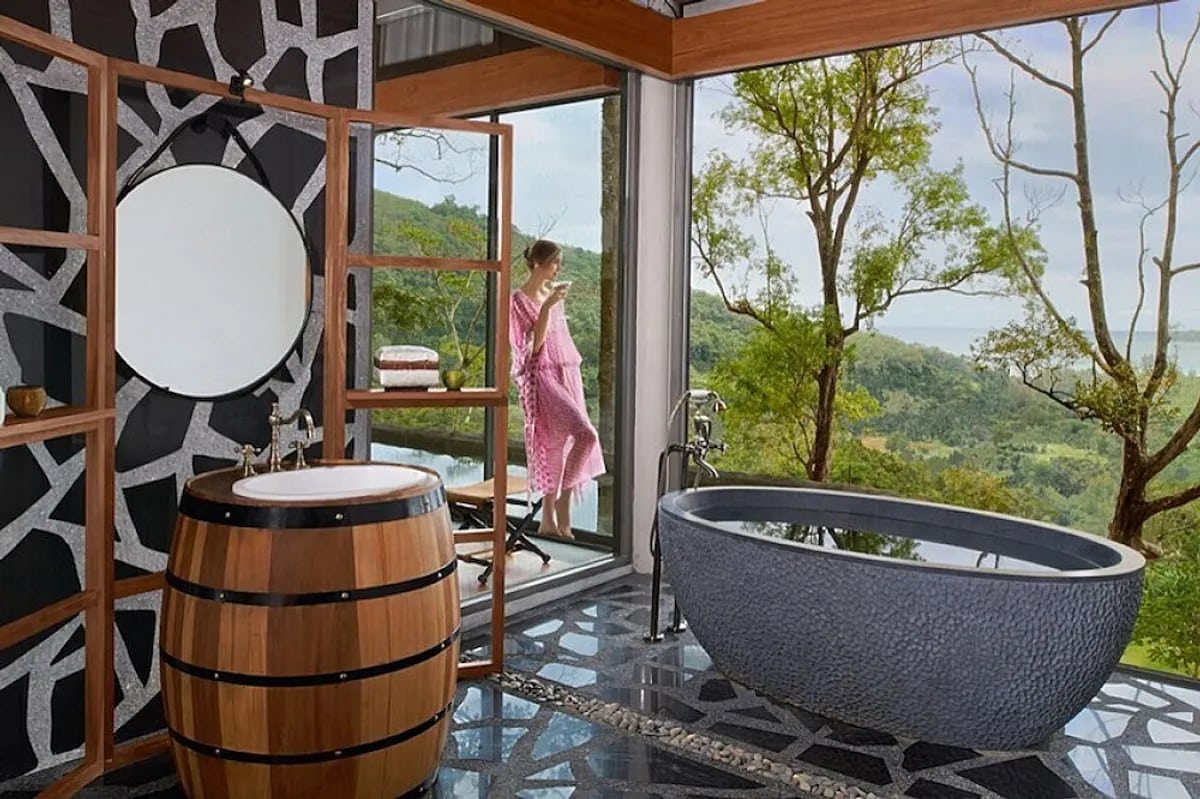 The retreat's holistic vision extends to the accommodations, ensuring an eco-friendly approach to luxury hospitality. The program goes beyond yoga and fine dining with a comprehensive spa and wellness regimen.
Guests can indulge in a range of treatments, including organic Thai herbal steam rituals, deep tissue massages, Thai herbal compress massages, organic Thai herbal baths, holistic slimming massages, and hair & scalp massages.
These pampering sessions are designed to rejuvenate the body and soothe the soul. As a part of the retreat, you will have the opportunity to explore nearby islands, adding an adventurous twist to your stay.
Excursions to Koh He Island for snorkeling and beach time, as well as a full-day excursion to Phi Phi Islands, offer opportunities to connect with the natural beauty of Thailand and re-energize your spirit.
Location: Soul's Escapes
7. 6-Day Luxury Pure Yoga Retreat at Mangosteen
This retreat, located in the serene enclave of Rawai, Phuket, offers a soothing escape for individuals of all yoga levels. it is a place where both novices and intermediate yogis can find solace and spiritual enrichment.
The retreat boasts a variety of yoga styles, including Hatha, Vinyasa, Yin, Kundalini, and more, catering to diverse preferences and abilities. What makes this retreat distinctive is its fusion of yoga with the expertise of the Ayurvedic Spa team.
It is an opportunity to break free from the daily grind and immerse oneself in relaxation and self-discovery. The retreat provides private tropical villas, a salt-water treated pool, and nourishing vegan meals.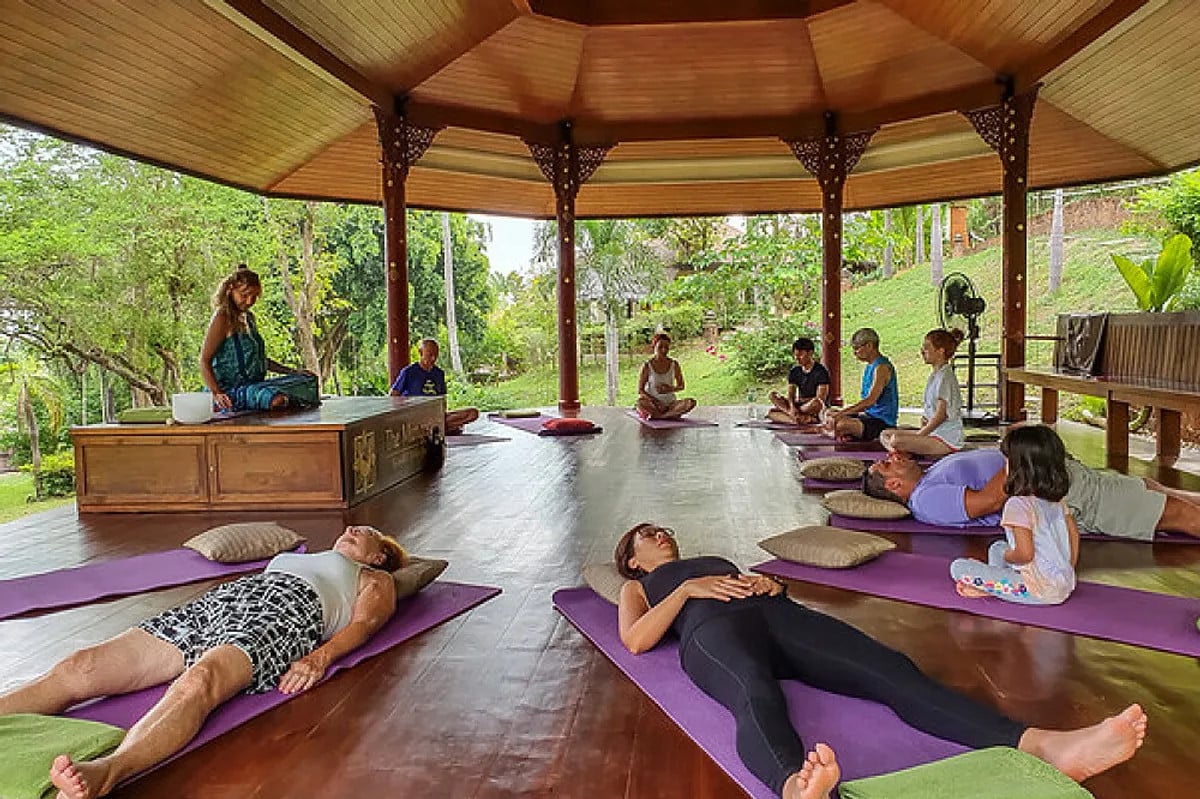 It is a chance to detach from your usual routine and rejuvenate your body and mind. Yoga sessions take place in the Prana Yoga Sala, surrounded by lush tropical gardens and a serene waterfall—a unique and tranquil setting for self-reflection.
But what truly sets this retreat apart is its dedication to ensuring every guest's comfort and satisfaction.
From the welcoming massage to the tasty health drinks, the program is carefully crafted to deliver a holistic experience. it is an opportunity to step away from daily distractions, find inner peace, and replenish your energy.
Whether you are an experienced yogi or just beginning your journey, this retreat offers a gentle yet profound path toward equilibrium, serenity, and self-discovery.
Location- Mangosteen Wellness Resort
8. 5-Day Luxury Yoga Retreat at Kung Fu Cowgirl LLC
This 5-day luxury yoga retreat promises a profound transformation of mind and body. Expert yoga instructors, suitable for both beginners and intermediates, will guide you on this journey.
The retreat begins with a delightful Thai dinner at a lavish resort, showcasing the island's culinary delights made with locally sourced and fresh ingredients.
Each day unfolds with a rejuvenating yoga session by the tranquil beach, followed by a hearty breakfast and a soothing private Thai massage, ensuring you feel refreshed and re-energized.
Day 3 offers a serene meditation session and a guided tour of Phuket's lush rainforest, where you will witness the awe-inspiring beauty of waterfalls, dense jungles, and exotic wildlife.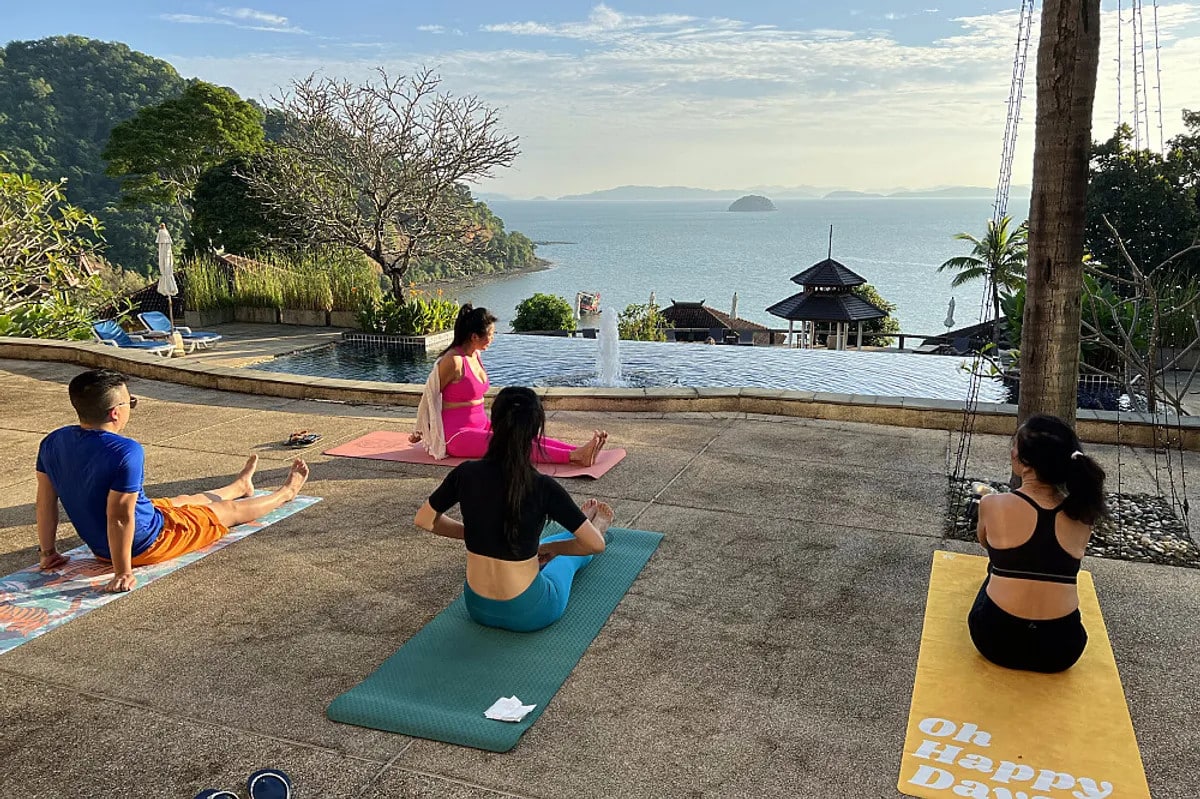 Day 4 delves into the spiritual side of Phuket, featuring visits to iconic Buddhist temples that reflect the island's rich history and culture.
Afterward, a nourishing lunch, filled with the freshest regional ingredients precedes a special workshop focused on pranayama and sound therapy, helping you achieve new levels of tranquility.
The retreat culminates on Day 5 with a day of pure relaxation and luxury. you will enjoy a slow-paced yoga session emphasizing restorative and gentle movements, followed by a blissful spa treatment.
As the sun sets on the final day, a farewell dinner captures the essence of Phuket's rich cuisine, serving as a beautiful finale to the cherished memories created during your retreat.
Throughout your journey, you will savor the authentic flavors of Thai cuisine, with an emphasis on fresh, locally sourced ingredients like herbs, spices, vegetables, fruits, and seafood.
This retreat offers a luxurious and personalized experience, combining the wisdom of experienced yoga instructors with the natural beauty and cultural treasures of Phuket.
it is a chance to unplug, rediscover yourself, and find peace and tranquility in a serene setting that rejuvenates both your mind and body.
Location: Kung Fu Cowgirl LLC
9. 4-Day Mind Balance & Self-Love Retreat at Ayurah
The "4-Day Mind Balance & Self-Love" retreat is all about helping you understand and love yourself better. It does this through mindfulness, meditation, relaxation, and movement exercises.
you will learn to accept yourself, be kind to yourself, and grow as a person. This retreat is like a reset button for your mind and body, leaving you feeling more peaceful inside.
The retreat offers various styles of yoga, like General Yoga, Ayurveda Yoga, Hatha Yoga, Vinyasa Yoga, and Ashtanga Yoga, suitable for all levels, whether you are a beginner or more advanced.
you will also enjoy healthy meals, with options for vegetarian, vegan, gluten-free, organic, dairy-free, and nut-allergy-friendly diets.
What makes this retreat special is that it takes place at Aleenta Phuket, a well-known wellness resort in Asia. Here, you will stay in a luxurious pool villa surrounded by lush gardens.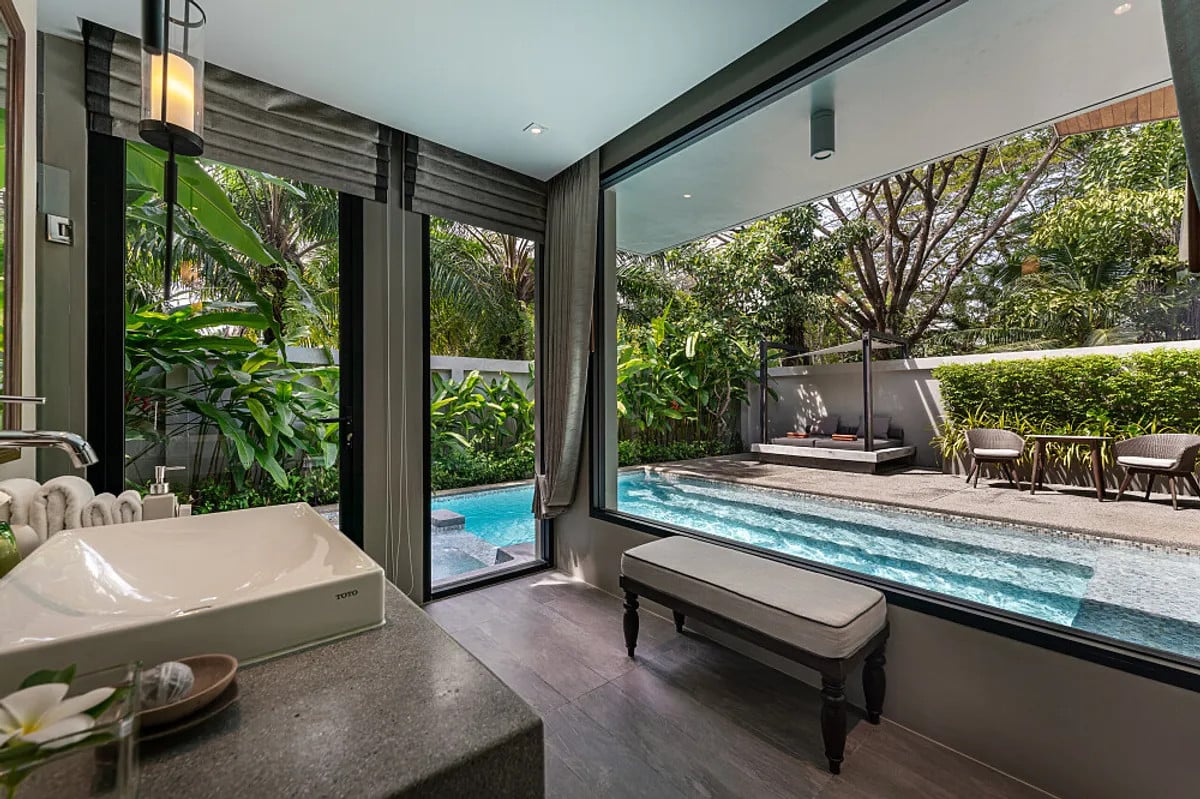 The program is flexible, allowing you to customize your experience to meet your wellness goals with the help of a dedicated wellness consultant.
You will have daily exercise and movement classes, including yoga, and you will enjoy three wellness cuisine meals each day. Plus, there are daily beverages like herbal tea, fresh juice, or coconut water.
Your teacher, Saniya Acharya, is a yogini and cultural ambassador from the beautiful Himalayas of Nepal. She's well-versed in yoga and Ayurveda and is an expert in using Tibetan Singing Bowls for relaxation.
Overall, this retreat is a chance to relax, rediscover yourself, and find inner peace in a beautiful and tranquil setting. it is a time to take care of your mental and physical well-being.
Location: Ayurah Wellness
10. 6-Day Yoga and Wellness Escape
This retreat offers four unique packages, each with its own goals and activities. It is all about wellness and taking care of yourself. You will stay at a beautiful, comfortable resort in Phuket, Thailand, which is perfect for adults. The resort is on a green hillside with stunning sea views.
During your stay, you will enjoy a combination of vegan meals, spa treatments, yoga, and meditation sessions. These activities are designed to help you reach your wellness goals and relax in a luxurious environment.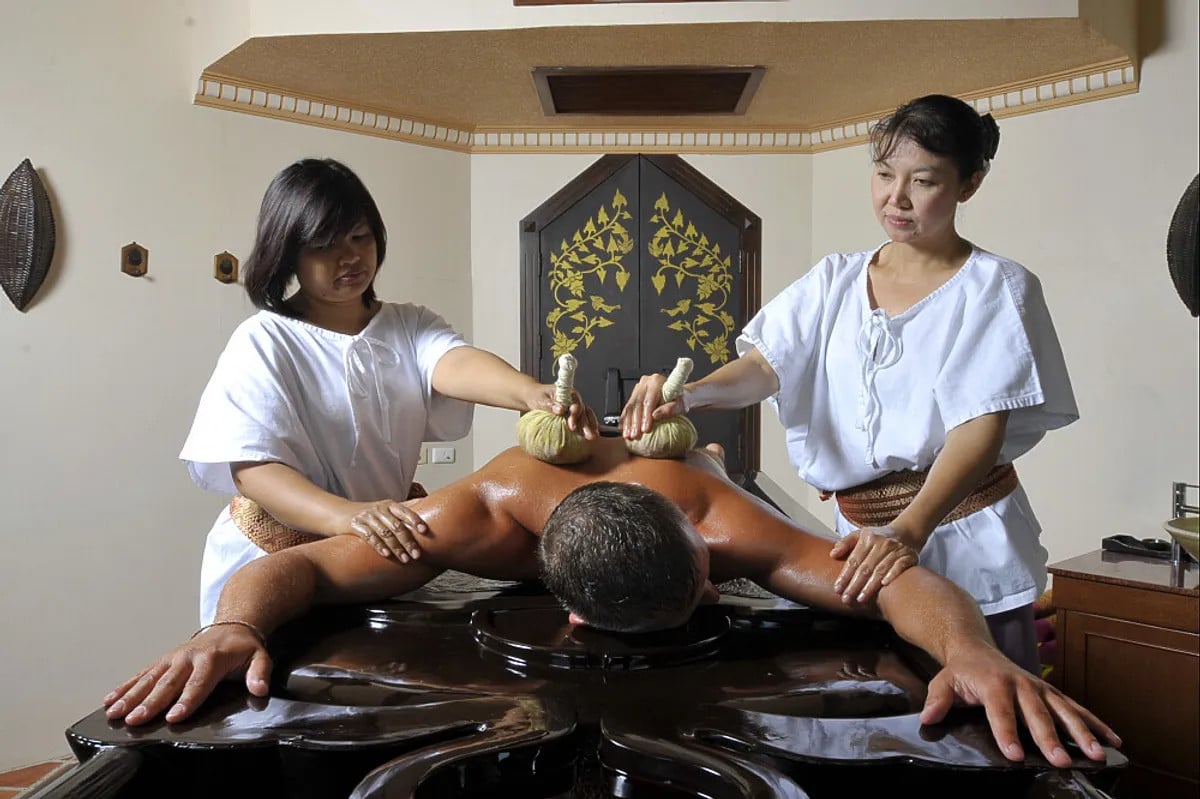 What makes this retreat special is that it is a permanent wellness program. you will stay in spacious and beautifully decorated villas that blend modern and traditional decor. The resort is dedicated to promoting health and well-being.
The daily schedule includes yoga, meditation, healthy meals, and various wellness activities. it is a chance to take a break from your regular life, relax in a beautiful place, and recharge your body and mind.
Dr. Nezeem Kadavil Uthuman, an Ayurvedic doctor, is part of the team to guide you on your wellness journey. He has extensive experience in Ayurveda and is passionate about helping you stay healthy.
Location: Mangosteen Resort
11. 6 Day "Healthy Living" Evolution Retreat
The "Healthy Living" Evolution Retreat in Phuket, Thailand, is a 6-day wellness program designed to make you healthier and happier.
It focuses on teaching you how to eat better, relax more, manage stress, and exercise effectively. The goal is to help you build a strong immune system, a resilient body, and a peaceful mind.
you will get to practice different styles of yoga, like Ayurveda Yoga, Hatha Yoga, General Yoga, and Vinyasa Yoga, suitable for all levels, whether you are a beginner or more advanced.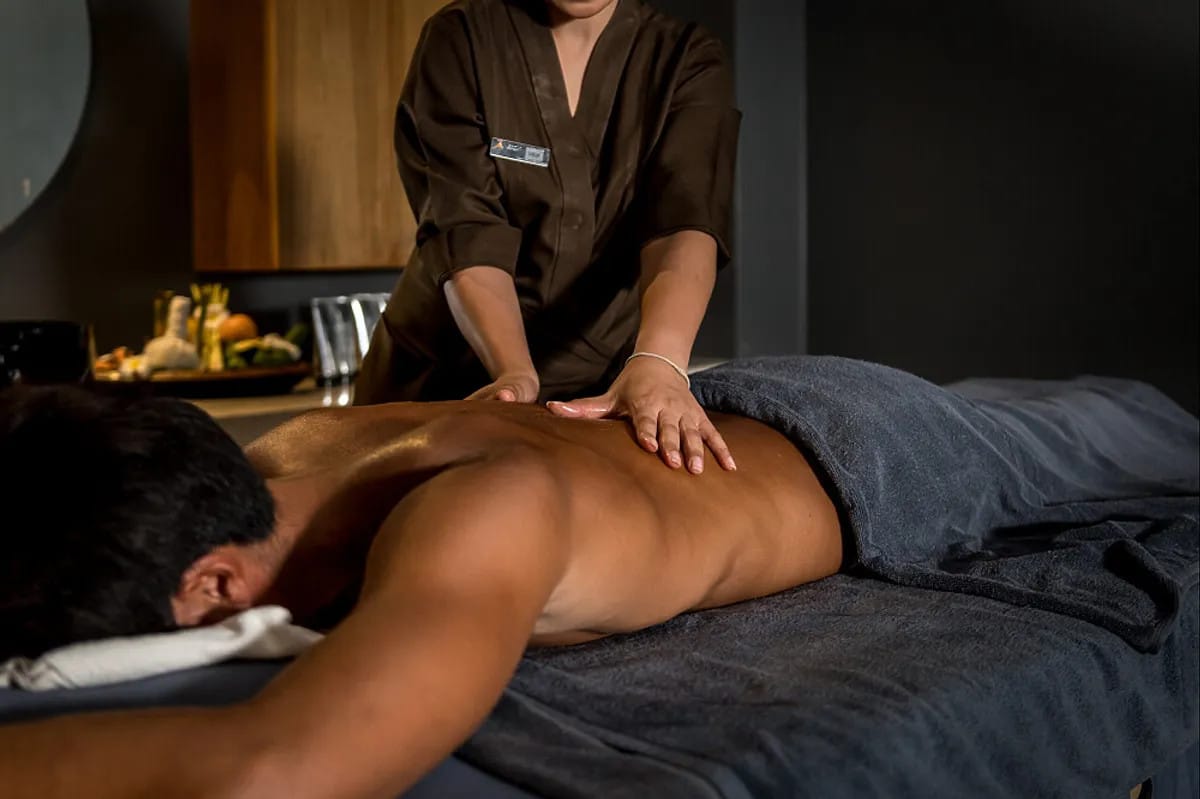 During your stay, you will have a full blood work analysis and consultation with a physician, a temple blessing ritual, a one-day juice cleanse, breathwork and mindfulness coaching, and more.
Your instructors, Saniya Acharya and Kanchalika Meesuk, are experts in yoga, Ayurveda, Tibetan Singing Bowls, and holistic healing. They will guide you on your journey to better health and well-being.
Location: Ayurah Wellness
Wrapping Up
Phuket's detox and cleanse retreats offer a diverse range of experiences to rejuvenate your body and soul. Whether you seek tranquility, holistic well-being, or a transformative journey, these retreats have something for everyone.
Each retreat, from CC's Hideaway to Ayurah Wellness, promises a unique blend of yoga, detoxification, and relaxation set against the backdrop of Phuket's natural beauty.
These retreats are not just about physical wellness but also mental and spiritual rejuvenation. They offer a chance to unplug, reconnect with yourself, and find inner peace in a serene and luxurious environment.
So, if you are looking to break away from the demands of daily life and embark on a journey towards a healthier, happier you, Phuket's detox and cleanse retreats are the perfect destination. Your path to wellness and self-discovery begins here.