Also known as Koh Hae or Ko He, the Coral Island of Phuket is a beautiful island located 3 km southeast of Phuket.
Owing to the picturesque view of the clear water and the golden sand beach, the island is very busy and crowded during the day.
However, as the sun sets, it starts to get more peaceful and quiet here.
The island has two prominent beaches- Long Beach and Banana Beach. Long Beach, as the name suggests, is the bigger of the two. However, Banana beach is no less exciting.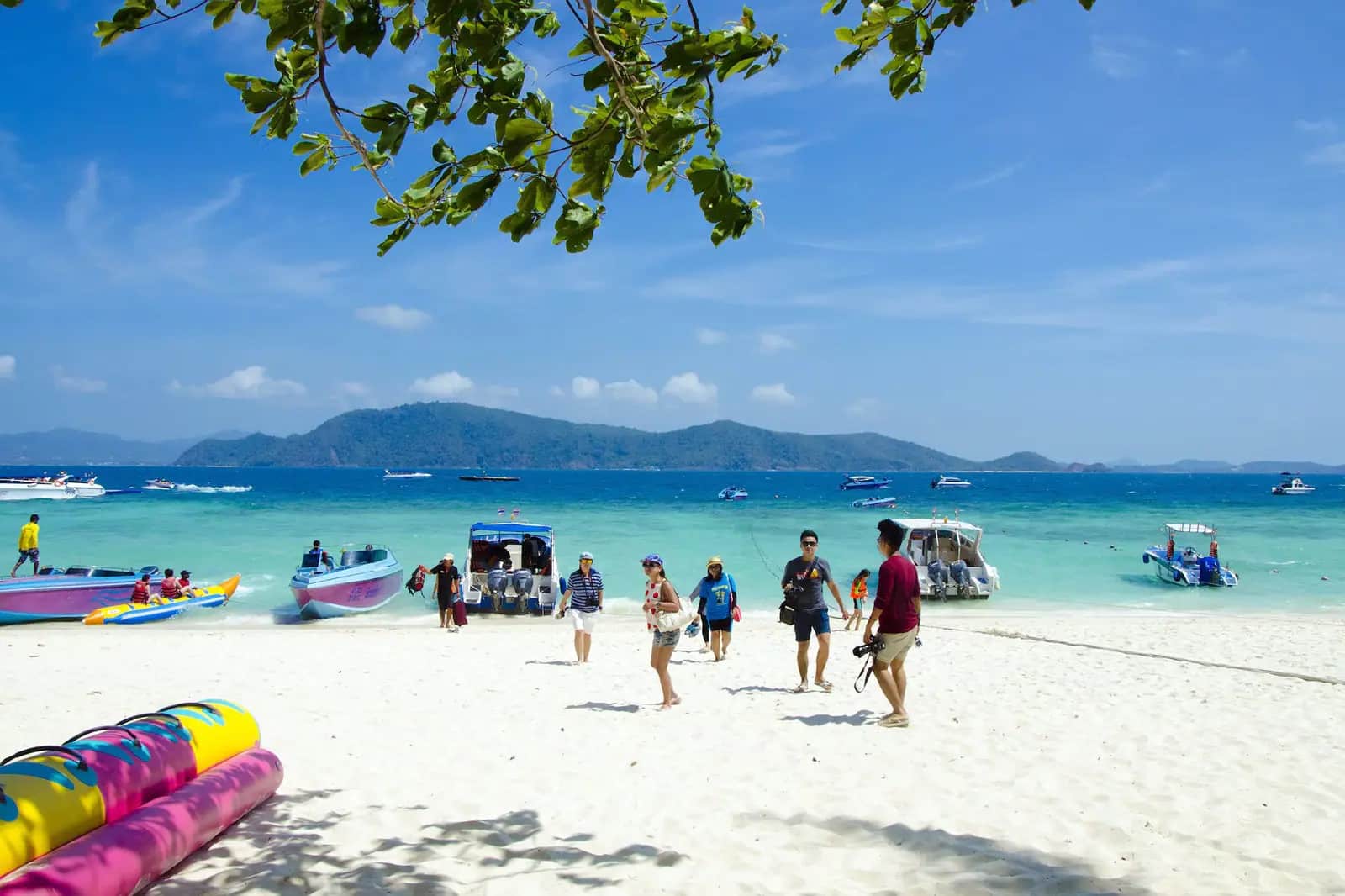 Long Beach
It is a scenic and beautiful beach on the coral island with crystal clear water. There are a lot of water activities that you can enjoy here, such as parasailing, snorkeling, and even beach scuba diving.
There are also various restaurants and bars along the beach that serve sumptuous Thai dishes.
You can also plan a night's stay here at the Coral Island Resort Bungalow if you can get a booking!
The entire beach is lined up with trees that provide sufficient shade for visitors to sit back and enjoy the crashing sea waves.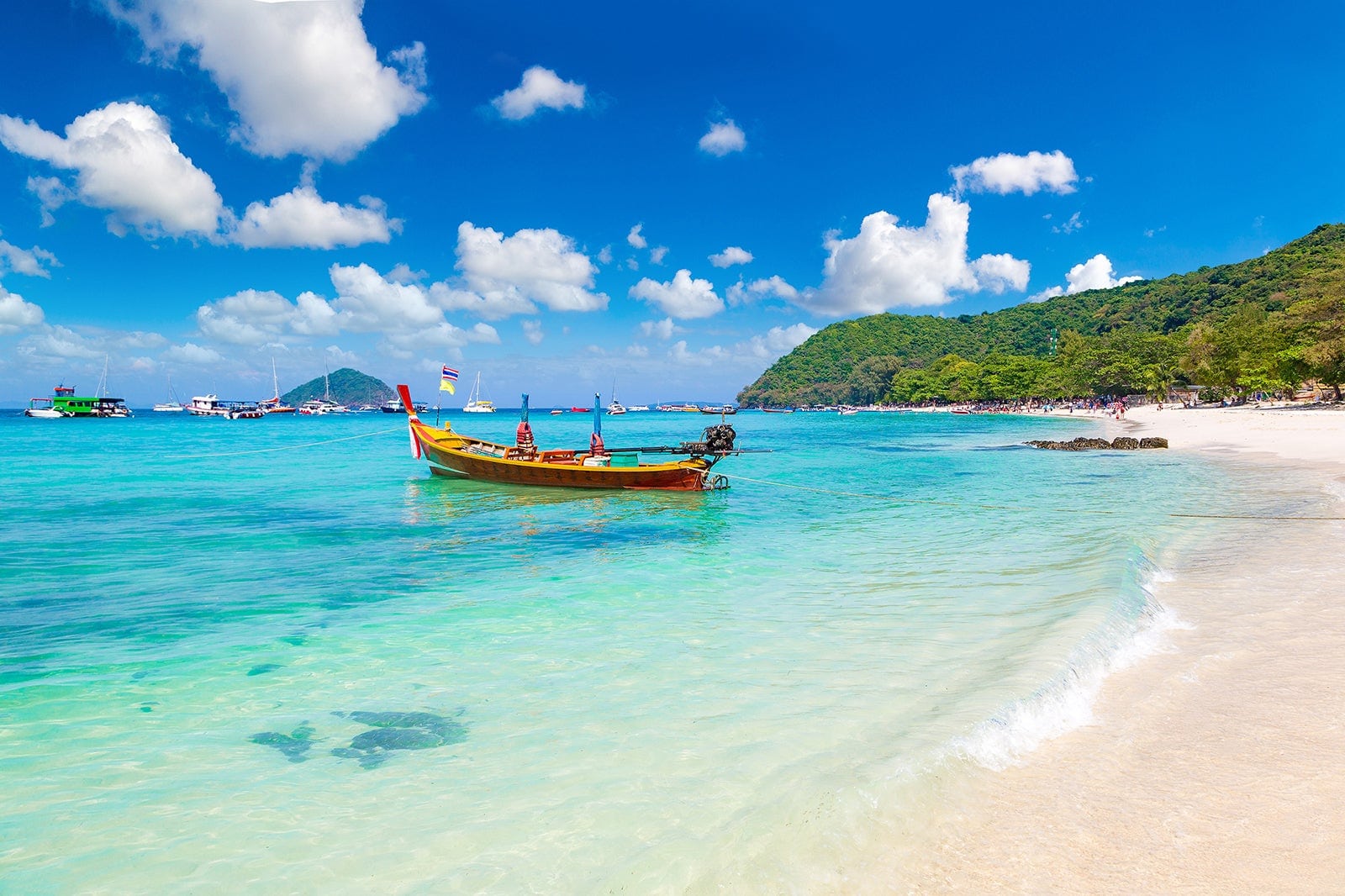 Banana Beach
Until a few years ago, Banana was an isolated and abandoned beach with very few people visiting.
However, over a span of a few years, the place has become increasingly popular both among locals as well as tourists.
Various restaurants and souvenir shops have sprung up and add to the charm of the once abandoned beach.
People usually book a day trip to Banana beach, which costs around 2,200 baht and includes boat transfer, snorkeling gear, and a buffet lunch.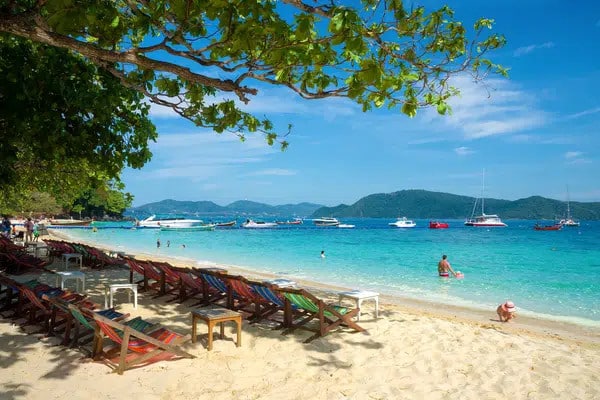 What to do on the Coral Island
There are plenty of activities you can engage in on Coral island besides enjoying the majestic view of the beaches.
Both the beaches offer various water sports such as snorkeling, scuba diving, canoes, and banana boat riding.
The main resort here-Coral Island Resort- organizes various workshops and classes on batik painting and scuba diving. These classes are conducted in English, Chinese and Thai.
Another very popular activity that people enjoy on this Coral Islan is relaxing Thai massages. There is an open-air pavilion on the eastern end of Long Beach, specifically used for massages.
How to Reach the Coral Island
Location: Ko He, Rawai, Muang, Phuket, Thailand
You can get to Coral Island either by a long-tail boat or a speedboat. For taking a long-tail boat, you have to either go to Rawai Beach or Chalong Pier.
You'll have to book a snorkeling trip from Chalong for a speedboat ride. This is the fastest way to reach Coral Island in about 15 minutes.
The package includes a snorkeling mask, fins, and a lunch buffet.
In case you want to travel between the two beaches, i.e., Long and Banana, you will have to go hiking through the jungle. The dirt path is not suitable for children and the elderly.
Both the beaches on the island are extremely beautiful and worth a visit. Spend the night on the beach to make the most of your experience here.
You can stay at the Coral Island Resort, which has a large pool, a restaurant, a bar and even a dive centre. You can also get a sea-facing bungalow, provided you book early since there are only 11 beachfront rooms in the villa.
Editor - Thailand Nomads
Cindy quit her 9 to 5 job to pursue her passion for exploring mesmerizing locations in Thailand. She has been living here for the past 5 years now and through Thailand Nomads, she shares her experiences and insights about the must-visit places in Thailand.
Email: cindy@thailandnomads.com