Chillva Market is a fantastic place for those seeking a vibrant spot to unwind in the evening. You will find Chillva Market Phuket on Yaowarat Road in Samkong, right across from Baan Samkong School. Read along to learn more about this unique market.
About Chillva Market
Chillva is essentially a trendy night market with a laid-back, bohemian atmosphere and a fantastic selection of food and fashion stalls. It is among the top night markets of Phuket that you must definitely check out.
The market's vibrant look is achieved through the clever use of colorful shipping containers as shopfronts, making it a unique and lively destination for visitors and locals alike.
The market is divided into several zones, each offering something special. First up is the container zone, which is home to some trendy shops and coffee spots.
Then, there is the tent zone, where you will find a diverse array of food stalls serving both local and international delicacies.
The open-air stall zone is perfect for shoppers, offering a wide variety of items to choose from. Last but not least, there is a modern stage that frequently hosts live music and special mini-concerts every Wednesday.
It is open almost every day, with Monday and Tuesday reserved for secondhand treasures, while Wednesday through Saturday offers chic and new items, along with plenty of fun activities to keep you entertained.
Must-Try Eats at Chillva
The Chillva market's resounding success is largely due to the delightful and diverse array of snacks it offers. Your taste buds are in for a treat as you peruse the tempting options.
Seafood enthusiasts will find a bounty of choices, while fans of Thai classics like meatballs and sausages will not be disappointed.
For those craving a crispy and savory experience, there's perfectly fried chicken with a delightful crunch and succulent ribs that practically melt in your mouth.
On the sweeter side of things, the market presents a treasure trove of nature's delights. Here, you will discover the freshest tropical fruits, their flavors bursting with sun-kissed sweetness.
Meanwhile, the banana pancakes and the cherished mango sticky rice are simply irresistible.
But perhaps the most intriguing culinary adventure awaits those with an adventurous spirit. Here, you can indulge in entomophagy, where you can try fried insects.
From the gentle crunch of a grasshopper to the earthy notes of a silkworm or the subtle melody of a cricket's taste, each bite opens up a world of flavors. And if these insect-based delicacies do not pique your curiosity, there is always the option to savor the taste of crocodile meat.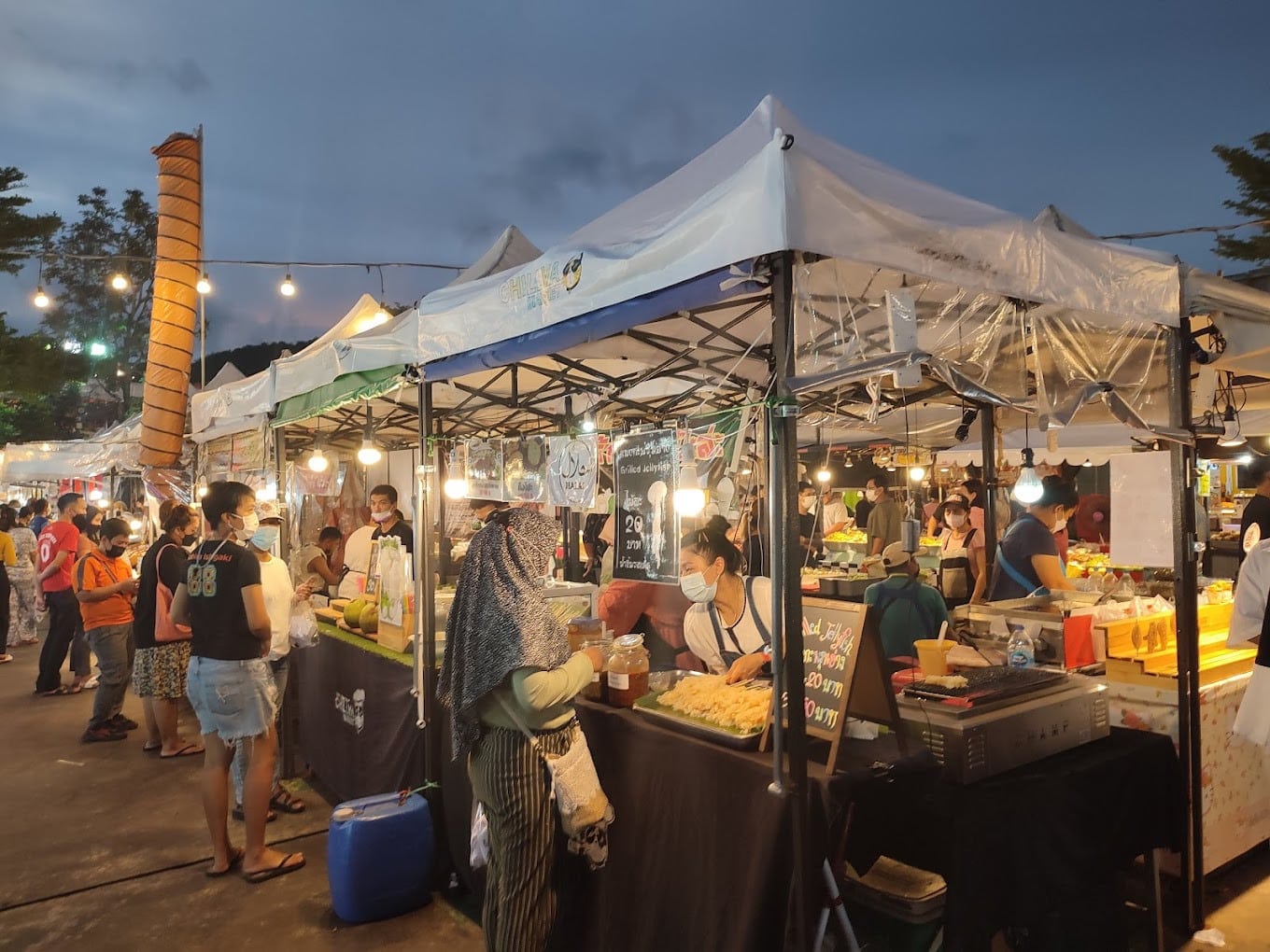 Chillva Retro Area
After you have had your fill of shopping and strolling through the vibrant market, there is a peaceful oasis awaiting you at the rear of Chillva Market. This tranquil sanctuary goes by the name of "Chillva Retro." It is the perfect place to take a breather and unwind.
As you make your way towards Chillva Retro, you'll be transported to a different world. The hustle and bustle of the market gradually fade into the background, and you will find yourself in a place of serenity.
Whether you are in the mood for a refreshing drink or a delectable snack, Chillva Retro has got you covered. There is an abundance of tables where you can take a seat, allowing you to soak in the relaxed ambiance of this area.
It is in this retreat that you can truly appreciate the essence of Chillva Market. Here, time seems to slow down, giving you the opportunity to savor your treats, have a pleasant conversation, or simply watch the world go by.
Chillva Retro adds an extra layer of charm to your market experience, making it the ideal place to put your feet up and enjoy a quieter moment amid the market's lively energy.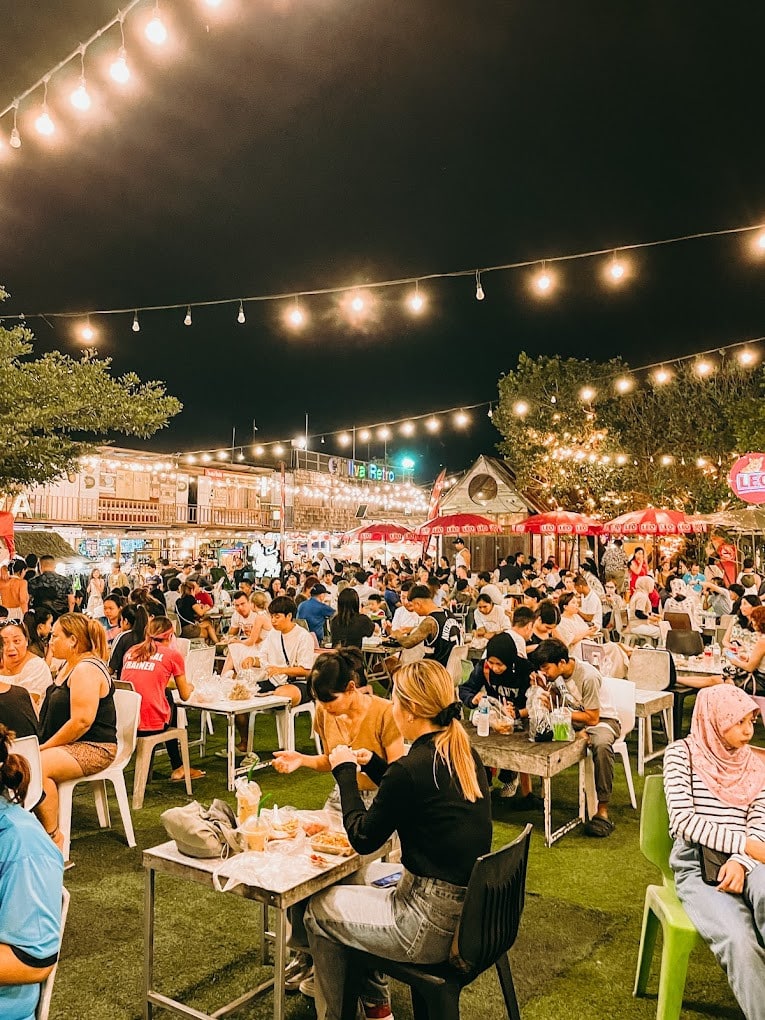 Bars at Chillva Market
At Chillva Market, innovation thrives in every nook and cranny, and this is particularly evident in the way they have repurposed containers to create unique bars and restaurants.
Located in two corners of the market, these establishments boast a distinctive charm, offering visitors an unconventional and enjoyable setting for their evening indulgences.
The transformation of containers into cozy hangouts is a burgeoning trend, breathing new life into the market scene. Not only is it a sustainable and eco-friendly approach, but it also adds an exciting twist to the market's atmosphere.
The adaptability of these containers allows them to be transported easily and customized to suit the desired ambiance. It is a canvas for creativity, where each container can be decked out according to the vision of its proprietors.
What's particularly noteworthy is the ingenious stacking of two containers on top of each other, which yields an instant rooftop bar.
From this elevated vantage point, visitors are treated to a panoramic bird's-eye view of the bustling market below, making it an exceptional spot to unwind and soak in the vibrant ambiance.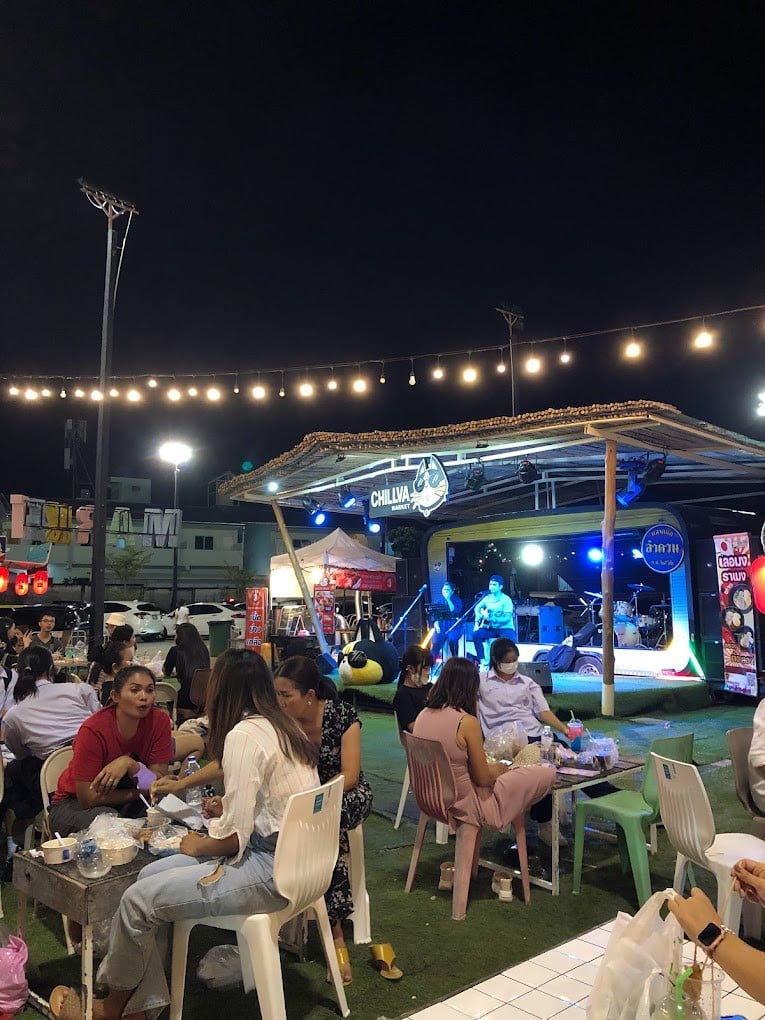 What is the Best Time to Visit Chillva Market?
The market welcomes visitors every day, but for the ultimate experience, Thursdays, Fridays, and Saturdays are the prime days to explore.
During these days, a lively flea market takes over, pitching tents and hawker stalls to transform this 6,400-square-meter marketplace into a bustling hub of activity.
Before We Part!
Hence, we see that the Chillva Market in Phuket stands out as a vibrant and captivating destination for both locals and visitors.
This unique night market, with its bohemian atmosphere and innovative use of colorful shipping containers as shopfronts, offers an exceptional experience.
Whether you're a food enthusiast exploring diverse culinary delights, a shopper looking for trendy items, or someone seeking a peaceful retreat at Chillva Retro, this market has something for everyone.
So, if you're in Phuket, don't miss the opportunity to experience the vibrant atmosphere, delicious food, and unique offerings at Chillva Market. It's an extraordinary place to unwind and enjoy the evening, making it a must-visit destination in Phuket for all.