Central Festival Mall in Phuket is a shopaholic's paradise.
Known as the shopping hub of the island, Central Festival Mall boasts an impressive collection of over 400 outlets, offering everything from exquisite silk and clothing to cutting-edge laptops and captivating books.
Connected to Central Festival Mall is Central Floresta, situated on the opposite side of the road, seamlessly linked by a footbridge, effectively creating a colossal shopping complex.
Here, you can easily spend an entire day indulging in retail therapy, catching the latest blockbuster films, and savoring a diverse array of international cuisines at its numerous restaurants.
This is the reason it is among the top 11 famous malls in Phuket.
Central Festival Mall at a Glance
Visitors may browse more than 500 lifestyle boutiques and 15 luxury brands in Central Phuket.
A second division wing, Central Floresta, located across the street, is connected to the main mall at Central Phuket via a footbridge.
With more than 25,000 species, the Aquarium at Central Phuket is thought to be the largest aquarium in Thailand.
Visitors may view animals like penguins and stingrays in the nine various zones that make up the aquarium.
Popular brands like Louis Vuitton, Gucci, and others are available for travelers to engage in opulent shopping in Central Phuket.
The Central Market is where consumers may get all necessary goods and services, including FMCG products, household goods, toys, and a wide range of other items.
Visitors can satiate their appetites at the food court in Central Phuket by ordering traditional Thai and regional dishes.
The beauty floor in Central Phuket is well-known for having beauty salons, hair salons, and grooming establishments, making it the perfect location for individuals to unwind and indulge in some self-care activities.
10 Highlights of Central Festival Mall Phuket
1. Aquaria
Aquaria Phuket, located beneath Central Phuket Floresta, offers an enthralling exploration of aquatic wonders.
This aquarium boasts nine distinct zones, showcasing everything from vibrant coral reefs to the mysterious abyss, providing visitors with a breathtaking journey through various underwater habitats.
With a vast collection of over 25,000 animals representing diverse species, Aquaria Phuket immerses guests in the beauty of marine life, from the tiniest seahorses to magnificent rays.
Knowledgeable and passionate staff engage visitors in interactive learning, sharing insights into marine conservation and the secrets of ocean and river ecosystems.
Scheduled feeding demonstrations offer an up-close look at otters, penguins, and stingrays, adding to the enchantment.
The facility also provides convenient amenities, including gift shops for souvenirs and comfortable restrooms, ensuring a delightful experience for all.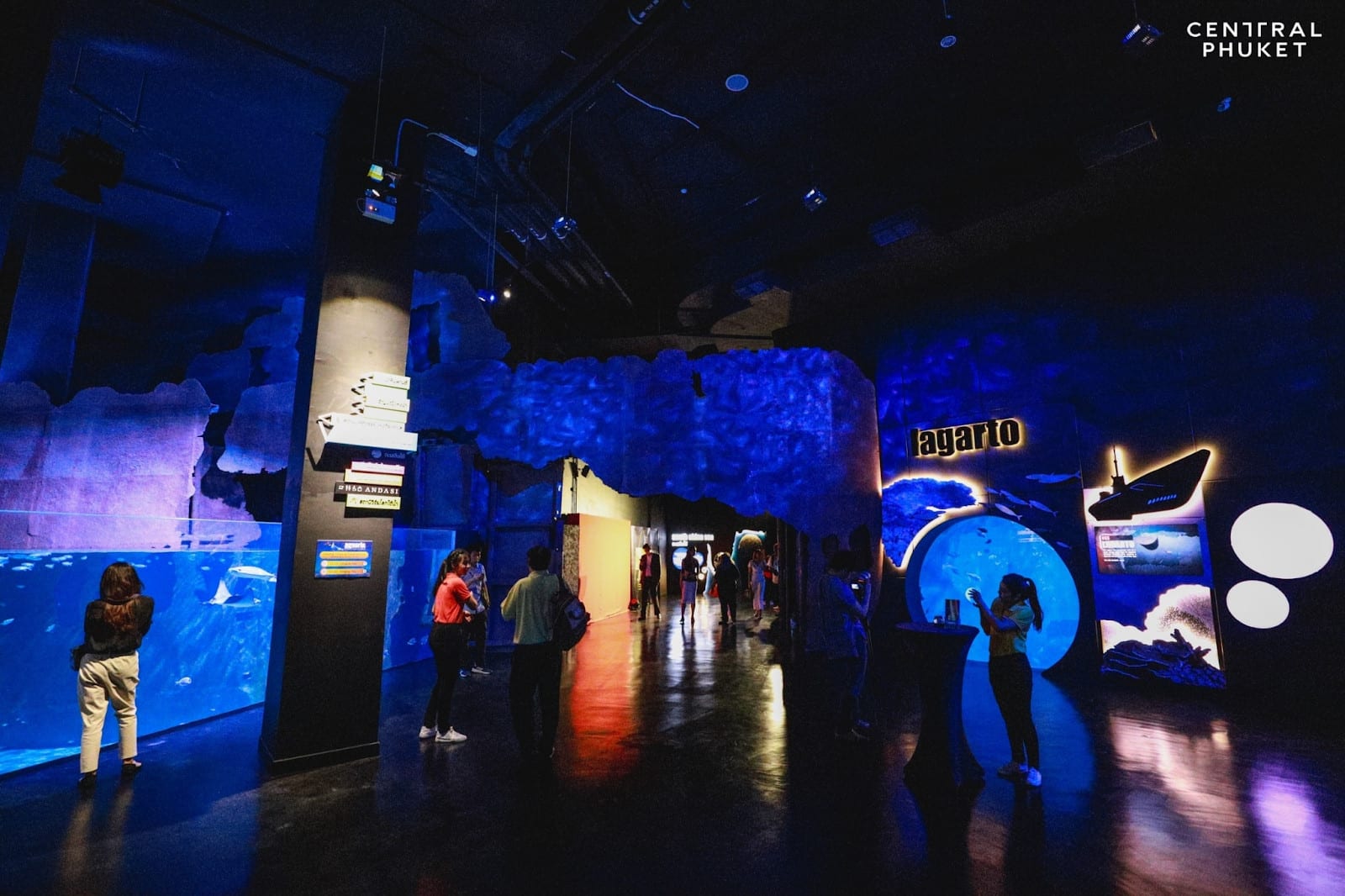 2. Central Departmental Store
Central Department Store in Central Festival Mall offers a shopping experience that seamlessly weaves together the allure of Phuket's natural beauty and the elegance of its architectural style.
From the moment you set foot inside, you will be enchanted by the store's interior design, which takes inspiration from the island's captivating attractions. It is a first for Phuket, where global premier brands come together to provide an unparalleled retail experience.
Here, you can explore a vast selection of upmarket clothing, fashion accessories, silk goods, bedding, household items, toys, children's accessories, travel essentials, and even delightful food and beverages.
The Beauty Galerie showcases a wide range of choices from leading cosmetic brands, while the Luxe Galerie is a haven for fashion enthusiasts featuring top brands.
And when it comes to pampering yourself, Central Department Store offers five-star spas, comfortable tourist lounges, and unique souvenirs that capture the essence of Phuket.
Remember to explore the impressive watch and jewelry collections at the Central Store, adding a touch of elegance to your shopping adventure.
This store redefines the shopping experience in Phuket, seamlessly blending style, luxury, and the island's distinctive charm into one unforgettable destination.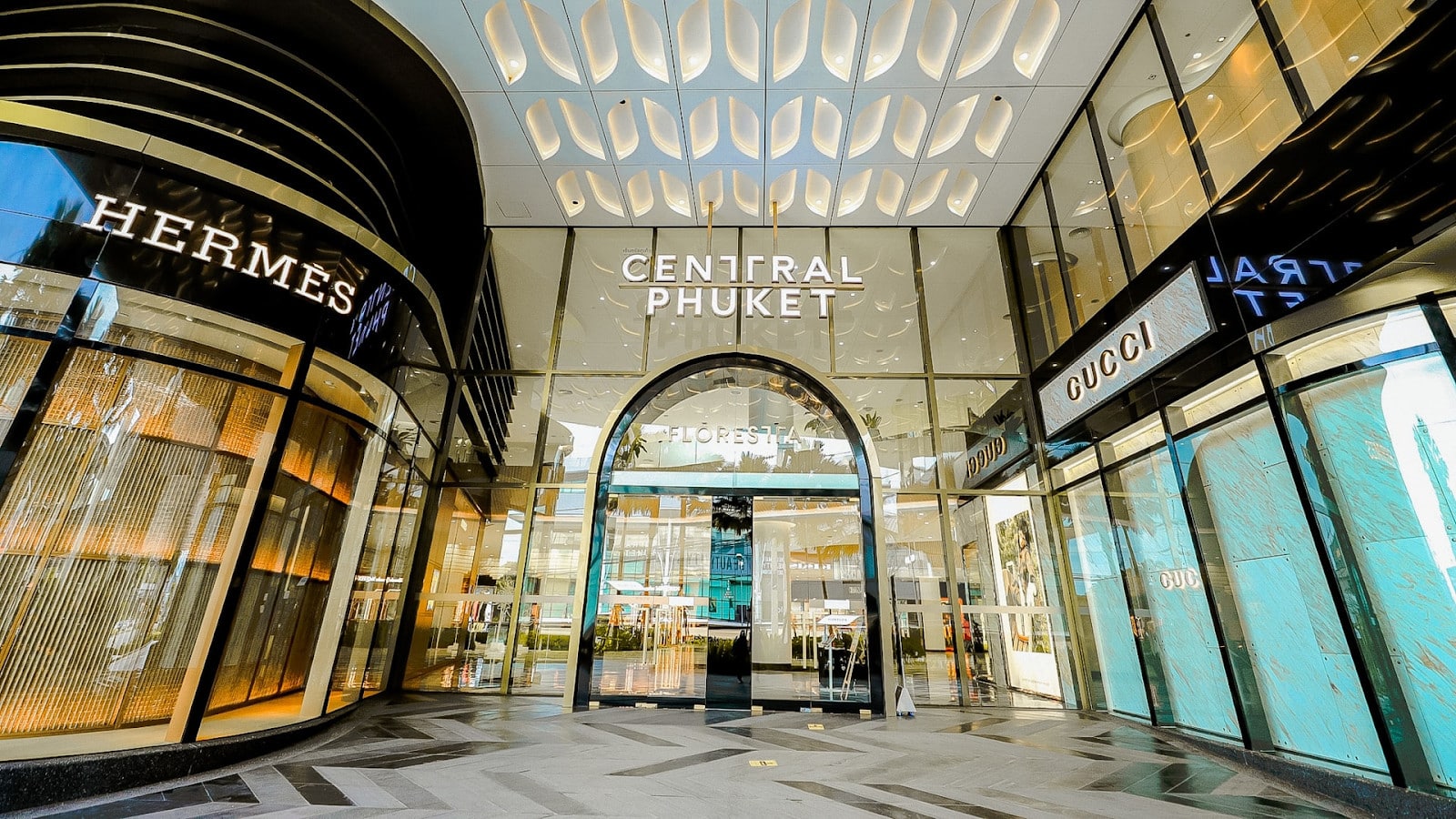 3. B2S
Bookworms and media enthusiasts, rejoice! B2S is a well-lit and expansive store offering an extensive selection of Thai and English-language books, as well as CDs and DVDs, all at reasonable prices.
Keep an eye out for special promotions and clearance sales, where you might snag your favorite titles at half the price.
5. Tales of Thailand
Discover the world of the Thai Floating Market & Food Paradise at the Tales of Thailand zone. Here, you will find traditional Thai food, desserts, and souvenirs, allowing you to experience the essence of Thailand.
Tales of Thailand takes you on a trip through Thailand's four regions. It is located on the ground floor and has different areas representing each region. You can visit a traditional Thai floating market, enjoy local food and sweets, and shop for souvenirs and crafts.
In the indoor section of Tales of Thailand, you can experience the culture of Central Thailand. Try traditional Thai dishes and desserts, and shop for souvenirs, crafts, and aromatic products. It's a chance to take home a piece of Thailand's heritage.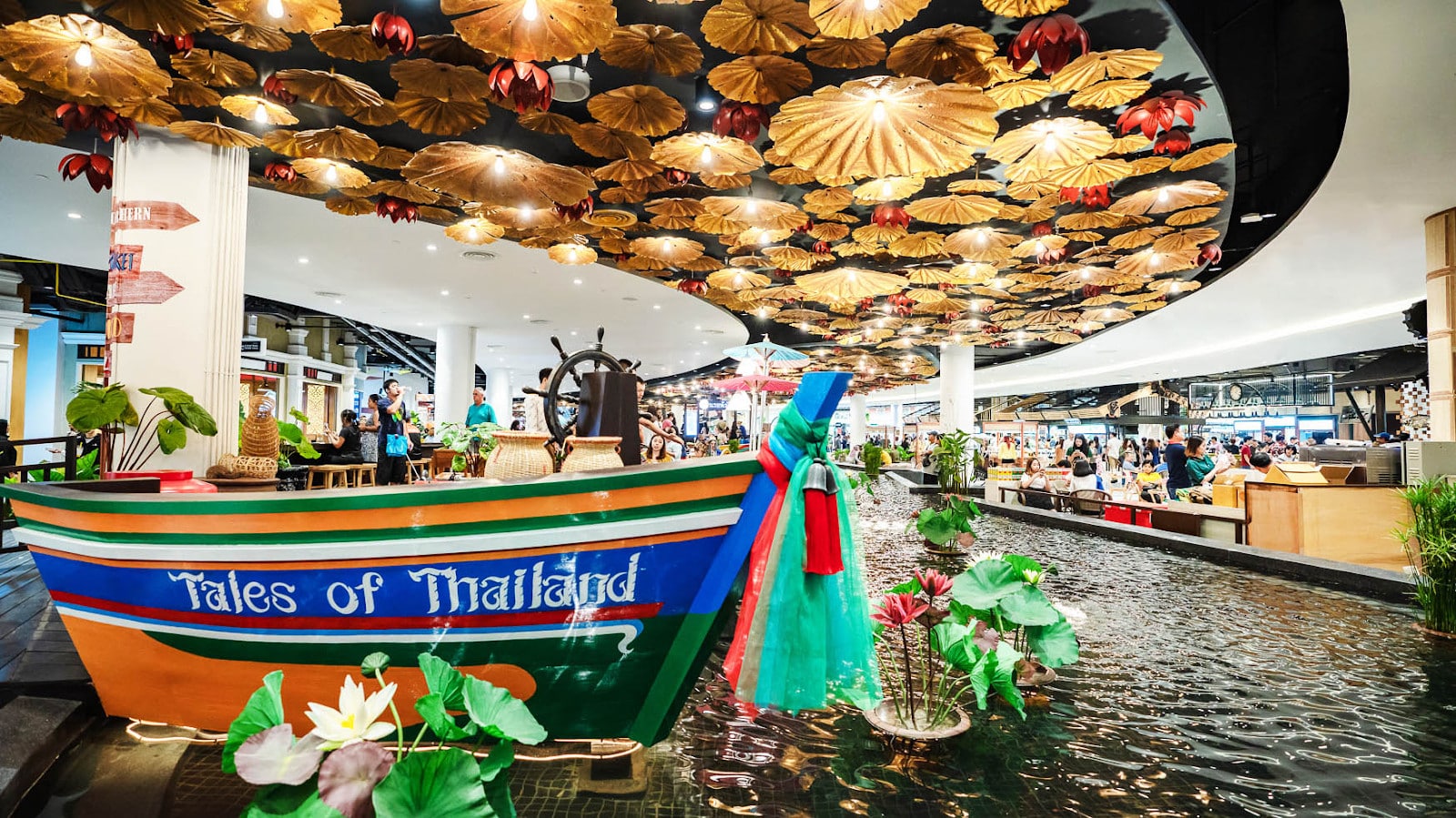 6. Trimurti Shrine
Visitors can access the Trimutri shrine in Central Phuket on the Ground floor, offering daily prayers during business hours. Central Phuket pays homage to Trimutri, the God of Love, through a beautifully crafted golden statue.
The Trimuti, symbolizing Brahma, Vishnu, and Shiva, is believed to grant wishes and bring fulfillment in love and career to both locals and tourists. It serves as a spiritual anchor for people in Phuket and neighboring provinces who seek better lives and love.
The Trimutri represents the union of three powerful forces: Fire, Wind, and the Sun, signifying creation, maintenance, and destruction in the world.
Worshippers use the sacred symbol "ॐ" (OM) to pray to the Trimutri. Those who believe and pray to the Trimutri are said to experience improved lives, love, and careers.
Every Thursday night around 9:30 pm, people gather to pray for love, believing that the Trimutri descends from heaven to grant their wishes.
The offerings include nine red roses or a rose wreath, nine red joss sticks, a red candle, or a pair of red candles, symbolizing love and auspiciousness.
Those already in relationships use the pair of candles to stay in love, while singles hope to find love soon.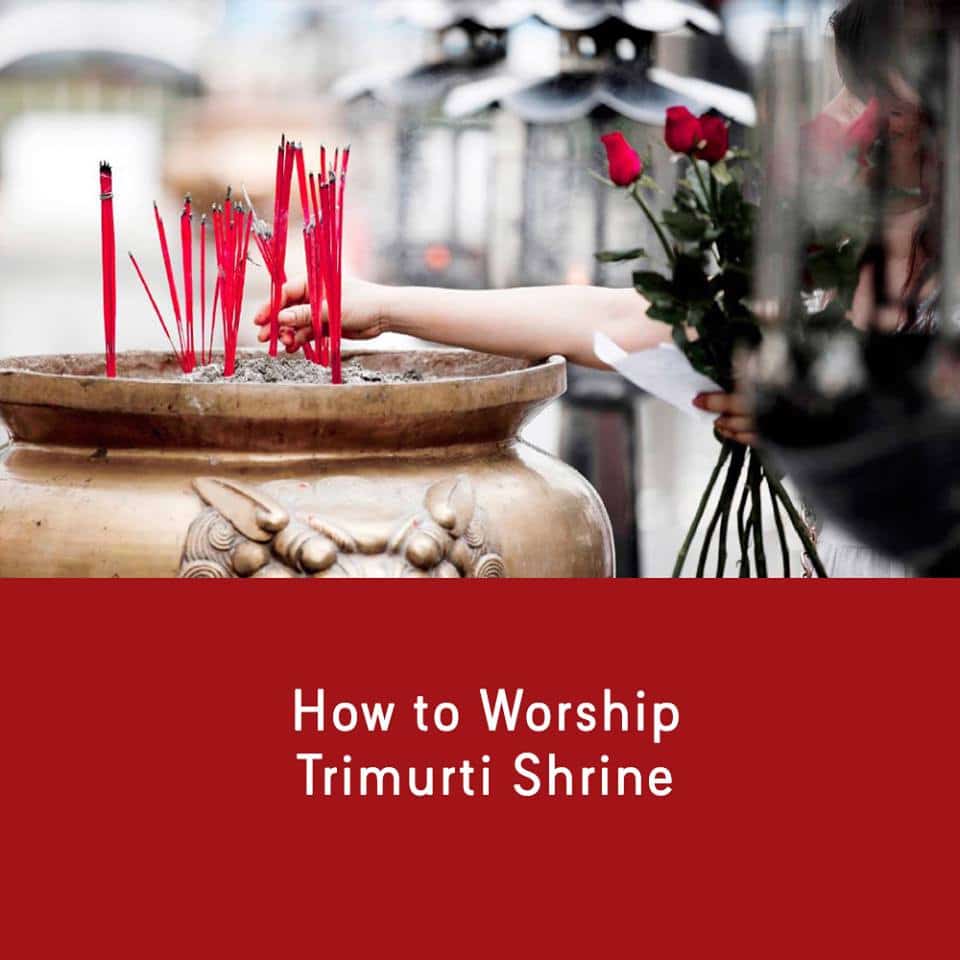 7. Suvana Restaurant and Lounge
Situated in the Aquaria Phuket at Central Phuket Floresta, Suvana Restaurant and Lounge offers an exceptional underwater dining experience, the only one of its kind in Thailand.
Inspired by Michelin-quality cuisine, this restaurant allows you to dine surrounded by captivating marine life.
Suvana Phuket is located inside Aquaria's main tank, which houses over 25,000 sea creatures from 300 different species. It's the world's largest underwater restaurant, and its showcase tank is right in front of diners, providing a mesmerizing view throughout your meal.
This unique dining adventure lets you enjoy delicious food while being immersed in the wonders of the ocean.
Whether you are a food lover or an adventurer, this restaurant offers a one-of-a-kind experience that allows you to enjoy Michelin-inspired dishes while being surrounded by the magic of the ocean.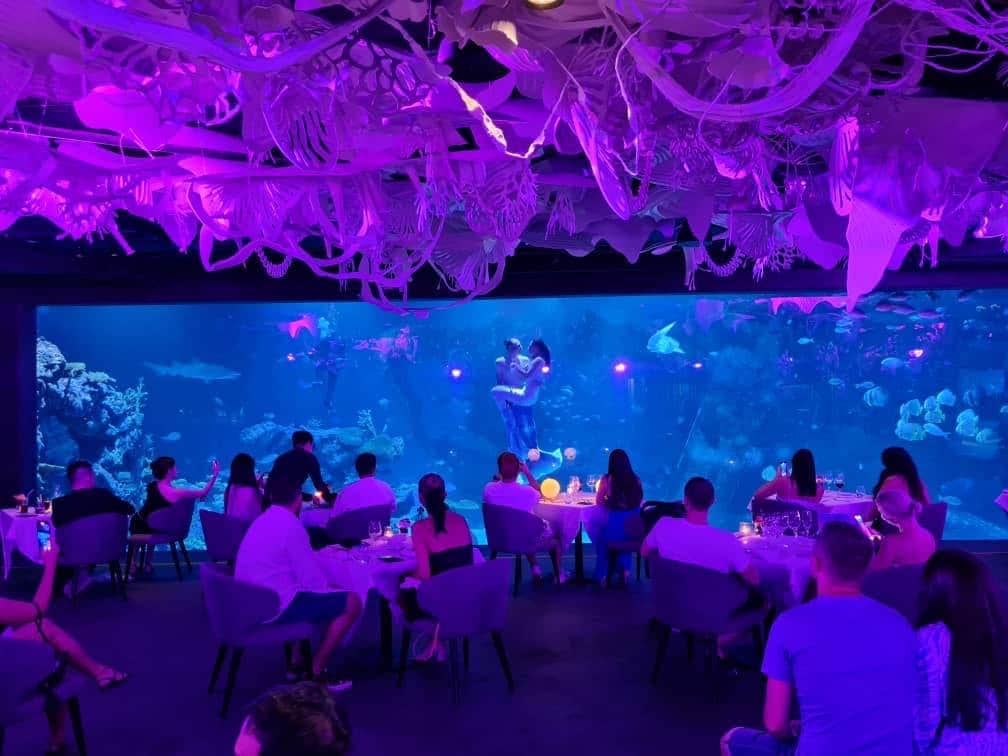 8. Central Food Hall
Central Food Hall, renowned as the world's top food store, introduces a novel and inviting dining concept inspired by the legendary Kadewe department store in Germany. This culinary haven invites you to explore a dining experience unlike any other.
The Deli Bar at Central Food Hall offers a delightful assortment of dishes at affordable prices, where your bill is calculated based on the weight of your order. Here, reservations are not necessary, and you can easily opt for takeout.
What makes this experience truly special is that you can bring fresh ingredients purchased from Central Food Hall and have our skilled chefs prepare them according to your preferences.
This flexibility ensures that every visit to the Deli Bar is a personalized culinary adventure, allowing you to savor a variety of delectable options that fit your tastes and budget.
9. Tribhum
Tribhum, a mesmerizing attraction in Phuket, immerses visitors in a fantastical world that goes beyond the boundaries of imagination.
It all begins with a mythical tale of deities crafting the elixir of immortality, which inadvertently opens a secret passage to the enchanted "Magic Forest." In the heart of this magical realm stands the "Tree of Truth," which guards the forest's balance and conceals it from intruders.
However, the elixir's touch triggers a battle for immortality, drawing magical beings, hermits, and even humans into an epic war known as "Tribhum, The Mystical Three Worlds."
The experience unfolds with enchanting shows, including the Makalee Flower Dance and the Kinnaree Show, where visitors witness flowers transforming into beautiful ladies and forest creatures celebrating their newfound magical powers.
Magical beings like Khonthan, Kumpee Nimit, and Dhepnorasi add to the mystical charm of the Magic Forest, welcoming Kinnarees who come to bathe in gratitude for their bestowed powers.
Tribhum offers an enchanting journey that combines captivating stories with breathtaking performances, making it a must-visit destination in Phuket for those seeking a unique and fantastical adventure.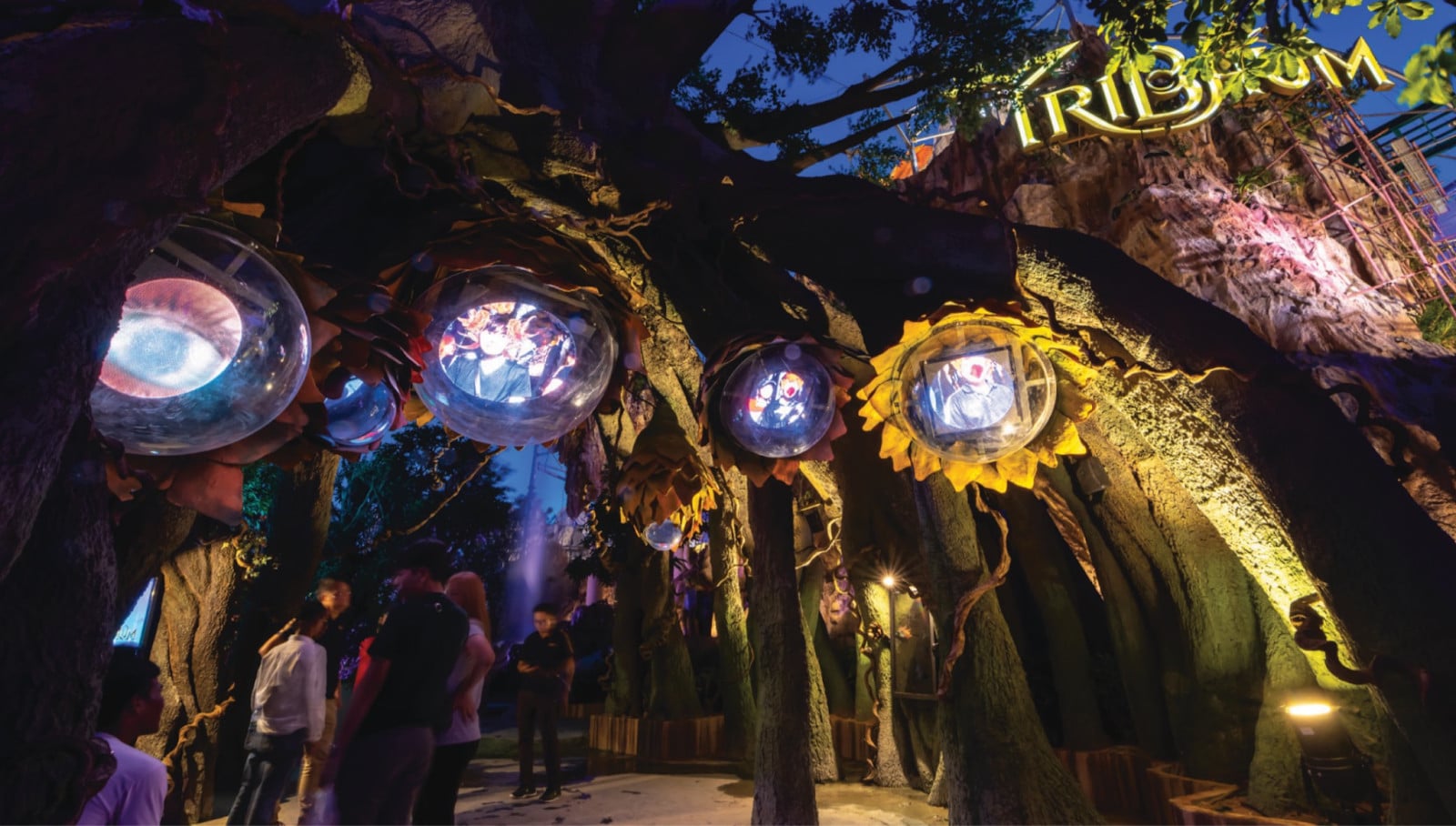 10. SF Cinema
Experience a new dimension of cinema at SFX Cinema Central Phuket, the ultimate destination for movie enthusiasts. SF is among the most popular movie theatres in Phuket.
It offers a world-class cinematic experience that is unmatched in Phuket.
SFX Cinema boasts an array of exclusive seat types, ensuring you find the perfect spot for your movie adventure.
Choose from four distinct seat types: "Deluxe Seat," "Premium Seat," "Sofa Sweet," and the epitome of luxury, the "First Class Seat."
But the extravagance doesn't stop there. First-class moviegoers can indulge themselves at "The First Class Lounge" and Gourmet Bar, where they can savor gourmet treats along with free-flowing beverages and popcorn throughout the show.
What truly sets SFX Cinema apart is its commitment to entertainment innovation. Featuring SONY DIGITAL CINEMA 4K technology, the cinema delivers crystal-clear images with resolutions of up to 8 megapixels.
This cutting-edge visual experience ensures that every moment on the big screen is brought to life in vivid detail.
For those seeking the pinnacle of cinematic luxury and innovation, SFX Cinema at Central Phuket is the destination of choice, where every movie becomes an unforgettable journey into the world of film.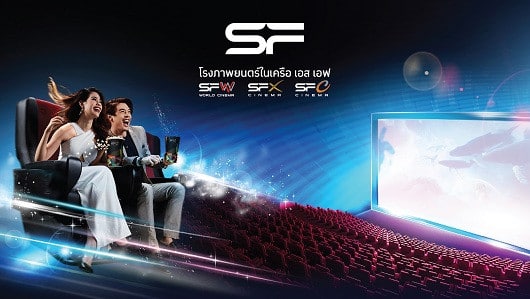 Where to Eat at Central Festival?
1. Golden Kitchen
The Floresta wing's third floor is home to the Golden Kitchen, which is well known for its authentic oriental cuisine. Arunee Motriwat's original and genuine recipes are served in the kitchen.
The Pan-fried Rice Noodles in the Hong Kong style and the Fried Pork Liver with Garlic and Pepper are the most popular dishes.
2. Red Snapper's Tai Omakase
It is renowned for its expertly crafted, distinctive Japanese fusion cuisine. Traditional Japanese dishes, including sushi and more, are prepared at the restaurant using high-quality ingredients and genuine components.
Some of the best and most popular items on the menu include the Lobster Eskimo and Super Wagyu Roll.
3. On the Table
It is one of the most well-known Japanese cafés in Central Phuket. The cafe is located in the Floresta wing. The Cafe is renowned for its traditional Japanese food that has been infused with a hint of Western style.
Every order is prepared with fresh ingredients and presented in the traditional Japanese manner. Chef Camel's spare ribs and the spaghetti tom yam seafood are the most popular dishes at this café.
4. Thai Brasserie by Blue Elephant
For those seeking authentic, traditional Thai food, Thai Brasserie by Blue Elephant is one of the best restaurants in Central Phuket.
Every dish on the menu is made using local, fresh ingredients and is served with excellent service. The Five-Spice Tamarind Duck and Fresh Lime Steamed Garoupa are two highly suggested meals that are well-liked by tourists.
Quick Tips for Your Visit to Central Festival Mall Phuket
Remember to keep your receipts and look for VAT refund coupons at the mall's tax invoice desk. You can present these coupons, along with your receipts and purchased items, at the airport to claim a tax refund.
Enjoy complimentary underground parking at Central Festival Mall. If you arrive by taxi or bus, alight at the main entrance for convenient access.
Keep in mind that larger stores in Thailand only sell alcohol between 11 a.m. to 2 p.m. and from 5 p.m. to midnight. Also, note that the shopping mall closes at 10 p.m., so plan your shopping adventure accordingly.
Experience the shopping extravaganza of a lifetime at Central Festival Mall Phuket, where luxury, variety, and convenience converge to offer you the ultimate retail experience in the heart of this stunning island paradise.
Where is Central Phuket Located?
The mall is conveniently located just outside Phuket Town. If you're arriving from Patong, you'll find it on your left just before the main crossroads as you enter Phuket.
Address: Wichit, Mueang Phuket District, Phuket 83000, Thailand
Hours:
Open : Closes 10 pm
Phone: +66 76 291 000
Distance from Patong Beach: 12 km
Distance from Airport: 31.7 km