The tourist-centric country of Thailand is repleted with exquisite churches that could be a treat for architecture fans.
These churches have a unique vibe and offer something different from the norm.
Discover the serene beauty and spiritual refuge of Catholic Churches in Chiang Mai, where timeless architecture, welcoming communities, and sacred spaces come together to nourish the soul and uplift the spirit.
4 Catholic Churches in Chiang Mai
1. Sacred Heart Cathedral
The most popular Cathedral Church in Chiang Mai dates back to 1999.
The church is also famous among tourists who don't understand Thai. This is because Sunday prayers are constructed here in English at 11 am.
The garden and life-size smiling statue of Jesus were my favorites there.
The exterior of the church is pale pink, with a bell tower that stands next to the main building.
A very intriguing circular stained-glass window draws the attention of the onlooker to the door and the cross-topped roof.
Address: 225 Charoen Prathet Rd, Tambon Chang Khlan, Mueang Chiang Mai District, Chiang Mai 50100, Thailand
Phone: +66 53 271 859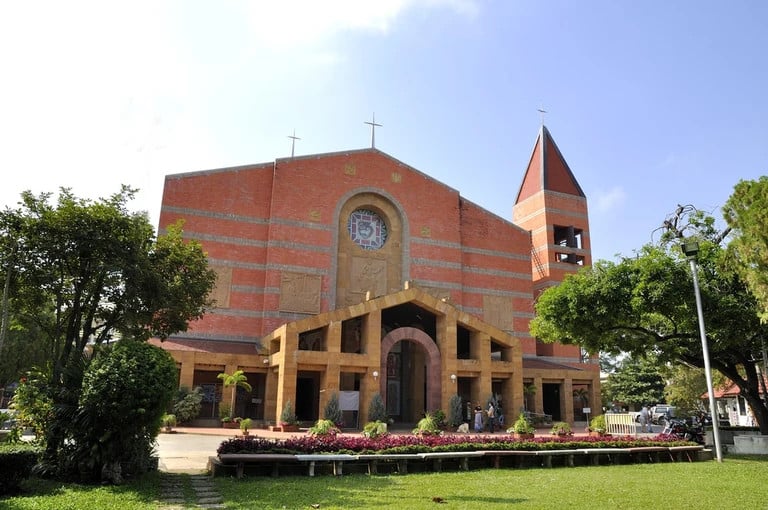 2. Catholic Mission Center Chiang Mai Diocese
It is one of the largest Churches in the city of Chiang Mai that is a suffragan diocese of the archdiocese of Bangkok.
The Chiang Mai Diocese comprises four provinces in the northern region of Thailand: Chiang Mai, Mae Hong Son, Lamphun, and Lampang.
At present, the entire Diocese of Chiang Mai is under the leadership of His Excellency Bishop Francis Xavier Vira Arpondratana.
Address: 5 Alley 3 Tambon Chang Khlan, Mueang Chiang Mai District, Chiang Mai 50100, Thailand
Phone: +66 53 821 063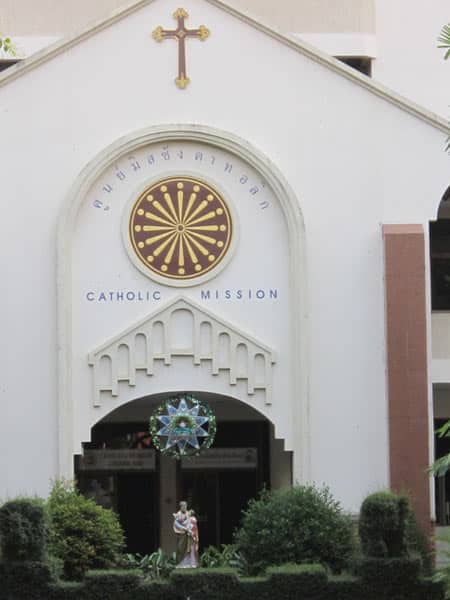 3. All Saints Chiang Mai
It is one of the most peaceful, warm, and welcoming churches in Chiang Mai.
It is popularly known for its inclusiveness that welcomes people of all religions, languages, races, colors, nationalities, gender identities, etc.
It's a traditional Open Episcopal liturgy with all people invited to partake of the communion.
Address: Thailand Kaeo Nawarat Soi 2/2, Mueang Chiang Mai District, Chiang Mai 50000, Thailand
Phone: +66 90 460 4304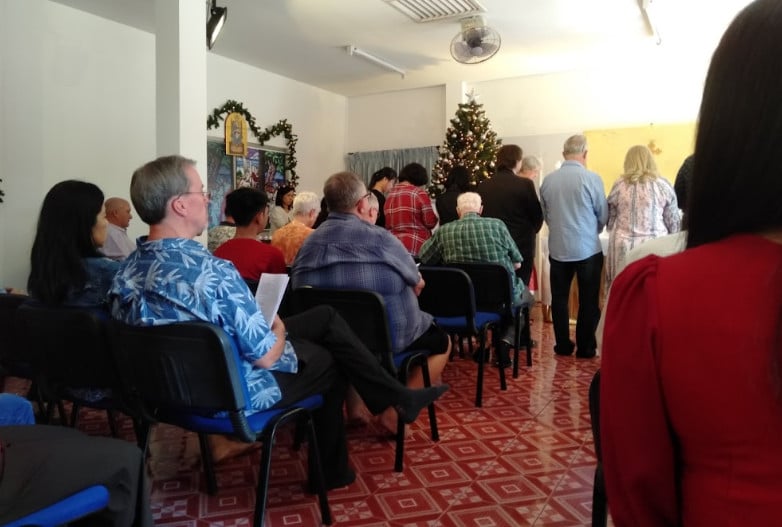 4. Holy Spirit Church (Seven Fountains)
It is the largest Chapel of the Seven Fountains Retreat Centre. It is located in the Chang Phueak area.
It is a perfect place for peaceful spiritual prayers, meditation, and contemplation. A mass is conducted here every day that you can attend for prayers and spiritual directions.
You can also find some really adorable rabbits here inside the premises.
There is a wide area just outside the chapel where you can sit down and relax near the fountain.
Address: 97 Huay Kaew Rd, Chang Phueak, Mueang Chiang Mai District, Chiang Mai 50300, Thailand
Phone: +66 53 892 545